Keto Breakfast Ideas – start your day off with one of these 40+ low carb breakfast recipes!
We've gathered several keto breakfast recipes and included EASY low carb breakfast ideas to help make your morning meal as easy as possible.
Best Keto Breakfast Ideas
I know sometimes (or a lot of times) there is no time to make a recipe so from easy to more complex, these keto breakfast ideas will have your weekly morning menu complete and answer your question with a huge list of ideas when asking what is a good keto breakfast.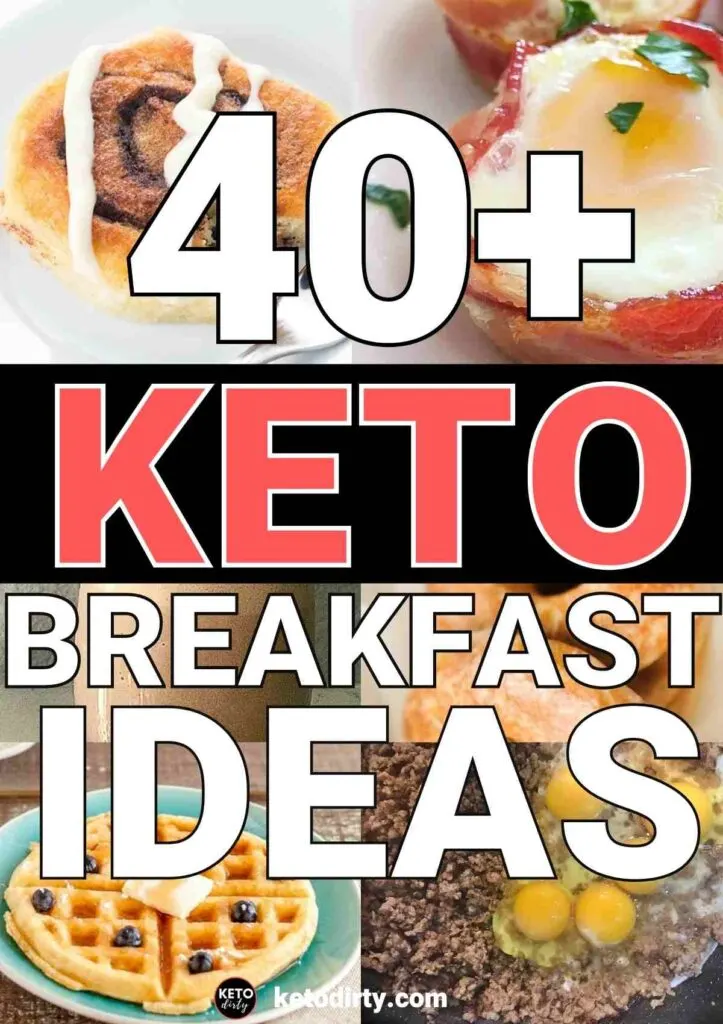 For those of you that are low carbing and are sick of eggs, we got you! We have a list of recipes that are keto breakfast no eggs. If you are serious keto watching your carbs, we even have a list of no carb breakfast ideas. Let's get cooking!
Keto Chaffle Recipes
If you like to Lego Your Eggo, but don't want the carbs – may I suggest you chaffle your waffle! Chaffles are a common thing in this kitchen, and I have no shame in saying that they really have been a game changer because they are so versatile! And in case you don't know – learn what is a chaffle.
Sweet Chaffles – Chocolate Low Carb Waffles
I present to you, the sweet chaffle. A chocolate, cinnamon treat made in the waffle maker. You are welcome.
More Chaffle Recipes
Alright guys, I told you I love chaffle recipes, right? Here is a collection of low carb chaffle recipes for you to try!
Get your protein in with these delicious and easy .
Keto Pancakes
The BEST Keto pancake recipe made with delicious cream cheese and other secret ingredients that will have you asking, are you sure this is low carb?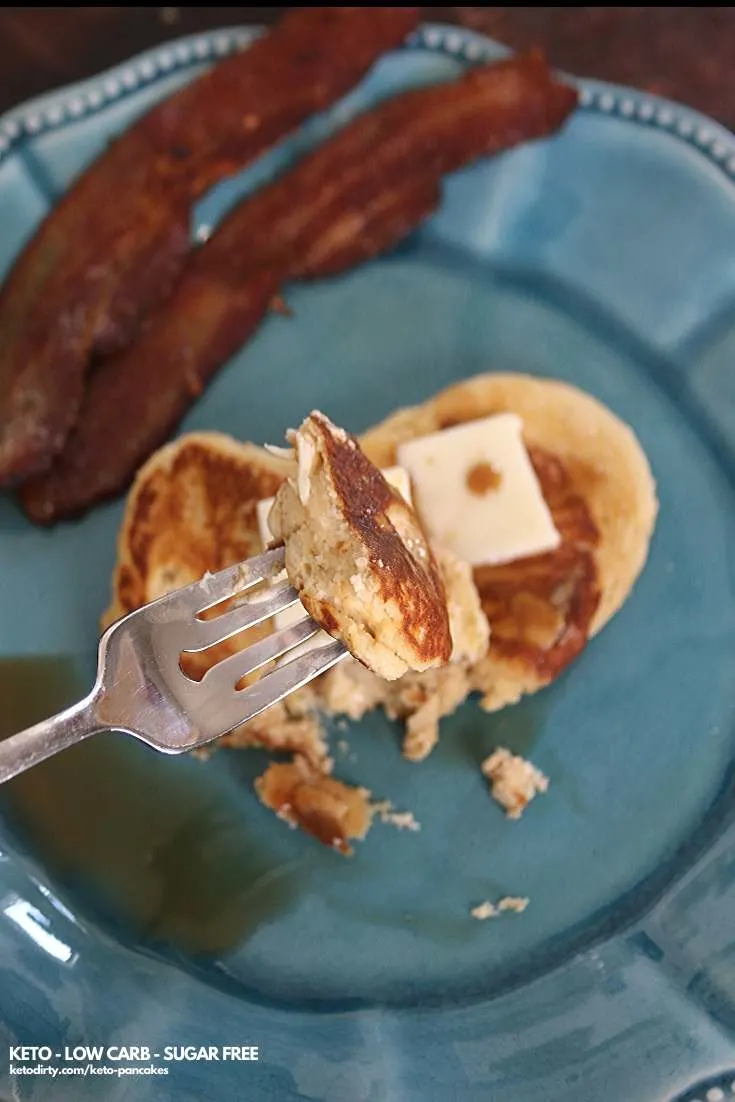 Ham and Egg Cups
Made in a muffin pan, you won't even miss the flour with these delicious ham and egg cups!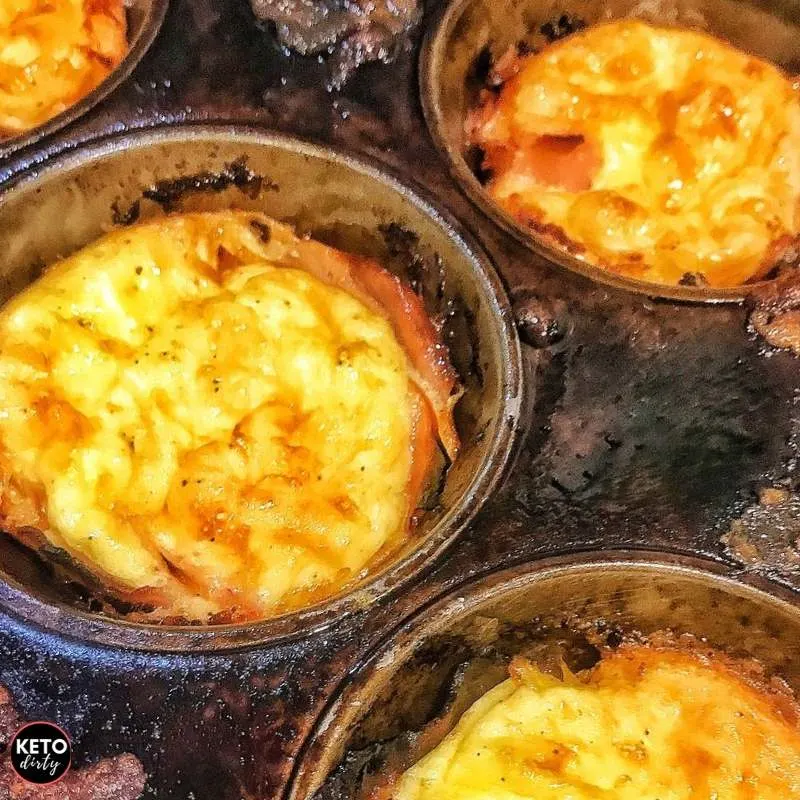 Our carb eating kids LOVE these baked egg muffins.
Low Carb Breakfast Quesadillas
Who says that breakfast has to be boring? These delicious keto breakfast quesadillas taste so good, you would swear they were loaded with carbs. But guess what? NOPE! They are low carb and yummy!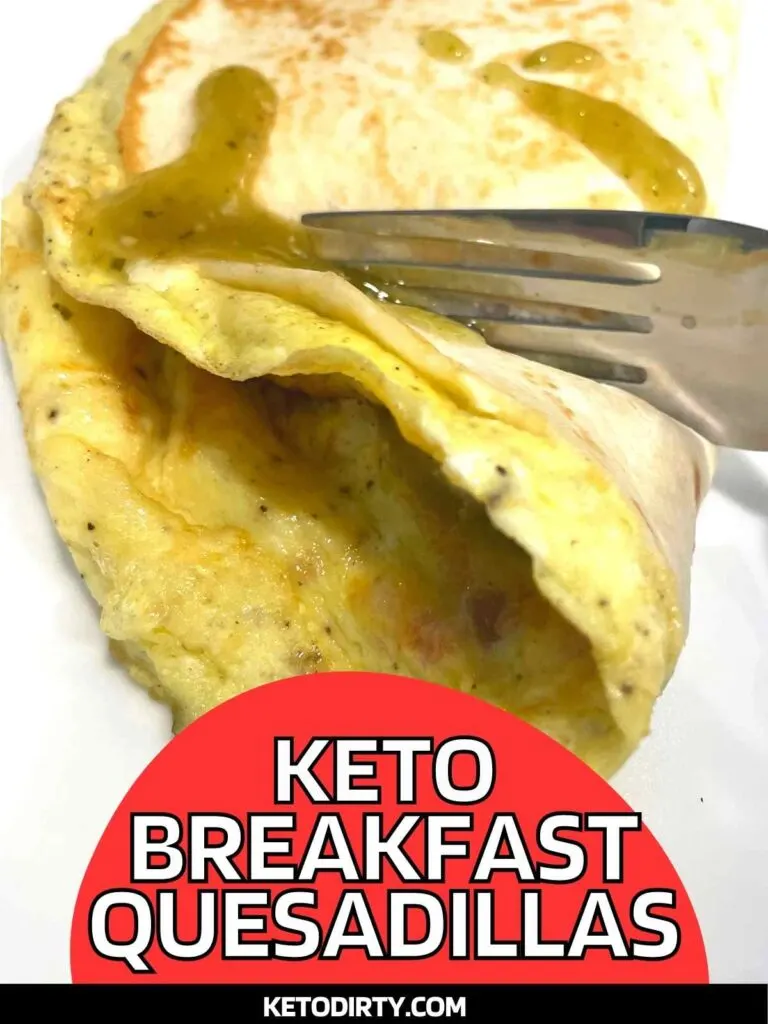 Perfect Sausage Omelette
The perfect combination of sausage, egg and cheese will have this low carb omelette melting in your mouth.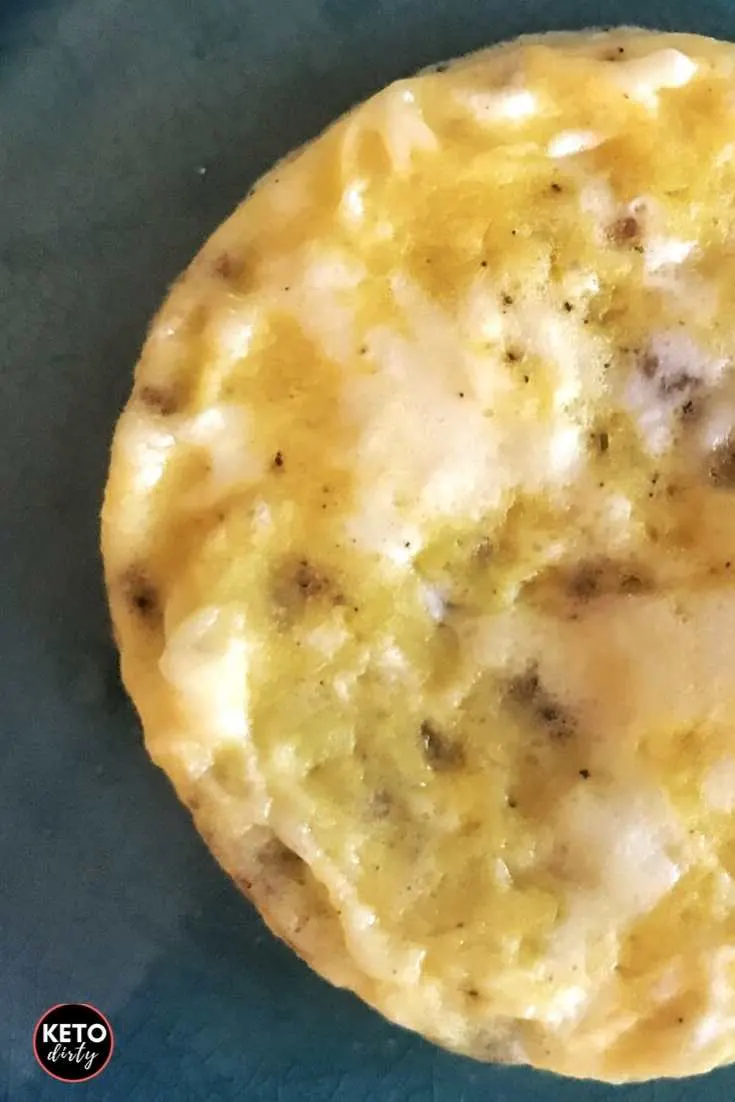 If you are someone who struggles to cook their omelette just perfect, we are sharing our secret!
Sausage Egg Crepes
Our very own KETO sausage egg crepes are one of my faves. This hack is super easy to make (make a bunch of the sausage up ahead of time and you are gold!)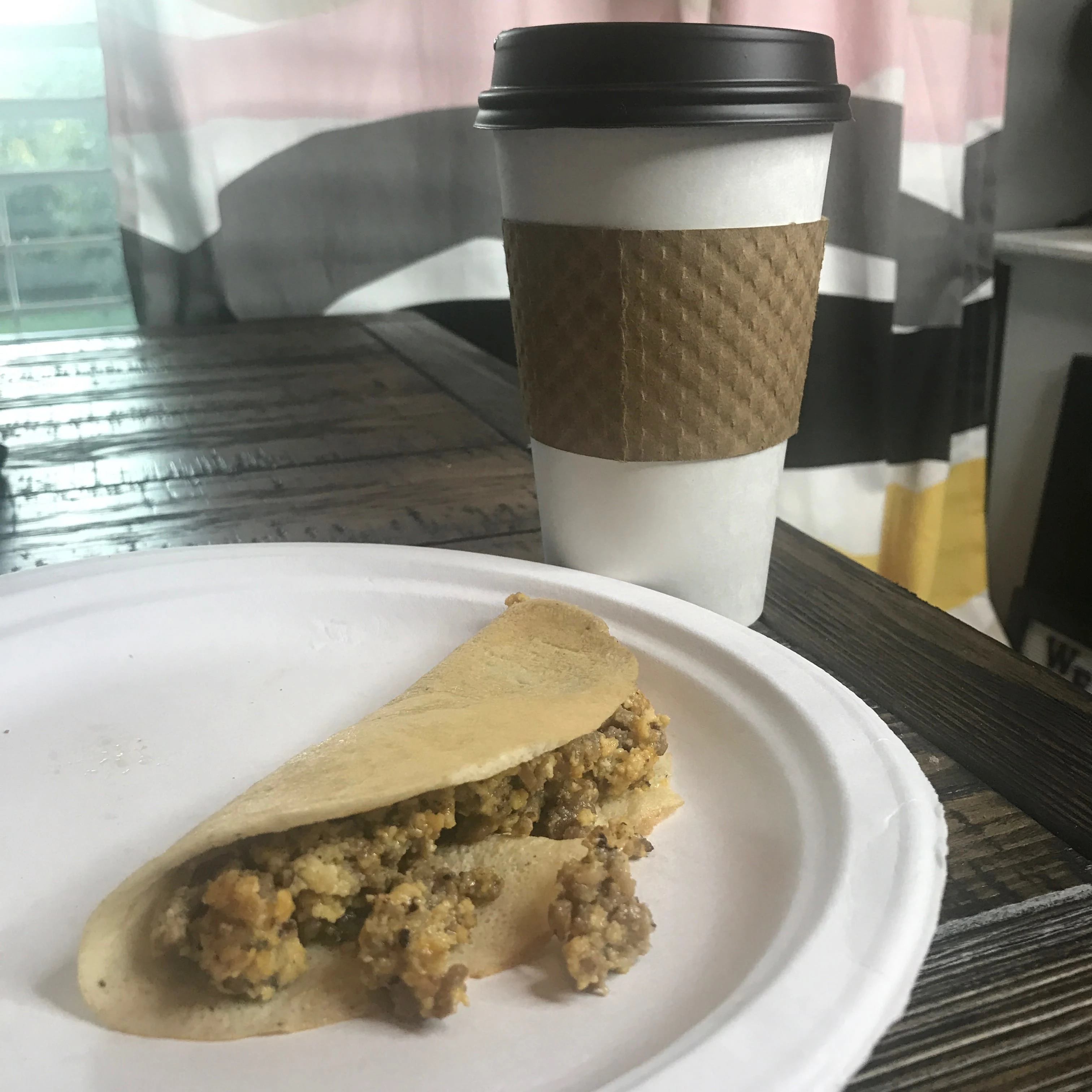 These crepes are so good and this recipe, I eat it often for lunch and dinner. It's easy to make which is a KETO diet WIN!
Bacon Egg Cups
Bacon egg cups are one of my favorite things to make because they are so GOOD and my kids love them! Anytime I can find something the family will eat that is KETO is a win. (love bacon? then you'll love these bacon memes!)
Dancing Thru the Rain shows you how to make this simple but yummy dish!
TIP: You will want to get a silicone muffin pan to make these.
View the Recipe at Dancing Thru the Rain
Egg Bake
With the holidays coming up, I'm always looking for a good breakfast casserole to make. This egg bake from Foodal is perfect! It's a great low carb breakfast idea and you make it the night before.
Keto Breakfast Ideas No Eggs
Don't worry – I know some of you guys are SICK OF EGGS! I've include KETO breakfast ideas no eggs. When you want a keto breakfast without eggs, these are your go to recipes!
Low Carb Chocolate Shake
Need something sweet? This low carb breakfast without eggs will fill you up without making you even think about eggs.
This is my ultimate favorite KETO recipe – it's a chocolate KETO shake and its AMAZING.
KETO Donuts Recipe
I know, another KETO breakfast no eggs! Winning, right? Yes, this does look too good to be true – but it's not! It's KETO Donuts from Mommy Fit Lyndsey.
View the Recipe at Mommy Fit Lyndsey
More Ideas – Low Carb Breakfast Without Eggs
Okay, I totally get it! NO EGGS. These low carb breakfast without eggs ideas may have you avoiding eggs in the morning forever.
Cinnamon Rolls
Who needs regular cinnamon rolls when you have THESE from Wholesome Yum! These are KETO cinnamon rolls made using the Fathead recipe. They take about 40 minutes to make and require no special flour!
View the Recipe at Wholesome Yum
Easy Keto Breakfast Ideas
If your mornings are chaos, I totally feel you. Let's keep it simple with this list of easy KETO breakfast ideas. These are easy low carb breakfast ideas are simple and great to have written down because sometimes you just want to change up the foods you are eating.
I've noted several of these that you can make ahead of time. My favorite piece of advice when it comes to on the KETO diet, is to have low carb foods available at all times. Pre-make foods so when hunger strikes, you can eat. Nobody enjoys being hangry!
Let's keep it super easy with these simple keto breakfast ideas.
Coffee
Don't talk to me until I have had my coffee. Seriously though. If you are on the dirty keto diet or a low carb diet, fret not – you do not have to give up your coffee!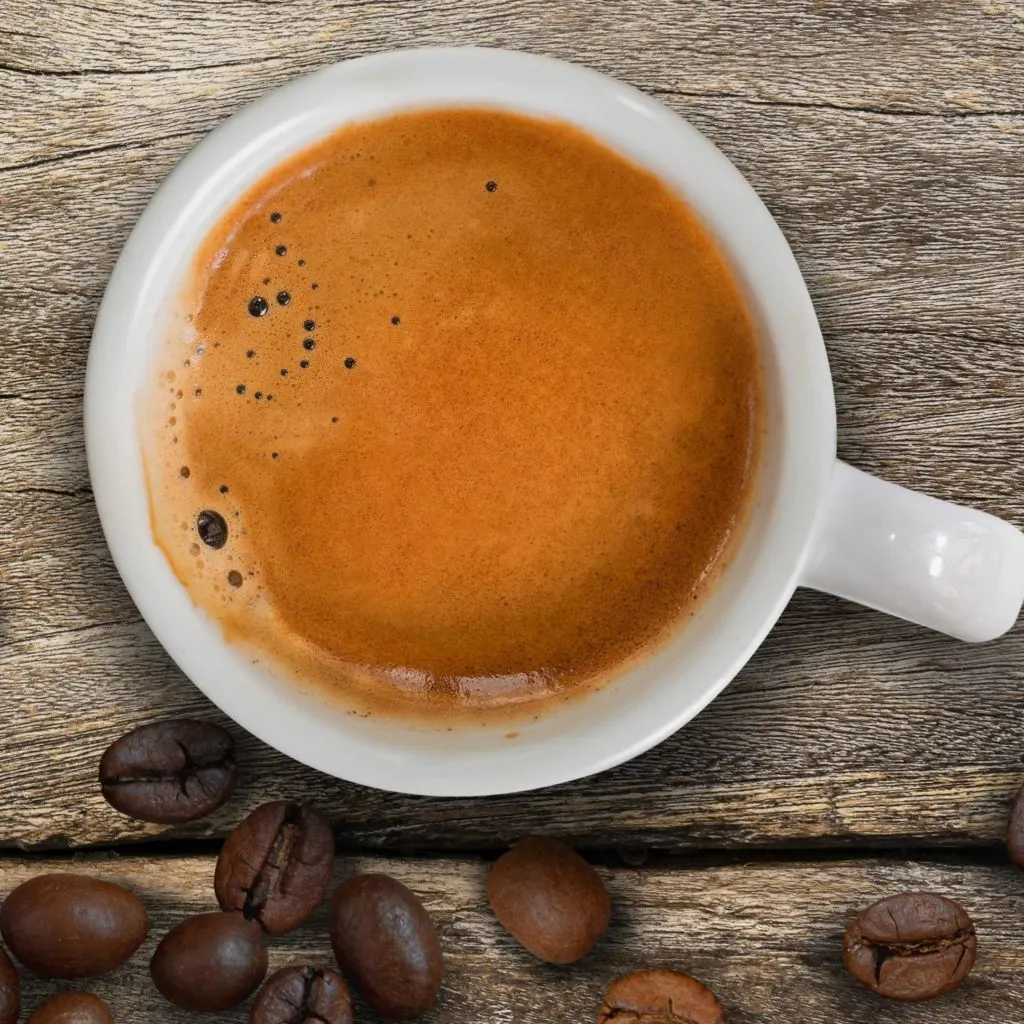 Eggs
We share some fancy keto egg recipes above, but you can just keep it simple with eggs! Here are easy keto egg ideas.
Scrambled eggs
Hard boiled eggs – learn how to microwave hard boiled eggs
Egg frittata
Eggs over easy
Poached eggs
Omelette
Cloud Eggs
Eggs mixed with cottage cheese
Sausage
Sausage comes in many forms, here are easy breakfast keto ideas:
Pork sausage fried, patties or links
Turkey sausage links, fried or patties
Bacon
Bacon Need I say more than BACON? Didn't think so. If you love bacon as much as I do, don't miss these funny bacon memes. Same as the sausages, make bacon ahead of time and store in your refrigerator for easy keto breakfast meal prep.
No Carb Breakfast Ideas
Maybe you are on a serious keto diet watching every carb that enters your body. I get it, so let's look at no carb breakfast ideas!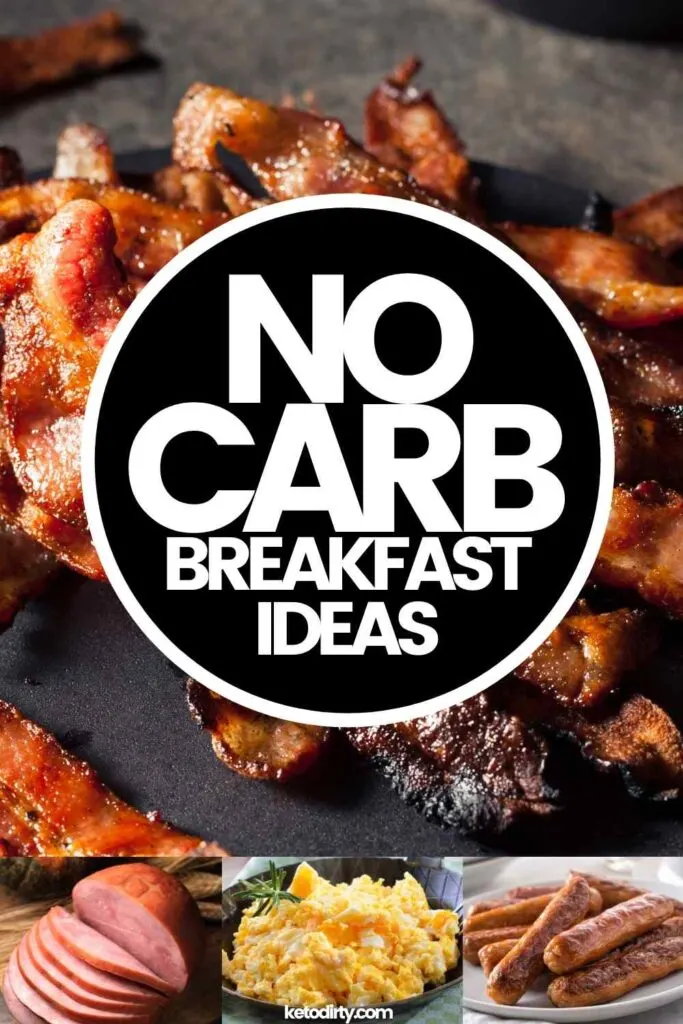 Eggs – any egg dish made with butter and no additional ingredients will have zero carbs.
Plain Coffee – coffee without any additives is a great no carb breakfast idea if you are just wanting something in your stomach.
Bacon – There we go again with our favorite breakfast meat. Bacon has no carbs so if a zero carb breakfast idea is what you are looking for, bacon!
Ham – Fry ham in butter, add in some cheese and an egg for another zero carb breakfast idea!
Sausage – Chicken sausage, turkey sausage, pork sausage – enjoy! Check the package to verify there are zero carbs.
More Low Carb Breakfast Recipes
Here's a list of more low carb breakfast recipes to try
There you have it! We hope that these recipes and low carb ideas guide you to finding what you are having for breakfast.
P.S. Make sure to follow us on TikTok, Facebook and Instagram