This KETO crepes recipe with sausage, egg and cheese is so super easy that I actually make it and eat several times thru-out the week. I love it and hope you will too.
Let's talk on the go breakfast. Here's the deal. Our house has 6 people. I am the only one on KETO so my low carb meals need to feed more than just me. Ideally, I would prefer if everyone liked the meal.
Let's Make Keto Crepes
Today we are teaching you how to make a delicious low carb keto breakfast option that hopefully you will love as much as our entire family loves. Keto crepes are super simple.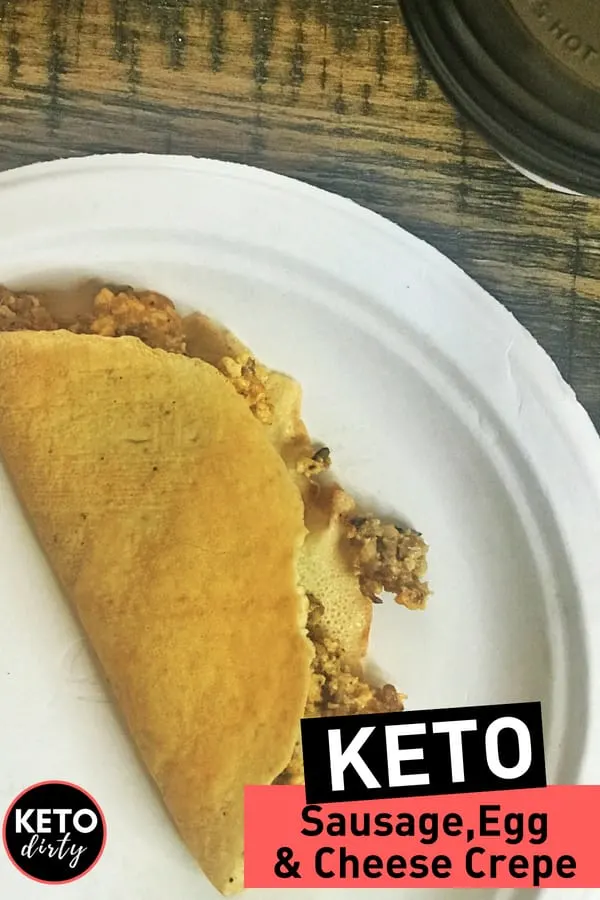 Let's look at how to make these, how many carbs in crepes and how to make ahead for future breakfast meals. We have a huge list of keto breakfast ideas, keep this list handy and add this recipe to your list of keto recipes to try.
KETO Breakfast On the Go
Another bonus is if the meal can be made in bulk and eaten thru-out the week. This is what makes this easy KETO Crepes with Sausage Egg and Cheese filling recipe SO GOOD.
I make the sausage, eggs and cheese ahead of time and throw it in a crepetini whenever I need a quick and easy meal. Here are the meal prep containers I use.
Easy Low Carb Sausage, Egg and Cheese
While I am doing KETO dirty – I know that some of you may be low carbing – this recipe is totally low carb. I mean, sausage, egg and cheese? HELLO. Isn't that what low carb (and KETO) dreams are made of?
KETO Crepes Hack
Ready to learn our secret to making our keto crepes. Okay, secret is out, it's Crepinis. These egg white things are filled with protein, last a few weeks in the fridge and can be found in your local grocery store. (Speaking of grocery store – have you seen our keto grocery list?)
I do have one HACK that you need to know about in regards to KETOing and making these crepes. I use Crepinis. These will be a GOD SEND for your KETO diet. They take just a few seconds to heat up, are 4 carbs (with 4 grams of protein!) and are the most delicious thing for all kinds of KETO meals.
We will be using these often and are a staple for our grocery list each week. They are made out of egg whites – but I am telling you I DO NOT LIKE egg whites, they do NOT taste like egg whites.
I found these online at Walmart.com
– here is the packaging if you are looking for these in-stores: Enough of the chit-chat, let's get down to cooking.
KETO Sausage, Egg and Cheese Crepes
So simple to make and KETO diet friendly! Plus, don't forget this is something that you can feed the whole family without hearing "WE EAT CARBS."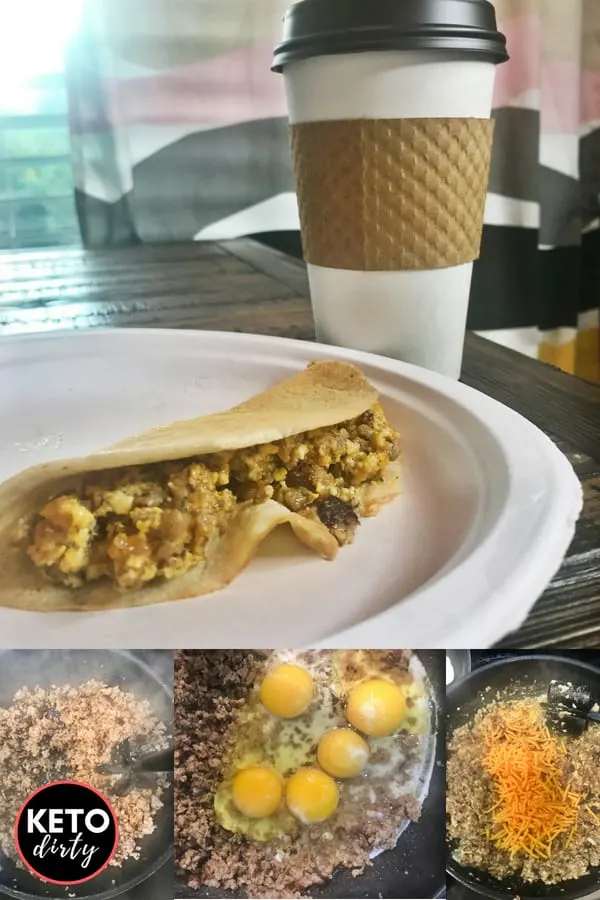 Throw them a loaf of bread, have them toast it to make sausage, egg and cheese sandwiches. This will save your crepinis 🙂 and get your kids FED. We moms gotta do what we gotta do, including taking care of ourselves.
You Do You
Remember – here at KETO Dirty – we do KETO our way. You do you and find the best KETO or low carb diet that will help you sustain this because at the end of the day – you want this to be a lifestyle, not a diet!
We hope you enjoyed the KETO Crepe sausage, egg and cheese recipe. It is definitely one of our faves and hope it will become one of your faves too!
Keto Crepes is part of our series of Keto Recipes