Download our free Keto Grocery List PDF to help you get started on your keto diet journey.
Let us help you make your grocery buying easy. We are helping you find the best low carb and keto friendly food ideas to make your life and dieting journey a bit easier.
Free Dirty KETO Grocery List PDF
So you are doing the KETO diet but have no idea where to start. Fear not! We have a free KETO grocery list to get you going. We are sharing a PDF of dirty KETO food ideas and helping your shopping trip go off without a hitch!
Let's get started grocery shopping and fill you pantry, fridge and freezer full of KETO friendly foods. We have come up with a huge list of things for you to choose from for your next shopping excursion.
BONUS: If you are like me, I am ALL ABOUT having things just delivered to the house. There are certain KETO foods that I just have shipped to my front door. You'll see those noted down below as well.
I organized this free KETO grocery list by how you shop. I just think it's so much easier this way. So when you are in the meat department, this is what you will find.
Download Keto Grocery List PDF
We've made grocery shopping easy for you! Download our FREE keto grocery list pdf and take this with you to the store, or keep it handy for when buying your groceries online. We've even separated out the grocery store departments so you know what to buy where!
Just drop your email below and we will send you our Keto Grocery PDF and keep you up to date with the latest from Keto Dirty!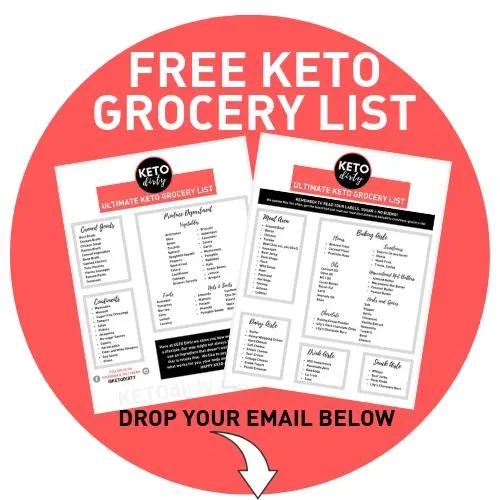 Stay in the know with the latest keto snacks, low carb recipes, tips and more!
Meat on Keto
Let's face it – meat is the base of the KETO diet. On your grocery shopping list, meats are a plenty. We usually purchase 5-6 different meats to snack on and to use in meals.
The biggest thing to check is sugar contents. While you maybe thinking SUGAR IN MEAT? Yes, in hot dogs and certain lunch meats, there can be potential for hidden carbs and sugar. We don't want sugar in our meat. Just check the label. Limit your processed meats when all possible.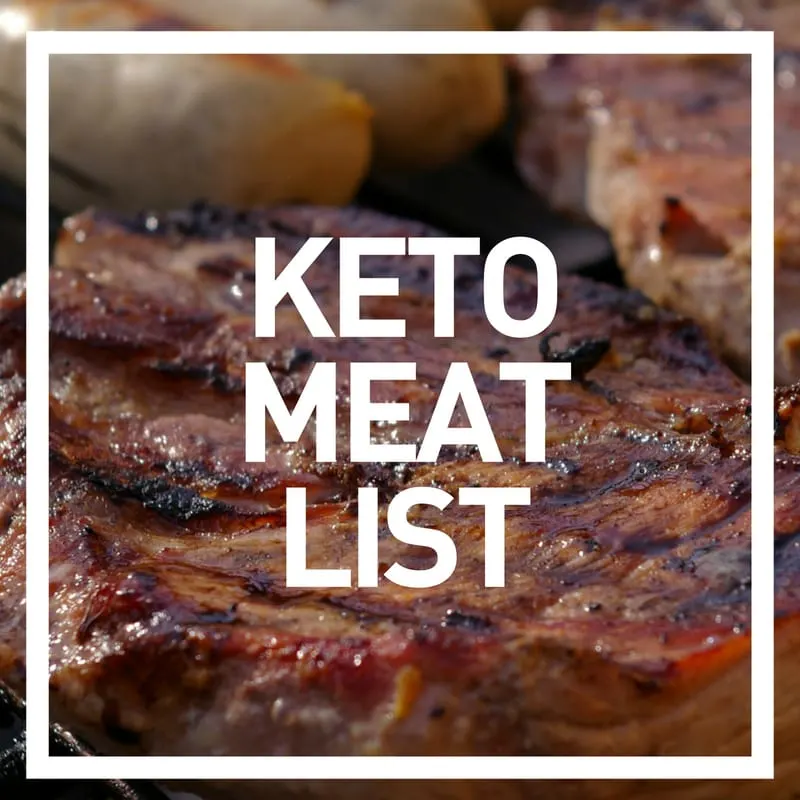 I am including the typical meats we purchase, but know you can also choose from any wild game, fish or shell fish that might suit your fancy. The same goes with any beef or poultry cuts that aren't listed.
Ground Beef
Bacon
Chicken
Turkey
Beef Brisket
Sausages
Beef Jerky
Pork Chops
Duck
Wild Game
Ham
Pastrami
Hot Dogs
Shrimp
Salmon
Lobster
Dairy on Keto
Here is where things can get tricky. You need to check labels for sugar and carb contents.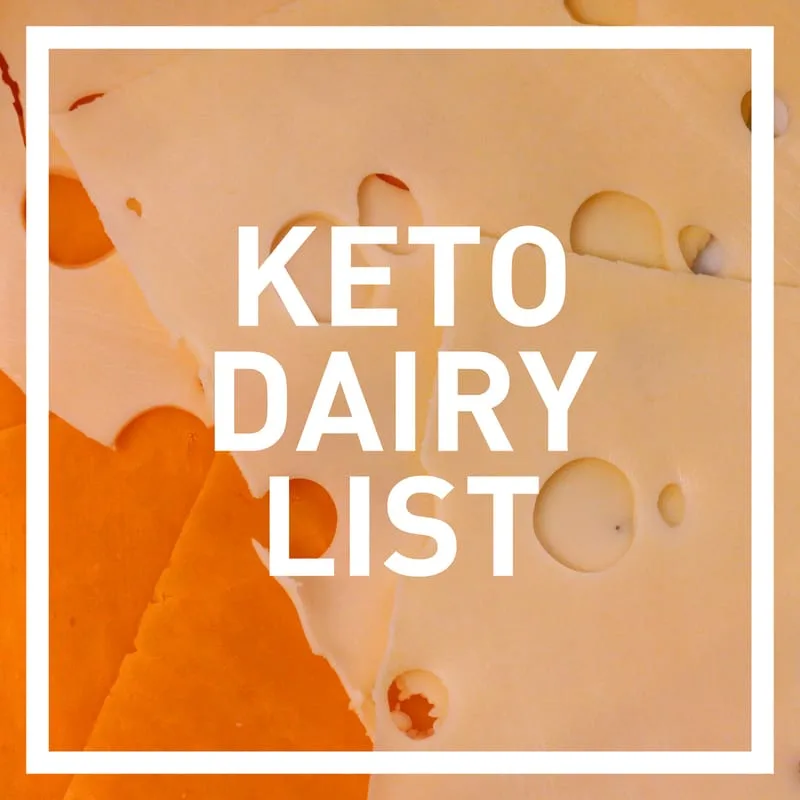 Also, I know eggs are necessarily dairy but most of the time – they are in the dairy aisle. On the KETO diet, eggs are everything – well not everything but a LOT of the diet.
Butter
Heavy Whipping Cream
Hard Cheese
Soft Cheeese
Cream Cheese
Sour Cream
Cottage Cheese
Greek Yogurt
Picnik Creamer
Baking Aisle KETO Foods
Let's stroll down the baking aisle.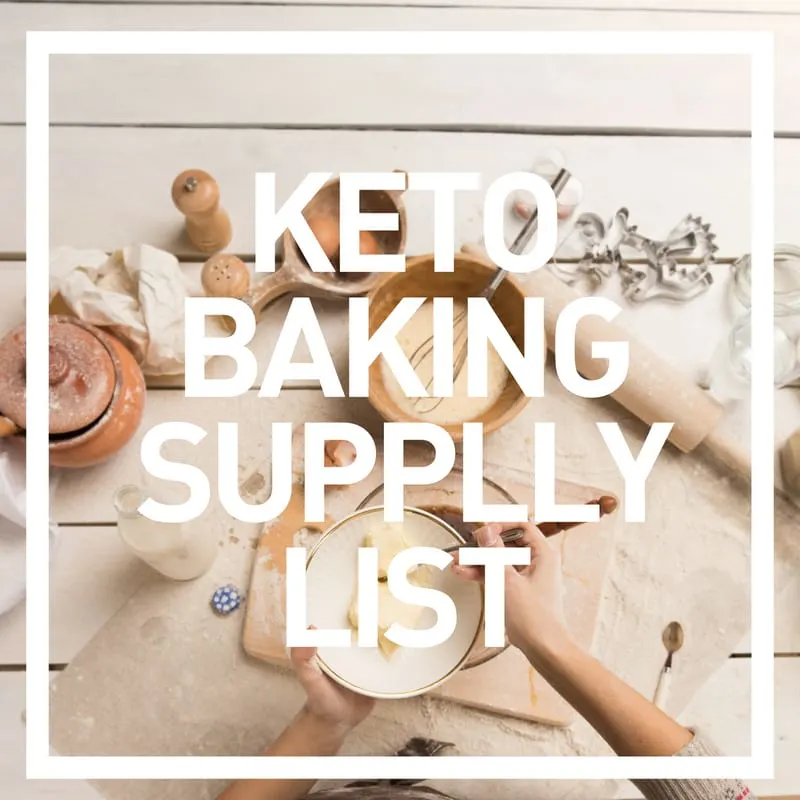 Here is a low carb / KETO baking supply list to fill your pantry with.
Flours
Here are the dirty keto friendly flours to purchase.
Almond Flour
Coconut Flour
Psyllium Husk
Keto Friendly Oils
Want to know what dirty keto friendly oils to purchase? Here are our recommendations.
Coconut Oil
Olive Oil
MCT Oil
Cocoa Butter
Bacon Fat
Lard
Avocado Oil
Ghee
Chocolate
Yes, we said keto chocolate! Here are our suggestions for next time you are looking for a sweet low carb option to do some keto dirty baking with.
Keto Sweeteners
The keto sweeteners topic is always debatable on which is keto friendly vs dirty keto. Here is what we add to our dirty keto grocery list.
Unsweetened Nut Butters
These nut nutters are great for adding to array of keto dishes.
Almond Butter
Macadamia Nut Butter
Coconut Butter
Peanut Butter
Herbs and Spices
Most herbs and spices are KETO friendly. Just make sure you aren't using something like cinnamon and SUGAR. Be wise and remember sugar is not an ingredient you want to be using on a low carb diet. Here are my must-have herbs and spices for cooking KETO:
Salt
Pepper
Garlic
Cinnamon
Vanilla Extract
Rosemary
Tumeric
Basil
Cilantro
Keto Foods in the Produce Department
Let's wonder over to the produce department and find so more KETO food ideas.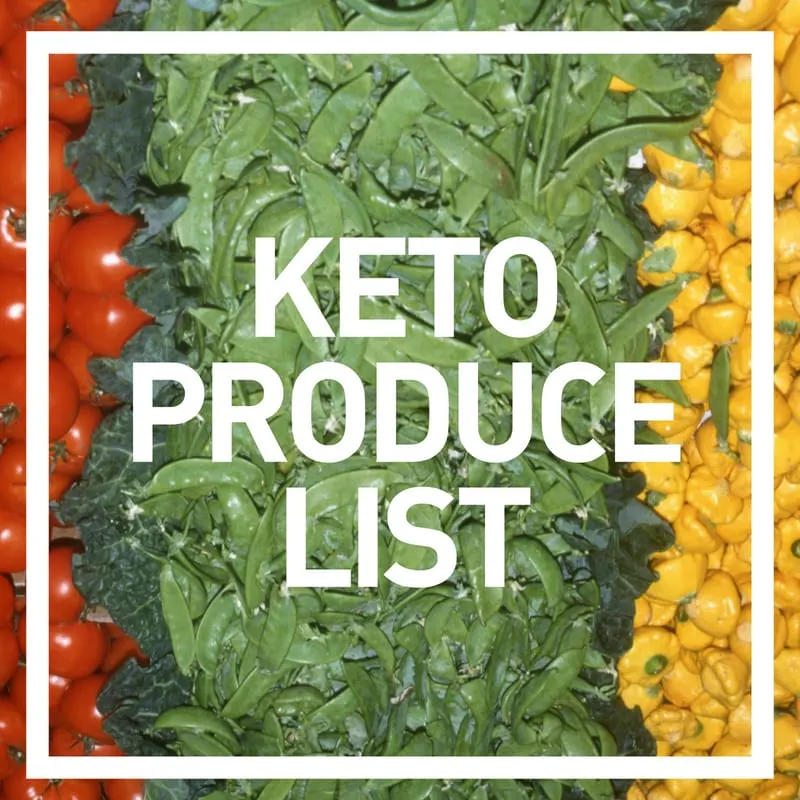 Vegetables
If you love your veggies, you are in luck. Check out our keto vegetables list to get the full low down on suggestion for what low carb vegetables are best, including net carb count.
Artichokes
Okra
Onion
Zucchini
Spinach
Spaghetti Squash
Peppers
Sauerkraut
Celery
Cauliflower
Cabbage
Brussel Sprouts
Broccoli
Asparagus
Cucumber
Celery
Garlic
Mushrooms
Pumpkin
Radishes
Kale
Green Beans
Lettuce
Arugula
Fruits
Yes! You can keto fruit – but only certain ones. Make sure the coconut is not sweetened, and berries of any type in moderation. Here's our keto fruit list:
Avocados
Tomatoes
Berries
Lime
Lemon
Coconut
Nuts and Seeds
Our nuts and seeds are in the produce department, in case you are wondering. Make sure that your nuts are not covered with anything carby or sugary!
Misc Pantry and Fridge Items
These KETO foods are found typically in the center aisles of the grocery store. Remember, read your labels. Pickles are fine – well most are. Bread and butter pickles will have sugar. Go for the dill! It's all about making the right choice when it comes to picking your low carb foods.
Misc KETO Condiments
Let's add a little bit of spice with these low carb and keto friendly condiments.
Mayonaise
Mustard
Sugar-free Dressings
Tabasco
Salsa
Pickles
Jalapenos
No-sugar Sauces
Capers
Horseradish
Cider and Wine Vinegars
Soy Sauce
Olives
Canned Items
Read your labels! I am not above using canned vegetables when I have to. But that said, make sure there isn't excessive sugar or carbs before you put that can in your basket.
Beef Broth
Chicken Broth
Chicken Stock
Ramen Broth
Canned Vegetables
Bone Broth
Canned Chicken
Tuna Packets
Vienna Sausages
Tomato Paste
Various Canned Tomatoes
Keto Drinks
We here at KETO Dirty don't judge you if you drink diet soda. We are in it for the long run so if you need to drink a Coke Zero or a diet root beer, we are still on your team. That said, some people may not agree with this list. You choose how you want to do KETO and do it that way.
BTW, if you are wondering – YES La Croix is KETO friendly.
MIO Sweeteners
Powerade Zero
Diet Soda
Teas
Snack Food Aisle
We have a huge list of KETO snacks – make sure to check those out.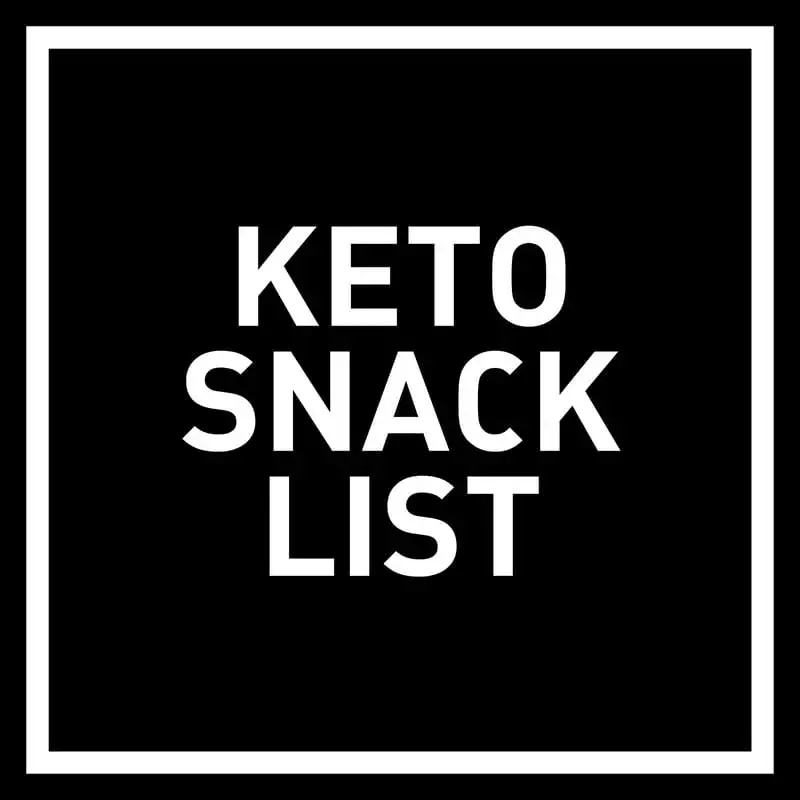 Here are a few low carb snacks that I always make sure that we have in our pantry. We are always on the look out for the latest and greatest low carb finds. Make sure to check our new keto diet foods for even more suggestions!
Grocery Shopping for Keto Food
We want this KETO diet to be as easy as possible for you to follow. We've taken the above list of KETO grocery ideas and made it into a FREE printable. Just print and bring to the store, or bookmark this page. Then you will always have access to food ideas.
We hope you enjoyed our keto grocery shopping list pdf!
Follow Keto Dirty on Social – Facebook / Keto TikTok / Pinterest / Instagram
Keto Dirty is reader supported. When you buy through links on our website, we may earn an affiliate commission.