Keto and In N Out Burgers go hand in hand! Check out how to order a KETO burger, what your options are and more.
Eating keto fast foods may sound wrong on so many levels. If you think so – this post isn't for you. We are sharing our favorite KETO fast food ideas from various fast food restaurants.
Best Keto In n Out Menu Options
In order to make this keto lifestyle work best, that means sharing ways for you to eat right – even on the go. We are sharing one of our favorite fast food joint places, In-N-Out Burger.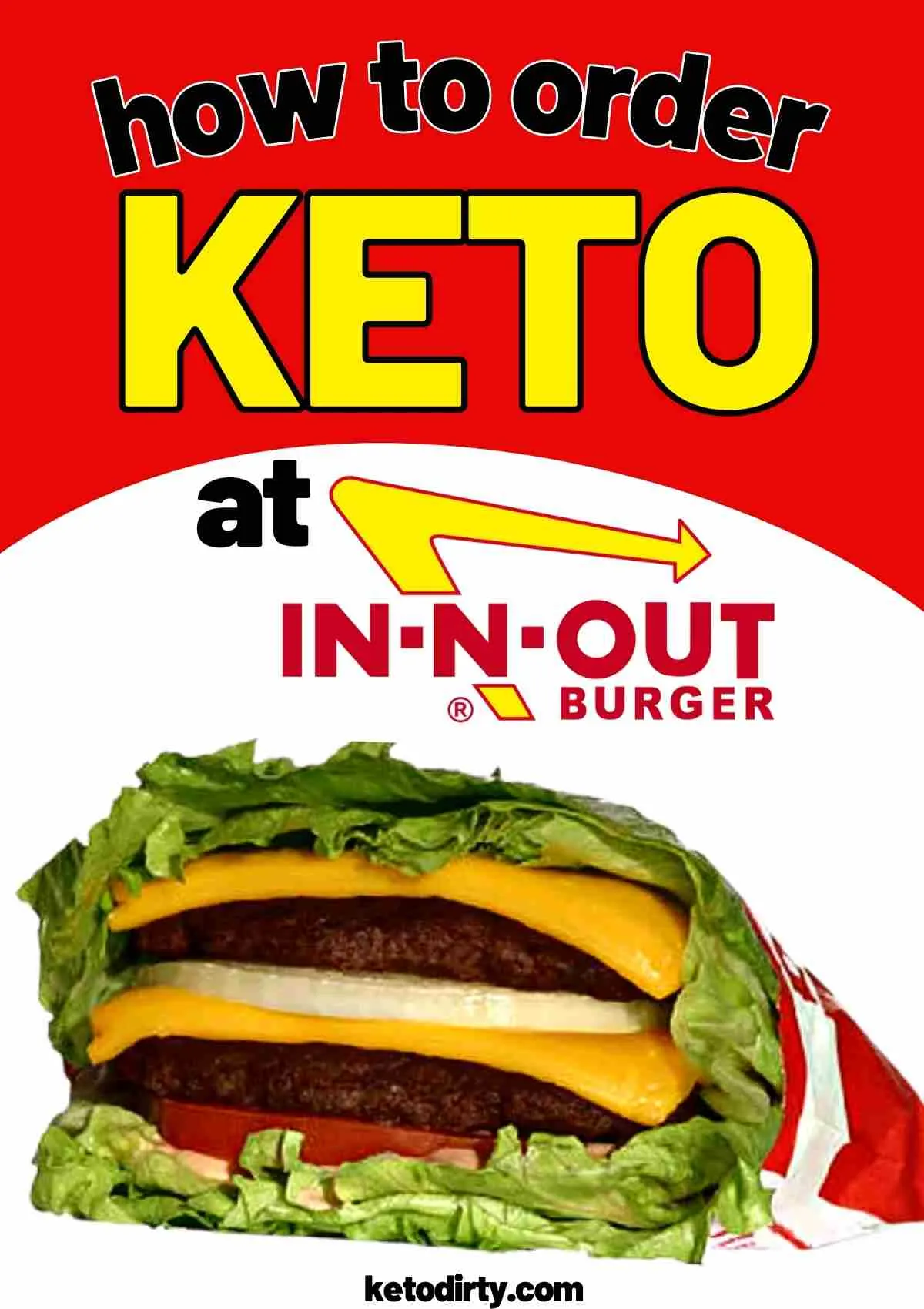 If low carb fast food is what you are looking for, let's look at how to order keto at In-n-Out!
In and Out Keto Burger Protein Style
As we look at the various keto fast food options, for burgers – we love us some In-n-Out.
So one of our well DUH moments in KETO is realizing that In and Out burger is one of the best places for low carb eating.
WHY? Here are a few reasons:
Quick! Well as long as the line isn't too long.
Cheap – A good burger for under $4 now a days is unheard of.
Delicious – The In and Out Burgers are just delicious, you can't go wrong. There beef patties are amazing.
Customizable – While their drive up menu looks simple, they also have a secret menu.
Always FRESH – Your KETO burger will be made to order.
Unfortunately, In-n-Out is not in every state. The company is slowly opening locations across the United States.
For the longest time, they were only in California. That has since changed! Texas started getting In and Outs around 9 years ago. That place has stayed busy ever since, because they KNOW how to serve a burger.
Keto TikTok In N Out Burger
Are you following us over on Keto TikTok? We are sharing how we order a Keto In n Out burger. Watch and learn for a low carb lunch.
In and Out Burgers Secret Menu
So let's talk about how the In N Out Burger secret menu and what parts you need to know about it to order your low carb meal.
Hidden Menu
There is a CRAZY secret menu at In N Out but we are just talking KETO here. It's not TOTALLY a secret because you know, I know and now you know – so lets just call it the In n Out hidden menu.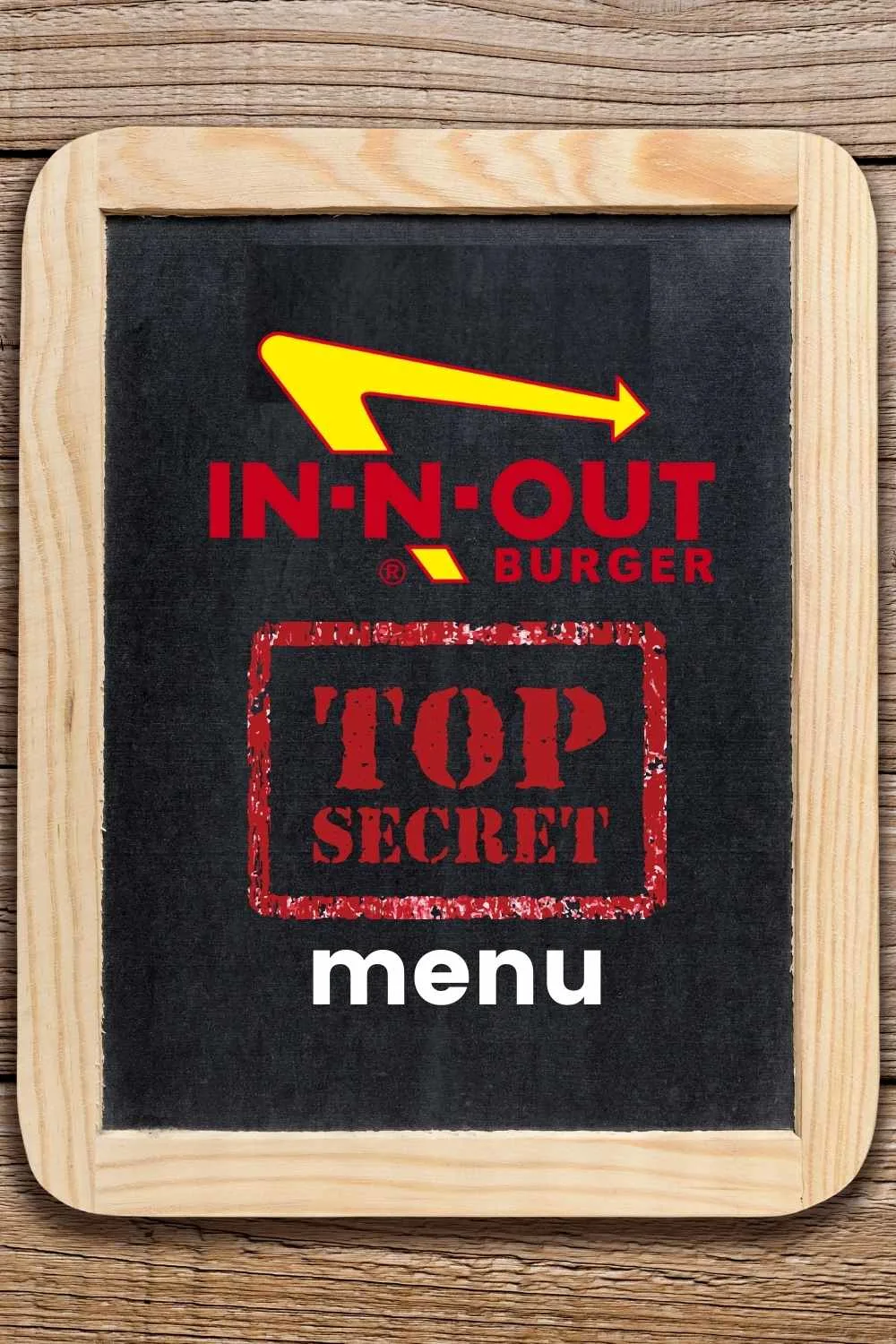 In N Out's secret menu features all kinds of things not on the menu! The regular menu is pretty basic when you look at it. But using the secret menu/hidden menu – you are upping your options on what the cooks in the In and Out kitchen can do for your cheeseburger.
We will be using the In N Out secret menu to order keto. Let's look at the best way to order your burger low carb.
Side note – My youngest kid for some reasons doesn't like their burgers. You can use the secret menu to order a grilled cheese! I wish I had known about this option sooner! Check out Thrillist's post for more details..
In n Out Protein Style Keto Burger
Now that you know about the hidden menu, let's use it to order you a delicious low carb burger. Pictured below is a in n out protein style keto burger that is my regular order when driving thru to order.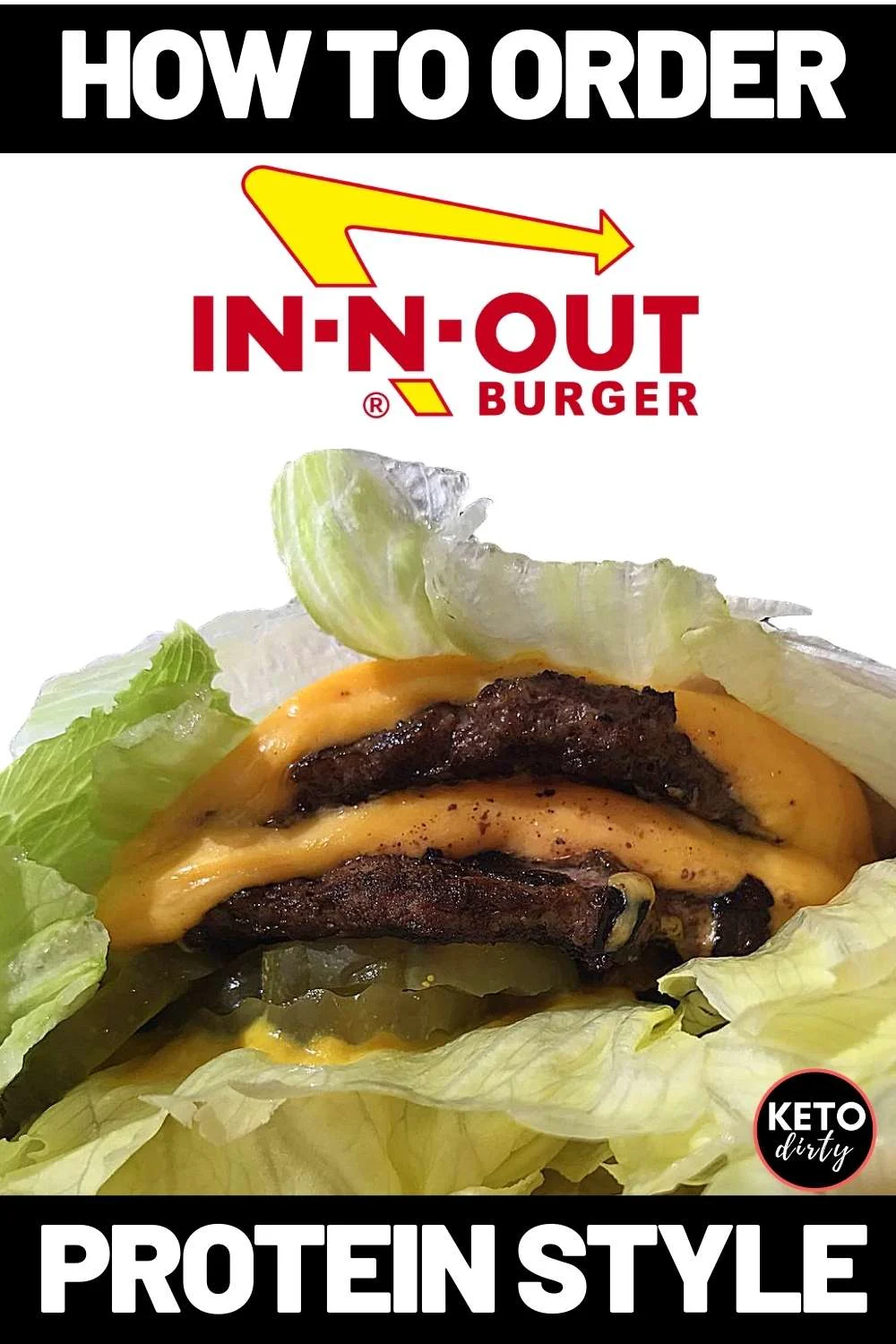 In order to keep it real here, no buns for you on your burger. Low carb is no bread. So protein In n Out style is what we are ordering.
I wish I could tell you that the bread here is bad, it's not but we don't eat bread – REMEMBER? Good news, there is a secret menu option for us KETO dieters.
Protein Style – Lettuce Wrap It!
So let's look at how to order a lettuce wrapped no bun In-and-Out burger.
Just tell the cashier that you want a protein burger. That's it if you just want a simple In-n-Out burger with no bun, wrapped in lettuce. This low carb food is one of our faves.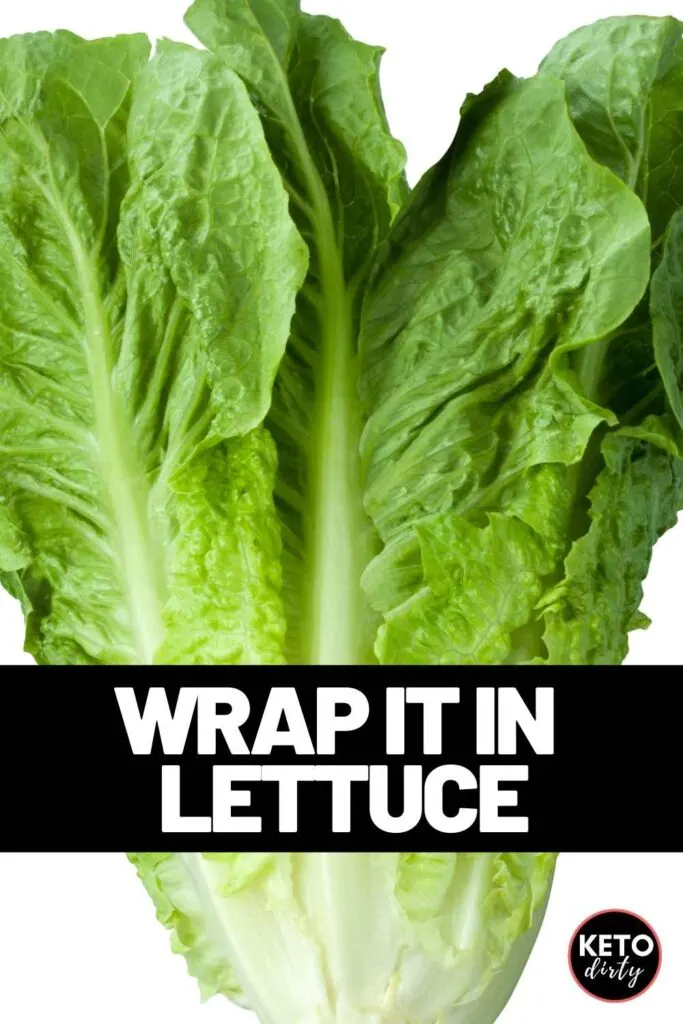 They seriously lettuce wrap the cheese covered beef patty in a way where the lettuce feels like a bun. It's so good, you almost don't even miss the bread. Almost.
Let's look at other fancy ways to use In n Out secret menu to up your protein style burger game.
Carbs in Protein Style Burger
No need to worry about the carbs because with a simple protein In N Out burger, you are looking at only 8 net carbs per serving which includes tomatoes and onion protein.
Flying Dutchman
You will get 2 patties but with the cheese is in the middle.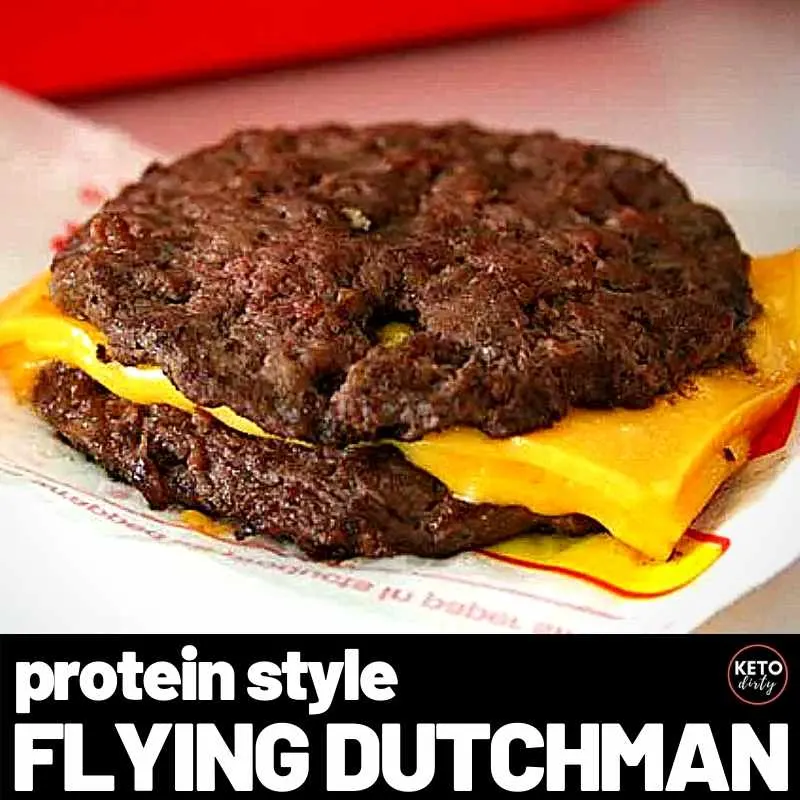 Don't forget to ORDER IT PROTEIN STYLE as well so that you will get a double patty burger with cheese in the middle, wrapped in lettuce.
Mustard Grilled Patty Burger
Your KETO burger will be grilled in mustard. SO yummy, this option definitely ups the flavor level.
4×4 In n Out Burger
Yes, the In N Out 4×4 comes with 4 hamburger patties. There is nothing little about this beef patty delight (or should we say beef patties!)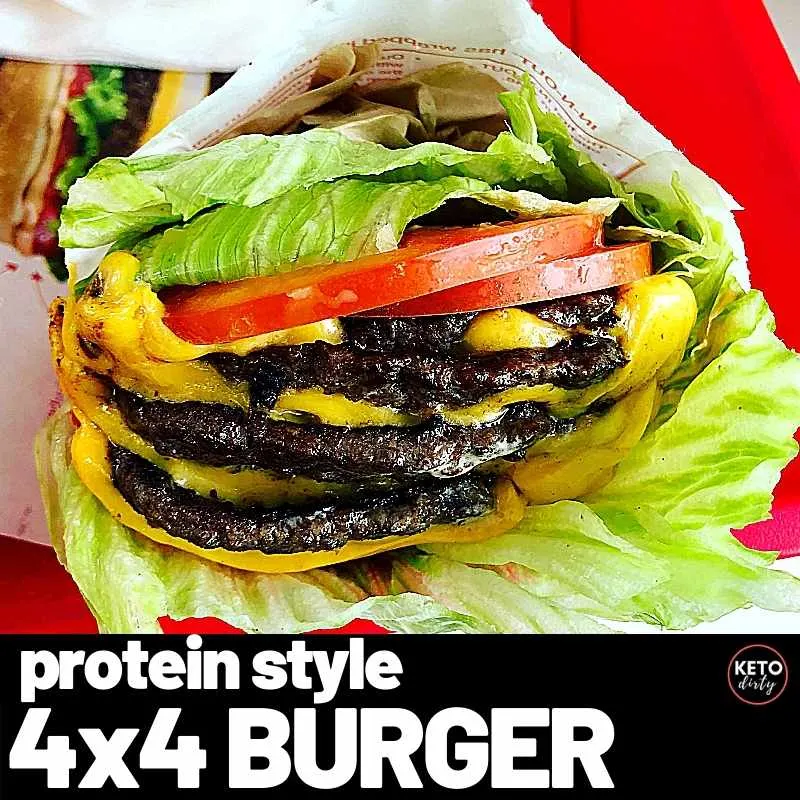 If you are in the mood for some meats – the 4×4 protein style is the way to order.
3×3 Burger
Maybe you aren't so into the meats but you need lots of protein. Have 3 patties with the 3×3 option.
Whole Grilled Onion Burger
You get WHOLE onions grilled on your burger. Nope, not the diced onions – but whole grilled onions!
Animal Style Burger
Perhaps the best known secret menu item is the animal style burger.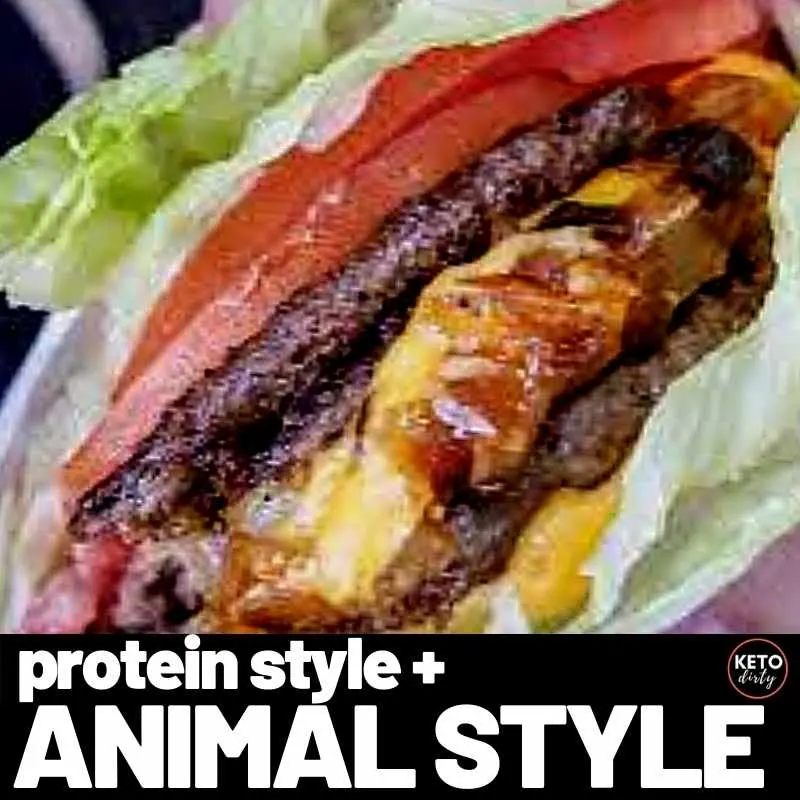 It features mustard-grilled patty, pickles, grilled onions, cheese and animal sauce.
How to Order This In N Out Keto Style
Order a protein burger animal style. You will get a mustard grilled patty with grilled onions, cheese and animal sauce wrapped in lettuce with no bun.
Add Peppers
If you are a spicy junky, like myself – ADD PEPPERS.
How to Order a KETO Burger at In N Out
Somedays I am feeling like a few more carbs, some days I feel like more meat. It just varies.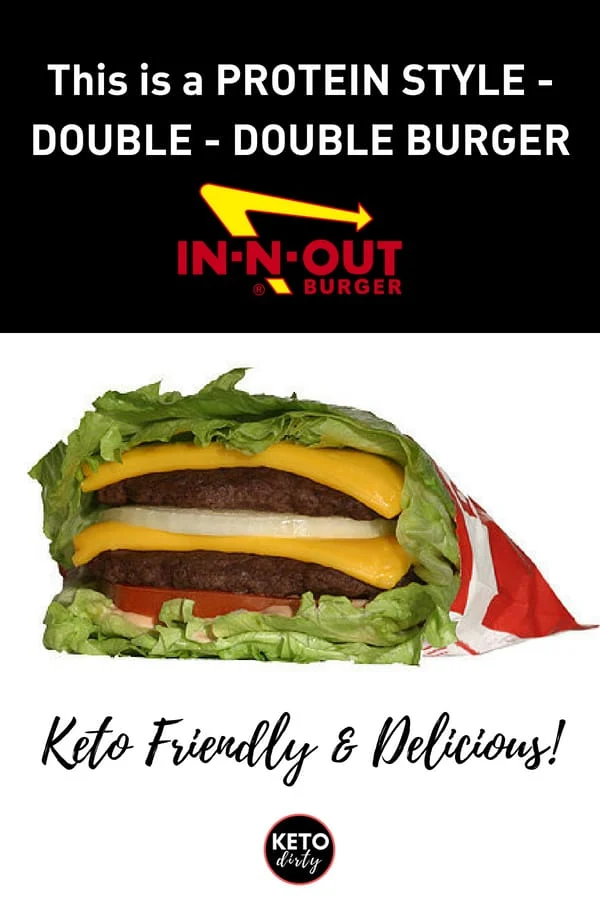 Here is the ideal keto meal and how you order this keto burger next time you are at In N Out:
Double Double Protein Style
Order a In and Out double double protein style burger. This will get you a double cheese burger (that's 2 hamburger patties), wrapped in lettuce with tomato and onion.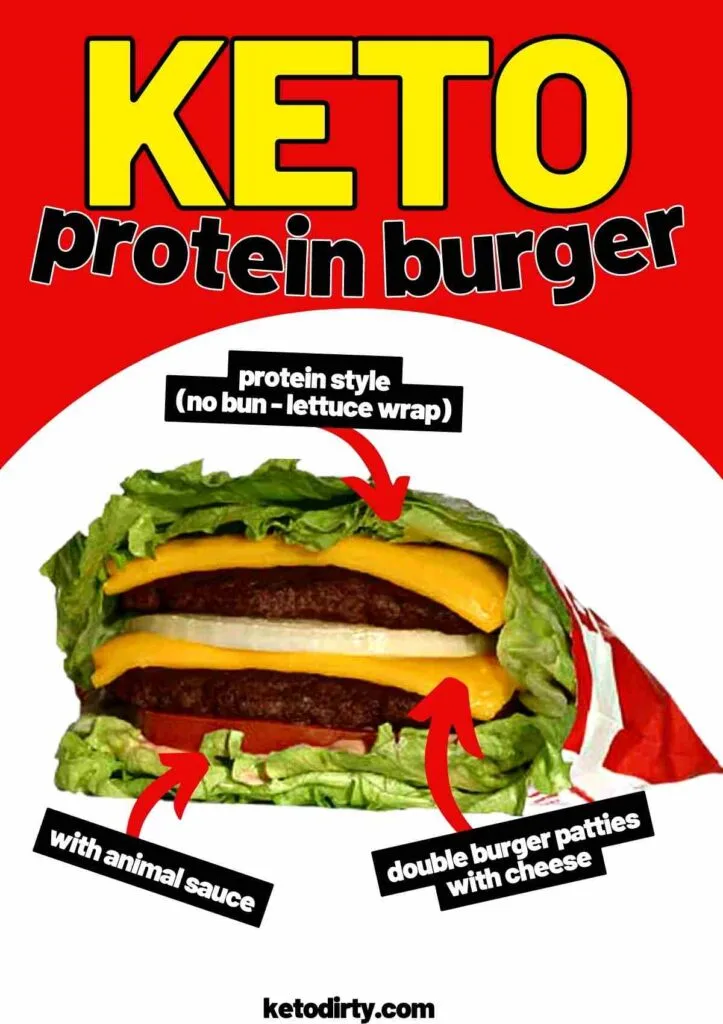 I prefer to nix the tomato, you order how you see fit.
Feeling Like Extra Carbs?
This is what I order keto. If I want to splurge on a few extra carbs with the spread. Yes, this sounds complicated but believe me In N Out is use to it and the cashier will know exactly what you want.
This is how I order my slightly higher than normal carb, keto meal:
Double Double Protein Style – No Tomatoes – Animal Style – With Peppers
This will set you back some carbs, but it's so good and so worth it.
In N Out Nutrition Facts
Let's look at the overall In N Out nutrition facts. This handy dandy chart will show you how many calories each in n out burger has.
In N Out Burger Calories
This will be your guide to help get a better idea of what your carbs, calories protein, fiber and macros will look like.
When looking at In N Out nutrition from a keto aspect, since the data isn't specifically laid out for their secret menu, you may have to do some calculations yourself with the data given and how you specifically order you meal.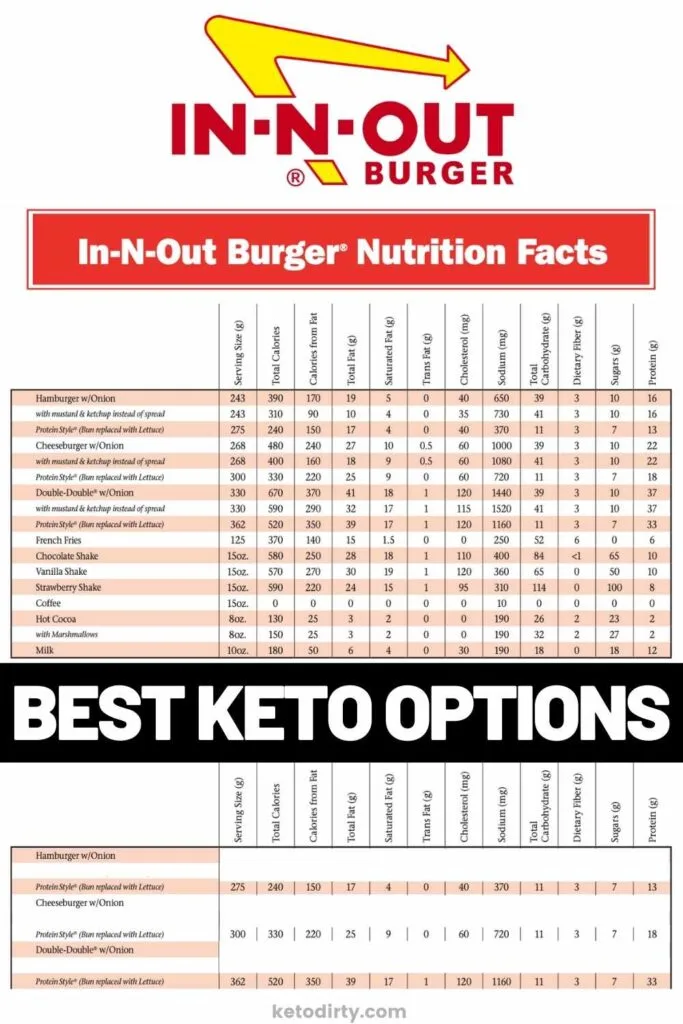 For quick reference, here are some of the In N Out Nutrition Facts that might just blow your mind. If you are doing a calorie deficit diet while on keto or low carb, this might be helpful fo your counts.
Animal Style Fries Calories
While these are totally NO KETO friendly or low carb, for giggles lets find out the total count for the In-N-Out Burger Animal Fries calories.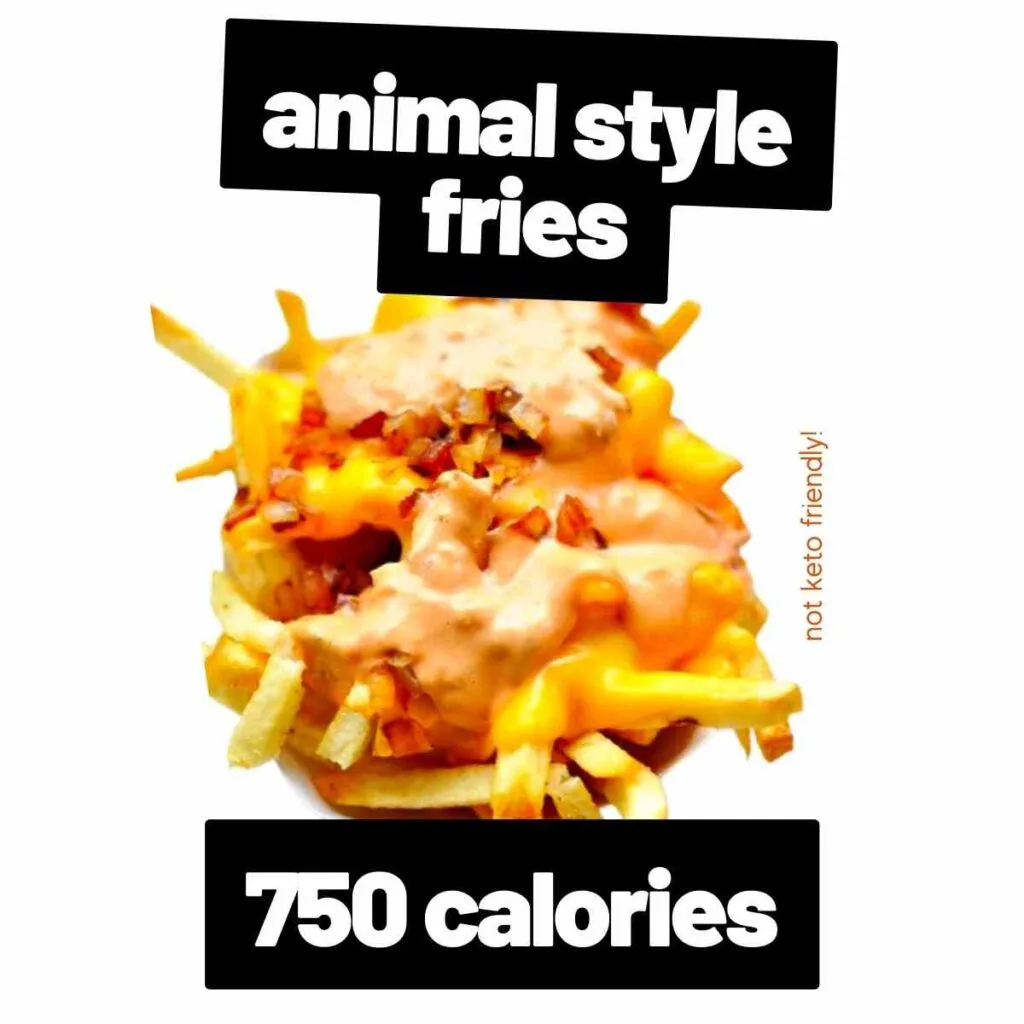 The In n Out Animal Style Fries Calories are 750.
That's right folks, there are 750 calories in the Animal Fries. Let that sink in and drill that calorie number on your head before you even think of ordering it!
Double Double Calories – Protein Style
Want the total nutrition facts data for the In N Out Double Double Protein Style Calories? This is with lettuce replacing the hamburger bun, for a low carb option.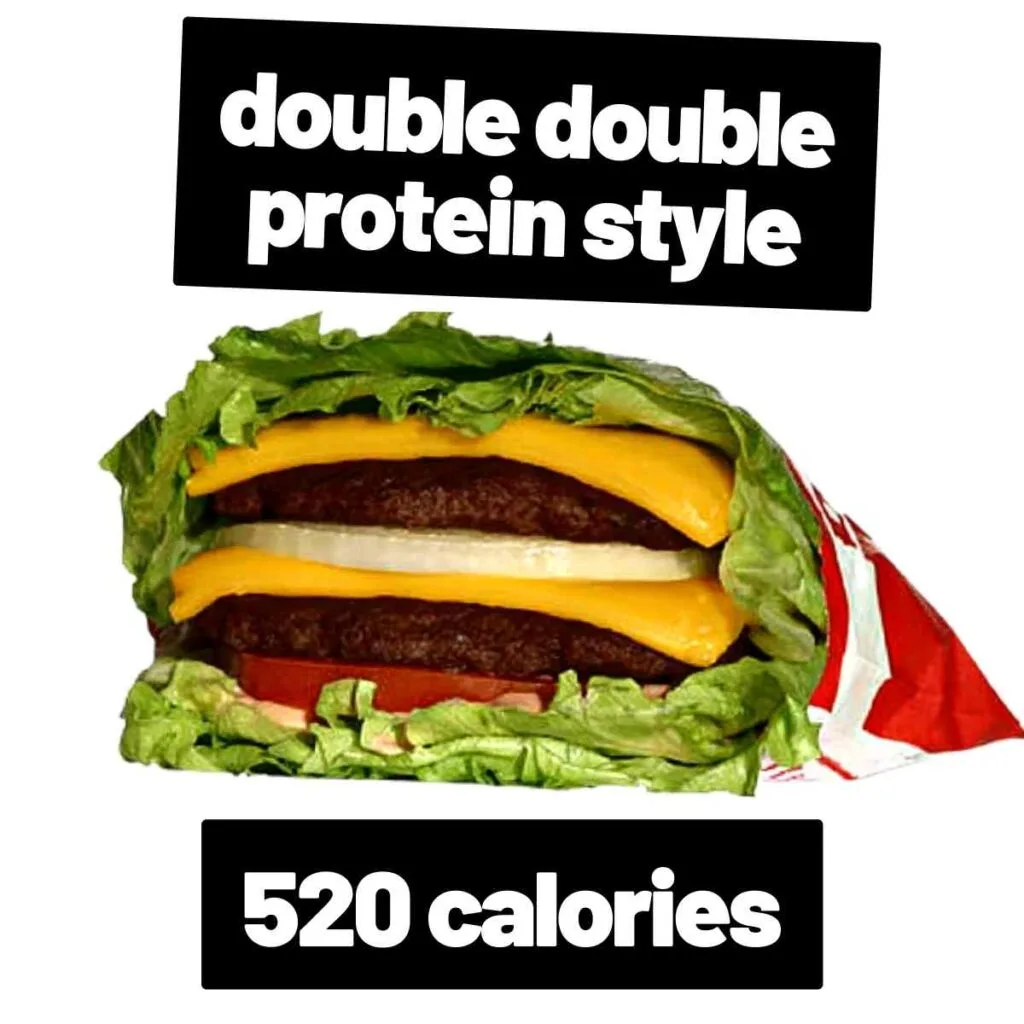 The Double Double Protein Style has 520 calories.
No listed on the In and Out nutrition menu are condiments which we know can add-on unwanted carbs and calories quickly.
In N Out Spread Nutrition
Something I wanted to know was about the In N Out spread nutrition. I love me some of their spread or animal sauce. This is what I found: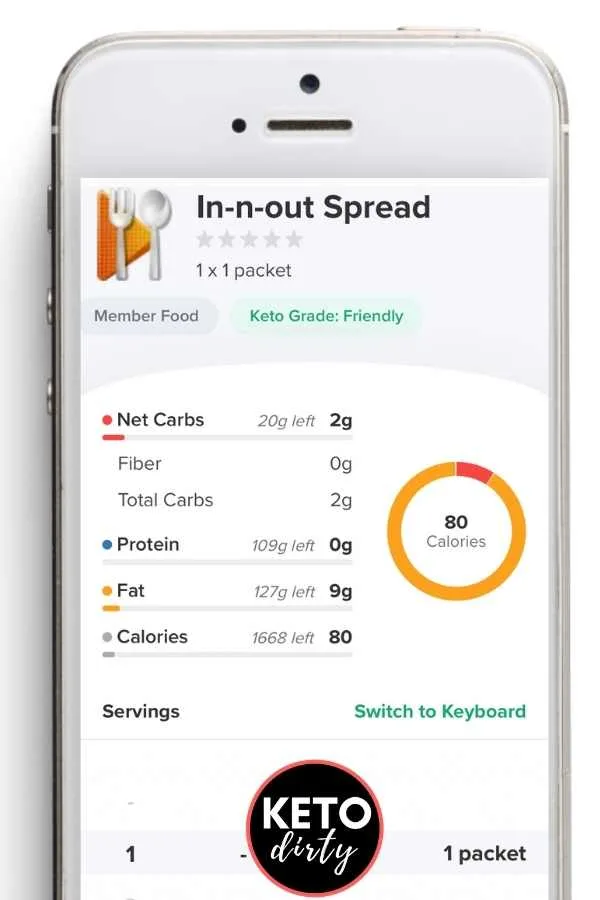 The In N Out spread nutrition facts for 1 packet of sauce is:
80 Calories
2g Carbs
0 Protein
9g Fat
Recap – you are looking at 80 in n out spread calories and 2 in in out spread carbs.
Keto Hamburger Calories No Bun
If you are keeping it hamburger patty basic, let's look at the calories you can expect at In-n-Out. the patty of the hamburger calories no bun has 205 calories approximately.
Questions Answered
Let's answer some of your frequently asked questions about eating Keto at In and Out Burger.
What Chili Peppers Does In N Out Use?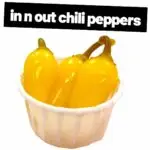 The in n out chili peppers are called Cascabella peppers. The yellow chili peppers can be added on to your burger or fry order. Cascabella peppers are mild, the hottest Scoville is equivalent to a standard jalapeno peppers.
You can also ask for a side of peppers in which you will receive a bag of their cascabella peppers in a clear sealed bag.
How Many Carbs in Spread at In N Out?
The In N Out spread has approximately 2 carbs. If you order a animal protein burger, add 2 carbs to your carb count.
How Do I Order Keto at In N Out?
To order Keto at In N Out, order a protein burger. This will eliminate the hamburger bun which is the culprit of carbs! Try to stay away from ketchup and animal sauce to minimize the amount of additional carbs added to your keto burger.
What has the most protein?
I would say the 4×4 protein style burger would provide the most protein.
What type of cheese does In-n-Out Burgers use?
In-n-Out uses American cheddar cheese on their cheeseburgers.
How many carbs in cascabella peppers?
The in n out chili peppers – the cascabella peppers has approximately 1 net carb per chili pepper stem.
In N Out Burgers NOT In AND Out Burgers
While I call it In and Out Burgers all the time, it's officially In N Out. We hope that this becomes a low carb fast food option for you with these keto in n out menu ideas!
What is your KETO Fast Food go to? What do you order at In and Out?
Looking for more Keto Fast Food Ideas? We've Got You COVERED!
Follow Keto Dirty on Social – Facebook / Keto TikTok / Pinterest / Instagram
Keto Dirty is reader supported. When you buy through links on our website, we may earn an affiliate commission.
In N Out Keto Menu is part of the Keto Fast Food Ideas series