I know these two things don't sound like they go together – Keto McDonalds but you guys, if you are Keto Dirtying you can do this.
What to Eat at McDonalds on Keto Diet
First, I can already see the eye rolls and naysayers. But you guys, when you are desperate to find something to eat and want to keep it keto friendly, you will find something to eat. Or perhaps you are eating Keto Dirty (or dirty Keto – as some say) – then this is the post for you.
There's a reason so many of you are searching for mcdonalds carb count or wanting to know how many carbs in Mcdonalds eggs!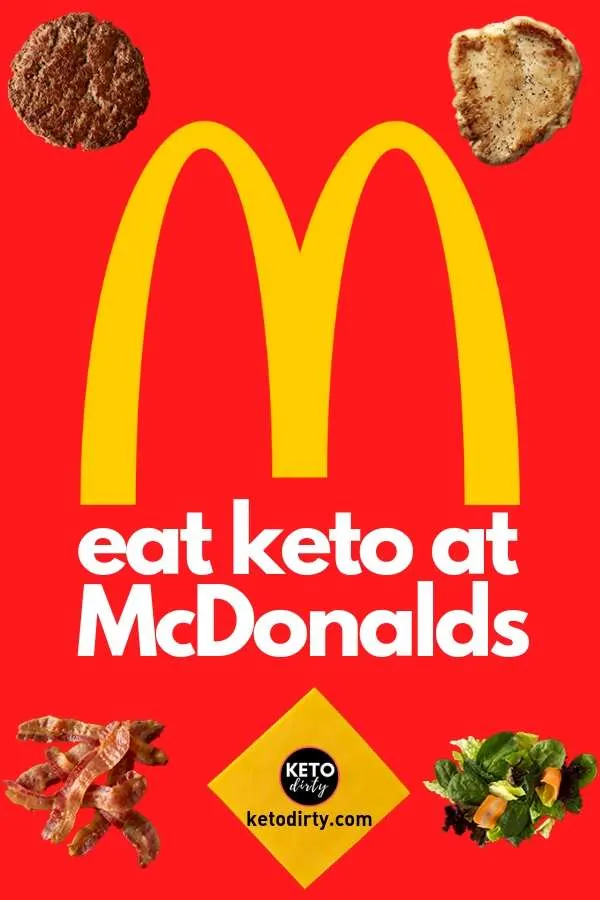 I am going to say this. McDonalds isn't my first choice for eating keto (yes, even when eating dirty.) But again, if you are trying to be good and eat on the go – let's look at the Mickey D's menu and see what is McDonalds Keto friendly options.
We are going on a road trip and food options will most definitely include McDonalds because hello – we have 4 kids. So before rolling those eyes, remember times like this when you want to be good but can't always be perfect.
McDonalds Keto Menu
If you are desperate and are trying to decide what to eat at McDonalds on Keto – here's a McDonalds Keto food ideas. Our goal here is to show you how to find the nutritional value and Keto McDonald food options to help you make good choices. We have separated these into various categories to help best find the food you are in the mood for. Make sure to keep reading to find out how to find use the nutrition calculator.
Keto McDonalds Breakfast Menu Nutrition for Keto
Thankfully, McDonalds serves a large 24-hour breakfast menu. Let's look at the Mcdonalds breakfast menu nutrition info and keto options.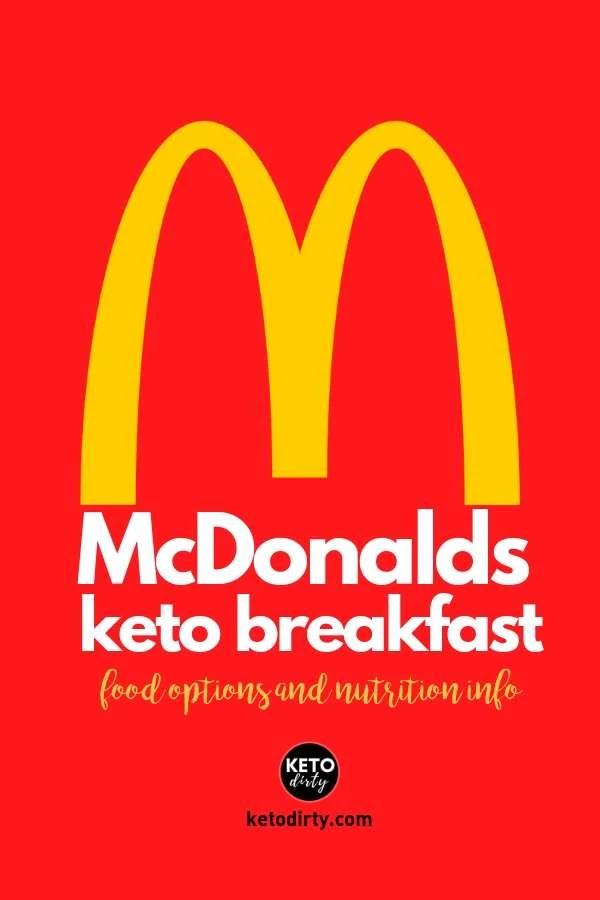 Low Carb McDonalds Breakfast
Here are the items you will want to order and how to order for a low carb McDonalds breakfast.
Sausage Egg McMuffin – No Muffin
Order the sausage egg McMuffin but ask them to hold the muffin and add an extra sausage patty (sorry, no McMuffin on keto.) McDonalds will serve you the sausages and egg in a box.
You can then pretend the sausages are the bun and sandwich in the egg. If you prefer McDonalds round eggs over their sausage patties – you can order 2 McDonald eggs and a sausage patty and use the eggs as a bun.
How many carbs in Mcdonalds eggs?
There is 1 carb in McDonalds eggs (one serving.)
Bacon, Egg & Cheese Biscuit – No Biscuit
By saying NO to the biscuit you are saving, get this – 36 grams of carbs. That's right, the bacon, egg and cheese biscuit at McDonalds without the biscuit is only 4 carbs!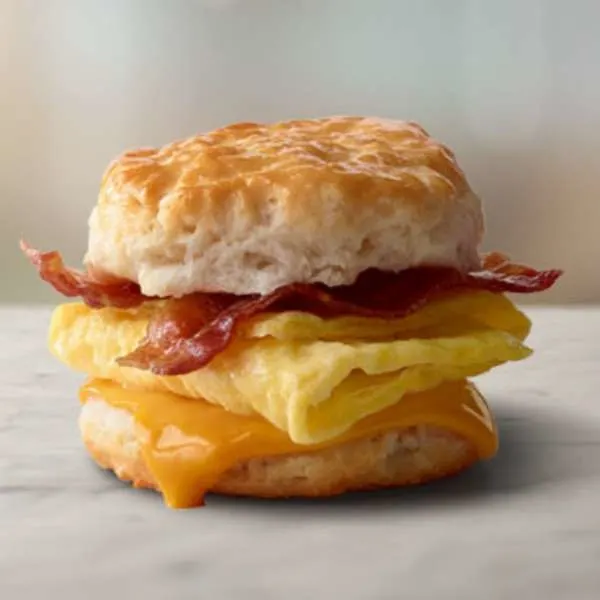 Here are the low carb breakfast ingredients for this McDonalds Keto meal: folded egg, American cheese, thick cut applewood smoked bacon, salted butted and clarified butter.
Breakfast Burrito
Don't get too excited, in order to eat the breakfast burrito and remain keto-friendly, you will need to do one thing. If you guessed throwing away the tortilla – you are correct! That McDonalds breakfast burrito tortilla will cost you 22 carbs!
How Many Carbs in McDonald's Breakfast Burrito?
A non low carb Mcdonalds breakfast burrito is carbie. There are 26 carbs in Mcdonald's breakfast burrito – 25 net carbs.
There is good news! Get rid of the breakfast burrito, and enjoy the taste of the inner burrito goodness. This will only cost you 4 carbs, 0 sugar and 0 dietary fiber. Not bad if you want a burrito taste but can say no to that carby tortilla.
Keto McDonalds Burgers and Sandwiches
I'm just going to say it once. This is stating the obvious but feel like this needs to be said. Even dirty keto, you can't be planning on eating a bun – especially from Mickey D's! No bread for you – but you can still enjoy Keto McDonald burgers and sandwiches, you just won't be enjoying it with a bun.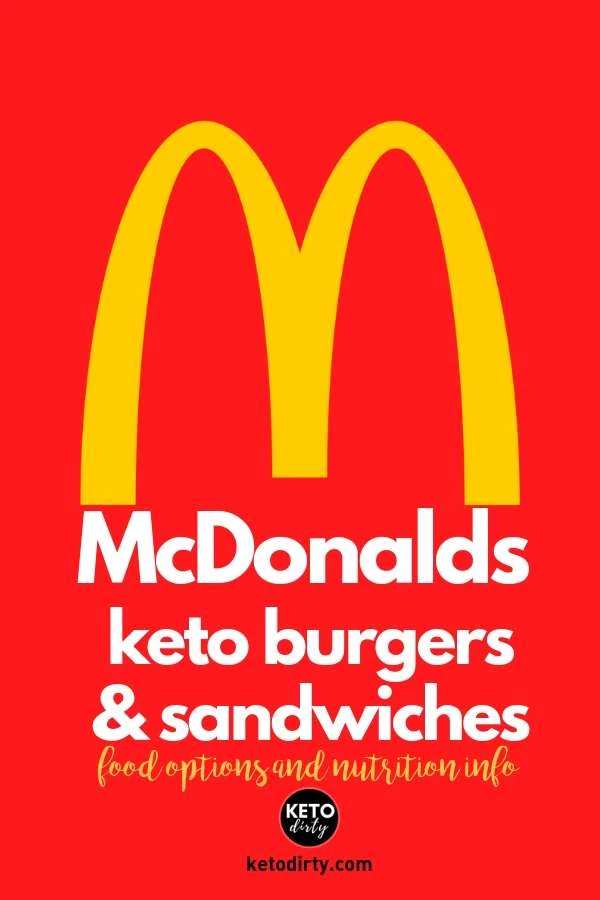 Here are the best options at McDonalds for eating burgers and sandwiches without the bun. (Yes, you can just say – no bun and McDonalds will typically hand you the burger or sandwich in a carton! Don't forget to ask for a fork.)
Artisan Grilled Chicken Sandwich
With the grilled chicken filet, roma tomato, lettuce, herb vinegarette sauce and seasonings – you are only out 2 carbs (1 grams of sugar!) Sorry, not sorry – no artisan bun for you.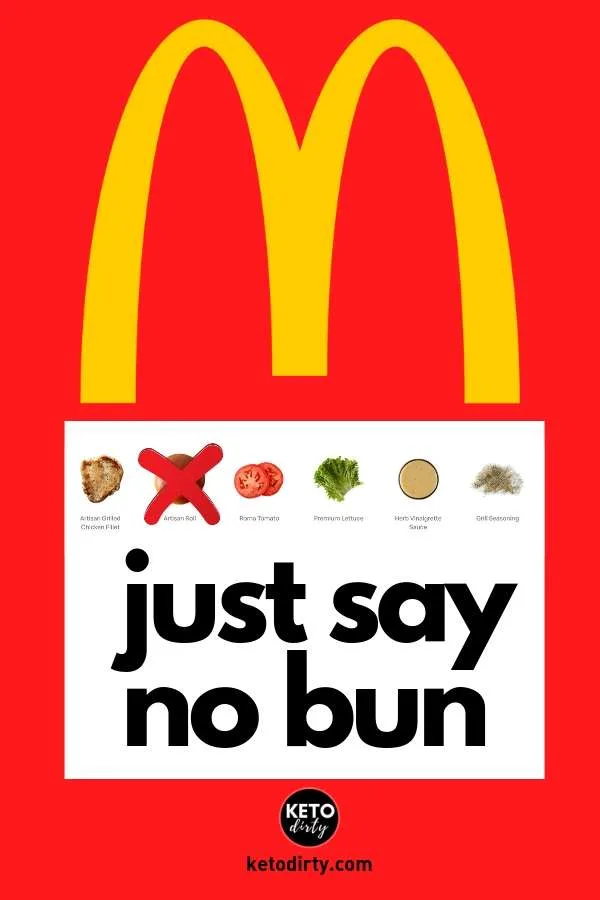 Quarter Pounder with Cheese
For a big hunk of meat, the best way to order this burger is no bun and no ketchup. The ketchup will cost you 4 carbs (3 grams of sugar.) Without the bun and ketchup – the Quarter Pounder with cheese is Keto friendly with only 4 grams of carbs, 1 gram of sugar and 1 gram dietary fiber. You get pickles, onions and mustard and cheese with this version of the quarter pounder, so you won't be just eating meat.
McDouble or Double Cheeseburger
You guys, I give up. I am only finding 1 difference in the McDouble and Double Cheeseburger and that is the carb count!
How many carbs in a McDouble?
There are 33 carbs in a McDouble with the bun. Let's look at how to order Mcdonalds keto McDouble!
IF you have a choice, go for the McDouble – no ketchup and no bun. Here is why: The McDouble features only 3 carbs – 1 sugar, while the Double Cheeseburger rings in at 4 carbs, 1 sugar but does have 1 gram dietary fiber. I've picked thru the ingredients and can't for the life of me tell you why one features that extra carb. If you know, drop a comment below!
Adding Bacon
Want some extra protein? Add BACON! Isn't bacon always the answer?
How Many Carbs in Mcdonalds Bacon?
There is 1 carb in McDonalds bacon. Their bacon does contain 1 gram of sugar. Add bacon in place of that ketchup you are saying NO to and you'll be golden!
Keto McDonalds Salads
The good news is that you have some options when it comes to McDonalds Keto Salads! The key thing is to choose the grilled chicken option instead of crispy chicken. You also want to watch out for those hidden carbs in vegetables and in salad dressings.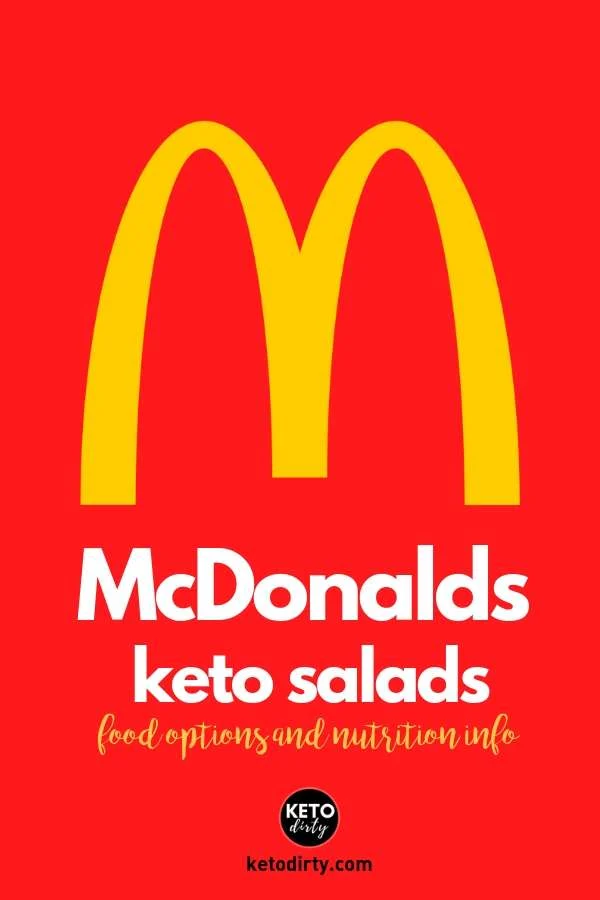 Southwest Grilled Chicken Salad
If you choose this Keto option, but make sure to say no to the southwest vegetable blend.
The vegetable blend contains: Roasted Corn, Black Beans, Roasted Tomato, Poblano Pepper, Lime Juice (Water, Lime Juice Concentrate, Lime Oil), Cilantro. Typically this is something that McDonalds has pre-packaged so you most likely wouldn't be able to pick and choose which vegetables that you should get rid of. The vegetable blend is 8 grams of carbs, 2 grams of sugar and 2 dietary fiber. This isn't outrageous but will save you some carbs by opting to have these removed.
The Cilantro Lime Glaze dressing will only set you back 7 grams of carbs and 4 grams of sugar (dietary fiber is 1 gram.) So if you enjoy this salad dressing, keep it!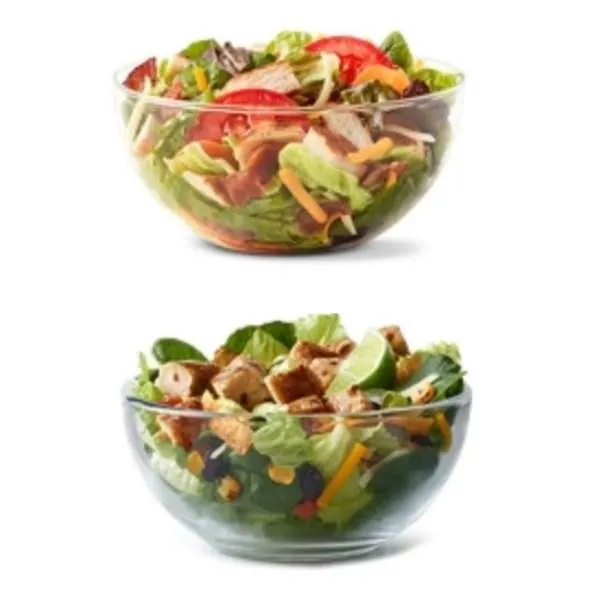 Bacon Ranch Grilled Chicken Salad
The bacon ranch grilled chicken salad is another McDonalds Keto option. Total, as-is with no modifications – this McDonalds salad has 8 grams of carbs and 3 grams of sugar (3 dietary fiber.) So without even having to modify anything, this is a great keto option at McDonalds!
More McDonalds Keto Options
Here is more food for thought in regards to the low carb options at McDonalds.
Keto Food by Ordering A La Carte
You can order a burger patty, sausage, egg, bacon a la carte. But just warning you, we are hearing from readers that this can be much pricier. You can save by just ordering a sandwich and customizing it without the bun. OR if you have the will power to say no to carbs, just throw the bun away or better yet – give the bun to your dog.
KETO McDonalds Food Nutrition
The best way to find out the McDonalds food nutrition facts and stats is to use their food calculator. This nifty options lets you edit the McDonalds menu options and shows you the nutritional value including the carbs and sugar count for each item. This is super helpful when eating Keto at Mcdonalds!
Well Keto friends, there you have it. ALL THE INFO for eating out, keto style. Tell us what your favorite thing to order at Keto at McDonalds is in the comments.
Looking for more Keto Fast Food Ideas? We've Got You COVERED!