Are you looking at Zoes Kitchen keto menu? We are sharing our favorite low carb finds at one of our favorite restaurants for eating out while on the keto diet.
We want to give you KETO fast food ideas, as well as KETO food lists to help you have ideas what to eat on the go. Let's good at what Zoes' has to offer!
Zoes Kitchen Menu – Keto Food List
Good news! If you are in the mood to eat out, but you don't want to get out of ketosis – Zoes Kitchen is a great option!
Fresh food with a greek flair, from fish to beef to chicken – they offer a great variety of tasty food.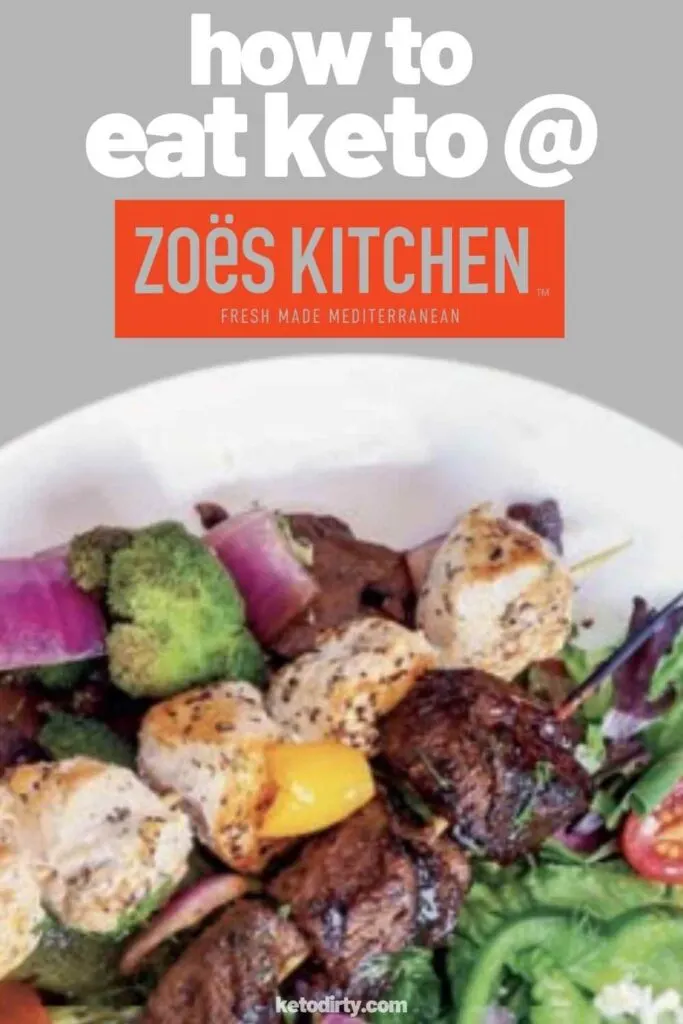 The Zoës Kitchen menu in general is legit and the fact that you can eat such great low carb options is just a win for all of us keto dieting.
Since there are numerous ways to order the different menu options, I am highlighting our top choices. Zoe's is GREAT at letting you customize their dishes. If there is an ingredient that you do not like something or want something else added (CHEESE, give me all the CHEESE ) – just ask.
Best Keto Zoes Kitchen Menu Low Carb Options
Let's look at what our best low carb options are when ordering. Here's a KETO food list from Zoes Kitchen menu:
Zoes Cauliflower Rice Bowl
Our first suggestion from the Zoes kitchen menu is the cauliflower rice bowl.
Here is what you need to know Zoes Kitchen Cauliflower Rice Bowl. If you have ever tried cauliflower rice, and just weren't 100% sold on it – order it off of Zoe's Kitchen menu before totally saying no.
By far, Zoe's has the best cauliflower rice – so much so it doesn't taste like rice!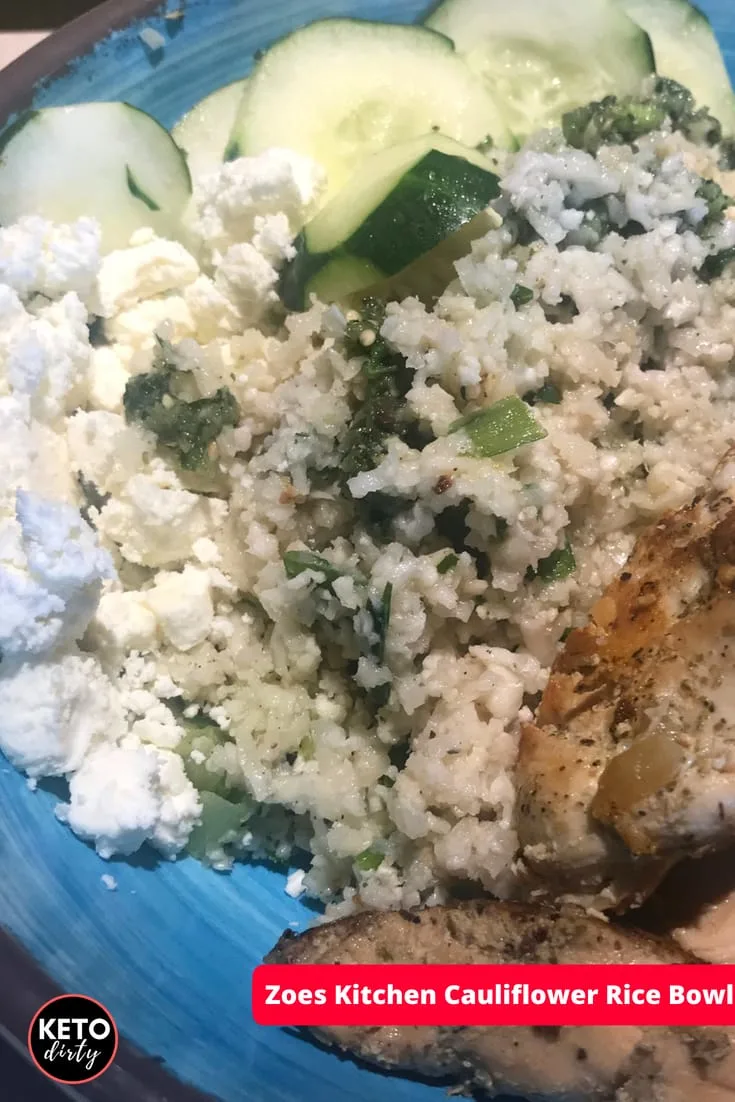 In addition to being KETO friendly, it is gluten-free and can be ordered as a vegetarian dish. So if you are doing vegan KETO – this is an option for you!
This is my current favorite dish, and I just so happen to have eaten here last week.
I added chicken for some additional protein. Also, this thing is huge. It takes me 3 meals to complete it.
Chilled cauliflower rice with house-made tzatziki, Israeli skhug, feta, cucumbers and fresh dill.
You can choose which side of protein you want. Here are their cauliflower rice bowl protein options that are low carb: chicken, salmon, or lamb.
Tip: Order an extra side of Israeli Skhug. Use it on leftovers to help revive the flavors.
Zoes Kitchen Nutrition Chart – Cauliflower Rice Bowl
Here are how many carbs in Cauliflower rice bowl and macros to document.
Calories: 490 – Carbs: 14g – Fat 30g – Dietary Fiber – 5g – Sugar 7g
The Cauliflower Rice Bowl has 9 net carbs.
Learn more about net carbs in cauliflower.
Chicken Cauliflower Rice Bowl
Add some meat to your cauliflower rice bowl by ordering the chicken cauliflower rice bowl.
The Zoes Kitchen nutrition for the chicken cauliflower rice bowl is 9 net carbs.
Protein Power Plate
Before I found the Cauliflower Rice Bowl on Zoe Kitchens menu, I was all about the Protein Power Plate. It's the perfect combo of every flavor that I love. Truly for counter service food, this is my favorite keto plate. Onions – sautéed perfectly. Chicken grilled with an awesome taste, all on top of their marinated slaw (see below for more info on this.)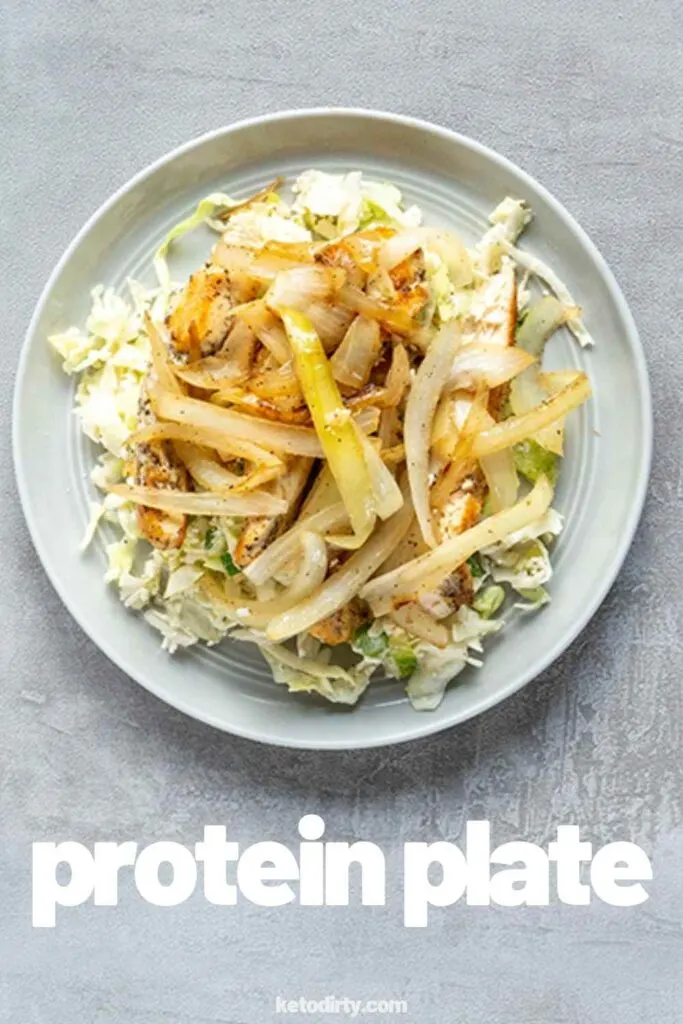 Protein Power Plate Features: Grilled chicken and caramelized onions over a bed of marinated slaw.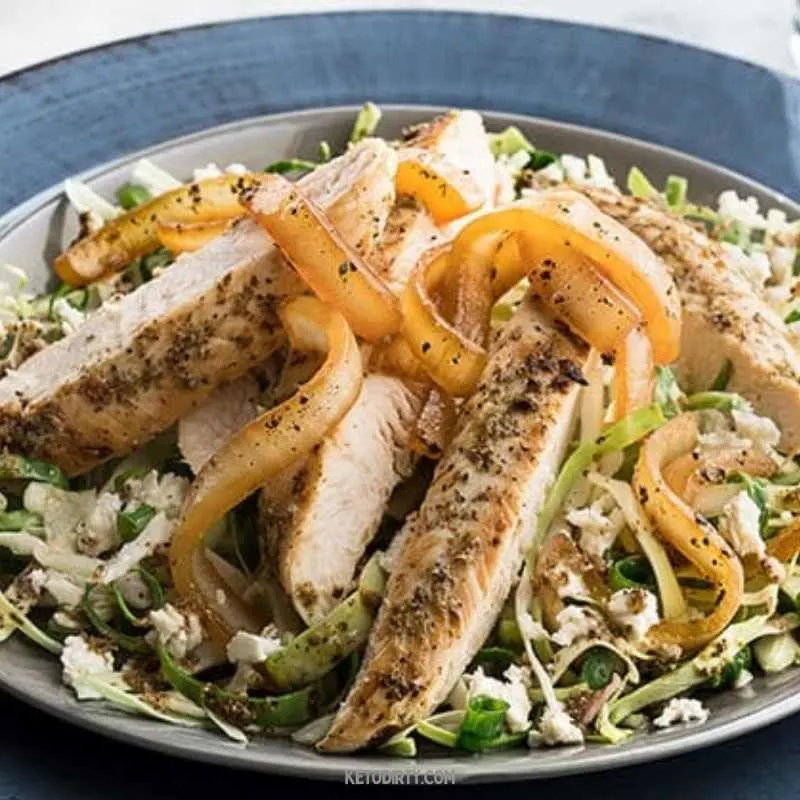 Tip: Order an extra side of slaw. I never liked slaw before eating this version. It has the perfect combo of cheese to cabbage. Also, this is another dish you can make more than 1 meal out of.
Zoës Kitchen Menu Nutrition Chart – Protein Power Plate
Here are the Protein Power Plate carbs and macros you need to know about:
Calories: 520 – Carbs – 18g – Fat 33g – Dietary Fiber – 5g – Sugar 8g
The Zoes Kitchen Protein Power Plate has 13 Net Carbs.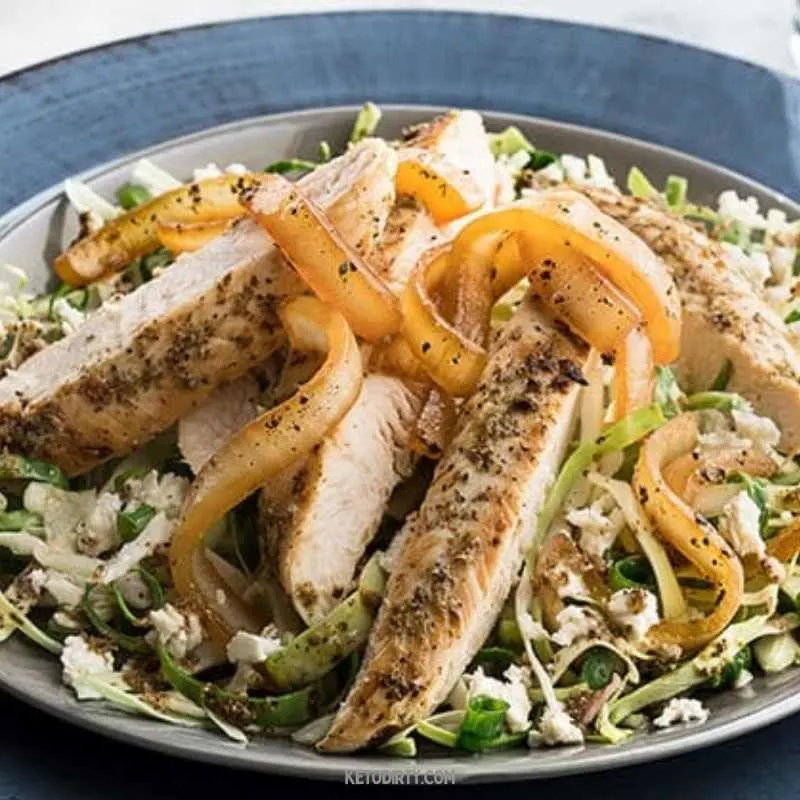 In case you are a carb, macro, etc etc etc tracker – check out Zoes Kitchen Nutrition – get full nutrition details here.
Zoes Kitchen Marinated Slaw
Cabbage never tasted so good. Zoes Kitchen marinated slaw is tops. And how did I not already mention that it's loaded with FETA and green onions. *insert praise hands*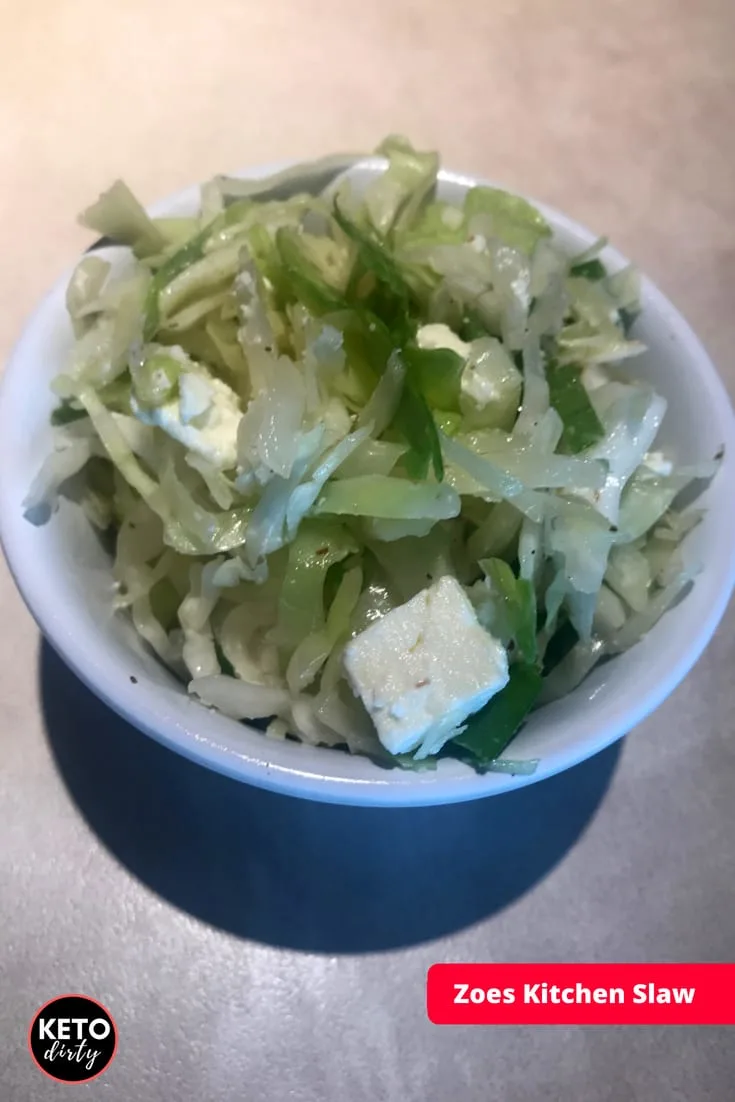 Tip: I rarely ever leave this place without picking up a marinated slaw to go. This is another great fast food idea to pick-up and eat thru-out the week (or day, we don't judge.)
Zoës Kitchen Menu Nutrition Chart – Marinated Slaw
Zoes Calories: 170 – Carbs – 7g – Fat 14g – Dietary Fiber – 3g – Sugar 3g
Marinated Slaw has 4 Net Carbs.
In case you are a carb, macro, etc etc etc tracker – check out Zoes Kitchen Nutrition – get full nutrition details here. If anyone has the Zoes slaw recipe, please send it to me!
Zoes Kitchen Chicken Salad
Another favorite Zoes Kitchen keto option is their chicken salad. This is available on a sandwich but hello low carb, so we are just going to order a side.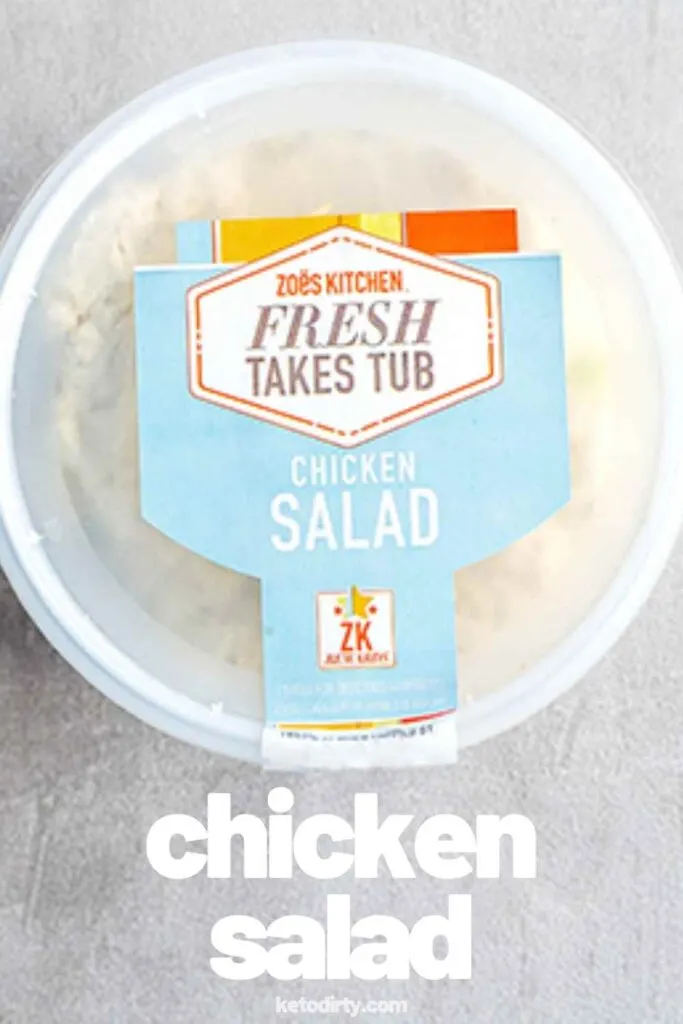 Featuring all white-meat chicken, their salad is light but full of flavor.
Zoes Kitchen Chicken Salad has 1 net carb per serving.
Looking to order in bulk or to go? Zoes Kitchen chicken salad is perfect for that. Make a delicious keto chicken salad sandwich using Sola bread.
Bring it home, keep it in the fridge and use it as a keto snack whenever you are hungry.
Kabobs
It never fails, whenever we go to Zoe's one kid always gets the kabobs. I totally don't blame him. Their meat marinade is TOPS.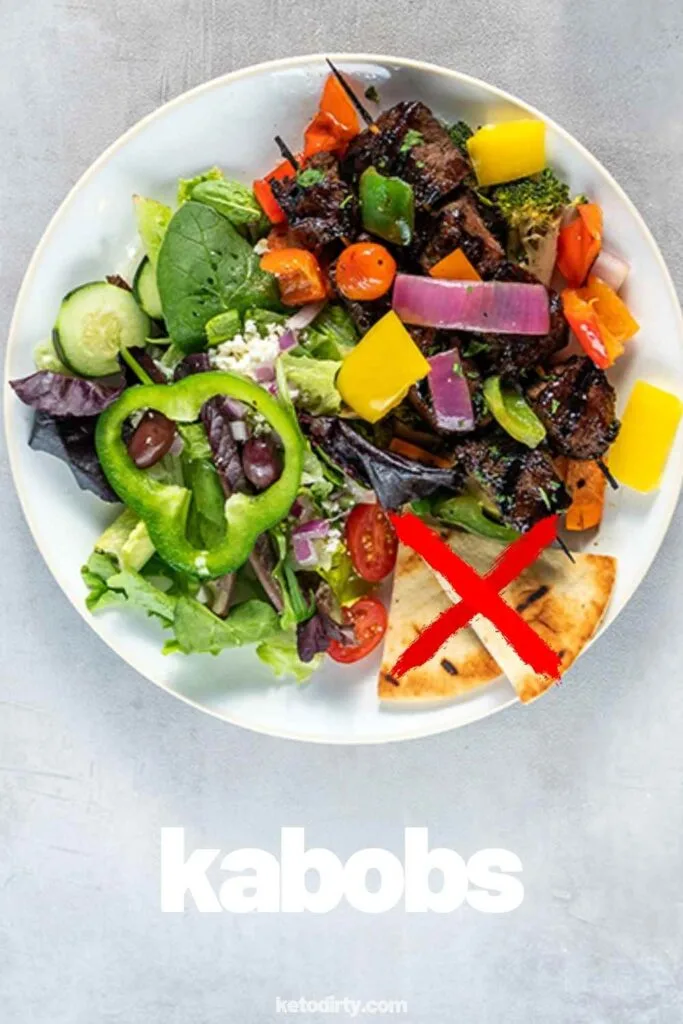 Zoes Kitchen menu offers 4 types of kabobs:
Chicken Kabobs – 4 Net Carbs
Spicy Chicken Kabobs – 4 Net Carbs
Steak Kabobs – 6 Net Carbs
Salmon Kabobs – 2 Net Carbs
Shrimp Kabobs – 2 Net Carbs
Again, you can't go wrong with any of Zoes Kitchen Kabobs.
Zoes Kitchen Nutrition – Kabobs
Nutrition values will vary depending on the type of kabob you order. For specifics, check out Zoes Kitchen Nutrition – get full nutrition details here.
Worried about eating Zoe kabobs without sauce? Don't, just keep reading! We have all the deets on zoes sauces and what to eat to stay keto.
More Keto Zoes Kitchen Food Options
Here are a few more options that you should either ask specifics about or customize to your liking.
For nutrition specifics on the below, just head over to Zoe's website and get full nutrition details as ingredients vary as you customize these dishes.
Zoes Kitchen Mediterranean Chicken Plate
In the mood for chicken? Zoes Kitchen Mediterranean Chicken Plate features grilled chicken, caramelized onions, and choice of two Zoes sides.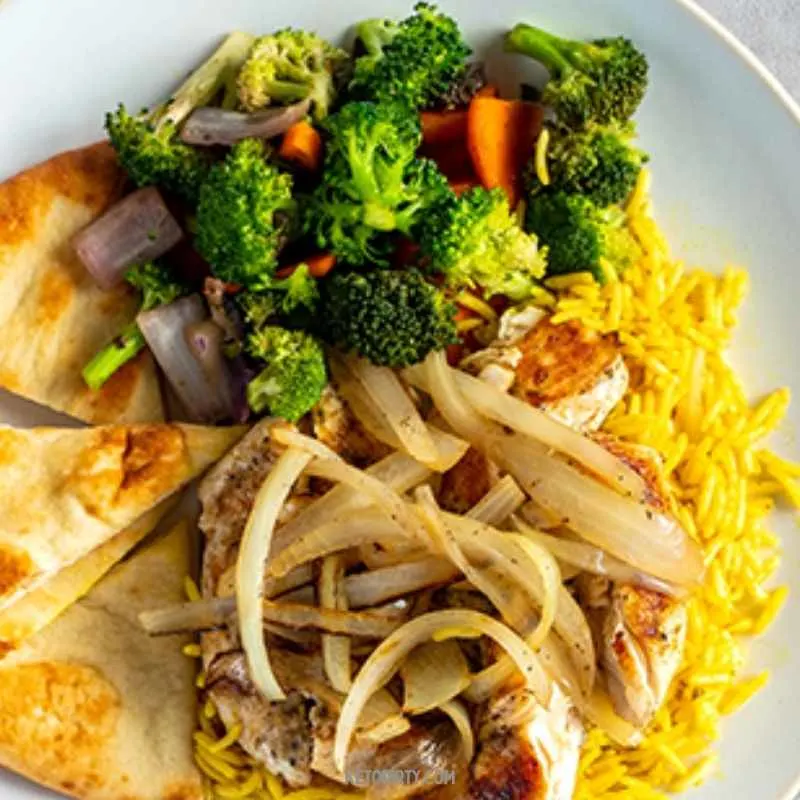 How Many Carbs in Zoes Kitchen Mediterranean Chicken Plate
The Mediterranean Chicken Plate has 13 net carbs.
For your Zoes sides, we suggest the marinated slaw and cauliflower rice. You will need to add these carbs into your meal count. Stay away from the pita bread that comes with the plate. Another great add-on to the Mediterranean Chicken Plate is fresh avocado.
Zoes Roasted Vegetables
Zoes roasted vegetables are a great side option to any of their low carb dishes. From their photo, the roasted vegetables include onion, broccoli and mushrooms.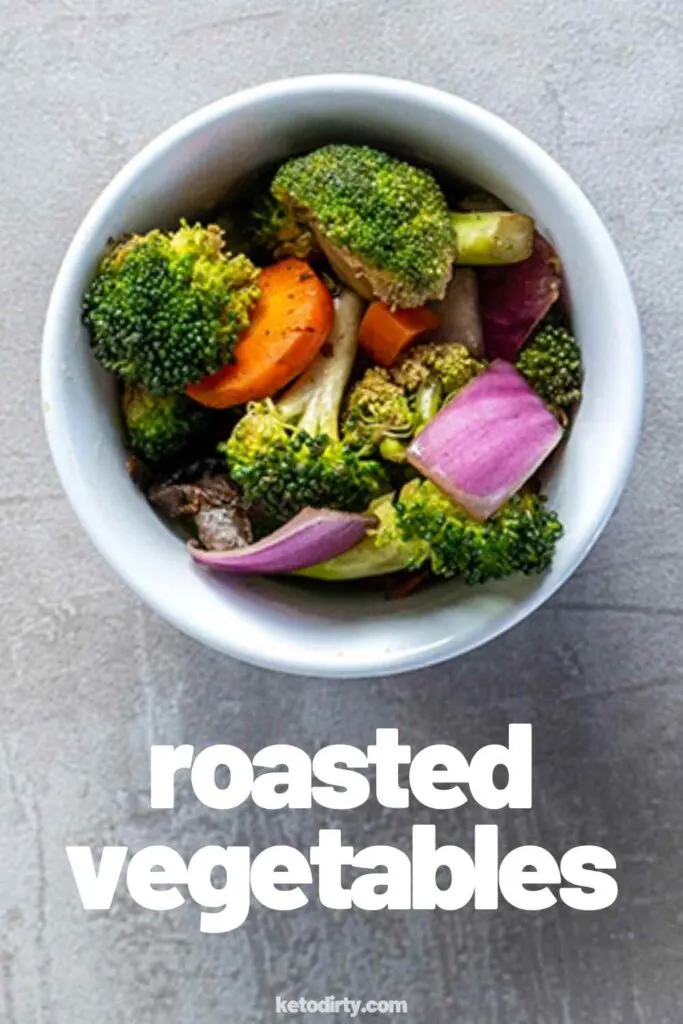 Per Zoes Kitchen nutrition chart – 1 serving of roasted vegetables is approximately 6 net carbs.
Be sure to ask specifically what their roasted vegetables include as this may change seasonally.
Zoes Kitchen Avocado Smash
A new starter keto Zoes Kitchen option is the Avocado Smash. Featuring smashed avocado with lemon and sea salt, topped with feta.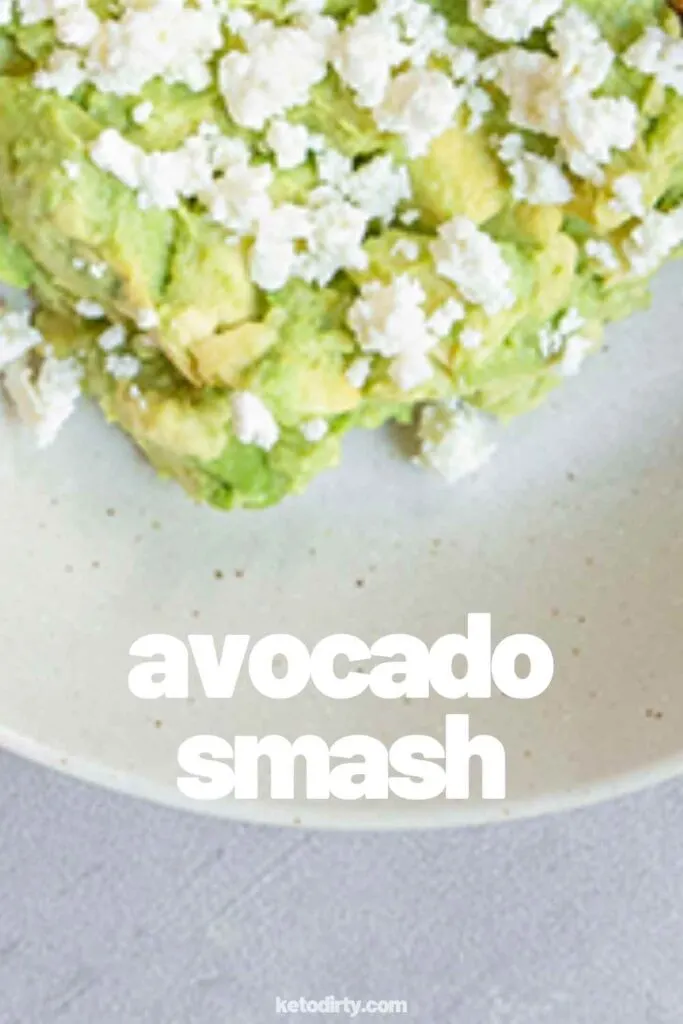 Choose a side of cucumbers as a substitution instead of pita bread to dip into the avocado smash. Also is great plain – just eat with a fork!
Zoes Kitchen Nutrition – Avocado Smash
Unfortunately, nutrition chart on Zoes Kitchen website doesn't include the avocado smash yet. When calculating the carbs with a normal avocado, feta and squeeze of lemon – the Avocado Smash features approximately 1 net carb for around 2 ounces.
Chicken & Orzo Soup Cup
If you are needing something warm in your belly, the chicken and orzo soup cup will do it!
A cup of Chicken and Orzo Soup has 8 net carbs.
A bowl of Chicken and Orzo soup 15 net carbs.
Not too bad, especially considering you didn't have to make it!
Greek Salad
I am not sure what all they put on their greek salad, but by their nutrition chart – you do not want to order it as it. I am sure though that this can easily be customized to fit your dietary needs. Maybe some cucumbers, feta, onions, protein and EVOO?
Side Greek Salad is another keto option. Make sure to skip the chickpeas as those are loaded with carbs.
Zoes Kitchen Sauces
Let's talk about Zoes Kitchen sauces. Let's be honest, a sauce can change the dynamic of a meal.
Carbs in Zoes Kitchen Sauce
Here are the carb counts for each of the current available Zoes sauces.
Zoes Harissa Sauce – 1 net carb per serving
Lemon Herb Tahini – 3 net carbs per service
Skhug Sauce – 1 net carb per serving
Spicy Aioli – 1 net carb per serving
Tzatziki Sauce – 2 net carbs per serving
Salsa Verde – Zoes Kitchen nutrition data currently unavailable
Full Zoes Kitchen Nutrition Facts
Looking for the complete list of Zoes Kitchen nutrition facts for each of the items on the Zoës kitchen menu? We got you. Here are all of the carbs, macros, calories, etc get full nutrition details here.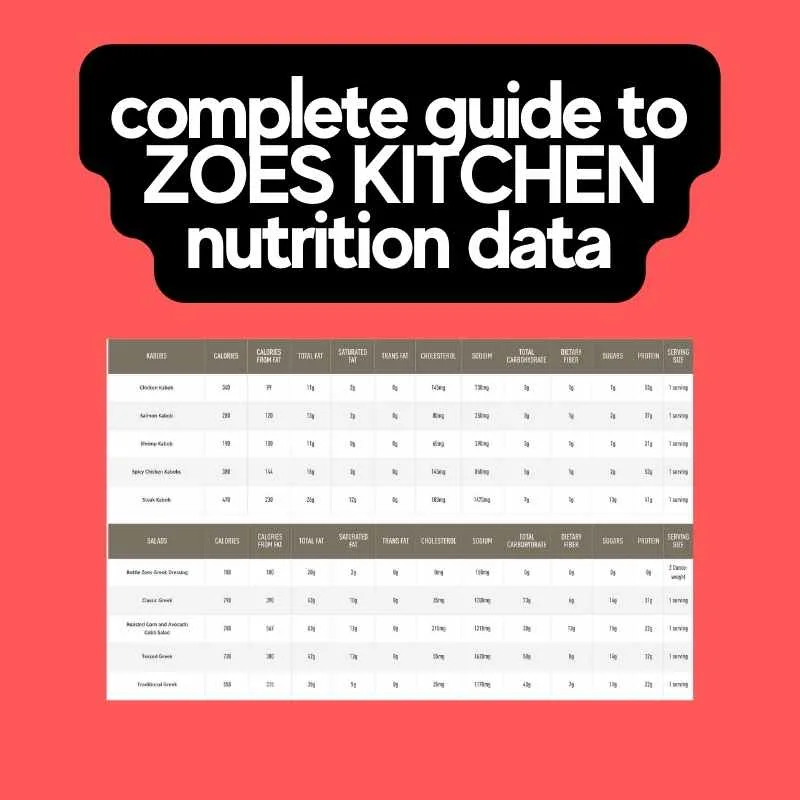 Learn how to calculate net carbs.
Discontinued Zoes Kitchen Menu Items
Previously listed her as good low carb options at Zoes, these no longer appear and are discontinued on the Zoes Kitchen menu.
French Baked Feta – no longer on the menu
Sorry folks, the French baked feta doesn't appear on the menu any longer. Oh have mercy, hello French Baked Feta – you are DELISH. And while I am sure if I LIKED Pita (just say, NO) – there are many other options to dipping into this feta goodness. Order this with NO pita. Ask for cucumbers or bell peppers. Either will be delish.
Mediterranean Lamb Kafta – no longer on the menu
Another discontinued item is the Mediterranean Lamb Kafta. So while this may not be something I eat (I just can't eat lamb) – you may love it! The Mediterranean Lamb Kafta is a low carb option that turns my head every time I am there because it looks so darn good.
Zoes Kitchen Catering Menu
One last tidbit. If you are needing to feed a lot of people something healthy – whether it be keto, low carb or just something different than spaghetti – check out Zoes Kitchen catering menu.
Mediterranean Family Dinners
Zoe's offer Mediterranean Family Dinners that are low in carb count and are delicious.
The 2 options I would eyeball are the mediterranean chicken family dinner and the moroccan citrus roasted chicken family dinner. Roasted veggies, marinated slaw, and a customized greek salad for a side would make this a great healthy meal for a large amount of people.
As you can see, there are numerous KETO food list options on Zoe's menu. Find a Zoes Kitchen near you and tell us what your favorite KETO friendly dish is!
Here are more ideas on how to eat keto on the go:
Zoes Kitchen Keto is part of the Keto Dirty series of Keto Fast Food Ideas