Mexican Spicken – It's what you get when try our Spicy KETO Chicken recipe. This will be your no go-to chicken dish for meal prep and when you want mexican food!
Mexican Spicken – Spicy Keto Chicken!
I like things spicy and there was no way I could do KETO if I couldn't have mexican food. While low carb mexican food does not include tortilla chips and salsa like in a past life, I've found alternatives.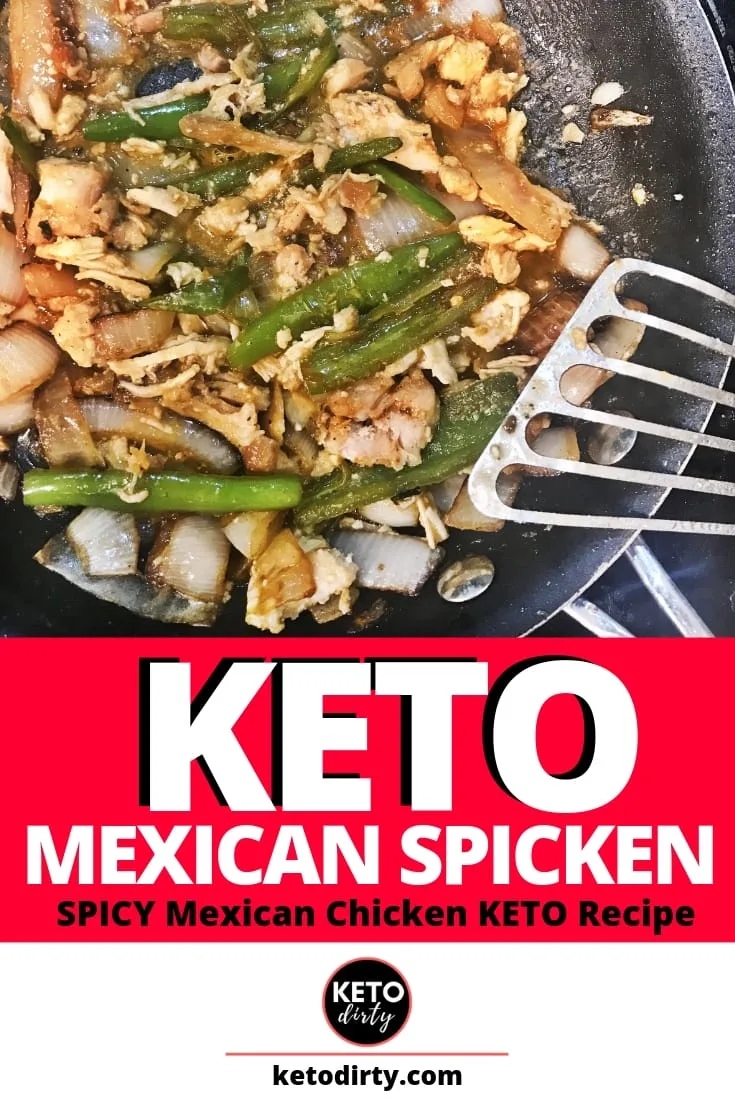 One Mexican alternative that I am loving to eat is what I'm calling Mexican Spicken. What the HELL is Mexican Spicken, you ask? Well – it's a Mexican chicken dish.
What is Spicken?
Spicy + Chicken = SPICKEN
Feeding the Family KETO
This dish is amazing, and I hope you love it as much as my family does. While they are lame and aren't all doing KETO with me. Because Lord knows, that would be TOO easy – I am constantly finding work arounds on how to feed the whole family without having to make me a separate dish.
This mexican spicken recipe is a perfect example of that.
Taco Filling
While I eat this either over cauliflower rice or just in a bowl – my family will eat it over regular rice OR in a low tortilla.
If you are eating low carb tortillas, Mexican Spicken recipe would make an awesome keto taco filling!
Spicy Mexican KETO Chicken Recipe
Let's get down and dirty – KETO Dirty, of course. Let's make this spicy Mexican KETO chicken recipe – that we are calling Mexican Spicken.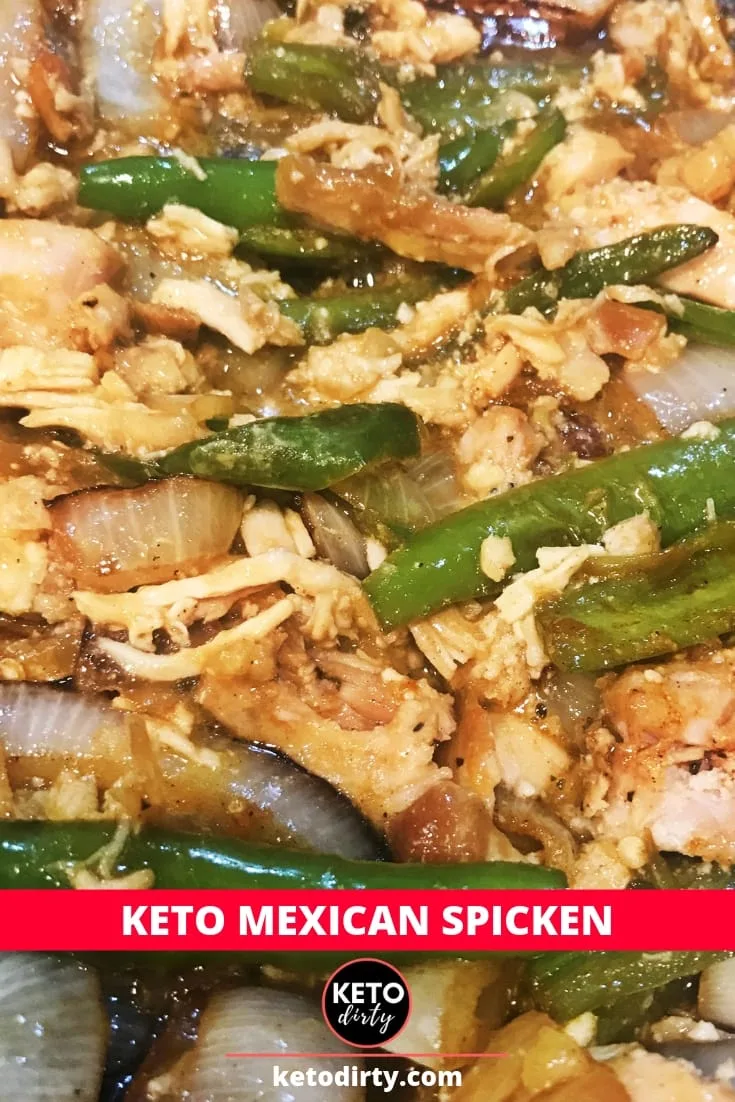 How to Make Mexican Spicken
This is super easy to make. If you pre-make shredded chicken or chicken breasts, this will even be easier. I try to pre-make a few pounds of chicken to help with getting meals together quickly.
Cook Chicken – Instant Pot It!
Cook the chicken to your liking. Like I mentioned, I cook my chicken ahead. I typically Instant Pot my chicken, then shred with our Kitchenaid mixer.
Cut Onions and Peppers
I prefer chunky slices of onions over diced, but you do you. Cut the peppers and onions to your liking.
How to Scrape Pepper Seeds
When cutting the serrano peppers, this is how to scrape pepper seeds. I cut off the stems and then slice the peppers into 4 long slices. I remove the majority of the seeds with a fork.
Tip: If you don't want this super spicy, remove all of the serrano pepper seeds. You can wash the peppers after cutting and scraping, this will aid in seed removal. MAKE SURE TO WASH YOUR HANDS!
Sauté & Seasoning Time!
Sauté the onions and peppers. I sauté with butter and a little EVOO (extra virgin olive oil) and fresh diced garlic. You don't have to use garlic or you can use garlic powder.
Typically this step will take 10-15 minutes. Keep the burner on low to help the peppers and onions become soft but thoroughly cooked. I like mine a little brown.
After your serrano peppers and onions are cooked, add in meat tenderizer. I use approximately 1 tablespoon. This gives your dish an amazing flavor.
Mix It Up
Next, add in your cooked chicken. Salt, pepper and add 1 tablespoon of soy sauce. I know, soy sauce in a Mexican dish sounds weird -but believe me, it's amazing.
I like to mix it up and let the chicken, serrano peppers and onions with the seasonings melt together. Typically I leave the burner on low for 10 minutes. If you are making cauliflower rice, pop that in the microwave and it will be ready just in time for your yummy KETO meal!
Top it Off
I like to finish the Mexican Spicken off with some yummy low carb toppings.
Cheese
Sour Cream
Avocado (with lemon pepper and salt)
Salsa (watch for those sneaky carbs and sugar!)
Meal Prep KETO Meals
Mexican Spicken makes an AWESOME meal for meal prep. I have made this several times and put in these containers so that I have an easy KETO meal to grab whenever I am hungry.
Meal Prep Container

There you have it. A delicious KETO Chicken meal recipe that will feed both you and your non-keto family. Enjoy! Please let us know if you make this!
If you enjoyed the Mexican Spicken Recipe – please pin on Pinterest and share on Facebook!