Let's make a homemade keto pesto recipe that will leave you never wanting to buy canned store bought pesto sauce again!
Looking for a sauce to spice up your next low carb dish? Let's make a low carb keto pesto sauce that will have you thinking, WHY DIDN'T I MAKE THIS SOONER?! After sharing our 2 ingredient keto pasta noodle recipe, I knew this recipe was something I had to share.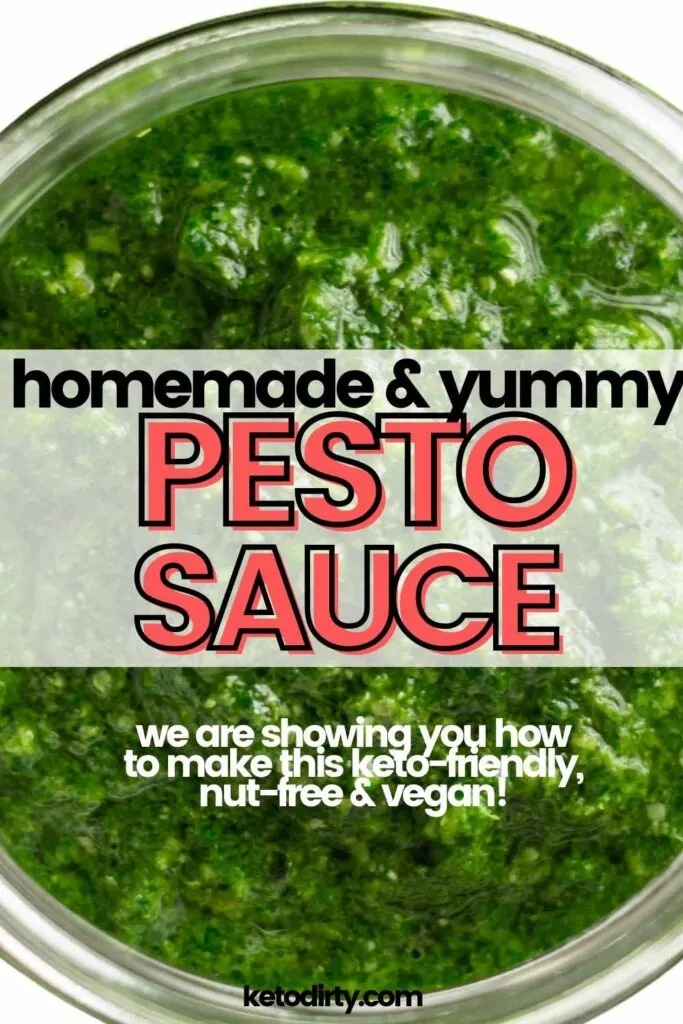 Fresh Basil and Spinach
Spring is here and if you are the gardening type, perhaps you are growing some basil and spinach in your garden. If so, perfect! If not, NO worries. The pesto recipe can be made with store bought or fresh ingredients from your garden.
While we have a garden that my father-in-law helps us with, I like to buy a basil plant to sit in the window sill in our kitchen. I use this regularly in recipes throughout the week. If given a choice, I will always choose fresh picked ingredients, but totally not opposed to store bought.
What Ingredients Are in Keto Pesto Sauce?
Here are the ingredients we will be using to make our delicious easy keto pesto sauce recipe.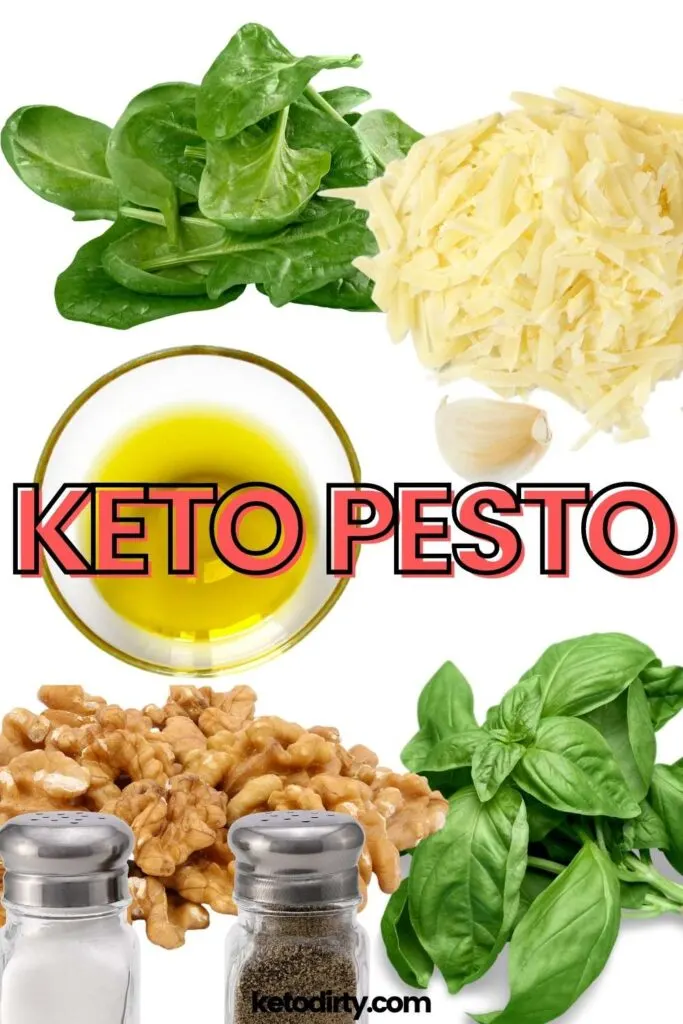 Keto Pesto Ingredient:
Fresh Basil (store bought basil from the produce aisle is great!)
Fresh Spinach (again, store bought spinach works fine)
Salt
Black Pepper
Walnuts
Parmesan Cheese
Fresh Garlic (garlic is optional)
Extra Virgin Olive Oil
If you don't do nuts and looking for a nut-free pesto, or a vegan, dairy-free pesto, keep reading!
How to Make Keto Pesto Sauce
Keto Pesto Sauce is super easy to make. There are various ways to make and adapt this recipe, so make it your own!
First, you will put the nuts into the food processor. Give your nuts a rough chop.
Next, add in the remaining ingredients. Pulse the food processor and mix the keto pesto until you reach the consistency that you like!
Do I Need a Food Processor to Make Pesto Sauce?
While food processors are awesome for making pesto sauce in, you do not need one to make this recipe! While I absolutely love my Cuisinart food processor, it's in the cabinet and is a pain to get out and setup if I am just making a quick recipe.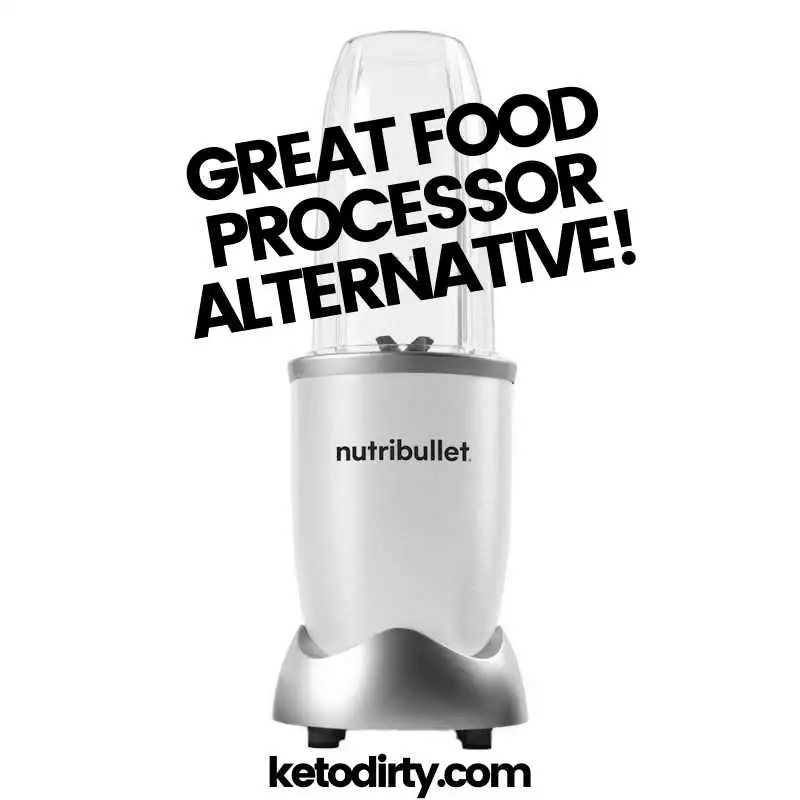 As an alternative to a food processor, I use a Nutribullet to make my sauces! It's super easy to clean and make any sauce with – as well as smoothies and other recipes that require cooking.
You can also use a blender to make pesto sauce, though depending on the quality of your blender, results may vary.
How to Store Keto Pasta Sauce
The things about pesto sauce is that while it is yummy, you do not need a whole lot to flavor your dish! So chances are that you will have leftover pesto and that's no problem!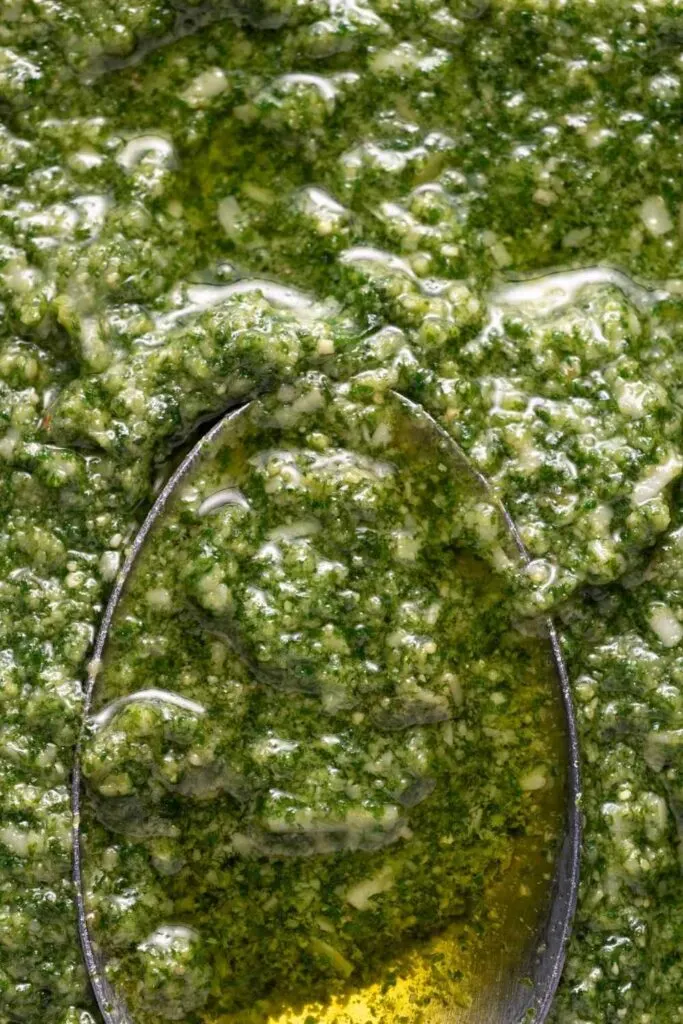 Storing and Freezing
You can keep your keto pesto sauce in the refrigerator for up to 2 weeks! After that time, you can freeze the sauce and reheat for use at a later time.
Carbs in Pesto Sauce
Seeing this is a keto site, who would I be to not share how many carbs in pesto sauce? If you are using the exact recipe that I use for keto pesto, here is the nutritional data for 1 serving (1 ounce of pesto.)
1 Net Carb
1 Gram Fiber
2 Total Carbs
3 Grams Protein
34 Grams of Fat
319 Calories
Nuts in Pesto
Yes, did you know there were nuts in pesto? Here is everything you need to know about them, how to make a nut-free pesto and what nut alternatives you can use if you don't have walnuts handy.
Nut-Free Pesto
Allergic to nuts? No problem! Here is a nut allergy friendly pesto recipe. To make a nut-free pesto, simply replace the nuts with seeds. We recommend using sunflower seeds or pepitas.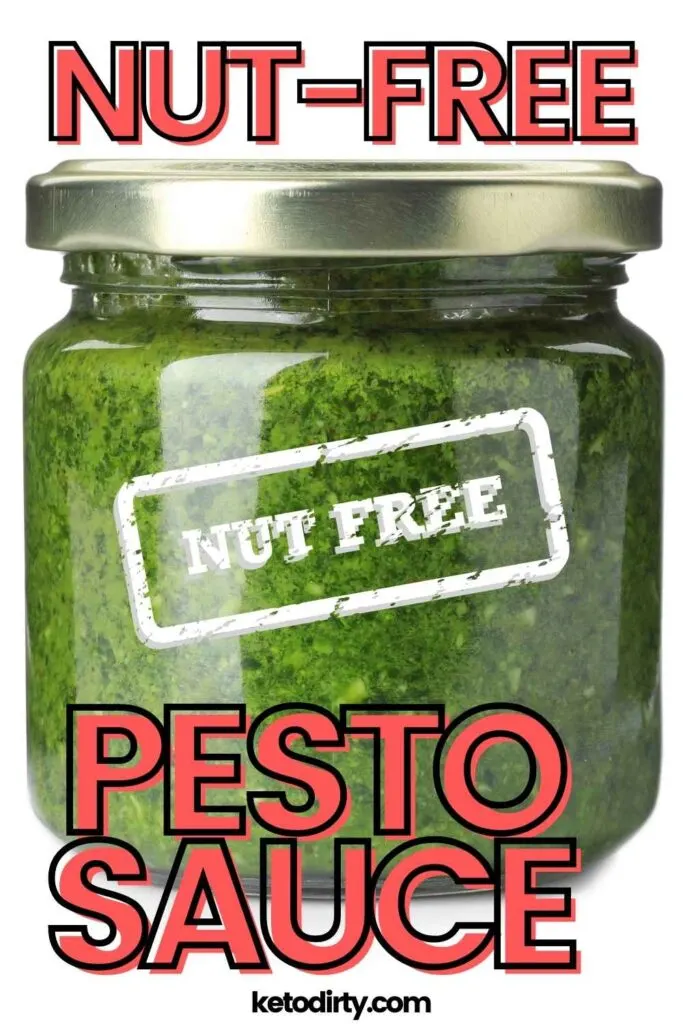 Make sure to check your nutrition count as this recipe's carb count and nutrition data is for when you use walnuts .
Alternative Pesto Nuts
There is nothing worse than seeing a recipe that you want to make to only find out that you don't have an ingredient! If you don't have walnuts in your pantry, fret not! Here are alternative pesto nuts for you to use when making homemade pesto sauce.
Cashews
Almonds
Pine Nuts
Macadamia Nuts
Dairy Free Vegan Pesto Sauce
To make a dairy free pesto (or vegan pesto sauce) – swap out the parmesan cheese for a nutritional yeast flakes instead. You will want to check the nutrition data to make sure that it aligns with your specific dietary requirements.
Pesto Sauce Uses
Our keto pesto sauce makes a great topping and flavor additive to meats, vegetables and pasta. Check out our list of keto noodles to find an option that you like!
If you love this sauce – you won't want to miss our latest low carb sauce recipe: Keto Alfredo Sauce (tastes like Olive Garden copy cat!)
Follow Keto Dirty on Social – Facebook / Keto TikTok / Pinterest / Instagram
Keto Dirty is reader supported. When you buy through links on our website, we may earn an affiliate commission.
Best Place to Inject Mounjaro for Weight Loss

Mounjaro Dry Mouth? Here are 5 Helpful Solutions
Helpful Mounjaro Dosing Information About the 6 Strengths

Mounjaro Hair Loss – Interesting Facts About This GLP1 Side Effect