One of my favorite low carb meals to cook for the family is this KETO meatloaf recipe. Let's make it!
Who has ground beef or ground turkey that needs to be cooked and you have no idea what to make the family but you are eating low carb so it has to be ketogenic diet friendly, right? Just me? Surely not! Let's make this delicious low carb meatloaf recipe that is meaty and feeds our family of 6.
Easy Keto Meatloaf Recipe
If you are craving a hearty meal, this easy keto meatloaf recipe is what you are looking for. I have a bad problem of getting stuck in a rut with eating the same meal over and over.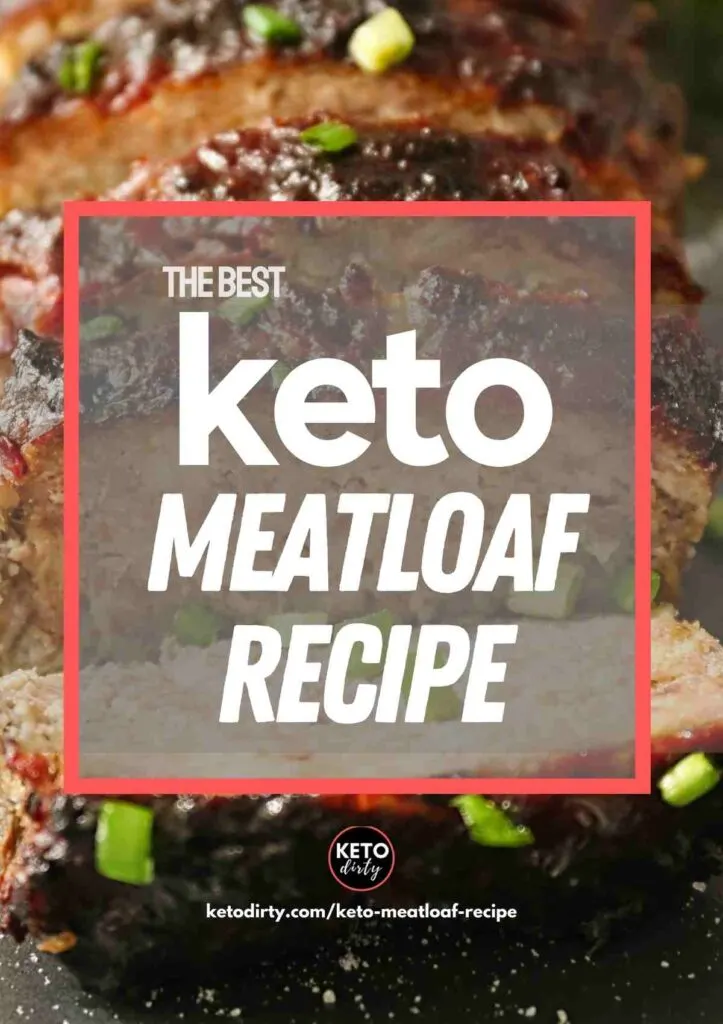 If you are ready to jazz up your family's menu with some meaty goodness while still eating low carb, let's get out that baking sheet or
Low Carb Comfort Food
This is low carb comfort food at it's best! Scroll past the recipe to learn all about the various type of low carb meatloaf recipes can be created from this base recipe!
Make It How You Like It
Next time you are making a low carb meat loaf, let's look at a few more ideas for making this the best meatloaf recipe because it's customized to YOUR liking! Take our tasty keto meatloaf recipe and kick it up a notch!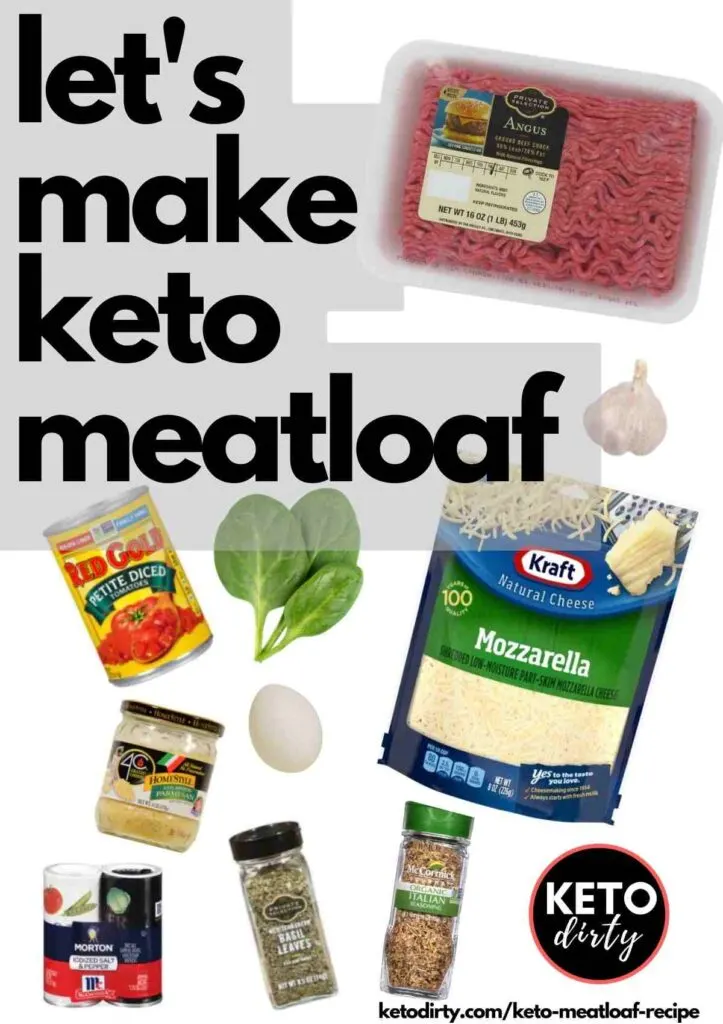 Thinking back to mama's meatloaf – while there were some things that I loved that she made, her regular meatloaf was not a favorite (sorry, mom.) The top of the meatloaf was covered in regular ketchup and brown sugar. Let's just say keto-friendly ingredients were not on the old recipe card she was following to make this lovely dish.
We are throwing traditional meatloaf recipes out the window and making something that our family likes but friendly to a low carb diet.
The beautiful things with this KETO meatloaf recipe is that there are a million different ways to adapt it using our base recipe. Here are different variations of this low carb meatloaf recipe that you can change and update ingredients to make it fit in one of your meal plans.
Best Meatloaf Recipe Ideas to Make it Your Own!
Look in your pantry and fridge to decide if you want to use everyday ingredients, different ingredients that the norm. Whatever keto-friendly meatloaf ingredients that you use, let's make it something that you and your family will love to eat.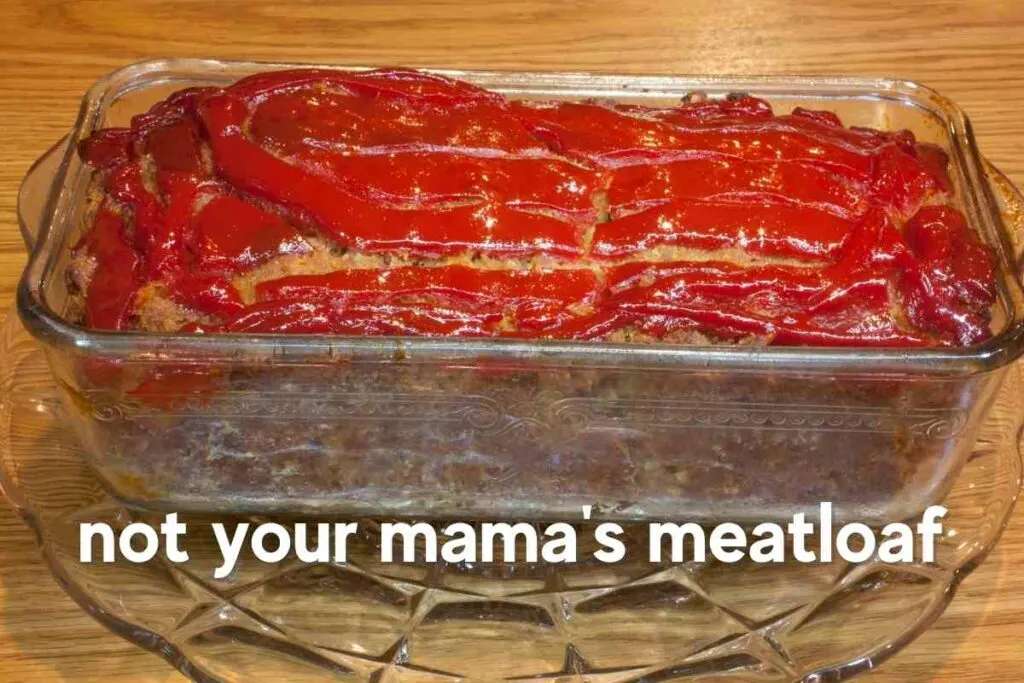 KETO Meatloaf Muffins
Rather than making in a loaf pan, make Keto meatloaf muffins in a silicone muffin pan. This makes for great meal prep, easy for storing and popping in your lunch box for a meal on the go.
Cheeseburger Meatloaf
Add cheese because with low carb and KETO, you can! Simply adding cheese to our keto meatloaf recipe makes this dish taste like a cheeseburger!
Low Carb Turkey Meatloaf Recipe
Exchange the lean ground beef out for ground turkey and you will have low carb turkey meatloaf! Whichever lean meat you want to use (ground pork or ground chicken – no problem!) but the lack of fat in both of these poultry meats do change the taste.
Meatloaf Patties for a Keto Meatloaf Sandwich
Rather than making your meatloaf into well a loaf, why not pull out a baking sheet rather than a loaf pan and make patties out of the meat loaf mixture.
This would not only cook quicker, you could add the meatloaf patties to low carb bread (or regular bread for anyone not low carbing) with a sugar-free ketchup and have a delicious keto meatloaf sandwich!
Alternative Flour – No White Flour
Let's say no to the white flour and figure out the best keto friendly flour that your family likes to use in the keto meatloaf. Here are some options to help bind your meatloaf to keep that loaf shape.
coconut flour
almond flour
crushed pork rinds (say no to bread crumbs!)
sunflower seed flour
flaxseed meal (use with caution – some people have adverse reactions to flaxseed.
Our KETO meatloaf coconut flour or KETO meatloaf with almond flour as a substitute for crushed pork rinds – if you are adversed to using pork rinds. We are just saying no to bread crumbs.
KETO Meatloaf Bacon Style
If you REALLY want to up your protein and meat game, wrap your meatloaf in bacon for the ultimate low carb meatloaf!
Slow Cooker Meatloaf with Mozzarella
Check out our massive list of over 75 keto Crock Pot recipes – featuring a delicious slow cooker mozzarella filled meatloaf recipe that you won't want to miss.
Tips for Making Easy Meatloaf Recipe
Here are some helpful tips to making your low carb keto meatloaf recipe. These are some helpful tips to to ensure you have a moist meatloaf that is ketogenic diet friendly.
What is the Perfect Meatloaf Temperature?
If you are a food temperature person, I like you. I like making sure that my meat is thoroughly cooked. Using a meat thermometer, you can ensure that your ground meat is cooked.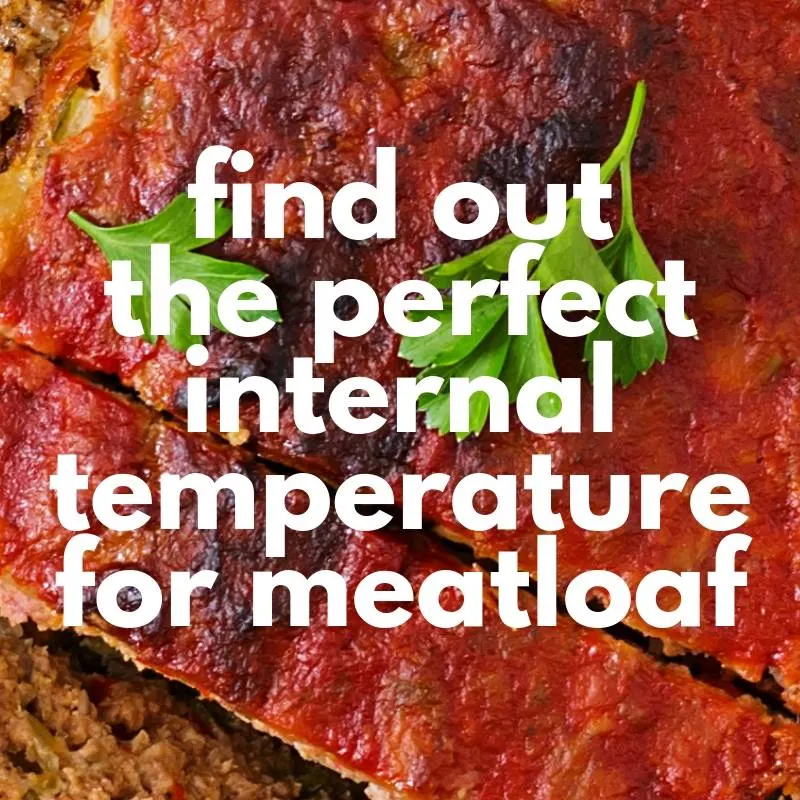 Keto Dirty partners with brands and companies using affiliate links to receive a small commission if you buy something with a link from our website. This costs you nothing and is used to support our keto blog.
The ideal perfect meatloaf temperature is between 155 degrees Fahrenheit and 160 degrees Fahrenheit. This gives you the best results.
You will want to use a food thermometer (this is the one we use) to determine your meatloaf's internal temperature. Don't forget, the temperature inside the meatloaf will rise after you take it out of the oven.
Use a Food Processor
Mix your meat loaf keto-friendly ingredients together using a food processor rather than a large mixing bowl.
How Do I Make My Meatloaf Spicy?
Want to add some heat to your meatloaf? My favorite way to make meatloaf spicy is by adding chili powder and cayenne pepper to the ground meat mixture. To add a Mexican flare to your low carb recipe, you could add-in jalapeños!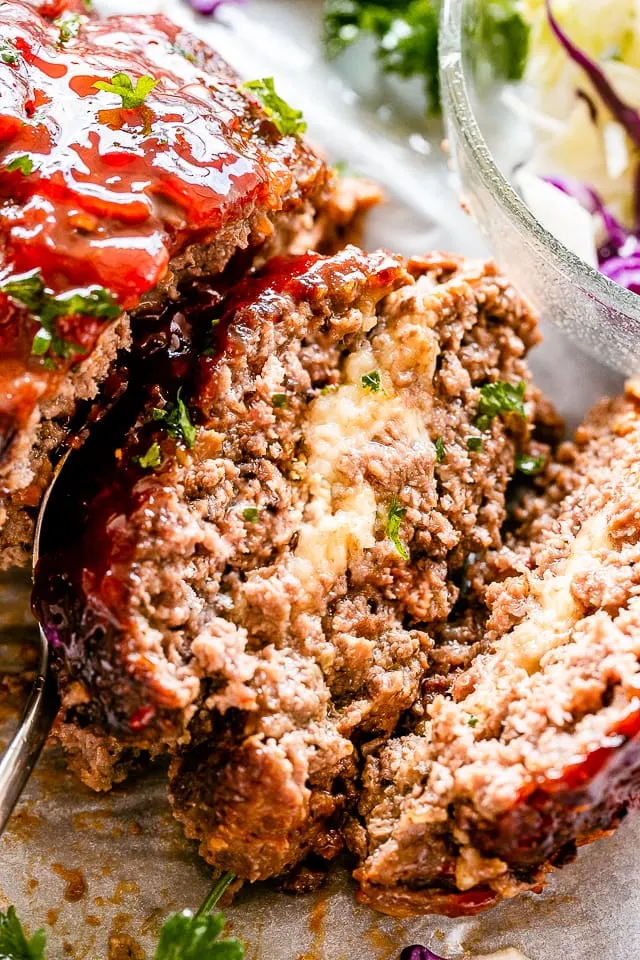 If you are hesitant and don't want to flame the family from eating this – here are some more options that are keto friendly to add to an already cooked meatloaf:
crushed red pepper
sriracha sauce
tabasco sauce
By adding the spice after cooking, you are being kind to those who don't like spicy food.
A Greased Loaf Pan is a Must!
Something that totally annoys me is when a you spend time making a meal and then it sticks to the pan!
Make sure that you use a keto friendly cooking spray for your loaf pan. A greased loaf pan is a must. We prefer an olive oil or coconut oil cooking spray. Our favorite is from Trader Joes.
Another option is to line your loaf pan in parchment paper.
Prevent Oven Spillage
Make sure not to overstuff your loaf pan with the meat mixture. Either make meatloaf meatballs or meatloaf patties if you have too much mixture for your pan!
Also make sure to throw a sheet pan under neath your loaf pan (I typically line the baking sheet with foil.) This will prevent oven spillage and if your dish does spill it won't be all over your oven.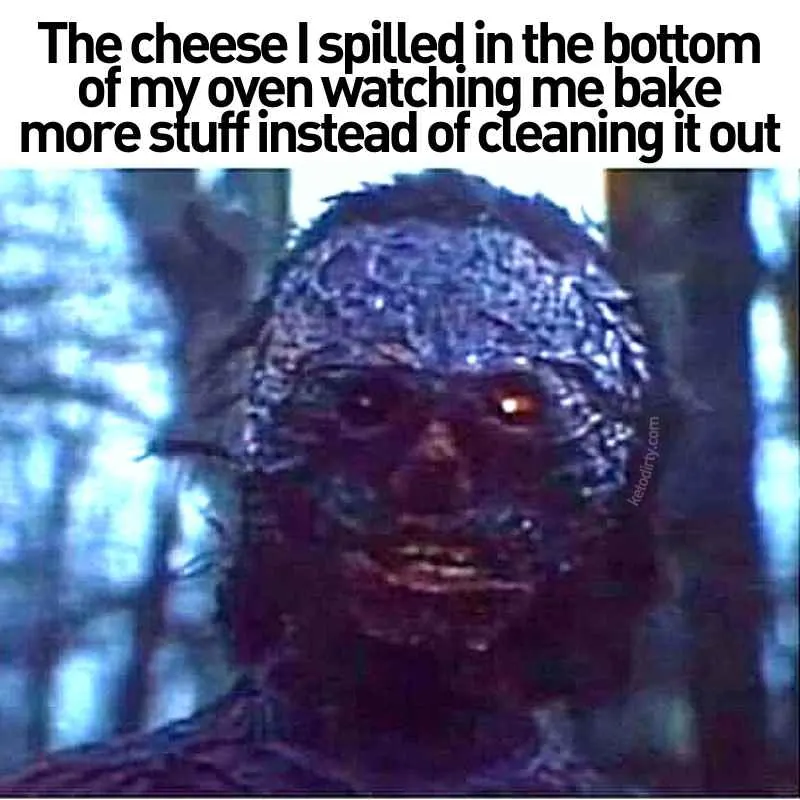 Remember this burnt cheese meme? Cracks me up every single time!
Hide Vegetables in Your Meatloaf
Since we are making a meal for the family – a great way to get those vegetables in is by hiding veggies in food. Whip up a green beans or cauliflower mash with ketchup mixture and garlic powder to sneak those veggies in without your family even knowing.
Creative Meatloaf Ingredients
Get creative with your ingredients list. Here are some meatloaf ingredients to use (in moderation) that aren't something you would typically find in a traditional recipe. We aren't traditional around here!
dijon mustard – this will give your ground chuck or whatever meat you use a richer taste.
soy sauce (wait is soy sauce keto?) – use in moderation, kid actually try coconut aminos instead
tomato sauce – rather than paste or regular or sugar-fere ketchup, try tomato sauce. Portion size is key when watching that carb count – so use sparingly.
apple cider vinegar – this is used often in paleo meatloaf. ACV is often added to give a pop of flavor and enhances texture.
green onions – top with green onions (not too many) for an onion flavor
Can I Cook Meatloaf in an Air Fryer?
While I wouldn't cook a meatloaf in an air fryer, you could possibly do re-heat it using an airfry technique (though I would worry about moisture.) What does sound good is taking the best keto meatloaf recipe and rather than putting it into loaf shape – make meatballs out of it and then air fry those! Air Fried Keto meatloaf meatballs? Did I just create a recipe! Stay tuned!
How to Store and Re-heat Meatloaf Leftovers
Reheating leftover meatloaf is so good. it's like so much of the flavor seeps in after you let the meatloaf sit in the fridge and then nuke.
The best way to store your meatloaf is to make sure to use an airtight container. I usually throw a piece of tinfoil over the leftovers until it is room temperature.
Reheating Meat Loaf
To reheat meatloaf, I keep it simple. Typically I just throw it in the microwave high heat for 2 minutes and 30 seconds. You can reheat in the oven, just make sure your meat is cooked to the correct temperature.
Happy Keto Cooking
While this didn't include your classic meatloaf recipes, I hope it provided you something better! Enjoy keto cooking for your family and we hope this helped you with ideas to make the best keto meat loaf recipe ever (because it has ingredients that YOU LIKE!)
Looking for more low carb yumminess? We've got your covered! Don't miss all of our Keto Ground Beef Recipes!?
Tell us your perfect keto recipe for meatloaf! We hope this is a new low carb meal idea for the whole family!
Follow Keto Dirty on Social – Facebook / Keto TikTok / Pinterest / Instagram
Keto Meatloaf Recipe is part of the Keto Dirty series of Low Carb and Keto Family Meals