At the gas station, looking for something to snack on and you ask your self – are Slim Jims keto friendly? We got you! Here's what you need to know.
Looking for an easy to grab keto snack? Slim Jims sound like a good choice, right? Surely the meat stick is something that you can munch on.
Are Slim Jims Keto Friendly?
Slim Jims are Keto friendly depending on which type of beef jerky option you choose. Let's look at Slim Jims nutrition for the various products to determine which is best for you when watching your carbs on a low carb diet (or keto diet!)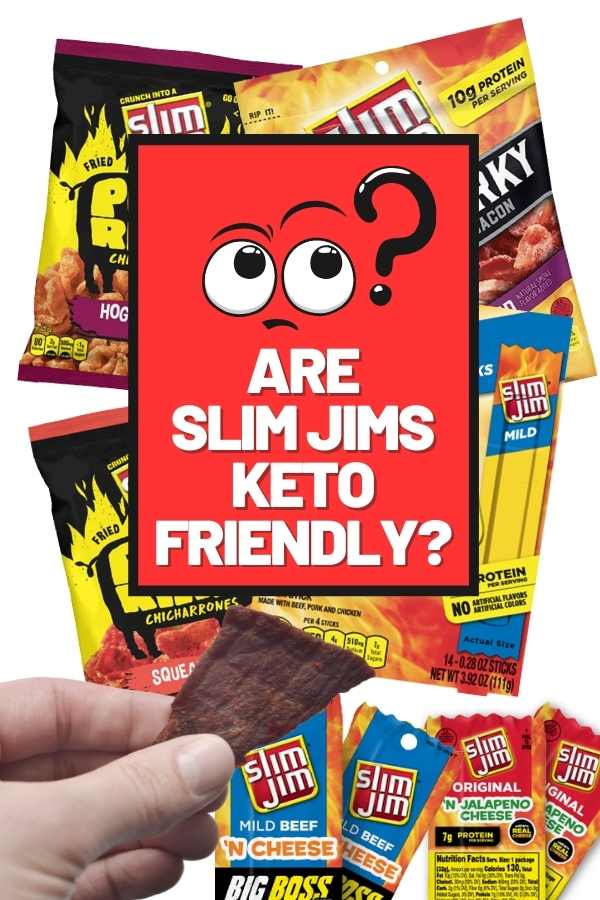 We know that when you are in low carb keto mode, often times you wonder if a certain food is keto or not. Make sure to check out our Is It Keto series where we are spilling all the tea to help you find healthy keto foods and to veto foods that aren't keto friendly.
Snap into Slim Jims Keto Style
Can you hear it now? SNAP INTO A SLIM JIM. The popular Slim Jim beef jerky products are a marketing sensation with their snap into a slim jim campaign.
The Meat Stick You Know
When it comes to meat sticks, Slim Jim is probably the name that first comes to mind. Their products are found in most convenient stores, grocery store and gas stations. With the ease of availability and wanting to eat keto on the go, you may be asking yourself "are slim jims keto friendly?"
Let's look at their diverse beef stick, jerky and other snack items to determine what your best options are and answering the question if slim jims are keto.
Keto Slim Jim Jerky Products
Chances are that the Slim Jim product that you know best is the beef jerky. Since we are looking at Slim Jim keto products, we are sharing the best options to choose when on a low carb diet. Here are our recommendations on which to buy / eat with what the nutrition is for each.
Bacon Jerky
Alright bacon lovers. I know so many of us love our bacon (and bacon memes) so if your mouth salivated when seeing BACON JERKY, this is for you.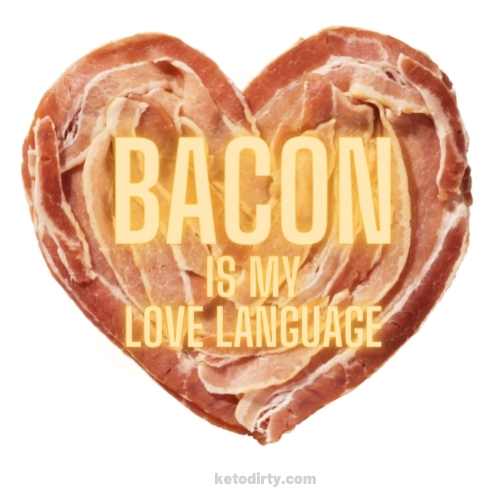 If you are asking yourself WHAT IS BACON JERKY? you are not alone. I too was wondering is bacon jerky really just bacon made into jerky? Well actually nope – it's not! Here is what bacon jerky is.
Well, who would of thunk. Now you can consider yourself in the know about how bacon jerky is made.
Hickory Smoked Bacon Jerky
So back to Slim Jim Bacon Jerky. When looking for this product, you will want to find the Slim Jim Hickory Smoked Bacon Jerky. While they have a maple flavored bacon jerky, that I am sure would taste amazing – focus. We are looking for slim jims keto jerky and the hickory smoked bacon jerky has 0 net carbs!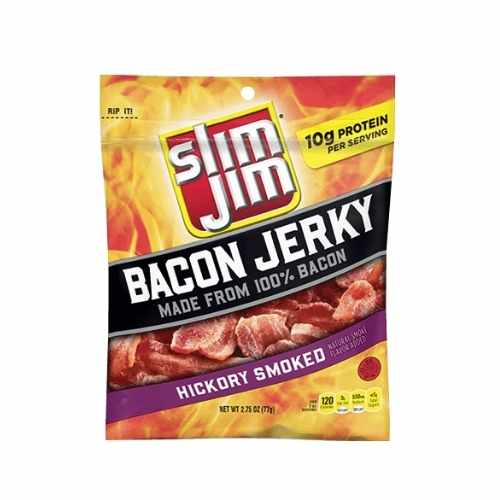 With 10 grams of protein per serving, this bacon jerky makes a great keto snack. If you are looking for more ideas for when you are hangry – don't miss our keto snacks post for more ideas.
You can find Slim Jim Hickory Smoked Bacon Jerky at Amazon or check your local gas station / grocery store.
Slim Jim Sticks
Tried and true, most likely when you ask about Slim Jims you are thinking of the Slim Jim sticks founds nearly everywhere. These beef products seem like an obvious keto snack find, right? Well yes and no.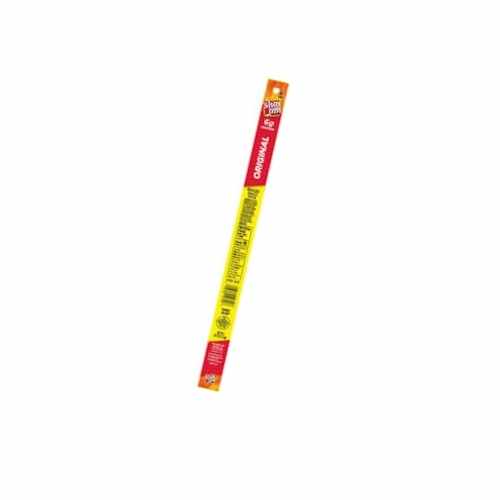 Slim Jim Deli Style Smoked Snack Stick
The Slim Jim Deli Style Smoked Snack Stick has 1 net carbs and 1 grams of protein.
Check Your Labels!
Slim Jim sticks offer a variety of products. From snack stix with minimal carbs to their giant and monster sticks that have a different range in carb count and protein.
You will need to check the nutrition chart found on the Slim Jim stick packaging to determine how many carbs the product has.
Check out our handy how to calculate net carbs post for a tutorial on calculating carbohydrates from the nutritional data given on a product.
Meat 'N Cheese
Appealing to our keto cravings, Slim Jim has created a line of meat and cheese snacks called Meat 'N Cheese. All of these options offer a low carb snack featuring minimal carbs and more to offer than just beef.
I will say that the reviews for meat and cheese combo packs are not all raving reviews. That said, I do know what it's like to scour a gas station snack aisle in search of a keto snack when hangry. I'm a true believer in your hunger can determine how good a food item tastes.
These Meat 'N Cheese Slim Jim combos feature around 2 net carbs. Again, a good option if this is something that you enjoy eating.
Slim Jim Pork Rinds
Pig out on some pork rinds from Slim Jims!
With the popularity of their jerky and sticks line, Slim Jim has expanded their product selection to jump into more of the low carb snack game with pork rinds.
I know, maybe pork rinds and Slim Jim don't seem like they go together, but this is happening! Slim Jim Pork Rinds are a great low carb snack ideas, perfect for on the go.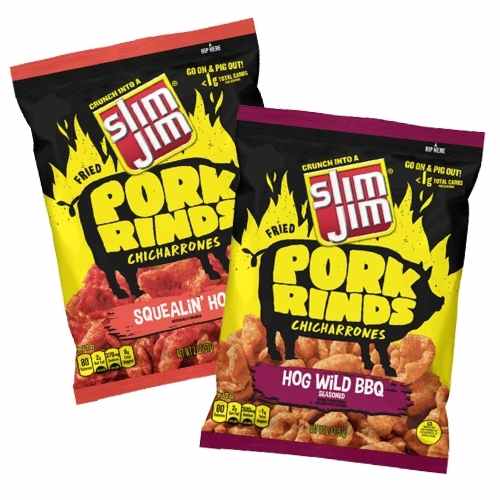 Slim Jim Pork Rinds come in 2 flavors, Squalin' Hot and Hogwild BBQ. Both options feature ZERO carbs!
Squealin' Hot Pork Rinds
From a midday munch to a full-blown hootenanny, any occasion is the right time for swine. Call them pork cracklins or call them chicharrones—just don't call them late for snack time.
They're keto-friendly*, spicy, crunchy, and most importantly, downright delicious. Zero net carbs. Available on Amazon.
Hogwild BBQ Pork Rinds
These little piggies are fried to crispy perfection and peppered in BBQ flavor for a snack that fits a low-carb lifestyle* and will have you shouting, "sooieee!" like a proper Arkansas hog caller. If you crave a big BBQ crunch, they're your huckleberry. Zero net carbs. Available on Amazon.
Okay Low Carb Slim Jims
We are filing these under okay low carb Slim Jims because while there are better options to choose, these are not going to totally ruin your keto diet. But keep reading and we will show you what Slim Jims keto products are better options than others!
Choose This Slim Jim Not That
While there are many slim jims keto products, here are a few things to look out for when you are grabbing one of their low carb snack on the go.
Beef Steak Strips – Both Slim Jim Original Beef Steak and Teriyaki Beef Steak have too many carbs for the keto diet.
Maple Flavored Bacon Jerky – Save your carbohydrates by buying the Slim Jim Hickory Smoked Bacon Jerky rather than the Maple Flavored Bacon Jerky. Hickory Smoked has zero net carbs while Maple Flavored has 4 net carbs. Choose wisely!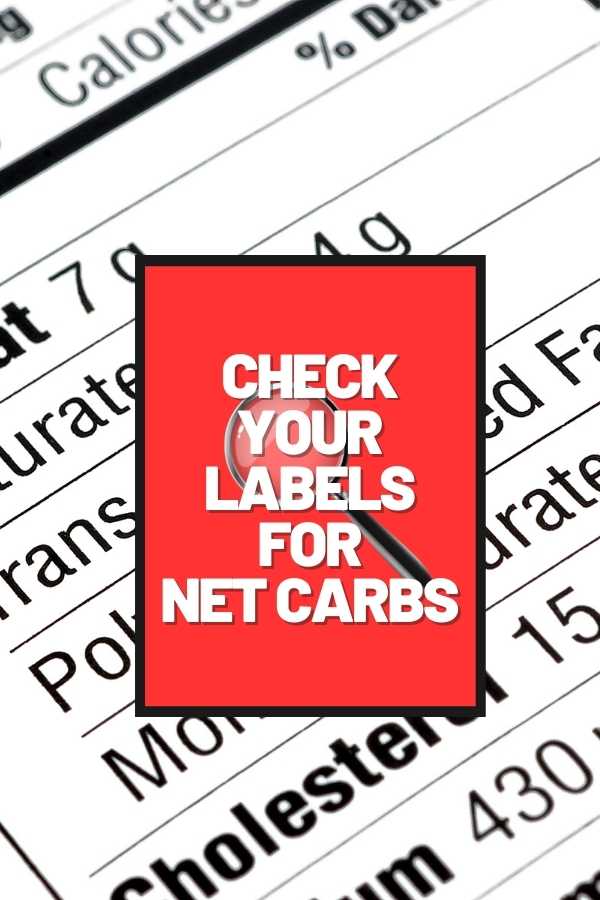 In conclusion, we hope this answers your question are Slim Jims keto friendly. The bottom line is that Slim Jim keto snacks are low carb friendly – but you need to check your label and make wise choices because there are some options that are better than others.
Slim Jim does have a helpful resource to assist you in finding the best nutrition data for their products called Smart Label.
Beef Jerky Fans!
If you are a beef jerky fan, I recommend you trying my new favorite – Tillamook Beef Jerky (get it on Amazon)! This is a zero sugar product that tastes amazing (and if you love cheese, Tillamook cheese IS THE BESTEST.)
Follow Keto Dirty on Social – Facebook / Keto TikTok / Pinterest / Instagram