Funny Pickle memes about one of our favorite keto snacks.
Who knew there was so many things about the beloved low carb snack, the pickle. Sure enough – there are funny memes about pickles and we are totally here for it.
Funny Pickle Memes and Puns
Continuing on our series of keto memes, we are onto sharing funny pickle memes and pickle puns.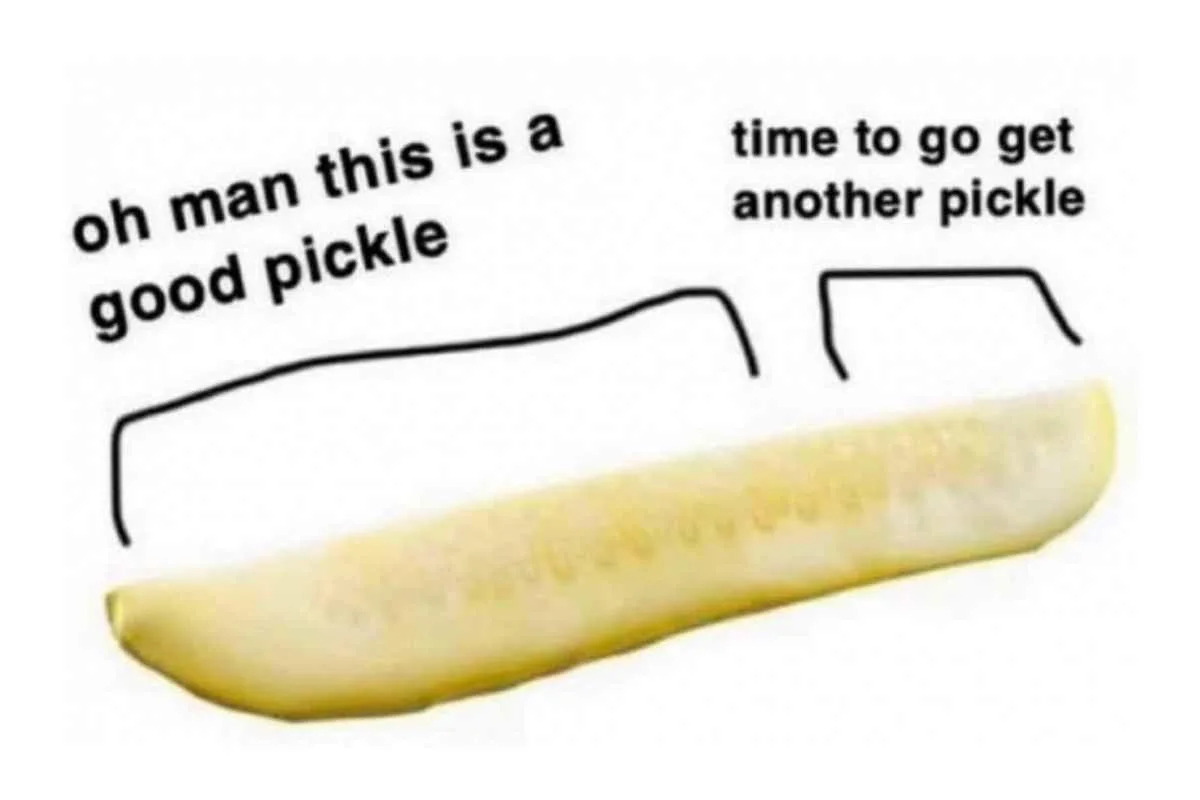 Interesting Facts about Pickles
In addition to sharing the funny, we thought we'd share some fascinating Pickle facts about one of our favorite keto snacks.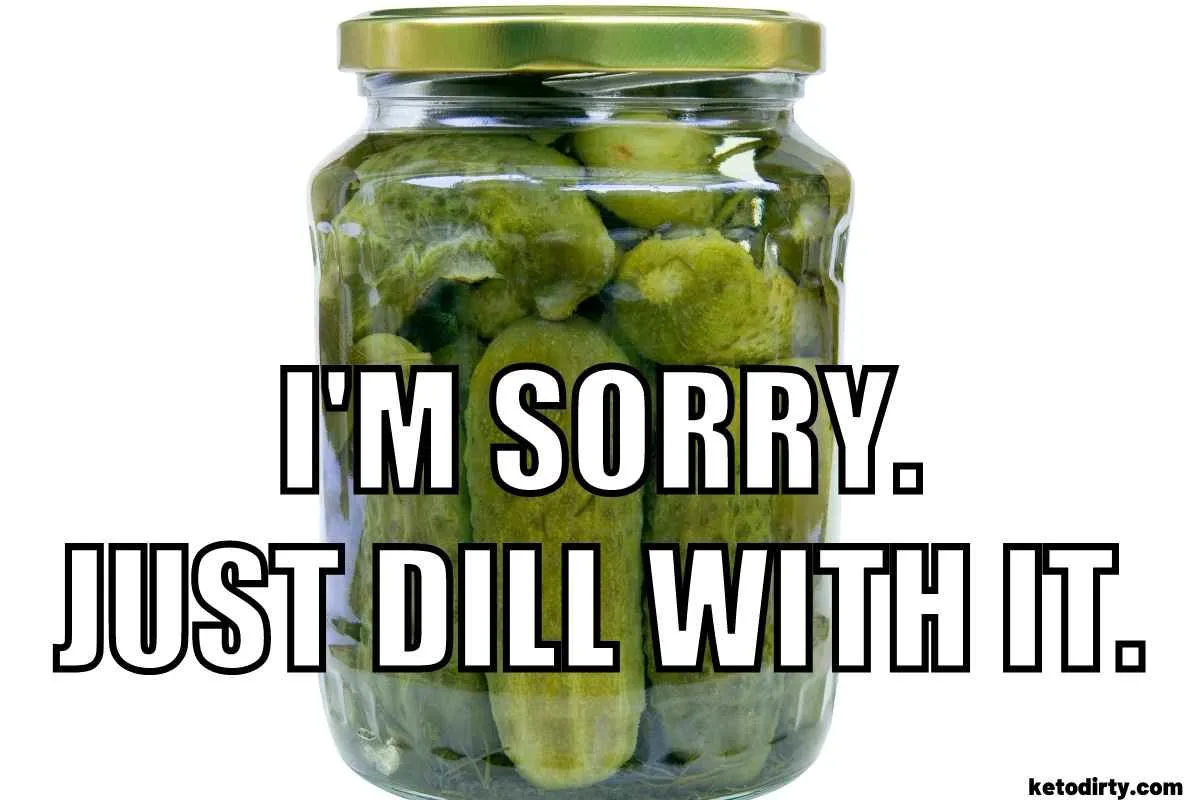 Pickles are a Vegetable
If you are wondering "are pickles a vegetable?" YES! They are, because pickles come from cucumbers. Have you seen our list of keto vegetables?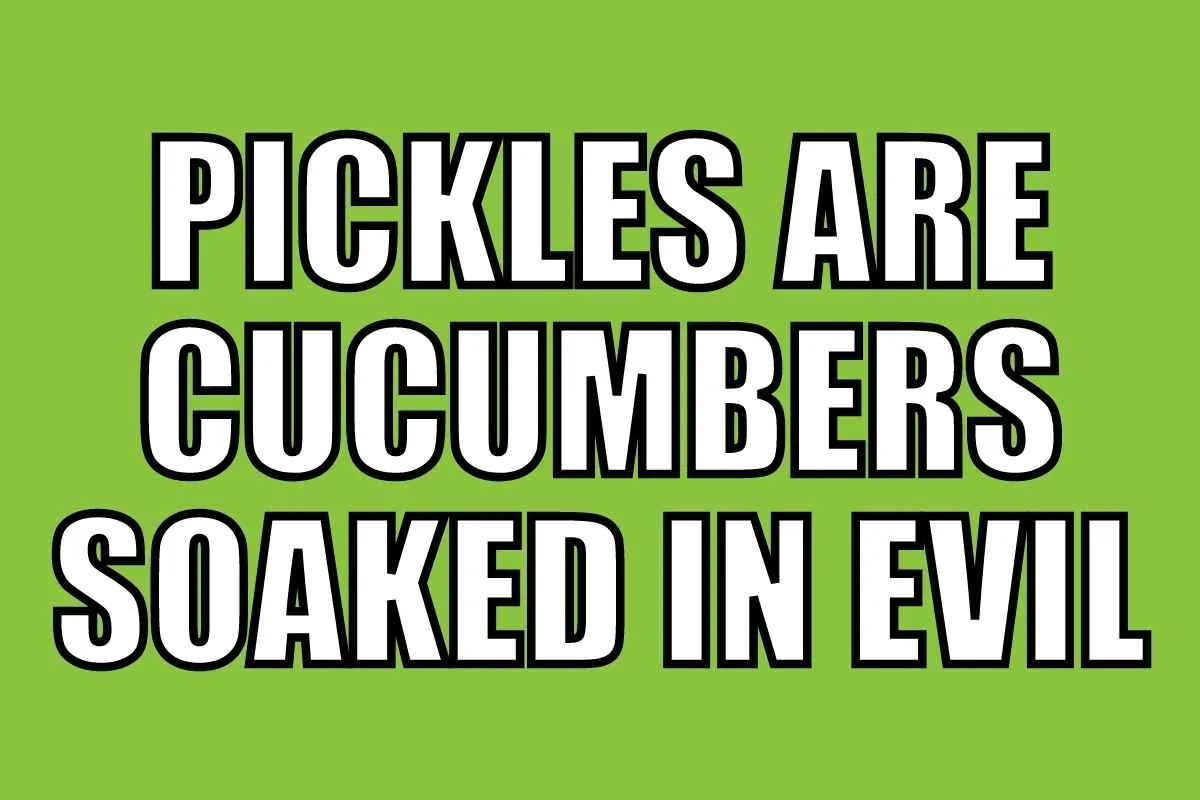 How are Pickles Made?
Sorry kids, I am not here to tell you how babies are made but I can tell you how pickles are made! Pickles are just a pickled cucumber.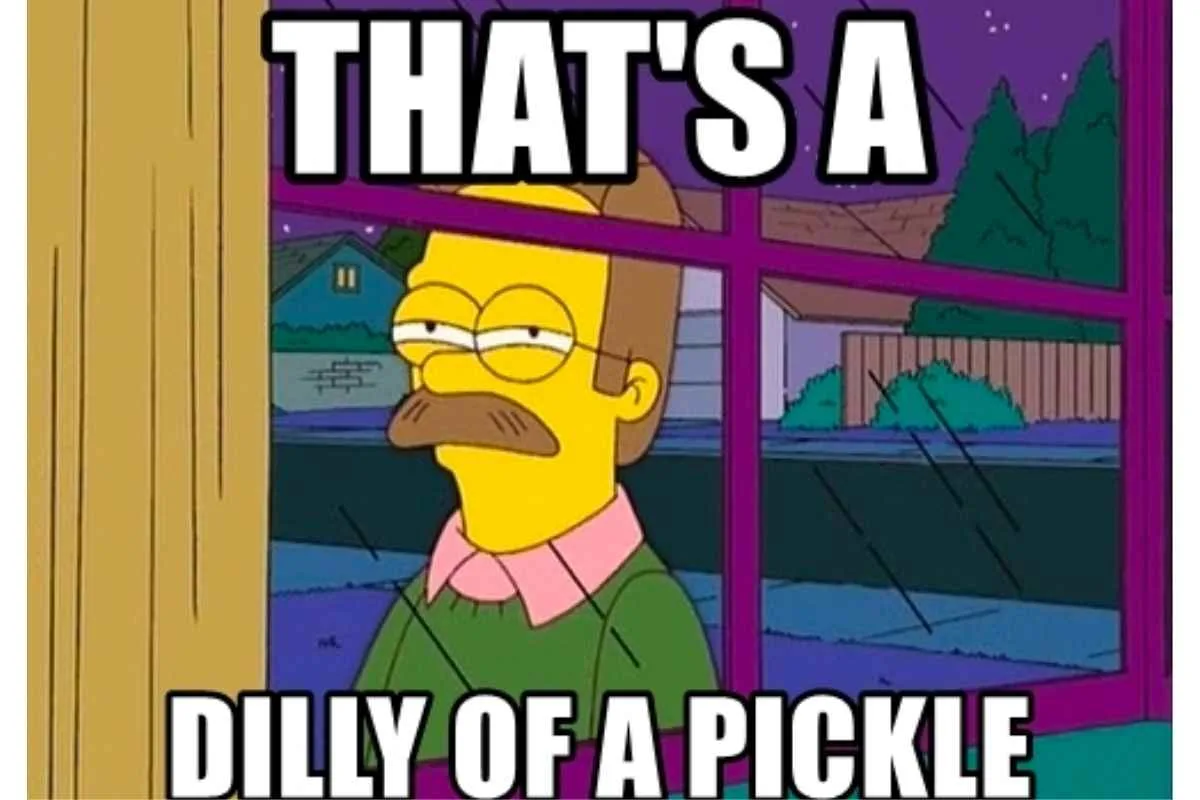 Mind blowing, I know. So basically we are talking spices, vinegar and cucumbers to make a pickle. Here is an informative pickle video showing you the entire process from start to finish in what it takes to make a jar of pickles.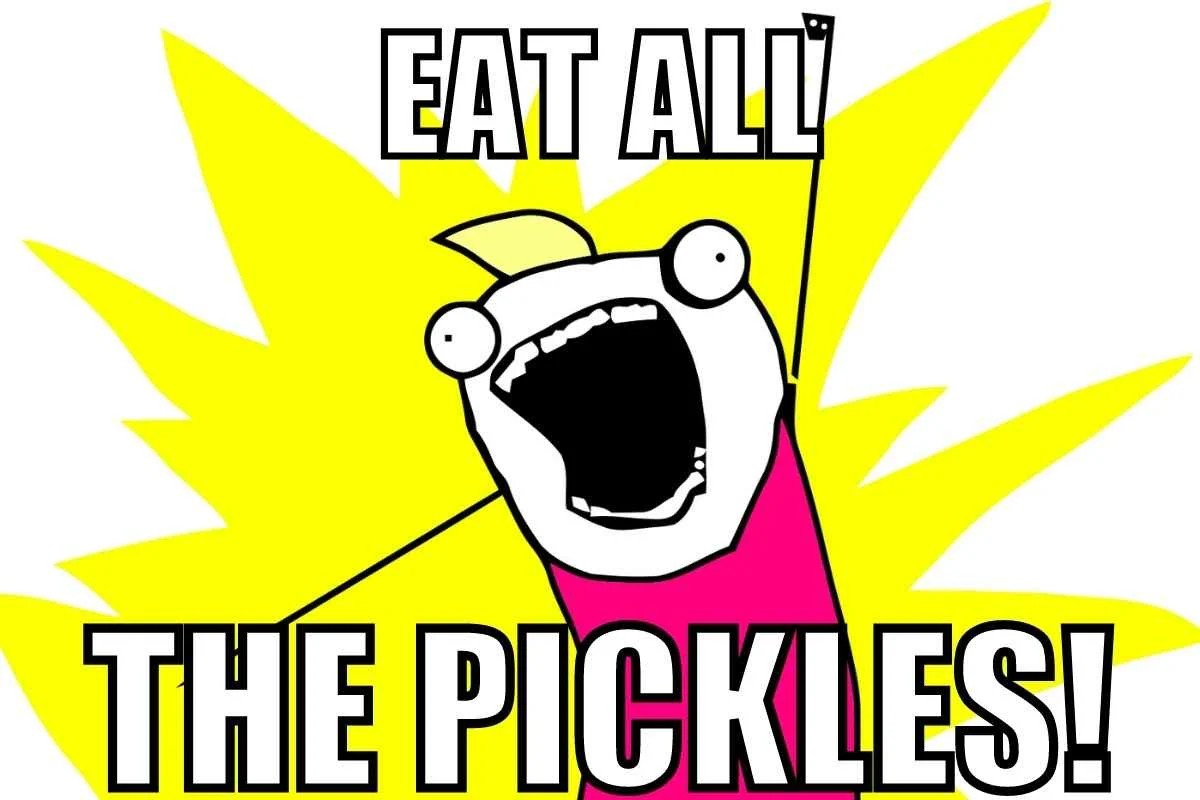 It ain't pickles, but they are yolky – don't miss our funny egg memes!
Pickles in a Bag
Did you know you can buy pickles in a bag? This has become one of our favorite goto keto movie snacks.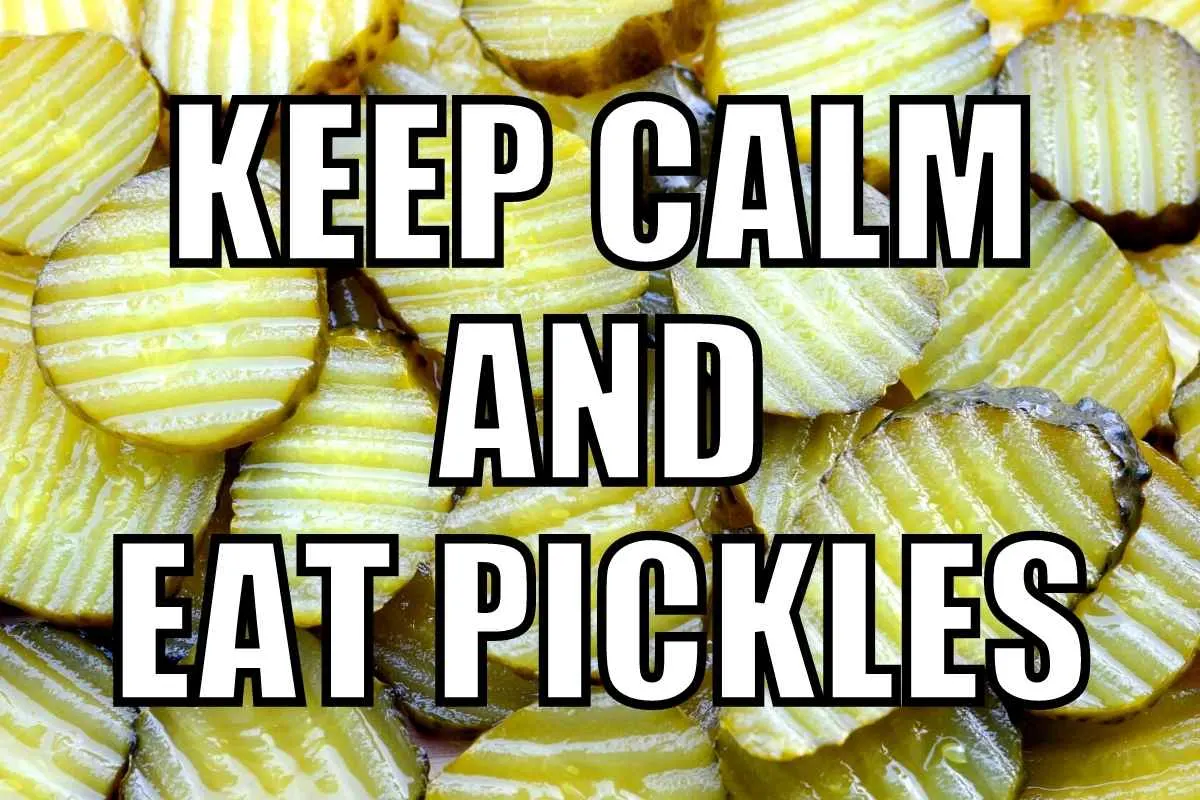 You Forgot the Pickles
We didn't forget the pickles, nor did we forget the pickle memes.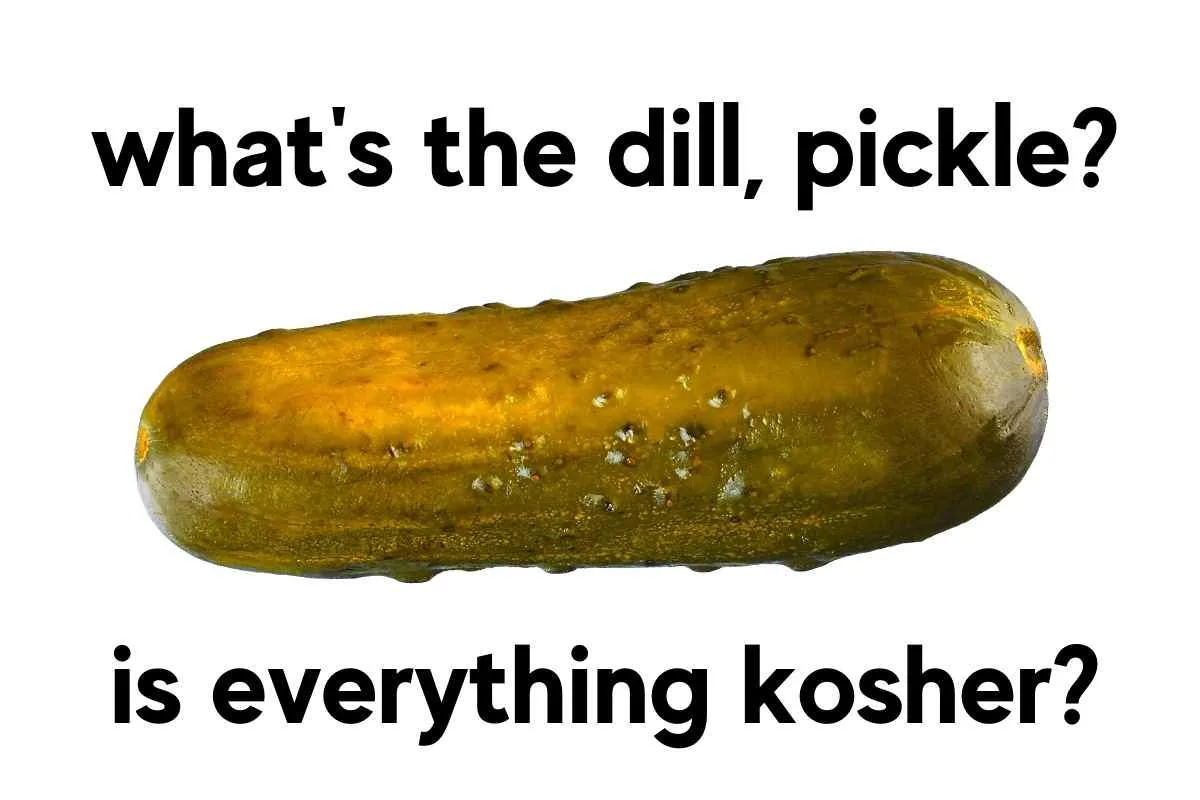 Drinking Pickle Juice
If you think drinking pickle juice is weird, well it kind of is but also it's kind of addicting.
Pickle juice is actually really good for you. It is filled with electrolytes and is one of our top suggestions when dealing with the keto flu.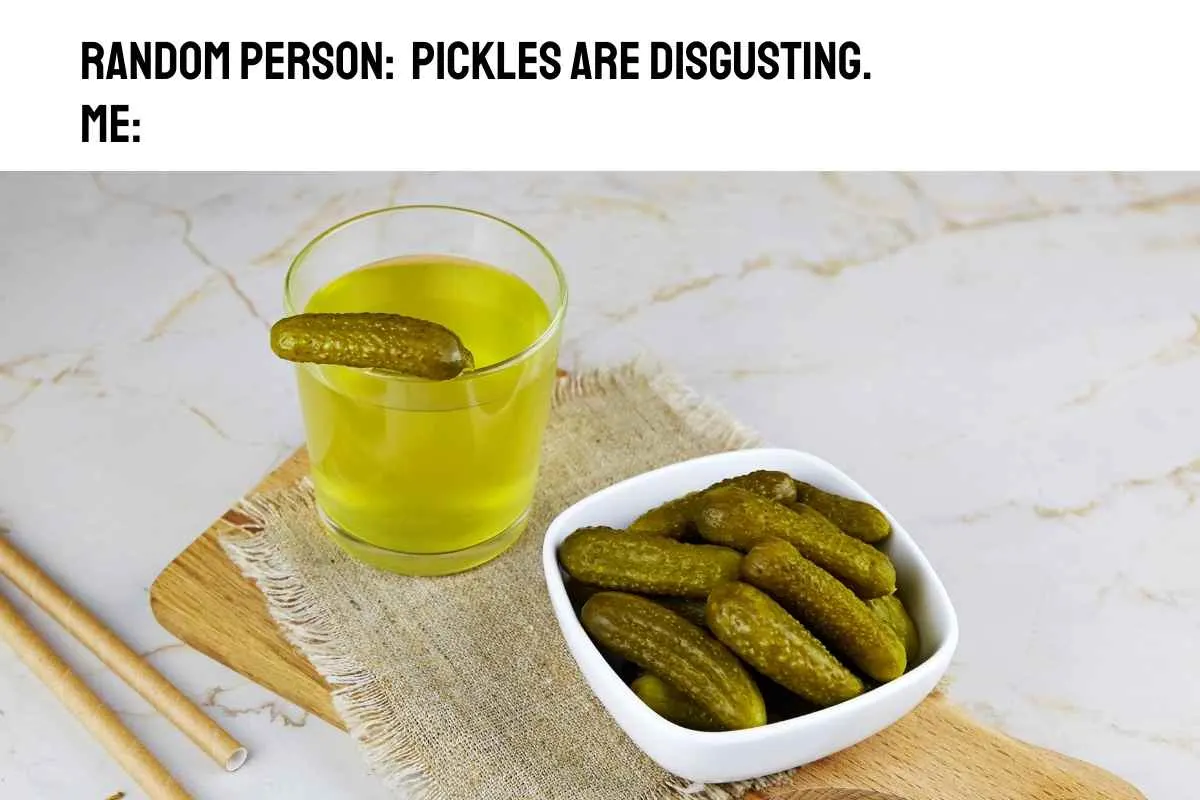 Pickle juice, in addition to help you stay hydrated, can help with muscle cramps.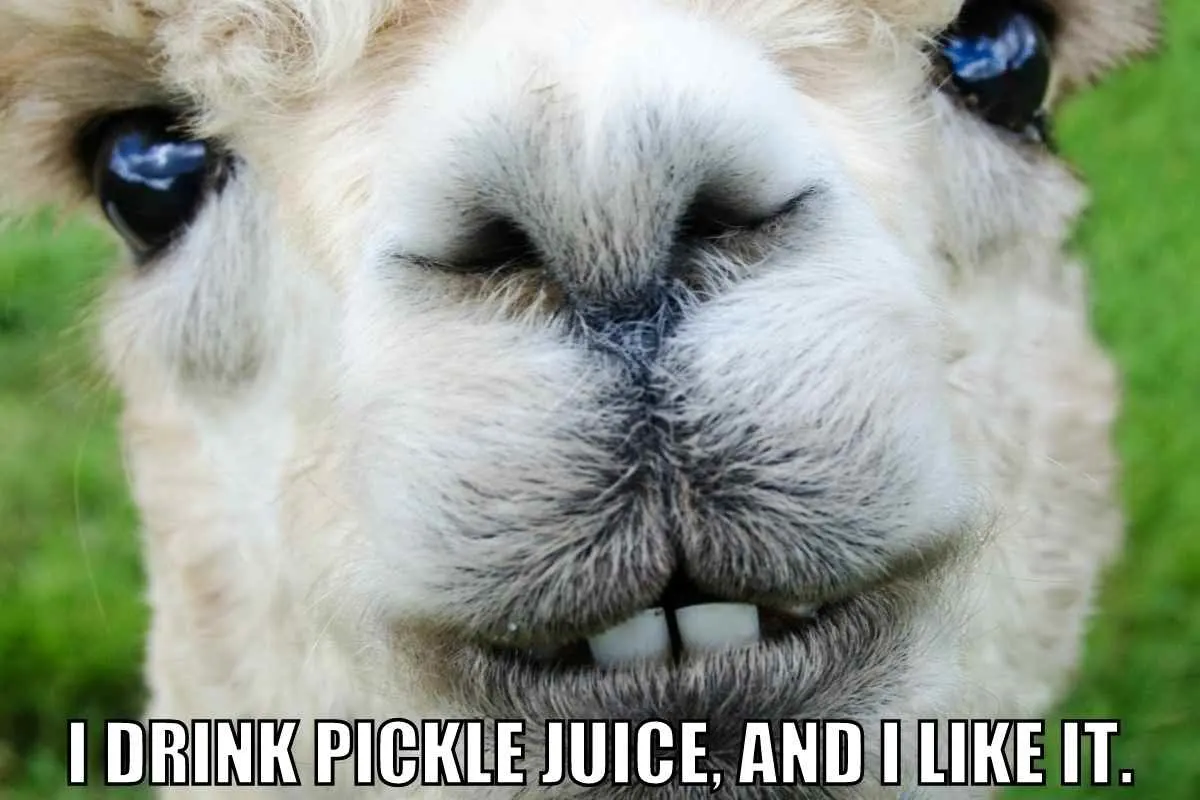 Another popular use of pickle juice is brining. Since it's basically flavored vinegar, pickle juice works awesome as a brine for chicken or beef. Great for brining before putting your meat on the grill.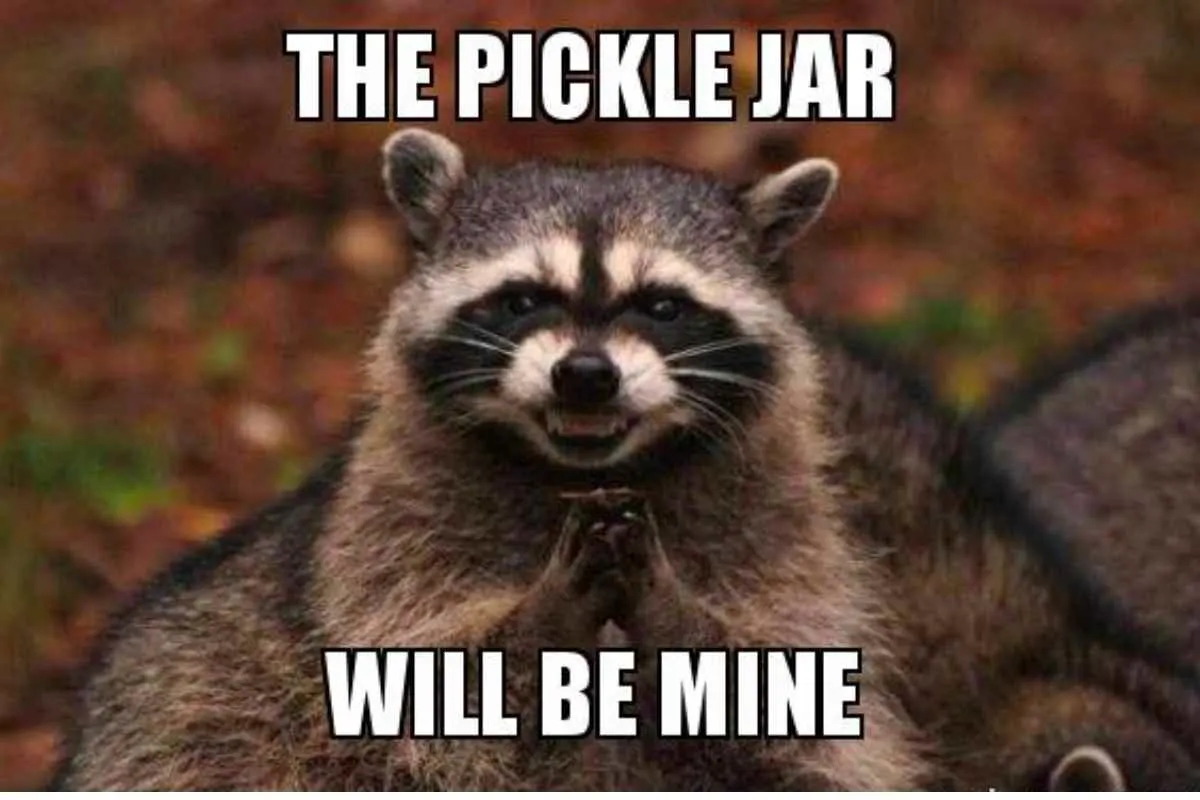 Average American Eats 8.5 Lbs of Pickles
Even though, chances are if you are looking for pickle memes that you love pickles – that some people hate them. Even with that, us pickle lovers are consuming quite a bit of pickles. According to the Department of Agriculture, the average American eats 8.5 lbs of pickles a years. That just feels like a LOT of pickles.
Then again, I do love my Costco pickles (my favorite pickles are the Grillo pickles – found in the refrigerated aisle.)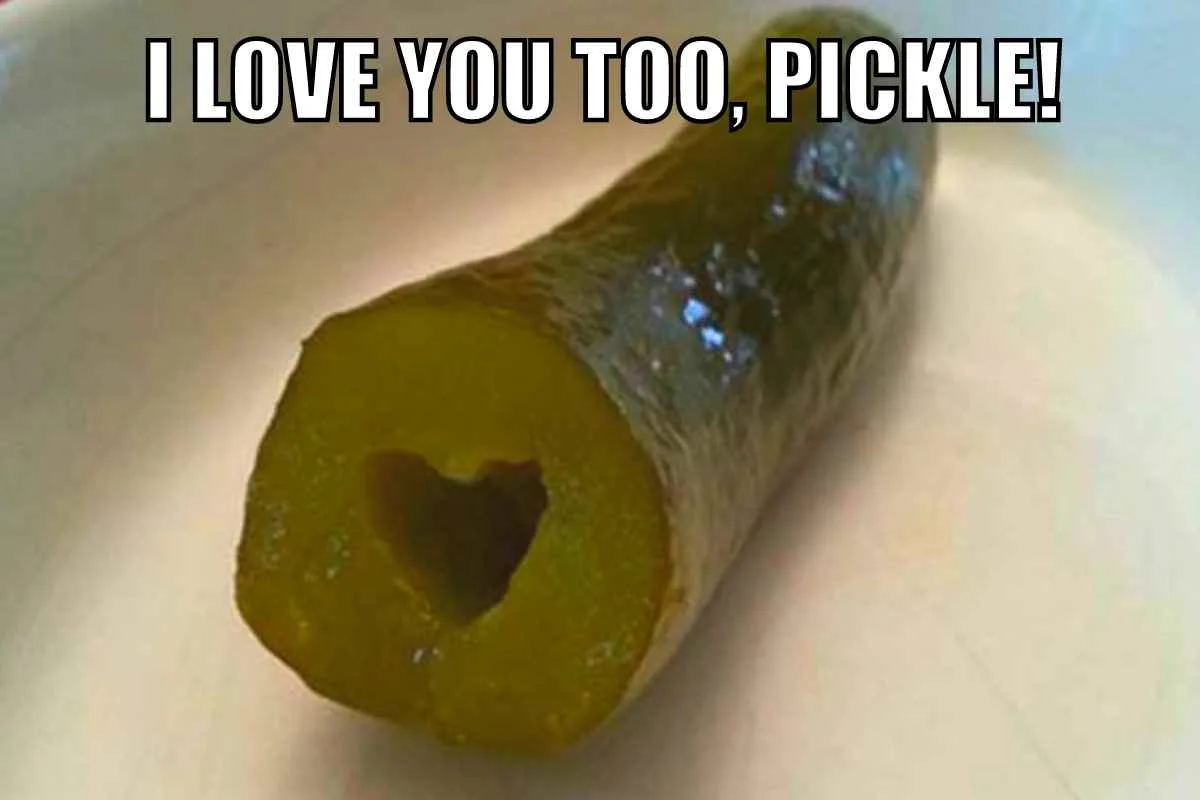 November 14th is National Pickle Day
Yes, the pickle has a national holiday and National Pickle Day is November 14.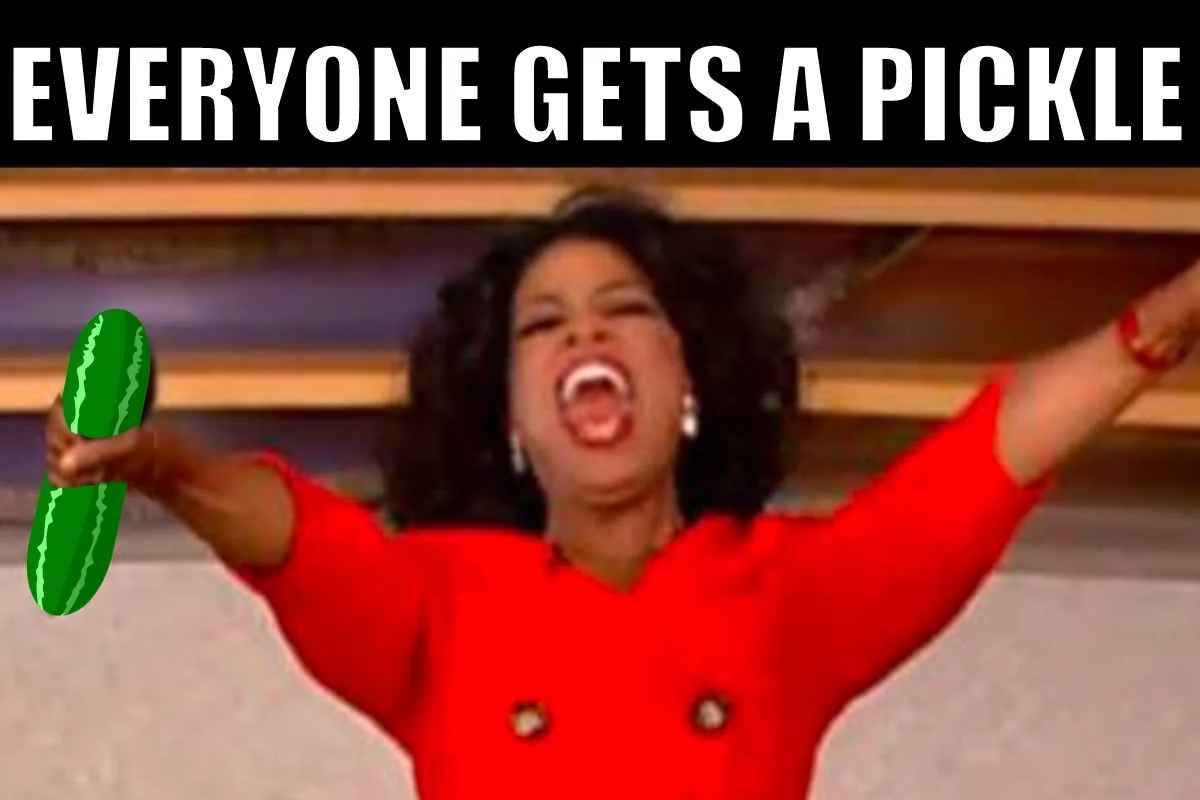 "In a Pickle"
Did you know that "in a pickle" was first introduced by Shakespeare in his play, The Tempest? he quotes read, "How cam'st thou in this pickle?" and "I have been in such a pickle."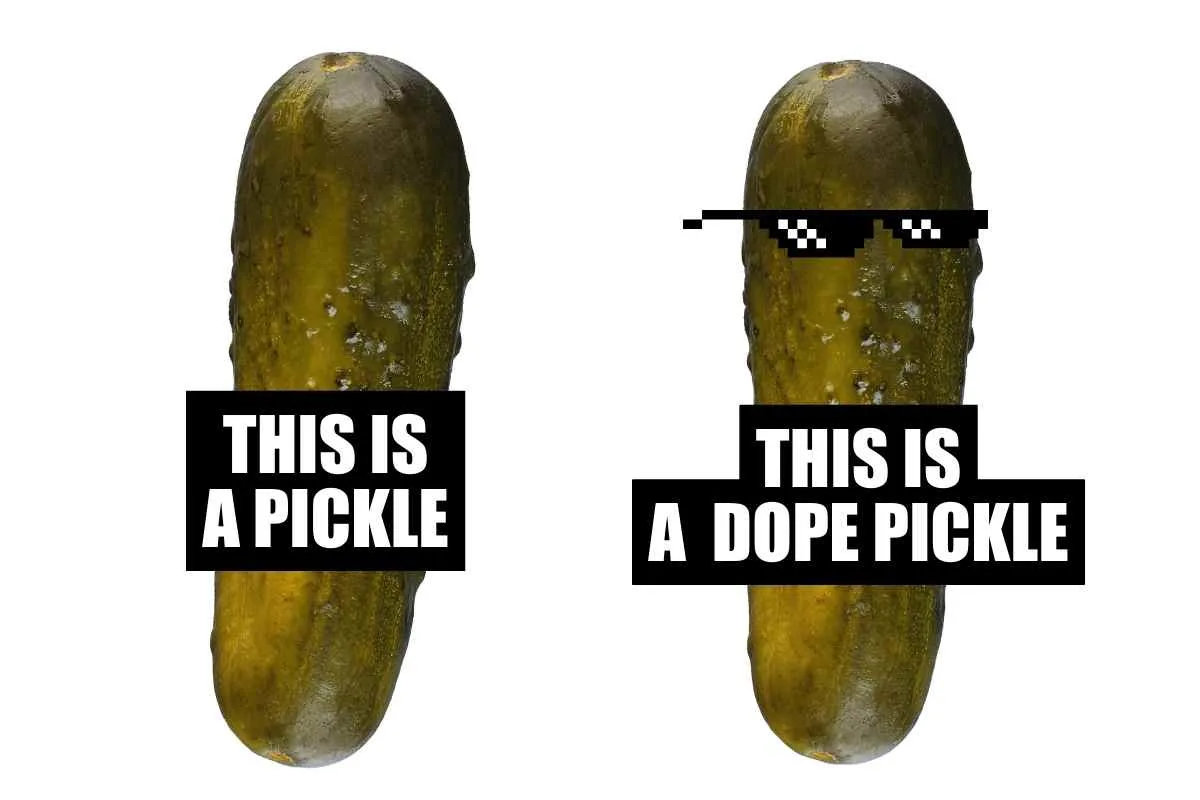 Kool-aid Pickles
Did you know that some people make sweet pickles by soaking dill pickles in a strong kool-aid. These kool-aid pickles are very popular in parts of Mississippi.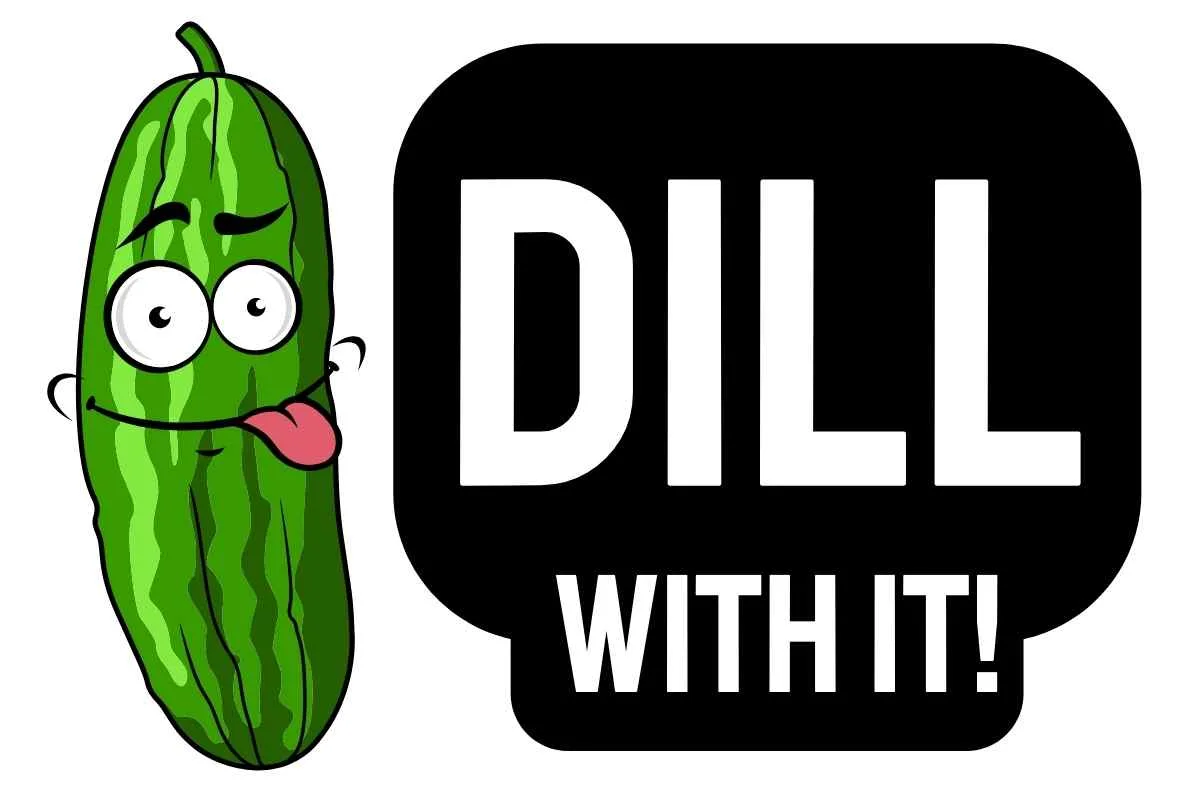 Pickling Cucumbers
Did you know that pickling cucumbers not only improves the cucumbers flavor, it can also make them more nutritious and easier to digest? During the fermentation process, bacteria produce vitamins as they digest vegetable matter.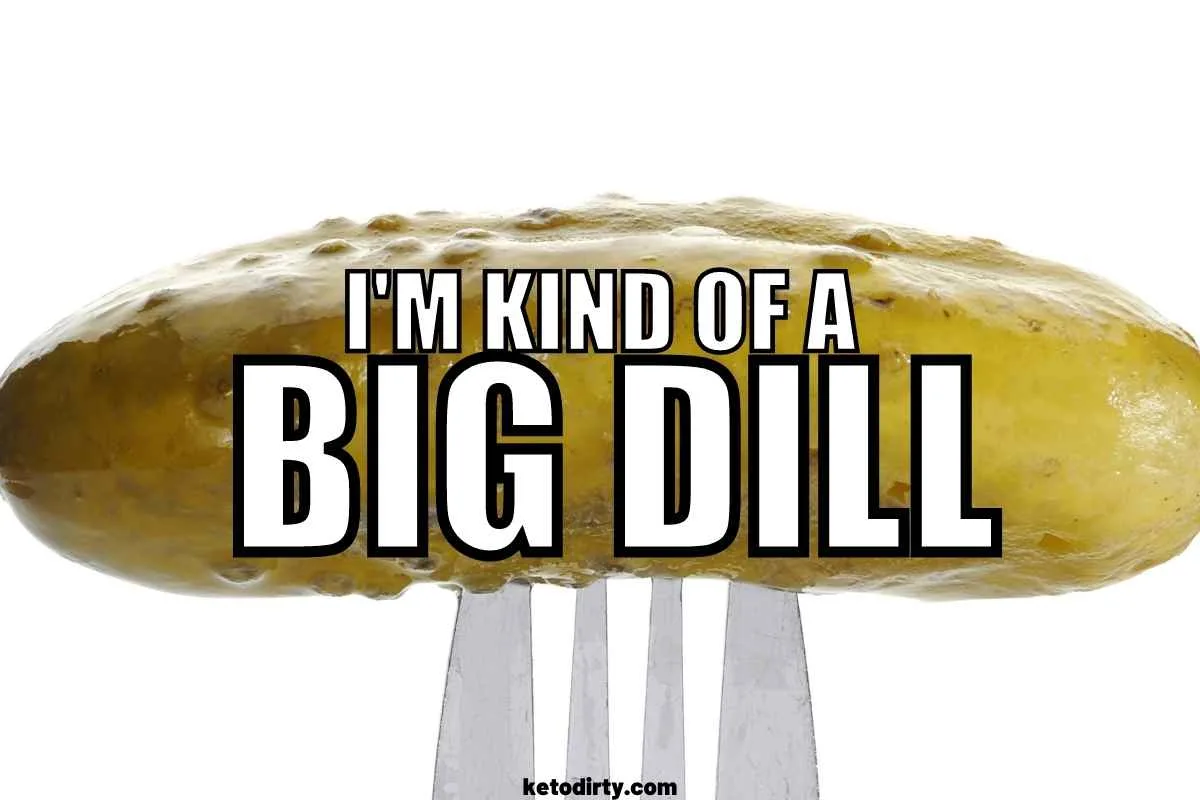 There you have it. Interesting pickle facts, and of course funny pickle memes and pickle puns. Feel free to share the memes about Pickles. If you, please link back to this post and tag us on social.
Happy pickling! Did you see our cheese memes? They are quite cheesy.
Follow Keto Dirty on Social – Facebook / Keto TikTok / Pinterest / Instagram
Funny Pickle Memes are part of the Keto Dirty series of funny diet memes.