These no sugar keto cups are the low carb Reese peanut putter cups alternative that you have been looking for!
The craving for chocolate is real, y'all. And if you are munching for some peanut butter chocolate cups, like Reese cups – we have good news! Better yet, this news comes in the form of a keto friendly candy product that will have you saying Thank you, Jesus!
No Sugar Keto Cups
On the hunt for whats new in the sugar free candy space, I stumbled upon these No Sugar Keto Cups. Here's the dealio though – there are multiple keto peanut butter cups on the market. While we have a huge list of keto snacks for you devour, we are getting sweet with this list, and a little nutty.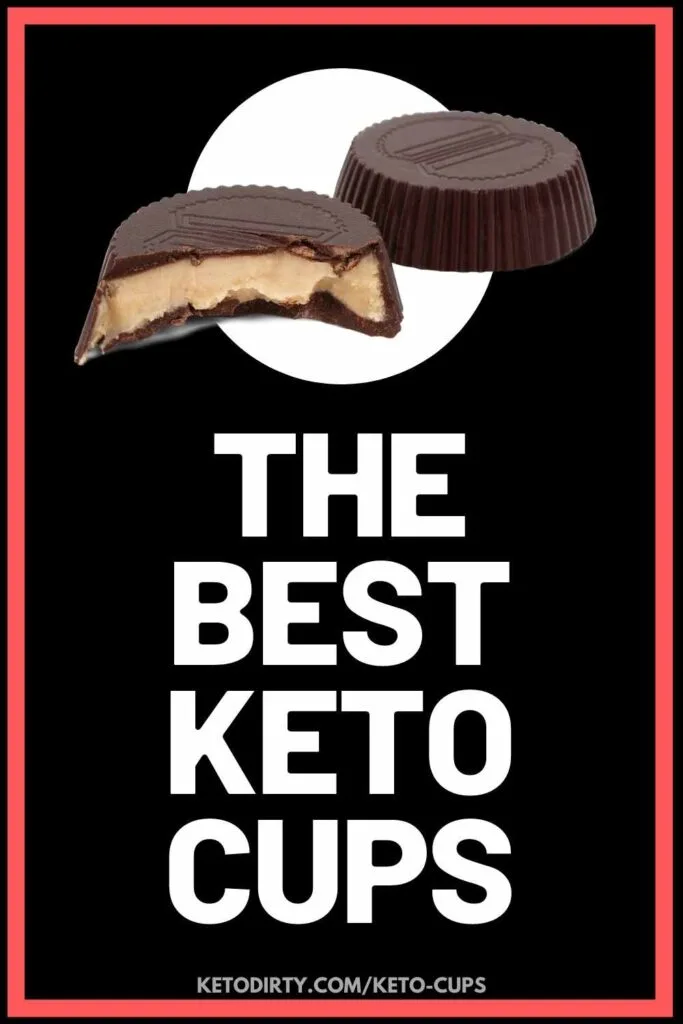 We are sharing our top 3 picks for best No Sugar Keto Cups. Here is a run down of each brand and what you should know about each.
#1 Sugar Free Reese's Peanut Butter Cups
First on our list of Keto Cups we have the O.G., the original maker of the peanut butter cups mass candy, Reeses. While these may not be the best Keto diet choice, and definitely are more of a keto dirty snack – with a sugar free options, there are worse things you could be eating.
These are miniature chocolate peanut butter cups. While not necessarily good or bad, just something to note.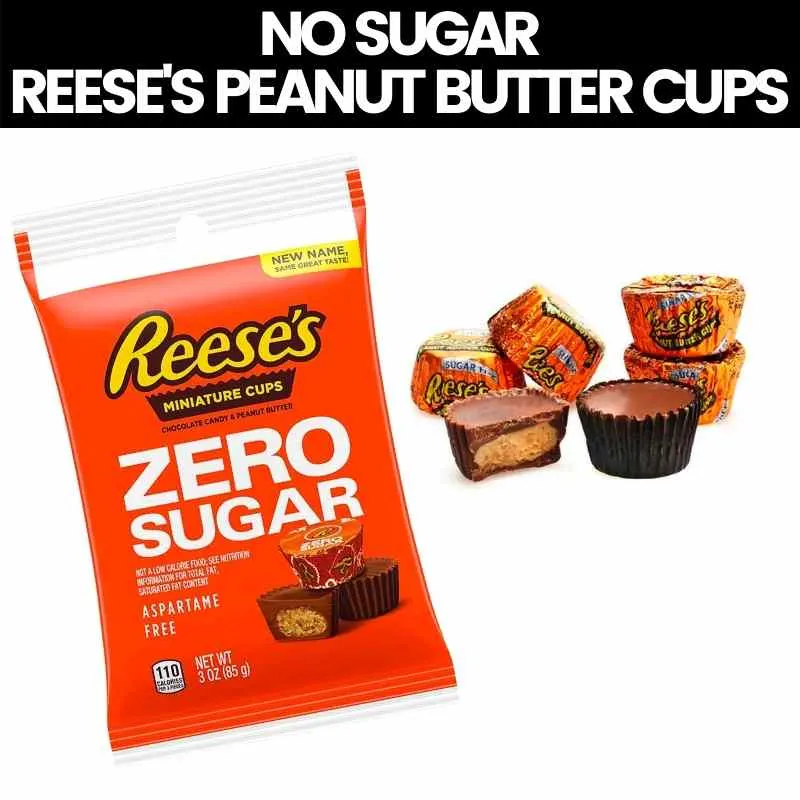 The Good: The sugar free Reese's peanut butter cup taste like their traditional peanut butter cup.
When you are doing a price comparison, Reese keto cups are much more affordable than the healthier alternatives. But doesn't that always feel like the case? You pay more for healthy.
Another bonus, these Reese's Sugar Free Peanut Butter Cups can be found in grocery stores and big box chains. And another no brainer, these Reese keto cups make a great keto movie snacks.
The Bad: Reese's Peanut Butter cups can have a laxative effect when you indulge in these. So if you think you can eat a bag of these, plan on spending the day on and near a toilet. Made with sugar alcohol, these are sugar free but again, moderation is key with these!
Reese's Cups Macros
Here are the Reese's Peanut Butter Cup Macros: 3 pieces – 110 calories, 8g fat, 15g carbohydrates, 12g sugar alcohol, 3 net carbs,
# 2 Evolved Keto Cups
The second brand of keto nut butter cups on our list is the Evolved Keto Cups. Evolved is a popular low carb brand offering a hand full of various products from no sugar chocolate chips, sugar free chocolate bars, filled chocolate cups and these Evolve Keto Cups.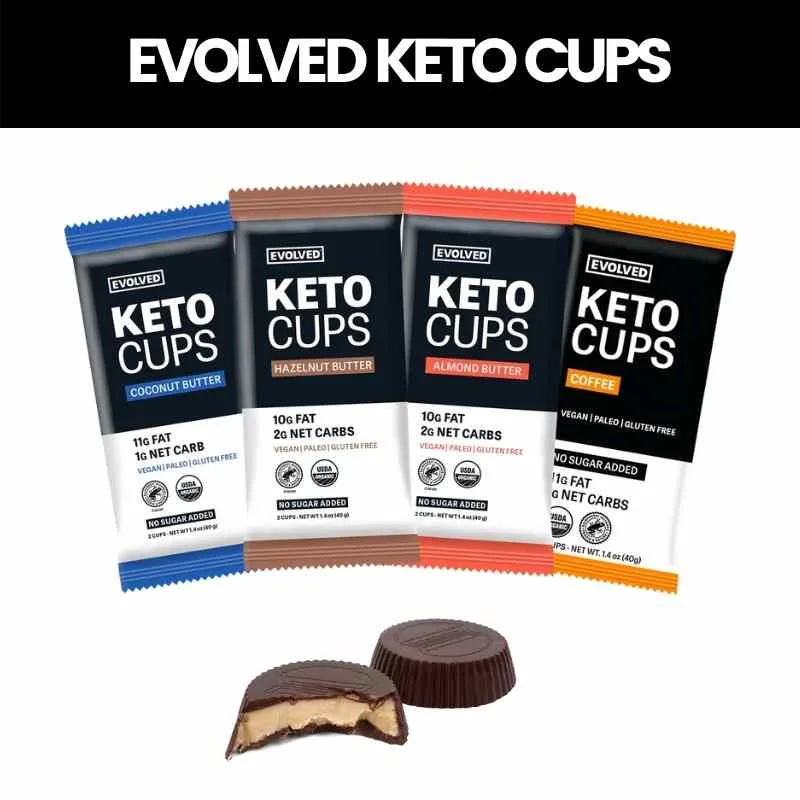 The Good: Evolved Keto Cups feature just 7 keto friendly ingredients. They have avoided putting in keto sweeteners like Erythritol, Xylitol and others.
Another great thing about Evolve Keto Cups is that there are a variety of highly rated keto nut butter bars in their line-up. So if you can't eat peanut butter but can eat almond butter, coconut butter or hazelnut butter, the Evolved line up is great for you.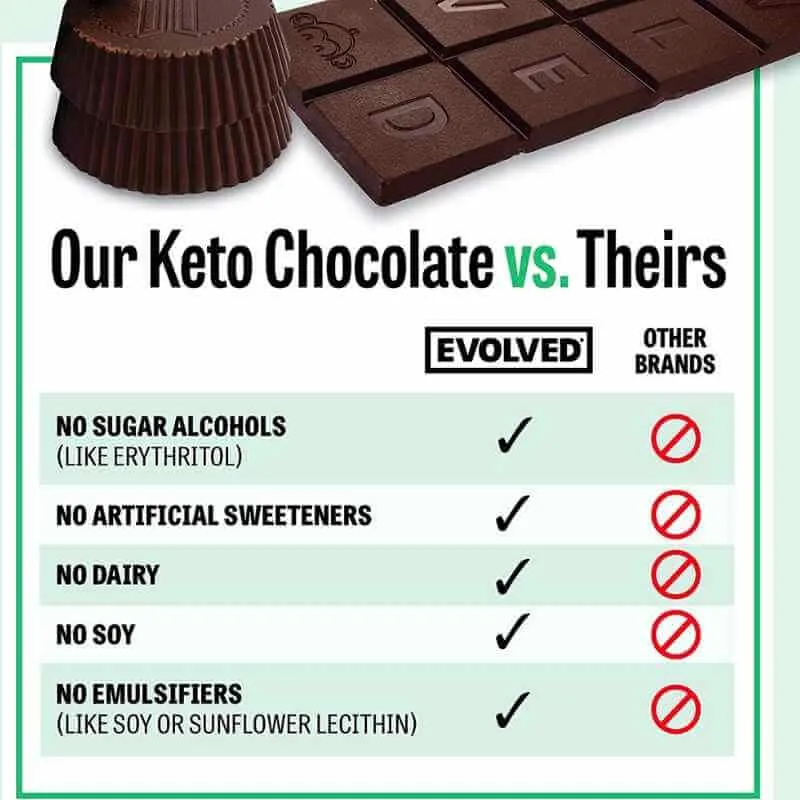 The Bad: These low carb chocolate cups are pricey! This is a huge unfortunate when it comes to buying keto foods off the shelf. I guess the old saying does play true, you get what you pay for.
Also to note, none of the keto cups that we could find were reasonable in price.
What makes these our front runner pick for best keto cups?
Evolved uses chocolate crafted from organic ingredients that are high quality – such as coconut butter, cacao, monk fruit extract, and MCT oil to help you achieve peak performance
The use of MCT oil is derived only from coconut oil. It can also help with stable energy, appetite control, weight loss, and inflammation
Did we mention these are sugar free? No sugar added, sugar alcohols, or any refined sugar, plus our chocolate is always gluten free, dairy free, peanut free, and soy free
Here are the keto cup nut butter flavors that you can find in the Evolved food line-up.
Evolved Almond Butter Keto Cups
Macros: 130 Calories, 11g of healthy fat, 2 Net Carbs
Evolved Hazelnut Butter Cups
Macros: 130 calories, 10g of healthy fats, 2g net carbs
Evolved Chocolate Coconut Butter Keto Cups
Macros: 130 Calories, 11g of healthy fat, 1 Net Carbs
Evolved Variety Pack
Macros vary per product. Each 2 net carbs or under.
Quest Keto Peanut Butter Cups
Last we are featuring keto cups from the popular diet food brand uest. Here are our thoughts on the Quest Keto Peanut Butter Cups.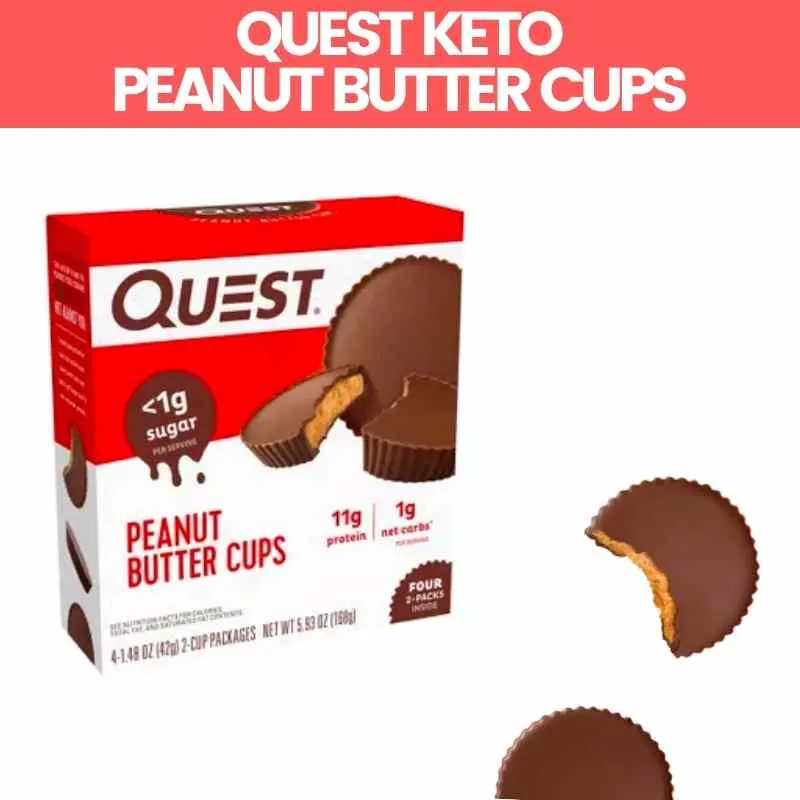 With a pleasant taste that will satisfy your sweet tooth, these low carb chocolate peanut butter cups will meet your need of something sweet.
The Good: Quest product are easily found in stores. While often we have to order products online, you can find these often in drug stores and big box stores like Target, Walmart and possibly Costco or Sams Club.
This keto chocolate cup features less than 1 g sugar.
Another bonus with the Quest Keto Peanut Butter Cups is that they contain 4g of fiber. We all could use some fiber in our life, especially while on a keto diet!
The Bad: The price is still high but in line with most other keto snack products. If you are trying to avoid erythritol, this is not the product for you as it contains 8 grams.
Quest No Sugar Keto Cup Macros
So where are the Quest Keto Cups macros? So glad you asked.
Quest Keto Peanut Butter Cups Macros – serving size is 2 cups – 190 calories, 15 g fat, <1 g sugar, 13 g carbohydrates, 1 net carb.
How do we get 1 net carb where there is 13 g of carbohydrates? We will show you! Learn how to calculate net carbs.
More Keto Cup Options
While we didn't get to try every single brand of Keto Cups – here are more keto chocolate cup options that come highly rated to consider:
Keto Made Simple No Sugar Keto Cups
Keto Made Simple offers 2 flavors of No Sugar Keto Cups – chocolate mint and dark chocolate peanut butter. This sugar free chocolate cup is another highly rated low carb product to help squash those sugar cravings.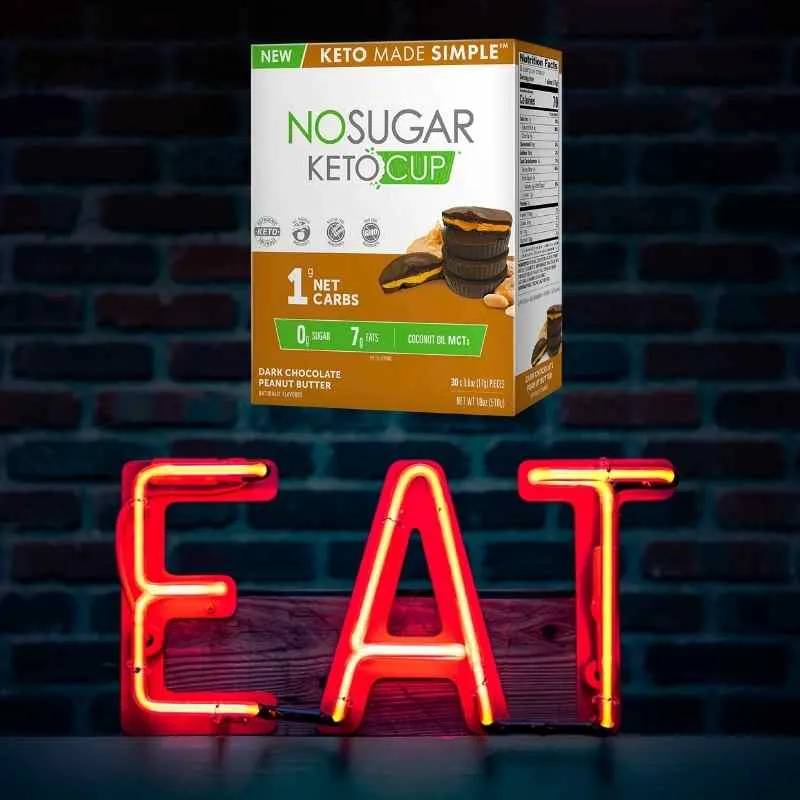 Both the mint chocolate and dark chocolate peanut butter are only 1 net carb. Both utilize coconut oil MCTs.
Keto Cups Costco FOUND!
A HUGE perk to the Keto Made Simple No Sugar Keto Cups is that Costco carries these. YES! Keto cups at Costco, y'all!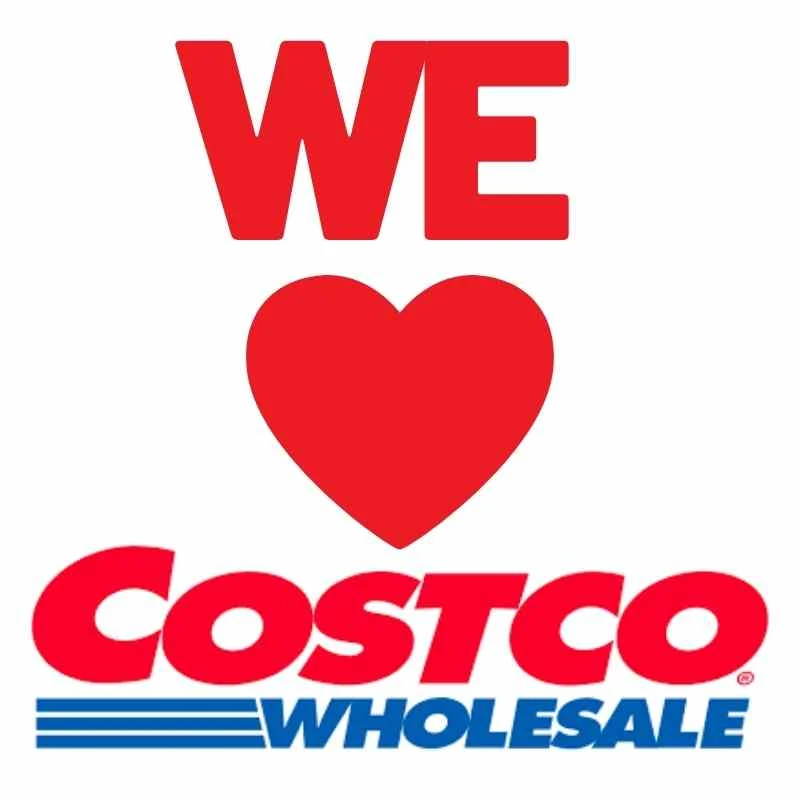 While I wish Costco would hurry up and bring back Moon Cheese, these will be on my next Costco shopping list to try.
Go Better Keto Chocolate Cups
This is on my list of keto things to try! The chocolate caramel option sounds amazing, but more on that soon. The Go Better Keto chocolate cups come in the following options:
Chocolate Caramel
Almond Butter
Peanut Butter
Keto Science Keto Fat Cups
I mean, the words Keto Fat Cups sound both delicious and like a contradiction. That said, the Keto Science Keto Fat Cups come in highly recommended.
Featuring coconut MCTs, these z added sugar, gluten free Keto Fat Cups have only 1 gram of net carbs.
Final Thoughts
Listen, I have tried my fair share of both traditional sugar candy and no sugar candy. So to say that I was pleased is an understatement.
Remember to watch yourself as we talked about in our keto candy post, over-indulging in artificial sweeteners that are keto friendly, such as sucralose can have bad effects on your stomach!
This is another low carb snack item to add to the pantry. Any of these brands are worth carrying around, and would make awesome a great keto snack on the go.
Follow Keto Dirty on Social – Facebook / Keto TikTok / Pinterest / Instagram
Keto Dirty is reader supported. When you buy through links on our website, we may earn an affiliate commission.
3 Best Keto Cups is part of the Keto Dirty series of Keto Candy