We are sharing our favorite Mounjaro Snacks to eat for a quick and easy bite.
If you are on Mounjaro and have either too much appetite suppression or are just trying to make sure that when you do snack that you eat healthy, we are here to help.
Mounjaro Snack Ideas
We are sharing our favorite Mounjaro snacks. Many of you have been following our posts as we talk about Mounjaro for weight loss. While the hunger suppression with Mounjaro is real, it is important to eat. Often times with the brain quietening that happens with Tirezepatide, we forget to eat.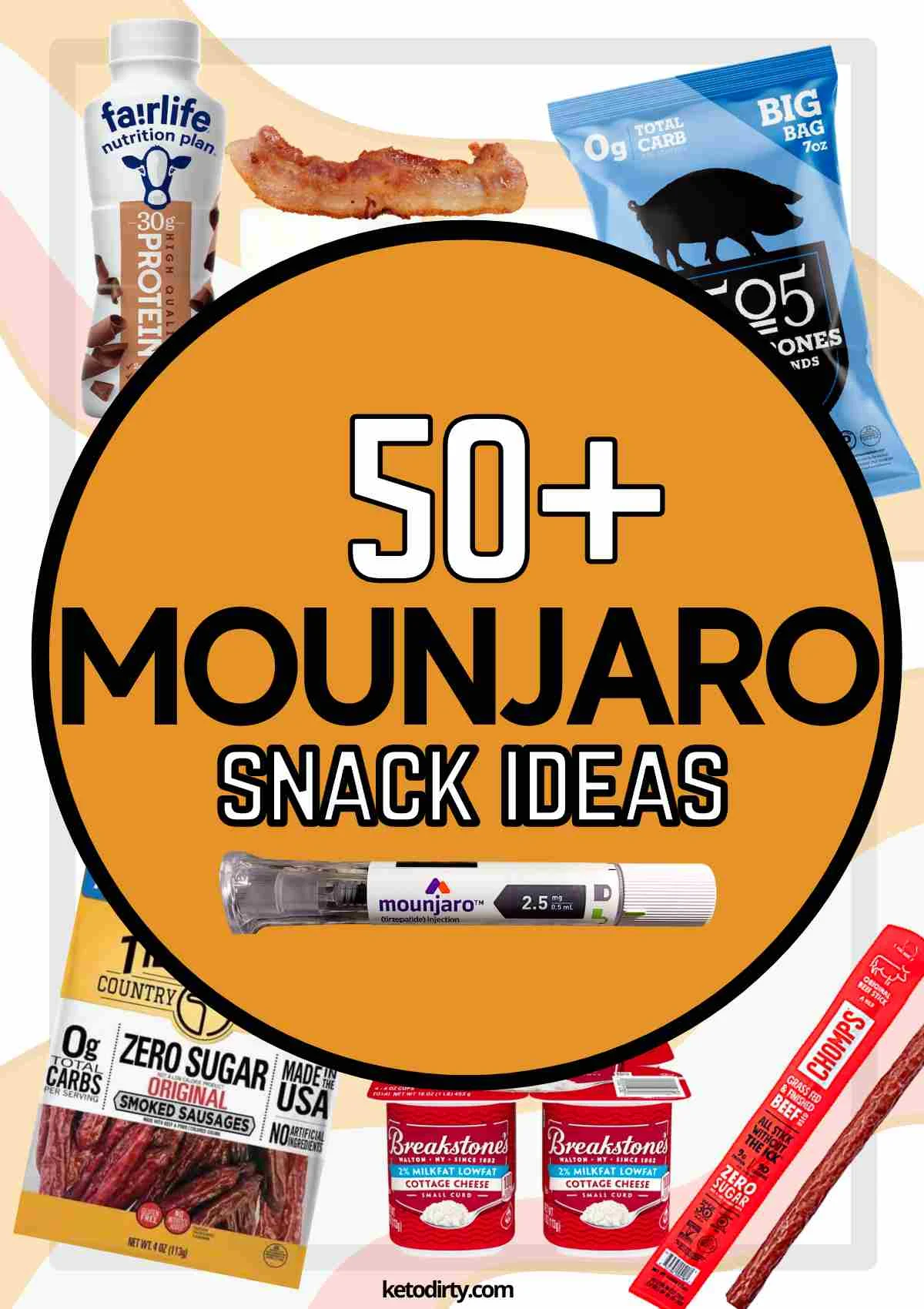 You have to eat! We've created a huge list of over 50 Mounjaro snack ideas for things to eat through out the day. These are quick or make ahead ideas to help keep you fed when the appetite suppression has you not wanting to eat.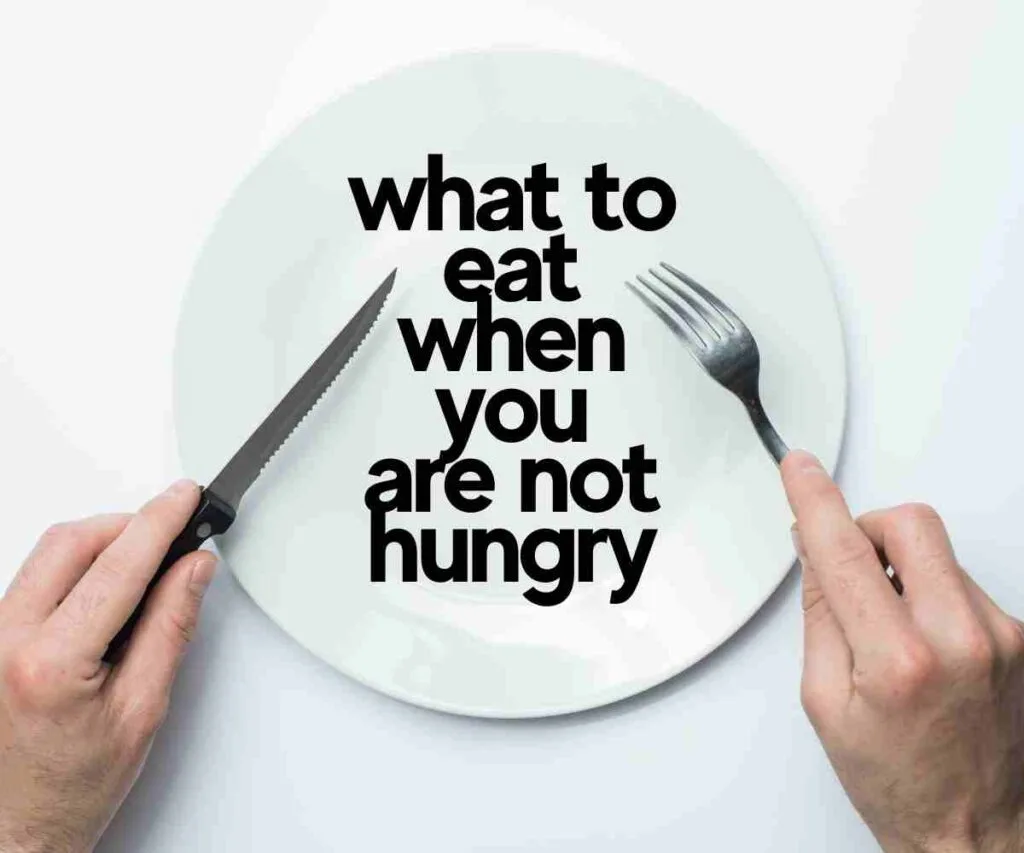 While everyone has different goals when it comes to eating, 3 things that we have found helpful is making sure that you are getting enough protein in, increase your fiber intake and that you watch sugar. Hence why a modified keto diet (hello, Keto Dirty!) is great for when determining what to snack on.
Best Mounjaro Snacks
Here are 50 Mounjaro Snacks that we are loving that we hope you will enjoy too. As mentioned, we are looking to increase protein, easy to eat on the go, minimal sugar and fiber.
From smoked sausages and pickles to protein shakes and cheese, enjoy this list of Mounjaro snack ideas.
Tillamook Smoked Sausages
Eating just 3 sticks of Tillamook smoked sausages contains 9 grams of protein and zero carbs.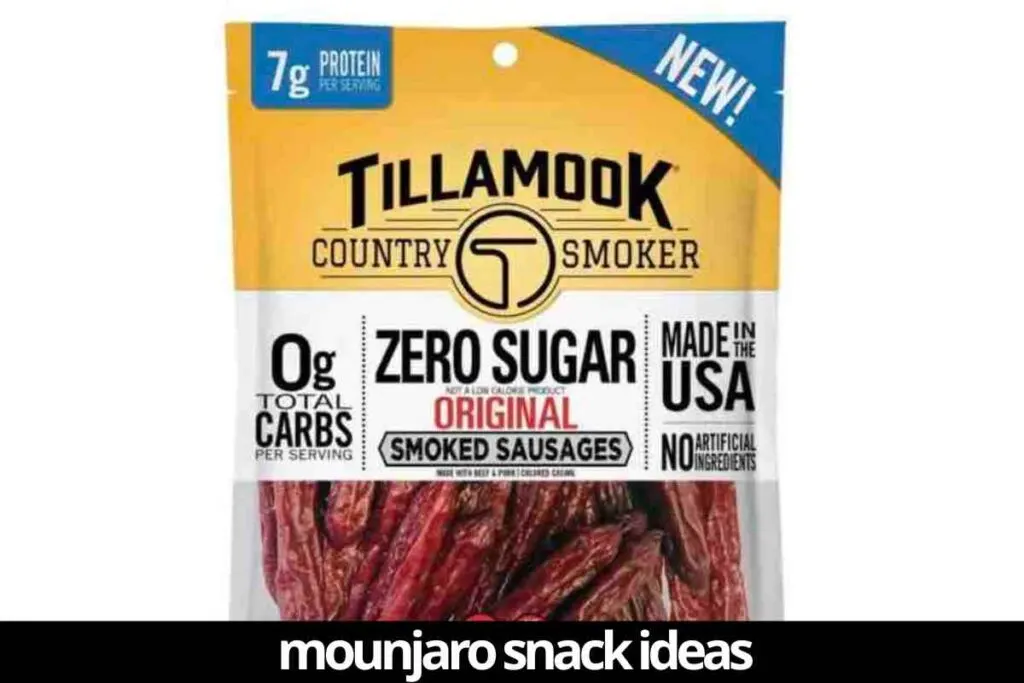 These bite size smoked sausages offer a great source of protein and a delicious taste with no artificial ingredients!
Breakstone Cottage Cheese Cups
Next on our list of Mounjaro snacks is cottage cheese. Breakstone cottage cheese cups are a great on the go snack.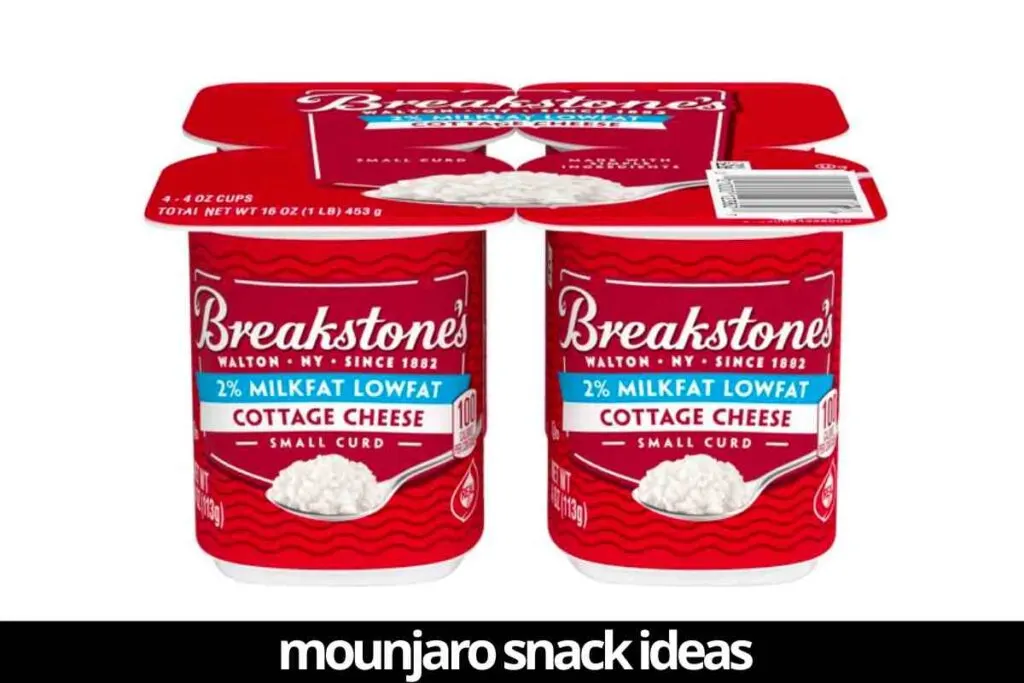 While each cottage cheese cup does contain 6 grabs of carbs, it also has 13 grams of protein and only 100 calories. We like our's plain, but for more flavor mix in pineapple or another fruit.
Available at grocery stores near you.
Peppers with Cream Cheese and Everything But the Bagel Seasoning
Looking for a Mounjaro snack idea with more substance? Buy a package of fresh mini sweet peppers. There are 2 ways to eat this. You can cut these in half and top with cream cheese and everything but the bagel seasoning.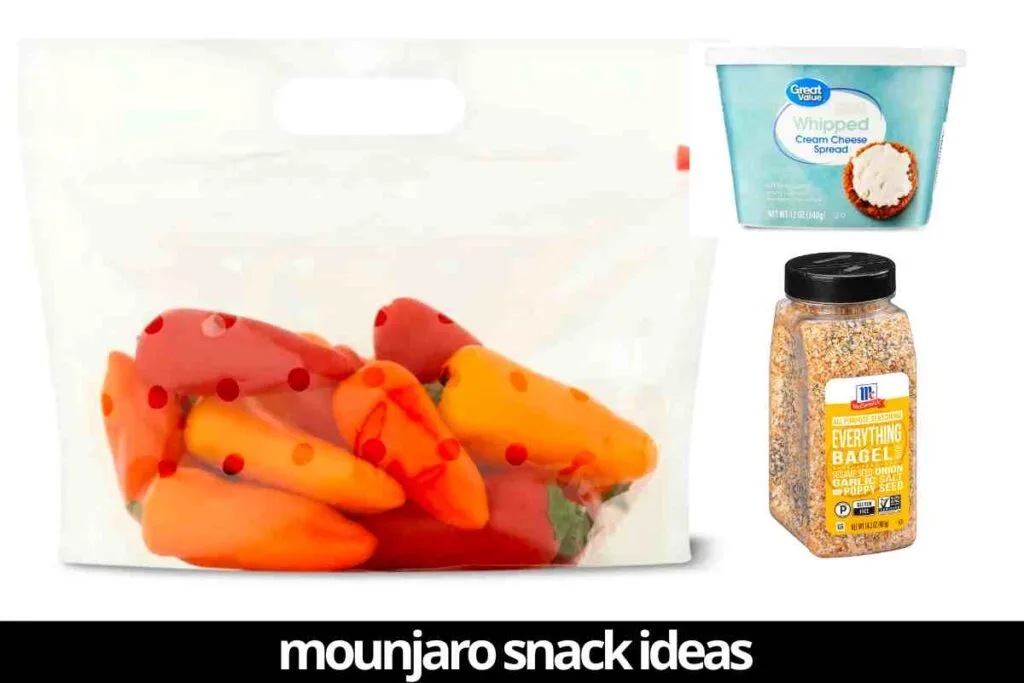 Another option is to make a cream cheese dip with everything but the bagel seasoning mixed in. Dip the peppers into the cream cheese dip for a delicious low carb option.
Buy Everything But the Bagel Seasoning
Spicy Pickles
This Mounjaro snack idea might not have the protein or fiber, but is a good source of potassium, zero carbs and zero calories.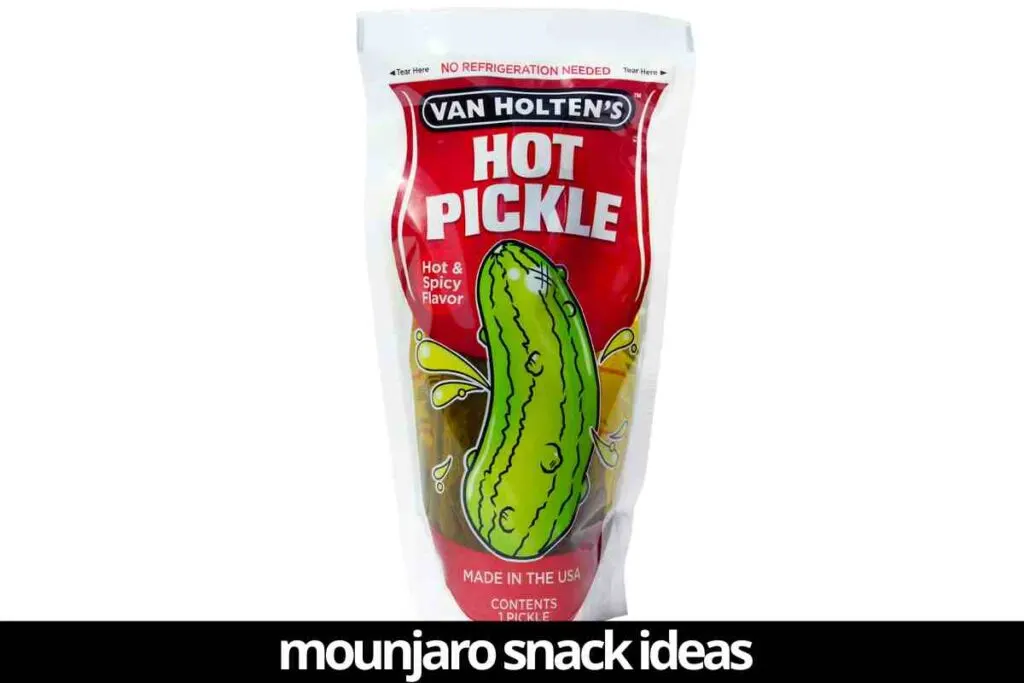 If you are wanting more than a plain spicy pickle, up the game by wrapping the pickle in a slice of ham to get in some more protein.
Spicy Pickles available at Amazon
Chomps Beef Sticks
Next on our list of Mounjaro snacks, we have Chomps beef sticks.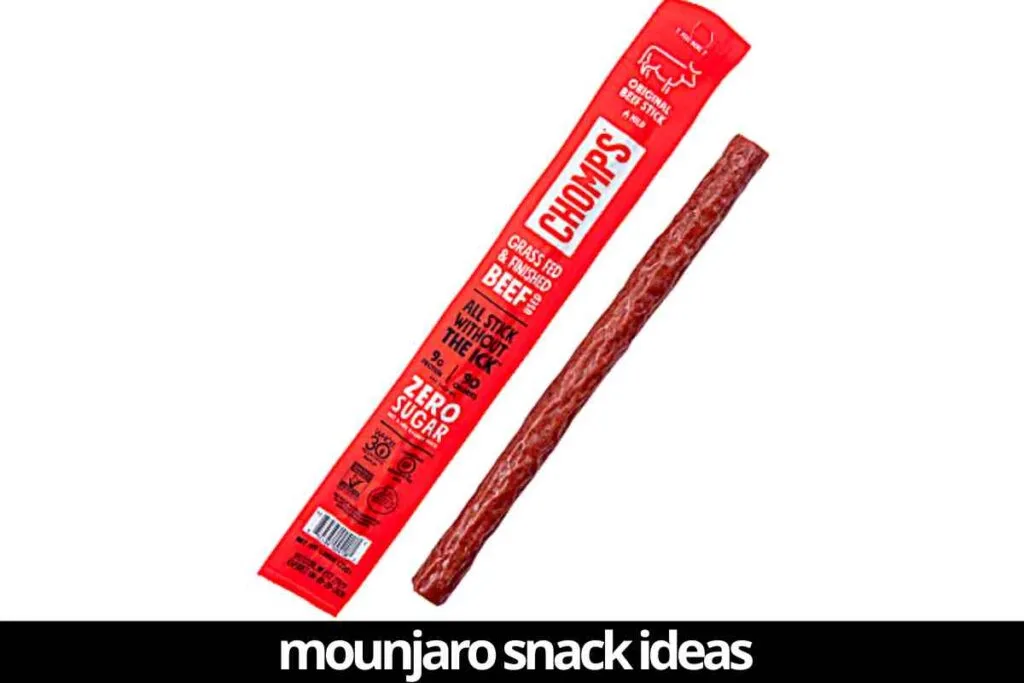 These delicious beef jerky sticks are made with grass-fed beef. Chomps beef sticks have only 90 calories, 9 grams of protein and zero carbs.
Hard Boiled Eggs
Whether you want to make these yourself or buy pre-made hard boiled eggs, these are a great go-to snack option to keep in your fridge.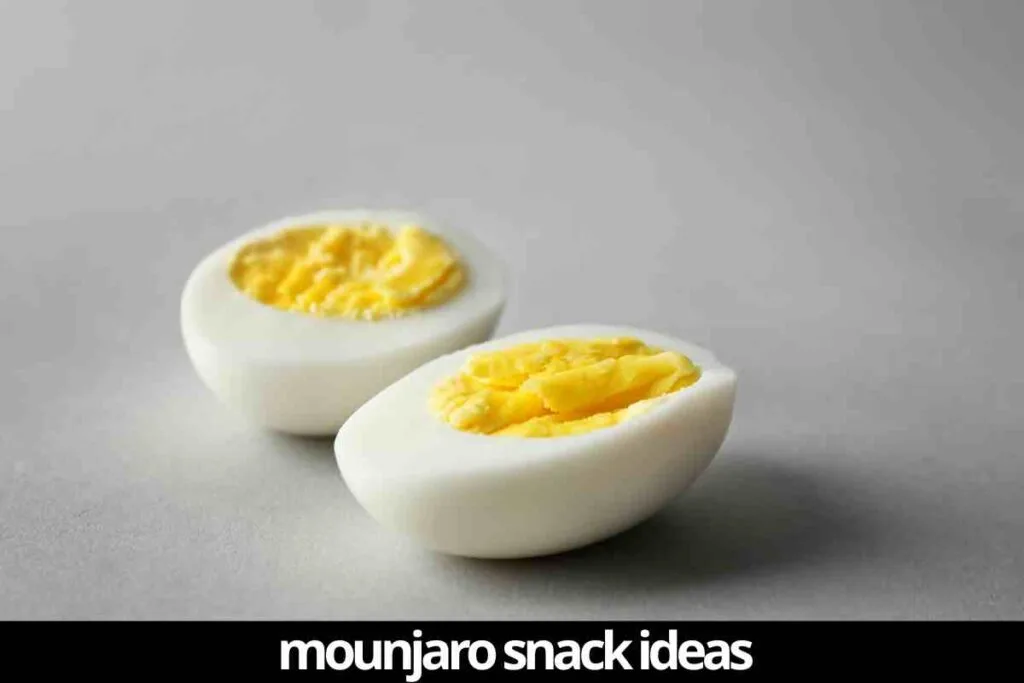 Make sure to read our secret to easy peeling hard boiled eggs.
Pork Rinds
These aren't your mama's pork rinds. While the thought of eating pig skin just never set well with me, there is a brand that changed my mind.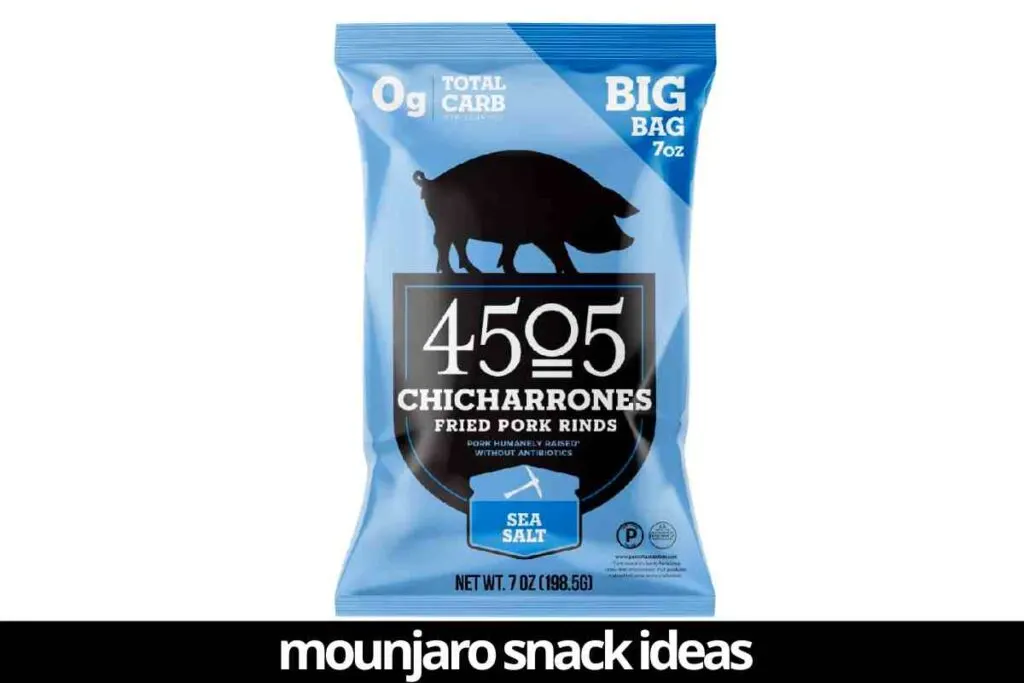 4505 Chicharrones fried pork rinds come in an array of flavors (we love BBQ!) and are a great snacking option while on Mounjaro or for a keto snack.
Cheese Cubes
Another great snack option is cheese cubes. Pick up a block of your favorite cheese and slice into cubes.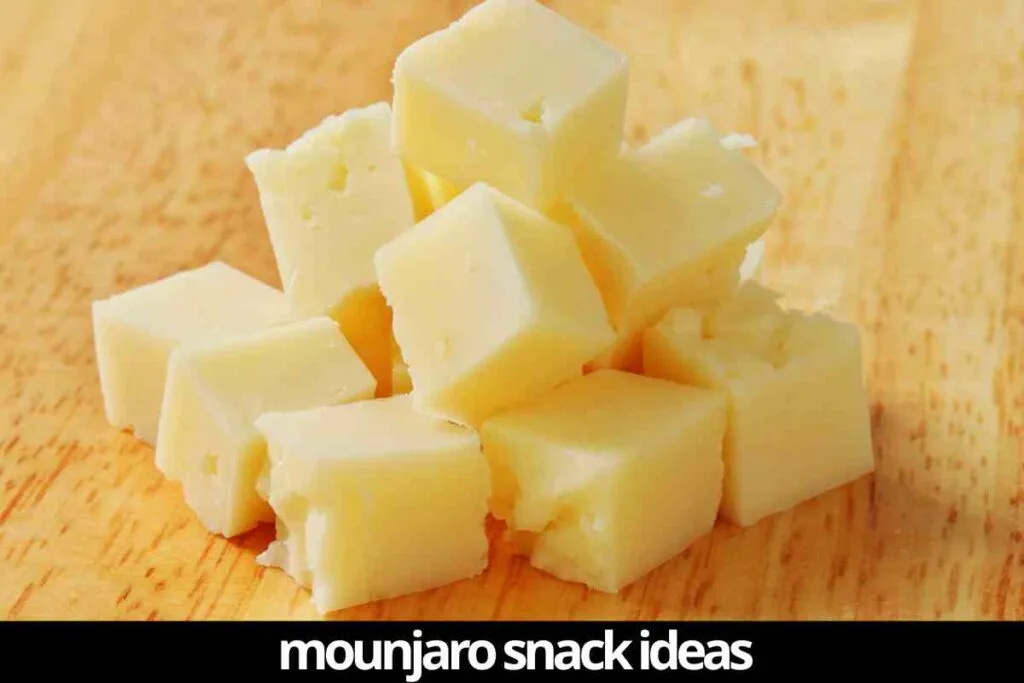 You can also buy cheese cubes pre-cut in a bag. That's what we do, so no judgement there!
Chicken Salad
Pre-make our chicken salad and keep in your fridge for easy access to snack on. Filled with protein and tastes delicious!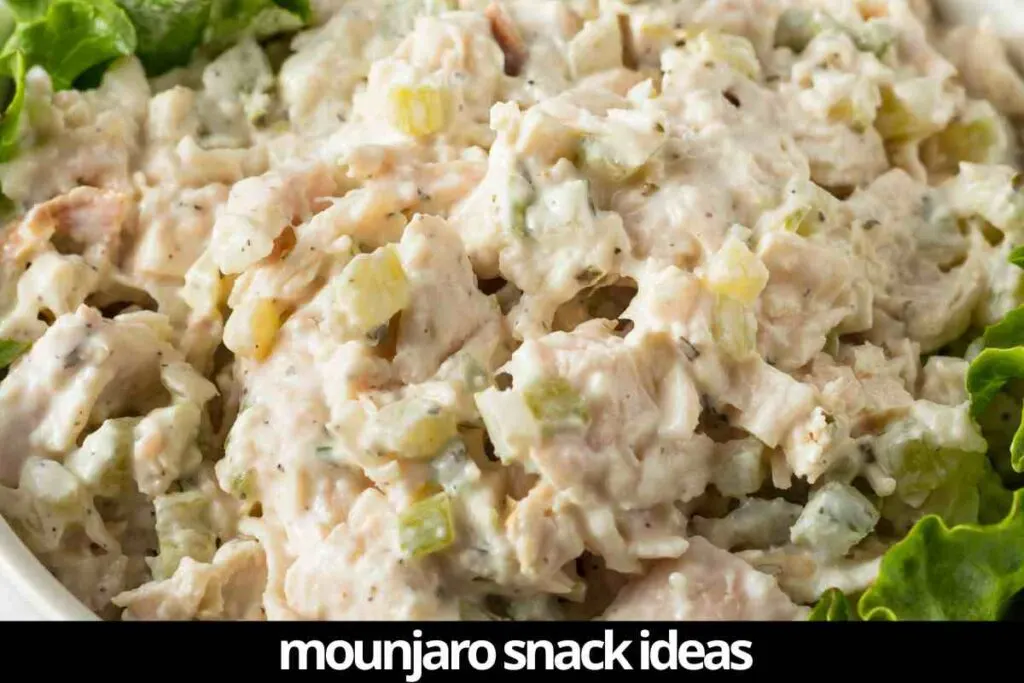 View Easy Keto Chicken Salad Recipe
Fairlife Protein Shakes
Our new favorite keto protein shake has 30 grams of protein, 3 net carbs and 150 calories. If you haven't tried the Fairlife Protein Shakes, do yourself a favor and order a pack.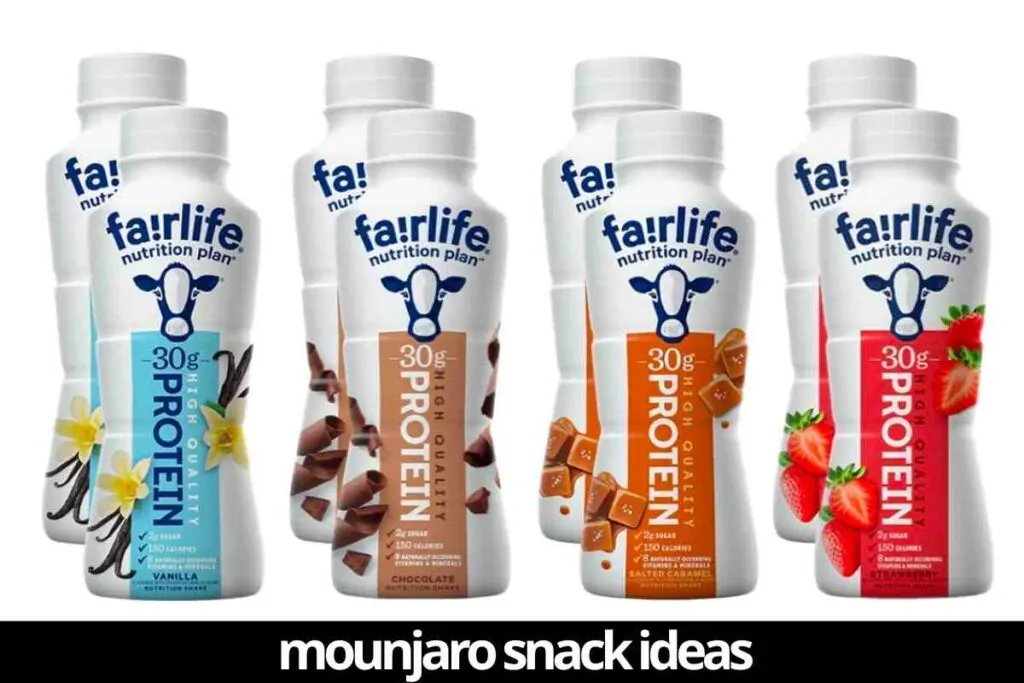 While these are NOT cheap, these are by far the best tasting protein shakes we have tried to date. With 30 grams of protein, not only will these help with hunger – they will help make sure you are reaching your daily protein intake amount.
Our favorite Fair Life shake flavor is chocolate, but the other flavors are very good as well. Mix in with your coffee in the morning or eat as a snack during the day.
Bacon
Next on our list of Mounjaro snacks is a favorite by many. Good ol' bacon never fails. While we like our bacon crispy, you do you boo.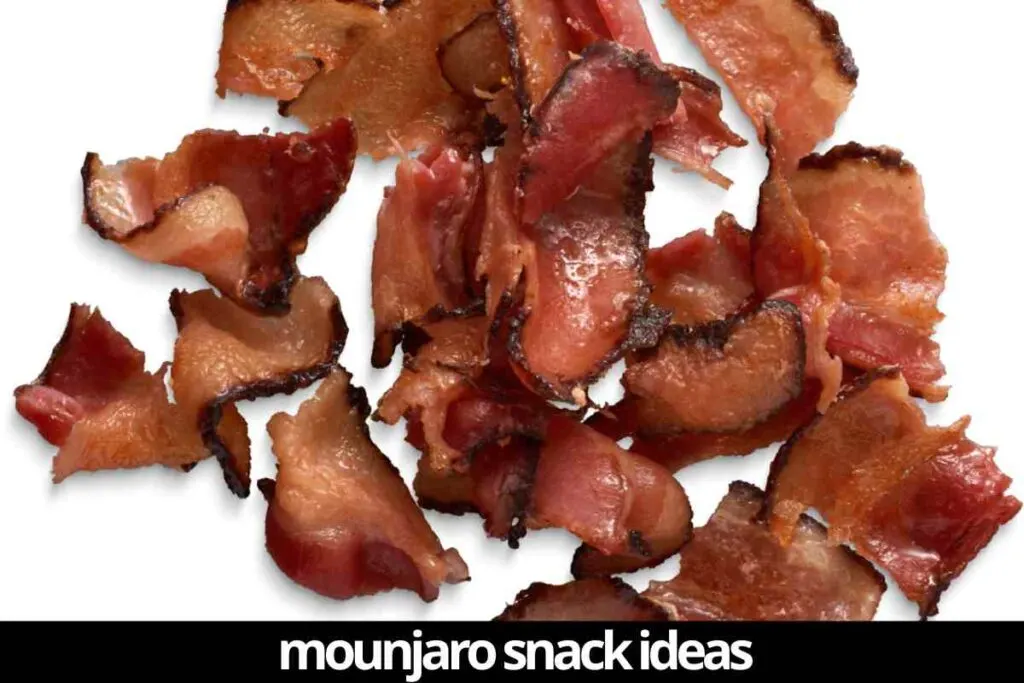 Fry or bake bacon in advance, hide from the kids and eat as a snack. Don't miss our bacon memes for some porky humor.
Avocado with Salt and Garlic Pepper
A medium avocado has 2 net carbs and 10 grams of fiber. Cut an avocado in half and sprinkle with salt and garlic pepper for a delicious nutritious snack idea.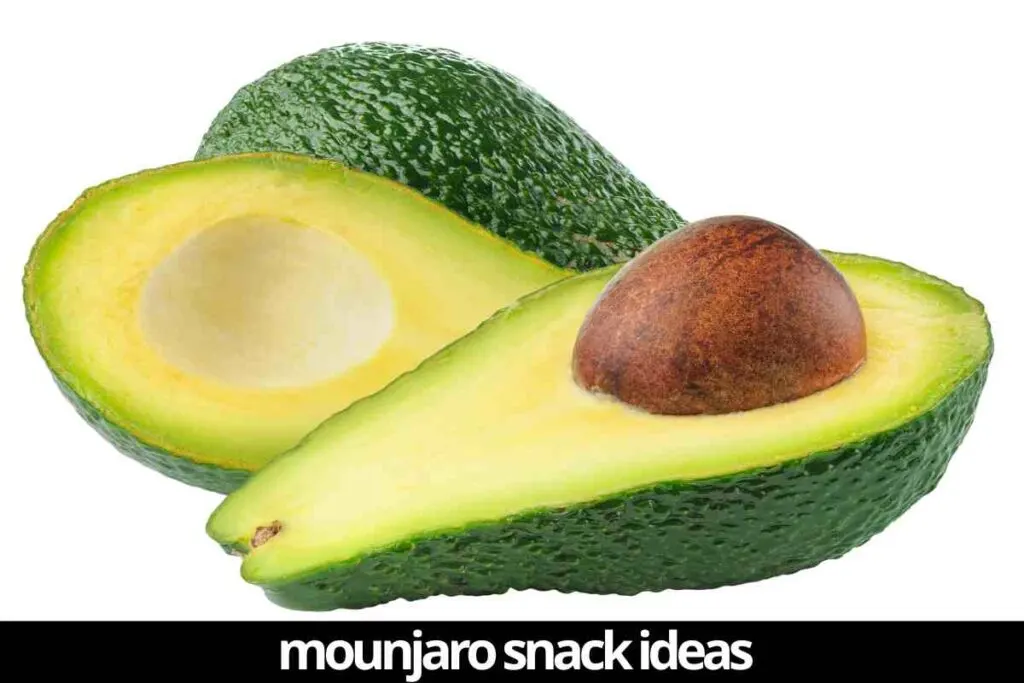 Jalapeno Poppers
One of our favorite meals to make extra of to snack on are jalapeno poppers.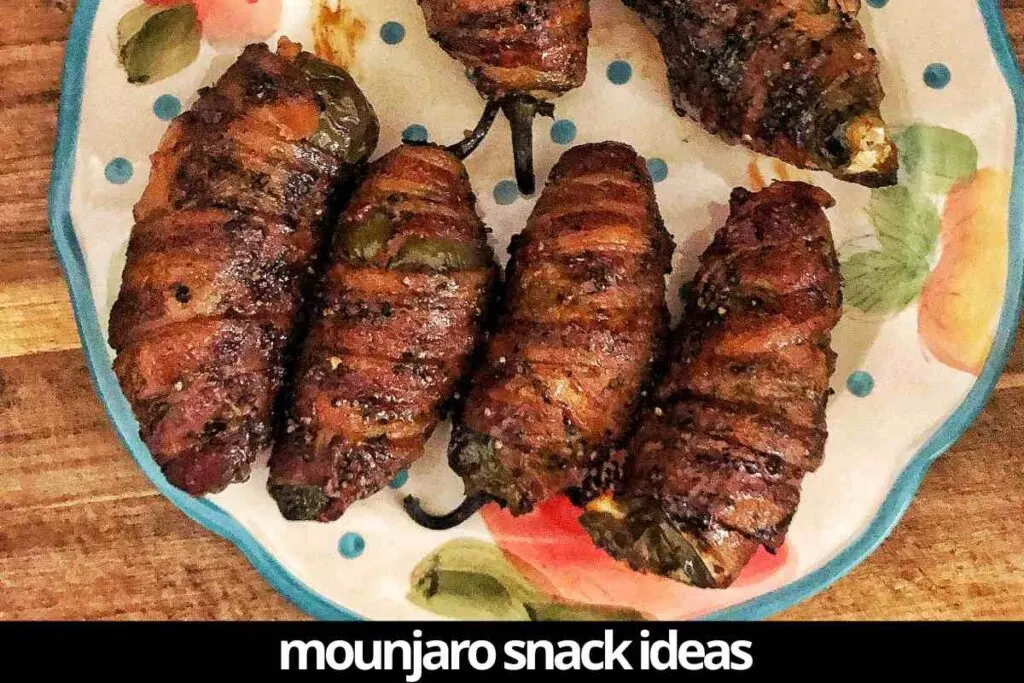 We have a great brisket jalapeno poppers recipe you won't want to miss!
Applegate Chicken and Maple Sausage
A great Mounjaro snack idea to help get more protein in are these Applegate Chicken and Maple Sausages.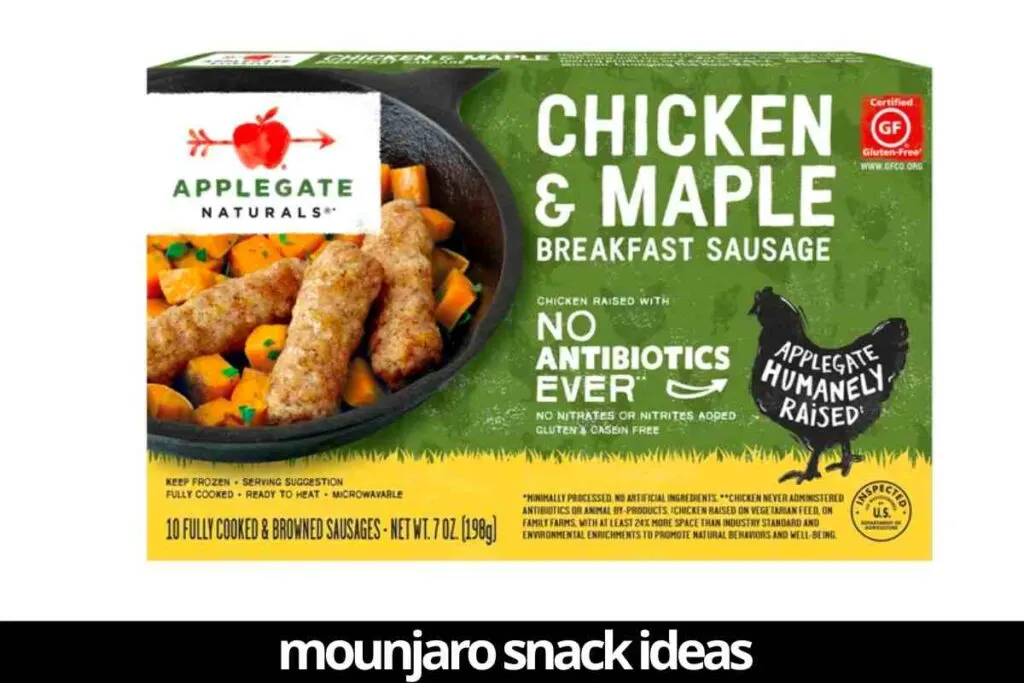 These come frozen but cooked, so just warm up in the microwave. Each chicken sausage has 3 grams of protein.
Cucumbers and Cream Cheese
Cumbers and cream cheese make an awesome snack idea. We will show you how to make this delicious recipe that is perfect for keeping in your fridge to help keep hunger at bay.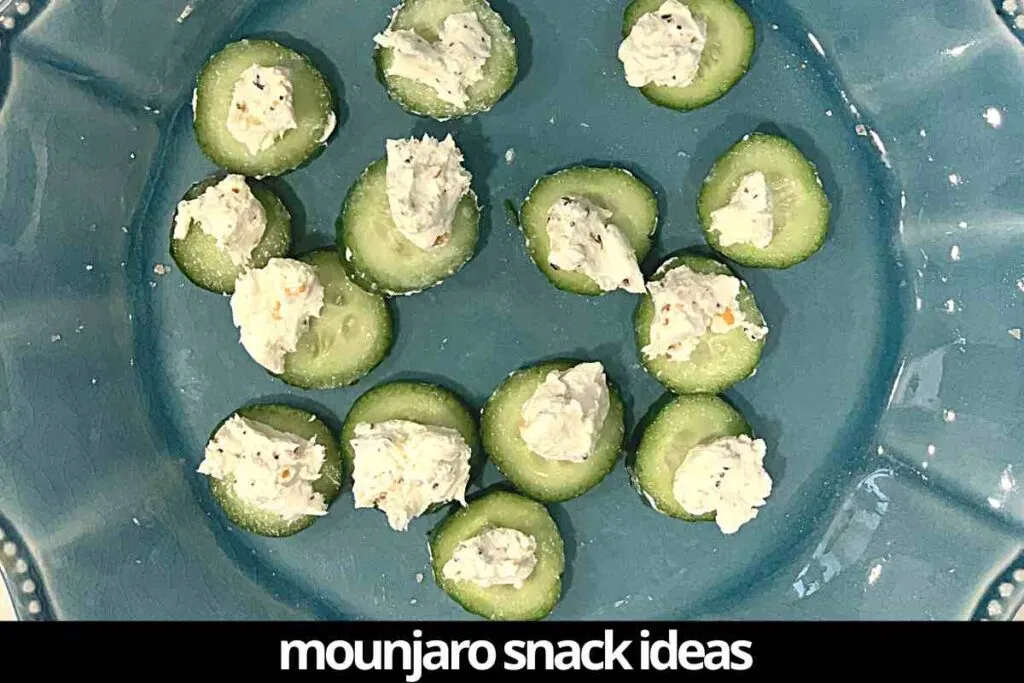 View our Cream Cheese Cucumber Snack
More Snack Ideas to Eat While on Mounjaro
Here's even more Mounjaro snacks to try.
Pepperoni Slices – available in the deli or pre-packed in the refrigerated meat section, pickup a bag of pepperoni slices for an easy snack.
Moon Cheese is our favorite keto cheese cracker. These delicious low carb snacks come bagged and ready to eat. (available on Amazon)
Smoked Salmon is ready to eat. Keep a package in your refrigerator to snack on. Eat smoked salmon plain or with cream cheese.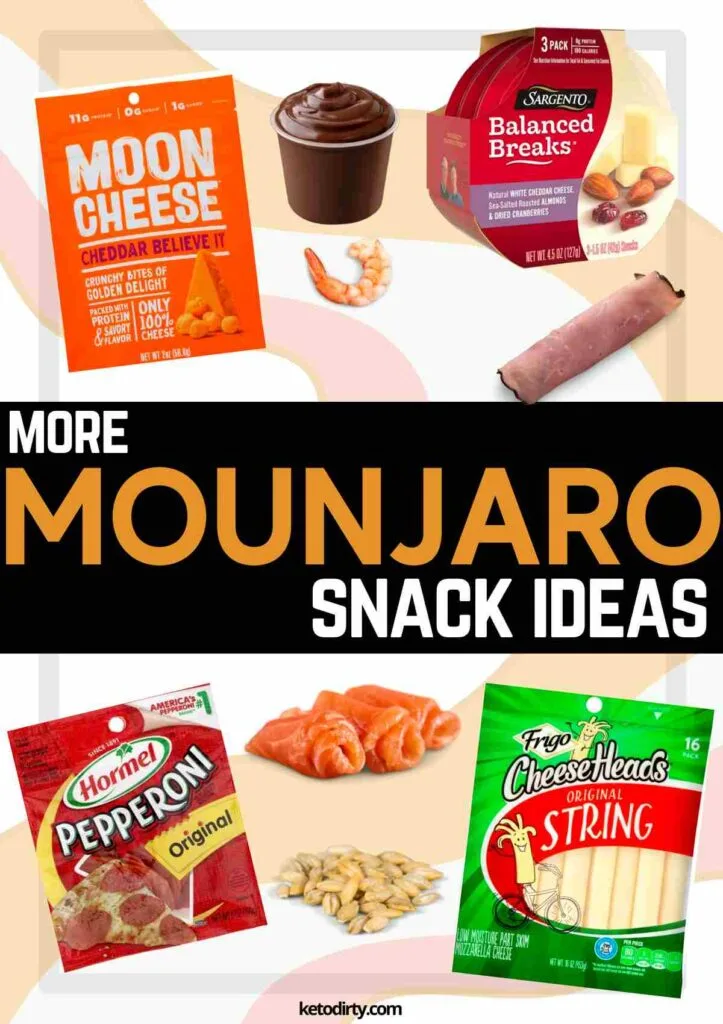 String Cheese is an childhood and now Mounjaro snack favorite. With 1 gram of carbs and 6 grams of protein this snack idea is a great option.
Deli Meat is another great snack idea. Next time you are at the grocery store, pick a few quarter pounds of various deli meats. Try something new like a buffalo chicken or a rosemary sun-dried tomato ham and snack on through-out the day.
Quest Chips are protein chips that are a great healthy alternative to standard potato chips. Available on Amazon – choose from various flavors.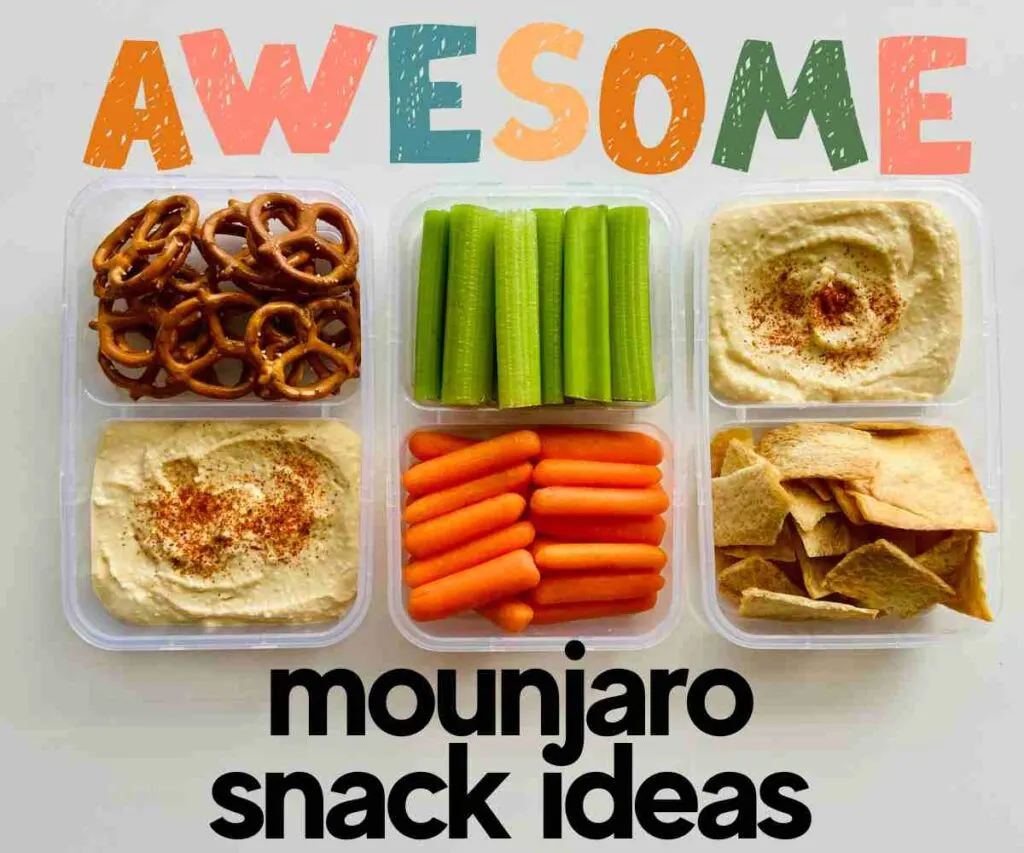 Keto Meatballs are easy to make, have minimal carbs and are a great source of protein.
Shrimp Cocktail – pick up a package of pre-cooked shrimp in your seafood section of the store. Shrimp cocktail are ready to eat!
Here's more of our list of 50 Mounjaro Snacks to try:
Carrots and Ranch Dressing (check nutrition facts on dressing!)
Sugar Free Pudding
Handful of Almonds
Sugar Free Jello
Pumpkin Seeds
Kodiak Waffles
Celery and Ranch Dressing
Greek Yogurt
Sargento Balanced Breaks
Turkey Sticks
Atkins Bars (available on Amazon)
Frozen Grapes
Apples with Almond Butter
Clio Greek Yogurt Mini Bars
Protein Balls
Zucchini Chips
Olives
Broccoli and Ranch Dip
Little Smokies
Pickles and Cheddar Cheese Slices
Steamed Edamame
Scrambled Eggs with Cheese
Prosciutto wrapped with Cheese
Salami Slices
Hummus
Seaweed Snack
Pretzels – not friendly if you are watching carbs but good for a bland food.
We hope this list of Mounjaro snack ideas give you some ideas on what you can eat through-out the day and between meals. Check out our list of Mounjaro tips for more helpful ideas on your Tirezepatide weight loss journey.
Looking for more snack ideas? We've got them!
This information is for educational use only. Any medical advice should be discussed specifically between you and your medical professional. Information provided here is not

We are excited to expand our keto content to include other solutions our community is using to achieve optimal health. While we understand that this may not be for everyone, we do know that people are seeking information about obesity as a disease and solutions, such as Wegovy, Ozempic / Semaglutide and Mounjaro / Tirezepatide.

Please direct any questions in regards to personal use with your doctor and any questions in regards to coupons, etc should be discussed with your pharmacy or with the pharmaceutical customer service.
Best Mounjaro Snack Ideas also work for those who are using Wegovy or Ozempic.