Here is an honest review of the Highkey Cookies. Are they keto-friendly, tasty and worth the 1 net carb? Let's chomp and see if these low carb cookies live up to the hype.
One of the things we preach here at Keto Dirty, is to know what you are going to eat, or what your options are for eating. With that, comes stocking your kitchen pantry with delicious keto snacks. Today we are doing a Highkey Cookies review to determine if these low carb cookies are worthy of space in your pantry and belly.
Highkey Cookies Review
While there are a million foods that taste good, we want to help save you some money. We are giving our honest review of Keto products, including this Highkey Keto Cookies review.
From macros to ingredients to where to buy, let's dive in and review.
Costco Highkey Cookies
Our first taste of the Costco Highkey Cookies were pushed on us by a product sampler. You know when the Costco employees are handing out samples, trying to get you to purchase whatever the food product in rotation is that week. That happened.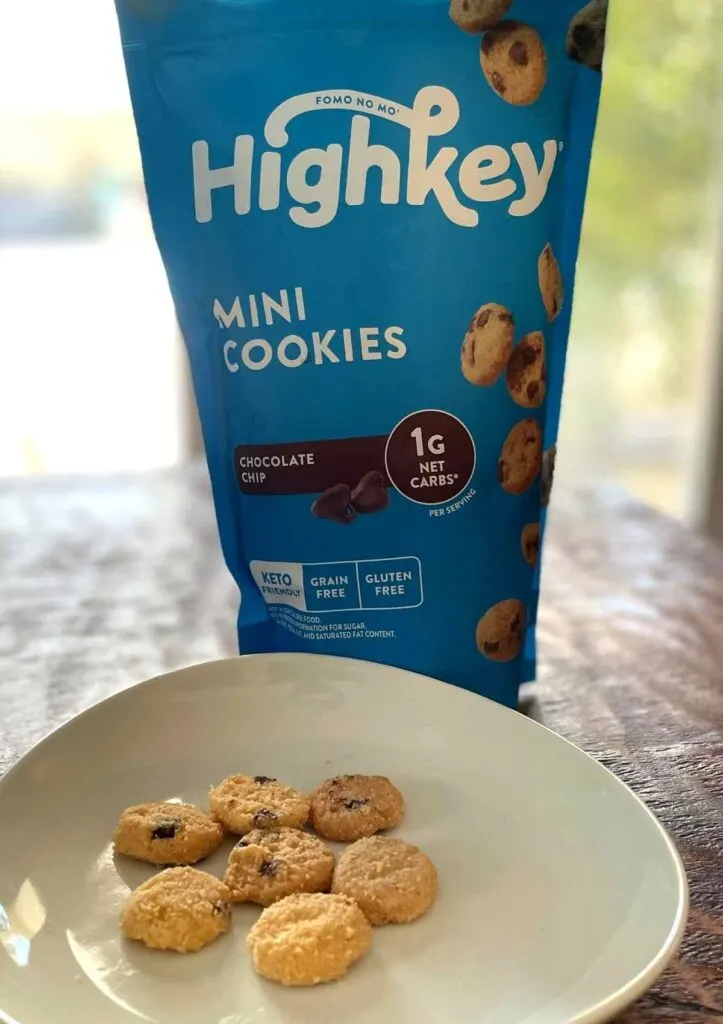 Well, one bite of these and we were sold – well almost. I had to check the label first, but after seeing the Highkey Cookies Costco ingredients and checking the macros – the deal was done. Good news, these aren't Costco brand and are not exclusive to the warehouse store! Before I talk specifically about where to buy, taste, ingredients, nutrients – let's talk serving size.
Serving Size
A bag of the Highkey Mini Cookies contains around 96 mini keto cookies. One serving is considered 7 cookies. This for a 12 ounce bag size. When buying Highkey Cookies at Costco, these come in a two bag bundle. Now that we know serving size, let's talk taste.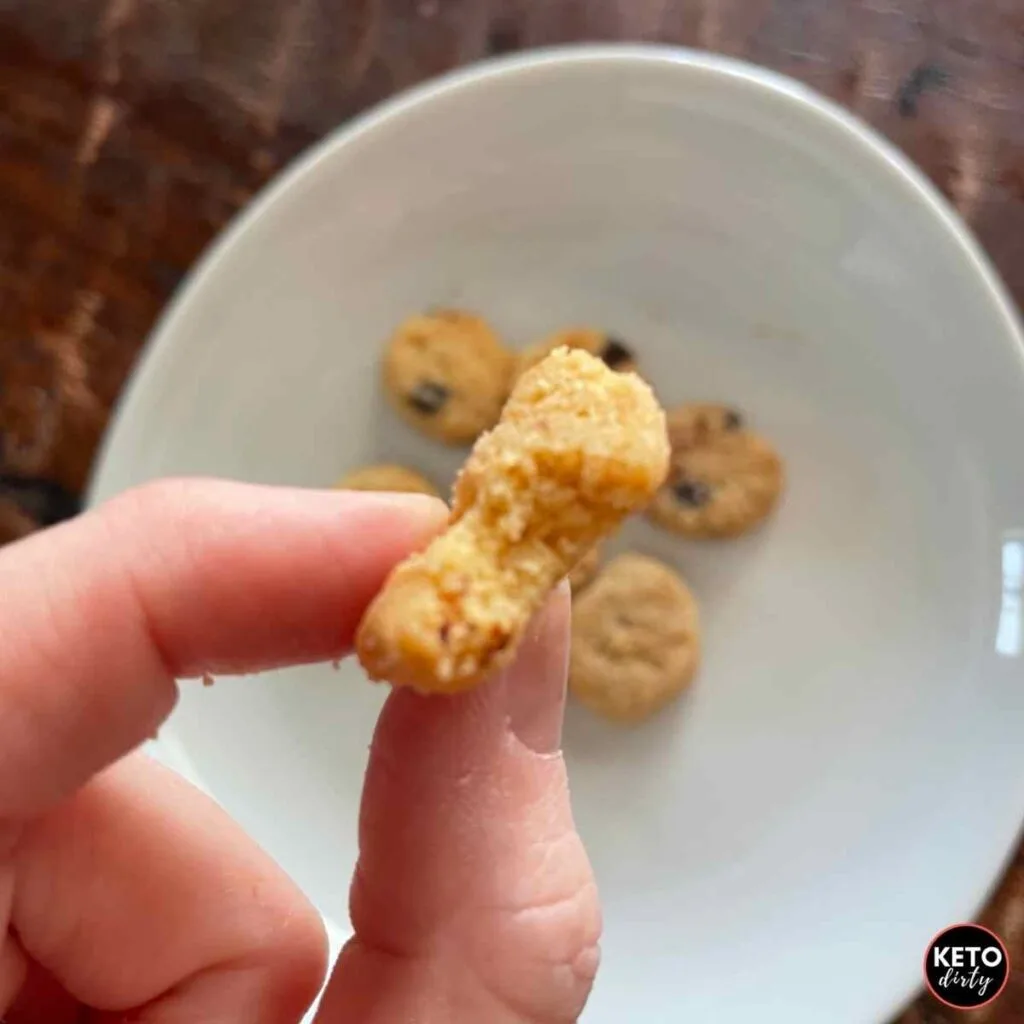 The mini cookies are small in size, which is good and bad. While it is good to know you can eat seven in a serving size – it is easy to grab a few handfuls so watch your portions! Limit yourself as you don't want to eat the whole keto cookie bag in a single sitting.
Taste
If you are on keto and craving sweets, these are a great low carb snack to have on hand. The Highkey mini chocolate chip cookies taste similar to the Trader Joe's mini chocolate chip cookies. There is a small crunch, with a taste of butter, and sweet taste of chocolate.
While they are a little dry, I find this to be truer if the cookie bag is accidentally left open or if the cookies are close to expiring.
Speaking of expiring, something to note: the expiration date can be found typically on the bottom of the cookie bag and offers a good shelf life of several months.
Flavors and Variety
Our favorite pick is the Highkey chocolate chip mini cookies. That said, the Highkey brand offers several different flavors giving you a variety of options to choose from.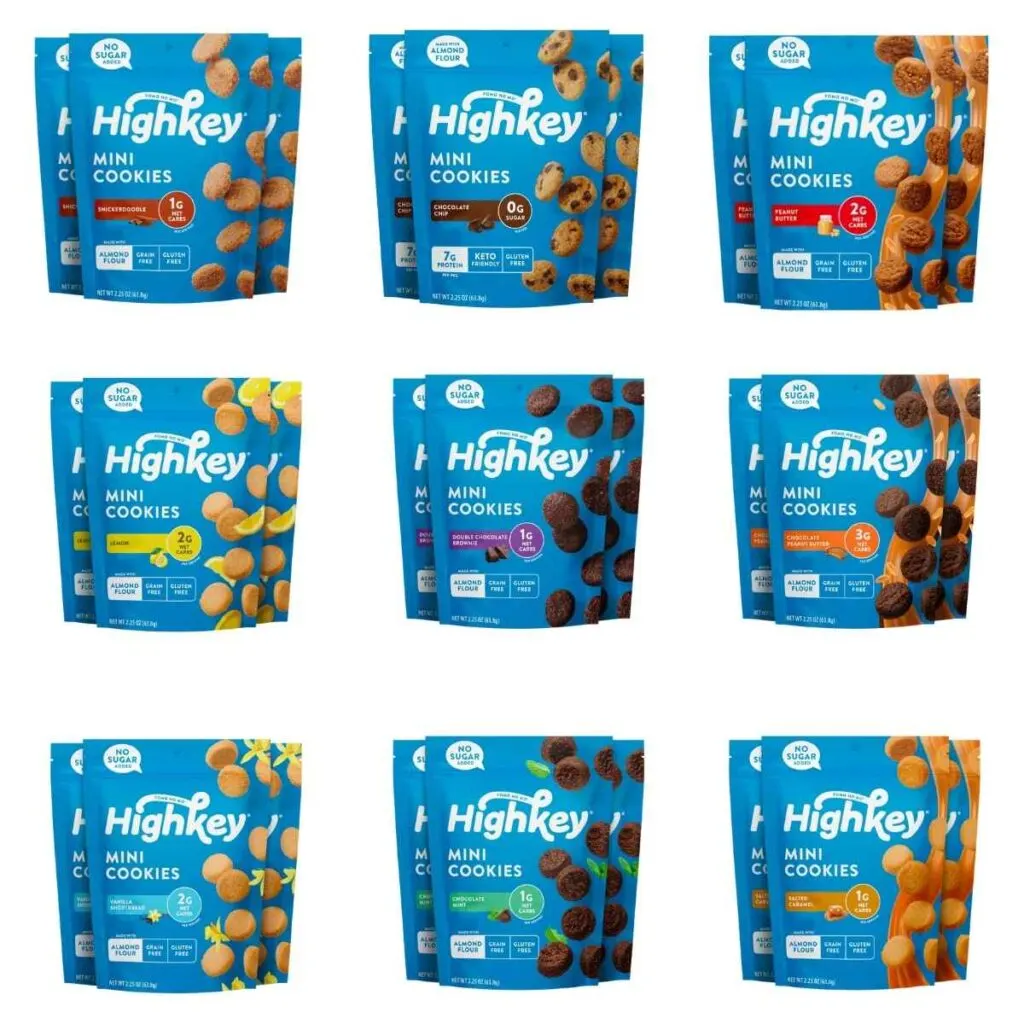 Here is complete list of Highkey Mini Cookie Flavors:
Chocolate Chip
Snickerdoodle
Vanilla Shortbread
Double Chocolate Brownie
Lemon
Chocolate Peanut Butter
Peanut Bugger
Chocolate Mint
Salted Caramel
Now that we know what flavors are available, what exactly are these Highkey keto cookies made of? We thought you'd never ask.
Ingredients
Let's deep dive into the Highkey cookie ingredients. Here are a few things to know about the ingredients of Highkey Mini Cookies:
Low Sugar
Gluten Free
Low Carb
Grain Free
Clean Ingredients
Note that each variety of cookie will features different ingredients but here are the base ingredients of these keto cookies that you need to know about.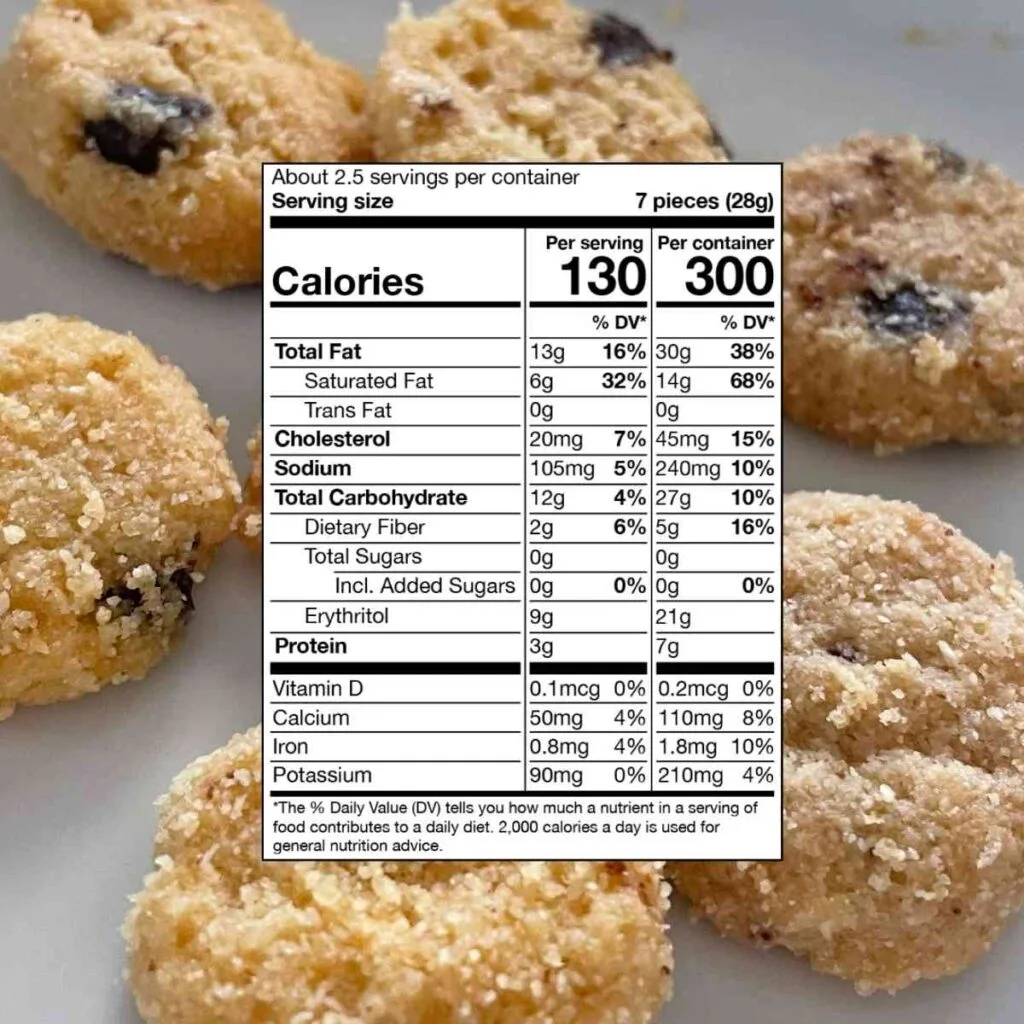 Almond Flour, Erythritol, Coconut Oil, Butter (Cream [Milk]), Unsweetened Chocolate, Inulin, Dried Whole Egg, Natural Flavors, Baking Powder (Monocalcium Phosphate, Tapioca Starch, Baking Soda), Hydrolyzed Collagen, Sea Salt, Guar Gum, Xanthan Gum, Stevia Extract, Monk Fruit Extract, Sunflower Lecithin
The artificial sweetener in Highkey Cookies is Erythritol which is keto friendly. The monk fruit extract (stevia) is another keto friendly sweetener used to create the sweet taste in these cookies.
There is approximately 130 calories in each serving size.
Where to Buy Highkey Keto Cookies and Price
The good news, while we discovered these Highkey Cookies at Costco – come to find out there are not a Costco brand and available at Amazon, as well as many chain grocery stores.
Something to note is the cookie bag size. The Highkey Cookies Costco give you 2-pack of 12 ounce bags costing $34.99. Where at Amazon and other grocery store, the bags are much smaller – around 2.2 ounces and cost around $5 per cookie bag.
Keto TikTok Cookies
Did you see our Keto TikTok Highkey cookie review? NO? WHAT! We will forgive you this time. Give us a follow and enjoy.
Good and Bad – Final Thoughts
Let's go over a good and bad for our final thoughts on our Highkey Cookies review.
Good: In addition to the great taste, we also appreciate that these mini cookies are just 1 net carb per serving, keto-friendly ingredients, grain-free and gluten-free.
Bad: Price and can dry out if the bag is left open or if the cookies are close to expiration date.
Let's face it, eating keto can be pricey and these Highkey cookies are a great example of that. It's best to determine which items you want to splurge on.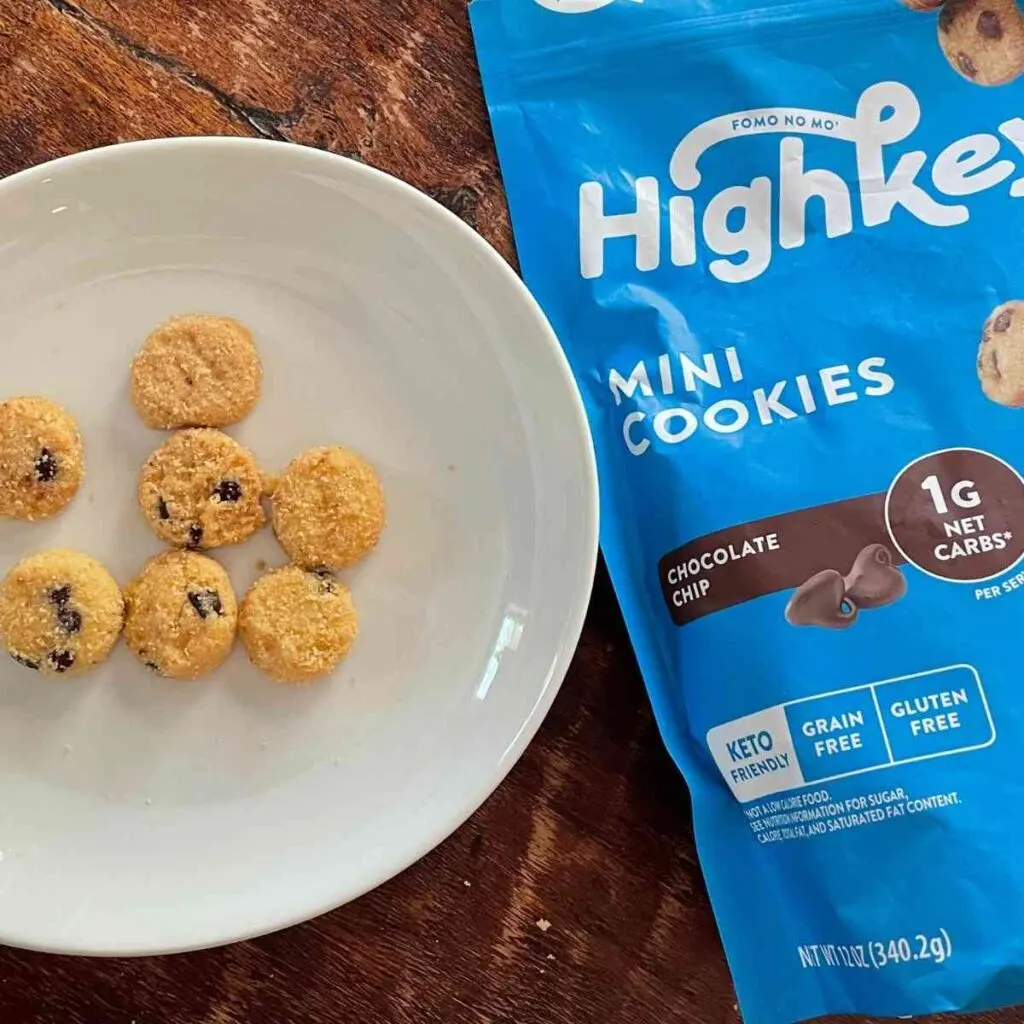 Maybe getting good protein in is more important to your diet. If that is the case, choose a good steak rather than buying sweets. But if you are looking for something to curve a sugar craving, these keto cookies should do the trick!
Did you know that on Amazon these keto cookies have over 76k reviews? With a 4.5 rating, we aren't the only people that love these!
1 Net Carb or 2 Net Carbs
Depending on where you purchase and what size bag of High Key cookies that you buy, the net carb count may look different. On the larger Costco bags, we are seeing 1 net carb. The smaller bags tend to list 2 net carbs. This would vary due to serving size.
Like the High Key chocolate chip mini cookies but wanting something more homemade? Try our keto chocolate chip cookies.
Highkey Wafers
In addition to mini cookies, there is now Highkey Wafers. These keto wafers are similar in texture to the mini cookies and also are only 1 net carb.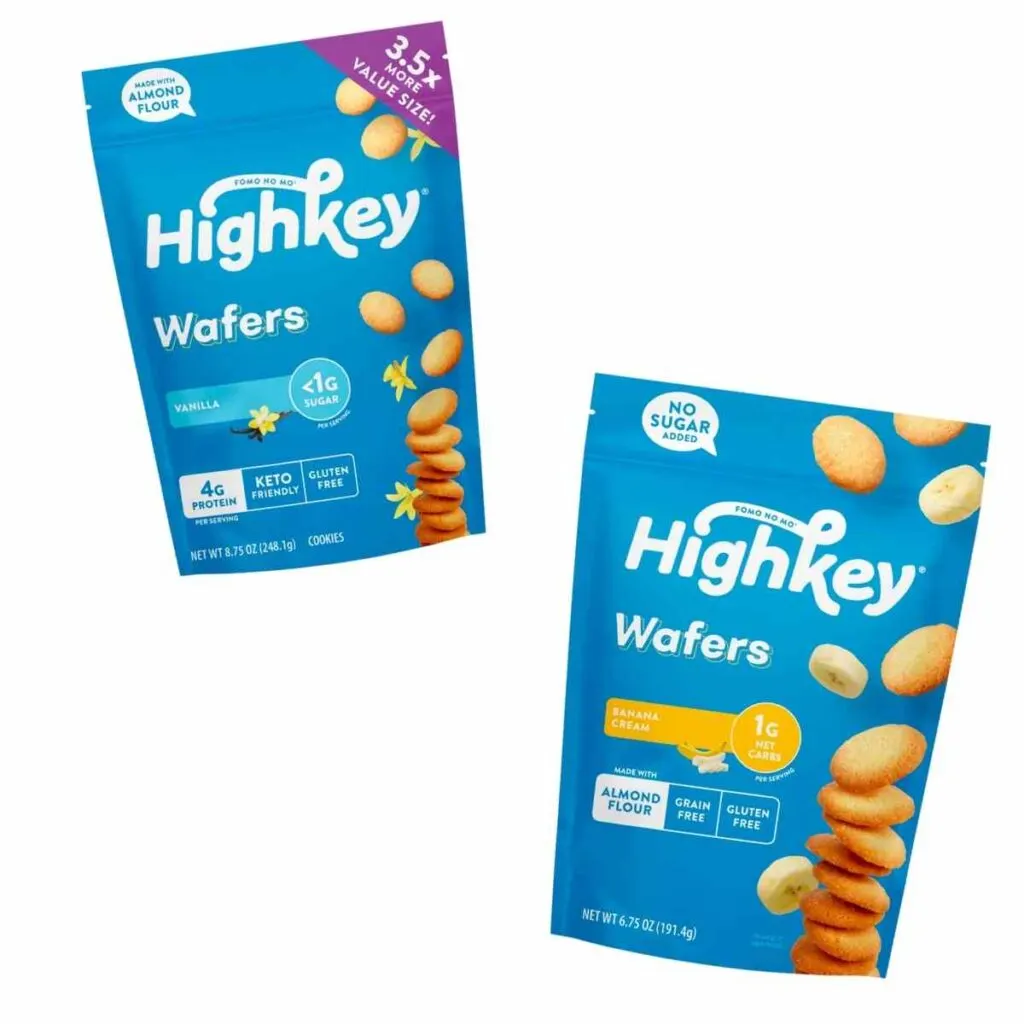 Currently, there are two flavors of Highkey Wafers. You can get banana wafers and keto vanilla wafers, both contain 1 net carb and have 4 grams of protein per serving.
The Highkey wafers are made with almond flour, are grain free and gluten free.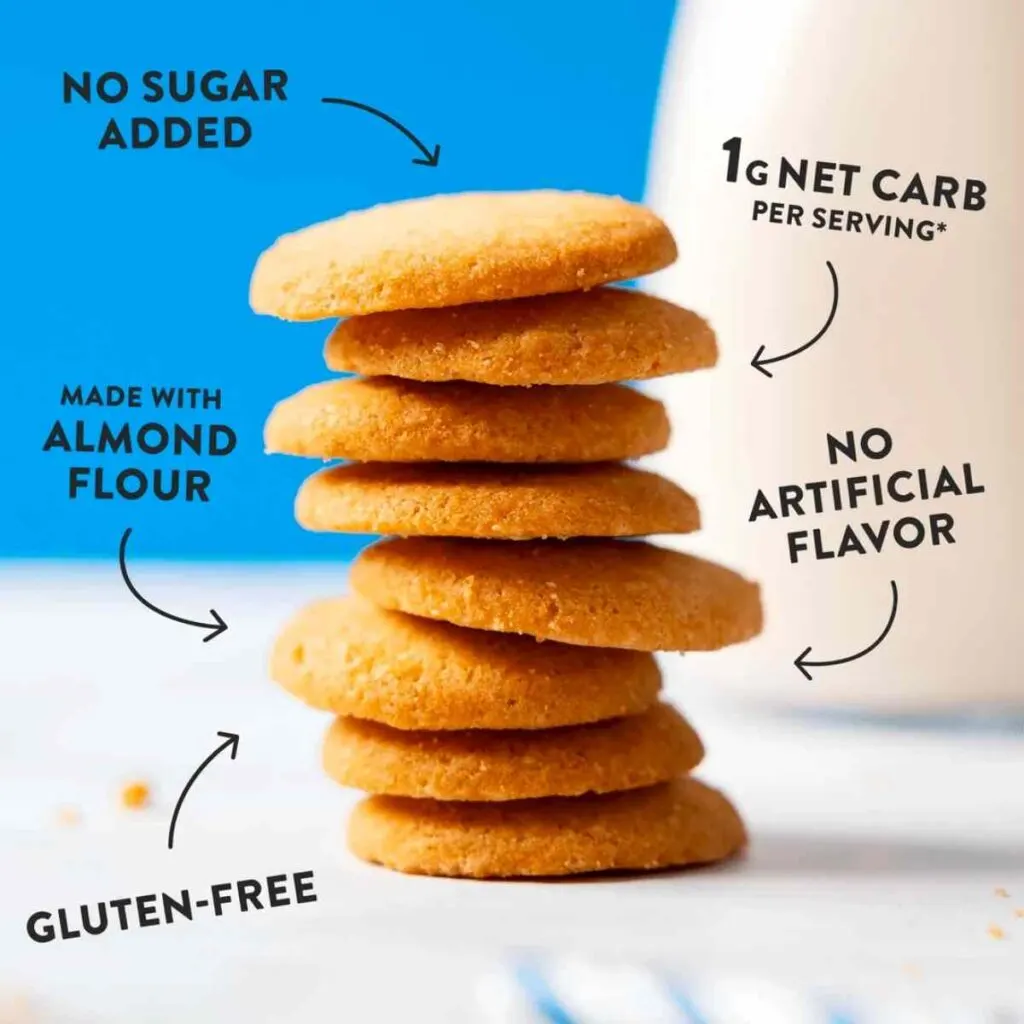 If more wafer flavors are released, we will make sure to post here to let you know! These are available on Amazon.
How much do we love these? We picked these as our best store bought keto cookies!
Answering Questions About Highkey Mini Cookies
We are answering some common questions about these keto cookies that you may have.
Are Highkey Cookies Diabetic Friendly?
Note, that each diabetic follows their own diet. These are no sugar and the company claims that they are in fact diabetic friendly.
What Sweeteners Are Used in Highkey Keto Cookies?
Highkey uses 3 sweeteners are alternative to sugar in their mini cookies.
Monk Fruit
Erythritol
Stevia
All 3 sweeteners are considered keto friendly. Learn how to calculate net carbs.
Are These Vegan?
The High Key cookies are not vegan. They contain hydrolyzed bovine collagen, which comes from cows making it an animal-based supplement.
Follow Along
Let's be honest, eating keto can be costly. On our keto blog, we feature the latest in Keto food reviews to help you know what to buy and what to avoid.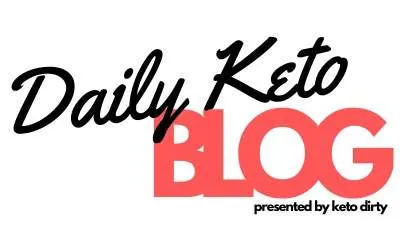 Please note that this keto review was not paid for or sponsored by any third party. This product was purchased by Keto Dirty for the purpose of reviewing and finding good keto food options. The opinions in this review are strictly those of Keto Dirty. An outgoing link maybe an affiliate links. These links are typically to recommend products and at no cost to you, we are paid a small percentage from the retailer.
Follow Keto Dirty on Social – Facebook / Keto TikTok / Pinterest / Instagram
Keto Dirty is reader supported. When you buy through links on our website, we may earn an affiliate commission.
Highkey Cookies Costco is part of the Keto Dirty series of Keto Reviews