So good, let's learn how to make Million Dollar Deviled Eggs. Keto friendly, low carb – this egg dish tastes like a million bucks!
Whether you are needing a great picnic, BBQ side dish, best deviled egg recipes for Thanksgiving dinner or maybe you are looking for an awesome keto snack to keep in the refrigerator, stop scrolling! We are showing you how to make deviled eggs taste like a million bucks.
Best Million Dollar Deviled Eggs Recipe
Seeing Million Dollar Deviled Eggs on a menu at a restaurant, peeked my curiosity. Thankfully, I wasn't charged a million bucks but woah – delicious and keto! If you love deviled eggs, we have your new favorite recipe.
We share all kinds of keto recipes here at Keto Dirty. Today's share is teaching you how to make this yummy keto egg recipe and find out what makes million dollar deviled eggs so special!
Ingredients Needed
What makes these Million Dollar devil egg recipe so great? The ingredients of course.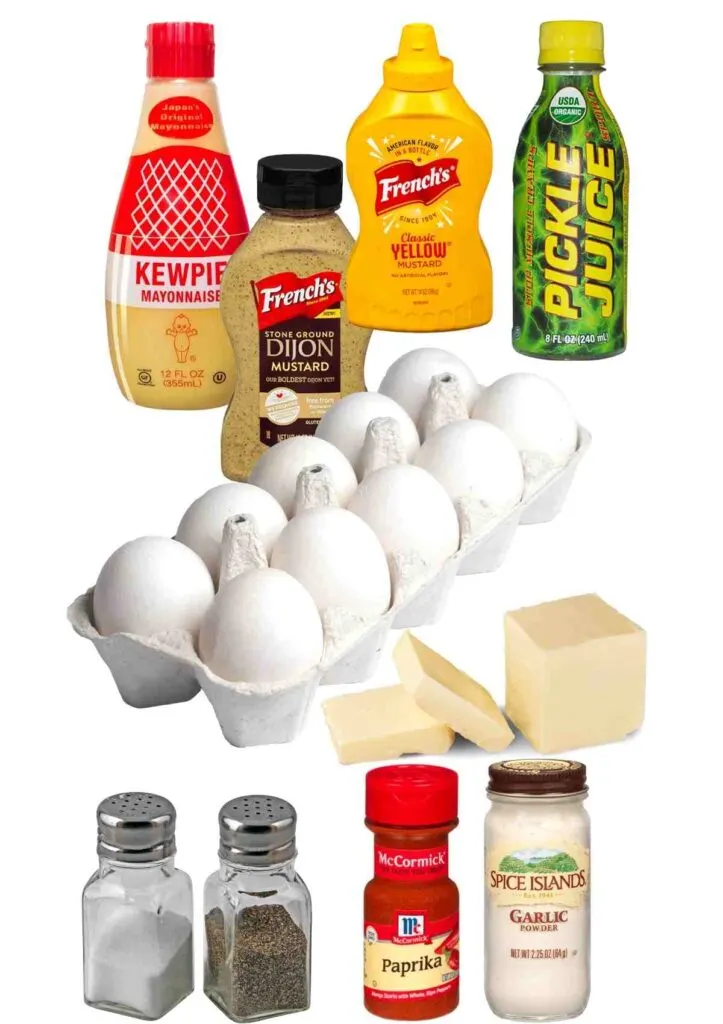 Here is what you will need to make Million Dollar Deviled Eggs:
Hard Boiled Eggs
Mayonnaise
Yellow Mustard
Dijon Mustard
Dill Pickle Juice
Salt
Pepper
Garlic Powder (optional)
Secret Ingredient is Butter
What is the Best Million Dollar Deviled Eggs secret ingredient? Butter! Make sure to add butter to the ingredient list.
As weird as butter in deviled eggs may sound, believe us when we say this takes your eggs from thousands to millions, in regards to value!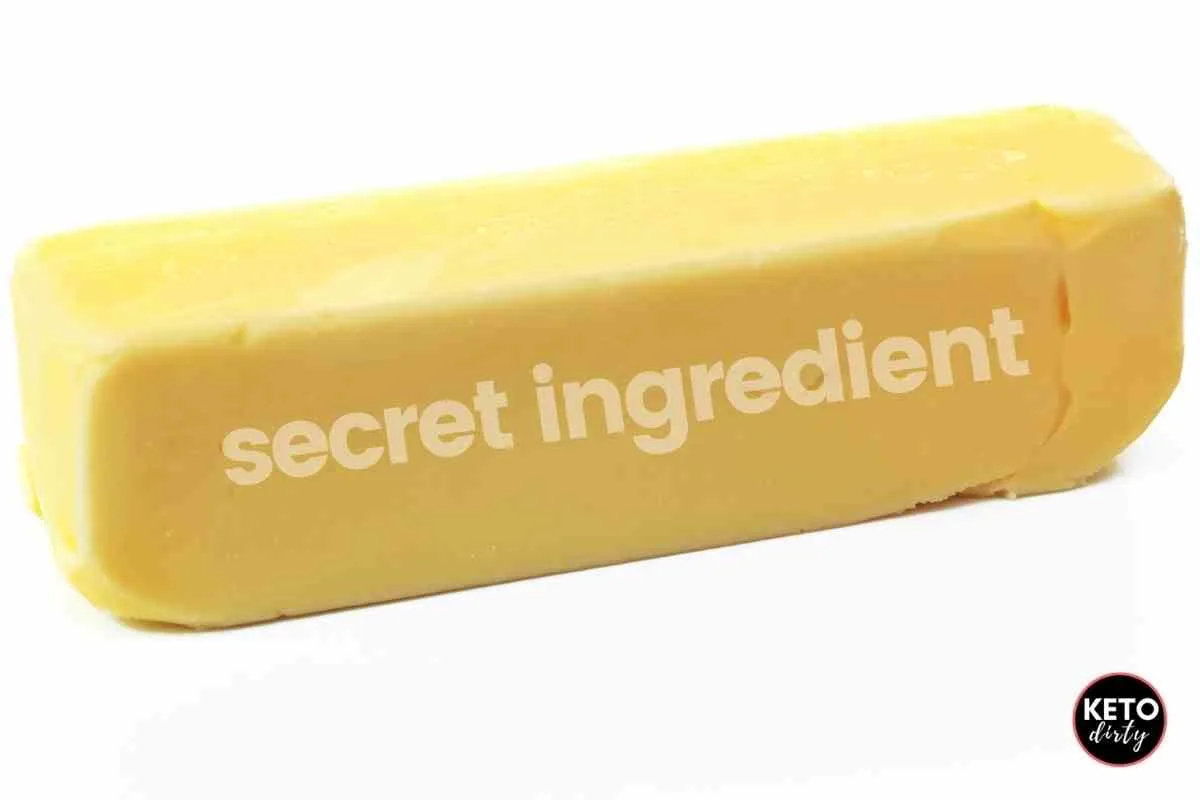 Adding butter to hard boiled eggs recipe will help your egg mixture be creamy and add a delicious velvety-rich flavor, that tastes like a million bucks. You will want your butter to be at room-temperature for this recipe.
How to Make Million-Dollar Deviled Eggs
First, you need hard boiled eggs. Don't be scared – we have a great hack to save you from having to boil water and slave over the stove to make your boiled eggs.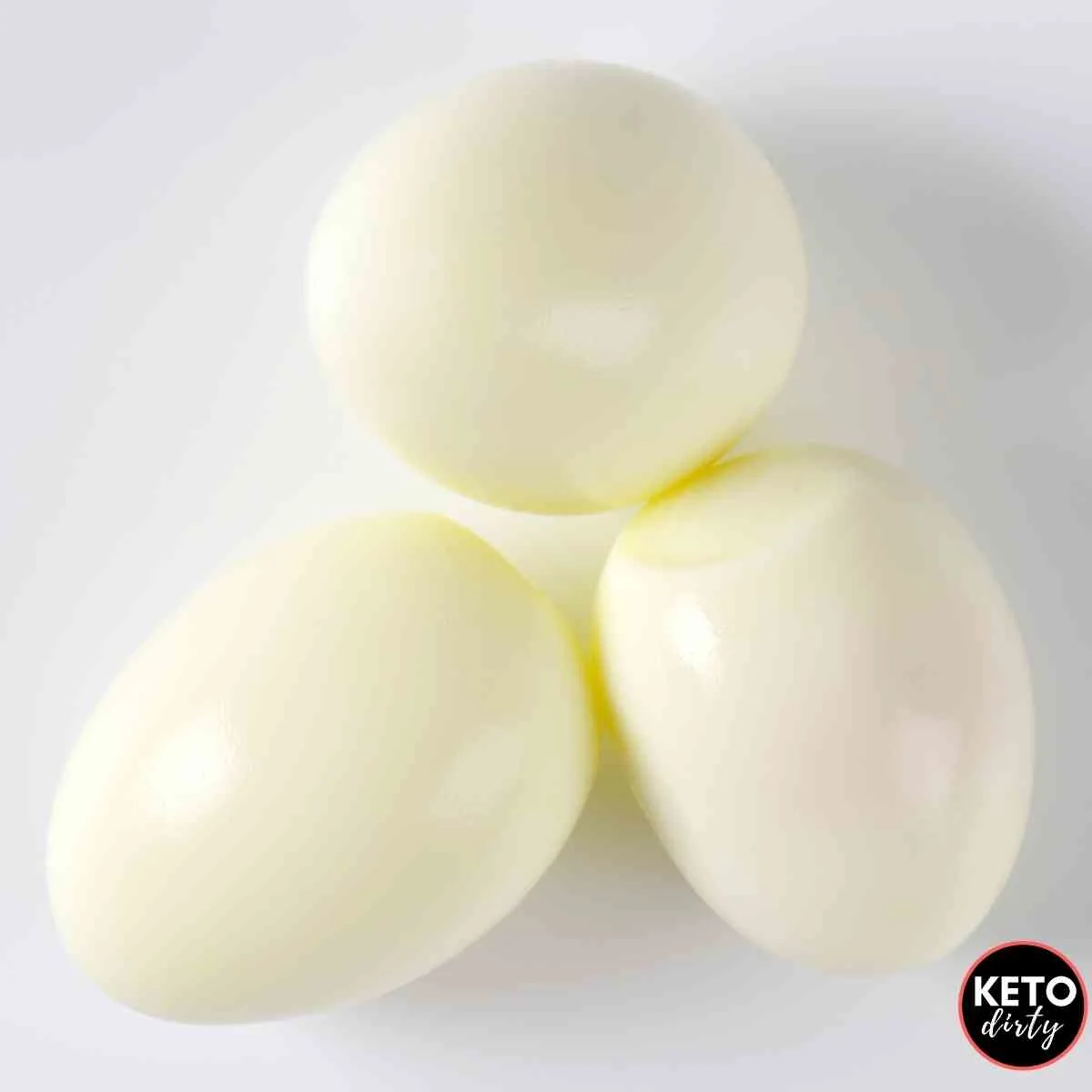 Learn how to make microwave hard boiled eggs. Yes, you read that right! The ice bath technique will come in handy.
Hard Boiled Eggs
After you have your hard boiled eggs – have you peeled them? We have a peeling hard boiled eggs hack allowing your egg shells to easily peel eggs. Already have your peeled eggs ready? Let's learn how to make million dollar deviled eggs!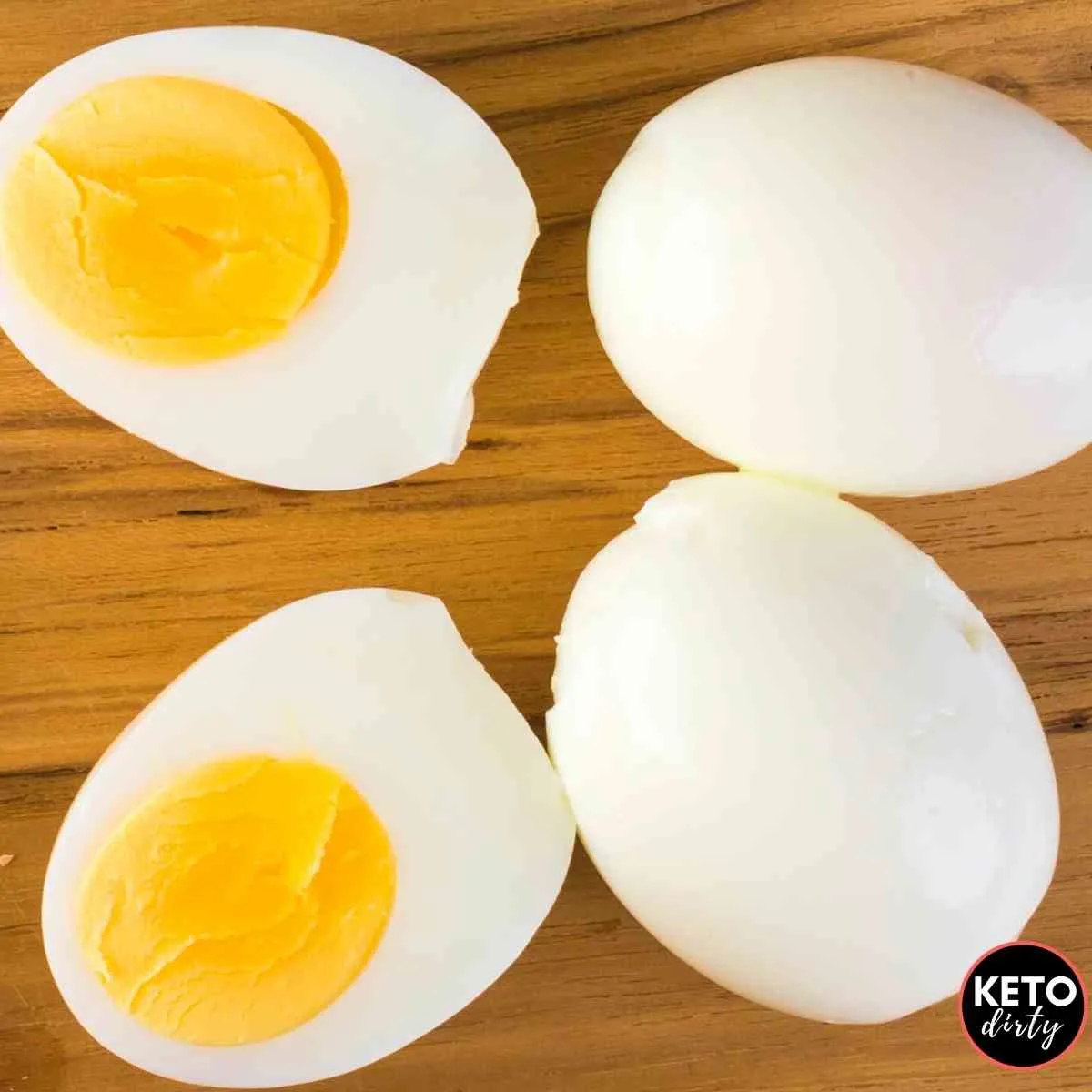 First, let's put your hard boiled eggs on a plate. Next, cut the hard-boiled eggs into half and remove yolks. Using the spoon, pop the yellow hard egg yolks out and place into the bowl. Keep your hard boiled egg whites on the plate.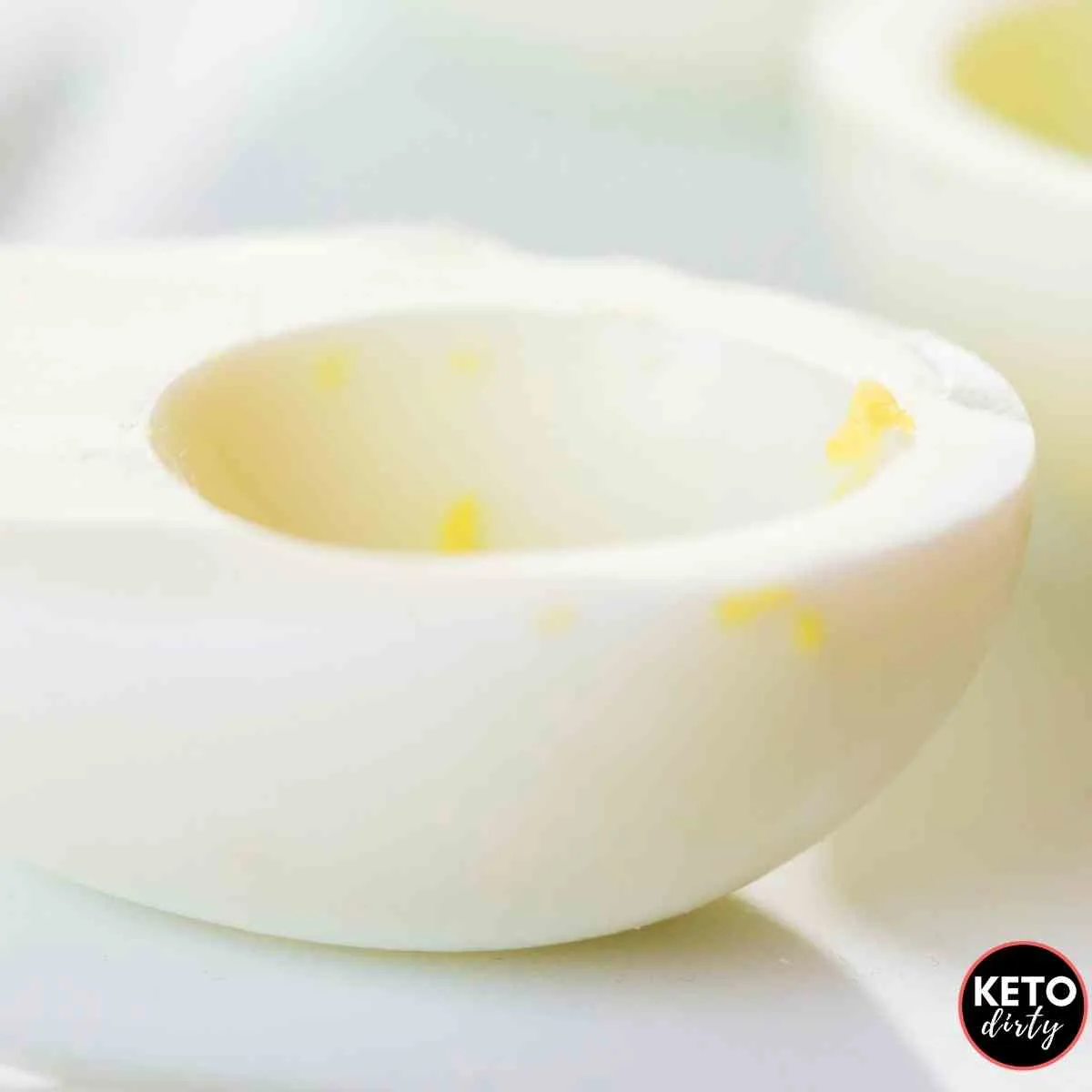 Make Deviled Egg Filling
What makes these million-dollar deviled eggs so good? The best egg filling, of course! Here is how you create the deviled egg filling.
Ensure your million dollar eggs secret ingredient, butter is at room temperature.
Organize all of your ingredients.
Grab a bowl, fork and spoon.
With the yellow egg yolks, we will want to start adding in the deviled egg filling ingredient to the bowl. Mix in your scooping out the cooked eggs yolks. Using your fork, mash the yellow hard boiled egg yolks in the bowl.
Season your eggs by sprinkling your salt, pepper and optional garlic powder on to the eggs.
Now, let's add-in mayonnaise, butter, both yellow mustard and dijon mustard, then dill pickle juice. Mix deviled egg ingredients together well. Final step before eating, let's fill the egg whites.
Pipe the Eggs
Last step is to fill your hard-boiled egg whites with your deviled egg filling. There are two ways to do this, depending on if you have time, supplies or if you even care! The question is, what do you want your million dollar deviled eggs to look like?
If you just want to get these deviled eggs into your belly, we get it! Just take the egg filling and using a spoon, scoop the filling in equal amounts into each egg white.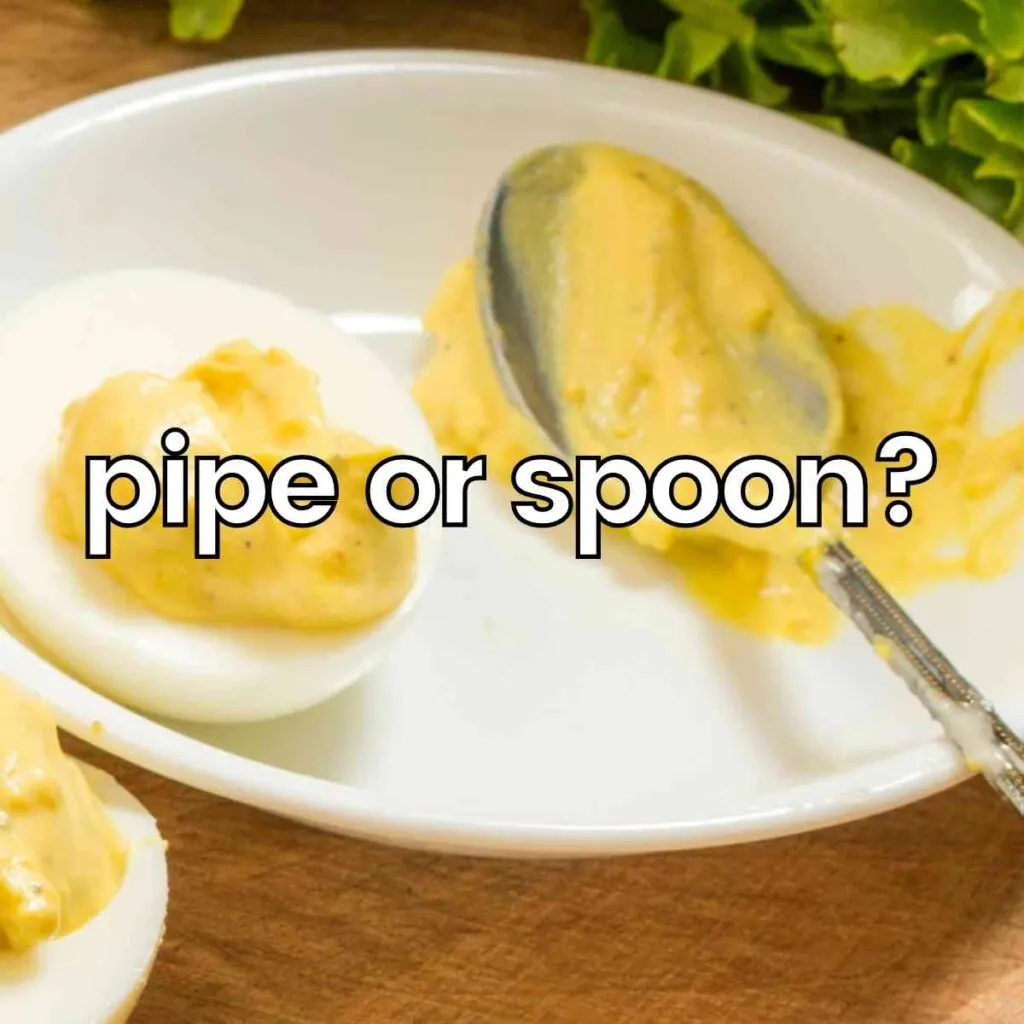 Does presentation matter? Learn how to pipe deviled eggs with a pastry bag and egg mixture. This helpful YouTube video shows you how to pipe deviled eggs using a Wilton 4B tip on your pastry bag.
No piping tip or pastry bag? Use a large disposable freezer or storage bag. Cut off the tip and you have a make-shift pastry bag for filling your eggs (also is a great hack anytime you are piping food!)
Piping your million-dollar deviled eggs will give it an elegant, more formal presentation. This option maybe best if you are taking to a potluck dinner, picnic or formal family dinner.
Optional Garnish Deviled Egg Toppings
Making the perfect million dollar deviled eggs recipe will vary from person to person, depending on their preference. While our base million-dollar devil eggs is absolutely delicious, adding an egg topping can take it to a whole new taste level.
Here are garnishment recommendations for deviled egg toppings:
Paprika – the standard deviled egg topping
Garnish with Dill – use the herb as a flavorful topping
Sliced Sweet Gherkins Pickle – slice a small dill pickle and use a sliver as a topper
Bacon or Prosciutto – a delightful egg garnish with delicious protein
Olive – a simple olive makes a statement
Whisps – add a single low carb cheese cracker snack on top of a million dollar deviled egg
Basil – use on the egg or platter, basil adds a delightful garnishment for presentation
Tabasco Sauce – make those eggs spicy!
We hear you guys! Another suggestion that has come in is to use sweet gherkin pickle juice. Apparently 2 teaspoons sweet gherkin pickle juice does magic! Let us know if you try it.
Makes 24 Deviled Eggs
This delicious recipe makes 24 deviled eggs! We have cut, filled and garnished our eggs,- now here isthe fun part, eating them! Or – if you are like me, chances you are have sneaked in a bite or three to try out the egg filling – no judgement from Keto Dirty.
Under 1 Net Carb Each
While we have a huge list of zero carb snacks, these ALMOST made the list. Each deviled egg is under 1 net carb. All of the ingredients used are low carb. The egg is the only food in this recipe with notable sugar which is 1 gram for an entire egg.
Remember, we cut the egg in half so only .5 net carbs in each million dollar deviled egg!
Deviled Eggs Keto Recipe
Some of you were asking are eggs keto – make sure to check that post out for all the details about eggs and keto. We are sharing everything from macros to nutrients to help you make the best decision when low carb eating. Under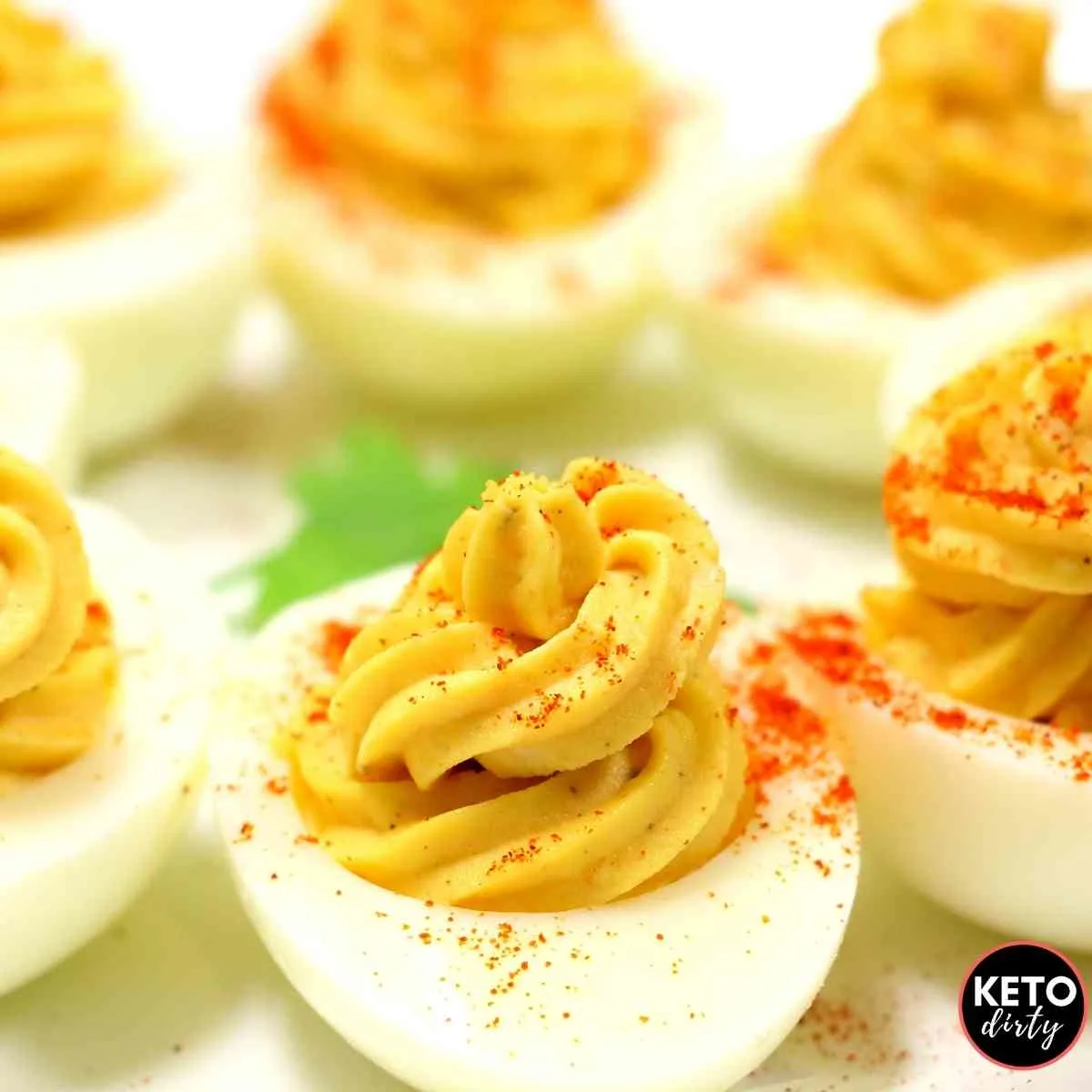 One Million Dollars Eggs
Remember when if you had a million dollars it means you are rich. At least that was my impression, when I was a kid. Here are 5 ways to make a million dollars. Maybe we should renamed million dollar deviled eggs 2022 to billion dollar deviled eggs?
Who else can eat 50 deviled eggs without even thinking about it? Well maybe not 50, but 20 – sure. We have a huge collection of funny egg memes, including more about deviled eggs!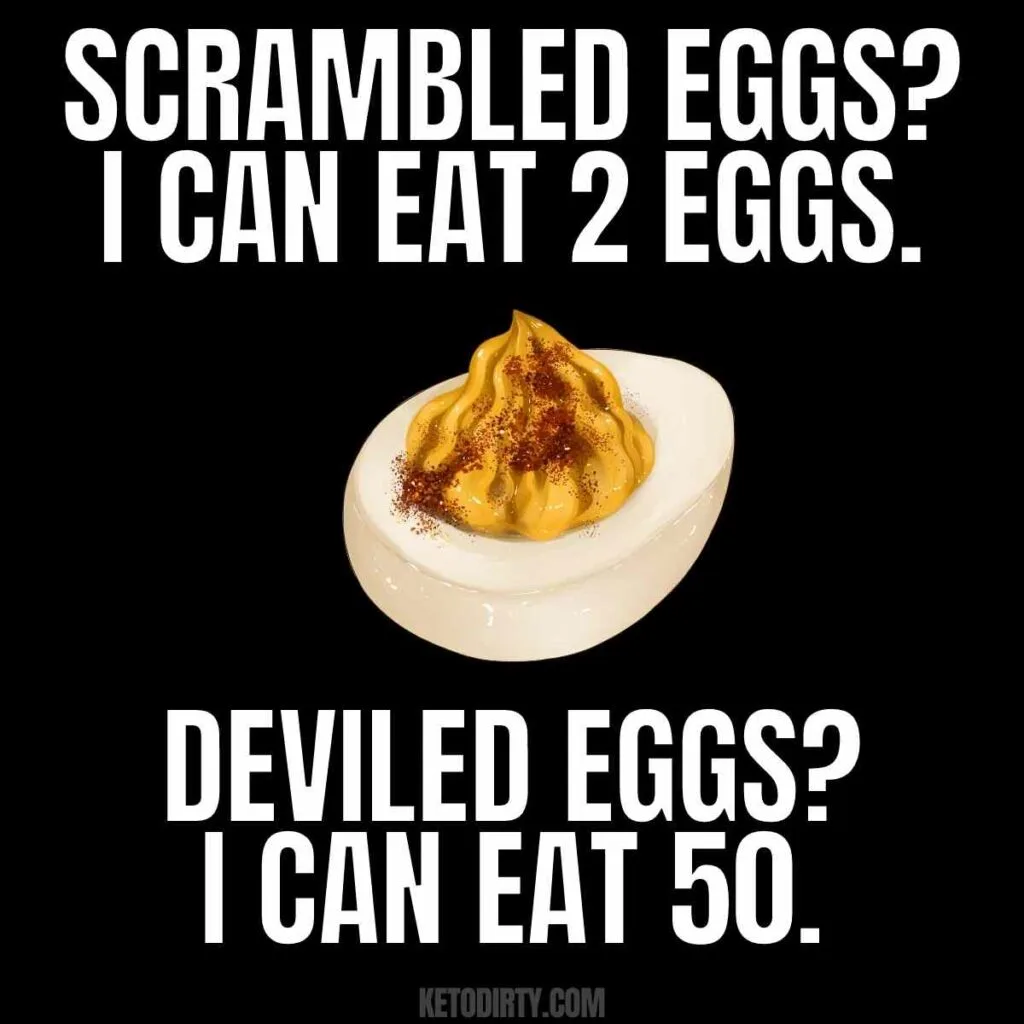 Whatever you want to call these, million or billion – we hope that you enjoyed making and eating this keto egg recipe as much as we do!
How Long Can I Store Deviled Eggs in the Refrigerator?
You can store these deviled eggs for up to 5 days in the refrigerator. Make sure to cover a plate with saran wrap or store with a sealed lid before placing in the fridge.
Why Are These Called Million Dollar Deviled Eggs?
The name is because these deviled eggs taste like a million bucks! The tasty, creamy deviled egg mixture with just the right flavor combination of ingredients is rich and delish!
Follow Keto Dirty on Social – Facebook / Keto TikTok / Pinterest / Instagram
Keto Dirty is reader supported. When you buy through links on our website, we may earn an affiliate commission.
Million Dollar Deviled Eggs is Part of the Keto Dirty Keto Recipes Collection