If you are looking for a pick me up, here's a collection of keto energy drinks to get you going!
We all have those days, typically Monday – Friday when work starts to drain you and there isn't enough time in the day to get the sleep that your body is feeling it needs. If this is you and energy is what you need, good news!
Keto Energy Drinks vs Shots
There are some great low carb, keto friendly energy options to help give you that pick me up you are looking for. Before you run in to the gas station, bodega or grocery store to grab a drink to give you a pick-me-up, know before you grab and go.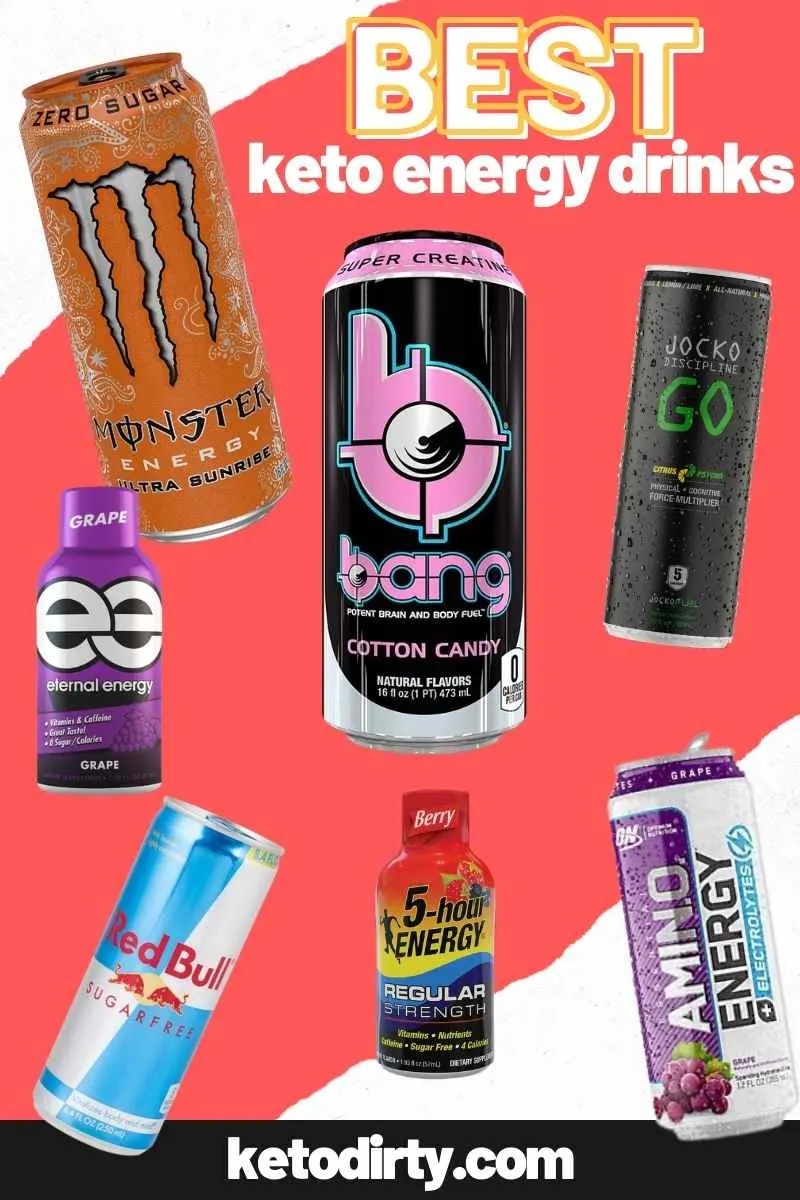 Best Options for Low Carb Energy Drinks
There are 2 types of keto friendly energy drinks we will be talking about. Low carb energy drinks which are typically 16 ounces – 20 ounces of liquid. There are also keto energy shots which is a smaller container are 2 to 2.5 ounces of liquid.
Caffeine Amounts
In both types of energy drink products, you can expect caffeine amounts at levels from 70 mg to 300 mg depending on the keto energy drink.
For comparison, a 12 oz soda has around 35 mg of caffeine. An 8 ounce cup of coffee has around 100 mg. So these keto energy drinks and shots will definitely increase your consumption of caffeine.
Zero Carb Energy Drinks
We know that when it comes to macros on the keto diet, that net carbs are a big thing. These keto friendly energy drinks also are zero carb energy drinks! That's right, no carbs to worry about.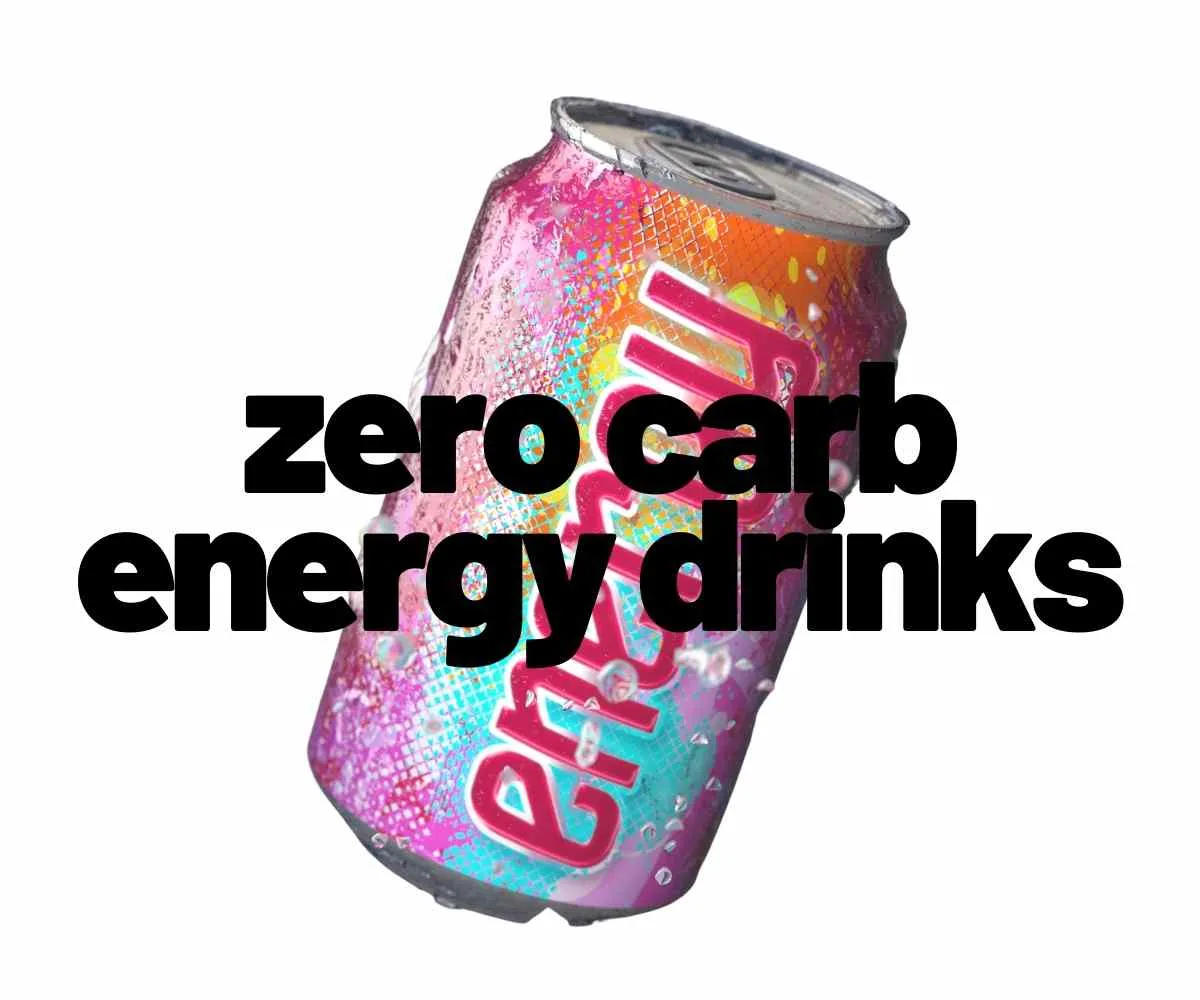 While there might be other things that you might want to consider, carbs is not one of them because there are just a few to zero carbs in these energy drinks!
Energy Drink Ingredients
Each keto energy drink will contain different ingredients, so make sure to read your labels!
Here is the typical ingredients found in keto friendly energy drinks and keto energy shots : guarana (this ingredient is also another source of caffeine sometimes called Brazilian cocoa), sugars, taurine, ginseng, yohimbe, carnitine, B vitamins, glucuronolactone, and bitter orange.
Keto Friendly Energy Drinks
Let's start off by checking out the drink options. Here is a list of keto friendly energy drinks that will keep you in check with your keto diet.
Bang Energy Drink
First on the list of keto energy drinks is what my usual grab is when I want a drink, not a shot. One of the newer drinks on the market is Bang Energy Drink. If you are thirsty, this keto energy drink comes in a 20 ounce size and a plethora of flavors with minimal carbs and lots of caffeine.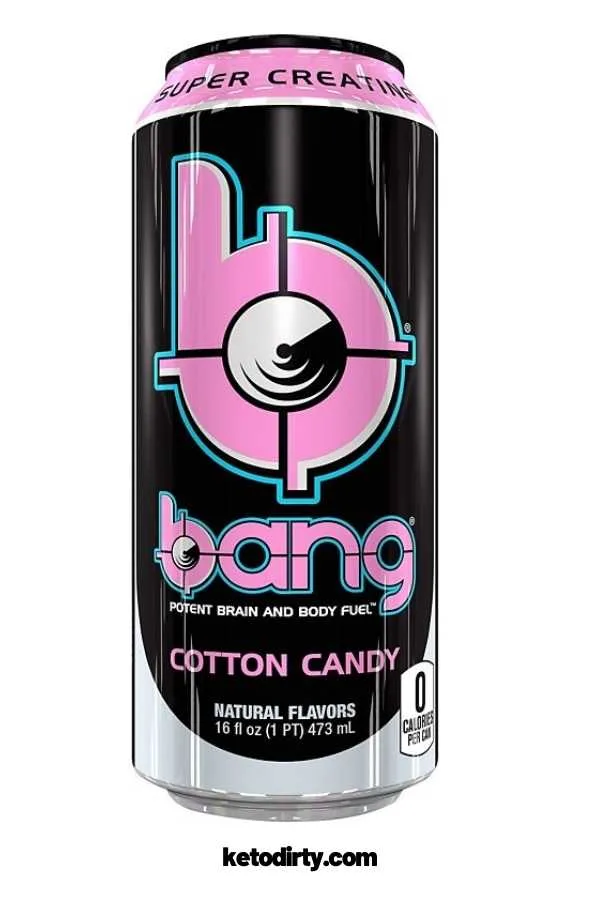 Each Bang Energy drink has zero carb and caffeine amount varies depending on the drink but you are looking at 300 mg of caffeine.
The Bang Cotton Candy does taste just like cotton candy! Craving candy, you can eat it (in moderation!) on keto. Check out our keto candy post.
Read our complete write up on Is Bang Keto to learn all about the various keto energy drinks offered by Bang.
Red Bull Sugar Free
Next on our list of keto energy drinks is one of the original players in the energy drink market is Red Bull. You know, the drink that gives you wings! Now you can get your wings sugar free!
Read our post Is Sugar Free Red Bull keto friendly? to learn more about this low carb energy drink.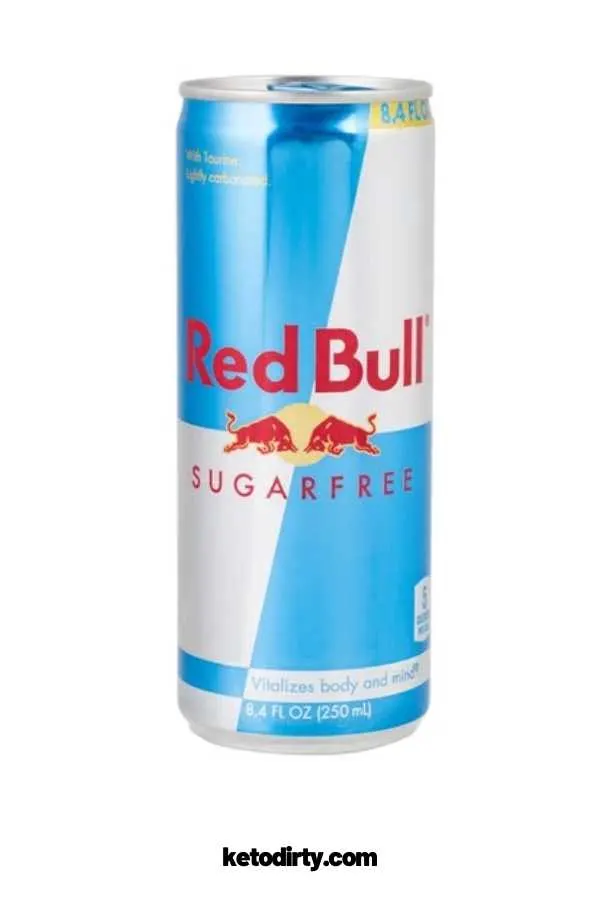 Here is what you need to know about the keto friendly energy drink Sugar Free Red Bull.
80 mg of caffeine
There is 8.4 ounces in a can of Red Bull Sugar Free
Red Bull recently added Sugar Free Red Bull Coconut Edition

The sugar substitute used is aspartame and acesulfame k

Approximately 2 carbs in Red Bull Sugar Free
Sugar Free Monster
Along with Red Bull, another popular keto energy drink is Monster. For a keto friendly energy drink option, Monster gives you Sugar Free Monster Energy Ultra – their line of keto energy drinks to power you up.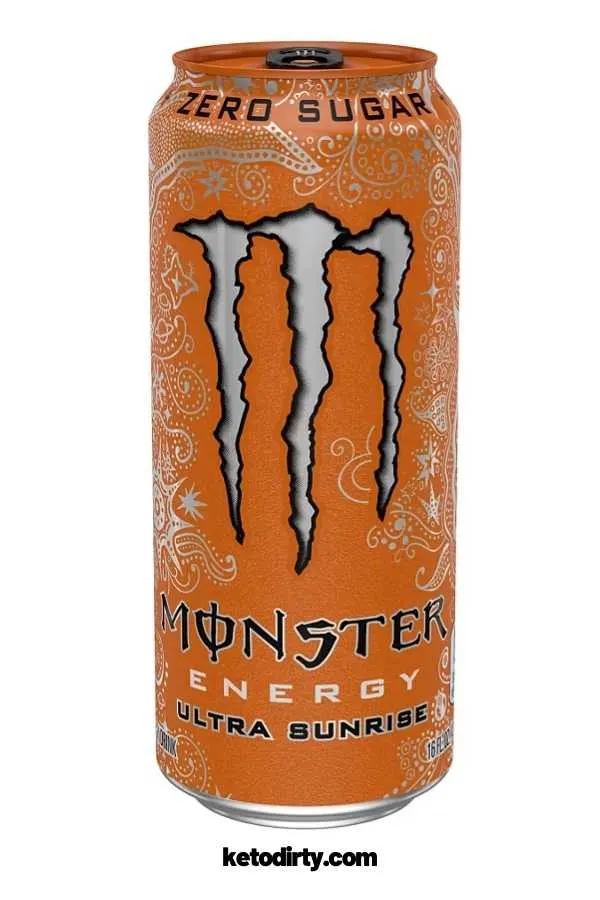 This low carb energy drink is a great 0 calorie and 0 sugar option.
Monster Ultra Gold Flavor
The Monster Ultra Gold flavor is by far the fan favorite. This low carb energy drink offers zero sugar and zero calories.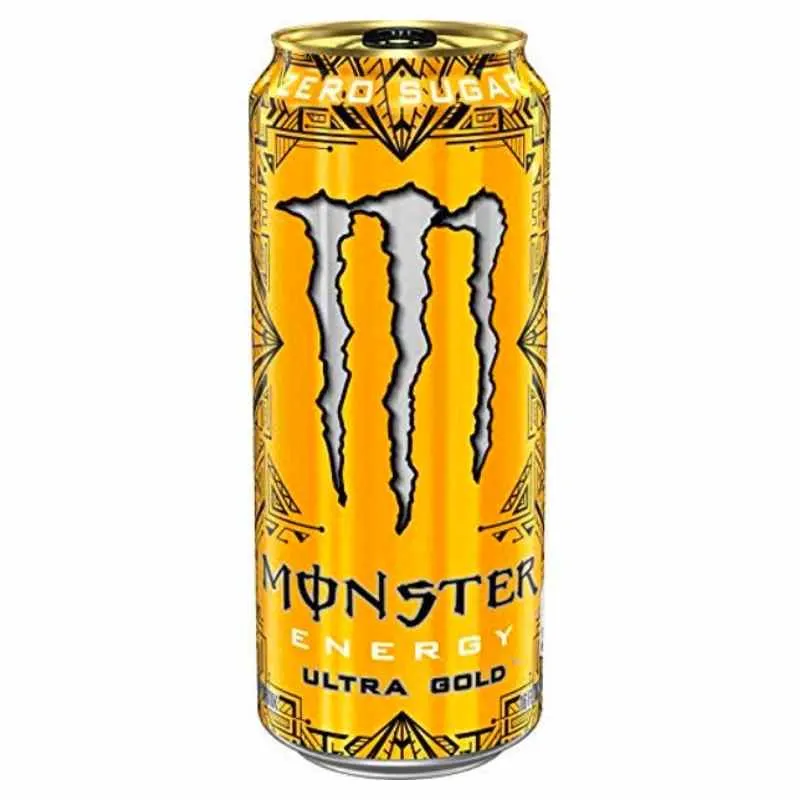 Here is valuable information and Monster Ultra Gold nutrition facts to know:
16 ounces of liquid
How much caffeine in sugar free Monster? 150 mg per can
Check labels for carbohydrates – each vary, sugar free does not equal carb free! Learn how to calculate net carbs
Buy in bulk to save – available on Amazon
Keto Monster Energy Drink Flavors
Here are the other flavors offered for the zero sugar Monster energy drinks. There are a plethora of low carb energy drink flavor options when it comes to Sugar Free Monster Ultra flavors.
Zero Ultra The White Monster – light refreshing citrus
Sugar Free Monster Ultra Gold – golden pineapple
Zero-Sugar Ultra Violet a.k.a. The Purple Monster – light citrus and grape
Zero-Sugar Ultra Red – crisp and refreshing mixed berry
Sugar Free Monster Ultra Watermelon
Monster Ultra Paradise – hint of cucumber
Monster Ultra Fiesta – hint of cool mango
Monster Ultra Sunrise – light and crisp citrus and orange
Zero Sugar Ultra Rosá – bright and sweet
Zero-Sugar Ultra Blue a.k.a. The Blue Monster – light citrus and berry
Zero-Sugar Ultra Black – crisp and refreshing black cherry
What does Monster Ultra Gold Taste Like?
The Monster Ultra Gold flavor tastes like perfectly ripened golden pineapple.
What is the Monster Ultra Gold Flavor?
The Monster Ultra Gold flavor is golden pineapple.
Looking for zero carb keto snacks to go with your low carb energy drink? We've got them!
More Options
Here are some more low carb energy drink options that may not be found in your grocery store but are good alternatives when wanting to buy in bulk. Remember these are energy drinks without sugar.
Optimum Nutrition Drink One Carb
Next up on our list of keto friendly energy drinks, we have a new to us brand. Meet Optimum Nutrition, a great low carb energy drink option.
Looking for more than just energy? Amino Energy drink is also filled with electrolytes and contains amino acids.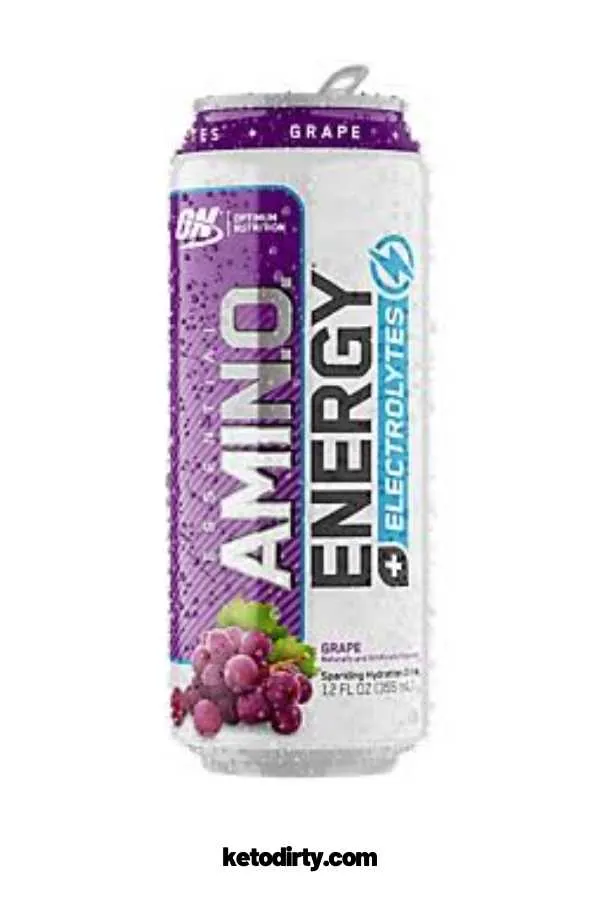 Optimum nutrition drink also provides electrolytes and essential amino acids as well.
100mg of Caffeine from natural sources to support energy and focus
5g of Essential Amino Acids to support muscle recovery
10 refreshing flavors: Blueberry Lemonade, Juicy Strawberry, Watermelon, Grape, Cherry, Mango Pineapple Limeade, Peach Bellini, Mix Berry Sangria, Gingerale, Green Apple!
Electrolytes to support performance, endurance and active living
ZERO Sugar, only 5 calories per serving
1 carb in Optimum Nutrition drink
Jocko GO Discipline Drink
Another low carb energy drink to add to the list is Jocko GO.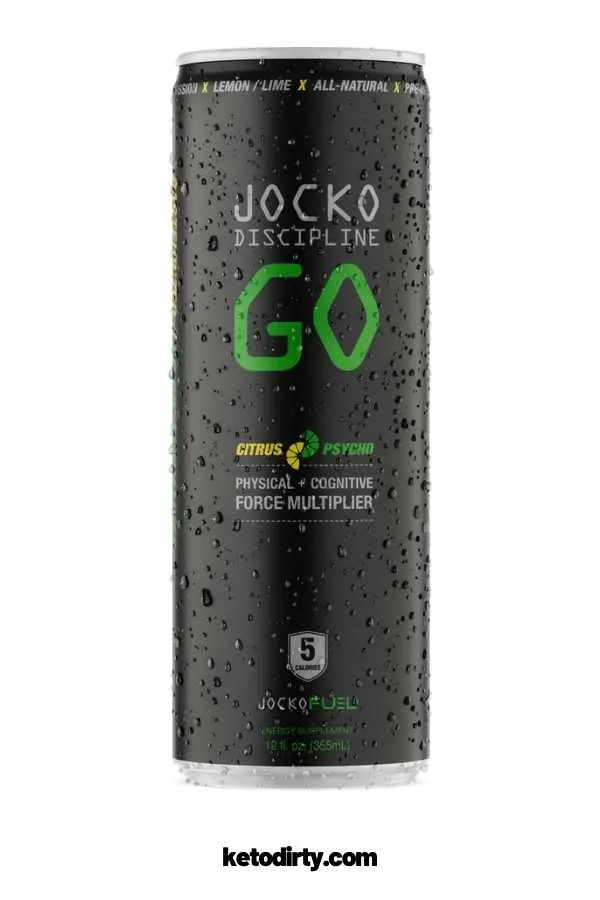 This energy drink is made with sugar free monk fruit, offering 95mg of caffeine and zero sugar.
Jocko Low Carb Energy Drink has 2 Net Carbs.
Moving on from Keto energy drinks, let's look at some low carb keto energy shots. Not alcohol shots, but keto energy shots.
Reign Total Body Fuel
Are Reign Energy Drinks keto friendly? Yes! Well, make sure you read the label. We did find several low carb energy drink options in the Reign energy line of products.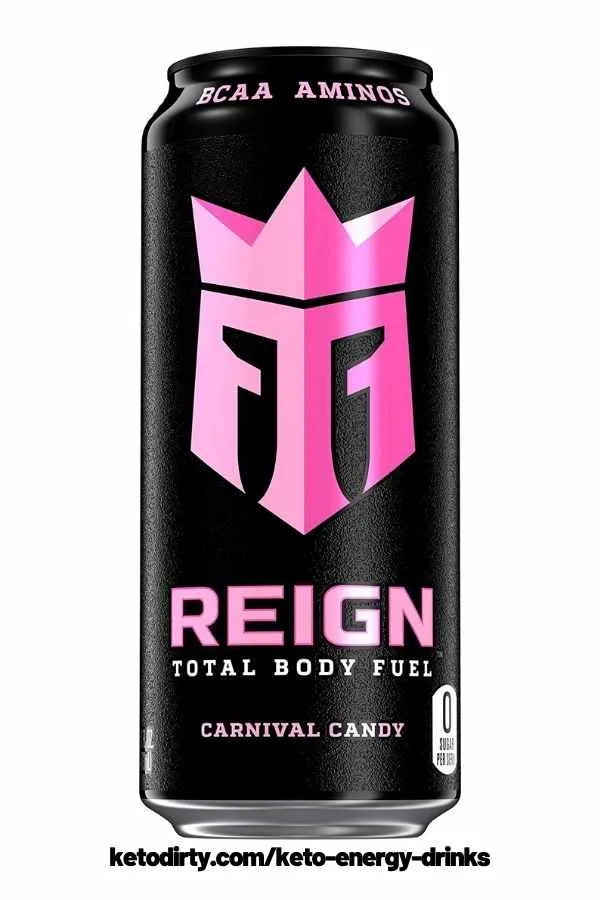 What is the milligram count for Reign Energy Drink Caffeine?
Packing a whopping 300 mg of caffeine, if you are needing a burst of energy – the Reign Total Body Fuel energy drinks are the equivalent to 3 cups of coffee. Reign Total Body Fuel offers zero sugar!
With Reign Total body fuel, you'll get 6x the BCAA's, 5x the CoQ10 and 2x the electrolytes as the leading competitor.
3 Net Carbs in Reign Energy Drink
Zero Sugar
10 Calories
Zero Artificial Flavors and Colors
Keto Energy Shots
If you aren't thirsty or don't want to consume a can of drink for energy, these keto friendly energy shots give you the caffeine with just a sip of liquid.
Keto friendly energy shots typically are only around 2-2.5 ounces of concentrate liquid. These low carb energy shots typically cost around the same as a drink, but you get the benefit of the energy drink in 1 big sip rather than having to drink an entire can!
With these keto energy shots, you get the power of a cup of coffee, energy drink, or pre-workout in a compact container that is easy to carry in your purse or pocket. Here are our favorite keto energy shots.
Need a little LOL with your energy, check out our keto memes.
5 Hour Energy – Zero Carb Energy Drinks
Next on our list of keto friendly energy drinks we are talking a popular gas station or grocery check out line feature. It's the zero carb energy drink, 5 hour energy.
I have mentioned 5 hour energy before, as I definitely think it helps me when I come down with the Keto flu. As far as keto energy shot goes, this is my go to when I am out and about and need a burst of energy.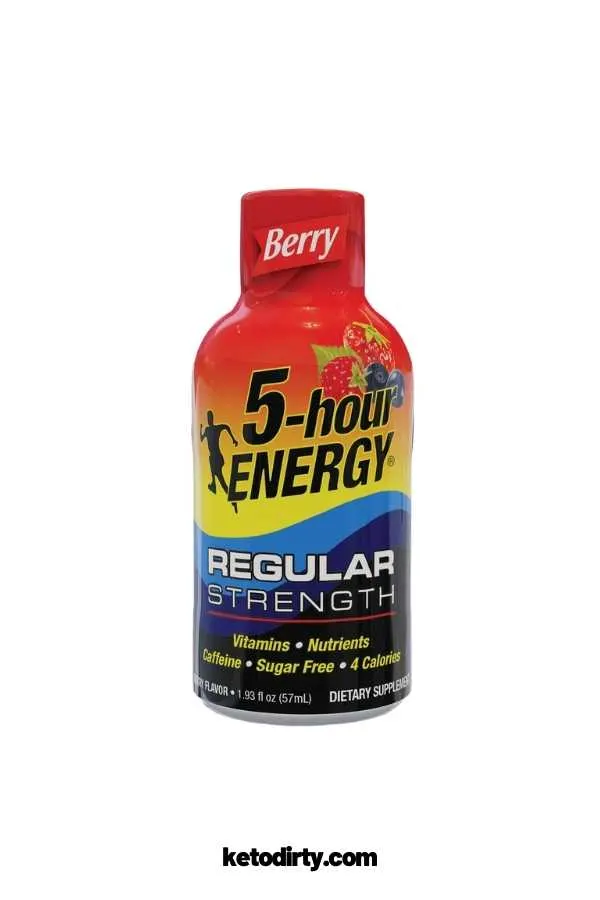 True to form, personally feel the 5 hour energy statement is true. Around 15 minutes after drinking, I can feel the caffeine pump in and energy lasts for around 5 hours.
This keto friendly energy drink is a pantry item for me. It's kind of like chapstick, there is a spare in each of our cars and I keep an extra in my purse!
Here's what else you need to know about keto 5 Hour Energy:
5 Hour Energy shots come in 6 flavors (grape is my favorite flavor)
4 calories and zero carbs in 5 Hour Energy
1.93 ounces of liquid
215 mg of caffeine
For even more caffeine, check out 5 Hour Energy Extra Strength for 242 mg of caffeine
If you enjoy tea, there is a 5 Hour Extra Tea line of products
I found this tid bit of safety information helpful on the 5 hour energy website:
How should I take a 5-hour ENERGY® shot?
Take half a bottle for moderate energy. Take a whole bottle for maximum energy. Do not exceed two shots daily, consumed several hours apart. Discard any unused product within three days after opening. Refrigeration not required.
Eternal Energy Shots – Zero Carbs
Here is another great keto friendly energy shot option and cheaper than 5 Hour Energy! Meet Eternal Energy Shots – or EE.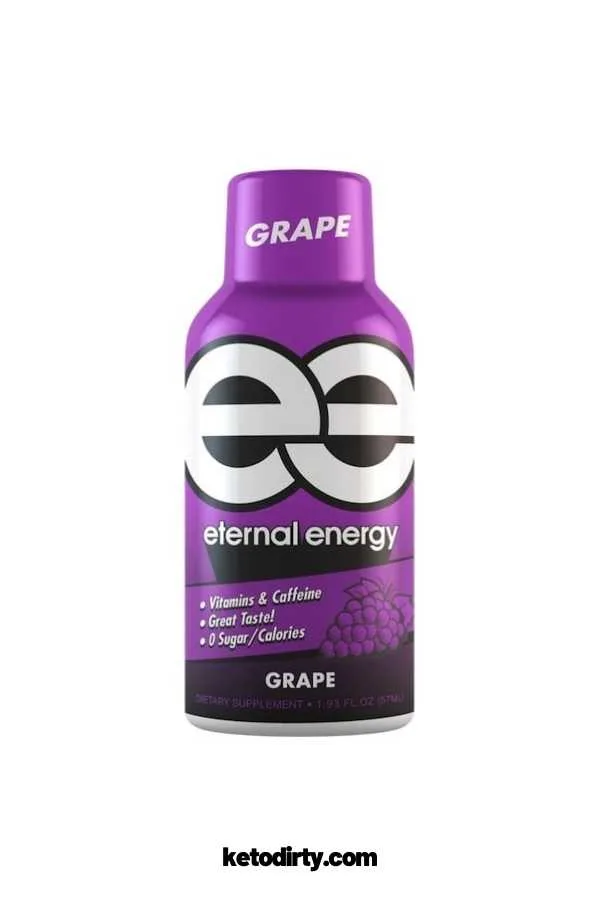 While 5 Hours Energy is typically available at most gas stations, Eternal Energy Shots aren't so these would be something you buy ahead of time.
1.93 ounces
Zero calories and carbs in Eternal Energy Shots
25 vitamins, amino acids and antioxidants
Zero sugar
No crash or jitters (per their website)
Are Energy Drinks Dangerous?
Perhaps you have read a headline or two and have asked are energy drinks dangerous. This is what the NIH has to say about consuming energy drinks.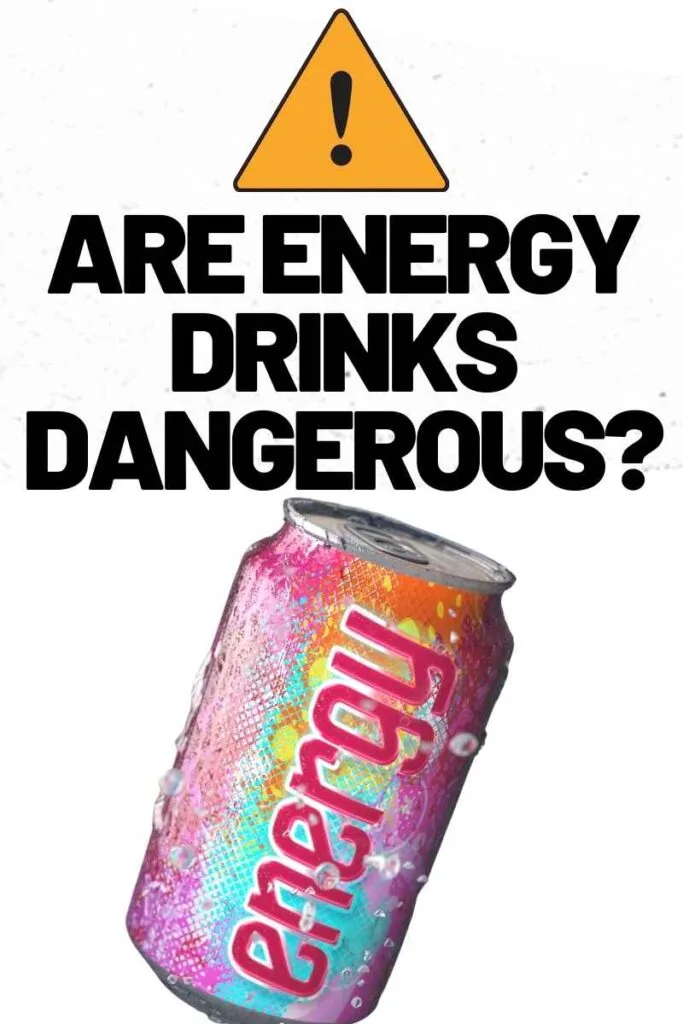 Consuming energy drinks raises important safety concerns.
Increase in ER Visits due to energy drinks – Between 2007 and 2011, the number of energy drink-related visits to emergency departments doubled.

In 2011, 1 in 10 of these visits resulted in hospitalization. 42 percent of all energy drink-related emergency department visits involved combining these beverages with alcohol or drugs (such as marijuana or over-the-counter or prescription medicines.)

Don't mix with alcohol – About 25 percent of college students consume alcohol with energy drinks, and they binge-drink significantly more often than students who don't mix them.

The CDC reports that drinkers aged 15 to 23 who mix alcohol with energy drinks are four times more likely to binge drink at high intensity (i.e., consume six or more drinks per binge episode) than drinkers who do not mix alcohol with energy drinks.

Not for children – A growing body of scientific evidence shows that energy drinks can have serious health effects, particularly in children, teenagers, and young adults.

Energy drinks may increase alertness but no effect on power or muscle strength – In several studies, energy drinks have been found to improve physical endurance, but there's less evidence of any effect on muscle strength or power.

Energy drinks may enhance alertness and improve reaction time, but they may also reduce steadiness of the hands.

Too much caffeine is bad for your health – Large amounts of caffeine may cause serious heart and blood vessel problems such as heart rhythm disturbances and increases in heart rate and blood pressure. Caffeine also may harm children's still-developing cardiovascular and nervous systems.

Potential side effects – Caffeine use may also be associated with anxiety, sleep problems, digestive problems, and dehydration.
Hoping that these low carb keto energy options give you some guidance on what to grab when needing a pick me up in a safe consumable way.
Follow Keto Dirty on Social – Facebook / Keto TikTok / Pinterest / Instagram
Keto Dirty is reader supported. When you buy through links on our website, we may earn an affiliate commission.
Keto Energy Drinks – what to energy drink to consume when on low carb diet – Keto Daily Blog