Listen up chicken shredder, I am showing you the easiest way to shred chicken.
This easy chicken hack is perfect for using on cooked chicken breast, de-boned rotisserie chicken and boiled chicken. One of the best ways to stay focused on the keto dirty diet is to make sure that you have access to keto friendly foods at all time. Getting hungry leads to impulse eating so let's not do that!
A common low carb staple food that we keep in our fridge is shredded chicken. Our boys will eat it plain, I will use it for family meals or to add protein to a salad or any keto recipe that calls for chicken.
Chicken Shredder – How to Shred Chicken Easy
A few years ago, I found the easiest way to shred chicken. Alright, listen chicken shredder (yes, that's you.)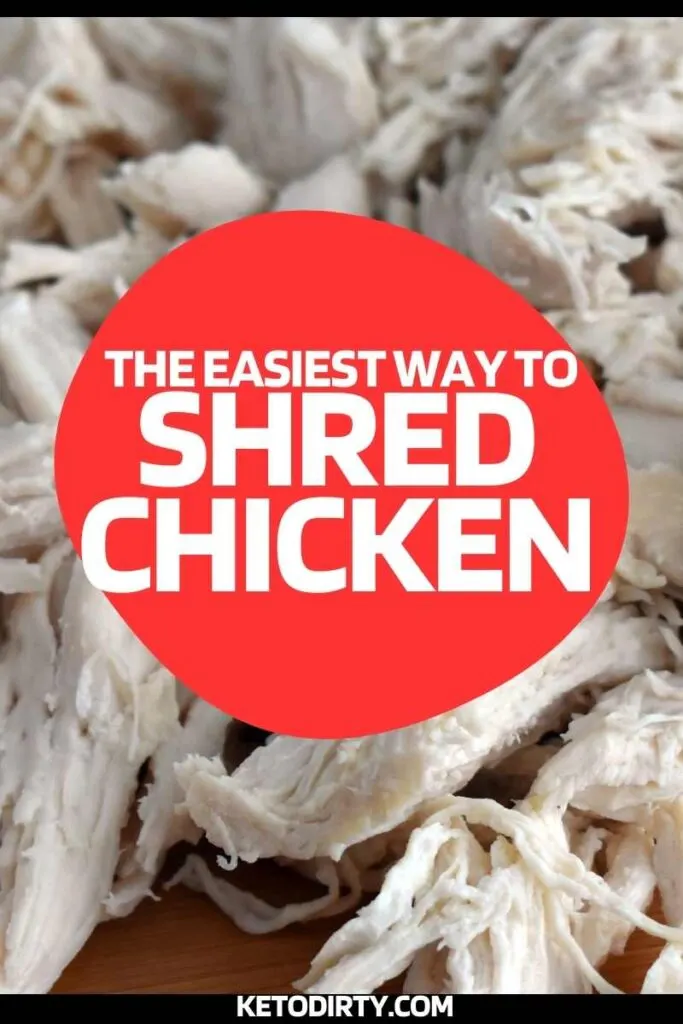 If you follow Keto Dirty on TikTok – chances are you have seen this hack. If you haven't, go follow us and then learn this easy way to shred chicken!
I am going to show you a tried and true way to take any form of deboned and cooked chicken and turn it into a bountiful bowl of shredded chicken for your next low carb meal or for just keeping as a keto staple. (Did you see our favorite keto chicken recipes?)
Shredding Chicken with a Mixer
Here is how I shred my chicken. I use a Kitchenaid mixer and let me tell you, shredding chicken with a mixer will change your chicken shredding life!
Take your deboned and cooked chicken and cut up into large chunks if needed. If you are using something like cooked chicken strips, you will not need to cut up.
Place the chicken in the mixer bowl, and attach the Kitchenaid beater attachment to the mixer. No worries if you mixer isn't Kitchenaid – just use whichever mixing attachment works best for you.
Next start the mixer on a slow speed, you can gradually speed up the mixer speed.
Look at you shredding chicken with a mixer! This perfectly shredded chicken is just about ready for you to mix into your favorite dish. Have you seen on keto chicken soup? This would be perfect for it!
But I can already tell that some of you have more questions about chicken shredding. Let's answer them.
Can I Use a Hand Mixer to Shred Chicken?
Yes, you can use a hand mixer to shred chicken. I like the ease of use of the standing mixer, but have used a hand mixer when I couldn't find the Kitchenaid bowl or if the attachment was dirty (and let's face it, I was totally being lazy, not wanting to do dishes!)
Here is how to shred chicken with a hand mixer: the process is the same as the using a stand mixer, except you have do the mixing and the bowl isn't stationary. I recommend chopping up the chicken into small pieces, placing in a bowl then starting on a slow setting, use the hand mixer to shred the chicken.
What Kind of Chicken Can I Shred?
I have found the chicken hack of shredding chicken with a mixer to come in handy with just about any part of the chicken – as long as it's cooked and deboned.
What I have found useful, is often I will purchase pre-cooked chicken strips (think grilled chicken – cut into strips) and have placed these in the mixer for easy shredding.
This also has worked well with cooked can chicken, pre-cooked chicken fajita meat, chicken breasts in whatever form it was cooked (though, I prefer boiled – salt, pepper and heavy garlic usage required.
Is There a Kitchenaid Chicken Shredder Attachment?
Now a Kitchenaid Chicken Shredder attachment, specifically for shredding chicken with a mixer is a great idea but only for marketing purposes. You can just use the standard Kitchenaid mixer attachment to successfully shred chicken in your Kitchenaid.
Chicken Shredder Tools
While my favorite way to shred is shredding chicken with a mixer, I know that a Kitchenaid mixer isn't always available for use. An example would be camping. Maybe you have cooked up some chicken in the RV and want shredded chicken but no mixer. No problem.
Here are several chicken shredder tools that will do the job of shredding the chicken.
Chicken Shredder Machine
That's right, who knew shredding a chicken into bite size strips was a whole business. There's a chicken shredder machine and this thing means business.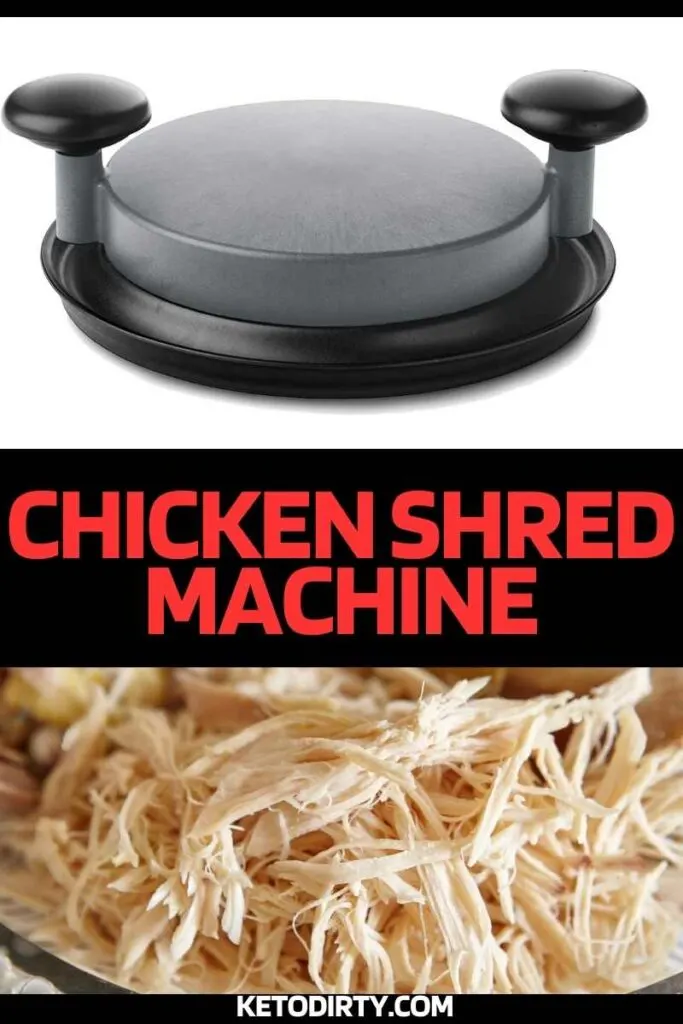 You place cooked meat in the shredder machine, and with a few rotations the inside grinder shreds your chicken in a jiffy. This shred machine will work for any type of cooked meat that you are needing to shred.
Meat Shred Machine – shred that meat!
Meat Shredder Drill Attachment Chicken Shredder Tool
This next suggestion is a legit chicken shredder tool, like seriously you use a tool to shred chicken.
For the woman or man who takes the chicken shredder role extremely serious, let me introduce you to the meat shredder drill attachment. Yes, you read that right. This would actually make an awesome BBQ gift idea as this bad boy will shred any meat.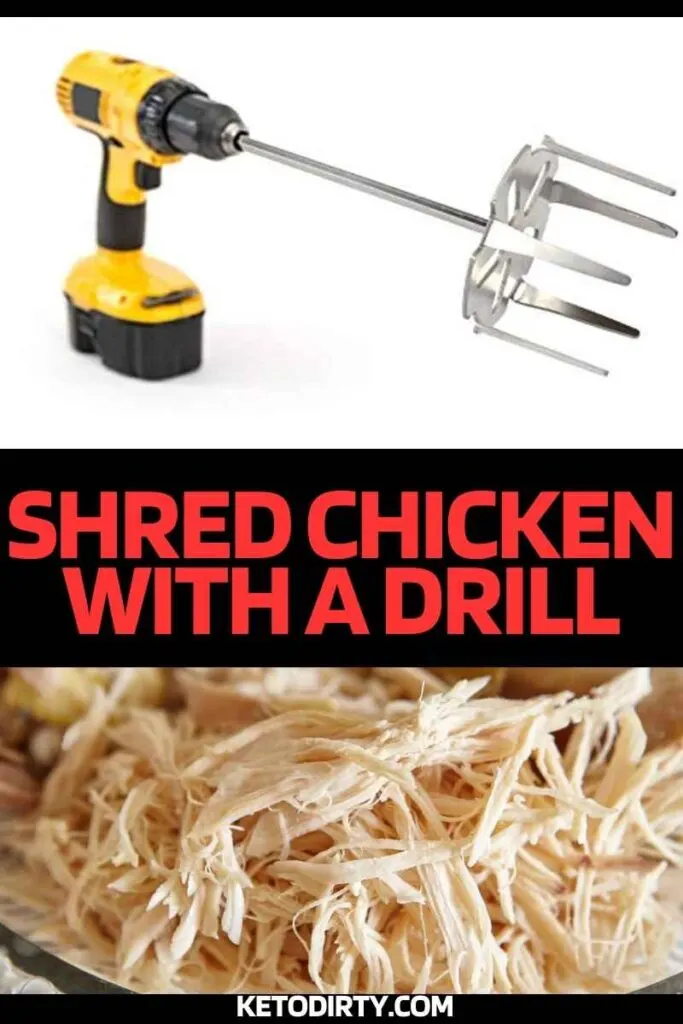 This stainless steel meat shredding drill attachment is 13 inches long and 4 inches in diameter. It is dishwasher safe and will let you shred chicken in no time.
You can also use for shredding meats such as brisket, pork butt, or whatever your meat loving self wants to shred.
Drill Attachment Shredder – Chicken Shredder Tool is available on Amazon Prime
Meat Claws
I have a story to tell you about meat claws. My brother-in-law made us some amazing brisket, that was shredded perfectly. He used meat claws to shred the brisket so thought, I would buy us some.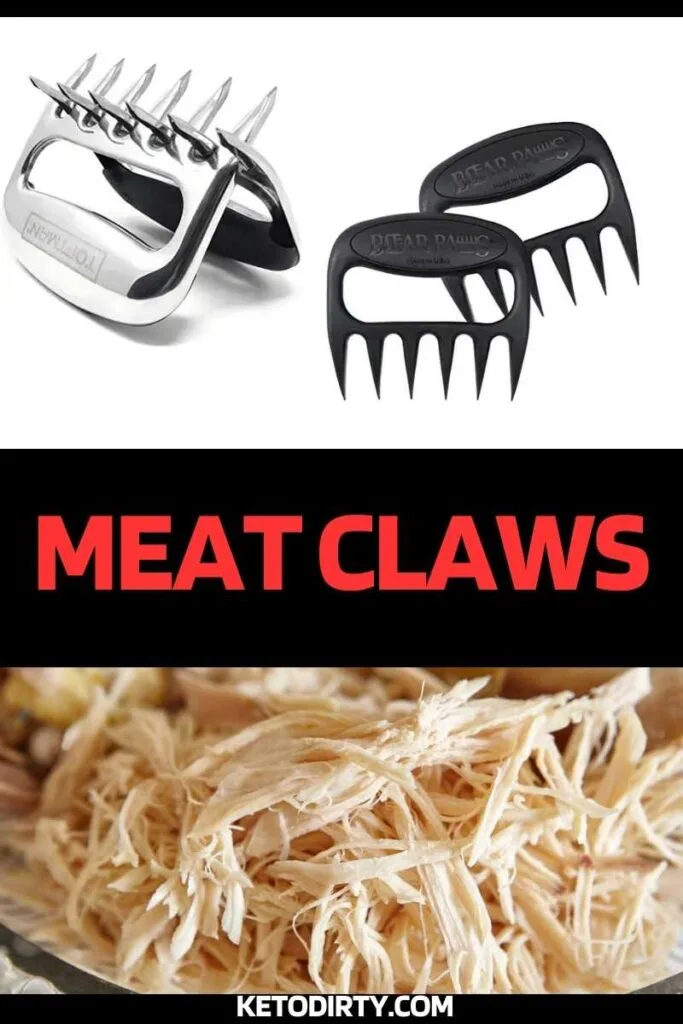 Before using meat claws, make sure you know what you are doing. Some how I managed to shred my hand (don't worry, it survived) – just know what you are doing before you start using meat claws for shredding chicken.
Here are a few meat claw options
Metal Meat Claws – these are awesome for BBQ meat shredding
Bear Paws Shredder Claws – this shredder was the ones my brother-in-law uses
Check out these chicken Instant Pot recipes for more poultry meal ideas.
Pampered Chef Chicken Shredder
Pampered Chef offers a Pampered Chef chicken shredder named Pampered Chef Quick Shed. This claw type kitchen utensil works like meat claws, or 2 perfectly shaped forks for shredding meat.
Other utinsels that may be of interest, if you are a fan of Pampered Chef products:
The Pampered Chef Salad Chopper – this is not only great for cutting up chicken into small pieces, but is fantastic for making great chopped salads. Chicken shredder scissors, well kind of. It will cut your chicken into small shred like pieces but not necessarily give you the shred of a mixer.
The Pampered Chef Mix n Chop – I have had my Pampered Chef meat chopper (as I call it) for over 15 years! I bought it at a party, right after my second child was born and this thing chops the meat! It is perfect when making ground beef. You could also use if you wanted to make chopped chicken that is thinly minced.
How to Shred Chicken by Hand
Now a days, us chicken shredders have it easy with these handy dandy kitchen utensils and shredding machines! "Back in my day" we shred chicken by hand (or fork.) The original chicken shredder is the good ol' hands. Yes folks, you technically don't NEED a tool to shred meat – you can just use your fingers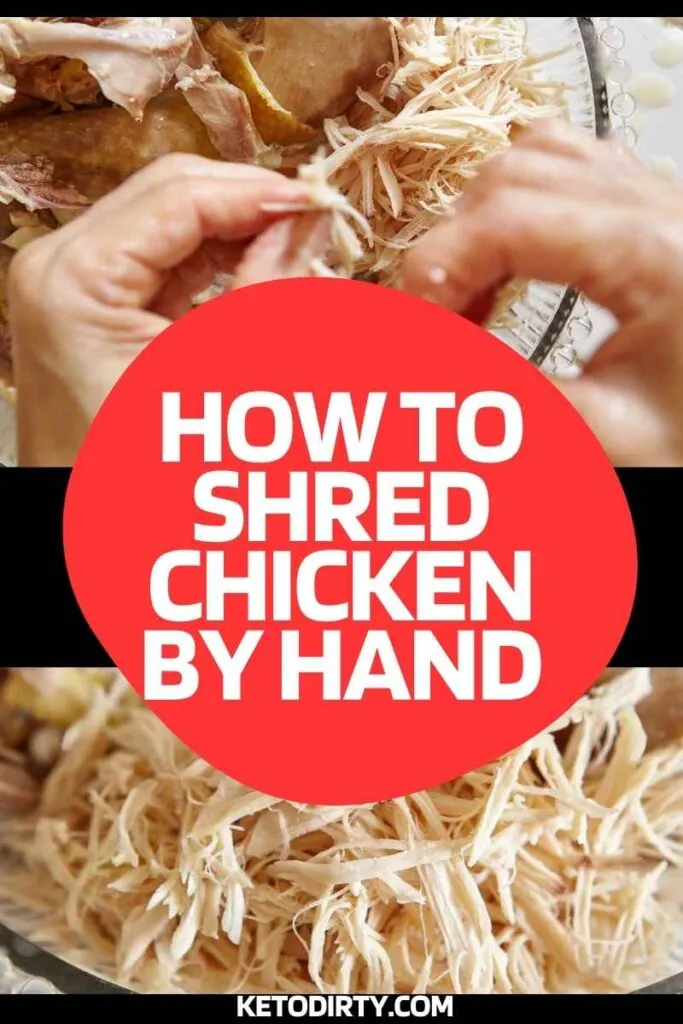 Let's look at how to shred chicken by hand. To start, chop up the cooked chicken into small pieces. You will then, using your hands – start pulling apart the chicken. (I'd wear gloves because I HATE touching meat, no matter if it is cooked or raw.)
This process of hand shredding chicken is daunting and time consuming and will totally make you appreciate the above chicken hack of shredding chicken with a mixer!
How to Shred Chicken with a Fork
If you don't have meat claws handy and the thought of touching chicken just makes you uncomfortable, use folks!
You will need 2 forks and a bowl. Place cooked chicken in a bowl and then ninja style – pull the chicken apart using the 2 forks. The process again is tedious but gets the job done.
Chicken TikTok
That's Keto TikTok we told you about? Here is our video on how to shred chicken with mixer. Also we show you some tips for flavoring your chicken as you prep the shredded chicken.
Hope you enjoy, make sure to follow up on Keto TikTok!
Happy Chicken Shreddin'
Alright, chicken shredders – I hope that this helps you next time you are needing shredded chicken for your next keto recipe or for low carb meal prepping!
Are You Following Keto Dirty on Social?
TikTok / Facebook / Instagram