If you love Mexican food and spicy – this Keto Breakfast Quesadilla Recipe will be your new favorite!
I am not a big sweet person which definitely helps when it comes to the keto dirty diet. (I do crave me some sweet chaffles though!) Something I do love is Mexican food. I cannot get enough and ever since stumbling upon these keto tortillas, my keto dirty diet now contains a whole lotta Mexican food!
Let's Cook a Keto Breakfast Quesadilla
Keto Mexican breakfast ideas are a popular trend with our community, so if your in search for a good low carb breakfast recipe that include Mexican food – you guys this breakfast quesadilla is it.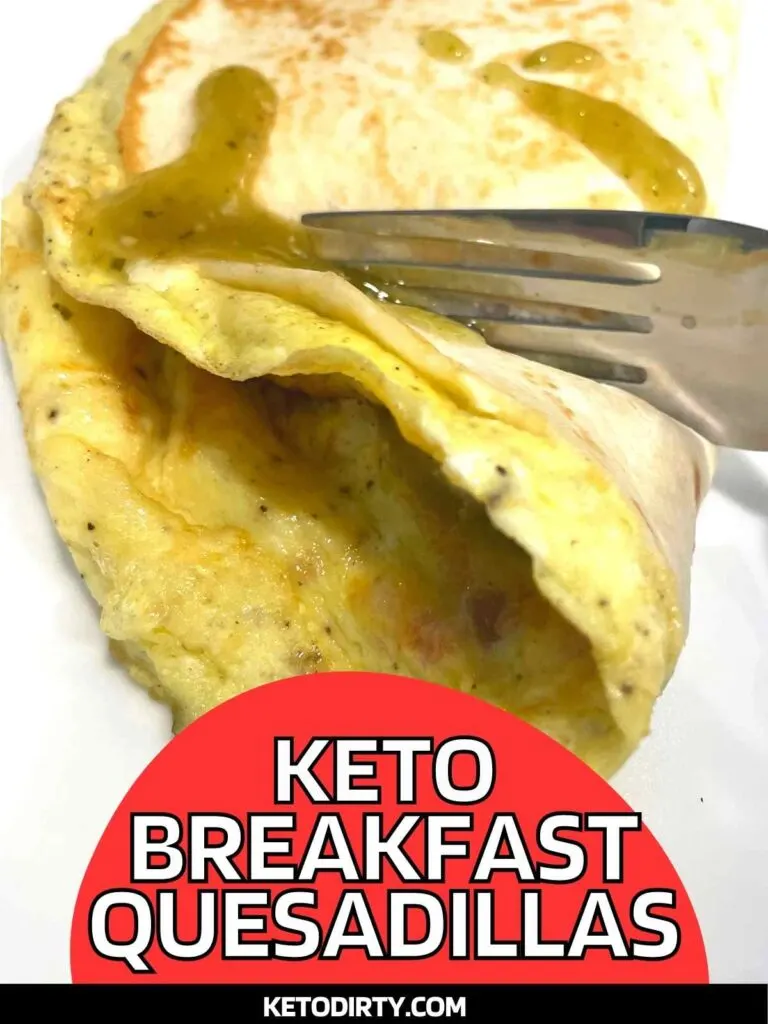 Here it is, a keto breakfast quesadilla recipe that is just delish.
How to Make a Breakfast Quesadilla
Let's learn how to make keto breakfast quesadillas. You may want to go ahead and get more ingredients out. While we are showing you how to make a single serving, know that this low carb breakfast quesadilla brings all the boys to the yard.
Breakfast Quesadilla Ingredients
Here is what you need to make this keto breakfast quesadilla:
Cheese (I use monterrey jack, but use whatever you have available)
2 Eggs
Butter
Pancetta (you can use any breakfast meat, pre-cooked bacon also works)
Salt and Pepper
Green Salsa (find a low carb salsa that you like!)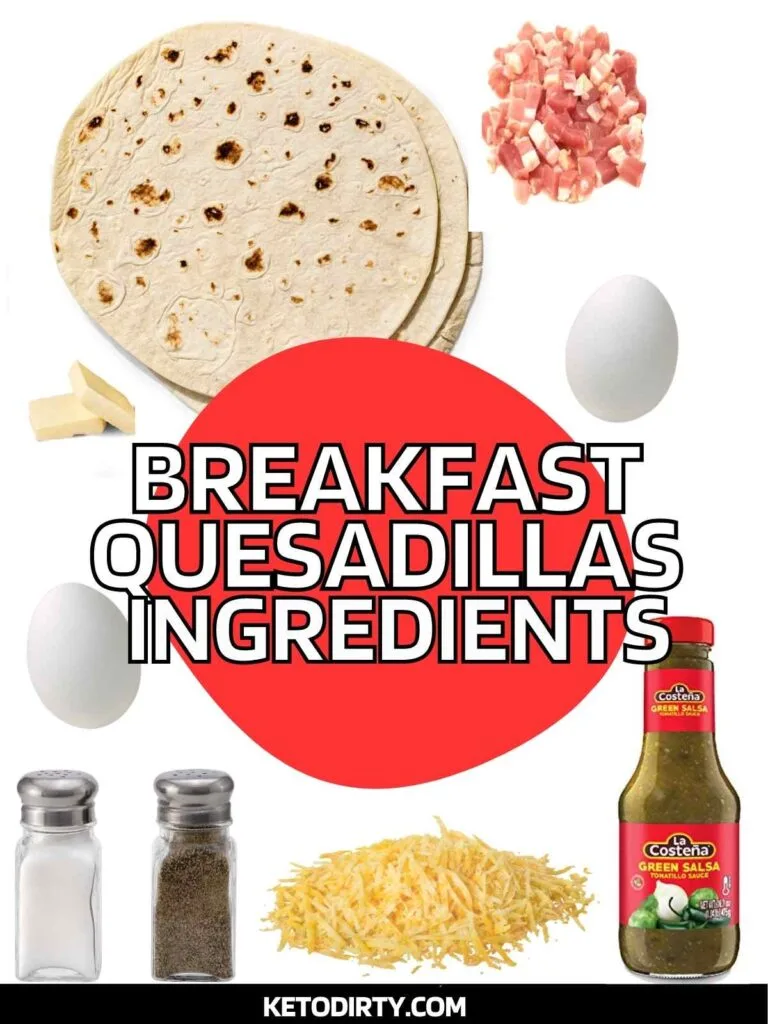 Remember, we are a make it how you like it people – adapt this keto breakfast recipe to YOUR liking!
How to Make a Keto Breakfast Quesadilla
Now that you know what we are using for the ingredients, here is how you make a keto breakfast quesadilla.
First, let's get a bowl and mix up our eggs. Scramble your eggs and add in the pancetta. I like to salt and pepper my scramble eggs before I cook them.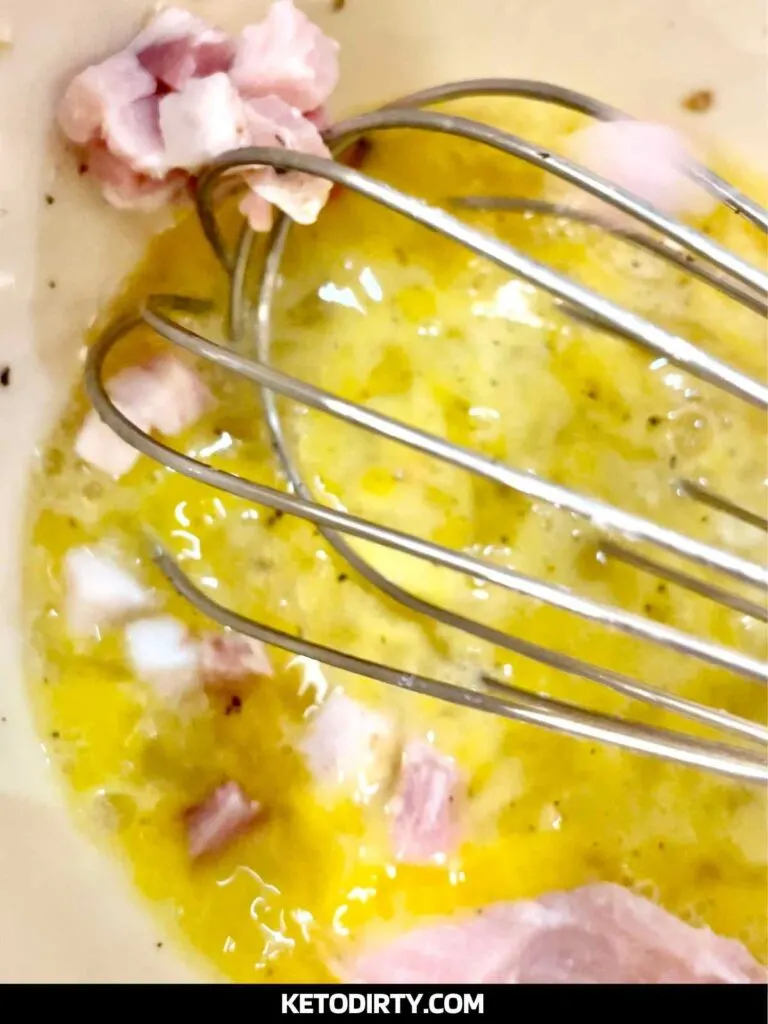 I also like to add a tad or drop of salsa to my egg mixture to help give the entire keto breakfast quesadilla a little bit of spice. Use that whisk and mix up your egg mixture.
Next, let's butter our skillet. I like to use a skillet that is just a wee bit larger than our keto tortilla. Let the butter melt for a few seconds and over medium heat – throw in your egg mixture.
The eggs and pancetta will cook quickly. I told you this was a quick and easy keto breakfast, didn't I?
Now, are the eggs cooked to your liking? I know some people are okay with runny eggs, me – not so much. After the eggs are cooked, remove them from the pan.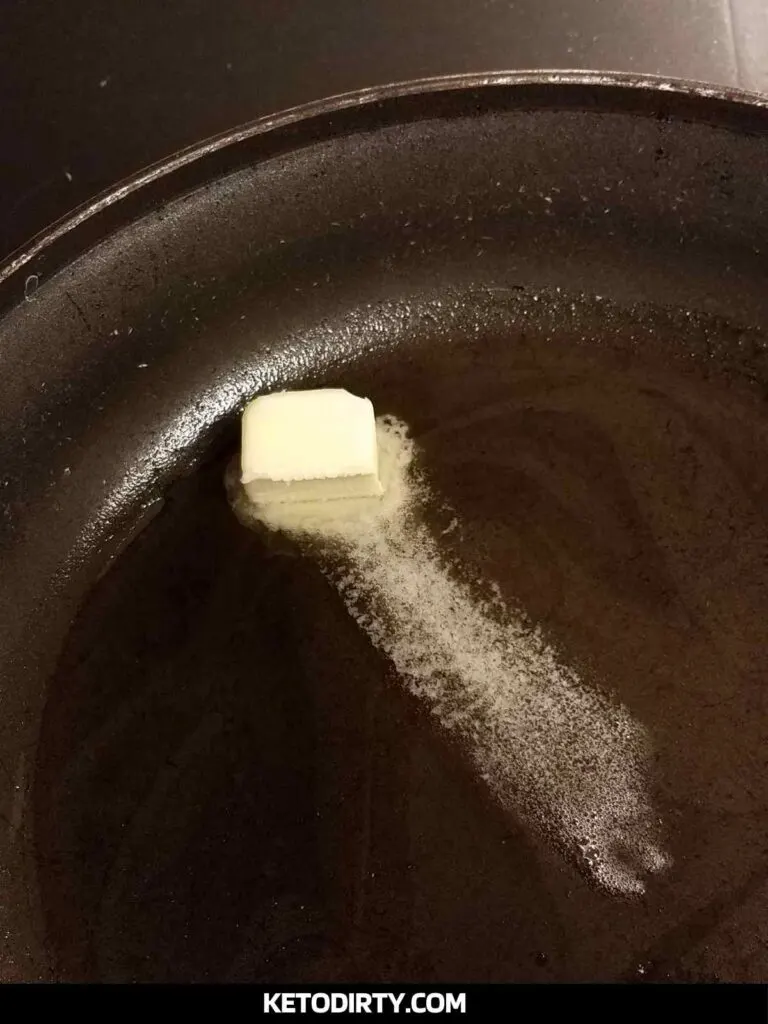 Let's melt a little bit more butter in your pan. Swirl it around so that the entire skillet is covered in melted butter. You don't want to leave butter melting for too long because black butter is just gross.
Next, throw in your low carb tortilla on top of the butter. On the side facing you, place your cheese. Let the cheese melt for 15 or so seconds and then top the cheese with your cooked egg mixture.
If you are a cheese lover, feel free to add more cheese on top of the cooked eggs. Just remember, if you are counting carbs to add in the carbohydrate count for any additional ingredients you include.
Ways to Make Quesadilla
So here we have a conundrum. There are 2 ways to make quesadillas. If you are making a single quesadilla, you can simply now just fold the tortilla in the pan in half – cooking like you would cook a grilled cheese sandwich.
Another way to make a quesadilla is to add another tortilla on top of the one cooking in the pan.
You will want to top the egg mixture with the tortilla and when the bottom is browned, you can flip so that the top is now the bottom. But remember, to add in any calorie counts or carb counts if you do add in an additional tortilla to your breakfast quesadilla!
Top it with Salsa
Remove your breakfast quesadilla from the pan and place on a plate. If you desire, top it with salsa. I like green salsa but unfortunately green salsa tends to have a higher carb count so I limit my quantity.
Pancetta Alternatives
If you are not a fan of pancetta, no worries! Our goal here is just to make you a delicious low carb breakfast tortilla that YOU LIKE! Here are pancetta alternatives for you to try in your breakfast quesadilla.
Really, any keto meat that you like you can add in. THIS IS FOR YOU, so you make this low carb dish how you like it!
TikTok Keto Quesadilla Recipe
We originally shared this keto breakfast quesadilla recipe on TikTok. Are you follow us on Keto TikTok?
We hope you enjoyed this Keto Breakfast Quesadilla recipe as much as we do! If you are looking for more recipes to book, don't miss our keto breakfast ideas post, as well as our other keto recipes. Happy cooking!
Follow Keto Dirty on Social – Facebook / Keto TikTok / Pinterest / Instagram
Keto Dirty is reader supported. When you buy through links on our website, we may earn an affiliate commission.