It's a keto tomato soup kind of day. The weather is just gray and cloudy. Days like today just make me want the comforts of home which for me is soup!
Have you ever met one of those people who has never tried something and you are like HOW HAVE YOU NEVER HAD THAT? Well, confession – I am one of those people. I hadn't had tomato soup until my thirties. Why? Because I don't like tomatoes (well, didn't like tomatoes because I only had them in salsa!)
Is Tomato Soup Keto?
Wait, so is tomato soup keto? Well, it totally depends. But good news, if you are craving a low carb tomato soup – we have a killer recipe that you will love.
Of course, my first experience was with La Madeleine's tomato soup. If you have ever had the opportunity to try this deliciousness – you know that omg it really doesn't get better than this.
Since that initial eating of the soup – I've tried many others, and while Panera tomato soup wasn't the worse, I still have a fondness for La Madeleine's.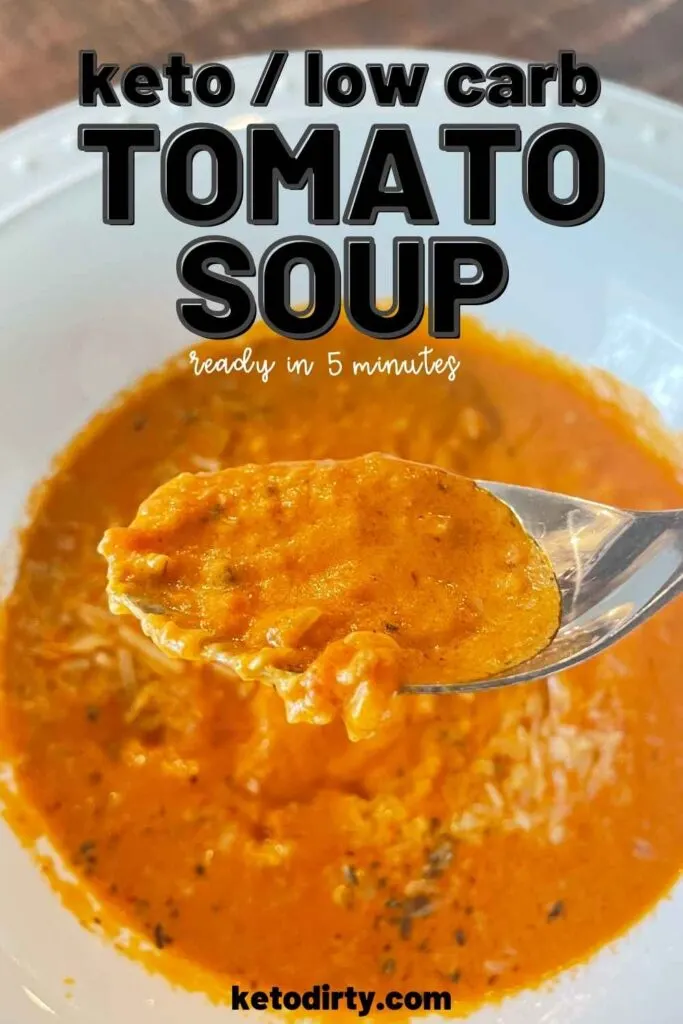 Fast forward to removing as much sugar and eating less processed foods, here we are and now I'm going to share this Keto tomato soup recipe that I hope blows you away like it did me.
Keto Tomato Basil Soup
Like all keto recipes that we share, I like to make sure to include adaptations because not everyone likes all the same ingredients. Regardless of how you make this keto tomato soup recipe – each variation is ready in 5 minutes. Before we make this keto tomato basil soup, let's grab the ingredients.
Low Carb Tomato Soup Ingredients
For my personal favorite version of keto tomato basil soup, here are the ingredients that I use. Don't miss the delicious soup additions you can add to give this soup even more of a kick of deliciousness.
Butter
Basil (fresh or dried)
Heavy Cream
Garlic (fresh, crushed or granulated – whichever you like)
Parmesan Cheese (mozzarella cheese or asiago cheese are other options)
Salt
Pepper
Keto Tomato Soup from Pasta Sauce
That's right, we are making this keto tomato soup from pasta sauce. Rao's marinara sauce is a keto friendly marinara sauce that helps make this deliciousness into a keto tomato soup you will love.
Rao's Marinara Sauce
Let's talk quickly about Rao's Marinara sauce. This delicious sauce tastes like something grandma would make. I keep this stocked in our pantry because while we are using it here for this low carb tomato soup, it also works well in all kind of keto recipes. It has 25 net carbs for the entire jar.
That would make a TON of this keto tomato soup recipe! So just store the rao's in your fridge and use for various recipes. Yes, it is a little bit higher priced that your traditional marinara, but also has fewer carbs, tastes so much better making it totally worth it.
[amalinkspro type="showcase" asin="" apilink="https://www.amazon.com/dp/B0078DP1JM?tag=ketodirty-20&linkCode=osi&th=1&psc=1″ new-window="true" addtocart="true" nofollow="true" sc-id="4″ imgs="LargeImage" link-imgs="false" specs="Bring home the famous taste of Raos with this 15.5 ounce jar of Raos Homemade Marinara Sauce. Keep in your fridge, perfect for making keto recipes like this keto tomato basil soup.~~~All Natural, Premium Quality: Raos Homemade Marinara Sauce is a premium, slow-cooked, all-purpose Italian pasta sauce. Each jar brings you the warm, classic flavor of homemade tomato sauce~~~Ingredient Focused: Using the Rao's Homemade classic recipe, this carb conscious marinara sauce is made with high quality, wholesome ingredients including tomatoes, olive oil, onions, garlic, basil and oregano~~~No Added Sugar and 100% Italian Tomatoes: Rao's pasta sauce contains no added sugar*, and only includes 100% Italian tomatoes, no paste , making it the perfect keto friendly spaghetti sauce to add to your pantry~~~Homeade and Versatile: Make every day delicious with Raos. Enjoy Rao's carb conscious marinara sauce as is over pasta or use it as an ingredient in any of your delicious reci" btn-color="#ff9900″ btn-text="Buy on Amazon" alignment="aligncenter" hide-prime="0″ hide-image="0″ hide-price="1″ hide-button="0″ width="750″]Rao's Homemade Marinara Sauce, 15.5 oz, All Purpose Tomato Sauce, Pasta Sauce, No Sugar Added, Carb Conscious, Keto Friendly, All Natural, Premium Quality, With Italian Tomatoes & Olive Oil[/amalinkspro]
How to Make Keto Tomato Soup
Did I mention that this recipe is super easy? Oh, well – yes, this keto soup requires minimal cooking skills. Here is how you make keto tomato soup:
Grab a pan and melt your butter on low heat. Once the butter has melted – drop in your basil, garlic and a little bit of parmesan cheese. Cook for a minute, I turn the heat up just a smidge.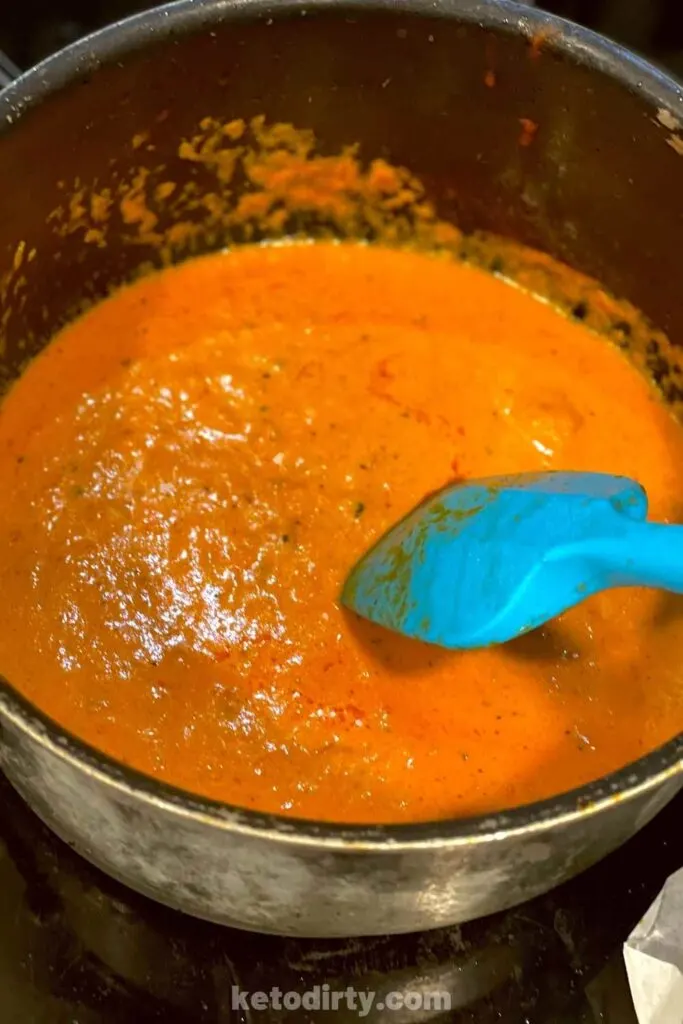 Next, let's bring in the tomatoes. We are using Rao's Marinara sauce for our keto tomato soup. Dump in your marinara and mix the tomato mixture with your butter mixture. Turn the heat to low and let the marinara mix cook for a few minutes warming all of the ingredients together.
Here is where it goes from good to GREAT. Let's turn your stove top off and take the heavy cream and give a splash into your pot and stir it into the keto tomato basil soup recipe. At this time, add in your salt and pepper to your liking. Make sure you are huffing the smell because it is italian devine with all of those ingredients!
Just a tip: don't boil the heavy cream.
Cook the creamy low carb tomato soup for around a minute more before serving in a bowl. Once in the bowl, top with more parmesan cheese (or any cheese to your liking.)
Don't miss our picks for best store bought keto marinara sauces!
Keto Tomato Bisque
This low carb soup base can be used to make a keto tomato bisque. Consider adding in cauliflower rice and some shell fish to thicken the soup base to cook a delicious keto tomato bisque! Enjoy! For added flare, add lobster!
6 Net Carbs
For half a cup of soup, you are looking at around 6 net carbs. Not bad for a filling cup of delicious keto tomato soup. You can adjust the carbs a few ways.
Adding chicken stock or a beef stock to the tomato mixture will thin it out allowing you to eat more soup while consuming less of the carbohydrates that the tomatoes add to this recipe.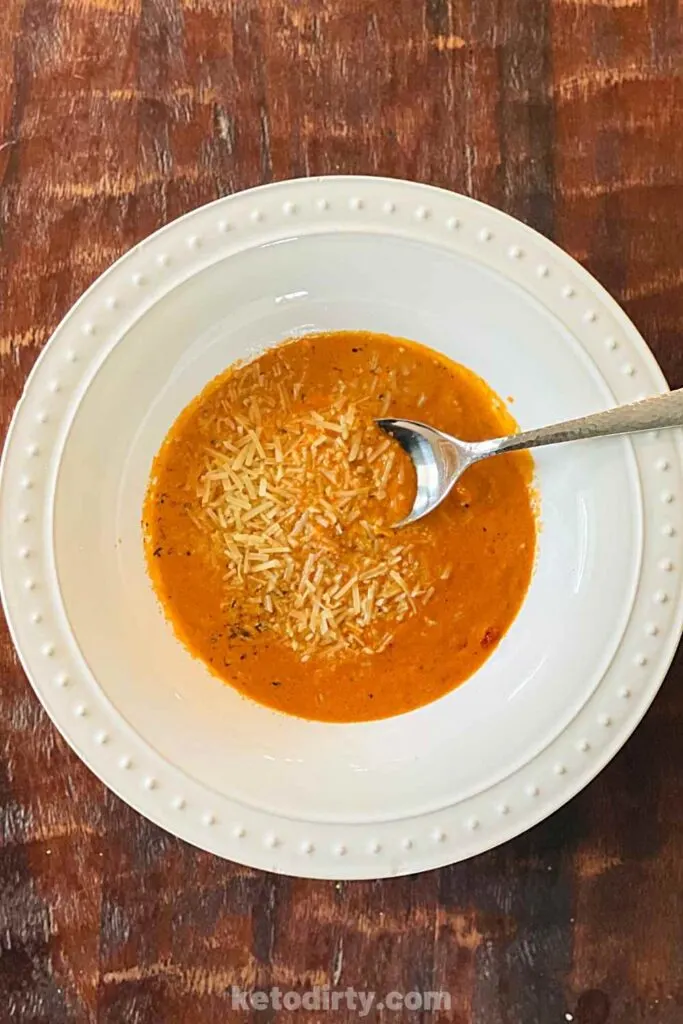 Soup Toppings and Add-Ins
This soup is screaming for toppings and we are here for it with a plethora of low carb tomato soup toppings and add-in suggestions.
Before the massive list – I have to tell you my favorite. If you've read our keto snacks post, then you know our love for these but if not – we're talking about PARMESAN WHISPS! Pre-keto I would eat my tomato soup with Goldfish crackers. Now, I eat my keto tomato soup with cheese whisp crackers.
[amalinkspro type="showcase" asin="" apilink="https://www.amazon.com/dp/B08LN3F13D?tag=ketodirty-20&linkCode=osi&th=1&psc=1″ new-window="true" addtocart="true" nofollow="true" sc-id="4″ imgs="LargeImage" link-imgs="false" specs="JUST 100% ARTISANAL CHEESE: Every Whisps crisp is baked in small batches with herbs and spices, created by master cheesemakers in the USA~~~KETO-FRIENDLY & GLUTEN-FREE: Keto-Friendly, Gluten-Free, and Lactose-Free. Made in a facility that doesn't process nuts~~~LOW CARB & HIGH PROTEIN: With either zero or very low sugar per serving, and high amounts of protein, Whisps is great for snacking on the go or entertaining at home~~~rBGH FREE & rBST FREE: Premium milk from local farms and an excellent source of calcium. Each serving has as much protein and Calcium as a glass of milk~~~REAL PREMIUM INGREDIENTS: No preservatives or artificial ingredients. This delicious snack is a great alternative for chips and crackers! Perfect for snacking straight out of the bag or adding to your soups, salads, or appetizer plate" btn-color="#ff9900″ btn-text="Buy on Amazon" alignment="aligncenter" hide-prime="0″ hide-image="0″ hide-price="1″ hide-button="0″ width="750″]Whisps FAMILY SIZE Parmesan Cheddar Cheese Crisps | Back to School Snack, Keto Snack, Gluten Free, Sugar Free, Low Carb, High Protein | 6oz (2 Pack)[/amalinkspro]
Bacon (Bacon lovers you will want to see these bacon memes)
Pesto
Keto Meatballs (make them yourself or frozen meatballs in the air fryer)
Hamburger (ground beef seasoned would be divine!)
Zoodles (zucchini noodles)
Mascarpone
Grilled Chicken
Coconut Flakes (for an indian tomato soup twist!)
Sun Dried Tomatoes
Splash of Lemon Juice
Cabbage
Store Bought Keto Tomato Soup
If you are looking for a quick and easy keto tomato soup option, we have store bought brands that are low carb. Here is what we recommend if you are at the grocery store wanting to buy tomato soup.
Tomato Basil Rao Soup
Yes, Tomato Basil Rao Soup is an excellent option for store bought keto soup. This comes in a 16 ounce jar, so calculate your carbs in tomato soup from that number.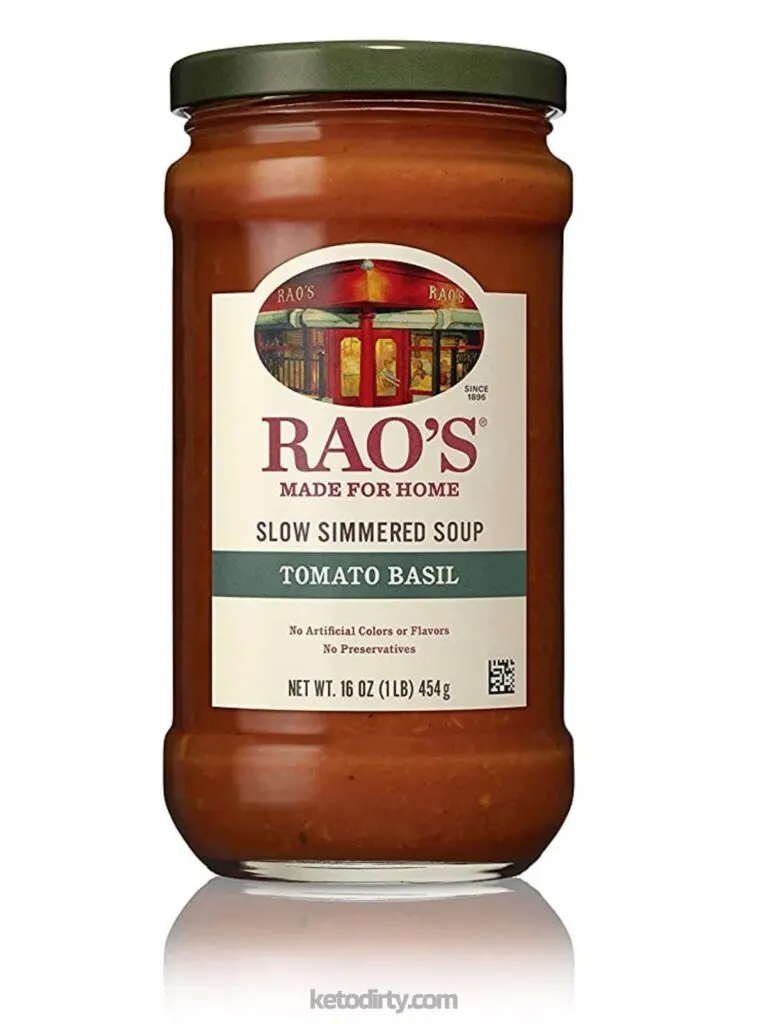 The entire Tomato Basil Rao Soup contains 11 net carbs with 11g of sugar. Remember, if you are dirty keto – this shouldn't be an issue, but hard core keto diet fans may have an issue with carb count.
And if soups are your bag – we got you covered with our massive collection of keto soups!
I hope you enjoyed this keto tomato soup recipe. Stay tuned because hint hint – next up we are sharing our favorite thing to pair with this delicious soup! Any guesses? Stay tuned!
Follow Keto Dirty on Social – Facebook / Keto TikTok / Pinterest / Instagram
Keto Dirty is reader supported. When you buy through links on our website, we may earn an affiliate commission.
If you are experiencing a stall or plateau, here is what you need to know in regards to best place to inject Mounjaro for weight loss from our community.