Love the drink, but want to know is Bang keto friendly? Let's dive into what is in this popular energy drink and learn if it is keto friendly and why.
We're back with more on Daily Keto where we are answering your questions about specific food and drink items to help you determine if they are a good fit for your dirty keto diet.
Question: Is Bang Keto Friendly? Answer: YES!
Bang energy drink is keto friendly. You can consume a Bang without worrying about if you will be knocked out of ketosis. But before you slam that energy drink – do note, make sure you know what the carb counts are for which Bang product – as not all have zero carbs!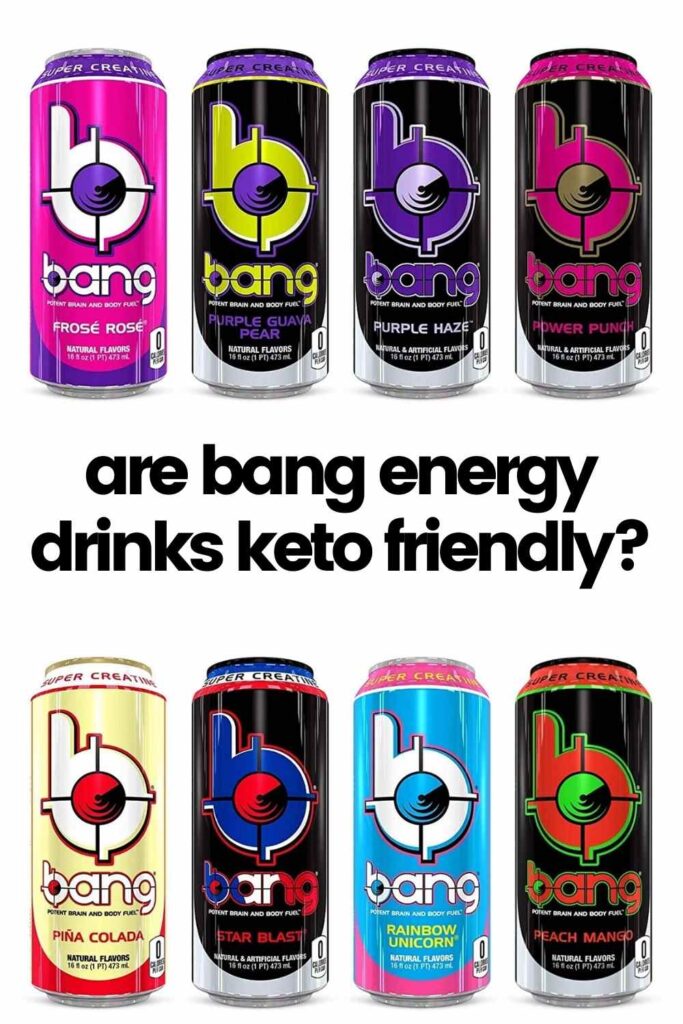 The Bang brand offers a plethora of products ranging from their popular energy drinks that we are talking about to energy shots. Bang caffeine free drinks, as well as Bang Coffee flavor drinks are newer products to their drink line.
3 Things to Know
Here are 3 things to know about Bang keto friendly energy drinks:
Bang Energy Drinks have zero carbs – making this a great low carb energy drink
Each can contains 16 ounces of Bang
300 mg of caffeine in each can
What is in Bang?
Like any product, you should be worried about hidden carbs – especially in things that you just pick up and drink, like Bang Energy drinks. If you are looking for a caffeine free drink, you may want to look else where because what we are talking about is most definitely caffeinated!
Bang Ingredients
Let's look at what ingredients are in Bang to help you understand why this energy drink is keto friendly.
Carbonated water, citric acid anhydrous, natural flavors, malic acid, caffeine anhydrous, sodium benzoate (preserves freshness), potassium citrate monohydrate, EAAs (L-leucine, L-isoleucine, L-valine, L-lysine, L-threonine, L-phenylalanine, L-histidine, L-methionine, L-tryptophan), sucralose, potassium phosphate dibasic, vitamin C (ascorbic acid), potassium sorbate (preserves freshness), magnesium chloride, SUPER CREATINE® (Creatyl-L-Leucine [Creatine bonded to L-Leucine]), calcium chloride, calcium disodium EDTA, vitamin B3 (niacinamide), CoQ10 (coenzyme Q10), vitamin B6 (pyridoxine hydrochloride), and vitamin B12 (methylcobalamin).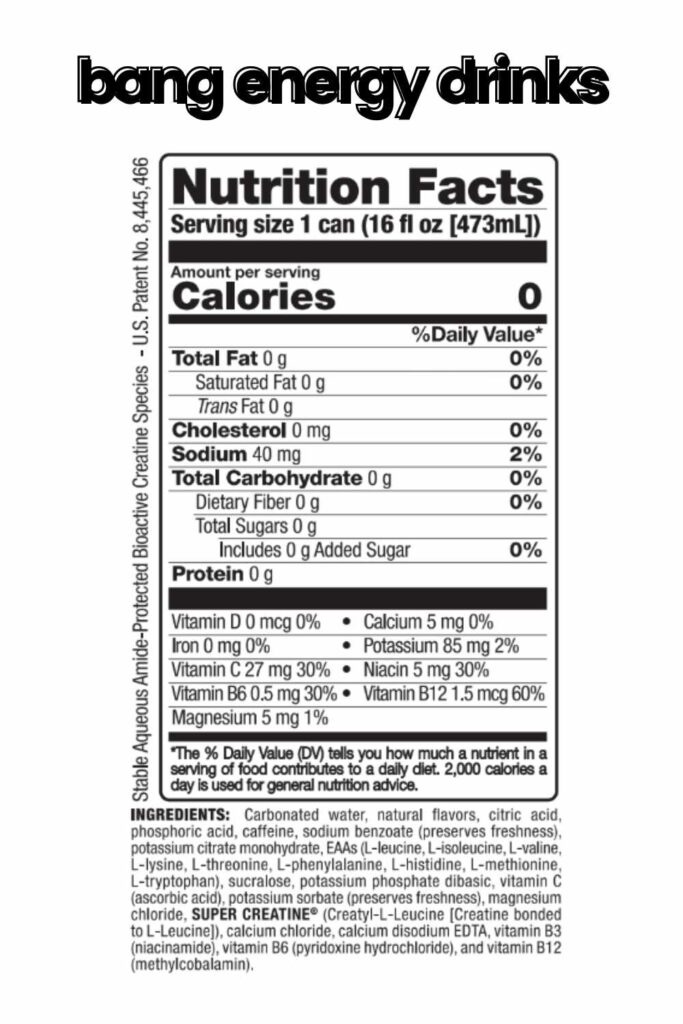 Carbs in Bang Energy Drinks
Bang Energy Drinks have no carbs. That's right, and get this. Bang drinks also have zero calories, zero grams of fat, and zero sugar.
What Sweetener is in Bang?
Bang uses sucralose to sweeten it's energy drinks. Sucralose is not really ingested by the body meaning there is only a small effect on blood sugar.
Since there is no sugar in Bang drinks, you will not have to deal with a sugar crash after consuming. And with zero carbs, is Bang keto friendly – YES!
How Much Caffeine in a Bang Energy Drink?
Ever wondered how much caffeine is in Bang?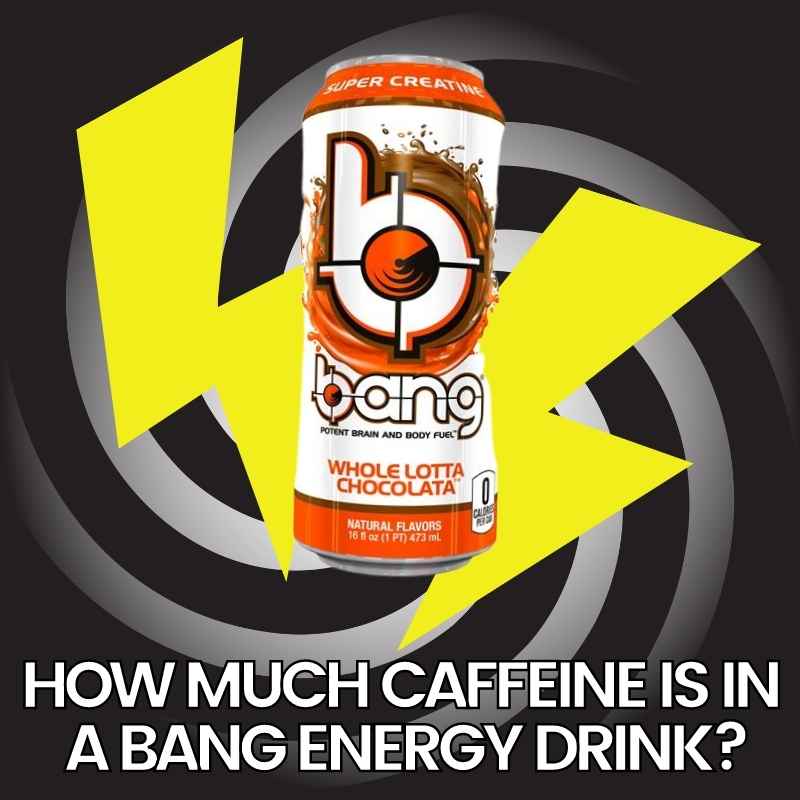 Bang Energy drinks have 300 mg of caffeine in one can or serving. 300 mg is the equivalent of 3 cups of coffee.
Side Effects / Warning
Can there be side effects from drinking Bang? Well the good news – with this being about asking if Bang is keto friendly – we now know that one of the side effects will most likely be that this drink does not raise our blood sugar! But what side effects can happen with Bang? Here is what Bang specifically states:
Do not use this product if you are pregnant or nursing. Do not consume this product if you are taking any prescription drug and/or have any medical condition. The user of this product assumes all liability if this product is used in a manner not consistent with label guidelines.
This product contains caffeine and should not be used with any other caffeine-containing products. This product is intended for use by healthy individuals only.
Too much caffeine may cause nervousness, irritability, sleeplessness, and, occasionally, rapid heartbeat. Not recommended for use by children under 18 years of age. One can of Bang® Keto Coffee provides 300 mg of caffeine, which is more than two cups of coffee.
Bang Flavors
What Bang flavors are there? This energy drink company offers a huge line-up of delicious flavors to satisfy any taste.
Here is a complete list of Bang flavors that are currently on the market:
Black Cherry Vanilla
Cotton Candy (my favorite)
Rainbow Unicorn
Strawberry Kiss
Frose Rose
Radical Skadattle
Sour Heads
Star Blast
Bangster Berry
Blue Razz
Strawberry Blast
Piña Colada
Purple Guava Pear
Key Lime Pie
Peach Mango
New Bang Flavors
The popularity of Bang continues to grow, and with that growth comes new Bang flavors. Here are a few new bang flavors to look for on Amazon, Walmart or online.
Sweet Ice Tea
Whole lotta Chocolate
Root Beer Blaze
Wyldin Watermelon
Bang Sweet Ice Tea
All the taste of delicious southern sweet ice tea, with a boost of energy with caffeine! How much caffeine does Bang sweet ice team have? 300 mg (about as much caffeine as 3 cups of coffee.)
Bang Whole Lotta Chocolate
Just added to the keto energy drink line up is a new bang flavor that chocolate lovers will adore. Whole Lotta Chocolate is the newest in the options of Bang flavors to hit the market.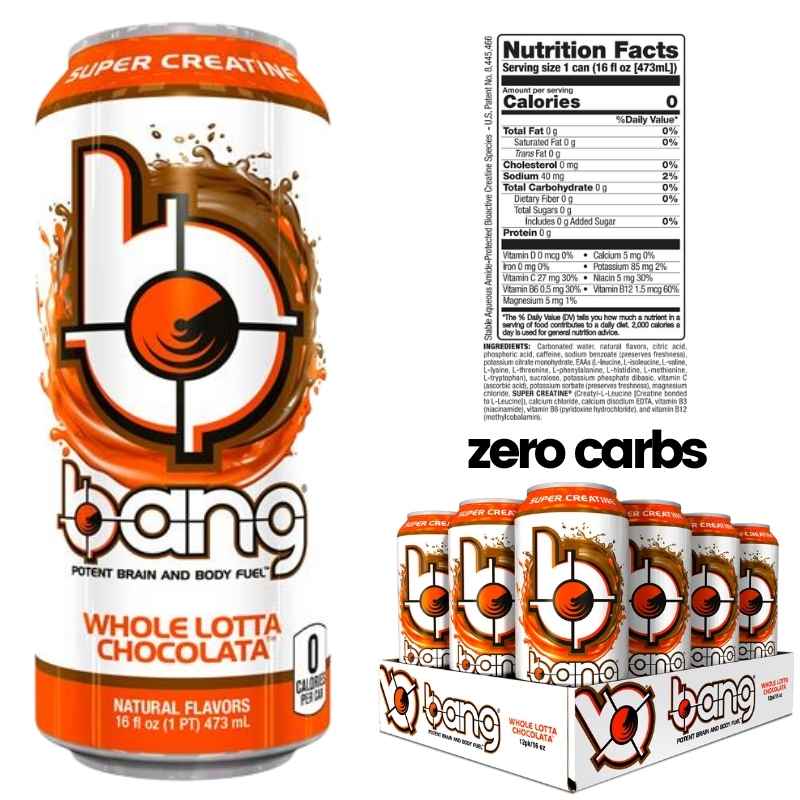 Bang Whole Lotta Chocolate is perfect for anyone who is on keto or low carb and has a sweet tooth (and wants a kick of energy!) With a chocolate taste, Whole Lotta Chocolate offers a keto energy drink that is sugar free, calorie free, sugar free and carb free! All wins for the dirty keto diet.
Bang Root Beer Blaze
Love root beer? Now enjoy it Bang style. This new Bang flavor features zero carbs, no sugar and zero calories. With the fizz and the root beer taste, this is a must try!
Bang Wyldin Watermelon
Last of the newest Bang flavors is Wyldin Watermelon. Treat your pallet to the refreshing taste of summertime watermelon goodness, in a can!
What are the Best Bang Flavors?
While each person has their own personal preference to taste, our choices for best bang flavors are the Bang Strawberry Blast, Cotton Candy and Rainbow Unicorn if you like sweet. If you are a chocolate lover, good news…
Bang Keto Coffee
As mentioned, Bang has a coffee energy drink line called Bang Keto Coffee. Sliding that keto word right in there sure perks our ears up, right? Well while yes, you can drink Bang Coffee while on keto – do note that unlike their energy drinks – the Bang Keto Coffee energy drinks do contain carbs.
While this isn't totally a low carb energy drink – Bang Keto Coffee does have a perk while giving you a perk.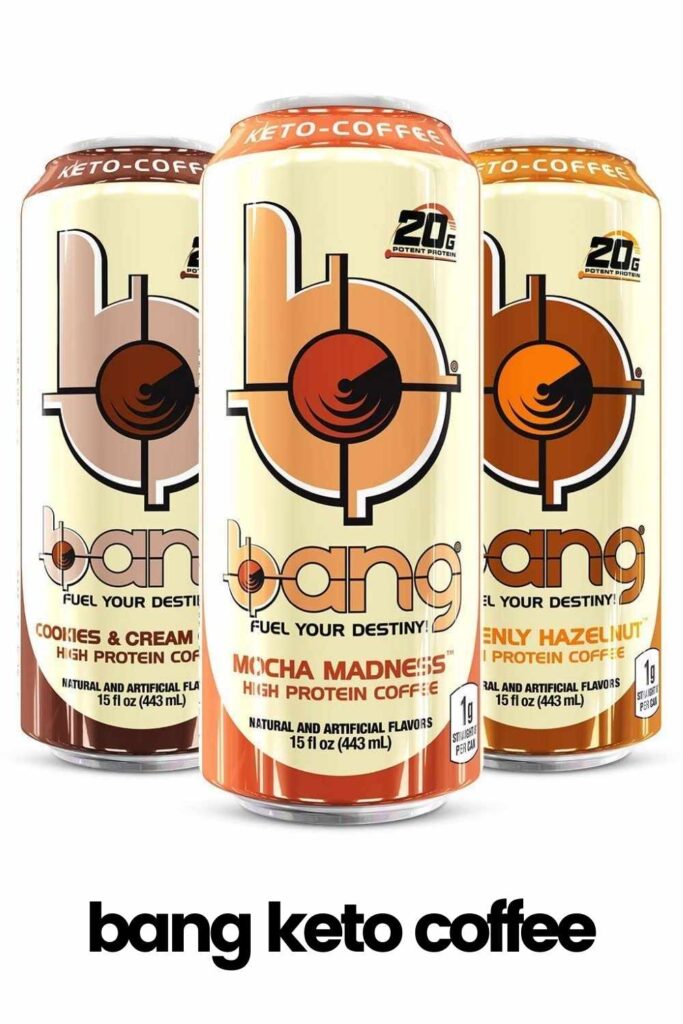 How Much Protein in Bang Keto Coffee
Unlike the their energy line, the Bang Keto Coffee does come with an added perk that us keto diet people will love. PROTEIN! That's right, Bang has 20 grams of protein into each Bang Keto Coffee drink.
If you like coffee – don't miss our butter keto coffee recipe.
How Much Caffeine in Bang Coffee
There is 300 mg of caffeine in a Bang Coffee Keto Energy Drink.
300 mg of caffeine in Bang Coffee is the equivalent to 3 cups of coffee.
Bang Coffee Drink Flavors
As mentioned, Bang also has a line of Bang Coffee drinks. The coffee Bang keto friendly enery drinks come in these coffee flavors:
Coffee Flavor
Birthday Cake Bash
Chocolate Peanut Butter Blast
Cookies and Cream
Mocha Madness,
Heavenly Hazelnut
Bang MIXX Hard Seltzer
That's right – you can soon get a Bang Mixx Hard Seltzer, a low carb alcoholic drink that the keto diet world has been crying for. Well, it's here and you guys – the Bang hard seltzer tastes just like Bang energy drinks, but has the added benefit of alcohol!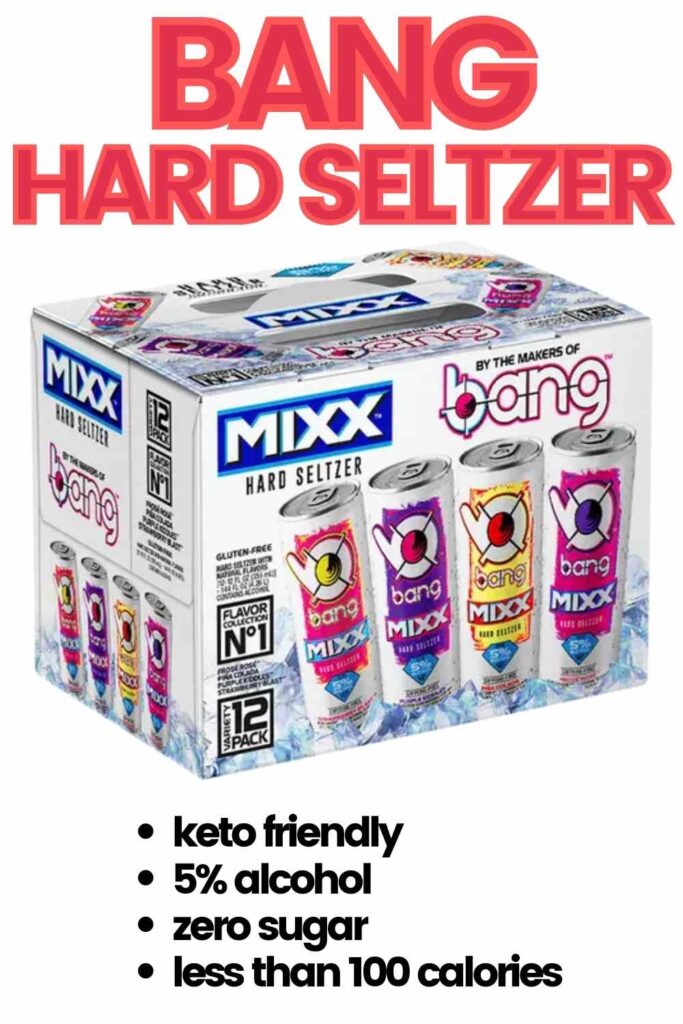 Finally, a Keto Seltzer
Yay, a keto friendly hard seltzer is finally on the market – thanks Bang MIXX! We are happy to welcome you to the keto party. Here is what you need to know about this low carb alcoholic seltzer.
Bang Hard Seltzer has no caffeine, 5% alcohol, a handful of electrolytes to support hydration, no carbohydrates, zero sugar, no artificial colors, and only 100 calories. Sounds like a win to me!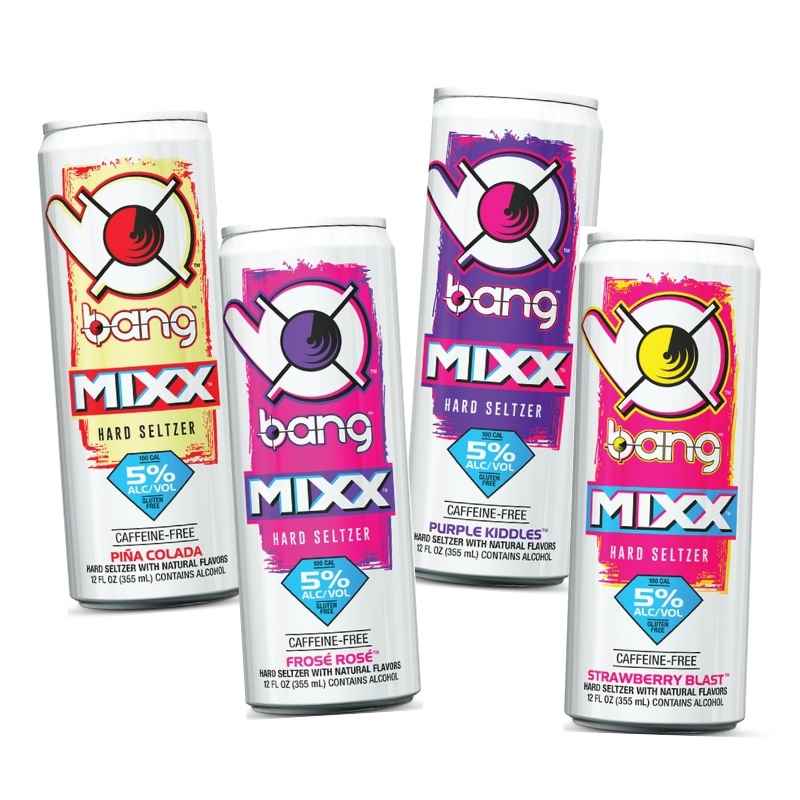 Bang Hard Seltzer Flavors
Yes, it is exciting to hear about a keto hard seltzer! If you are looking for a low carb alcohol option, here you go.
These are the Bang seltzer flavors that you can enjoy:
Bang Pina Colada Hard Seltzer
Bang Purple Kiddles Seltzer
Bang Frose Rose Hard Seltzer
Bang Strawberry Blast Seltzer
The following Bang flavors were mentioned at launch but either not yet released or will be released at a later time.
Mango Bango
Lemon Drop
Key Lime Pie
Bang Alcohol Seltzers Launch Date
I know, so this sounds great – but when can we get our hands and mouths on some Bang alcohol seltzer that is keto friendly?
Where to Buy Bang Seltzers
This sounds great, but are you asking where do you buy Bang Seltzers at? Here is what we learned.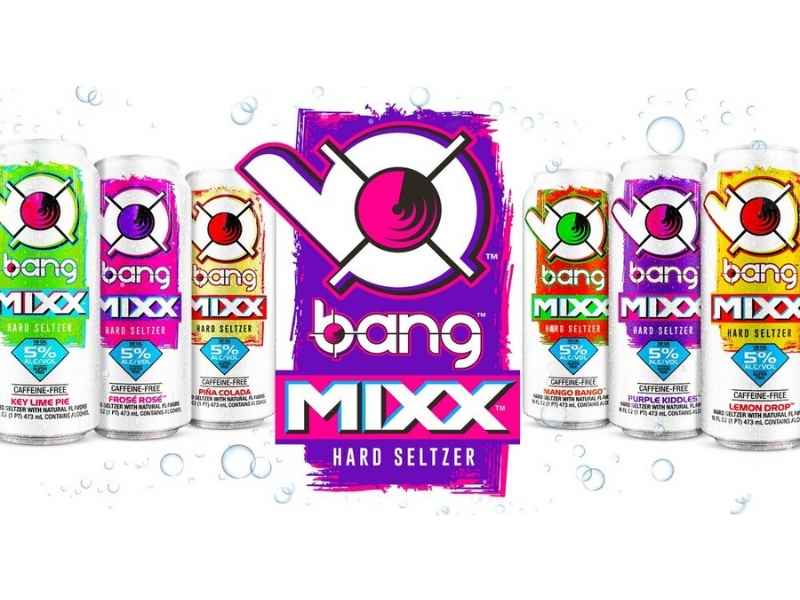 While introduced in late 2020, Bang Mixx hard seltzers are currently rolling out availability to a variety of states. Currently, you can get Bang Seltzers in these states:
Texas
California
Georgia
Ohio
Delaware
Alabama
Kansas
Pennsylvania
Arkansas
North Carolina
Mississippi
Michigan
Kentucky
New states are being added where you can find Bang Seltzer. Stay tuned, and we will keep you up to date.
What Stores Sell Bang Hard Seltzers?
If you are in one of the states that can get Bang Hard Seltzer, here are the chain stores / retailers to buy this keto alcoholic drink at:
Kroger
Publix
QuikTrip
Target
Total Wine
Where available, make sure to ask your local liquor store if they are able to stock Bang MIXX seltzer. Many local retailers are happy to do a custom order! Just make sure to ask and specify what Bang seltzer flavors you want them to order.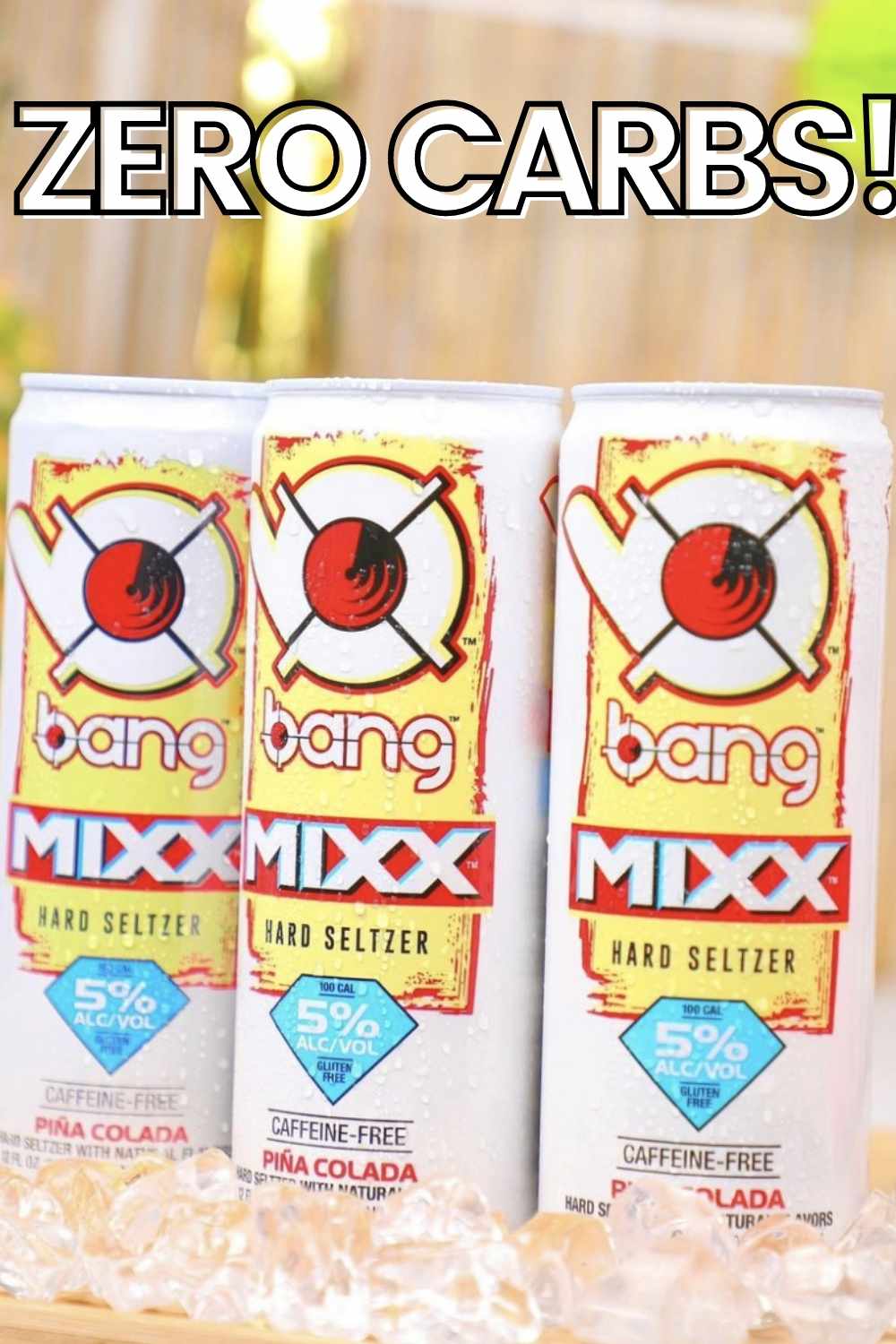 Looking for more Keto Energy Drinks – check up our entire round up where we talk energy shots and drinks.
I hope that answers your question of "Is Bang Keto Friendly?" Here are more answers to questions in regards to Bang being keto friendly.
How many carbs in Bang?
Bang energy drinks have zero carbs. Bang Keto Coffee drinks have between 5-6 carbs per drink (but also have 20 grams of protein!)
When is Bang Mixx being released?
Bang MIXX is the keto friendly hard seltzer that is slowly rolling out across the United States in 2021. Currently it is available in Delaware and soon North Carolina. Follow @BangMixx on Instagram for the latest updates on the hard seltzer release.
How much caffeine is in Bang?
Bang energy drinks have 300 mg of caffeine which is the equivalent to 3 cups of coffee. Bang Keto Coffee also has 300 mg of caffeine.
Is Bang Gluten free?
Bang energy drinks are gluten free.
How many ounces in a Bang drink?
Bang energy drinks contain 16 ounces of fluid.
Does Bang have alcohol?
The Bang Keto Coffee and their standard energy drinks do not have alcohol, but the new line of hard seltzers do contain alcohol.
Are Bang Seltzers keto friendly?
Yes! If you are looking for a low carb alcohol option, Bang Seltzers are a great choice!
What do Bang Mixx Seltzers taste like?
Bang Mixx Seltzers taste a lot like the Bang energy drink, with the exception there is no caffeine in the hard seltzer and there is 5% alcohol content.
How many MG of caffeine in Bang?
Bang energy drinks have 300 MG of caffeine, the same amount of caffeine in Bang Coffee. Note: Bang alcohol seltzers have zero caffeine.
The Daily Keto Blog is a crowd sourced resource! To make this the most valuable resource on the keto diet – we need to know what you want to know! HINT – This is the part where YOU come in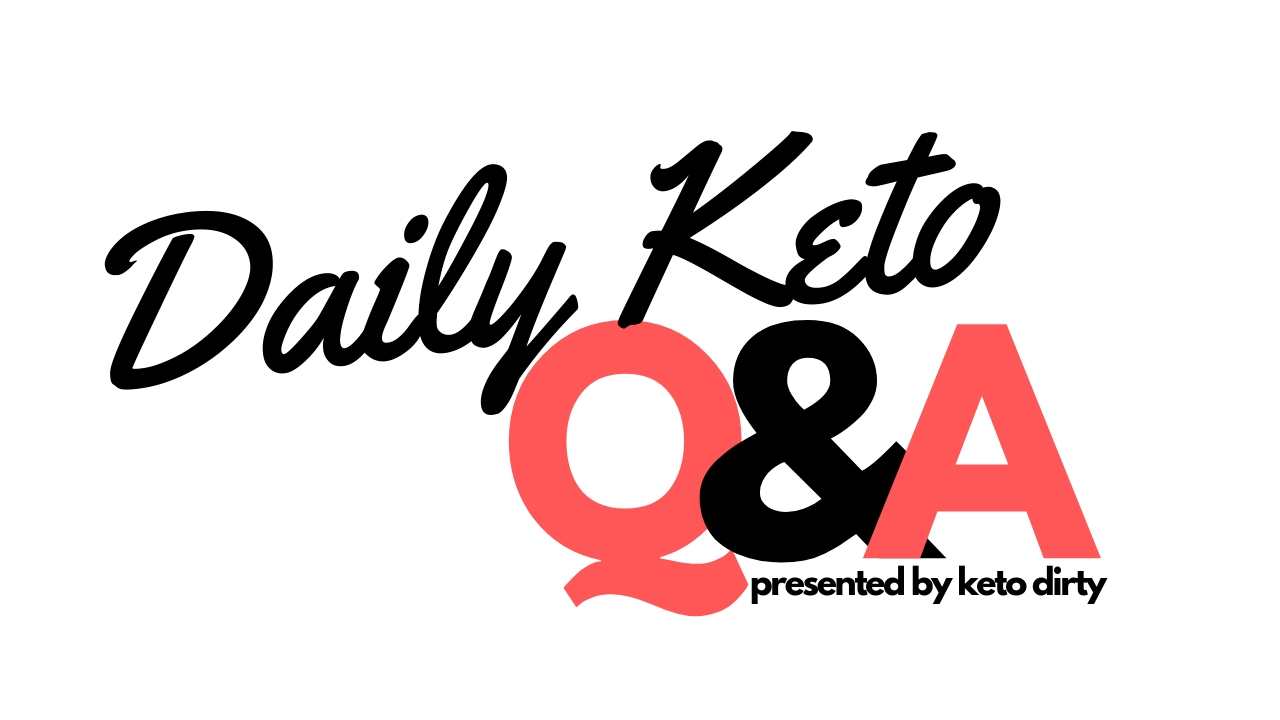 Is Bang Keto Friendly? is answered in the Daily Keto blog series on Keto Dirty
Follow Keto Dirty on Social – Facebook / Keto TikTok / Pinterest / Instagram