This week we are featuring funny BACON MEMES in our ongoing Monday Keto Memes series.
You guys, I mean what is the Keto diet without bacon? So of course, on this meme Monday we are sharing our favorite funny Bacon Memes! We love us some bacon and know that MOST of you do to – so figured this would be a great share.
Funny Bacon Memes
We know you love you some pork, and now you can share your bacon humor with your friends.
You either love it or you are wrong. It's as simple as that.
I TOTALLY do crunches. BACON CRUNCHES.
Is there ever any leftovers? RARE.
Oh Kevin Bacon, you are a meme dream.
You are right, you can't say no!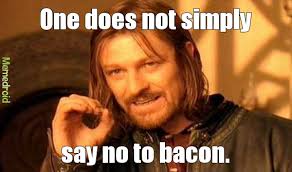 When you know it's near.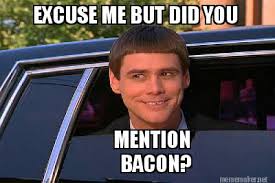 My kind of low carb, gluten free salad.
Quick question! Have you seen our chaffle recipe? Don't miss it – it's the perfect Keto recipe, but make sure to add bacon!
Turkey Bacon Meme
Turkey bacon is Not the same. These memes prove it.
Nope, it isn't! Turkey isn't pig.
MORE Funny Bacon Memes
Yoda smells it.
We love you, piggy. Thank you for your goodness.
This is VERY Lady Gaga. Introducing the Bacon Bra. I just don't know about this.
Real bacon does have curves.
Bacon Cakes
If you have a birthday and want to stay low carb or on Keto – make a bacon cake! Check these out!
Bacon birthday cupcake – PERFECT for s keto birthday cake!
Well, maybe you just want to taste of bacon but don't necessarily want to give up the chocolate cake. Hey, it's your birthday – don't blame you!
More Bacon Humor
God is good, so are pigs.
Oh that grease splatter.
It's not bad!
How to get the girl.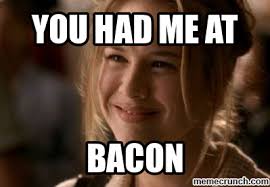 Redefining what BAE means.
How to make the perfect BLT.
Share These!
Here is more bacon fun to share. Make sure to tag us on social at @ketodirty.
When in doubt, just add bacon. Easy!
Keto can totally give you a body by bacon.
Looking for a keto snack? Check out our Bacon and String Cheese Keto Snack Idea!
MORE Funny Keto Memes