Download our free weight loss jar printable to help you visually track how much weight you have lost.
First you set you goal, then you watch what you eat, count the carbs and macros, keep count how many steps you take and how much water you take. That's all great, but let's be honest, we want weight loss.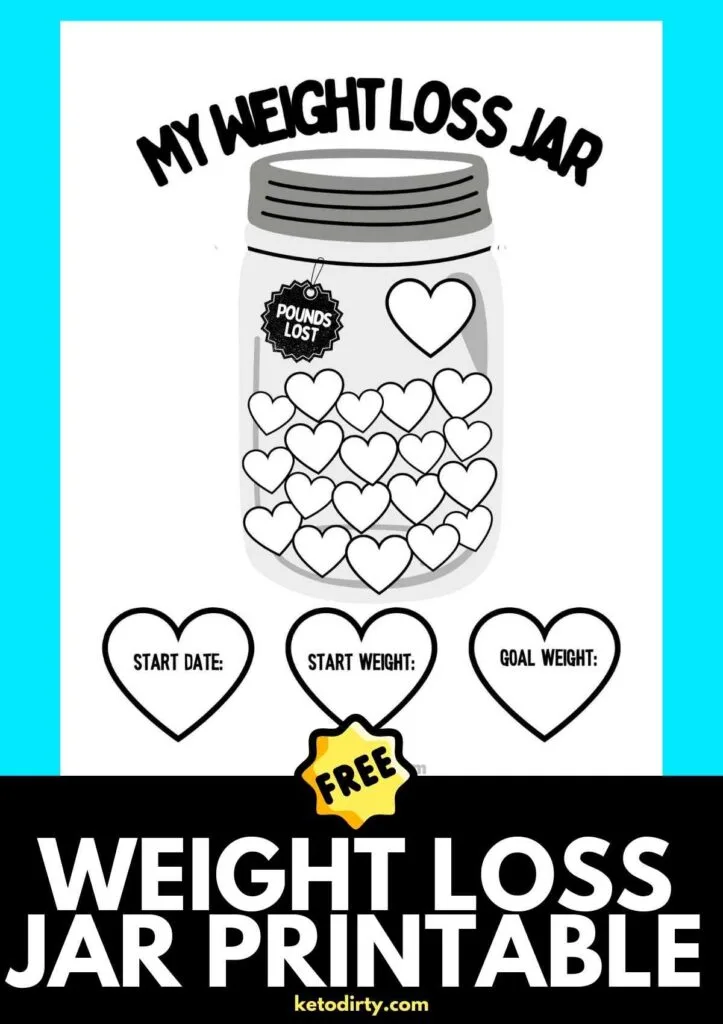 When on your weight loss journey, we have found an easy to way to stay motivated and remind you of just how awesome you are is to keep a visual representation of your actual weight loss.
Using our free weight loss jar printable, you can keep a visual of your weight loss progress!
Track Pounds Loss with Free Weight Loss Jar Printable
Our visual weight loss jar printable is free for our Keto Dirty friends. Simply download the weight loss jar PDF below and print on your favorite paper. We like to use 8.5×11 cardstock paper.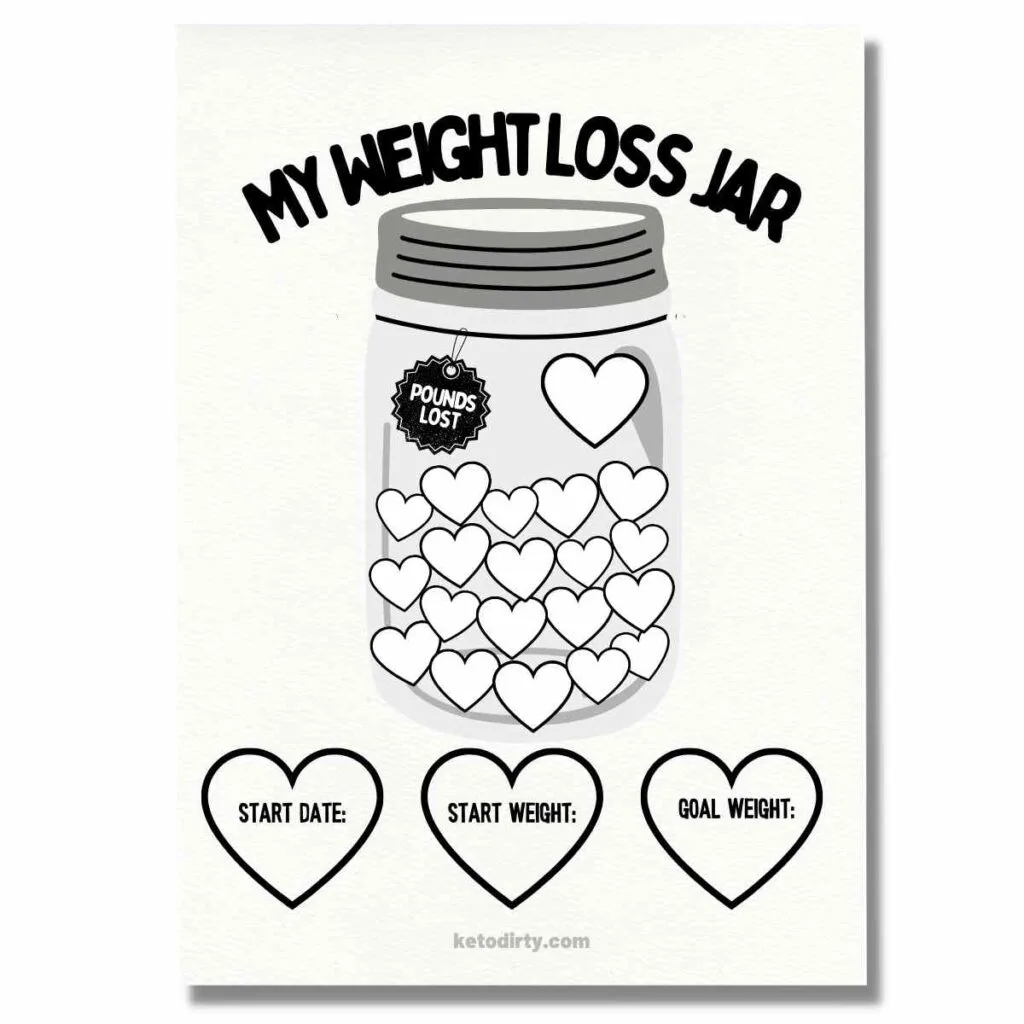 Next, you will want to hang your weight loss jar printable on the bathroom mirror or somewhere that you see daily. This will help keep you motivated. You can visualize how much weight you need to lose to your goal, as well as how much weight you have already lost!
This can be simply taping your weight loss jar to your mirror or framing and using a dry erase marker to make an update to how many pounds lost.
How to Use Printable PDF For Losing Pounds
To make this super easy, below we have illustrated instructions on what goes where when tracking your weight loss tracker.
How often you weigh yourself and update the weight loss jar printable PDF is up to you. If you weigh yourself weekly, update it weekly. As far as coloring in or marking off your weight loss, that also is up to you.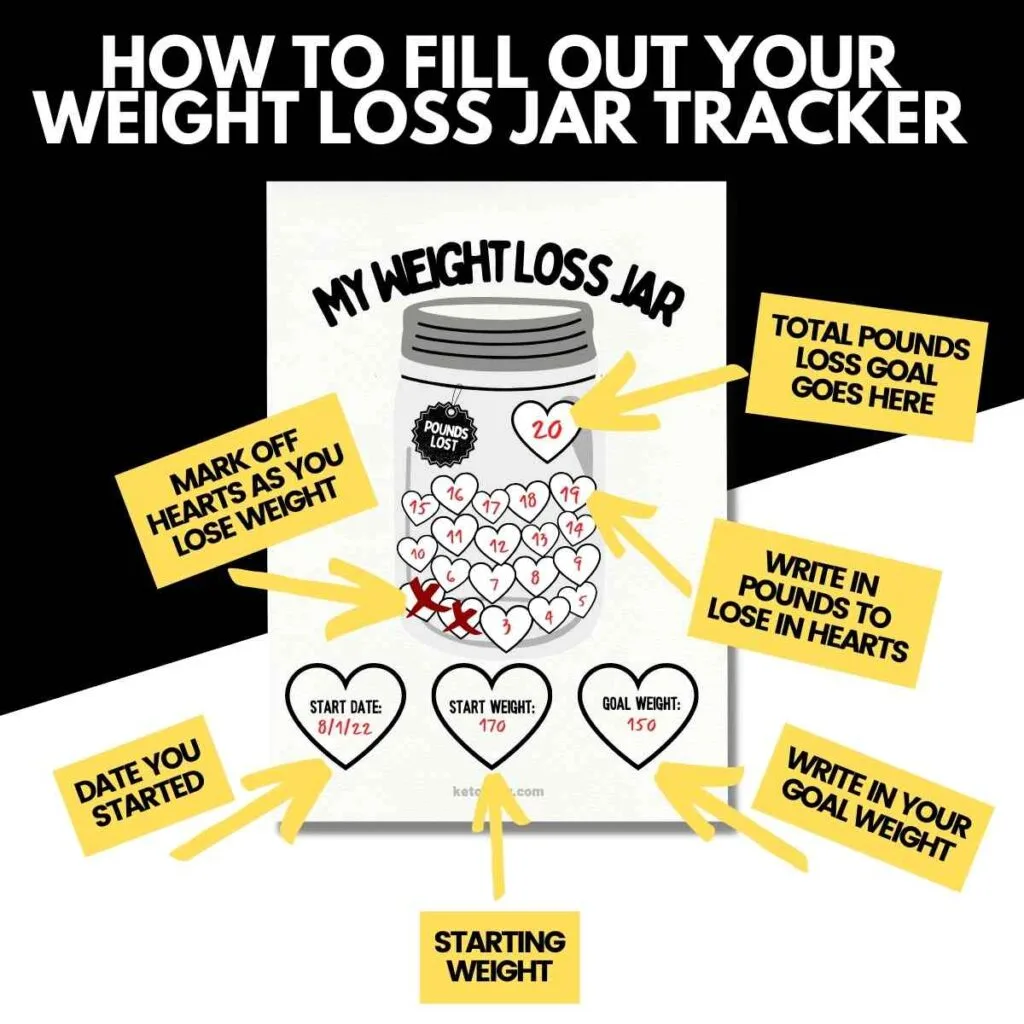 We want you to make this weight loss jar something that inspires you and makes you proud. Losing weight, whether you are eating keto or low carb, calorie restriction or a program like WW – this weight loss printable works with them all.
See your accomplishments in a visual format. And as mentioned in the title, just download, print and hang, our weight loss chart is ready for use in around a minute. Just make sure that there is paper in the printer and you aren't out of printer ink (it's happens to us all at all the wrong times!)
Blank Pounds Loss
We wanted our free weight loss jar tracker to be usable no matter how many pounds you want to lose! Our weight loss tracker pdf features blank hearts for you to fill in with your pounds loss goal and pound increments of your choosing, making this completely customizable!
Download Weight-Loss Tracker PDF
Here is how to download our free weight loss jar printable PDF. Simply enter your email below to become a member of Keto Dirty. You will then get immediate access to the download file after entering.
How Long Does it Take To Notice When You Lose Weight?
Do you ever feel like while the scale may say one weight, that you don't notice weight loss necessarily. Fret not, you aren't alone.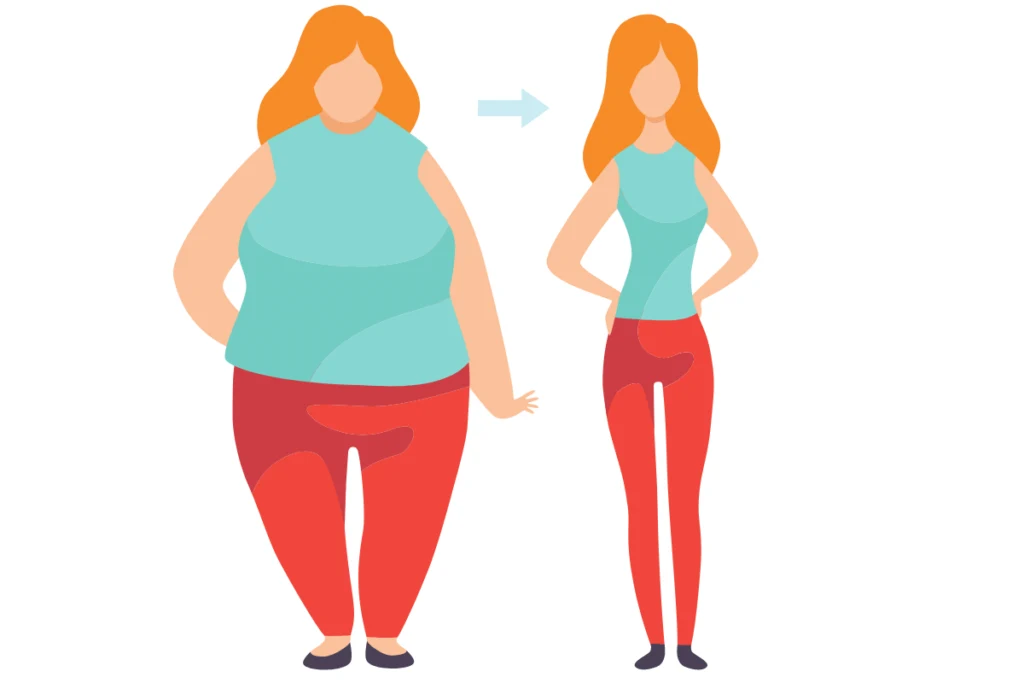 Here is an interesting post from Dr. Guzman, from Newsweek that will hope give you some food for thought as your journey to your healthy goal weight.
Dr. Macklin E. Guzman, chief science officer for the Medi-Weightloss program, told Newsweek that "there are varying opinions and a lot of subjectivity and little research on the topic." However, "on average, it takes approximately four weeks for others to notice weight loss."

Guzman also pointed out that a 10-pound loss in one individual "may look completely different" than a 10-pound loss in another. Those with larger frames and bodies tend to "see weight loss a lot quicker" than individuals with smaller frames.

Other factors, such as how often you see someone, can also play a role.

Someone who sees you daily, such as a colleague, may notice your weight loss incrementally versus someone who sees you once a month or every couple of months. Spouses also tend to notice weight loss sooner because they know your body more intimately, Guzman said.

If you want your weight loss to be noticed more quickly, "change your wardrobe from more ill-fitting clothes to ones that are more tailored," he advised.

Newsweek.com
Start Tracking Lost Pounds Today!
We hope you enjoy this Keto Dirty exclusive free printable weight loss jar PDF to help you track all of those hard earned pounds loss.
Follow Keto Dirty on Social – Facebook / Keto TikTok / Pinterest / Instagram
Keto Dirty is reader supported. When you buy through links on our website, we may earn an affiliate commission.