Smoked Jalapeno Poppers – you guys, these are the BOMB and KETO! We are making brisket jalapeno poppers with cheese that you will love.
We were hanging at my brother's house this weekend. He is master of the grill and smoker. His new tool, the Green Egg and wow – time to buy one. With all the meat he smokes, it's always good to stay Keto – now when his wife brings out the wine, that's when we get in trouble.
Brisket Jalapeno Poppers
Along with the wine, she brought out these brisket jalapeno poppers that were amazeballs. I knew I had to share these keto smoked jalapeno poppers with you.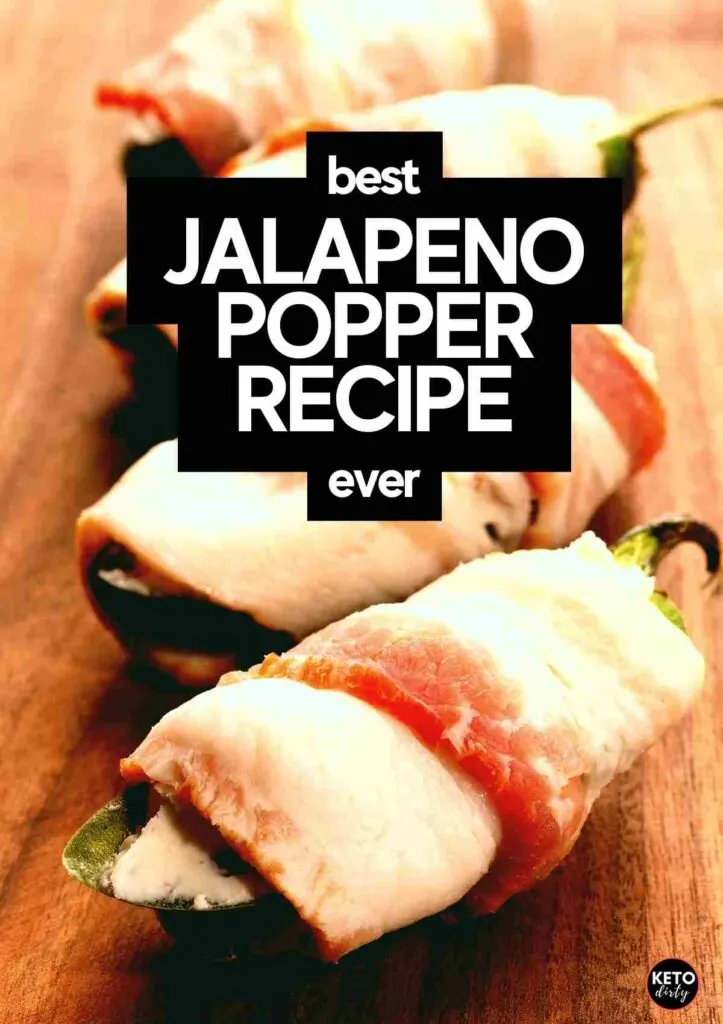 The highlight of this weekend's meal was my brother's Smoked Jalapeno Poppers. I mean, I have made these many times, but these poppers are the real deal, y'all. To make these jalapenos more of a keto recipe, he included BRISKET.
How to Make Jalapeno Poppers
These brisket smoked jalapeno poppers include all kinds of goodness. Let's dive in and look at how to make these delicious keto peppers! We had pre-made brisket, eliminating the step of smoking a brisket in addition to the peppers. You will need approximately 1/4 pound of brisket for this keto meal.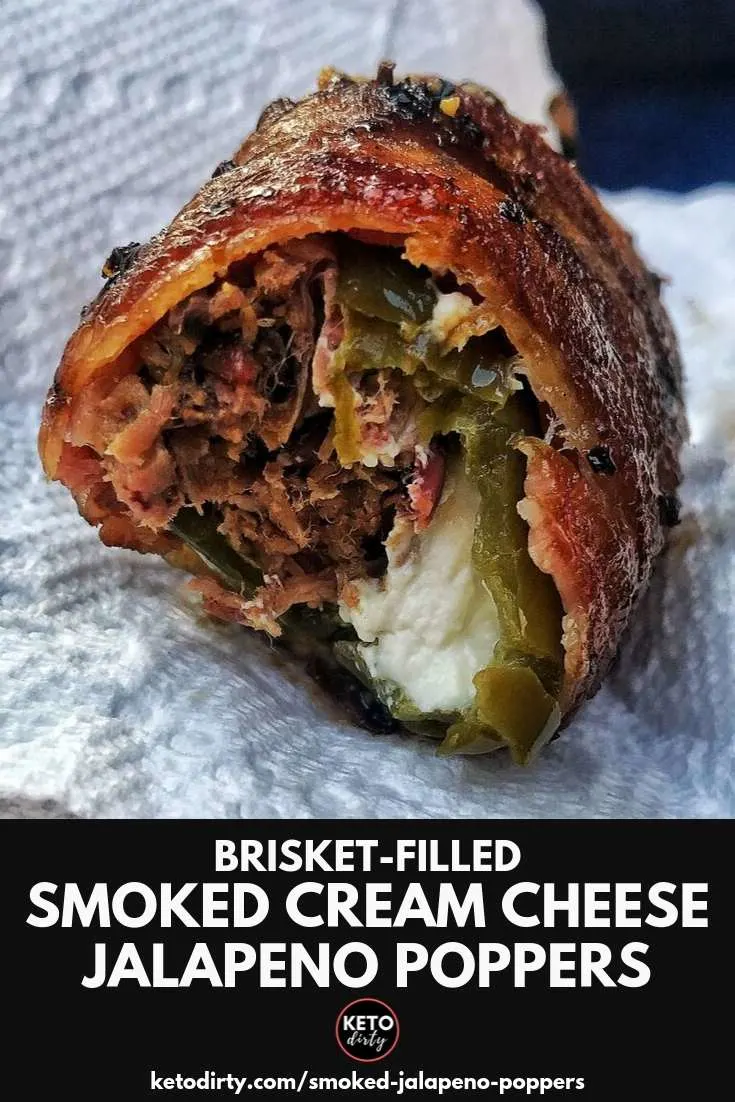 Prepping the Jalapenos
The first step of making poppers is cleaning and prepping the jalapenos. Here are a few tips to know before you make your dish.
Mild Jalapeño Poppers
If you like just a little bit of heat, one way to help your peppers be a bit milder is to clean your jalapeños well! I scrape out the seeds and then take an extra step and wash the peppers. Remove any of the pepper membrane inside of the pepper.
Spicy Jalapeno Poppers
Do you want your jalapeno poppers to be more spicy? I hear you, I love me some HEAT! This is super easy – but know your audience. Jalapenos can be insanely hot. If you are wanting more heat to our peppers, when cleaning out your jalapenos – remove as many pepper seeds as possible.
If I am needing to make a mild batch of jalapeno poppers, I will clean the pepper seeds and then wash out the peppers in the sink to ensure that there are no peppers and minimal pepper juice that can increase the heat.
Wash Your Hands
Make sure that you wash your hands well with soap after cleaning your jalapenos. I can't even tell you the pain that jalapeno juice in the eyeball hurts! When making these in bulk, I have used plastic gloves which work well!
Overwhelming Smell
Something else to be cautious, when washing the peppers – I have been overwhelmed with the smell of the peppers.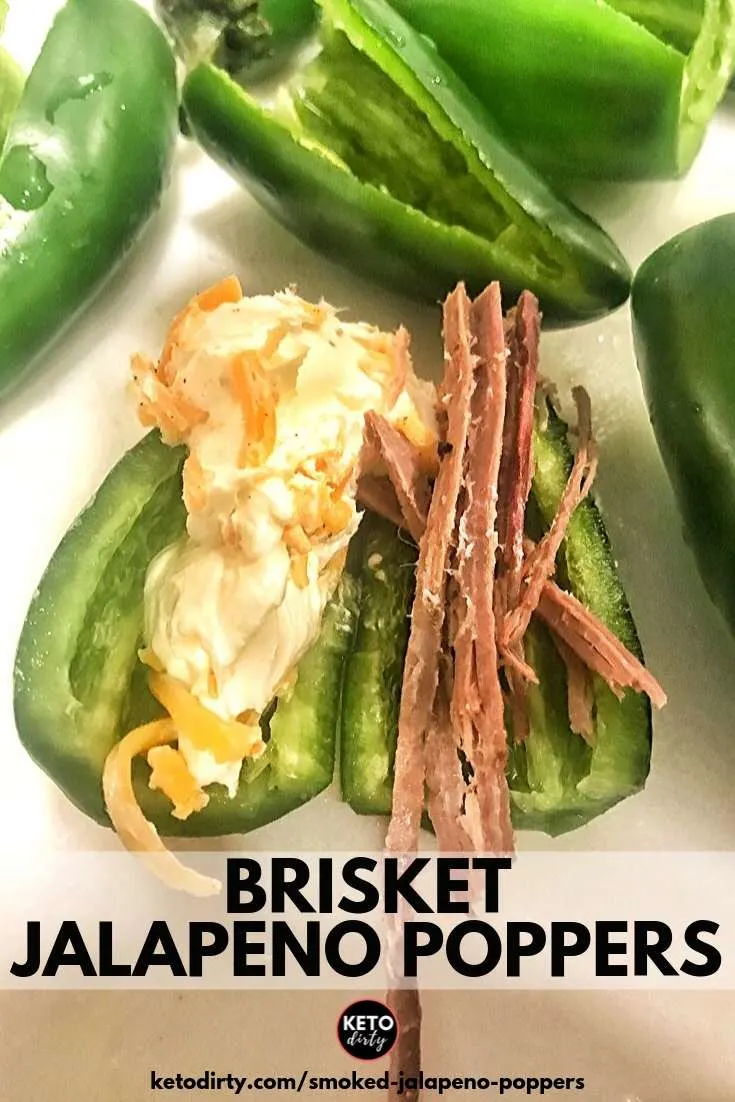 So much so, I was gasping for air. Just be careful and clean in a well vented area. Walking outside for some fresh air helped me!
Every Pepper is Different
Every jalapeno is different! Some are mild, some spicy. If someone has a way to tell which are which, please share!
Use Leftover Brisket
If you've been around here for a hot second, you know this girl loves her left overs. I am all about making large quantities of meat and then using it through-out the week for various meals.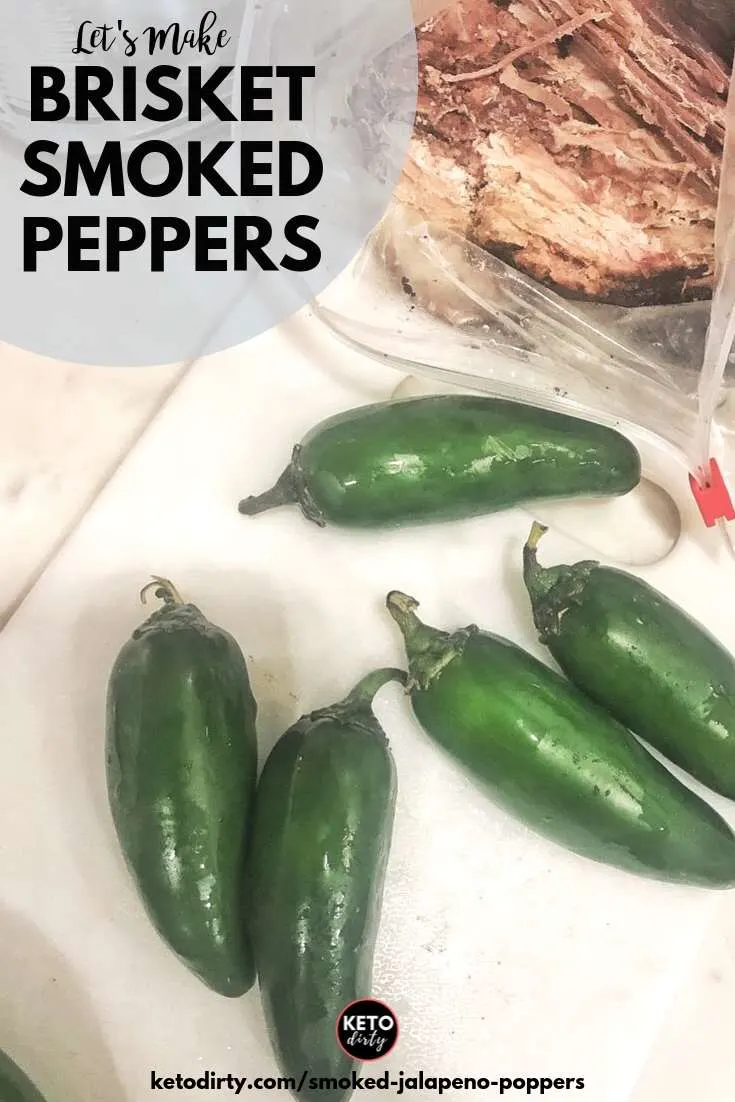 Also, I have a family of 6 – yes 4 kids that I cook for. Of course, it would be fabulous if everyone was on the same diet – but that would just make my life too easy.
All that said, make yourself a huge brisket! Slap it on 2 pieces of Sola keto bread. Or just cut it up and eat it through-out the week. Just don't forget to make this smoked brisket jalapeno poppers recipe!
Make Those Cream Cheese Jalapeno Poppers!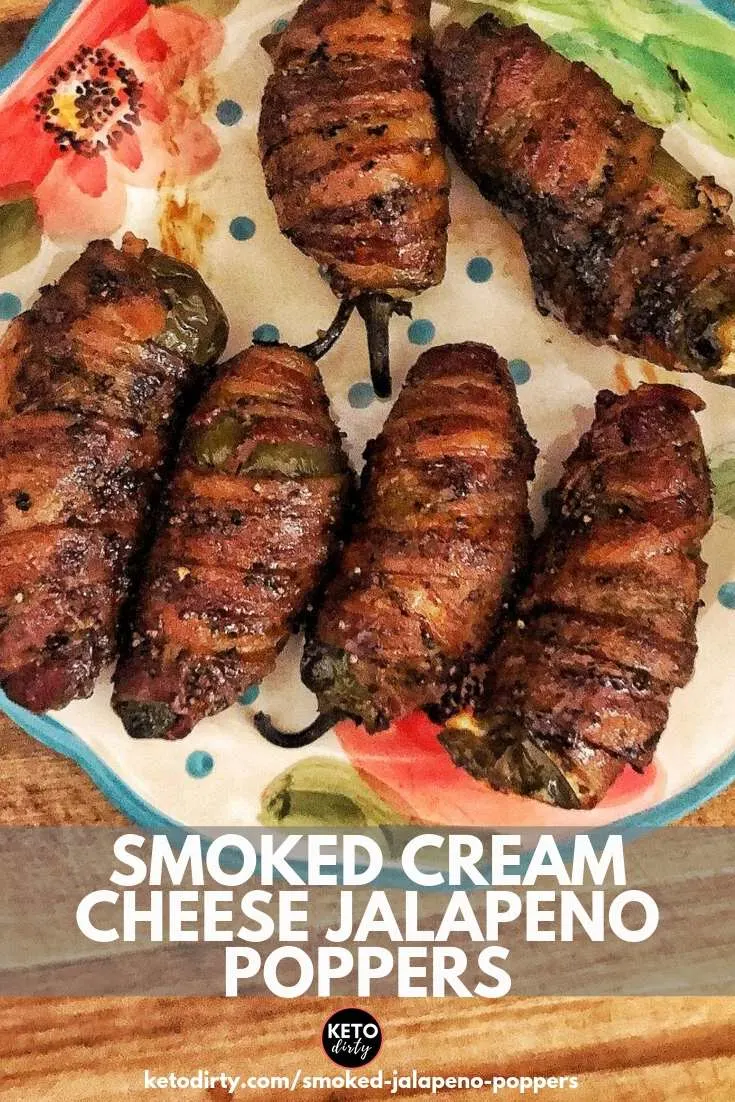 More Keto Appetizers
If you loved our smoked jalapeno poppers then don't miss out on our other keto appetizers!
We love some peppers – did you see our Piquillo Stuffed Pepper Recipe?
Follow Keto Dirty on Social – Facebook / Keto TikTok / Pinterest / Instagram
Smoked Keto Jalapeno Poppers is part of the Keto Dirty series of Keto Appetizers