YUMMY – Let's Make Keto Whipped Cream! This delicious low carb recipe contains zero carbs.
Folks, today in our low carb world we are showing you a keto recipe that hopefully bring a big smile to your face. We are talking keto whipped cream.
As we say here, we do keto dirty, or dirty keto – so again, if you are hard core, this deliciousness may not be for you.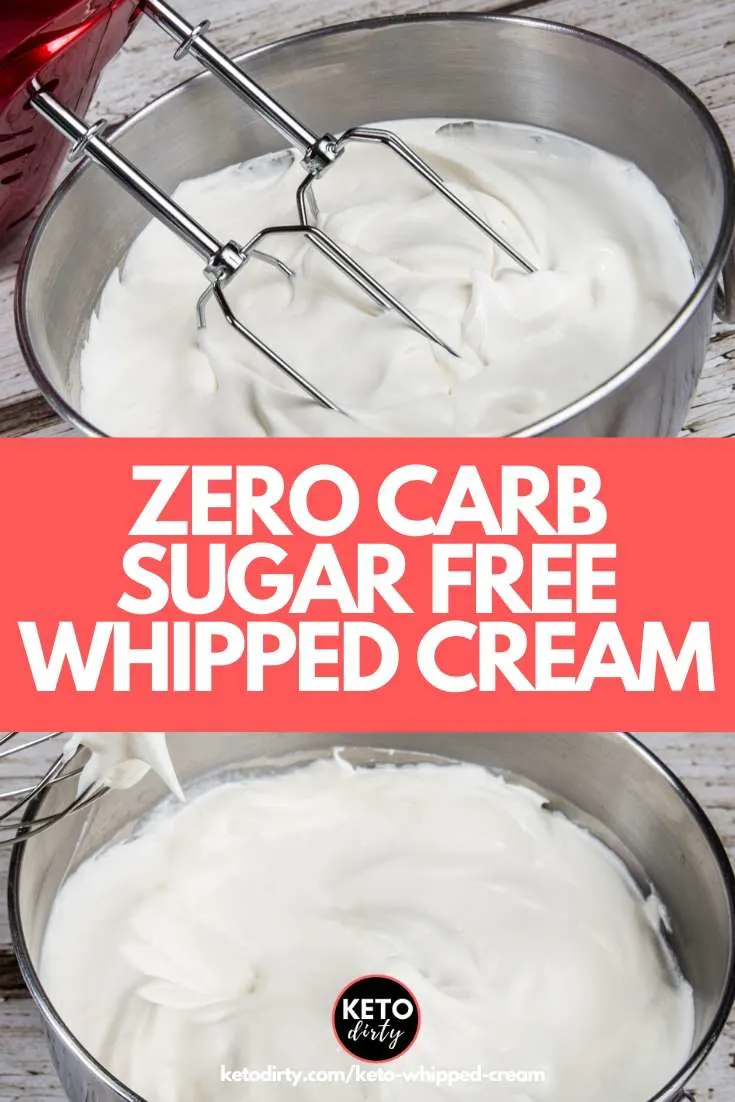 Then again, maybe you are like most of us who are just wanting to follow the low carb life, so you totally are down for some homemade sugar free whipped cream goodness. You folk are who I am talking to.
Let's Learn How to Make Homemade Keto Whipped Cream
So how do you make keto whipped cream? It's super simple with basic ingredients that most low carb dieters will have handy.
Keto Whipped Cream Ingredients
Here are the 3 keto whipped cream ingredients you will need to make this:
Heavy Whipping Cream
Low Carb Sweetener (of your choice)
You will want to use either a whisk tool, a stand mixer or a hand mixer to make this recipe.
Low Carb Whipped Cream Uses
The beautiful things about our easy keto whipped cream recipe is that it just requires a few ingredients and can be used in many different ways!
I personally, am not above eating this yummy fluff topping by itself – but here are a few other ways that you can use it with your keto diet.
The options are up to you, but before you can use it – we have to make it! Let's make some low carb whipped cream.
Heavy Cream Walmart Options
When making your diy keto whipped cream, note I just buy my heavy cream Walmart brand (it's technically heavy whipping cream Walmart brand.)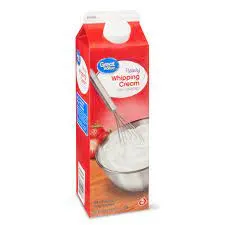 The heavy cream is slightly different than heavy whipping cream but for the purposes of this recipe – the HWC is just fine!. The taste of the heavy cream Walmart brand tastes the same as any of the heavy cream name brands. Bonus – you will save a buck by buying Walmart generic!
Buy Sugar Free Whipped Cream
There are a few in-store options if you don't want to make keto whipped cream. Here is the low down on what sugar free whipped cream you can buy at the grocery store, what the ingredients are and how many carbs it will cost you.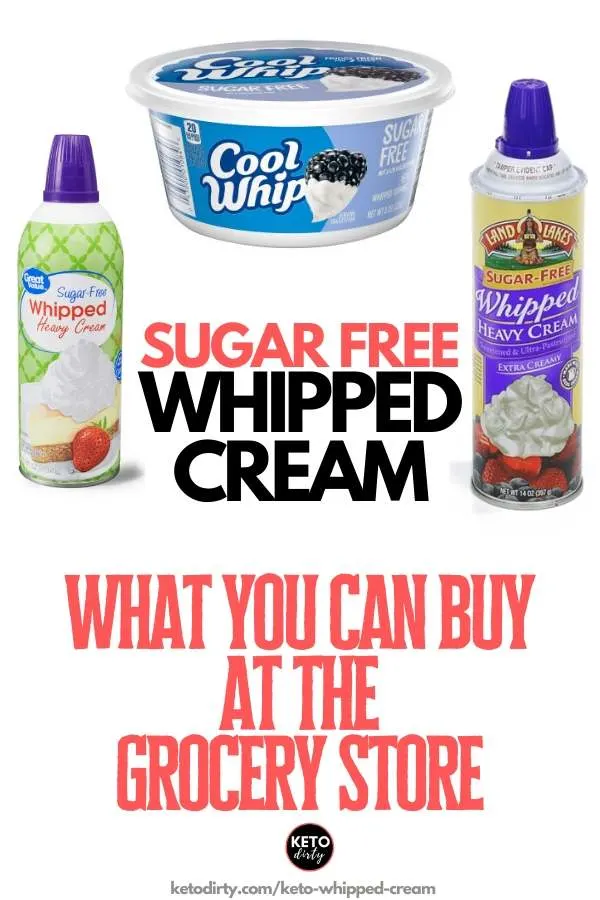 Sugar Free Cool Whip Keto Cream
Cool Whip was a staple in our house growing up, so I had to see if there was a sugar free option. Sure enough, Sugar Free Cool Whip is a thing.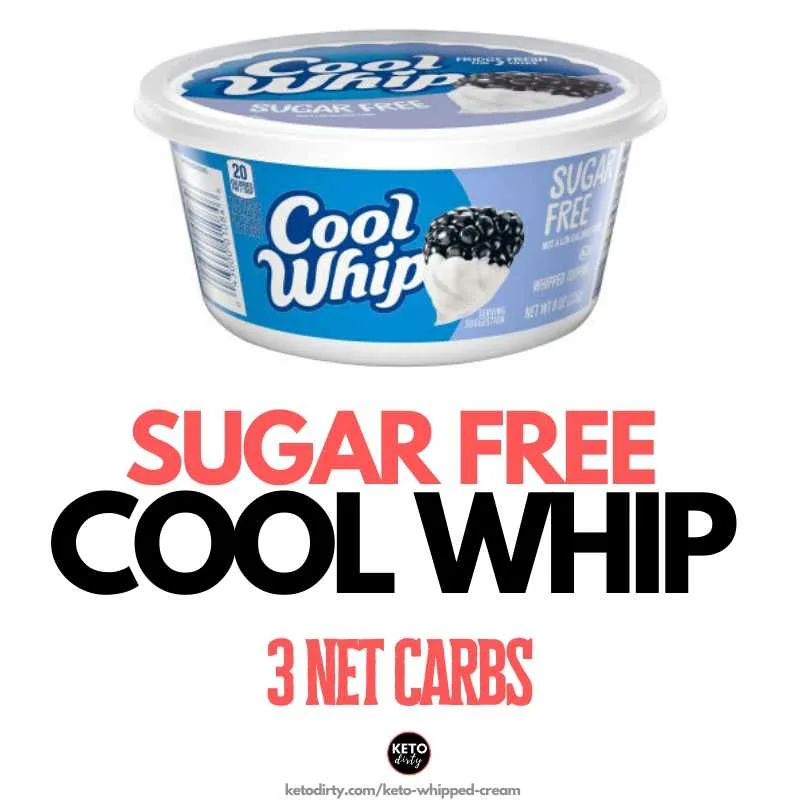 If you are worried about eating corn syrup – you may want to avoid sugar free Cool Whip.
Carbs in Cool Whip
There are 3 net carbs in 2 tablespoons of SF Cool Whip.
Land o Lakes Whipped Cream Sugar Free
Being a household brand, Land o Lakes made a smart move making a sugar free whipped cream aerosol. This comes in a can, but you may have to do some searching to find it. I couldn't find it in stock at any of the Walmart grocery stores – but this may be due to popularity!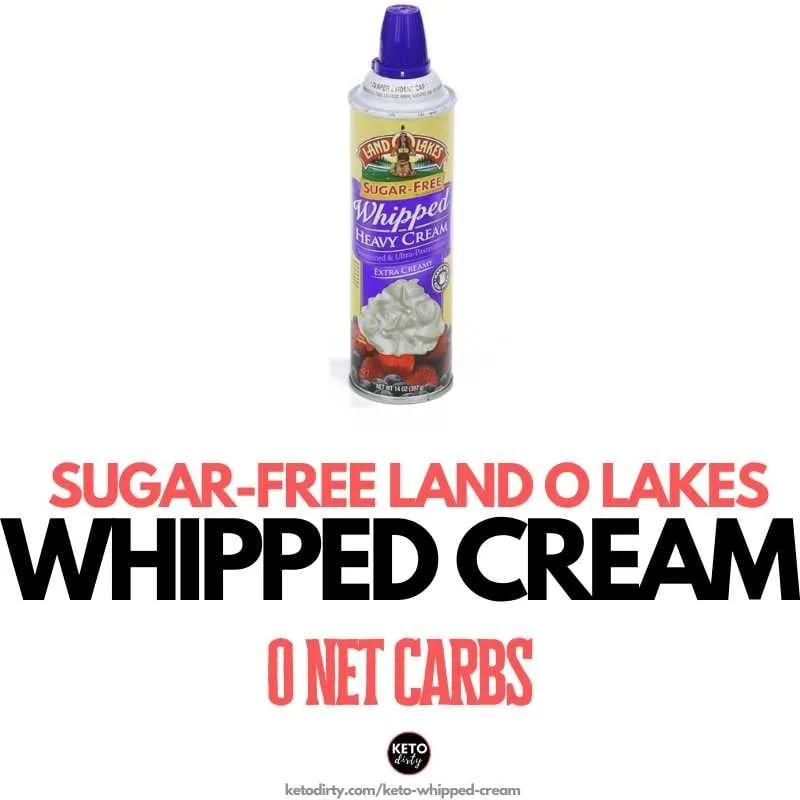 Here are the Land o Lakes Sugar Free Whipped Cream ingredients: HEAVY CREAM*, CONTAINS 2% OR LESS OF: NONFAT MILK*, SORBITAN MONOSTEARATE, ARTIFICIAL FLAVOR, CARRAGEENAN, SUCRALOSE, MIXED TOCOPHEROLS (VITAMIN E) TO PROTECT FLAVOR. PROPELLANT: NITROUS OXIDE.
The good news is that the Land of Lakes Sugar Free Whipped Cream has ZERO net carbs.
Great Value Sugar Free Whipped Cream
Walmart's Great Value brand is their generic store brand of grocery products. Great Value has a sugar free no carb whipped cream option that is affordable and tastes delicious.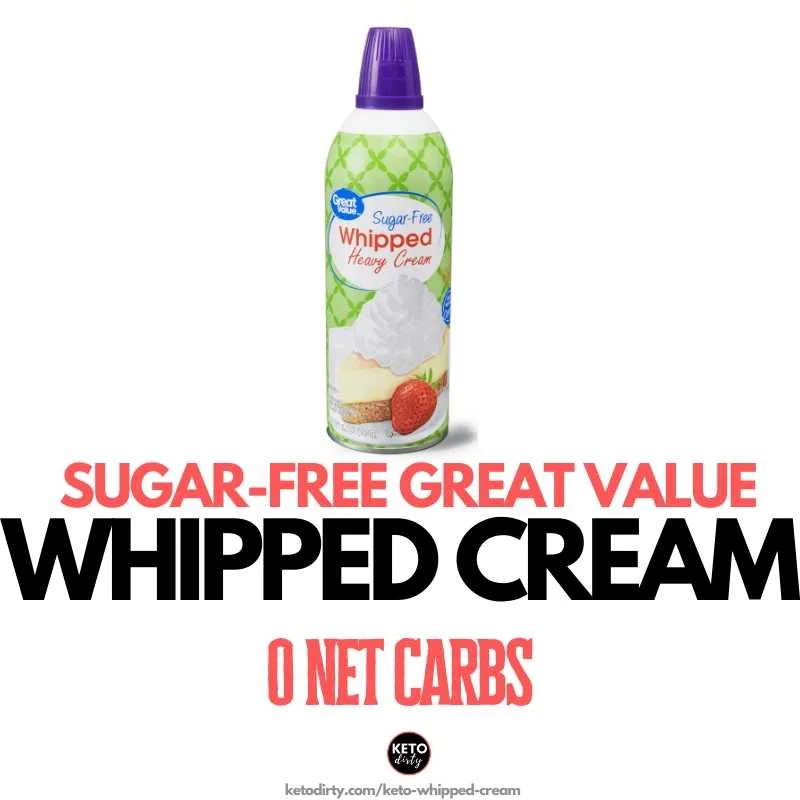 Great Value Sugar Free Whipped Cream ingredients: HEAVY CREAM** NONFAT MILK**, CONTAINS LESS THAN 1% OF ARTIFICIAL FLAVOR, SORBITAN MONOSTEARATE, CARRAGEENAN SUCRALOSE TOCOPHEROLS (TO PROTECT FLAVOR). PROPELLANT: NITROUS OXIDE. **ADDS A TRIVIAL AMOUNT OF SUGAR. tINGREDIENT NOT IN REGULAR WHIPPED HEAVY CREAM.
The Great Value canned SF whipped cream makes a great zero carb sugar free whipped cream option!
Great value is Walmart's store brand. It is comparable to the name brand items in taste, quality and net carbs.
Homemade Keto Whipped Cream
We hope you enjoyed our homemade keto whipped cream recipe! Make sure to check out all of our low carb desserts.
Keto Whipped Cream is part of Keto Dirty and the Daily Keto Blog
Follow Keto Dirty on Social – Facebook / Keto TikTok / Pinterest / Instagram
Keto Dirty is reader supported. When you buy through links on our website, we may earn an affiliate commission.