Keto chocolate chip cookies with brown butter are so good so don't make a lot of these! Let's start low carb baking.
I know. You are doing great doing low carb, but then you really just want something chocolate, but don't want regular keto chocolate candy. You want something warm, yummy. What you want is keto chocolate chip cookies.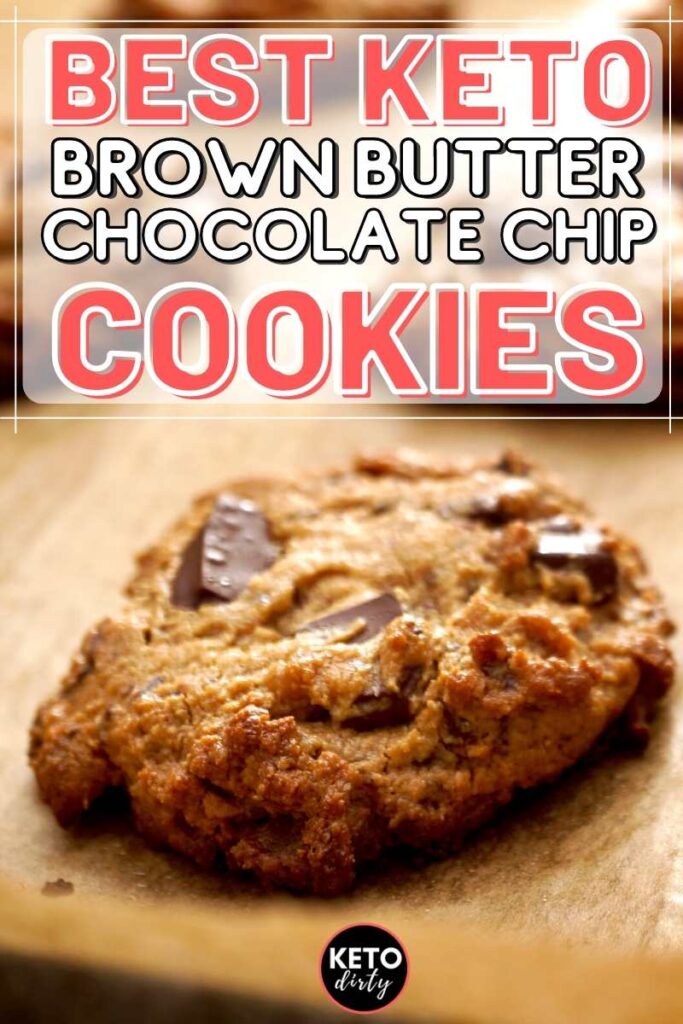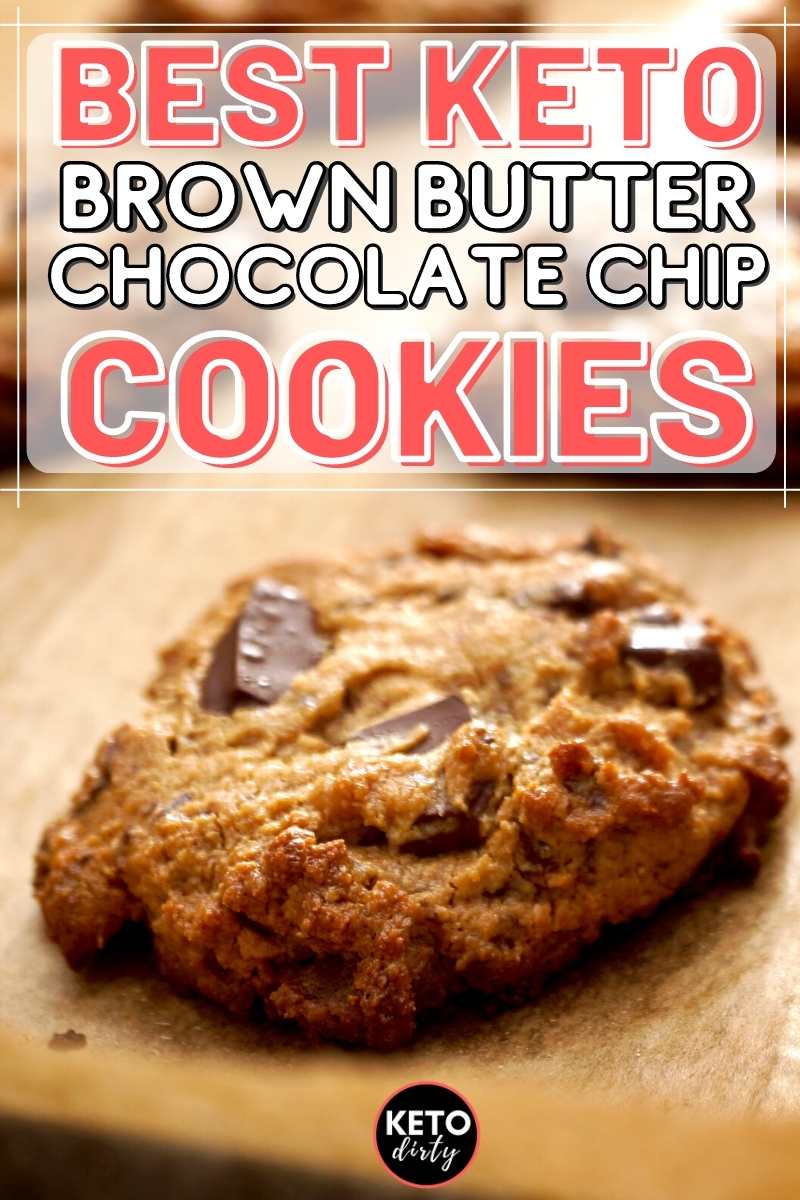 What Does Keto Chocolate Chip Cookies Even Mean?
Let's talk quickly about keto chocolate chip cookies. These are low carb chocolate chip cookies. When I say keto – what this means is that keto means it that from this cookie you will get more calories from protein and fat and less from carbohydrates.
These low carb chocolate chip cookies are not an all day everyday treat. That said, if you are needing a sweet and craving a cookie – enjoy one without wrecking your entire dirty keto diet.
Why Keto Brown Butter Chocolate Chip Cookies?
So you have had regular keto chocolate chip cookies, so what's up with the brown butter, you ask? You guys, by browning the butter you are introducing a yummy delicious nutty buttery taste to this treat.
Let's dive in and make some deliciousness and start baking.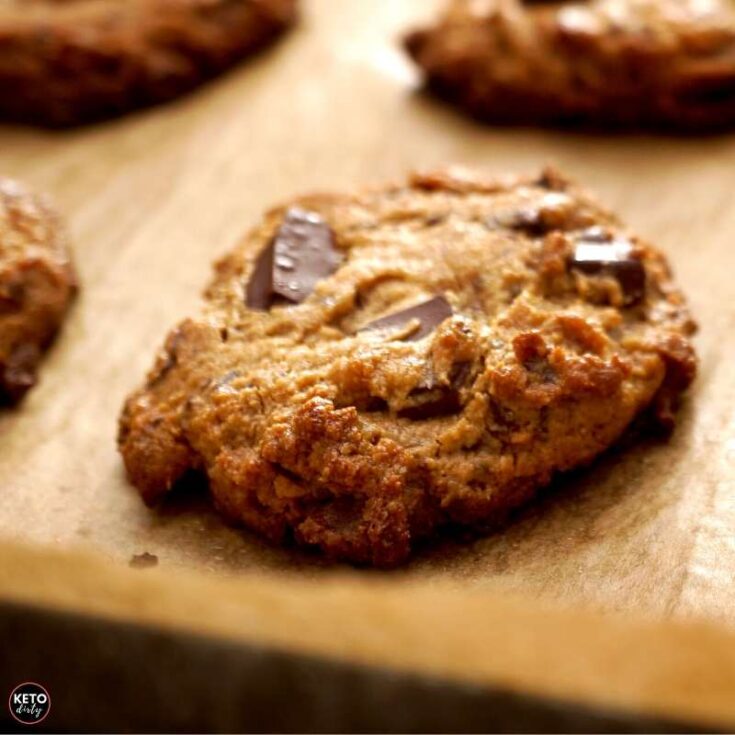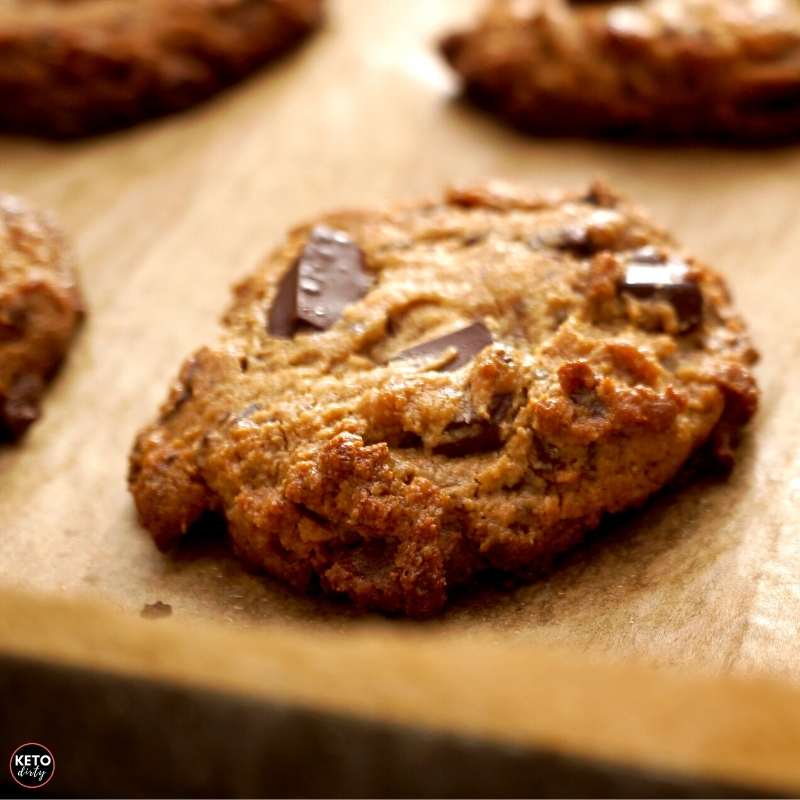 Yield:

12
Brown Butter Keto Chocolate Chip Cookies
Total Time:
1 hour
10 minutes
Our brown butter keto chocolate chip cookies are the yummy treat that you have been craving. If you are a cookie monster but hate the carbs, you are welcome. These delicious low carb cookies are a great alternative without the blood sugar spike and carbs!
Ingredients
Almond Flour - 1 cup
Butter - 1 stick
Xanthan Gum - 1/4 teaspoon
Baking Powder - 1/4 teaspoon
Salt - 1/8 teaspoon
Egg - 1
Swerve - 1/2 cup
Cinnamon - 1/4 teaspoon
Vanilla Extract - 1 teaspoon
Sugar Free Chocolate Chips - 3 Ounces
Cookie Baking Supplies
Mixing Bowl
Cookie Sheet
Parchment Paper
Cookie Scoop
Mixer
Instructions
Preheat the oven to 350 degrees fahrenheit

Brown the butter in a sauce pan over low heat. Make sure to move the butter as it melts and watch that it does not burn. This will create a brown butter nutty taste so it is worth this step! The melted butter will turn from a bright yellow color to an amber color and will smell like heaven. When browned, the butter will have brown butter residue at the bottom of the saucepan.

Remove browned butter from the stove and place in the fridge for around 20 minutes or until completely cooled.
While the brown butter is cooling, lets start the cookie dough!
Mix your almond flour, baking powder, cinnamon, salt, xanthan gum in a mixing bowl.
Once the butter is cooled, you will want to mix the butter, with the dry ingredient and add in the swerve sweetener.
Next add in your egg and the vanilla extract.

Last but not least, mix in the star of this recipe - the sugar free chocolate chips.
If you can fit a cookie sheet into your freezer, follow this: Using a cookie scoop, make take the keto cookie dough and place the 12 keto cookie dough balls onto a cookie sheet with parchment paper. Place in freezer for approximately 10 minutes (the dough should be firm - may take a few minutes longer depending on size and your freezer.)

If you can't ft a cookie sheet into your freezer - place the cookie dough bowl into the freezer for around 15 minutes. Remove from freezer and using cookie scoop, place 12 cookie dough balls on to parchment paper on a cookie sheet.

Bake these delicious keto cookies for approximately 12 minutes. If you like your cookies harder, cook for up to 14 minutes.
I know, you want to eat the cookies - but wait a hot second. Transfer the cookies to a cooling rack and stare at them for 2 minutes.
You have earned a cookie. Eat, enjoy and don't eat them all. You also may want to hide these as this delicious cookie is known to be stolen frequently by people who are not on the keto diet but can't resist the yumminess.
Notes
A few things, our brown butter keto chocolate chip cookies are not a super quick make. These do take a little more time with freezing the dough. These may take a few more minutes but we do think you will agree that they are worth the extra few minutes!
Recommended Products
As an Amazon Associate and member of other affiliate programs, I earn from qualifying purchases.
Nutrition Information:
Yield:
12
Serving Size:
1
Amount Per Serving:
Calories:

173
Total Fat:

16g
Saturated Fat:

7g
Trans Fat:

0g
Unsaturated Fat:

8g
Cholesterol:

36mg
Sodium:

98mg
Carbohydrates:

5g
Net Carbohydrates:

3g
Fiber:

2g
Sugar:

0g
Sugar Alcohols:

1g
Protein:

3g
Nutritional data provided and calculated by Nutrionix is approximate. Use your specific ingredient and quantity to determine the accurate nutritional data for your keto chocolate chip cookies.
Breaking Down the Low Carb Chocolate Chip Cookies Ingredients
For those curious about the low carb chocolate chip cookies ingredients while on the dirty keto diet, let's break these down individually.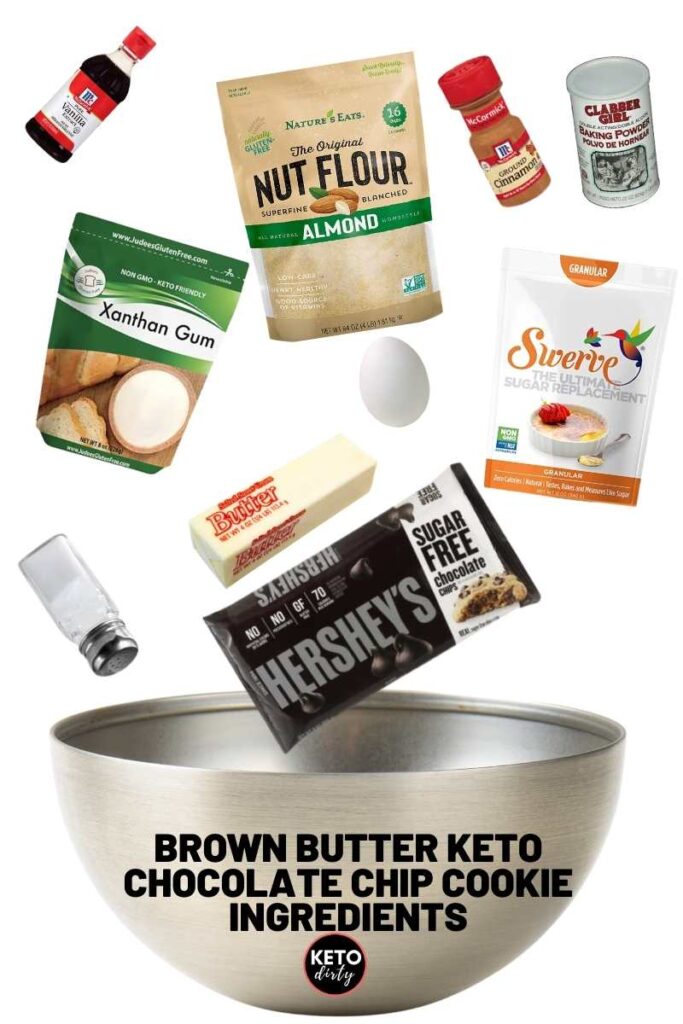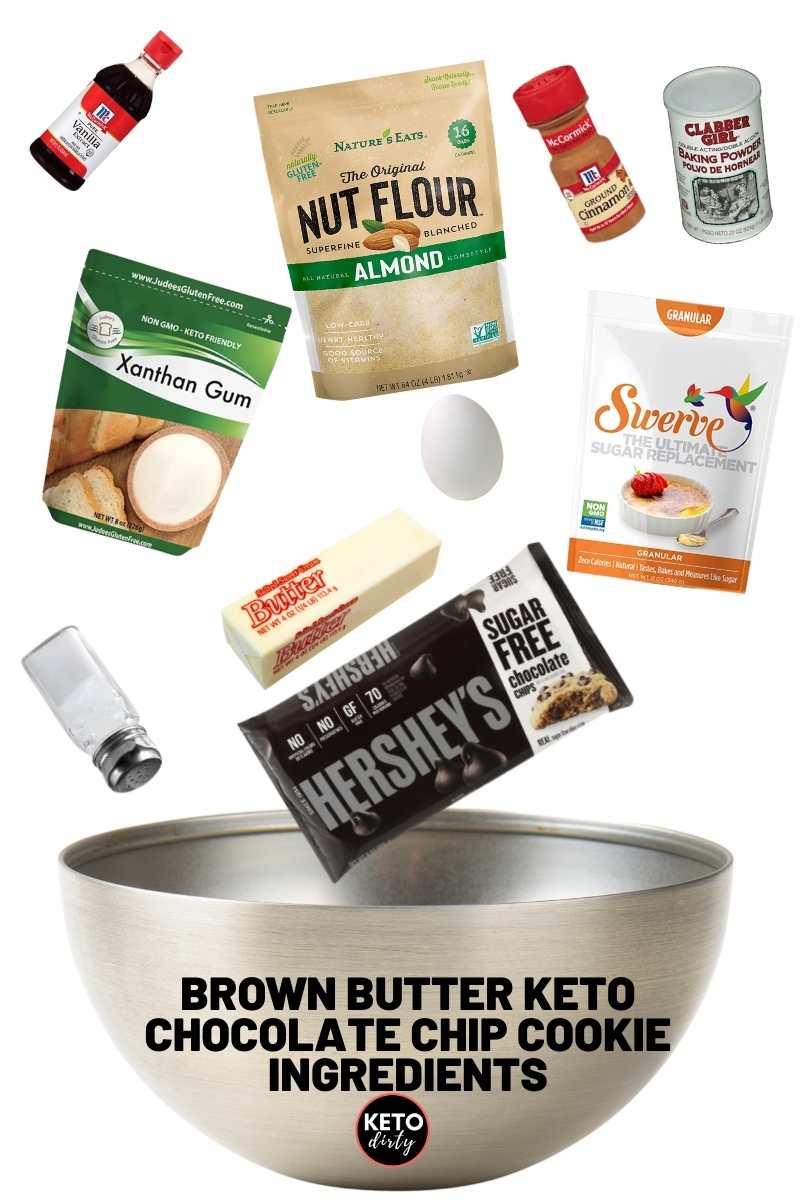 Butter – we brown the butter to deepen the flavor. This is a game changer in adding flavor to this sweet keto treat
Sweetener – personally, we like to use Swerve sugar replacement for low carb baking
Eggs – because eggs make things stick together
Almond Flour – no white flour here, we use almond flour. Read below we are sharing how to use coconut flour instead of almond flour in this recipe!
Baking Powder – helps create fluffy keto cookies!
Salt – for taste and who doesn't like being a little salty?
Vanilla Extract – flavor baby – its all about the vanilla
Cinnamon – just a hint, and totally optional but love the sneak flavor this gives the cookies
Xantham Gum – provides elasticity and stickiness to our keto chocolate chip cookie dough. Xantham gum is a binding agent
Sugar Free Chocolate Chips – because regular chocolate chip cookies are a no. Plus these sugar free chocolate chips and delicious but don't eat a ton of them (see post of diarrhea on keto)
Using Coconut Flour Instead of Almond Flour
Looking for an almond flour alternative? If you are making these keto chocolate chip cookies and either don't have almond flour or use coconut flour, no worries. We got you!
Coconut flour is a half of almond flour. 1 cup of almond flour is 1/2 cup coconut flour. This is generic info. Look at your dough and figure out and test – but coconut flour can be used as an alternative (though we recommend almond flour to get the great brown butter chocolate chip cookie taste!)
Xantham Gum Alternative
Don't have xantham gum? If you are desperate and don't mind adding some extra carbs, we have a xantham gum alternative. Corn starch! Do know that corn starch will up your carb count hence why we recommend using xantham gum.
Sugar Alcohol – Swerve and Sugar Free Chocolate Chips
Remember to not over do it on the sugar alcohol.
About Sugar Free Chocolate Chips
A few things about the sugar free chocolate chips used this in recipe.
No Baking Chips
Make sure that you are using sugar free chocolate chips and not baking chips. Baking chips contain oil that melts faster and easier, which isn't good when making these brown butter keto chocolate chip cookies.
Chocolate Chip Alternative – Carob Chips
If you don't do chocolate, or perhaps (God BLESS, YOU) have a chocolate allergy – you can use carob chips. Make sure to check out carb counts.
Keto Chocolate Chip Cookie Tips
Here are a few Keto chocolate chip cookie tips for when making this delicious treat.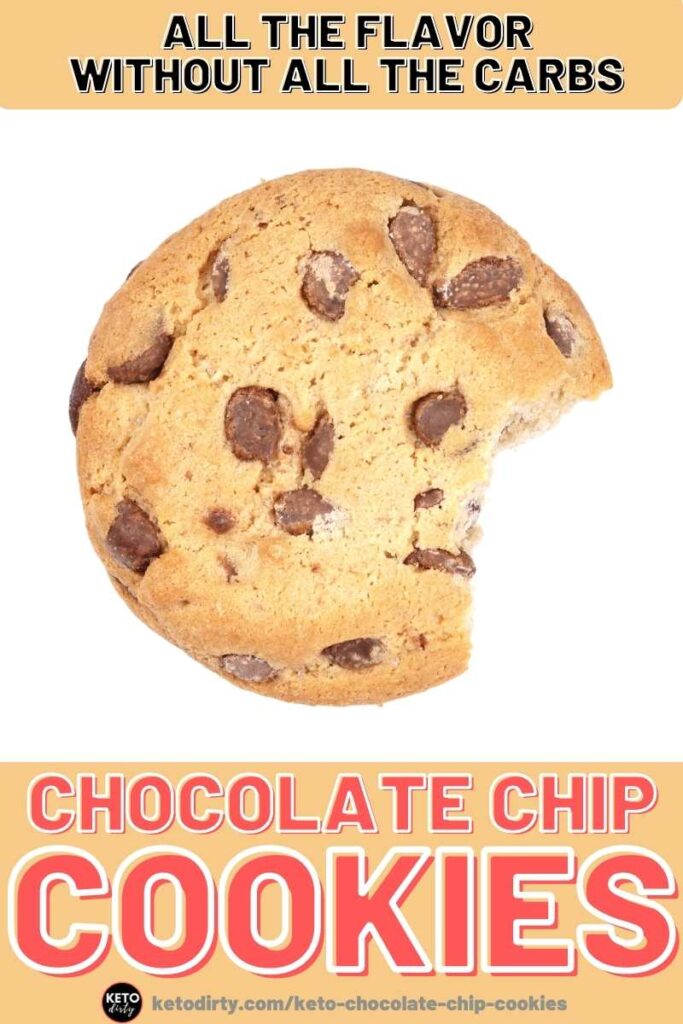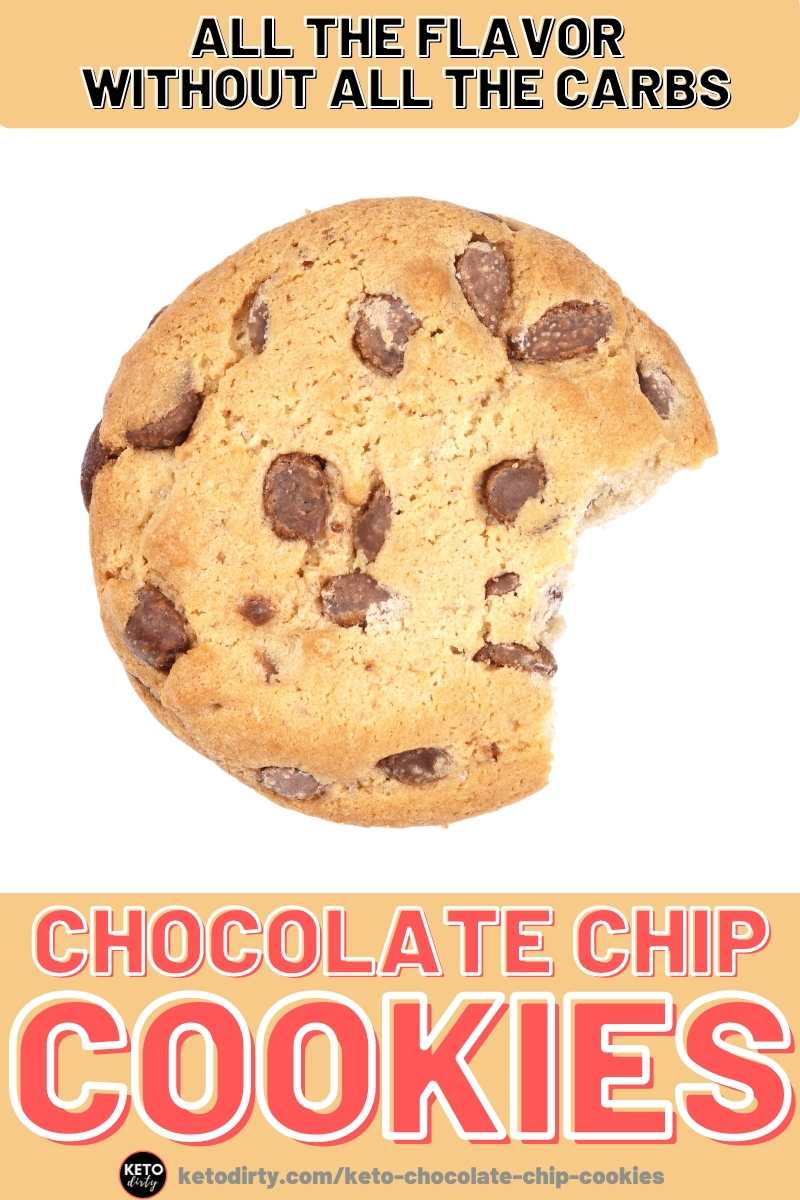 Short on Time?
If you are short on time and don't have the 15 minutes to freeze the keto chocolate chip cookie dough, you can bake without it. They should taste similar but just warning your cookies may come out looking like mini pancakes. (Delicious low carb mini pancakes, though!)
Crispy Cookies
If you like crispy chocolate chip cookies, leave them in the oven for a little bit longer.
Fewer Carb Cookies
If you are really watching your carb count, here are a few things to try with this low carb cookie recipe. While you won't be getting the exact delicious keto brown butter chocolate chip cookies that this recipe calls for, these make for a great fewer carb alternative.
Use half the egg (or no egg!)
Use less sugar free chocolate chip cookies
Don't eat as many cookies (I know, rude!)
Make the cookies smaller
Remember, you will need to test and play around with the recipe. These are just suggestions for cutting the cookie carb count to an even lower number.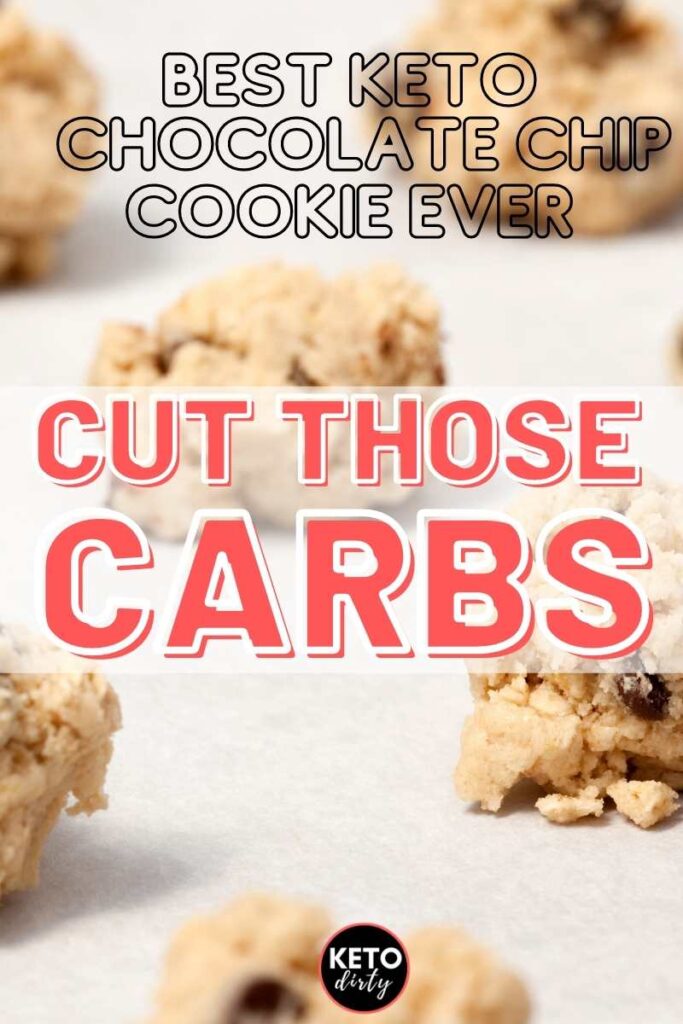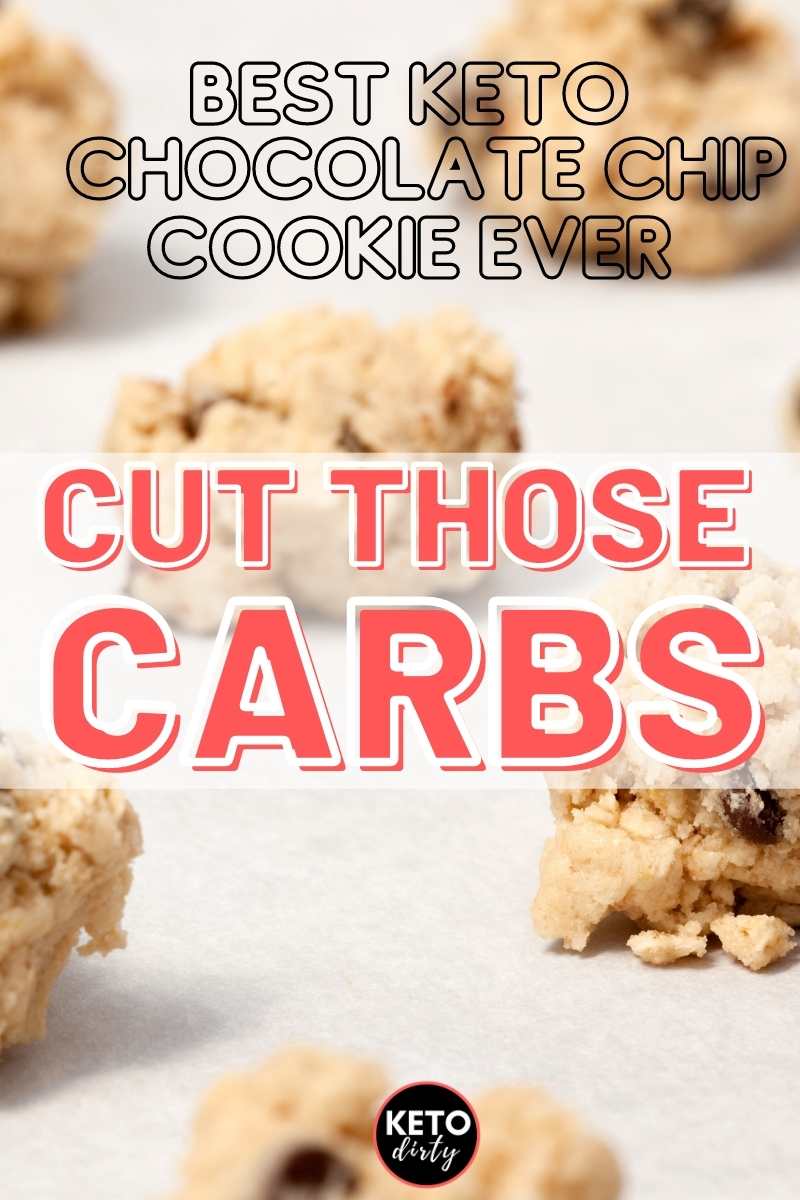 Freeze Cookies for Later
This low carb cookie recipe is for 12 cookies. Here's a tip! Double the recipe, make the cookies and then freeze them.
You will want to wait until the cookies are cooled before freezing, but they make a great keto snack and in the freezer they take a little bit of work to eat, so you won't be tempted to eat them all in one sitting!
Perfect Low Carb Christmas Cookies
The holiday season is here, and maybe you are looking for a treat to give to your low carb / keto dieting friend. Make up some of these low carb christmas cookies. Or better yet, make them for you as a great treat to help avoid all of the other sweets that seem to be inevitably around during the holidays!
I hope you enjoy this brown butter keto chocolate chip cookie recipe! Make sure to check out this great roundup of amazing low carb desserts for more sweet keto recipe finds.