Keto Taco Bell – Sharing What to Order When You Run to the Border
We have said it before and we will say it again – we are focused on you living a low carb LIFE. We aren't focused on a diet that will last a few weeks or months. In order to be real with you, we share things like what to order keto at Taco Bell. We did this with our Keto McDonalds post, Keto Pei Wei Menu and you can view more keto fast food here. Why? Because while we strive to plan ahead and eat properly – there are just sometimes we HAVE to eat on the go! We aren't saying that you should eat Keto Taco Bell every day, but the occasional meal won't hurt.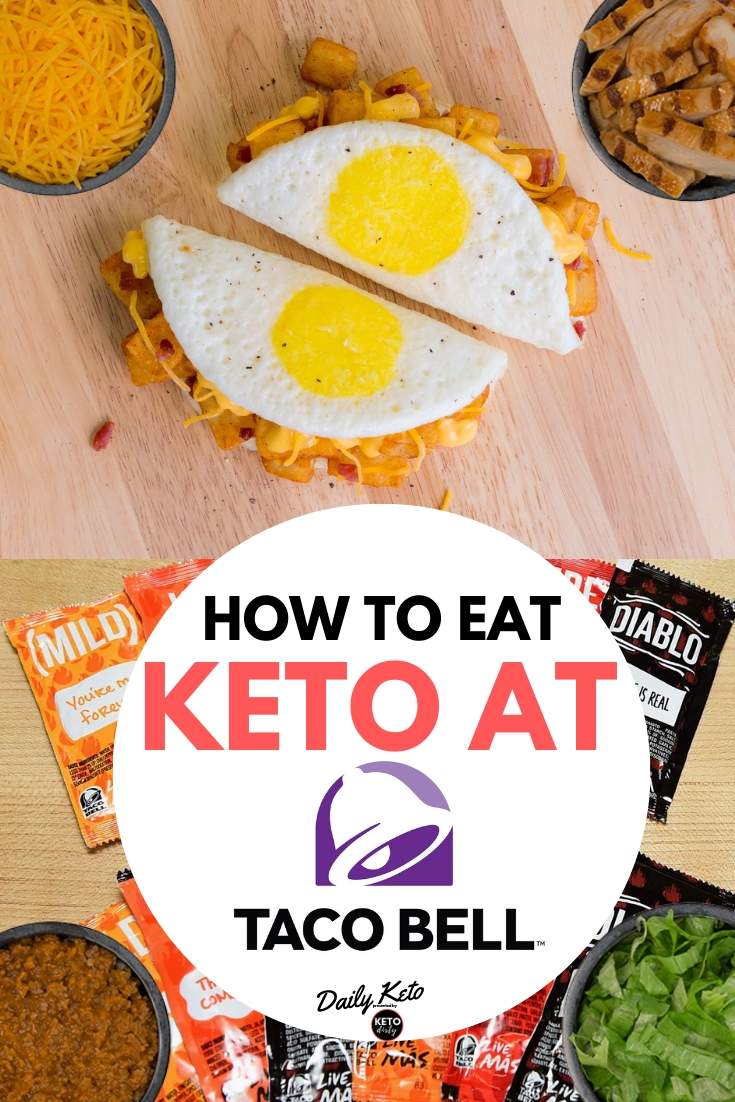 If you crave Taco Bell or are just in a position where you need to know what to order Keto at Taco Bell – this Daily Keto post is for you! Here is today's question:
What Can I Order Keto at Taco Bell?
Let's dive into the Taco Bell low carb menu and find some low carb fast food finds that won't ruin your diet. You will need to custom order to achieve maximum keto-ness.
Taco Bell Order Ahead and Delivery
One thing I have found super helpful is ordering ahead. Did you know you can order Taco Bell ahead of time? Yes! And Taco Bell even delivers thru Grub Hub.
Keto Taco Bell Low Carb Menu Options
Here are some easy Keto Taco Bell menu options and nutrition data (but don't rely on these, use your own data – this is just to give you an idea of net carbs.)
Power Bowl
The Power Bowl is your best option for Keto at Taco Bell. It would be too easy to just order this, you HAVE TO customize in order to have this as a low carb Taco Bell option. Here is how to make your Taco Bell Power Bowl low carb.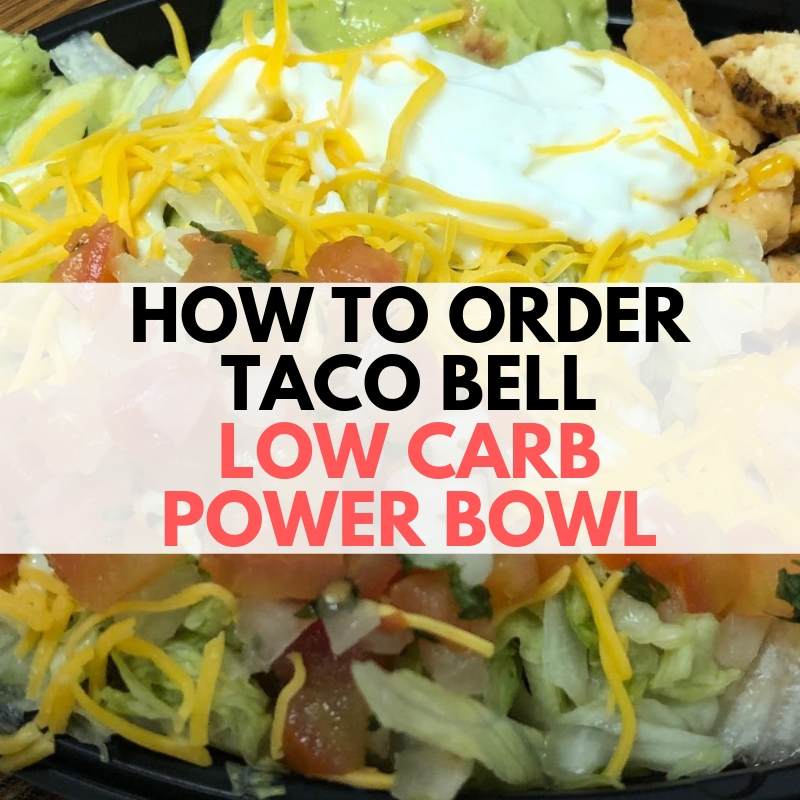 No Black Beans (read our post on keto beans)
No Seasoned Rice (nope, too carby!)
Add Protein (fire grilled chicken, shredded chicken or steak are your best options)
Other Taco Bell Keto Power Bowl Options:
Again, watch your own nutritional data to determine what your ideal net carb count is for this meal, but these are some low carb power bowl optional add-ons:
3-Cheese Blend
Lettuce
Jalapeno Peppers
Here is a sample Taco Bell Power Bowl that I created. Make sure to utilize Taco Bell's nutrition calculator to find the best options for your Keto Taco Bell Power Bowl!
Only 5 Net Carbs
5 Net Carbs! That is awesome, especially considering this is a bowl of food that will hopefully keep you full until your next keto snack or meal!
Easy Taco Bell Low Carb Taco Salad
For years, before all the online nutrition data was available – my Taco Bell option for staying low carb go-to was making an easy low carb taco salad by buying tacos and dumping the inside meat and lettuce out onto a plate! This makes a cheap keto meal option, which let's face it – cheap keto is hard to come by most days!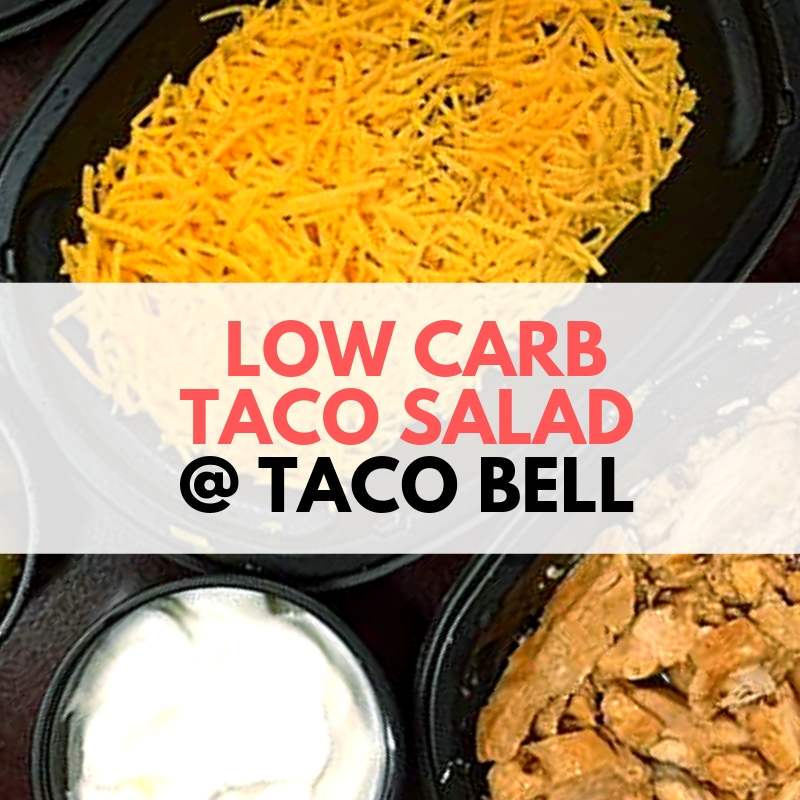 Best Low Carb Meat at Taco Bell
When ordering tacos to dump and make an easy taco salad for on the go, here are your BEST low carb meat options at Taco Bell. Check out the difference in net carbs for each. This is for 1 taco, and includes the cheese and lettuce (NO shell!)
Seasoned Beef – 2 Net Carbs
Fire Roasted Chicken – 1 Net Carb
Shredded Chicken – 2 Net Carbs
Grilled Steak – 2 Net Carbs
Determine which low carb meat option you want to use for your DIY low carb taco salad – and using the net carbs, determine how many tacos you want to order. So if you want to only eat 4 carbs, order 4 fire roasted chicken tacos and dump on a plate. Another option is order 2 grilled steak tacos – for 4 net carbs. Yes, you will have to math!
Keto Taco Bell Sauces
There are various Taco Bell sauces to look at – and unfortunately, the net carb and nutrition value isn't easy to find. Based on playing with the nutrition calculator, we are seeing these as okay in regards to low carb Taco Bell sauces.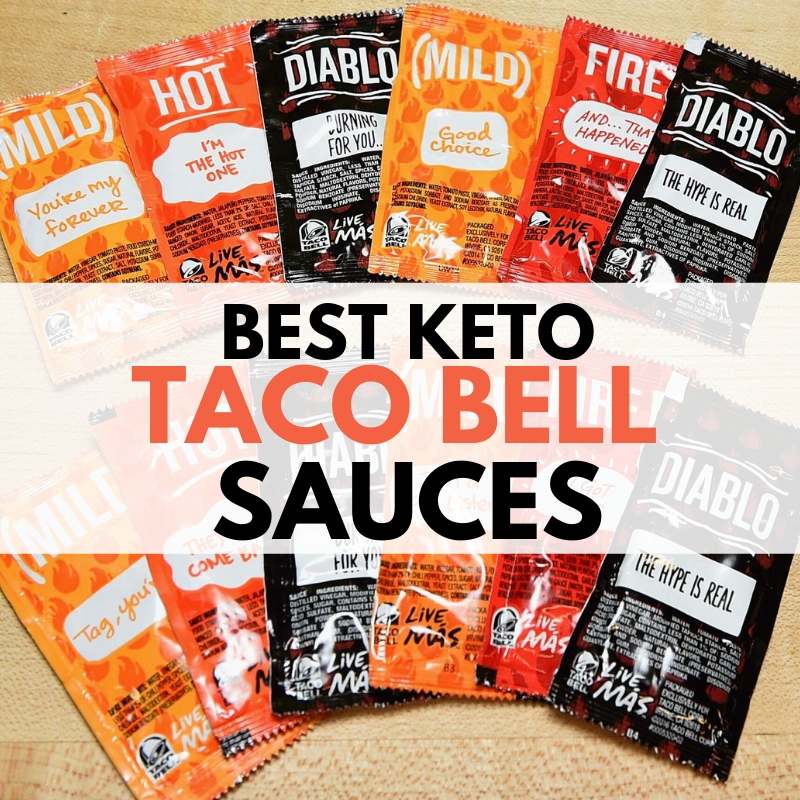 Avocado Ranch Sauce
Creamy Chipotle Sauce
Creamy Jalapeno Sauce
Spicy Ranch Sauce
Border Sauce – Diablo
Taco Bell Breakfast Keto Options
Taco Bell has a breakfast menu! Did you know this? Here is the deal. If you want to order a keto breakfast at Taco Bell – make sure that you indicate NO potatoes and NO tortilla. I would also suggest agains the nacho cheese sauce. Substitute one of the other sauces and add shredded cheese to avoid any unnecessary hidden carbs!
For a while, Taco Bell was selling a Naked Egg Taco. I don't believe this is available anymore – but if it is available at your local restaurant, make sure to order it without potatoes and nacho cheese!
Low Carb Mexican Fast Food
Hoping this gives you some new options and ideas for eating Low Carb at Taco Bell. Mexican fast food doesn't have to be difficult on keto! Use this Daily Keto blog post be your guide to what to order on the Taco Bell low carb menu!
Don't miss our other Keto Fast Food posts! Learn what to eat when on the go.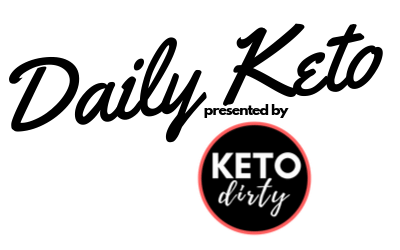 Don't forget, if you have a Keto question or need advice on that low carb life – we've got you! Head over to our Daily Keto Blog
page and ask!