If you are looking for a low carb dessert, you will love this Instant Pot Keto Cheesecake recipe!
Do you ever just get on a "kick" with certain foods? We did that with keto soups, where we were in the mood for soup so it was low carb soup for days in our house. Now, it's cheesecake.
The BEST Keto Cheesecake Recipe
Quite the switch – but when you are craving something sweet we are on a roll with keto cheesecakes!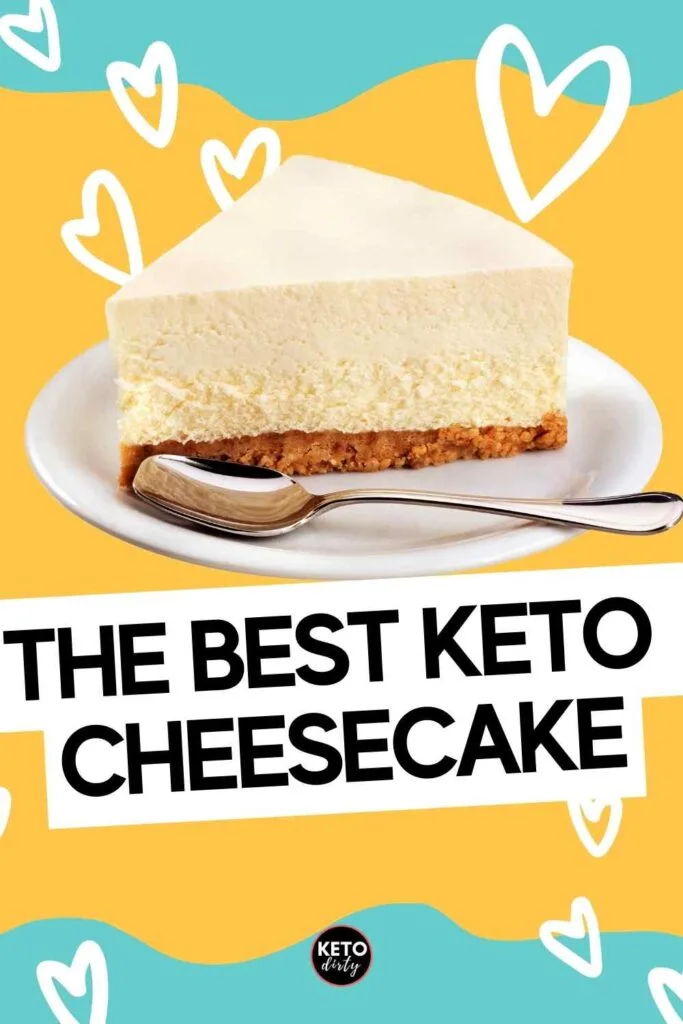 And with the keto cheesecake comes a new method of cooking that we haven't shared much here and I don't know why not because this device is something we use at minimum once a week! It's the Instant Pot!
Why Make a Cheesecake in the Instant Pot
Making a cheesecake in the Instant Pot is awesome. Why? The pressure cooker is more stable and provides an accurate temperature more so than an oven. Rather than cooking your cake in a water bath, the IP already acts as a watch bath.
Like a Crock Pot, the Instant Pot is a set and forget type device for cooking your food. We use it for anything from meats to desserts, like the Instant Pot Keto Cheesecake recipe that we are sharing with you today. Speaking of. Enough about the IP, let's get pressure cooking (okay, baking). And making a cheesecake in the Instant Pot just makes sense.
How to Make Instant Pot Keto Cheesecake
This Instant Pot Keto Cheesecake is a New York style cheesecake featuring a almond crust a delicious creamy cheesy cake mixture that you will love. Let's go thru the steps and show you how to make Instant Pot Keto cheesecake.
Gather Your Supplies & Ingredients
For the supplies, here are the specifics to what you need. Keep reading and we share about the best Instant Pot cheesecake pan or an alternative if you don't have a pan.
Instant Pot – 6 quart or 8 quart
Instant Pot Cheesecake Pan / Spring Pan
Bowl
Hand Mixer
Parchment Paper
Here are the Keto Cheesecake Ingredients
You will be using almond flower, erythirol sweetener, ground cinnamon, salted butter, vanilla extract, lemon juice, eggs, whipping cream, sour cream and cream cheese.
I know some of you are looking to make a crustless keto cheesecake, so here are the ingredients that you will specifically need for each part of the cheesecake making process.
Here are the ingredients you will need for the Keto Cheesecake Crust:
almond flour
ground cinnamon
salted butter
And here is the list for the Keto Cheesecake ingredients:
cream cheese
sour cream
heavy whipping cream (HWC)
eggs
lemon juice
vanilla extract
Line the Pan
Before getting started, let's line your cheesecake pan with parchment paper. You will want to line the side and bottom allowing smoother sides to your cake and an easier release.
Make the Crust
The first step in making this low carb recipe is to make the crust. You will combine the crust ingredients to form a dough.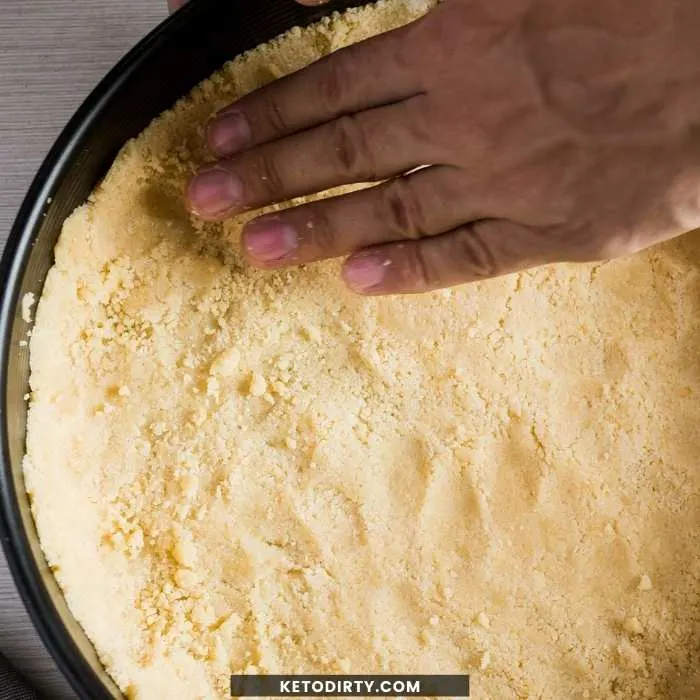 Once the dough forms, you press the crust mixture down into the cheesecake pan and chill the cheesecake crust in the pan in the freezer while we make the creamy filling.
Create the Cheesecake Filling
Now let's make the keto cheesecake filling! You will mix the filling ingredient all together – minus the egg. I typically use my Kitchenaid stand mixer for all my baking but with a cheesecake the best thing to use is a hand mixer.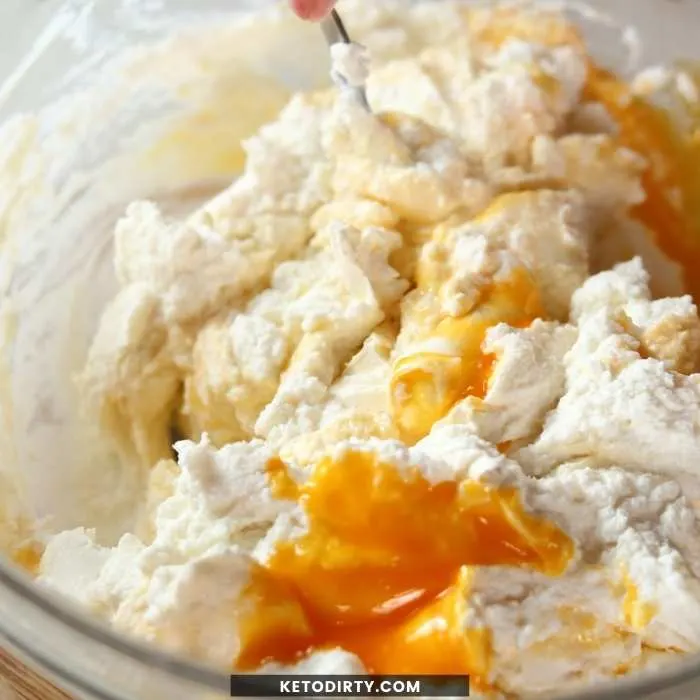 This allow you to now introduce too much air to your mixture (which the stand mixer can easily do.) After the cheesecake mixture is completely smooth, slowly add in your eggs and mix eggs in with a spoon.
Assemble the Cheesecake
Next, we assemble the cheesecake. First step is pouring a cup of water into the bottom of the IP pan. Make sure the inner Instant Pot pan is in your device (this is the pan that came with your IP.) Your cheesecake crust will need to be chilled before you can do this step.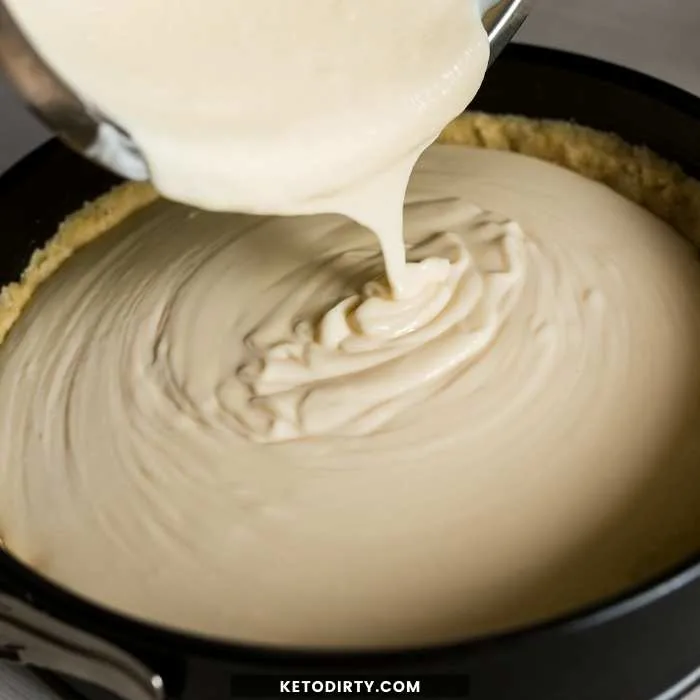 After it is chilled, you will pour the cup of water into the pan and then place your rack and then your cheesecake pan with crust on top. Cautiously pour the cheesecake filling on top of the cheesecake crust.
Pressure Cook
Now it's time to pressure cook your Instant Pot keto cheesecake! You will want to cook it for 30 minutes and allow it to natural pressure release which takes approximately 15 minutes.
After 45 minutes has passed, you can open the IP to check your creation. Note it may be jiggly. Read our keto Instant Pot cheesecake tips below to help make sure your cake is the best it can be! Don't remove from the IP just yet.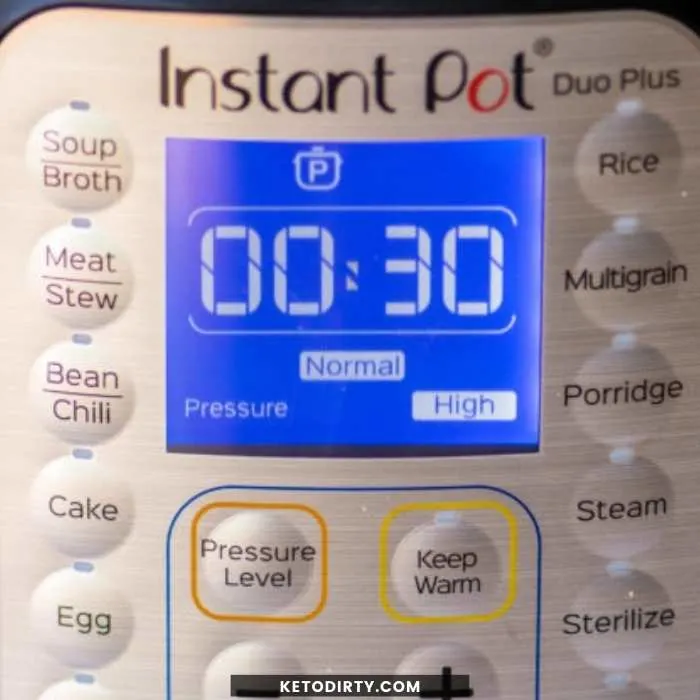 Cool Down
Turn your Instant Pot off and wait an additional hour before removing the pan. Let the pan cool off on the kitchen counter. I like to put paper towels loosely on top of the pan while it is cooling off.
While you maybe ready to eat your Instant Pot Keto Cheesecake, it's not ready quite yet! After it has cooled down on the kitchen counter, place in the refrigerator for 8-24 hours. 8 hours is the minimum. I know, but it will be worth the wait!
Serve Your Sugar Free Cheesecake
Now is the moment you have been waiting for. After cooling the cheesecake in the refrigerator for a minimum of 8 hours, your sugar free cheesecake is ready to be sliced and served. But first, let's peel off the parchment paper carefully!
You can top with a sugar free whipped cream and any other low carb additions that you would like. Just note, make sure to add in the carb count to any additional toppings that you add!
If you love sweets, don't miss our list of keto candy!
Keto Instant Pot Cheesecake Tips
Here are a few keto Instant Pot cheesecake tips for when you are making and after your cake is cooked.
Best Instant Pot Cheesecake Pan
Before we get started, let's talk about the Instant Pot Cheesecake pan. The BEST cheesecake pan for the Instant Pot is the Fat Daddio pan which works well with both 6 quart and 8 quart pressure cookers.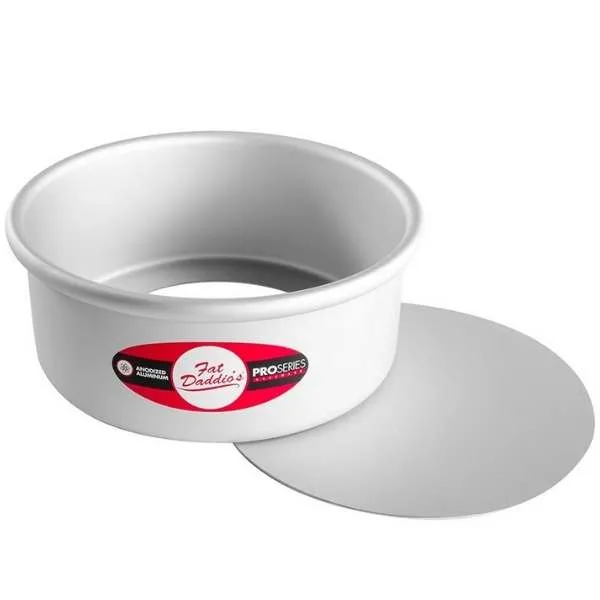 Other options are the spring pan or push pan. You will want to make sure that your cheesecake pan FITS into your Instant Pot. If it's too big, it won't work!
Less Carbs with Crustless Instant Pot Low Carb Cheesecake
Go crustfree! That's right. If you are looking to lower the carb count, an Instant Pot low carb cheesecake option is to eliminate the crust. A crustless instant pot cheesecake will allow you all the yummy taste of the creamy cheesecake filling without the additional carbohydrates that the almond crust adds.
Room Temperature Ingredients
Make sure that your cream cheese, eggs and sour cream are at room temperature before you start baking. These ingredients at room temperature help you create a perfect keto cheesecake!
How Long Before I Can Eat My Instant Pot Low Carb Cheesecake?
If you are wondering how long before you can eat your cheesecake after removing from the Instant Pot – know it takes time but is totally worth the wait.
After just 55 minutes of total Instant Pot time (coming to pressure, cook time, and natural release time), you'll need to cool the low carb cheesecake for an hour before refrigerating overnight.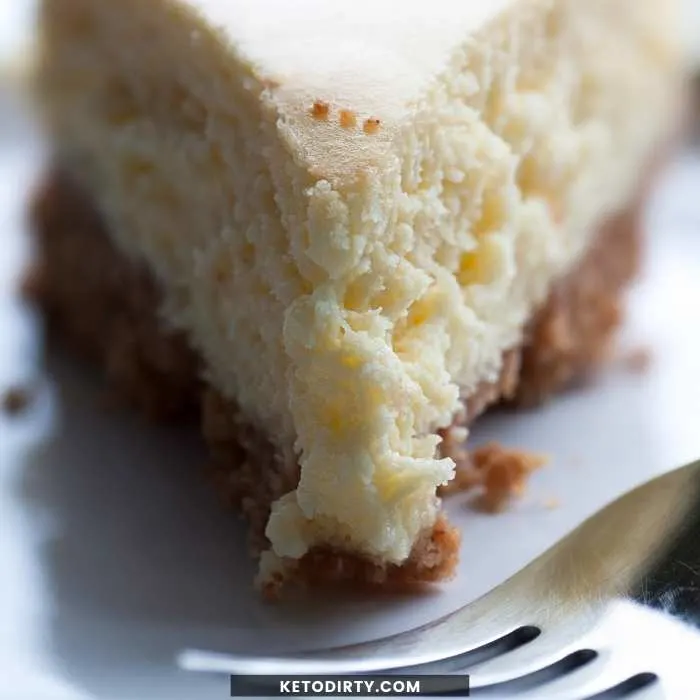 Important to note; you will need to refrigerate the cheesecake for at least eight hours before slicing, or the flavor and texture won't be quite the same. However, your patience will be rewarded with the smoothest, creamiest cheesecake ever.
After Cheesecake Cooks
After you have finished making your keto cheesecake, it's not quite ready to eat. If you need to leave – the best tip is to place your cheesecake in the refrigerator with a loose cover such as saran wrap. The cover must be loose so that condensation can escape.
Cheesecake Pan Alternatives
If you aren't worried about your keto cheesecake looking pretty, here is what a friend did. She used a pie pan and cut it with a knife. It wasn't pretty but if you don't have a cheesecake pan for your Instant Pot you do what you gotta do.
Serve the Cheesecake From the Pan
Typically Cheesecakes are served on a platter, not in a pan. But who cares? If you don't – definitely consider just ditching the idea of a cheesecake pan and making the cheesecake in an Instant Pot friendly pan.
Looking for something sweet? What about sweet chaffles!
Is My Cheesecake Done?
Are you asking yourself "is my cheesecake done?" Here are a few tips to insure that your Instant Pot keto cheesecake is perfect.
If it jiggles, no problem. The keto cheesecake will be a little jiggly and wiggly in the center – and the side will be a little higher. TYpically this flattens out to be even.
If needed, you can tile your cheescake and remove any condensation with a paper towel.
There should be noIt will be a teeny bit jiggly in the center (no more than one inch) and the sides will be slightly higher (they will flatten out shortly).
Tilt the cheesecake a bit and use a paper towel to remove any condensation/water that got trapped under the foil during cooking.
Heat trapped in the cheesecake will continue to cook your cake as it cools.
How Do You Store Cheesecake Leftovers?
The best way to store cheesecake leftovers is on a cardboard round, wrapped in plastic wrap, and then wrapped in tin foil. For easy storage, slice the cheesecake into slices ahead of storing into individual serving sizes. Make sure to wrap tightly in plastic wrap and tin foil.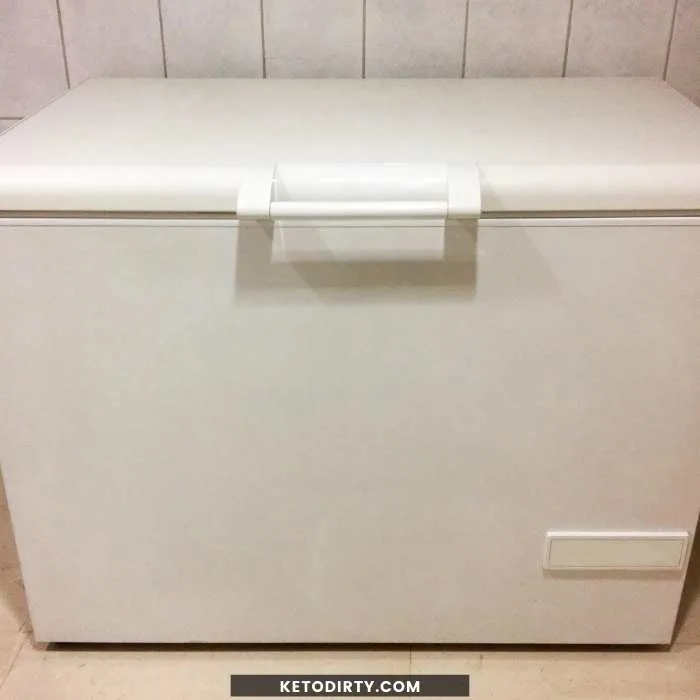 This is an awesome keto dessert (don't miss our low carb desserts recipe collection) for storing in the freezer. Once you have properly wrapped your keto cheesecake for storage, place in the freezer. You can eat frozen as a delicious cold dessert or allow to thaw.
Is Cheesecake Factory Cheesecake Keto?
I love a good cheesecake but that carb count, right? But this question has come up and thought I would address it here.
If you are asking if Cheesecake Factory cheesecake keto or low carb, I really hate to burst your bubble but no. While we might have to pass up the Cheesecake Factory cheesecake because you guys, its really not a healthy option.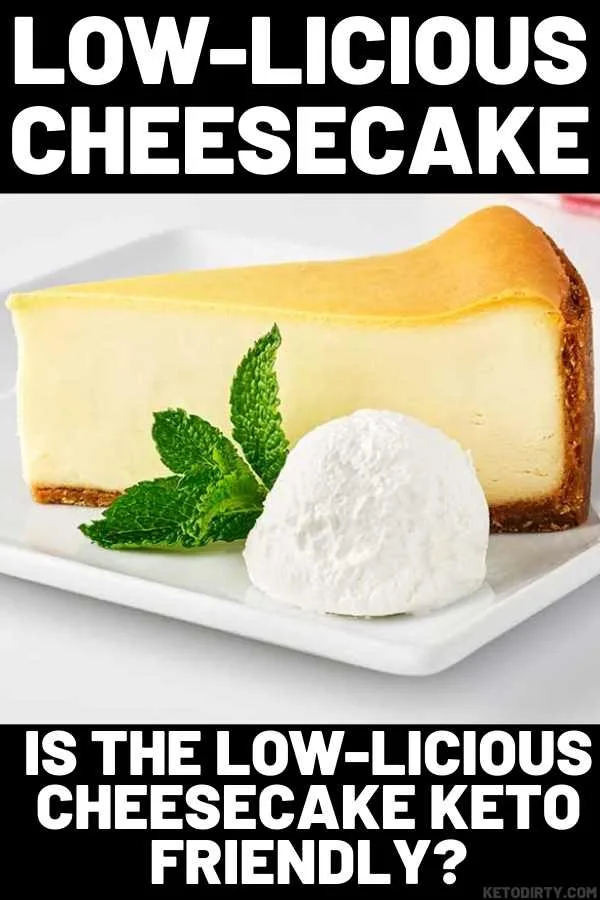 Low-Licious Cheesecake Carbs
If you do find yourself sitting at Cheesecake Factory and REALLY wanting that a dessert or better yet a cheesecake, your best option is Cheesecake Factory Low-licious Cheesecake. It is not a great option by any means, but as far as the Keto Cheesecake Factory menu goes – this is your best option for a dessert.
The Low-Licious cheesecake has 37 carbohydrates. Here are the other Low-Licious Cheesecake nutrition data:
570 calories
44g total fat
7g fiber
5g sugar
10g protein
While YES, compared to Cheesecake Factory's original cheesecake – which has a whopping 830 calories and 63 carbs Low-Licious is better. Save your carbohydrates and make our Instant Pot Keto Cheesecake recipe instead! (And yes, you can order Low-Licious Cheesecake with Strawberries but again just make your own!)
View the entire Cheesecake Factory Nutritional Data.
Want to eat out but want to stay Keto Dirty? Here are the best keto fast food options!
If you enjoy making Instant Pot recipes, especially cakes – check out these Instant Pot Cake recipes.
We hope you enjoyed our Instant Pot Keto Cheesecake recipe and add it to your rotation of low carb desserts.
Follow Keto Dirty on Social – Facebook / Keto TikTok / Pinterest / Instagram
Keto Dirty is reader supported. When you buy through links on our website, we may earn an affiliate commission.