As someone who was raised by a half Japanese father – is soy sauce keto? Is one of the first questions I found the answer to when I started doing the keto diet.
We've got more for the Daily Keto where we are answering your questions about specific food and drink items to help you determine if they are a good fit for your dirty keto diet.
Question: Is Soy Sauce Keto Friendly?
I am hear to spill the tea when the tea needs spilling. If you are wanting to know is soy sauce keto?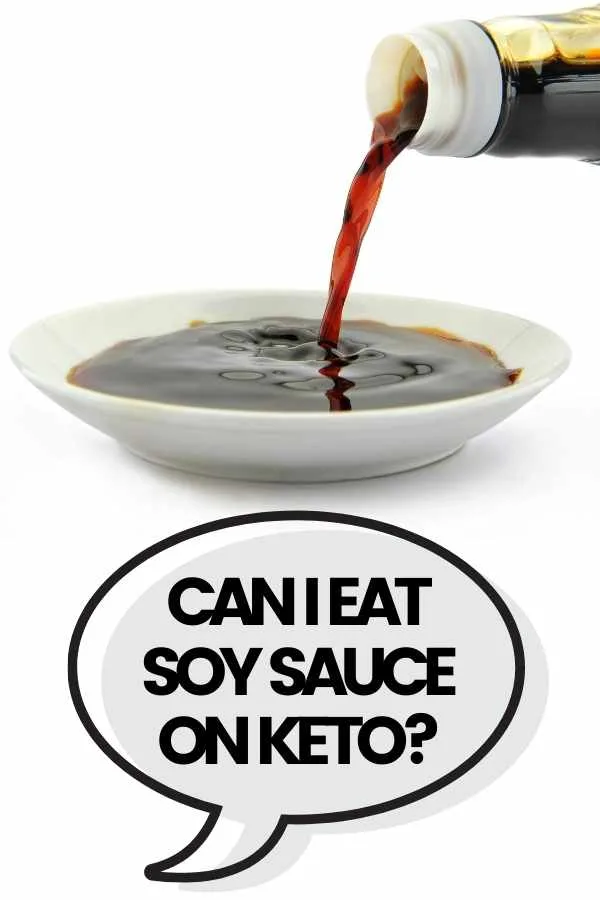 Answer: Soy Sauce is a MAYBE
Yes and no. WAIT, what? Are you keto dirty (do you do the dirty keto diet) or are you a hardcore serious keto dieter? This will help us best answer the question "is soy sauce keto?"
Let's look at why the fuzzy answer on the keto soy sauce friendliness.
Are you trying to avoid gluten, eliminate soy and reduce salt? These are all components of soy sauce that may turn you away from adding a few drops to your next keto meal.
Do you focus on just lowering your carb count and sugar intake? If yes, then maybe this is just fine on your diet.
We know that when you are in low carb keto mode, often times you wonder if a certain food is keto or not. Make sure to check out our Is It Keto series where we are spilling all the tea to help you find healthy keto foods and to veto foods that aren't keto friendly.
Either way, let's look at some specifics. We are diving into how many carbs in soy sauce, the history of this asian sauce, as well as keto soy sauce options and low carb asian sauces that make great soy sauce alternatives that you will love hopefully as much.
Keto Soy Sauce Facts
Here is why you get the fuzzy answer on if soy sauce is keto friendly. We are dishing out 5 keto soy sauce facts. The ultimate decision on the saucy soy is yours.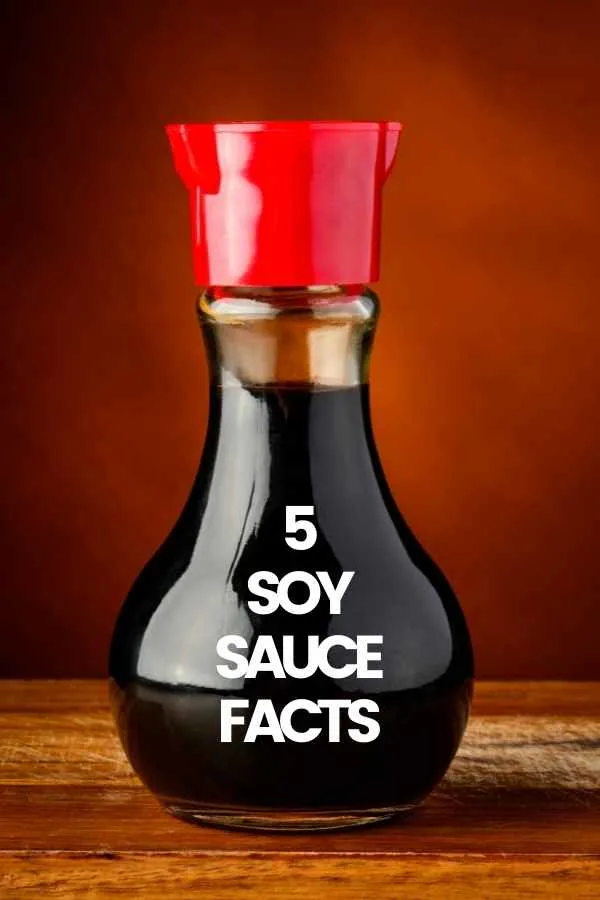 Take these things into consideration as you decide if you want to incorporate soy sauce into your keto diet, or if you will take a pass.
If you do decide that this sauce isn't best for your diet, we are dishing out low carb soy sauce alternatives – so keep reading.
#1 Carbs in Soy Sauce
The first thing to know is carbs in soy sauce.
Wondering how many carbs in Soy Sauce? There is approximately 1 net carb in soy sauce for a tablespoon serving. Sounds keto friendly right? I agree, but there are a few things to know about soy that may sway your opinion on eating this dressing to your food.
So yes, soy sauce is low carb but again, is soy sauce keto is subjective – keep reading and we will explain why and tell you what to use as a keto soy sauce alternative.
#2 Calories in Soy Sauce
A tablespoon of soy sauce has 9 calories (approximate – depends on brand, check your labels!) If you are incorporating calorie counting into your diet, this is a useful bit of information for you calorie counters.
#3 Soy Sauce is an Ancient Chinese Sauce
Here is a little history lesson for you on this ancient sauce from Asia.
Where Did Soy Sauce Come From?
Soy sauce was created about 2,200 years ago in China during the Western Han dynasty and originally was an expensive commodity. It's use quickly spread throughout East and Southeast Asia, and then the world – making it one of the most popular condiments and used when cooking.
#4 Soy Sauce Ingredients
Ever wonder how soy sauce is made and what the ingredients are to make it?
Soy sauce is traditionally made from fermented pasted of soybeans, roasted grain, brine, and an asian fungus (typically either Aspergillus oryzae or Aspergillus sojae which are species of fungus, yummy right?)
Not Clean Keto Friendly
Soy sauce often has traces of wheat and gluten, both of which are not serious keto friendly. If you are doing a clean keto diet, you most likely will want to avoid soy sauce. That said, if you are doing a dirty keto – you may be okay with the minimal amounts of wheat and gluten in soy sauce.
Genetically Modified Soy
If you do decide to go soy sauce on keto, consider what brand of soy sauce that you purchase. Why you ask? Soy is heavily genetically modified.
I will say that the Kikkoman brand has made it a point to do whatever they need to do to remain a non-GMO. (available on Amazon)
Made from Non-GMO soybeans.
Traditionally brewed "shoyu" soy sauce; produced by the action of special strains of micro-organisms on soybeans and wheat during fermentation.
Non-GMO Project Verified.
No Preservatives Added.
Kosher certified.
#5 All Soy Sauces Are Different
Not all soy sauces are alike. Read your labels and determine what you are okay with as far as ingredients goes in regards to your specific diet. Like we preach often hear on Keto Dirty, the answer as to if you should eat something is up to you.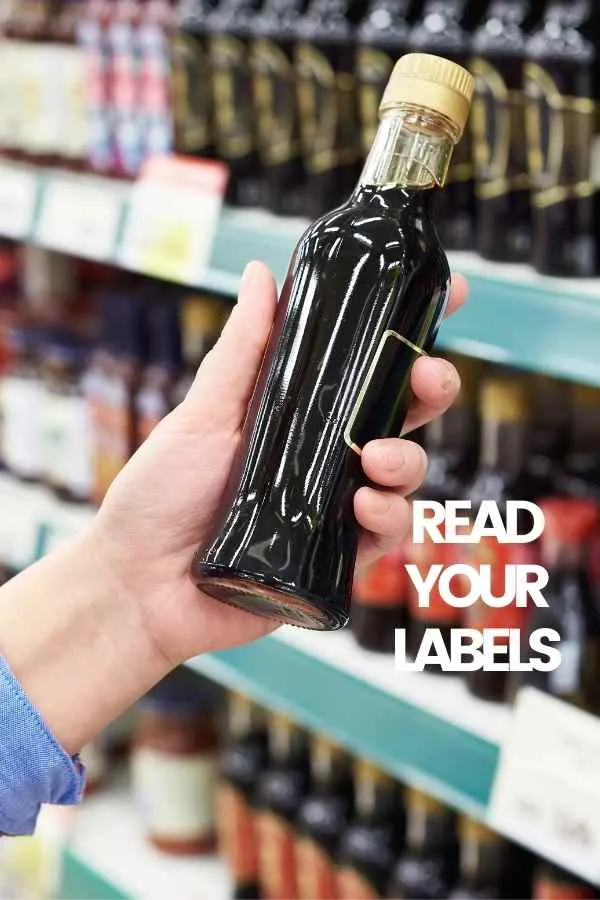 Keto Soy Sauce Alternatives
So maybe you have ruled out eating soy sauce with your low carb diet. No worries, we got you! Here are keto soy sauce alternatives. These low carb Asian sauces are perfect when cooking an asian low carb meal.
Best Alternative to Soy Sauce
The best soy sauce alternative is Coconut Aminos. If you are wanting all of the taste of soy sauce but not the iffy ingredients, Coconut Aminos is your answer.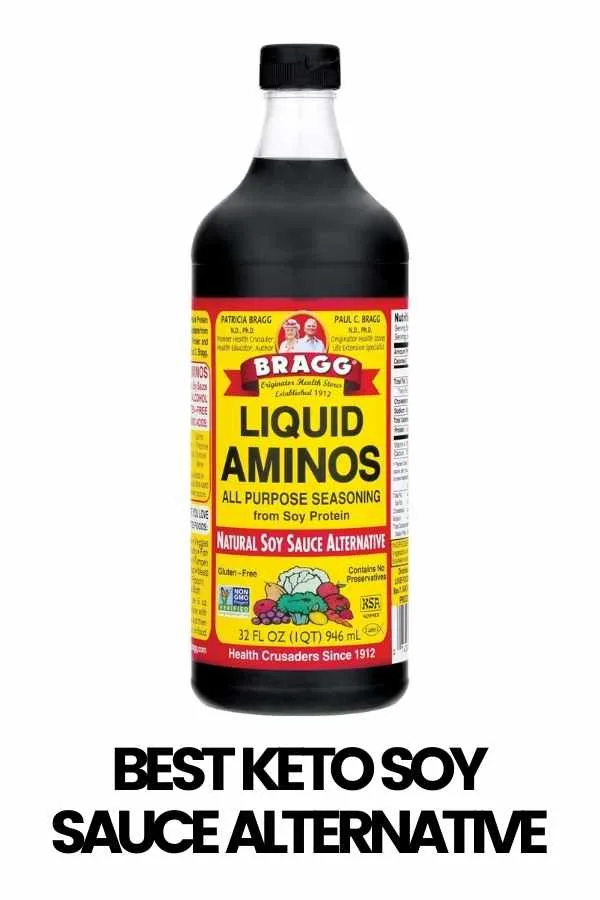 How Many Carbs in Liquid Aminos?
Our keto soy sauce substitute, Liquid Aminos has 2 carbs per tablespoon. This is also known as Coconut Aminos.
Here is why Coconut Aminos keto dieters will love this sauce.
Similar in color and consistency to a light soy sauce – Coconut Aminos offers a salty savory taste.
Coconut aminos are made from fermented sap of coconut palm and sea salt but does not have an overwhelming coconut taste! So if you say, I don't like the taste of coconut, try this before you start with your hate!
Liquid Aminos is soy free, wheat free and gluten free – making this a healthy soy sauce alternative (and making those with allergies and food sensitivities very happy.)
Lower sodium count – A teaspoon of coconut aminos has 90 mg of sodium compared to 280 mg of sodium in soy sauce.
You may see this product also listed as Coconut Liquid Aminos. (available on Amazon)
Keto Asian Sauces
Here are a few low carb asian sauces to jazz up your next keto meal without racking up the carbohydrate count.
Coconut Aminos Garlic Sauce from Coconut Secrets – a low carb sauce that can be used as a condiment or marinade for keto recipes. Available on Amazon
Sugar Free Teriyaki Sauce – low carb teriyaki sauce? Sign me up! Available on Amazon
Sugar Free Yum Yum Sauce – awesome keto asian sauce for hibachi meats or hibachi vegetables – Available on Amazon
Looking for keto chicken recipes?
Keto Daily Answers Soy Sauce Keto Question
That's it for this Keto daily post. Let's hope we answered your is soy sauce keto friendly question and gave you all the details that you wanted to (and maybe a little TMI) on all things in regards to soy sauce.
Here are more keto posts that we think you will enjoy!
Is soy sauce keto friendly? – Keto Daily Blog