Today, let's make this easy Keto Ham Roll Up. This is a super simple recipe that requires just a few ingredients but offers big taste making it the perfect keto lunch idea.
If you are always on the hunt for what to eat for lunch, let's get this on your keto menu plan. This delicious recipe requires just a few ingredients but will be a family favorite. Make these in bulk and keep in the fridge for an easy low carb snack.
Keto Ham Lunch Idea
Here is how you make this easy keto lunch recipe. With just a few ingredients and under a minute, you will have lunch ready to eat!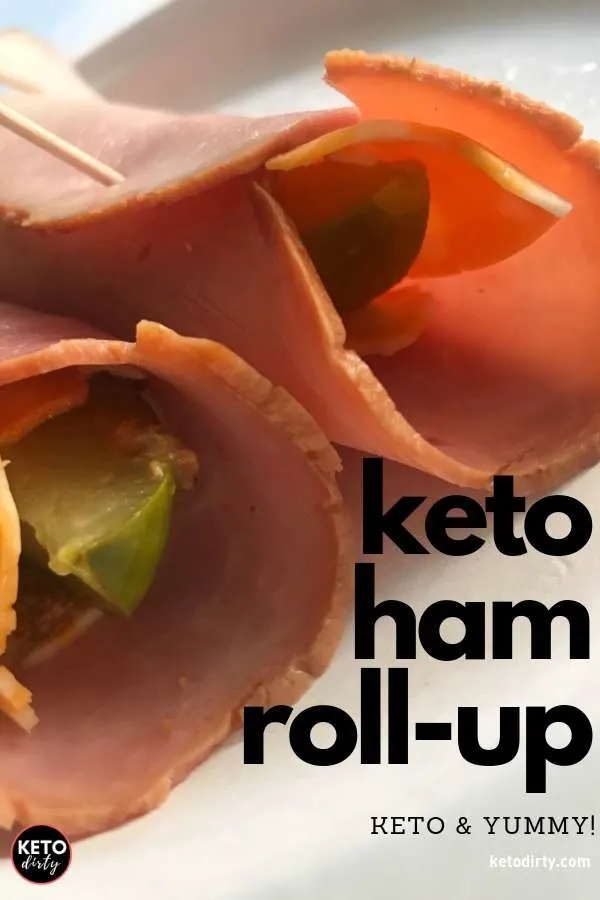 I've mentioned this before, and I'll say it again – I do best on Keto when I am prepped. While ideally it would be doing a Keto meal prep session – that doesn't always happen. Put this on your menu because y'all it's easy.
How to Make a Keto Ham Roll Up
Alright, let's stop with all of this jabber and show you how to make the Keto Ham Roll Up!
Keto Sandwich Alternative
Okay, here is the deal. If you are missing you some sandwich action (sammy, sammich, wichwich!) – then this ham roll up is calling your name. This is the perfect keto sandwich alternative. Our ham roll-up tastes like a sandwich and then to top it off, you are going to want some chips.
I KNOW – SANDWICH, CHIPS. You maybe thinking "This is Keto Dirty, but this girl is crazy if she thinks you can eat chips and sandwiches on the Keto diet!"
Moon Cheese Review – Alternative to Chips
While I LOVE me some Whisps, I recently was introduced to my MOON CHEESE. Moon Cheese is the greatest alternative to chips. It gives you that crispy chip crunchiness, but you guys these are just cheese! Moon Cheese tastes like Cheese Its but without the CARBS!
These are available at Amazon, so you know – delivered to your door tomorrow.
These Moon Cheese Keto Snacks are available in: cheddar, sriracha, gouda and pepper jack.
Make sure you check out our list of Keto Snacks.
We hope you enjoyed this easy keto lunch idea and add it to your next low carb meal plan. View our keto ham lunch web story.
When you have a is it keto question – we have answers! Thanks for following us here at Keto Dirty!
Follow Keto Dirty on Social – Facebook / Keto TikTok / Pinterest / Instagram
Keto Dirty is reader supported. When you buy through links on our website, we may earn an affiliate commission.
Keto Ham Roll Up Recipe is an Easy Lunch Idea included in our Keto Recipes collection