We are on a keto noodle kick! As someone who does keto and knows the struggle is real when it comes to pasta, today I'm sharing my favorite low carb alternatives to high carb pastas.
The goal for this keto blog post is to be your ultimate resource for finding the right keto noodles for whatever dish you are making. Say goodbye high carbs and hello healthy low carb pasta alternatives.
Guide to Keto Friendly Noodles
Let's dive in and save the carbs while not missing traditional pastas. Here are the best Keto Noodles!
We are totally biased when it comes to the best keto pasta noodles. Did you see our 2 ingredient keto pasta noodles recipe? It's super easy to make and is a great alternative to various types of pasta noodles.
Low Carb Pasta Substitutes
The keto pasta noodles can be cut to various widths allowing you to create various types of pasta sizes for whatever fits best with your low carb dish. Let's look at several low carb pasta substitutes.
Veggie Spirals
Often called, Zoodles – keto zucchini noodles make a great pasta substitute and side dish for your next keto meal.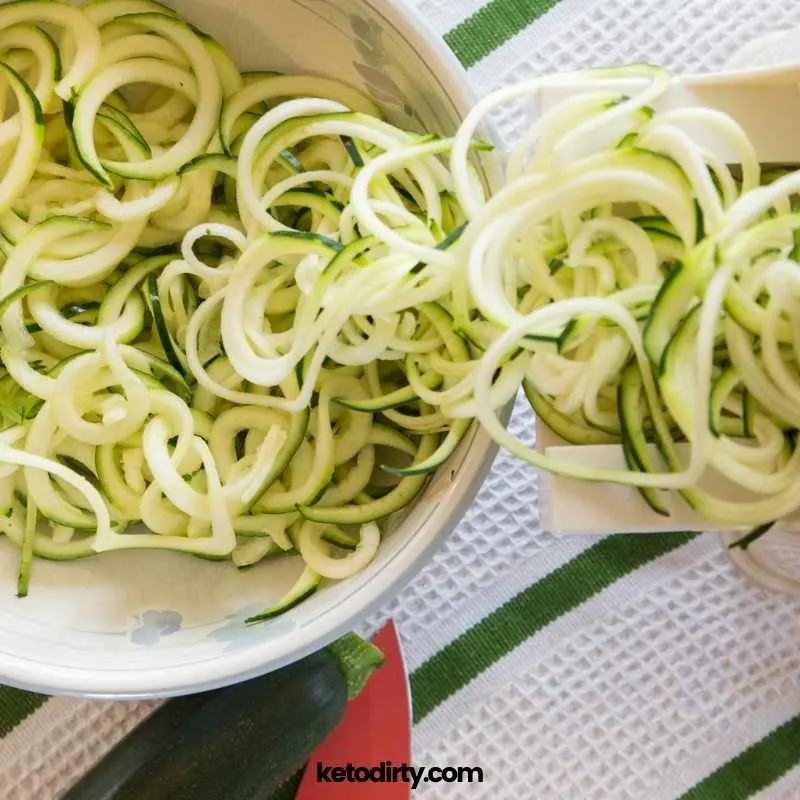 Make Zoodles is super easy if you have a zoodle maker. If not, no worries – Zoodles can be made by slicing either with a knife or mandolin.
More Vegetable Noodles
Other vegetables can be used to make noodles, such as carrots, turnips, beets and cucumber. Not all are meant to be eaten like pasta but can give you the feeling that you are actually eating pasta.
Here is a huge list of keto vegetables to get more ideas for making veggie noodles.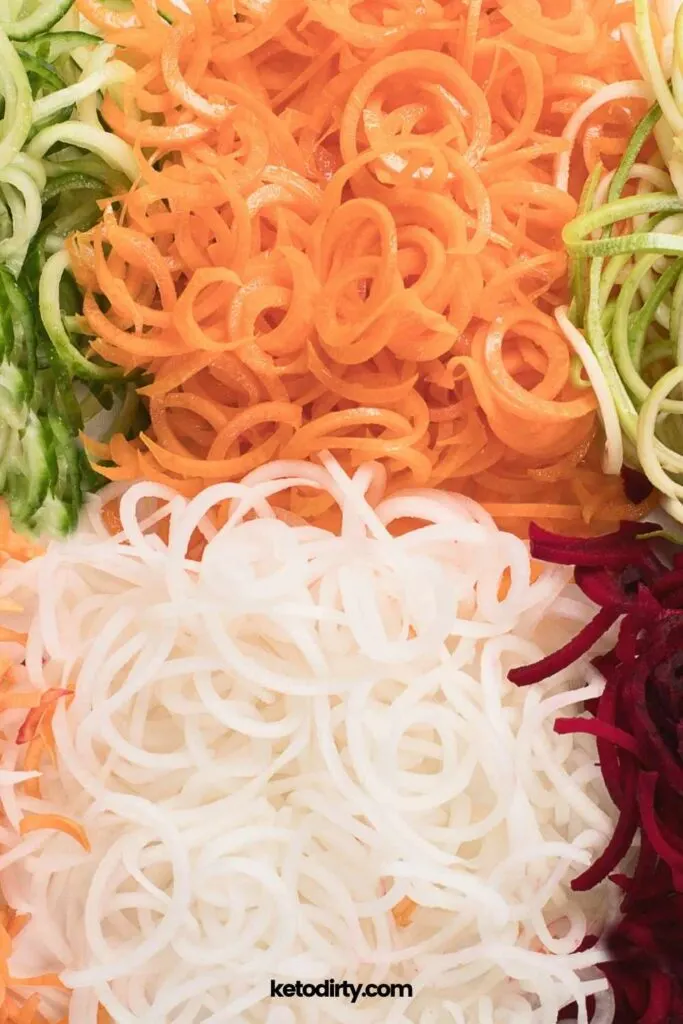 Keto Egg Noodles
Believe it or not, you can make low carb egg noodles! If you have a dish that is calling for egg noodles, but you just don't want to eat the carbs, we found an awesome recipe that you will love.
Using just 2 ingredients – learn how to make these keto egg noodles!
Keto Penne Pasta
Your best bet for finding keto penne pasta is a pre-made noodle from the Great Low Carb Bread Company,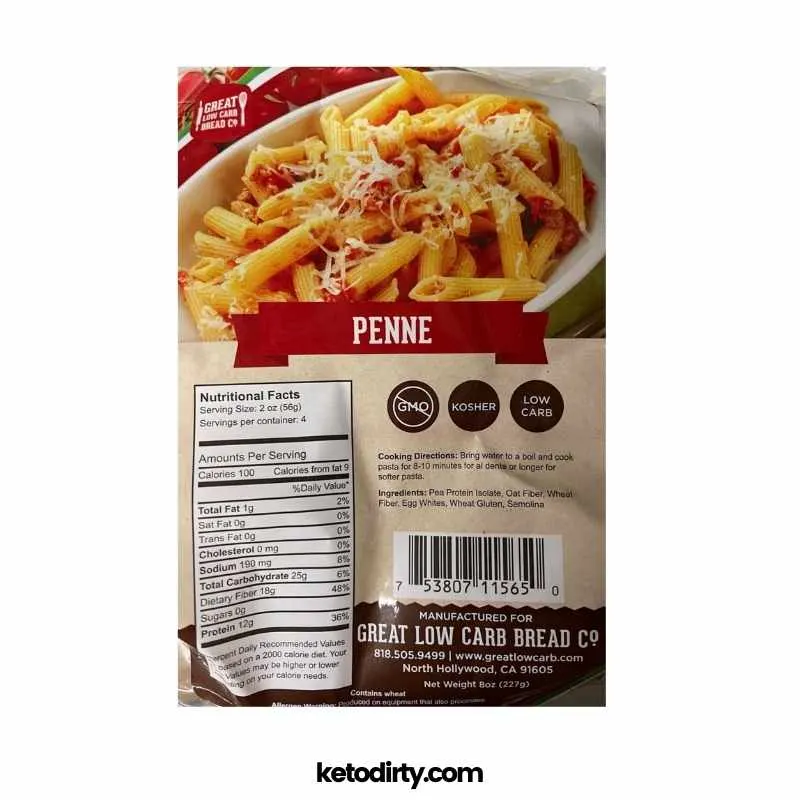 Their low carb penne pasta has just 100 calories per serving, 18g fiber an 12g of protein. At 7 net carbs per serving with amazing pasta taste and texture, this is a great substitute for traditional penne.
Best Keto Asian Noodles Alternatives
If you are in the mood for a low carb Asian dish, we have the perfect keto Asian noodles for your recipe! The Shirataki noodles are a low carb keto noodle made from water and glucomannan (a dietary fiber.)
These keto Asian noodles are not only low carb and low calories – they are surprisingly fulfilling.
While you can use Shirataki noodles for a variety of meal options, I find the best use is when making an asian dish. The noodles come in a variety of shapes and options.
They absorb flavors, making this great for your next low carb Asian dish.
Keto Ramen Noodles
Another great way to make Shirataki noodles is by using them as keto ramen noodles!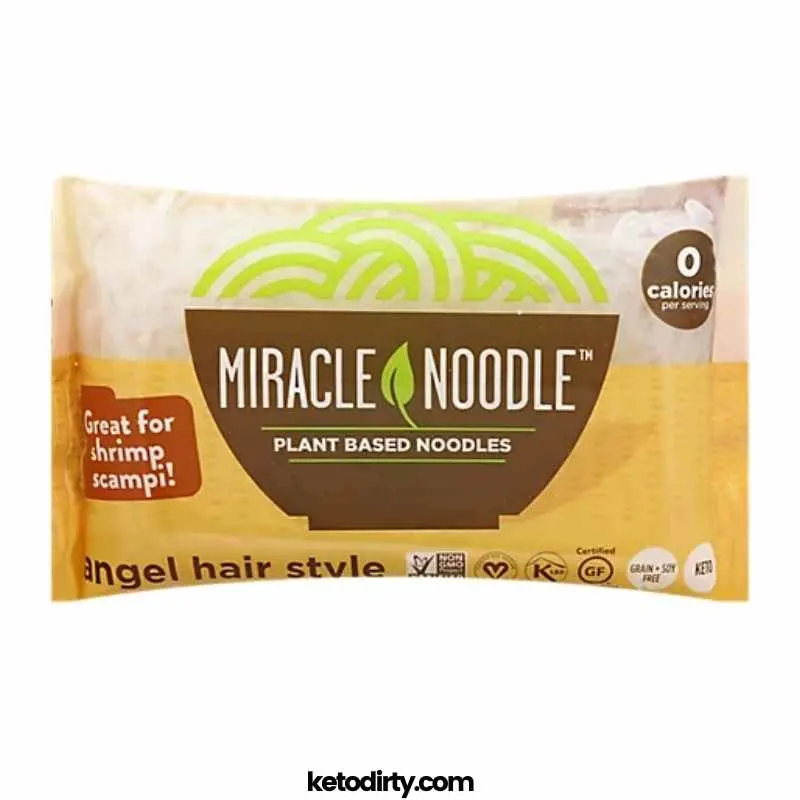 You can buy ramen broth (check the carb counts, but most are lower in carbs!) and pair with Shirataki noodles for a delicious keto ramen meal! Miracle Noodle and Ramen Broth available at Amazon.
Keto Lasagna Noodles
I mean, how bad could lasagna be on the keto diet, right? BAD, but not bad if you use the right type of fake noodles! If you are wanting to low carb lasagna – we have a great keto noodles option for you for the lasagna sheets!
Palmini Lasagna Sheets
Palmini is made out of hearts of palm. When this plant is cut and cooked, it can be used as a great low carb noodles alternative!
While for this, we are recommending you use Palmini lasagna sheets for keto lasagna – there is actually a growing number of Palmini products allowing you a variety of low carb noodle options!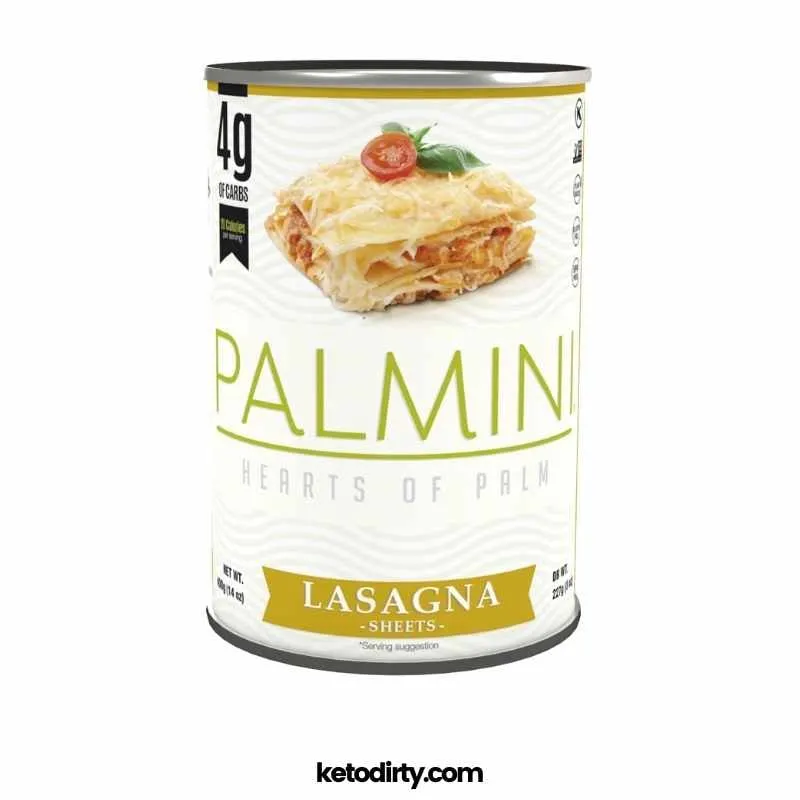 Palmini is best when covered in sauce. Personally, I wasn't a fan when eating plain or when eating with my typical go-to garlic butter. That said, when mixed with several ingredients in a dish – such as a keto lasagna – Palmini works perfect!
At just 4 net carbs per serving – Palmini lasagna sheets are definitely an item to put in your basket!
Palmini Sheets are available at Amazon.
Low Carb Spaghetti Noodles
If you have spaghetti on your mind and not in the mood for our keto pasta noodles, don't fret it – we have another noodle alternative.
Spaghetti Squash Noodles
Have you ever made spaghetti squash noodles? Made by poking holes and steaming a spaghetti squash, you can then cut it open and scrape the insides to make spaghetti squash noodles!
Best Keto Noodles at Walmart
If you are Keto Walmart shopping (aren't we all? Walmart is the closest store to our little town so finding low carb groceries is must at the W-Mart!)
While many of the products listed above that you make (such as zucchini and spaghetti squash noodles) are available at Walmart, below are keto specific pre-made noodles.
Keto Noodle Brands
Here are the best Keto Noodles brands at Walmart:
Shirataki Noodles / Miracle Noodles
Shirataki Noodles – also sold as Miracle Noodles or Zero Noodles – these can typically be found in the Walmart produce section. At my local Walmart, these noodles are located across from the zucchini, next to the Apple slices.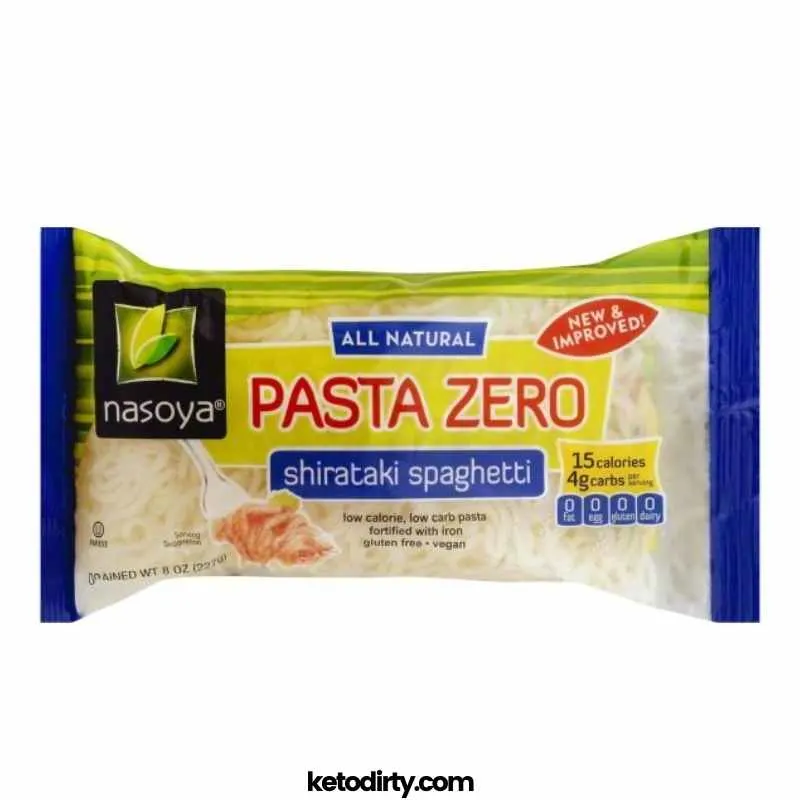 Our local Walmart offers a few different versions of Shirataki noodles. Choose the best shape for your recipe/meal.
Palmini Noodles
Hearts of Palm or Palmini noodles are gaining popularity! Currently, my Walmart only carries the Palmini linguine, but definitely ask your store to find out what is available for purchase.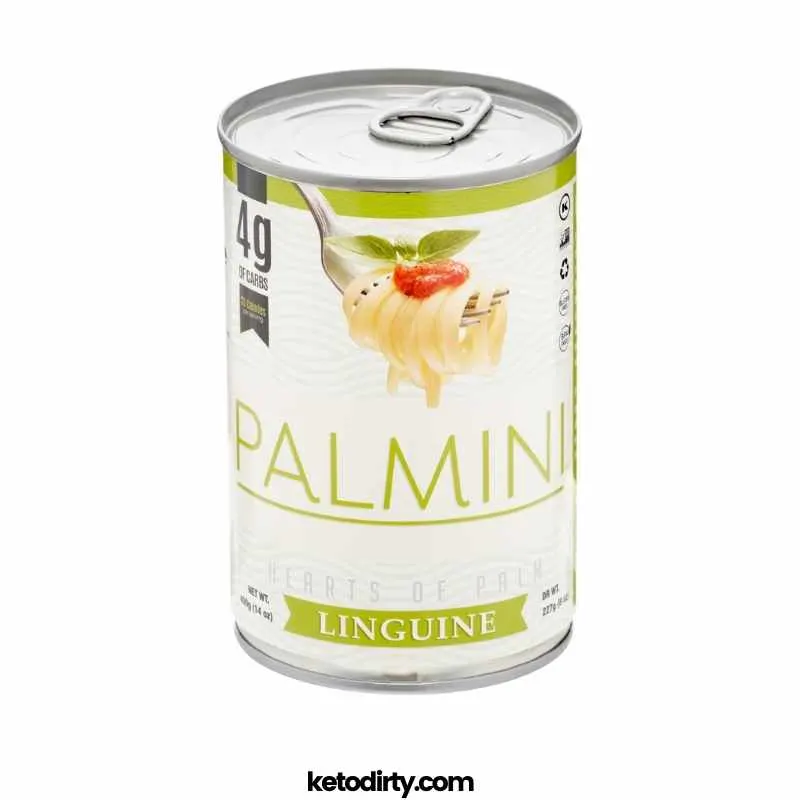 I was able to find Palmini in the special diet food section Walmart aisle. Palmini was next to the gluten-free and diabetic products. I hope that helps, I know that each Walmart grocery store has a different layout.
Zoodles
In the Walmart produce section, next to the pre-packaged salads, look for pre-cut zucchini in the shape of noodles! Yes, Zoodles at Walmart are typically available fresh.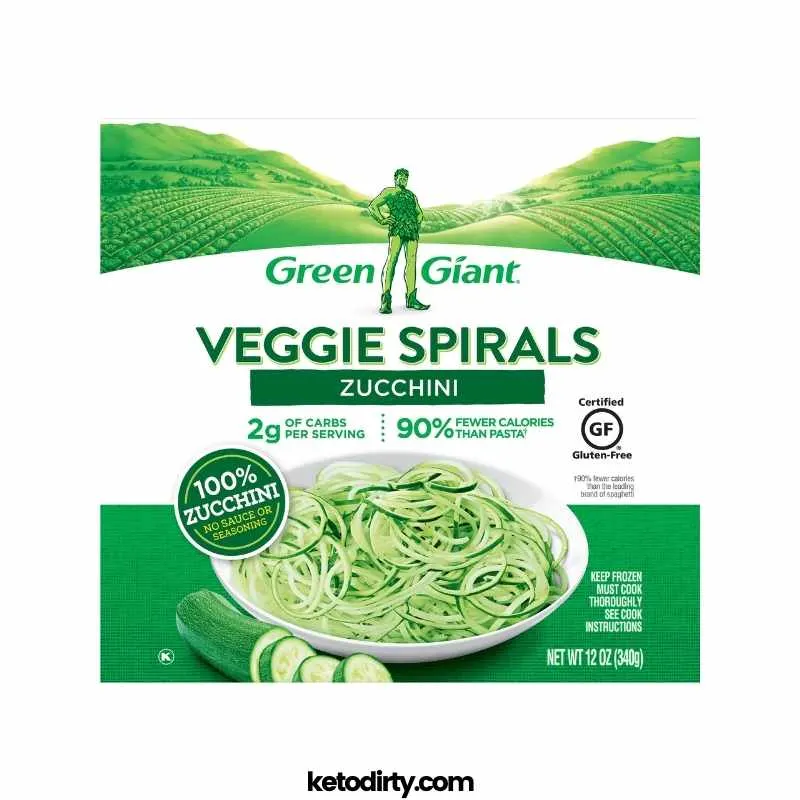 Unfortunately the fresh zoodles only have a few day shelf life. For a longer lasting zoodle option, try snooping out the vegetable freezer aisle. I was able to find frozen Zoodles from Green Giant.
The Green Giant zoodles are definitely a great item to toss in your freezer for whenever you get a noodle craving.
Keto Noodles Alternatives
There you have it! A giant list of keto noodles that can be used as noodle alternatives!
Don't Forget the Sauce
And what do you top these keto noodles with? Try our keto pesto sauce and keto alfredo sauce – both are low carb options that will take these keto noodles to a whole nother level!
We just rounded up our favorite keto marinara sauces – if you want wanting a tomato noodle low carb dish.
Check out more of our keto food lists to find the best low carb foods for your keto diet!
Best Keto Pasta Noodles
We hope you enjoyed our list of the best keto pasta noodles. Get the taste of carbs without actually eating the carbs!
Follow Keto Dirty on Social – Facebook / Keto TikTok / Pinterest / Instagram
Keto Dirty is reader supported. When you buy through links on our website, we may earn an affiliate commission.