Craving pasta? Learn how to make keto pasta with just 2 ingredients!
We are all about helping you live the best keto life by finding healthy alternatives to your favorite carby foods. We've talked about finding a great keto bread and keto tortilla – but today, you guys will love this. We are talking keto PASTA!
2 Ingredient Keto Pasta Noodles Recipe
If you are rolling your eyes right now saying you don't want any more zoodles, fear not – this is not zoodles.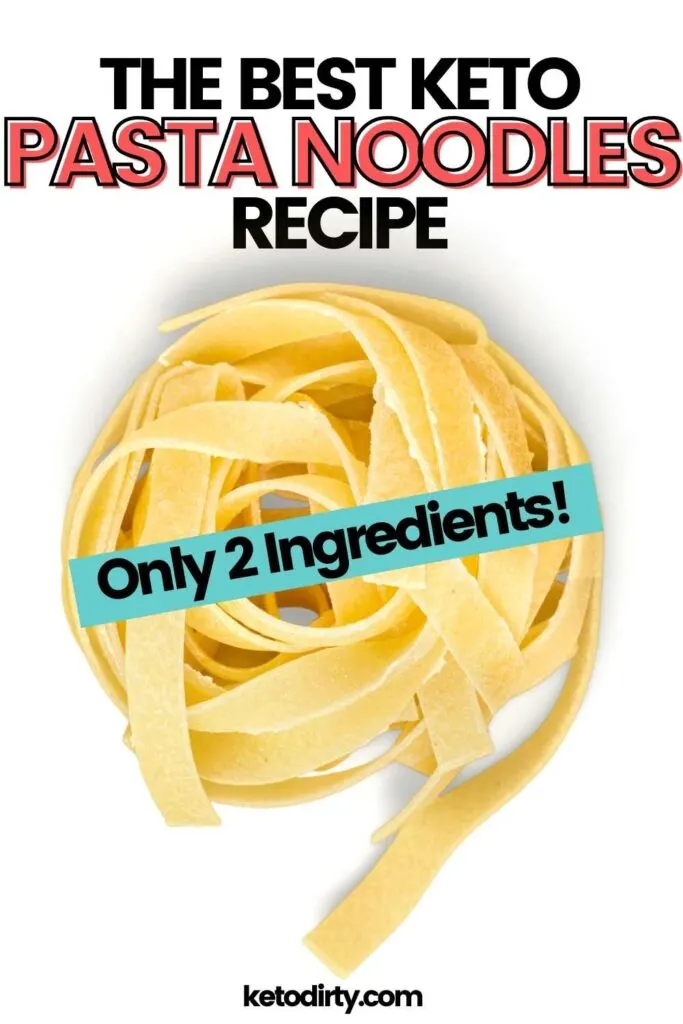 If you are looking for a keto friendly pasta but are so tired of zoodles, we've got you!
This keto pasta 2 ingredient recipe contains zero vegetables, has the consistency of normal noodles and is low carb. Winning, right?
Keto Spaghetti
If you are missing out on spaghetti, fear not. This keto pasta recipe makes a great low carb spaghetti alternative. Make these keto noodles for you and then boil up the family some traditional noodles. Win-win and you aren't having to make multiple meals and you are staying on the keto train!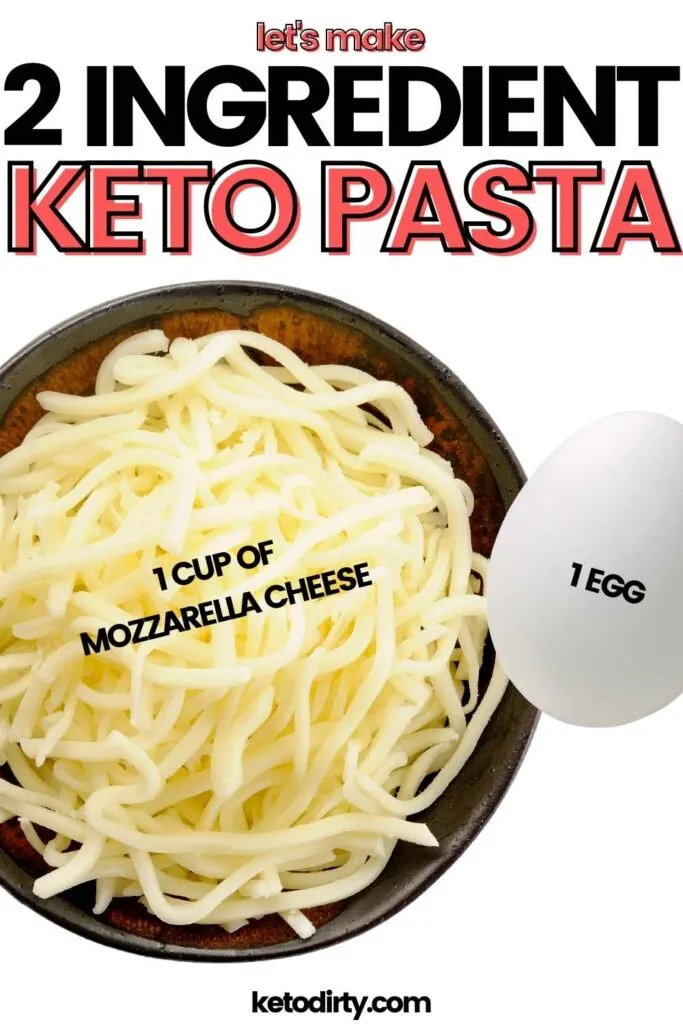 Let's look at how to make keto pasta noodles with just eggs and mozzarella cheese!
Only 3 Net Carbs
This keto pasta recipe is for 1 serving, but can easily be doubled or tripled. For 1 serving, you are looking at only 3 net carbs!
Keto Friendly Pasta Sauces
Now that you have made your keto pasta noodles, what keto friendly pasta sauce are you going to top your noods with? Let's look at a few keto pasta sauces that you can eat your keto noodles with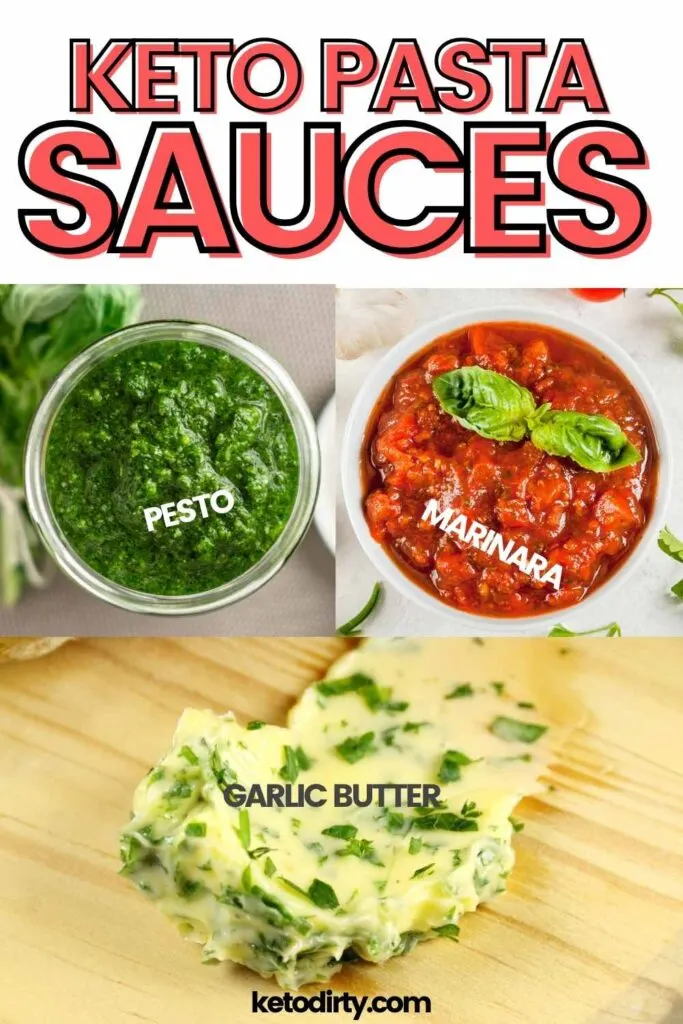 Ground Beef and Marinara
Make a traditional spaghetti with these 2 ingredient keto pasta noodles and our favorite keto marinara sauces.
Pesto Sauce
Make a low carb keto pesto sauce or purchase a jar of pesto sauce. For a store bought pesto sauce, the Classico Pesto with basil has approximately 4 net carbs per 1/4 cup. Pesto sauce does not require large amounts for flavor.
Grilled Chicken and Garlic Butter
My favorite keto pasta meal with these low carb egg noodles is topping the noods with grilled chicken and melted garlic butter as the sauce. I am not too huge on marinaras. I should say, my stomach is not too huge on marinara sauce.
Alfredo Sauce
Enjoy the delicious creaminess of our keto alfredo sauce.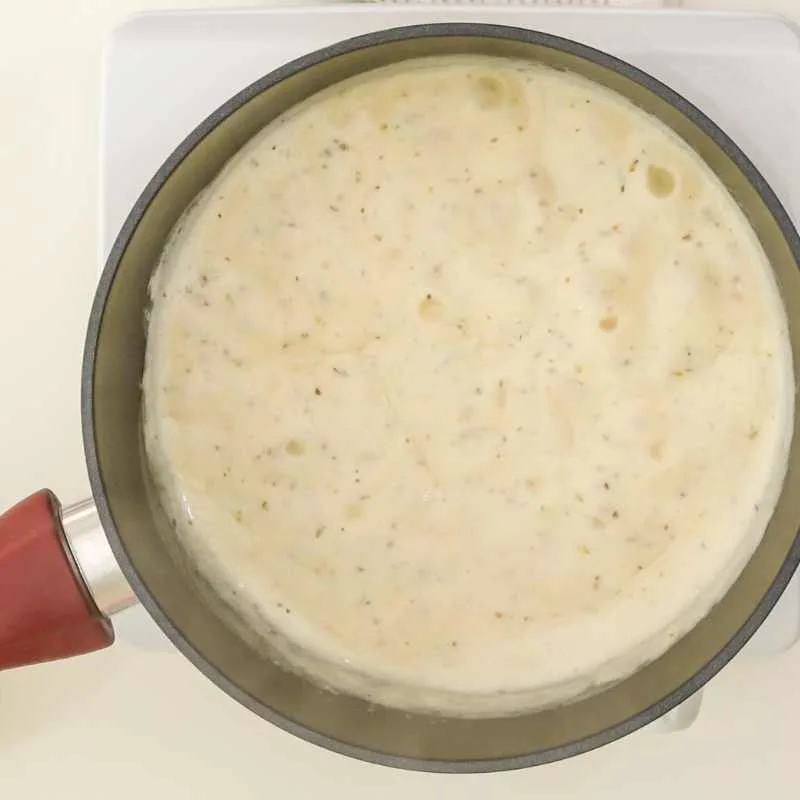 This keto noodle sauce tastes like Olive Garden's alfredo. Don't worry, we don't use flour to make this keto friendly pasta sauce option.
Don't Forget the Keto Garlic Bread
If you read the headline keto garlic bread and said LIES, let me make sure that you saw our post on Sola bread! Make a delicious keto garlic bread using melted garlic butter spread on Sola bread then toasted. You are welcome.
Questions about Keto Noodles
Here are common questions answered about making keto noodles.
Do I need to use flour to make keto pasta dough?
No flour or almond flour is needed to make this keto pasta dough recipe.
How many carbs in egg?
These is just under 1 carb in an egg.
Can I use to make a baked dish?
Yes, though note that most likely the noodles will not stay in noodle form when using in a baked dish. You may just end up with an extra cheesy dish. Since these keto egg noodles consist of just egg and cheese, expect the keto noodles to melt.
How many carbs in mozzarella (1 cup?)
In 1 cup there are approximately 2 net carbs in mozzarella cheese.
Do I have to refrigerate the keto noodles?
Yes, after making the keto noodle dough, you will need to refrigerate the dough for around 5 hours to draw out the moisture. This is what gives the keto pasta dough it's shape.
How long do the keto pasta noodles last?
If you are wanting to make keto pasta noodles ahead of time for meal planning or a future meal, I would suggest making the dough and then refrigerating for up to 5 days. Don't cook the keto pasta until you are ready to eat it. The noodles only take 30 seconds to cook!
Can I freeze the keto egg noodles?
I don't see what you wouldn't be able to freeze the keto egg noodles. I would suggest keeping the noodle dough on the parchment paper then placing in a freezer bag. Do NOT cook the noodles before putting in the freezer. I would thaw the noodles in the fridge before cooking (don't cook the noodles frozen.)
We hope you enjoyed this keto Italian recipe. Don't miss out on all of our keto recipes!
Follow Keto Dirty on Social – Facebook / Keto TikTok / Pinterest / Instagram
Keto Dirty is reader supported. When you buy through links on our website, we may earn an affiliate commission.
If you are experiencing a stall or plateau, here is what you need to know in regards to best place to inject Mounjaro for weight loss from our community.