Keto Taco Soup Recipe is today's keto soup of the day. It's soup week here at Keto Dirty. We are embracing the cold weather by sharing our favorite low carb soup recipes.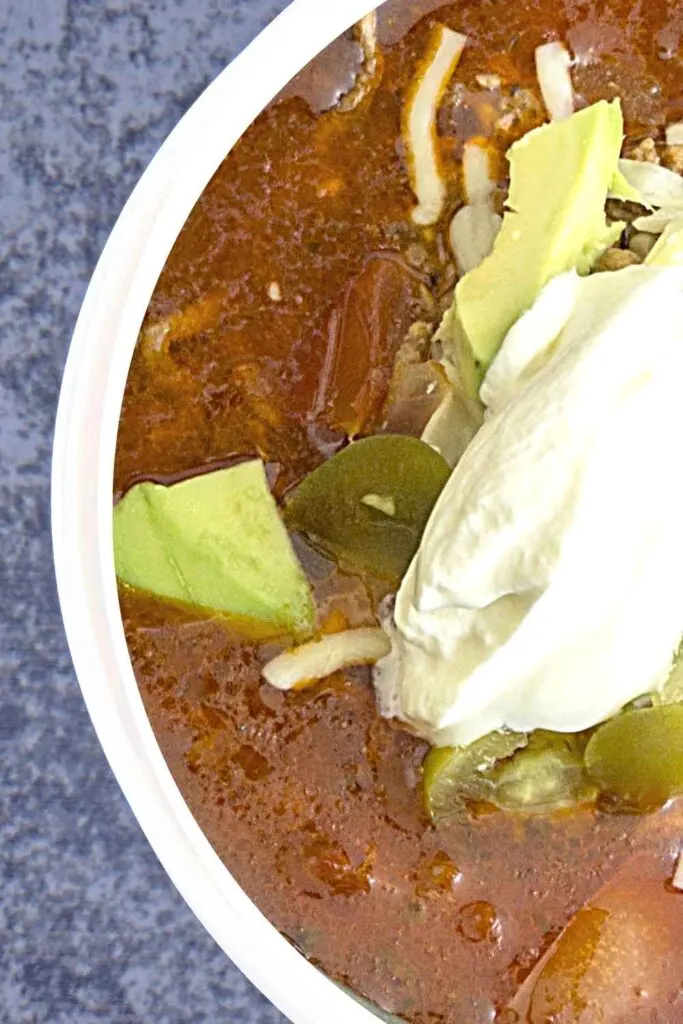 We are obsessed with this low carb soup (and Mexican food.) And because we all cook differently and our needs change from time to time – we are showing you how to make this keto taco soup on the stove top, Instant Pot and slow cooker.
Taco Soup Ingredients
So basically, you have no excuse not to make this dish. Let's start out with the taco soup ingredients. Here is what you will need, regardless of what you use to cook it with.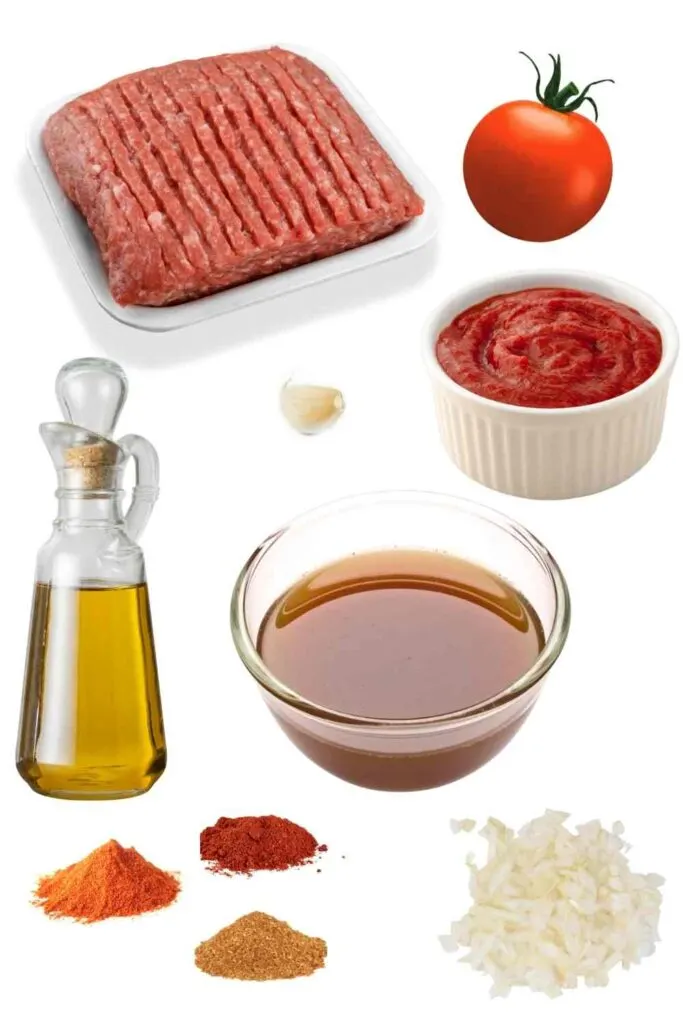 Here are the taco soup ingredients for what you will need to gather:
90% Lean Ground Beef – 1 pound
Beef Broth – 3 cups
Chili Powder – 1.5 tsp
Smoked Paprika – 1.25 tsp
Ground Cumin – 1 tsp
Garlic – 1 clove
Olive Oil – 1 tbsp
Tomato – 1 medium
Tomato Sauce – 1 cup
Diced Onion – 1 cup
Optional Ingredients
Dried Cilantro – 2 tsp
Dried Oregano – 1 tsp
Rotel Tomatoes – .5 can
Top Your Taco Soup (optional)
These will add carbs, but boy do they make your soup yummy.
Sour Cream
Avocado
Shredded Cheese
Jalapenos
Fried Pork Rinds
Let's Prep
Now, let's prep your ingredients. You will actually want to do this prep regardless of your cooking method.
To get prepped, here are a few things you will want to do.
Get out your favorite soup pan.
Dice the tomato.
Chop the onion and measure 1 cup.
Crush your garlic clove.
Get out all of your spices.
Open your can of tomato sauce and beef broth.
Prepping helps make sure all is in order before you start making the soup.
How to Make Keto Taco Soup on the Stovetop
Ready to make keto taco soup on the stovetop? Let's do it. Keep reading for directions on how to make our slow cooker and Instant Pot keto taco soup recipe.
Brown the Ground Beef
Heat the olive oil in your favorite soup pan over medium heat on your stove top. Mix in the chopped onions with the crushed garlic clove.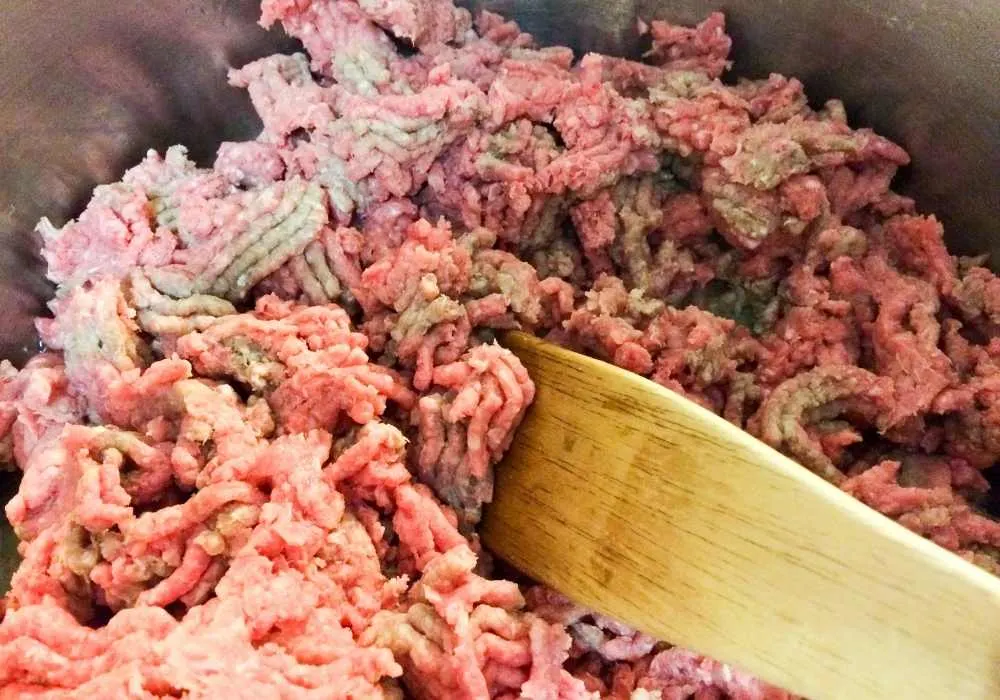 Add in your ground beef and brown. You will want your ground beef cooked and onions soft before moving on to the next step.
Check out our Google Taco Soup Story
Keto Chicken Taco Soup – Anyone?
Pause please, because yes. We are making this taco soup keto recipe with ground beef. That said, no one said you can't do this recipe with chicken instead!
Parboil chicken for a delicious keto chicken taco soup. Or cook up ground chicken or ground turkey (though technically, then it would be keto turkey taco soup). Make this recipe your own.
Keto Vegan
And if you are a keto vegan – get it, just don't add meat!
Mix in the Vegetables and Spices
Once the beef is browned, add in the diced tomato and your spices (and any additional spices that you are wanting to add-in.)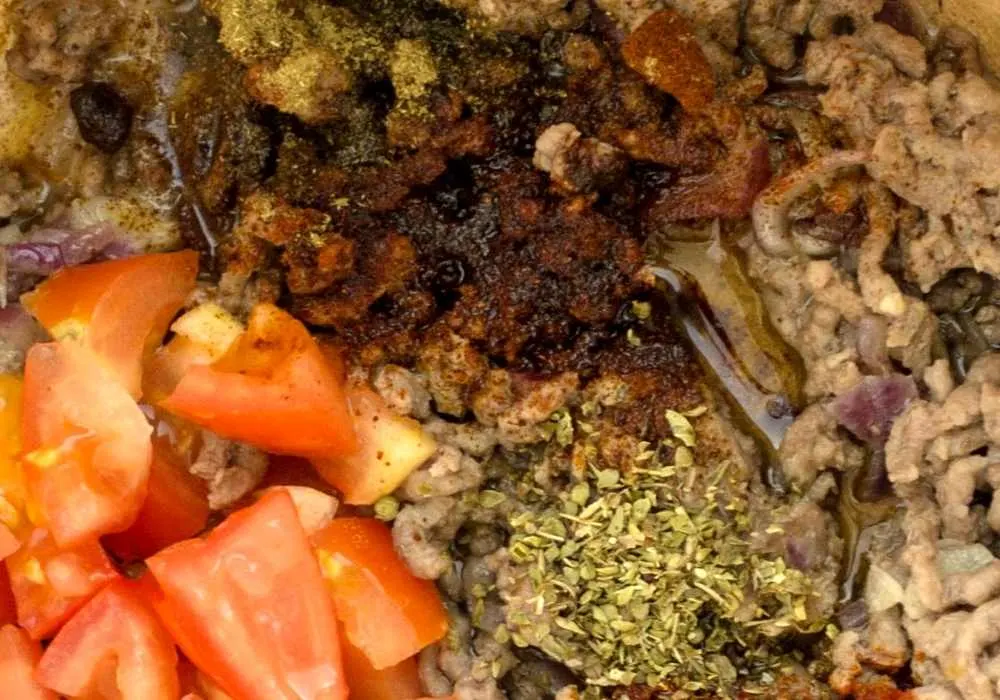 Mix everything together and cook over medium heat until the tomato is soften and the spices are warmed.
Soup it Up
Your mixture is looking a meaty – let's soup it up. Add in the can of tomato sauce and your beef broth. Don't have beef broth? No worries – use chicken broth or beef bullion.
Let it Cook
Cook your keto taco soup for a minimum of 10 minutes. This is one of those dishes that the longer it sits the more the flavor develops. After the 10 minute mark, move to low.
Taco Soup Toppings
Now that the keto taco soup is cooked, let's put it in bowls and top it with your favorite toppings. These add on carbs, but also add to the flavor. So add to your liking. These carbs are not counted in the taco soup base.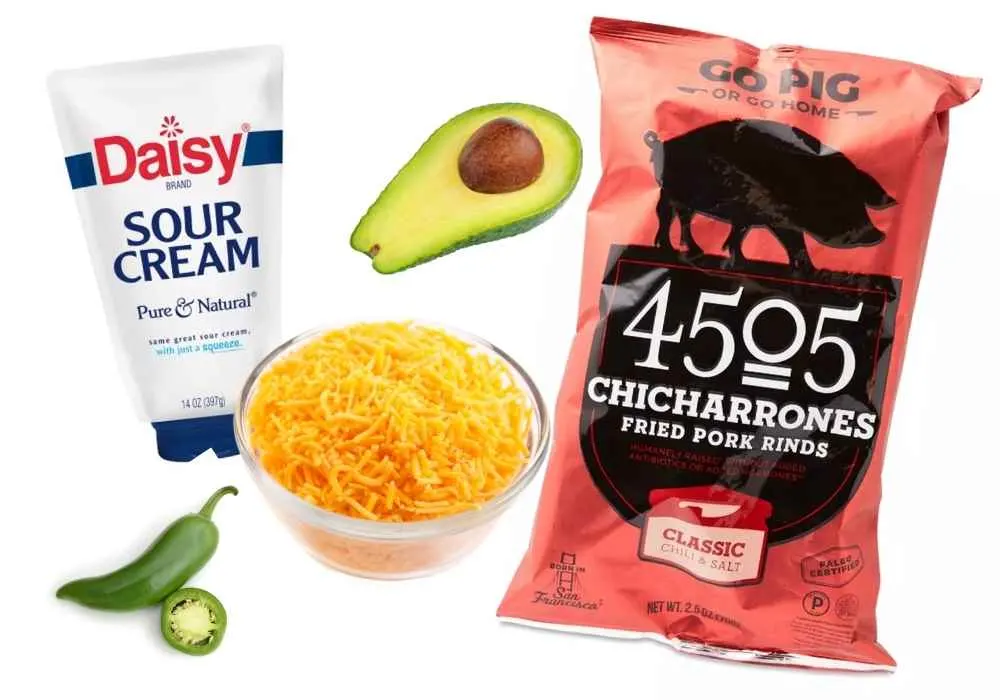 Are favorite taco soup toppings are avocado, sour cream and cheese. Want to spice it up? Add jalapenos. Want crunch? Add fried pork rinds.
Keep reading to learn how to make this a slow cooker or Instant Pot taco soup.
Low Carb Taco Soup Your Way
Here is something we want to make sure that you know about what we do here at Keto Dirty. We do things that work for us. And with that said, we want to guide you to find recipes, tips and suggestions that can help spark a new food, idea or motivation but at the end of the day – this is your life.
Spicy Soup
For those of us in Texas and or who adore Mexican food – today is taco tuesday! And while we did indeed find awesome keto tortillas to make tacos with, this is keto taco soup recipe totally qualifies for a valid Taco Tuesday meal.
If you are into spicy soup, this keto taco soup can easily be made spicier by adding more jalapenos.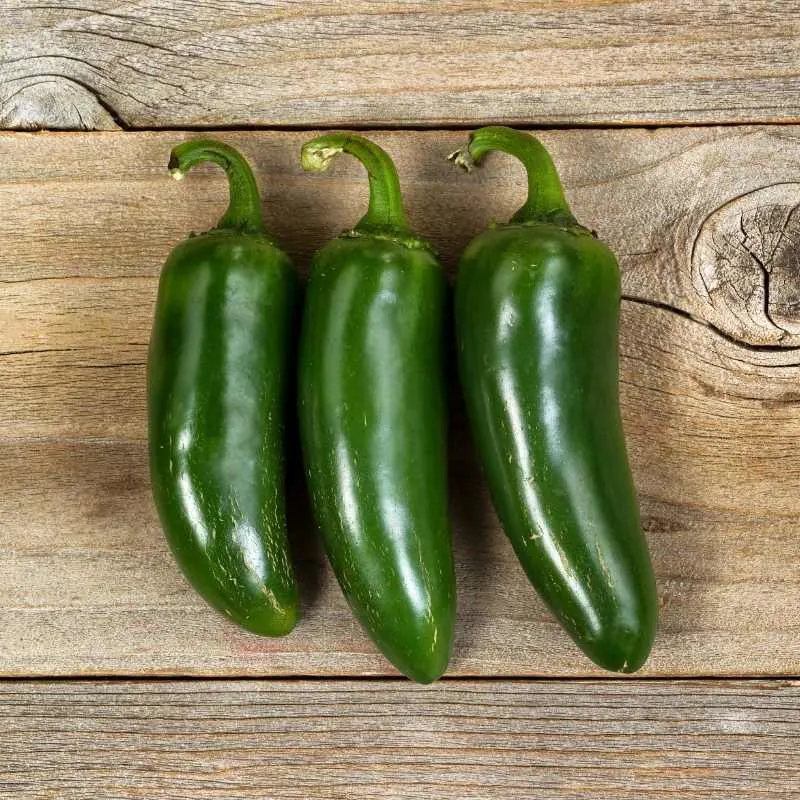 You can so spice it up with a dash of cayenne or dried red peppers.
Make it Creamy
If you like the sour cream but just wish this soup had a more creamy flavor, mix in a tablespoon or 2 of HWC (heavy whipping cream).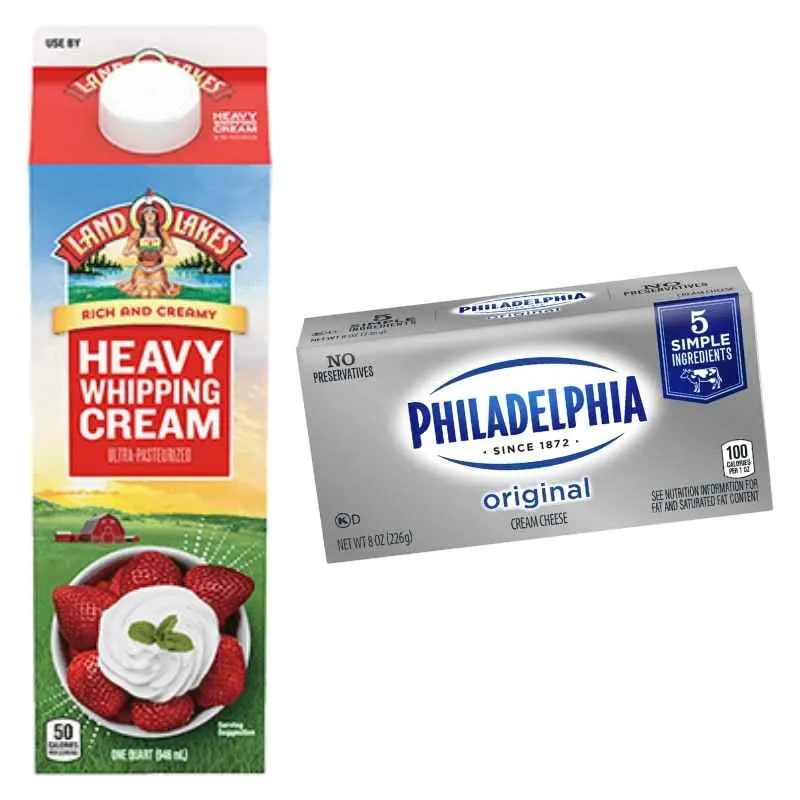 Another way to make this taco soup creamy is by adding in diced cream cheese. You will want to make sure it's at room temperature to avoid the cream cheese clumping.
Make it Meaty
While our base keto taco soup recipe calls for a pound of meat, if you want a more meaty taste – add in more ground beef!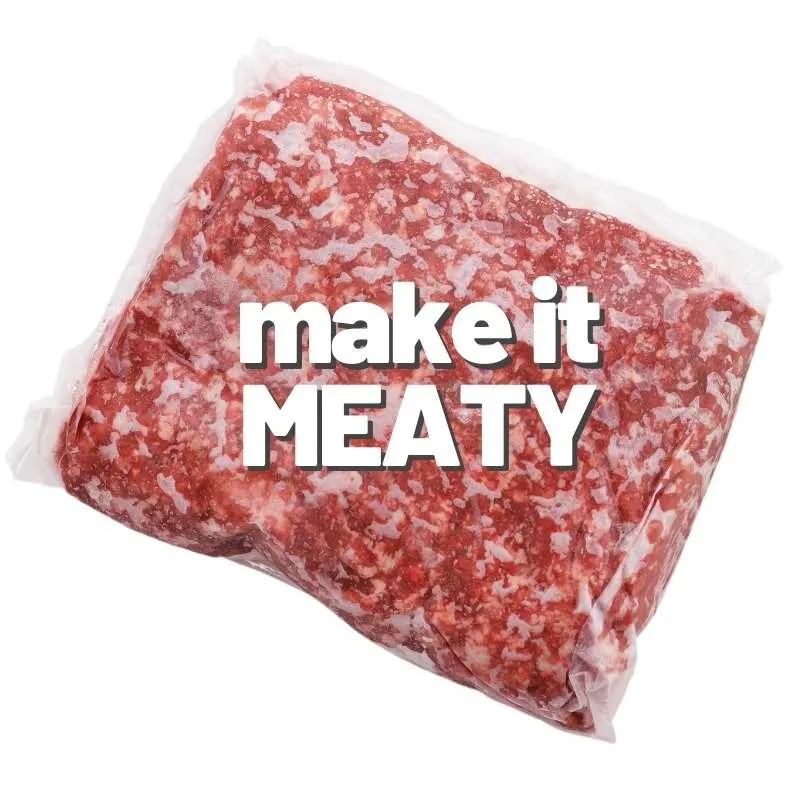 Taco Tuesday Alternative
So with that said, take our low carb taco soup recipe and make this your way. We are going to share the base keto taco soup recipe with you but feel free to change it up! Here are some suggestions:
Low Carb Taco Soup FAQ
Let's answer some frequently asked questions about low carb taco soup.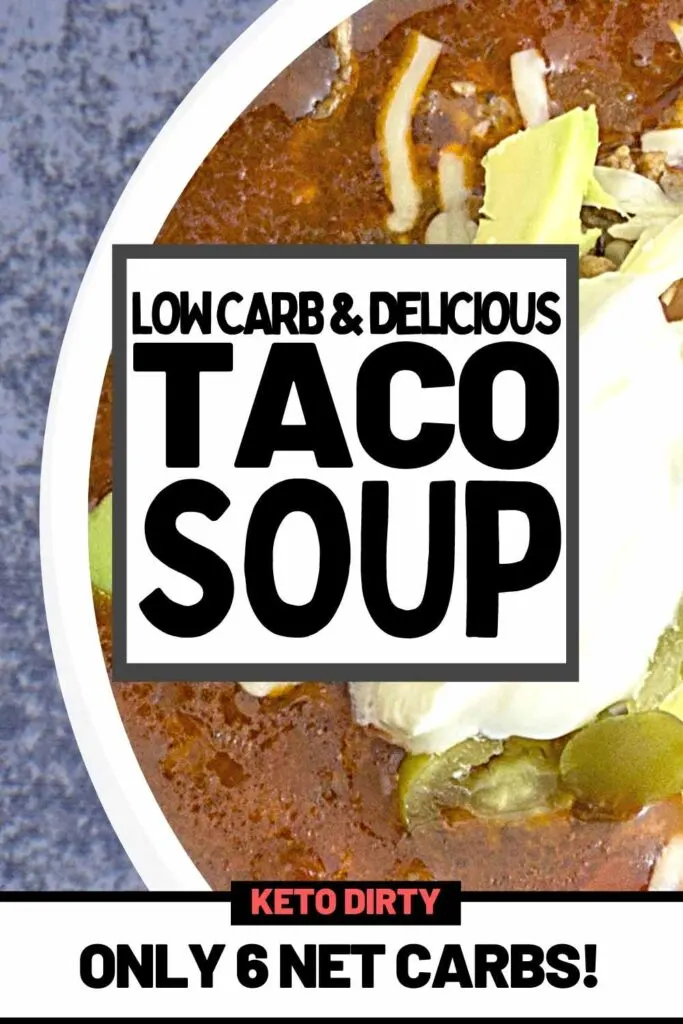 Do I have to use drain the ground beef?
If you are using 90% lean ground beef, there won't be too much excess grease. You probably will want to drain if you are using a more fattier ground beef for the taco soup.
What can I use for tortilla chips?
Tortilla chips are pretty much a no in the low carb world. But who knows, maybe Doritos has something up their sleeve? I mean, we do now have keto wine!
All that said, if you are missing the crunch of tortilla chips – try using pork rinds instead. When using pork rinds in a soup – the taste is masked by the soup ingredients.
Can I use chicken broth if I don't have beef broth?
Yes, feel free to use chicken broth if your pantry doesn't have beef broth. Something that I have started keeping around is chicken and beef bouillon cubes. This makes life a lot easier when I forget to order something simple like broth when ordering groceries.
Can I use chicken instead?
Yes, for a lighter taste, more like a tortilla soup – you can use chicken. The ground beef does add in a lot of the flavoring of this dish so it won't be the same but I'm sure it would still taste great – just different!
How many carbs in keto chicken taco soup?
There are only 6 net carbs in keto chicken taco soup (our version!) We make our taco soup with ground beef, but chicken could be easily substituted!
How long to cook keto crockpot taco soup?
In the crockpot, you will cook taco soup around 3 hours. If you slow cook this, it will take around 6 hours. This low carb soup makes a great set and forget meal. The flavor intensifies as it cooks!
We have more low carb soups to share. Don't miss yesterday's keto soup of the day – keto broccoli cheddar soup.
Follow Keto Dirty on Facebook and Instagram
Don't miss all of our keto soup recipes! And if you are into slow cooking, you will love our 75+ keto crock pot recipes.