Y'all, this keto pancake recipe is everything.
We make a lot of chaffles around here. Everything from sweet to savory. With all this breakfast and waffle making, I was ready for some pancakes! With just a few ingredients, this easy keto pancakes recipe is LEGIT.
How legit is our keto pancake recipe? The entire family loves it, yes – the non-keto people who think eating low carb is crazy…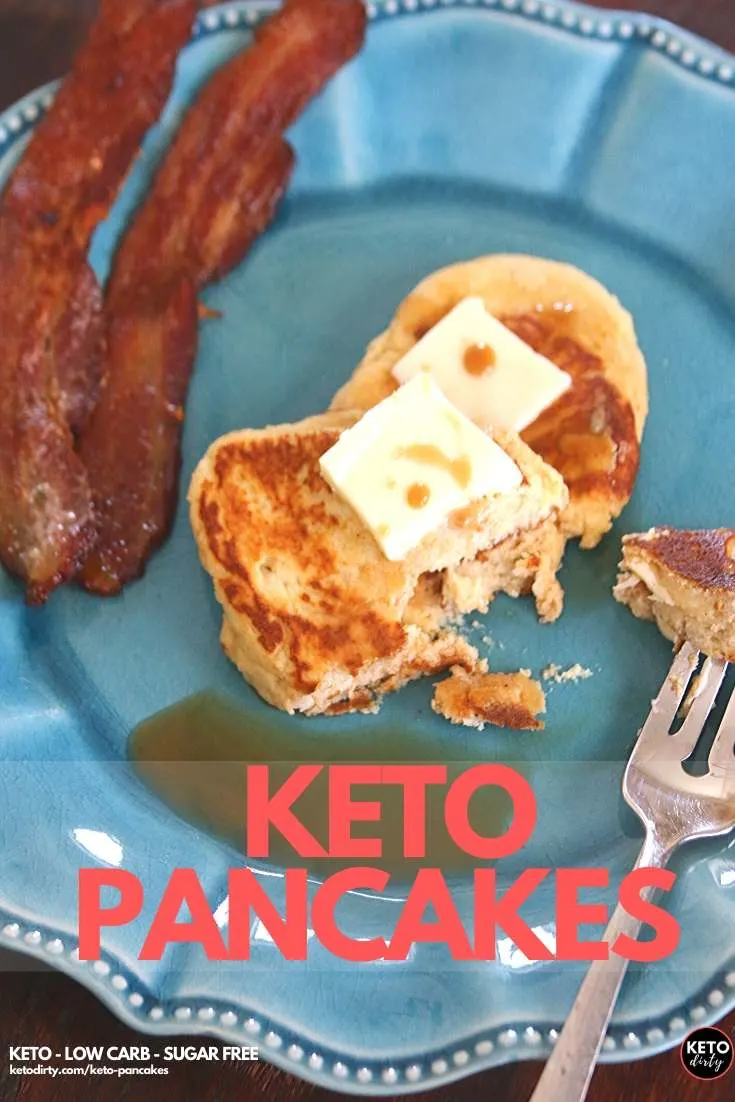 They LOVE these pancakes and hopefully you will to. And did you read that bit about easy? That's the cherry on top!
Pair this deliciousness with bacon and our favorite keto syrup, you are in low carb breakfast heaven.
How to Make Keto Pancakes
We don't have time to talk, we have keto pancakes to make. Let's first look at what we will need to make these delicious pancakes for breakfast.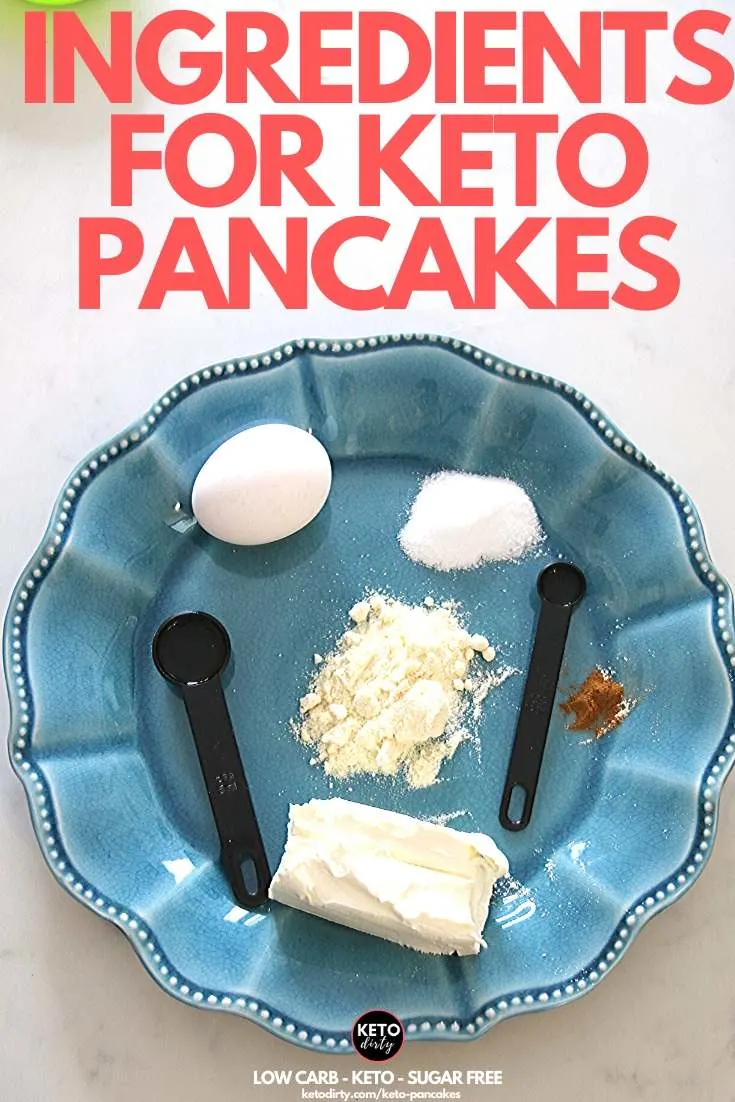 Ingredients
The ingredients for our keto pancakes are simple and possibly already have these items in your kitchen.
Egg
Cream Cheese
Heavy Whipping Cream
The one item that you may need to purchase is maple extract. Yes, you can totally make these low-carb pancakes without it, but the maple extract does play a huge role in making this pancake recipe explode with flavor.
Step by Step Instructions
Here are detailed instructions for making keto pancakes.
First, let's make sure that our ingredients are prepped.
I prefer the whipped cream cheese. If you are using regular cream cheese, leave out to soften to room temperature. You can also soften cream cheese in the microwave for approximately 20 seconds in a Microsafe bowl.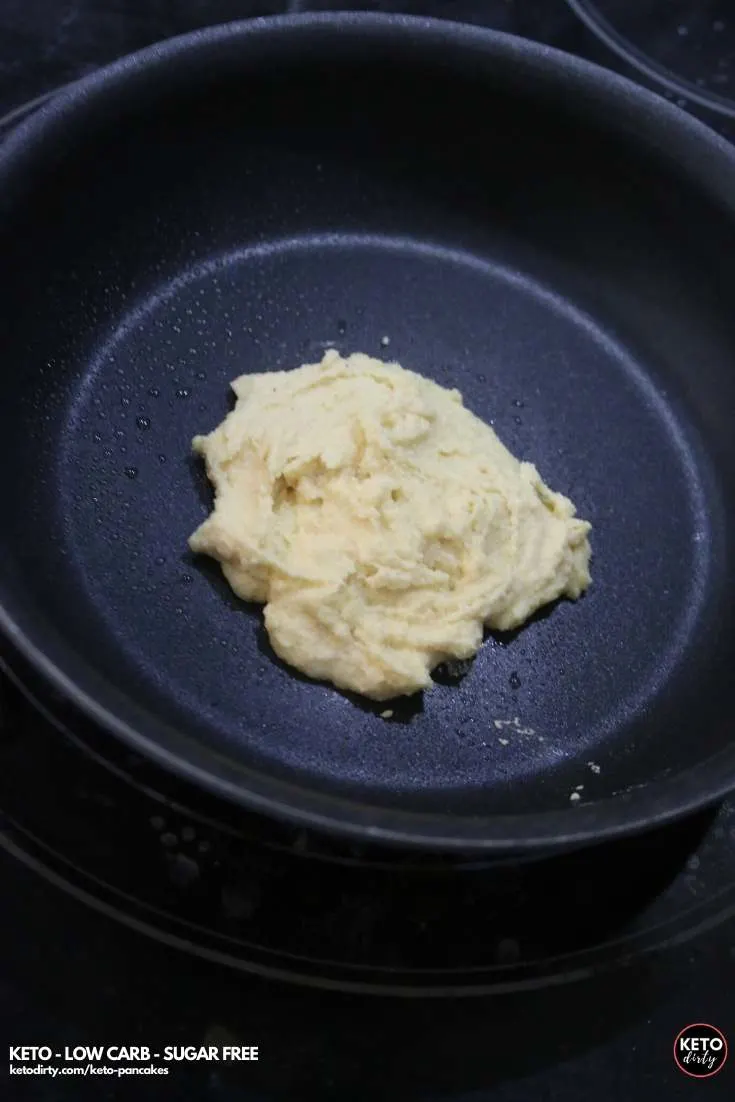 Let's get started. First up for the keto pancake mix, let's put add the coconut flour, stevia, heavy whipping cream, baking soda, cinnamon, vanilla extract and maple extract to a bowl and using a mixer or spatula, mix in with the softened cream cheese.
Get out your frying pan, we have low carb pancakes to make! I like to melt a little bit of butter in the pan before adding in the keto pancake mix, but that is a personal choice.
When your skillet is ready, drop in your pancake mixture. Let cook and then flip.
After the pancakes are ready, place on a plate and get ready to enjoy!
Remember, this is a keto breakfast so to keep it on the low carb, sugar free side of the world – we are going to add butter and a sugar free syrup.
That's if you even want to add a syrup! Remember that maple extract we added, it helps create a rich flavor in these pancakes – so syrup is optional.
If you want a low carb breakfast that is more on the salty side than sweet, check out our keto breakfast quesadillas!
Tips for Making Keto Pancakes
Here are a few tips to help you make the ultimate keto pancakes. If you are going to make them, might as well make sure you make them AWESOME.
Cooking Pancakes
I use a standard skillet. Before cooking, I melt a tad bit of butter in the pan for extra flavor.
Net Carbs in Pancakes
Wondering how many net carbs are in our low carb pancakes? There are 4 net carbs in pancakes.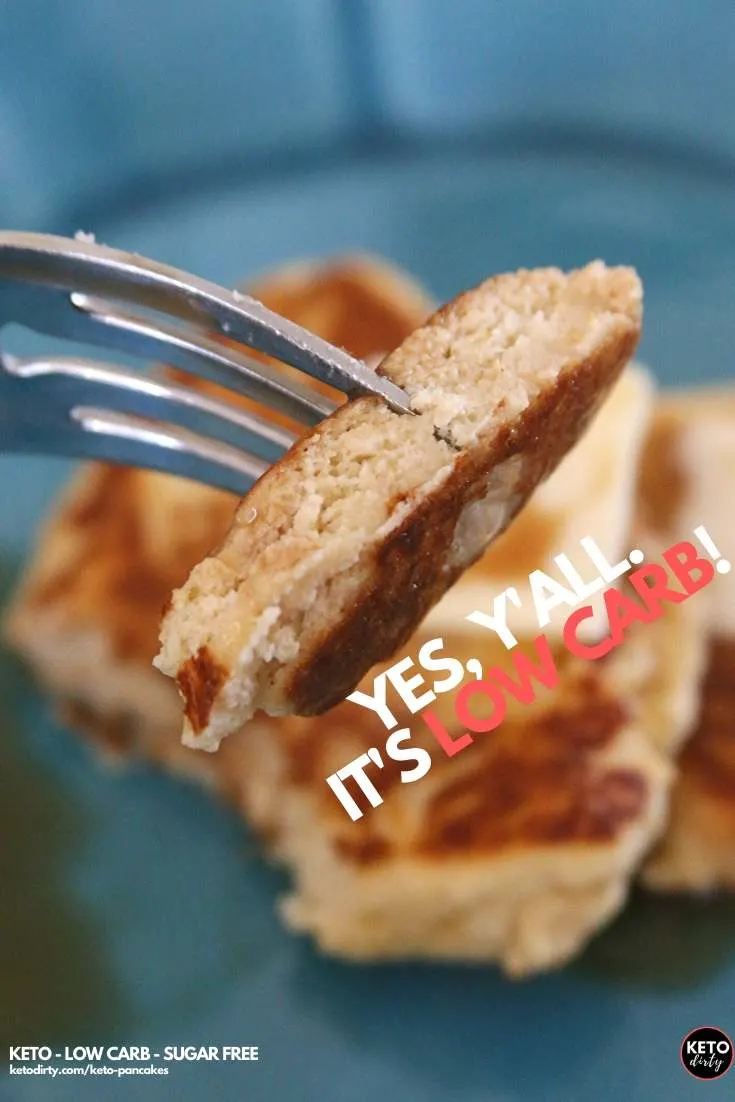 Make in Large Batches
The recipe is for 2 regular size pancakes. That doesn't mean you can't 5x this and make enough for the whole family.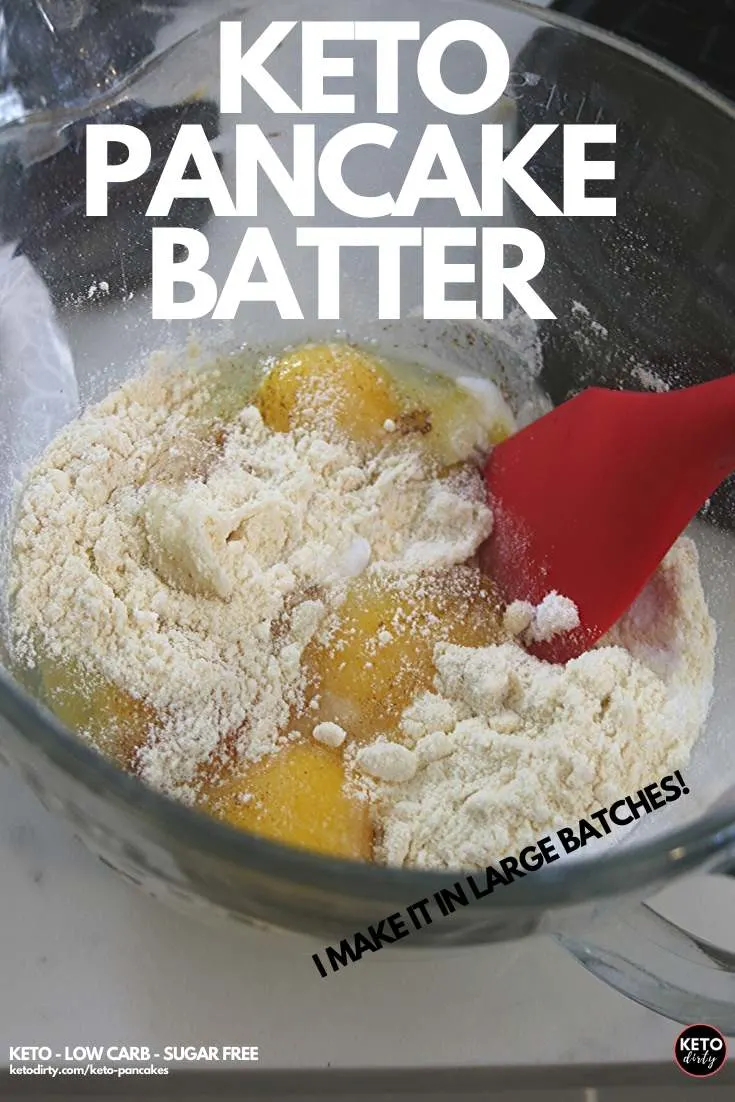 Reheating Keto Pancakes
Another reason to increase the ingredients and make a large batch of keto pancakes is so that you can save for later. Reheating low carb pancakes is simple. Just store in a airtight container in the refrigerator. When ready to eat, heat in microwave for 30 seconds.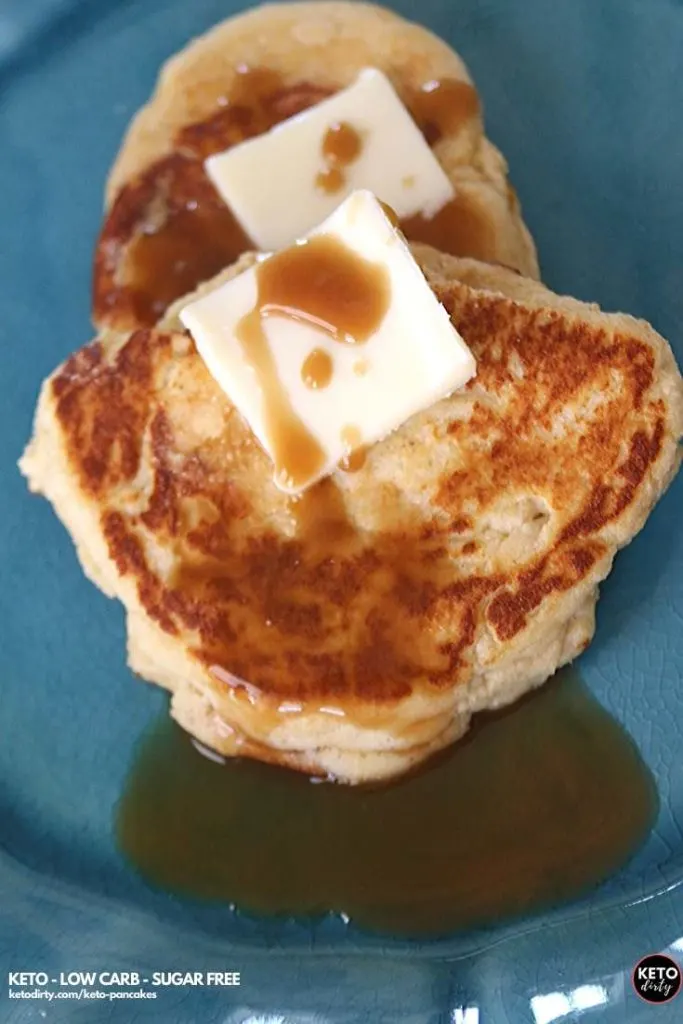 Don't Forget the Bacon
Come on, pancakes and BACON! Who said "dieting" had to be boring. This is legit.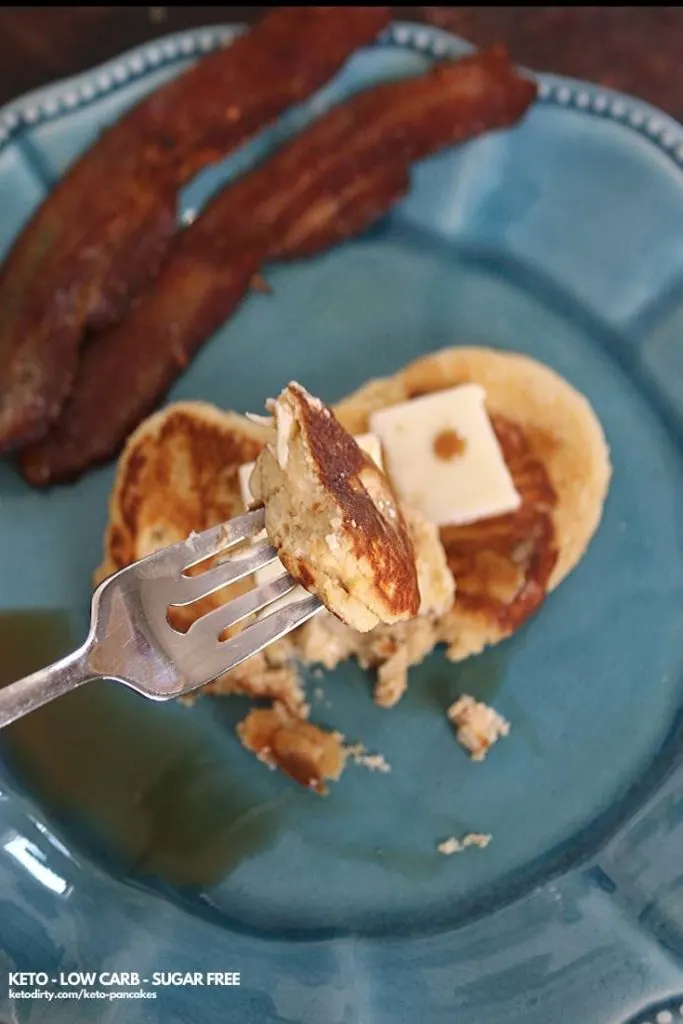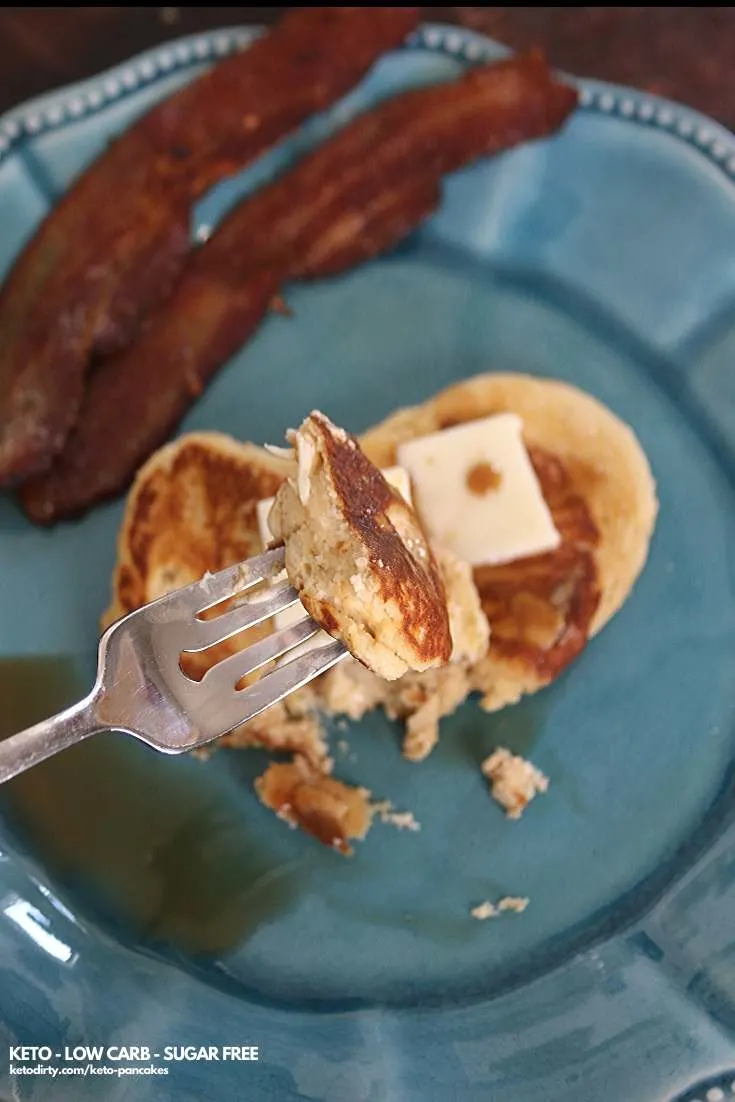 (and if you love bacon, you will love our bacon memes!)
Cream Cheese Keto Pancakes
The texture of these low carb pancakes are just like you would expect in a traditional pancake, but the taste y'all. The cream cheese just makes these down right magical.
Low Carb Breakfast Food
If you and your family love breakfast, we got you! Don't miss out on all of our yummy keto breakfast ideas!