I'm sharing the perfect Keto omelette recipe with you today, and by perfect – you guys, I mean perfect! Here's my secret keto omelette recipe and how to make it flawless.
You guys, I love me a good omelette and we all know that when eating keto, eggs are a staple low carb food. Today, I am sharing a keto omelette recipe featuring sausage! This isn't just any keto breakfast recipe, this is the perfect omelette.
Sausage, Eggs & Cheese Keto Omelette
Just look at these photos! It's not only the perfect circle shape, more on that in a minute – but it is the perfect combination of cheese, eggs, sausage and cooked to perfection.
Yeah, that's a whole lot of perfect. After eating this keto omelette for breakfast this morning, I wish I had a keto bagel! Next time.
Quick and Easy Keto Breakfast
So one thing I love about this recipe is the no-thinking required. You get a perfectly cooked egg without having to worry about watching it on the stove. Also, something that I preach a lot here is being prepared!
What does this mean? It means make sure you have food ready and available for you to always be able to make a meal. If you are hungry or hangry, no judgement – but that leads to desperation eating!
Cook Sausage Ahead of Time
So one of the foods that I have readily available each week is ground breakfast sausage. Cook sausage ahead of time and keep it in your fridge.
Each week, I'll cook ahead a pound of sausage and keep this handy in the fridge. This makes it so easy to have a protein to grab to eat in various ways. You may have seen my keto sausage crepe recipe… I love me some pre-cooked sausage!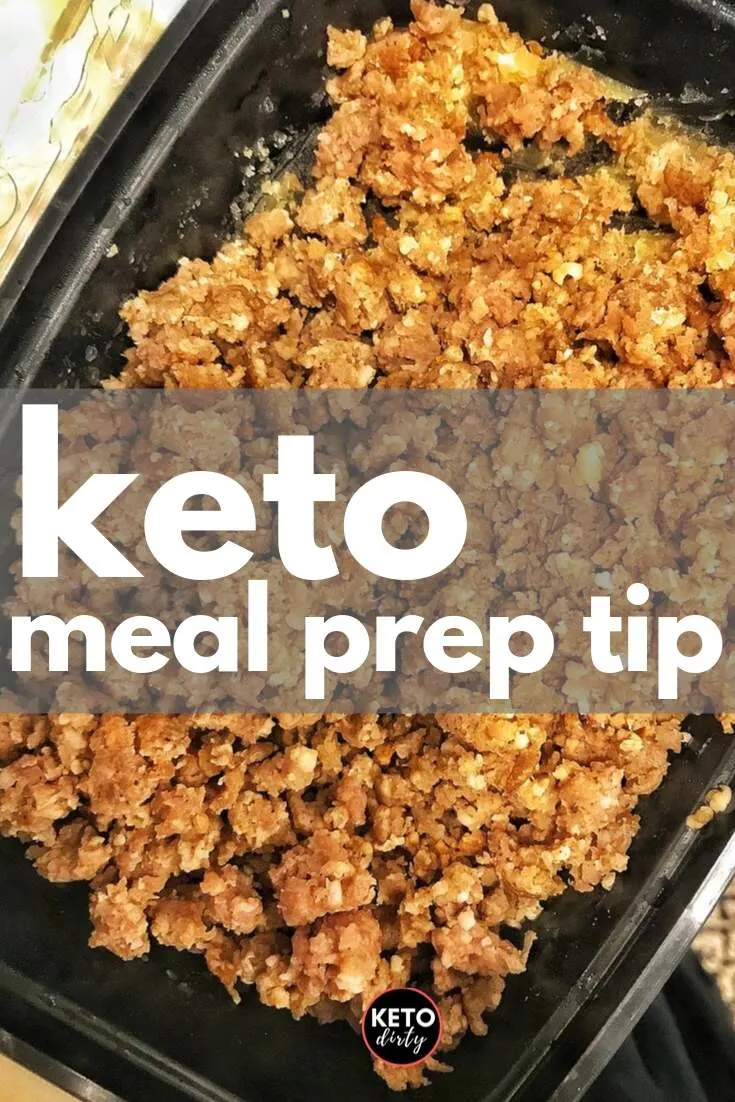 I use these food prep containers for easy storage.
For now, let's stop the yip-yap and show you how to make this egg dish.
Easy Keto Omelette in Dash Rapid Egg Cooker
A few months ago, I bought a Dash Rapid Egg Maker and while I bought it because it was cute and was curious to how it would work, it's blown my mind on several things.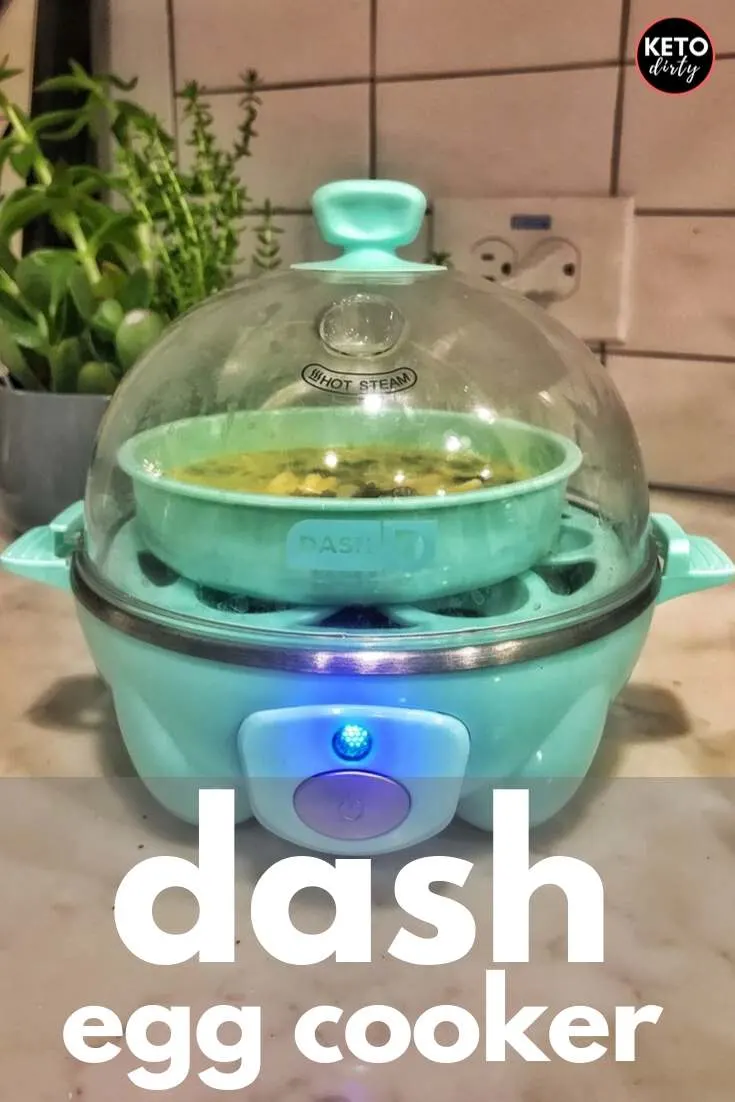 The easiest way to make a keto omelette is using a Dash Rapid Egg Cooker. Before you roll your eyes, know I DID the SAME THING until I saw this thing in real life. A friend bought it and after realizing my kids could use this to make their own eggs, DONE.
Dash Omelette Maker
More than an egg cooker, this also works as a Dash Omelette Maker (as well as makes hard boiled eggs and poached eggs, too!)
Electric Omelette Maker
So when it comes to making keto omelettes – this electric omelette maker makes them even easier and in no time since you don't have to babysit the eggs over the stovetop. The Dash is available on Amazon for under $20.
Cooking Eggs with Steam
The Dash Egg Cooker uses steam to cook your eggs. This way of cooking makes fluffy eggs when making omelettes. The device uses steam when making other types like poached eggs or hard boiled eggs (that are actually steamed eggs!)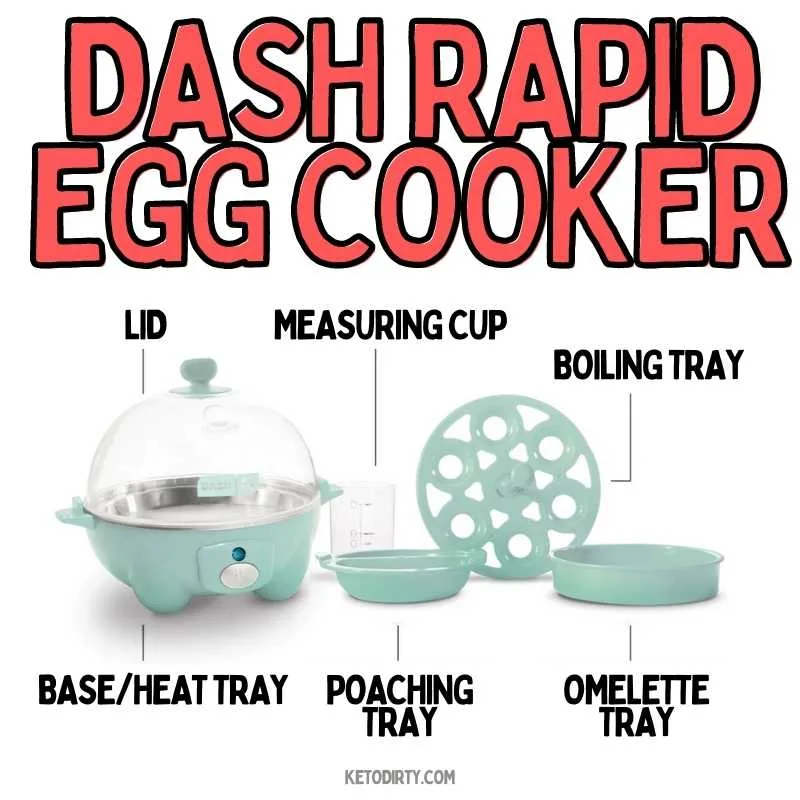 Dash Egg Cooker Instructions
Making eggs is super easy and this egg maker comes with a few different ways to make eggs. Since our focus is keto omelettes – I"m showing you how to do that.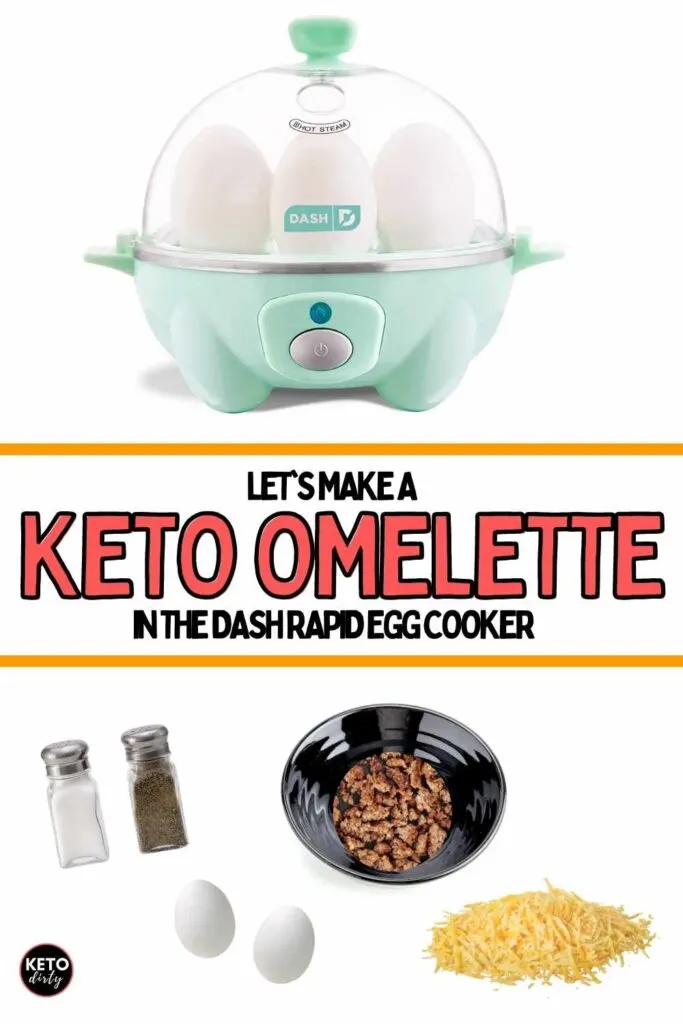 What You Will Need
We will be using the Dash omelette maker, tray accessories, measuring cup that comes with the maker, water, eggs and your keto omelette ingredients. For this tutorial, I am using cheese and pre-cooked sausage for my dish.
How to Use Dash Egg Cooker for a Keto Omelette
Here is how to use Dash egg cooker to make a keto omelette.
First, scramble 2 egg into a bowl.
Next, plug in your Dash Rapid Egg Cooker.
Now lets spray your Dash omelette pan with cooking spray so that the food doesn't stick.
Fill your measuring cup with water up to the Omelette line.
Pour water into the warming plate.
Place pre-greased omelette spray onto the warming tray.
Pour half of your egg mixtures on the warming tray, as well as your keto omelette ingredients. I am using cheese and sausage in my version. I am going to sprinkle in around 1/4 cup of shredded cheese and 1.5 tablespoons of cooked sausage. If you want, you can salt and pepper as desired. After adding your ingredients, pour the rest of the egg mixture from the bowl on top of them.
Place the dome of the Dash cooker on top of the device and now we wait while your keto omelette is steamed!
In approximately 10 minutes, your Dash Egg Cooker will beep loudly notifying you that your low carb omelette is done!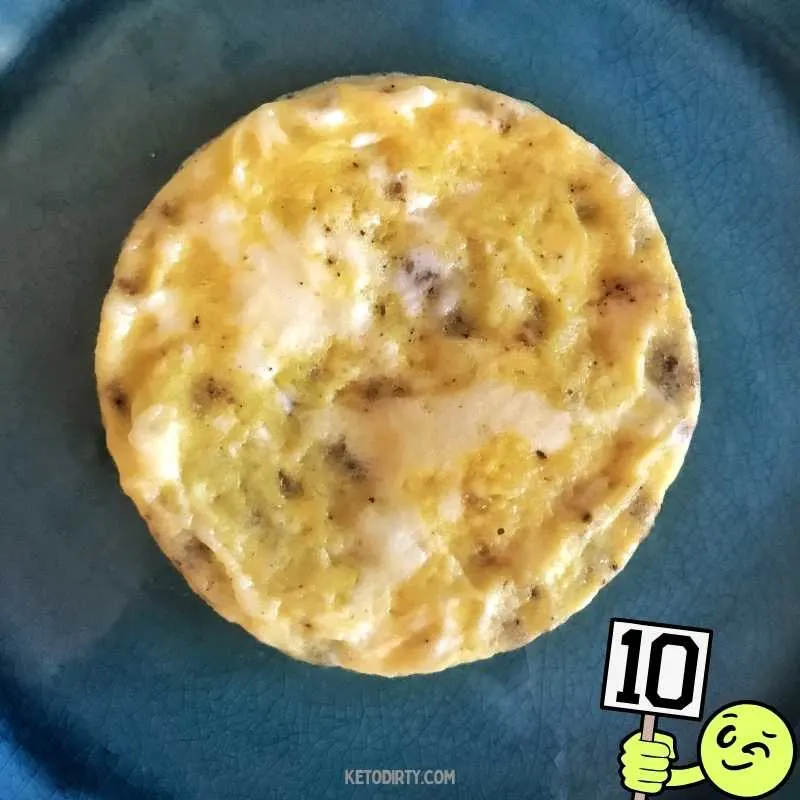 Since you pre-greased the omelette dish, the eggs should easily slide out onto your plate. Enjoy!
Dash Deluxe Rapid Egg Cooker
If you have a large family or like to eat LOTS of eggs (no judgement here!) – this electric egg cooker maybe your answer! Meet the Dash Deluxe Rapid Egg Cooker.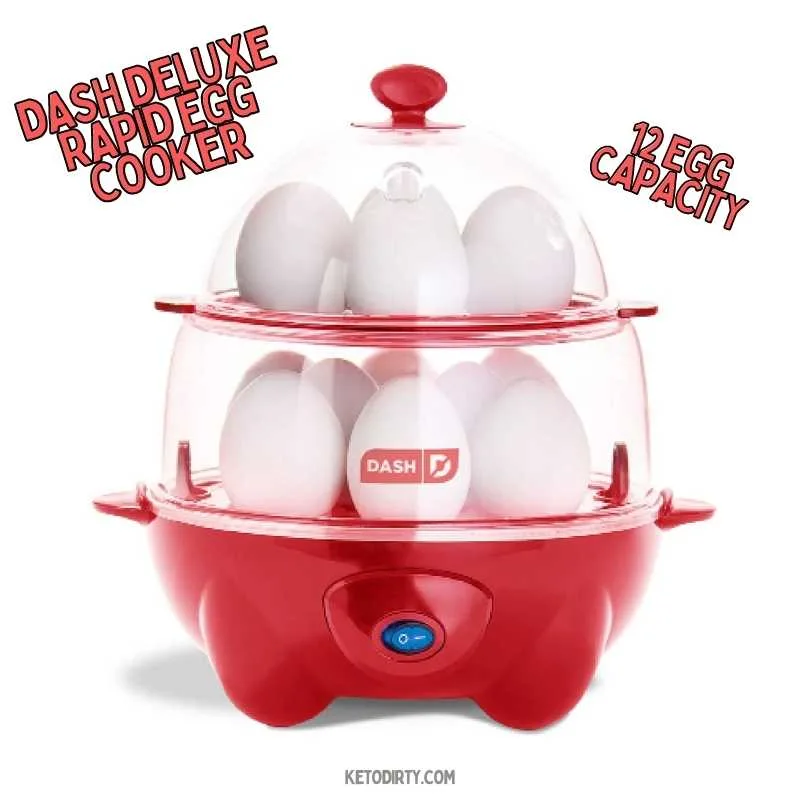 The Dash Deluxe Egg Cooker lets you cook up to 12 eggs at a time. That's right, you can have a dozen hard boiled eggs without going much using the deluxe version! Also available on Amazon
Read my Dash Egg Cooker review for all the details on how to cook eggs.
What are your favorite ways to make keto omelettes? Share your pick of ingredients in the comments. I'm always looking for good low carb options! Check out 5 new ways to make eggs in our new keto web story!
If you love breakfast, don't worry we have an entire collection of keto breakfast recipes filled with low carb food ideas for you to enjoy!
Follow Keto Dirty on Social – Facebook / Keto TikTok / Pinterest / Instagram
Keto Dirty is reader supported. When you buy through links on our website, we may earn an affiliate commission.
Keto Omelette is part of the Keto Recipes series