Soup of the day – keto chicken soup recipe . This is the perfect soup for sick days or cold weather. Low on carbs but big on flavor, let's get started.
We are talking chicken and soup. The timing couldn't be better. Seeing that on today's morning walk, I actually wore a hoodie – the subject of chicken soup is on my mind. If you are looking for an easy keto chicken soup – try this easy low carb recipe!
Make sure to check out our complete collection of delicious Keto Soup Recipes!
Cold Weather and Best Soup When Sick
Due to this cold weather situation, I am all about the low carb soups because soup is the perfect cold weather meal!
Last night, at the request of the husband – we was wanting a chicken soup and because he is married to me, he gets a Keto Chicken Soup – and y'all it was SOO GOOD.
How good? Let's just say the teenager took it upon himself to put the leftovers up so that he could eat them later. I wouldn't be surprised if he hid it in the garage fridge, dude REALLY liked this soup.
Best Soup for a Cold
This also makes a great keto soup if you know someone who low carbs and is under the weather. This has my vote for best soup for a cold.
How to Make Keto Chicken Soup
Here is the play by play so that you can learn how to make this easy keto chicken soup. We are also spilling the beans (no carb beans even though beans have carbs) on how to make this soup into a variety of keto chicken soup recipes on the stovetop, Crockpot and Instant Pot.
So let's head to the kitchen, get out a few supplies and make this delicious chicken low carb soup recipe.
Keto Cream of Chicken Soup
Are you a fan of cream of chicken soup? While typically you just buy this in a can – here is a quick way to make it low carb! (Don't miss our low carb canned soups for when you need soup in a hurry.)
Using the base keto soup recipe above, add in heavy cream and stir. That's how easy it is to make low carb cream of chicken soup!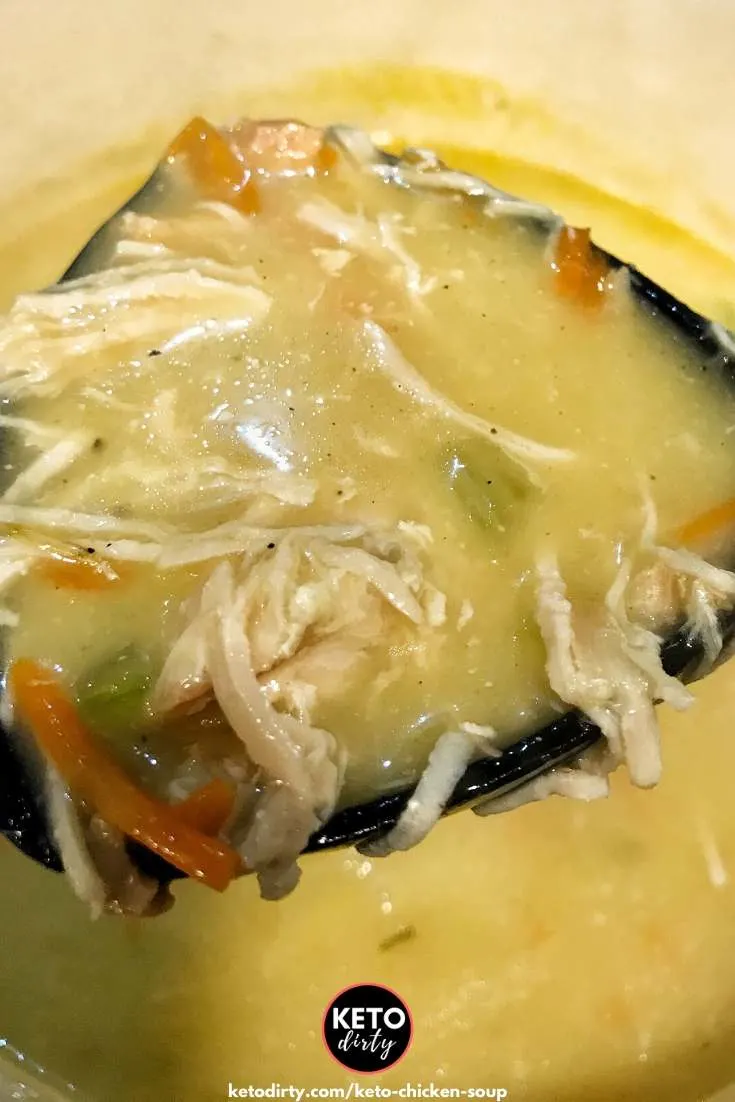 For added flavor, an easy way to spice up the cream of chicken soup is to add poultry bullion.
Low Carb Tip: Make sure to check the carb count of whatever you add in to ensure you keep this a keto cream of chicken soup, not just a cream of chicken soup!
How much heavy cream do you add?
I add in around 1.5 cups of heavy cream for the entire pot of soup. Play around and depending on how creamy you like your cream of chicken soup – you may want to add more heavy cream or maybe even a little less.
Create Your Own Low Carb Chicken Soup Recipe
I'm calling this a make it your way keto chicken soup because it is VERY easy low carb soup recipe to adapt. While our chicken soup recipe gives you a great base low carb soup – make it your way!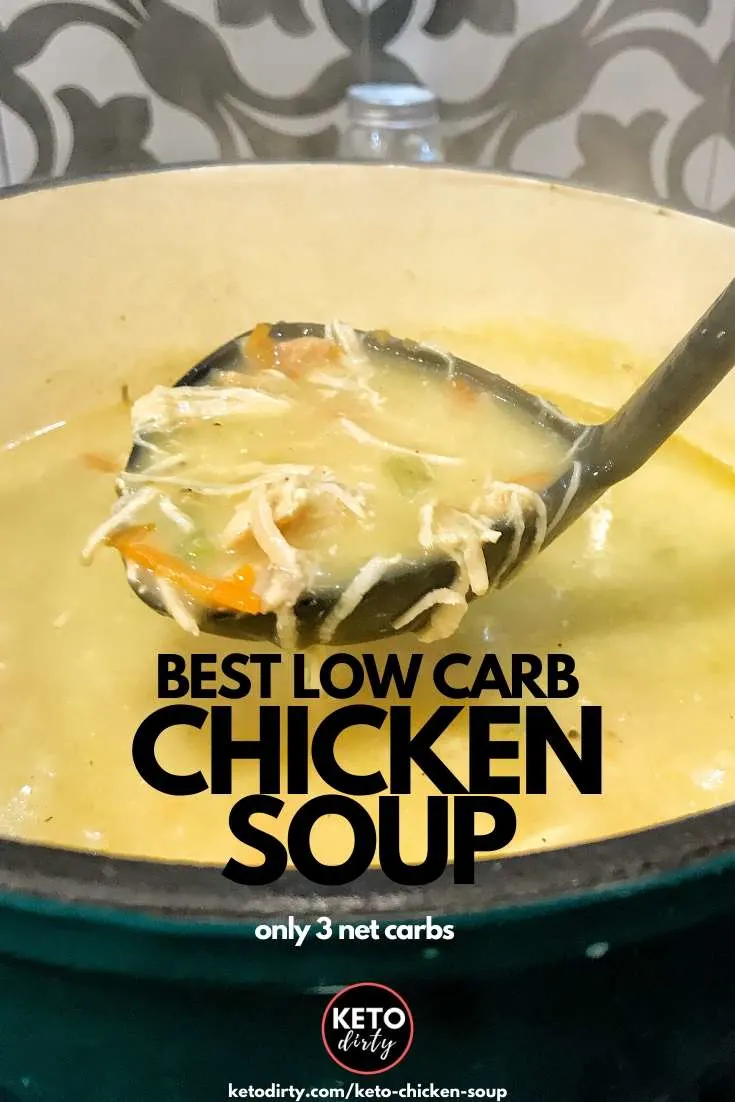 If you like more garlic, by all means – garlic it up! Some people do onions, add those to the mix.
There are numerous ways to add to this recipe to make it your own. Make it like we do or make it your way. Whatever you do, we hope you enjoy it!
Make the Chicken Ahead of Time or Buy It!
Last night, I already had chicken booked so it was super easy to make this soup in no-time. You can use frozen, fresh or even rotisserie chicken when making this low carb soup. Use whichever is easiest for your schedule and what you have available to you.
Keto Rotisserie Chicken Soup
Make a Keto Rotisserie Chicken Soup with this recipe is super easy and flavorful!
I usually pickup a bag of shredded rotisserie chicken for meals just like this available at Costco. I saw that Walmart and Kroger have both started selling shredded rotisserie chicken in their deli departments.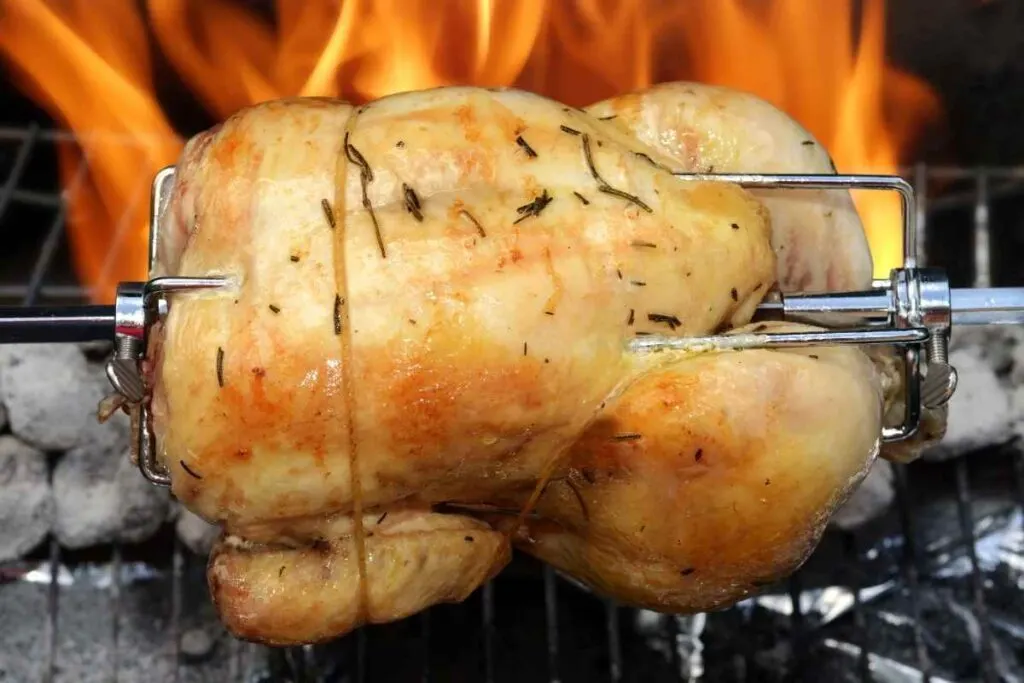 This is a great keto meal prep hack making this a quick keto soup. Make sure to stew the rotisserie chicken to help add flavor to your soup mixture.
Keto Chicken Soup Instant Pot
To make our version of Instant Pot Keto chicken soup – simple place all ingredient, minus the heavy cream into your Instant Pot.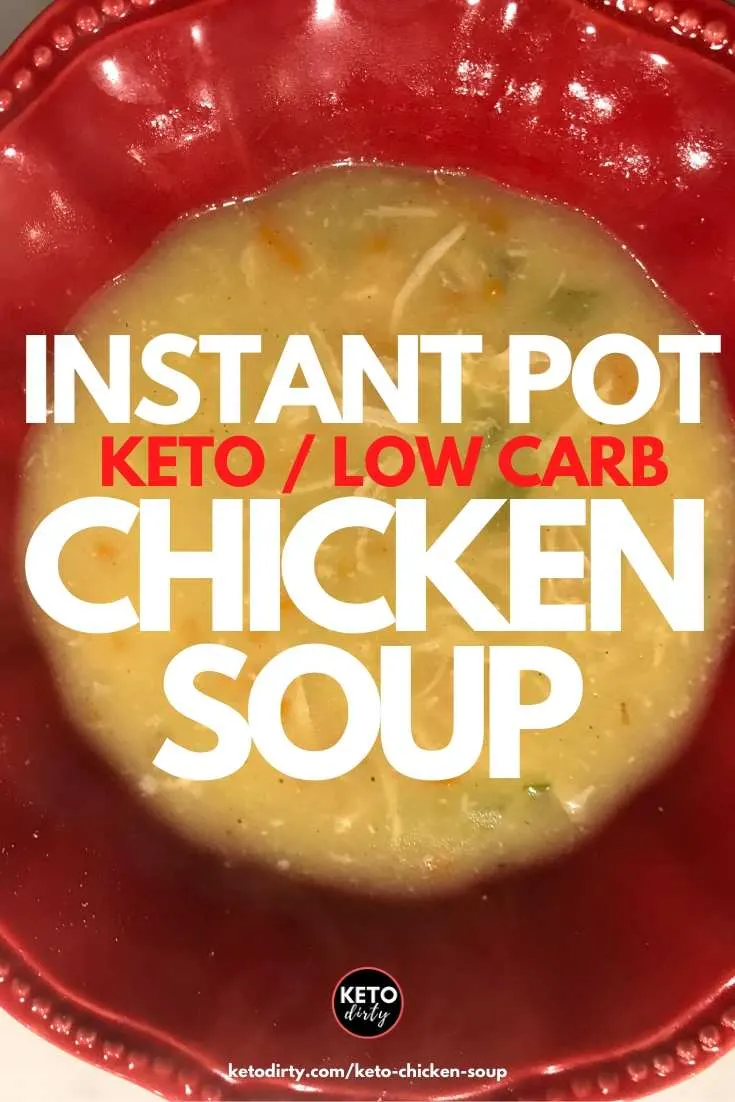 Set your Instant Pot to SOUP. I would pressure cook for at least 30 minutes and then natural release.
Crock Pot Chicken Soup
Want to make Crock Pot Keto chicken soup? No problem! Simply dump all of the ingredients into the crock pot. I would cook for at least 4 hours.
We have a huge list of keto Crockpot recipes for you to try, if slow cooking is your thing.
Low Carb Toast
If this low carb chicken soup recipe sounds great and all, but if you are someone who needs that piece of toast to complete your soup meal – we got you, boo! Check out our tutorial on how to make keto toast.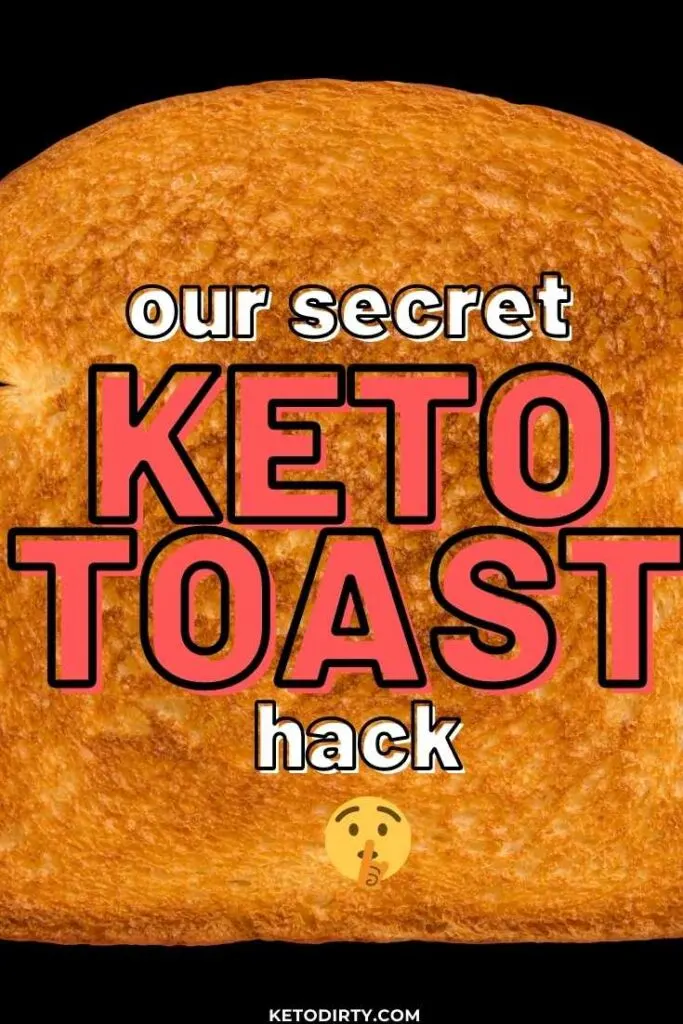 Learn more about the keto bread to make keto toast to complete your cold weather meal.
Quick and Easy Low Carb Soup
The best part about this delicious keto chicken soup is that it is super easy to make. I make chicken ahead of time for the week so for me, it was even easier!
Keto Chicken Soup is part of our Keto Recipes series on Keto Dirty