Quick and easy low carb canned soup options that are keto friendly and easy to make.
We always like to show you easy to make keto meals. One of our most popular posts is our keto soups and after finding these great low carb soups canned, we thought this was something we couldn't gate keep!
Best Low Carb Canned Soups
We are sharing our top picks for keto friendly canned soups. These are easy to make and may just be something you want to add into your keto meal plan.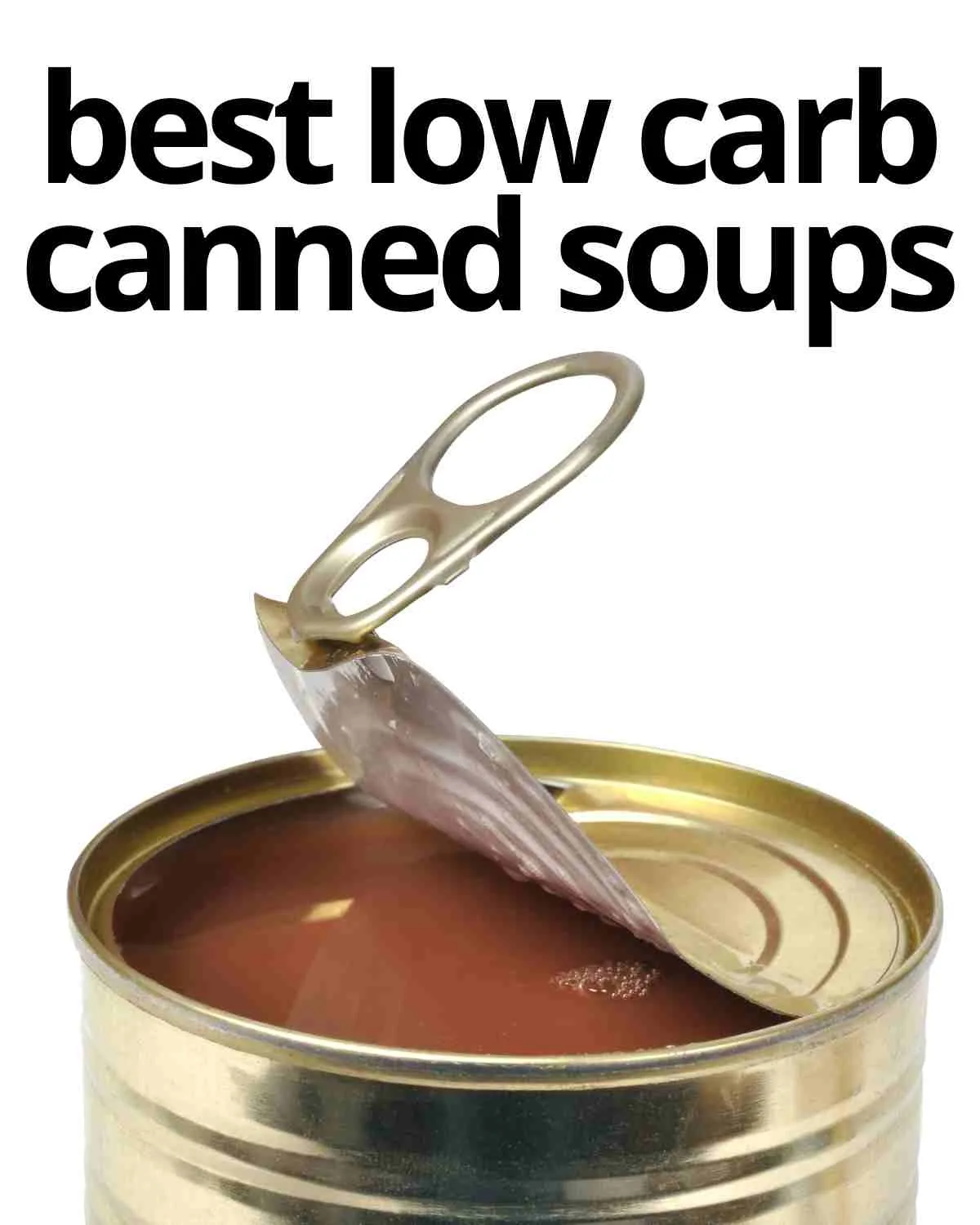 No Chicken Noodle Soup
First on our list of best low carb canned soup picks is Amy's No Chicken Noodle Soup. This is a mock chicken noodle soup, with no noodles.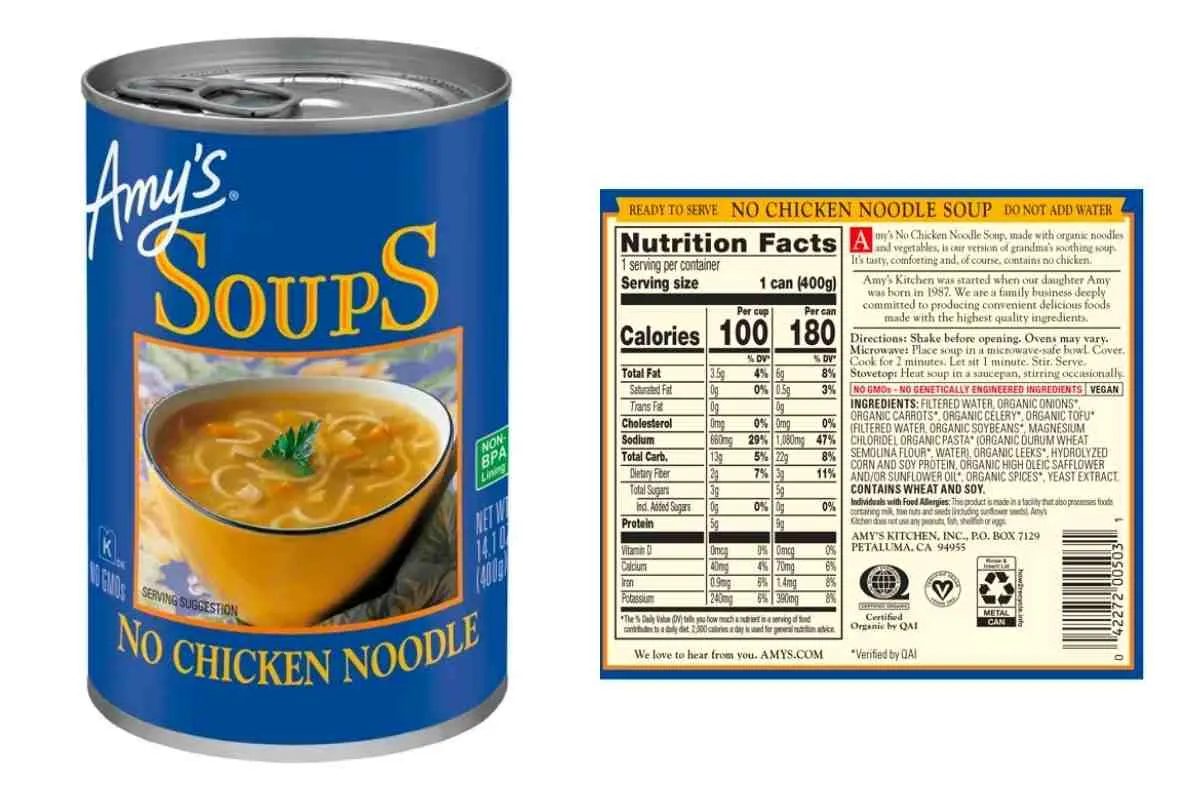 Before you say, what! No noodles! Taste it first! Amy's Soup is great at making a canned soup and by using vegetables you will get a mock chicken noodle soup taste without the carbs.
One can of No Chicken Noodle soup contains 20 net carbs, 180 calories and 6 grams of fat.
Keto Chicken and Pasta Soup
This is the HealthSmart high protein chicken with pasta soup. While this isn't your traditional low carb canned soup, as it comes in a box – this is a great option to keep in the pantry for when you are craving a chicken noodle type soup.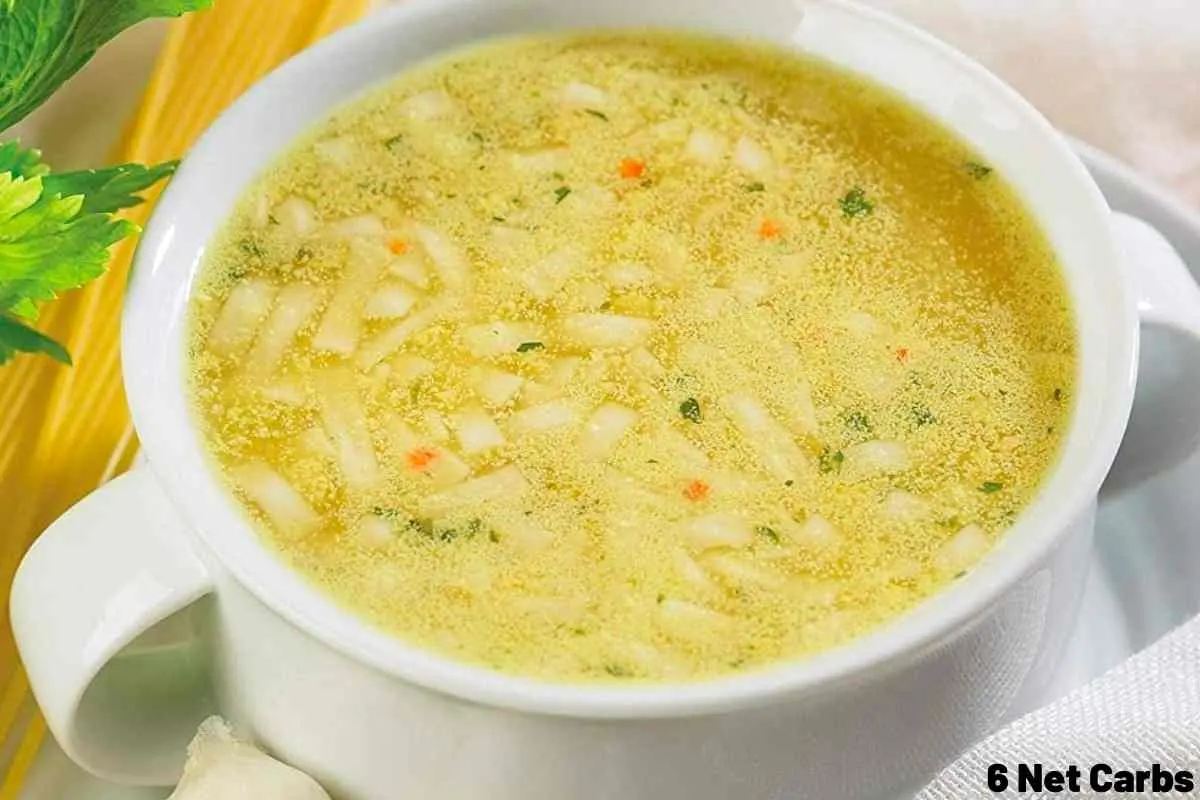 Healthsmart Chicken with Pasta Soup
The Healthsmart chicken with pasta soup contains 7 soup packets per box. Use this as an alternative to the Progresso traditional chicken noodle alternative. This has a higher protein count than we've seen in many others canned soups.
Nutritional Facts
With only 6 grams net carbs, 15 grams of protein and only 90 calories, this offers an easy option for when you are wanting a low carb chicken pasta soup.
Hot Water: Pour contents of package into a bowl or mug. Add 6-8 ounces of hot water, stir until dissolved.
Microwave: Pour contents of package into a large microwave safe bowl or mug. Add 6-8 ounces of water, stir until dissolved. Microwave on high for 60 seconds. Note: Microwave ovens vary. Times given are approximate.
Wanting a homemade feel good soup – check out our keto chicken soup.
Bone Broth
Bone broth is a zero carb low carb soup option that typically comes in beef bone brother or chicken bone broth. While similar to beef broth or chicken broth – bone broth offers better nutritional benefits. This low carb canned soup can be found at stores next to the broths on the soup aisle.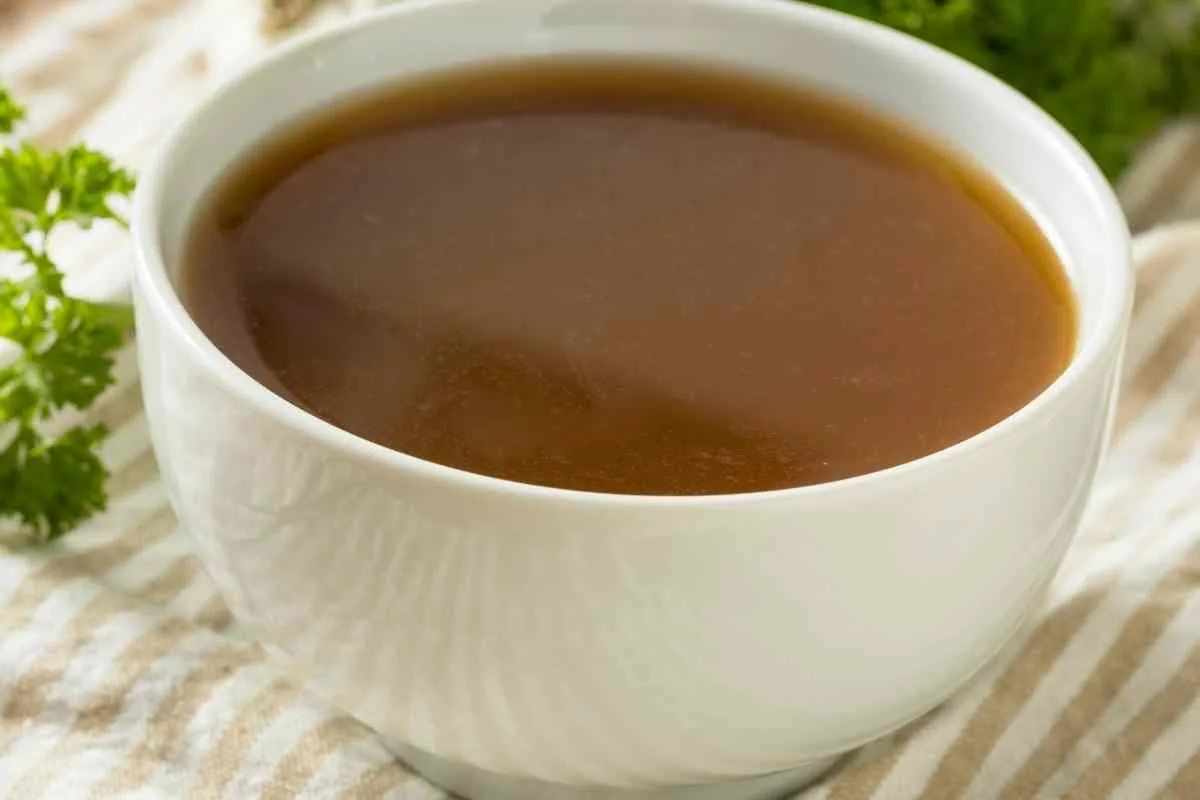 Making bone broth is made with roasted bones and is prepared the same way as stock. The biggest difference between bone broth and stock is that bone brother is simmered on a very low heat for 24-48 hours. Slow cooking adds calcium, collagen, glucosamine and other nutrients while releasing gelatin.
Bone broth is reported to provide benefits to skin, bone strength and the digestive system.
Amy's Soup Chunky Vegetable
Next on our list of low carb soups canned to try is Amy's Soup Chunky Vegetable.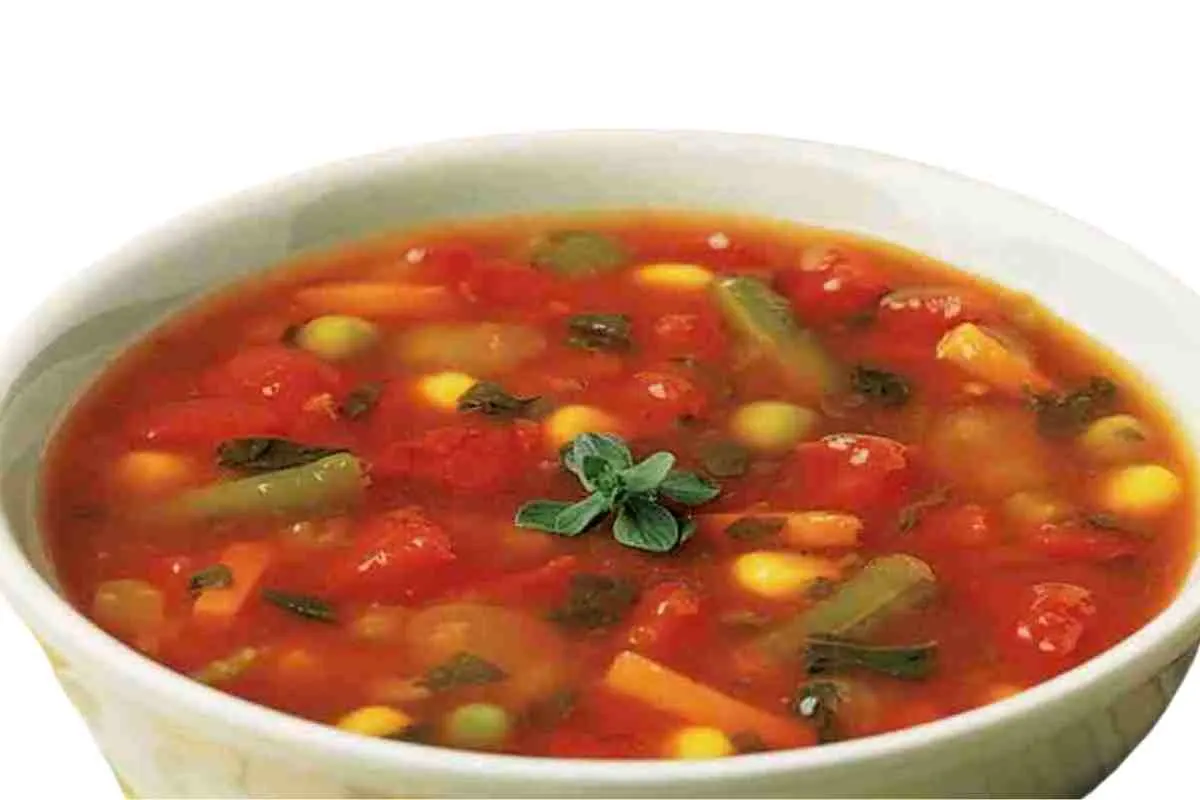 Amy's Soups has made a name for providing canned organic soups. This chunky vegetable soup is a great option when you are wanting a veggie soup, quick and that keto friendly.
Nutritional Facts and Ingredients
Chunky vegetable soup ingredients: tender organic carrots, green beans, sweet corn, peas and spinach, simmered to perfection in a savory, tomato based broth.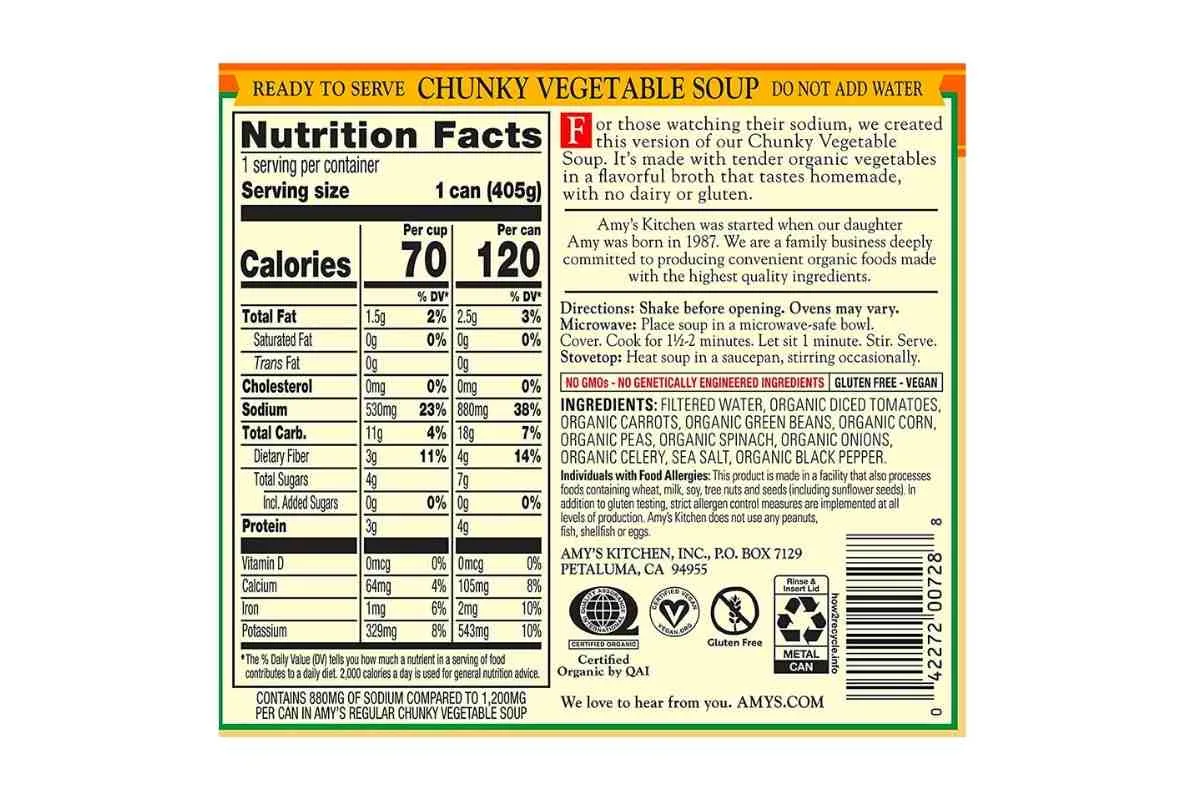 Amy's chunky vegetable soup nutritional facts: One Can serving size – 120 calories, 13 net carbs, 7 grams sugar, 2.5 grams of fat.
Great alternative to Progresso Light Vegetable Soup (it has noodles, booo!)
New England Clam Chowder
I had to include a New England Clam Chowder on our list of low carb canned soup list but adding this with a big asterisks! Finding a good low carb soup canned option for clam chowder was near impossible.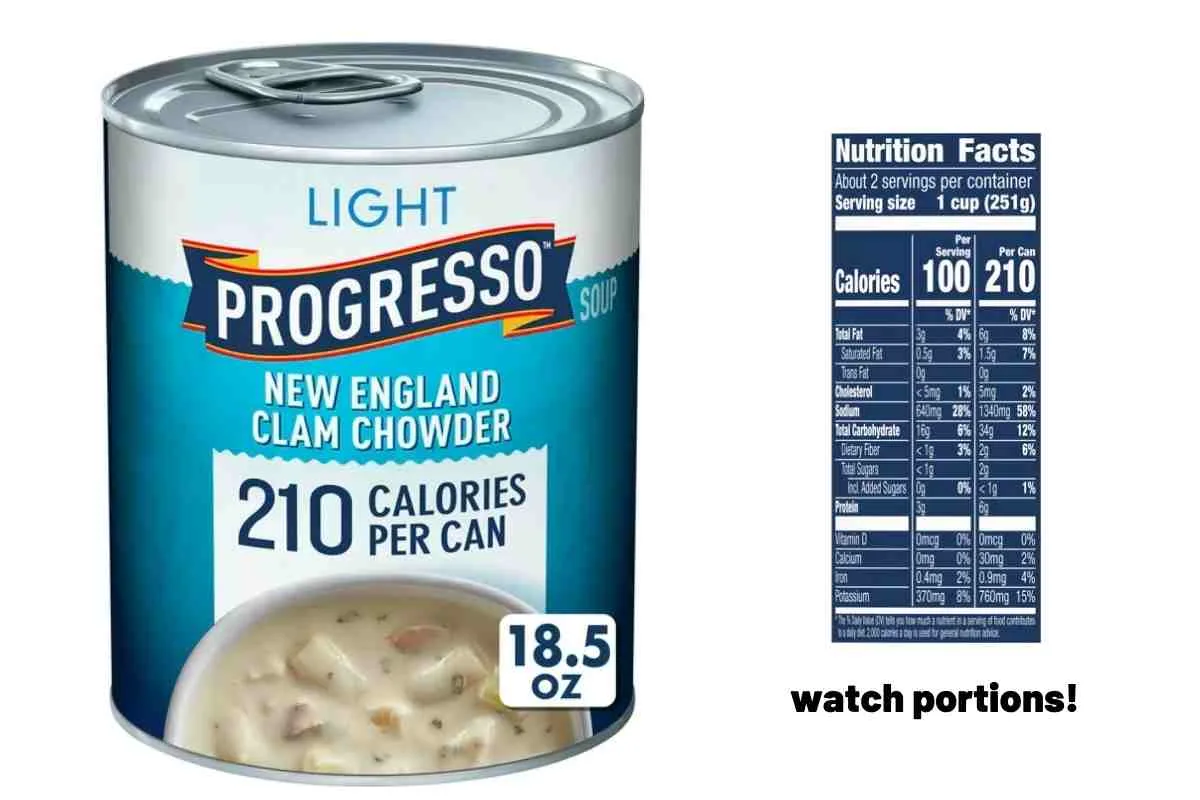 The Progresso Light offers delicious soups but unfortunately are not low carb. So what can you do if you are craving clam chowder and don't have time to make a homemade clam chowder? Watch your portions and only eat a cup!
While it's not the awesome keto canned soup option we would love to give you – this allows you to have the soup you want, just with portion control activated.
Keto Canned Soups
We hope that these canned low carb soup that are keto friendly help you stock your kitchen pantry for the next time you want a quick meal without the carbs.
Make sure to check out all of our keto recipes and keto snacks to help you stay on track.
Follow Keto Dirty on Social – Facebook / Keto TikTok / Pinterest / Instagram
Keto Dirty is reader supported. When you buy through links on our website, we may earn an affiliate commission.
Best Low Carb Canned Soup is part of the Keto Dirty Blog