We are making low carb tostadas today – easy to make with endless keto friendly topping ideas to create a delicious keto open faced taco.
If you are a fan of Mexican food but can't find enough ways to eat it on the keto diet, you are in luck! We are making delicious keto-friendly low carb tostadas today. These delicious fried tortillas make a great base for an excellent keto Mexican dish.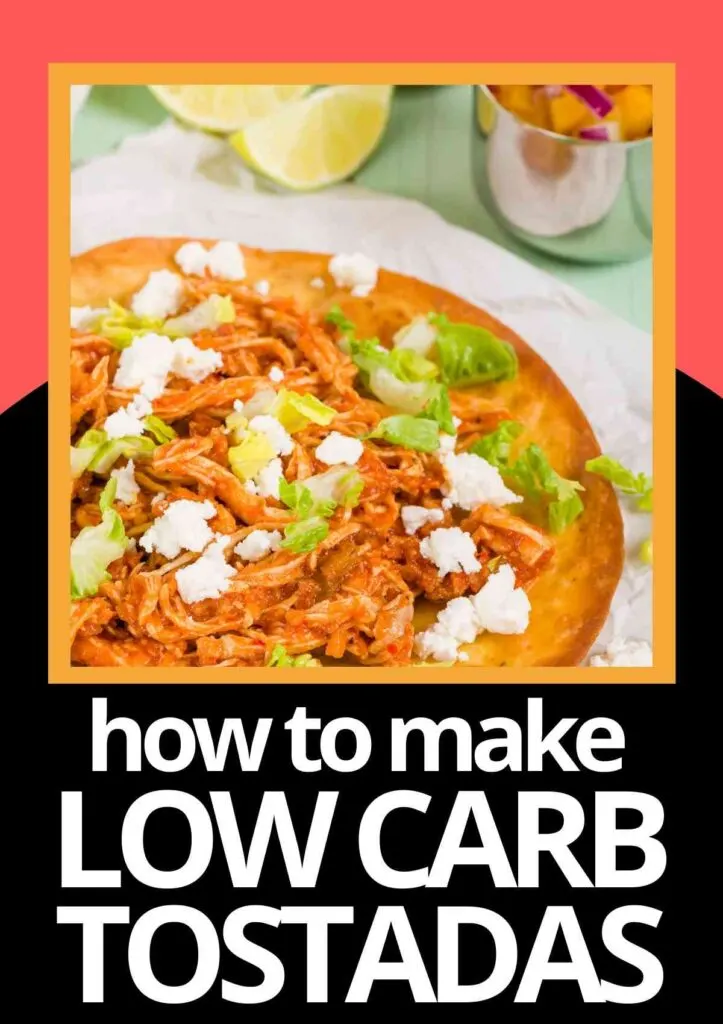 Let's start with the basics. With a typical Mexican tostada, you would fry up a corn tortilla to create a yummy shell for all of your tostada toppings. We are putting a keto twist on this dish by lowering the carbs but achieving a similar taste.
Keto Tostada Shells with Low Carb Flour Tortillas
So what is the secret ingredient and how can we make keto tostadas without having to worry about all the carbs in a traditional Mexican tostada? Simple, we are using low carb flour tortillas!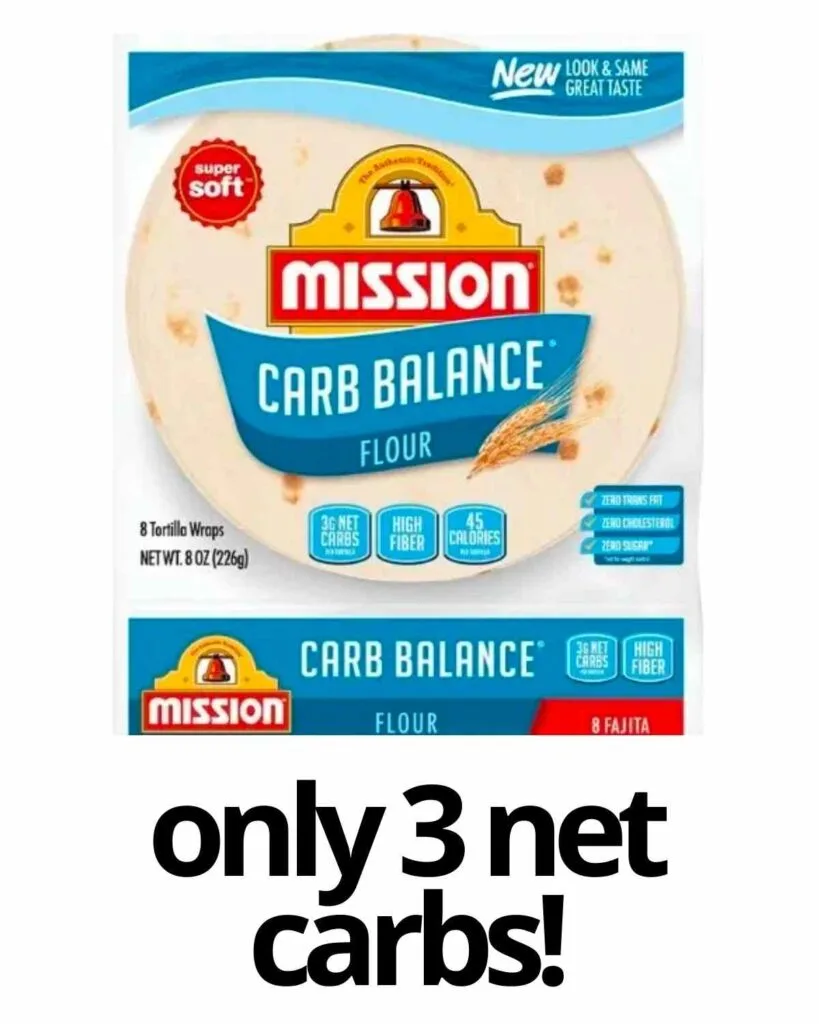 While the flour tortillas don't crisp up quite as much as the corn would, they still make an EXCELLENT tostada that won't have you worrying about carbs.
Corn Tortilla Net Carbs
For comparison, a regular corn tortilla has 9.4 net carbs. We are using Mission Carb Balance tortillas that have only 4 net carbs.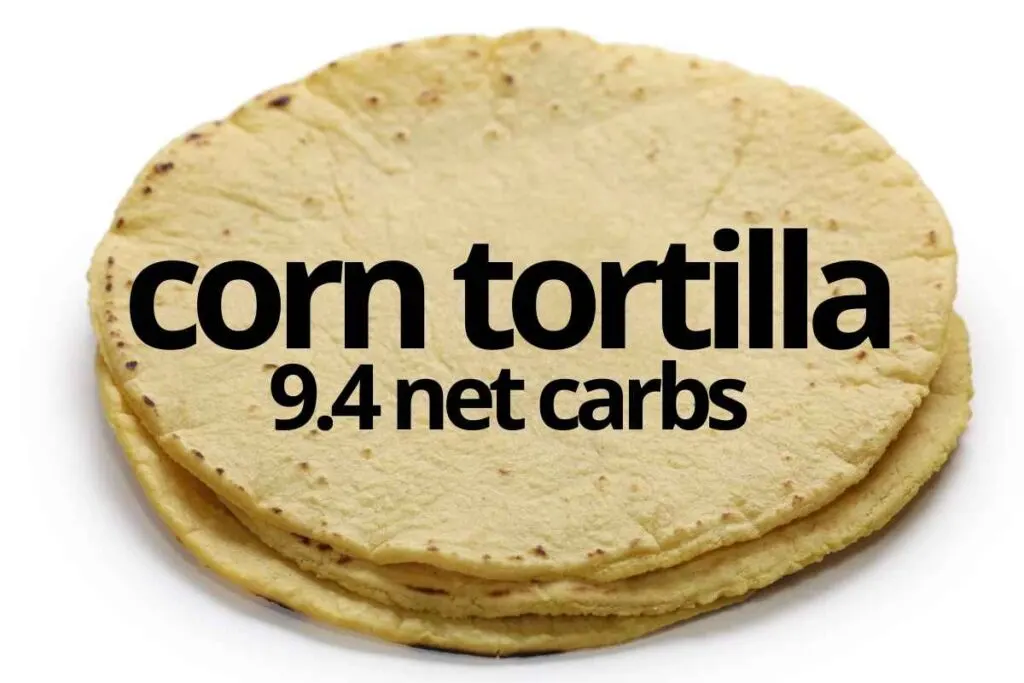 Making Low Carb Tostada Shells
We are going to show you how to both bake and airfry your keto friendly flour tortillas to make low carb tostada shells. Here are a few similarities to note that you will need to know, regardless of how you cook them.
Low Carb Flour Tortillas – You can use any low carb flour tortilla that you want. We prefer Mission Carb Balance flour tortillas because of the taste and they only have 4 net carbs! If you use a different keto-friendly tortilla, please make sure to calculate the net carbs based on whatever brand you use.
Knife Trick – We will be using a sharp knife in both cooking methods to stab the low carb tortilla to help the tortilla lay flatter and from steam collecting in the pockets.
Quick to Burn – Make sure to pay attention while cooking as these low carb tortilla shells can burn quickly.
Ingredients – In addition to the flour tortillas, you will need olive oil cooking spray and salt.
Baked Low Carb Tostada Shells
First things first, let's get out your ingredients, the sharp knife and a large cooking sheet.
Next, let's spread the keto flour tortillas out on the cooking sheet with no tortillas overlapping. Typically, on a standard size cooking sheet – 3-4 per tray is the max. Since I'm just making a single tostada, I'm using just one. Depending on the size of your tray – you maybe able to make additional servings.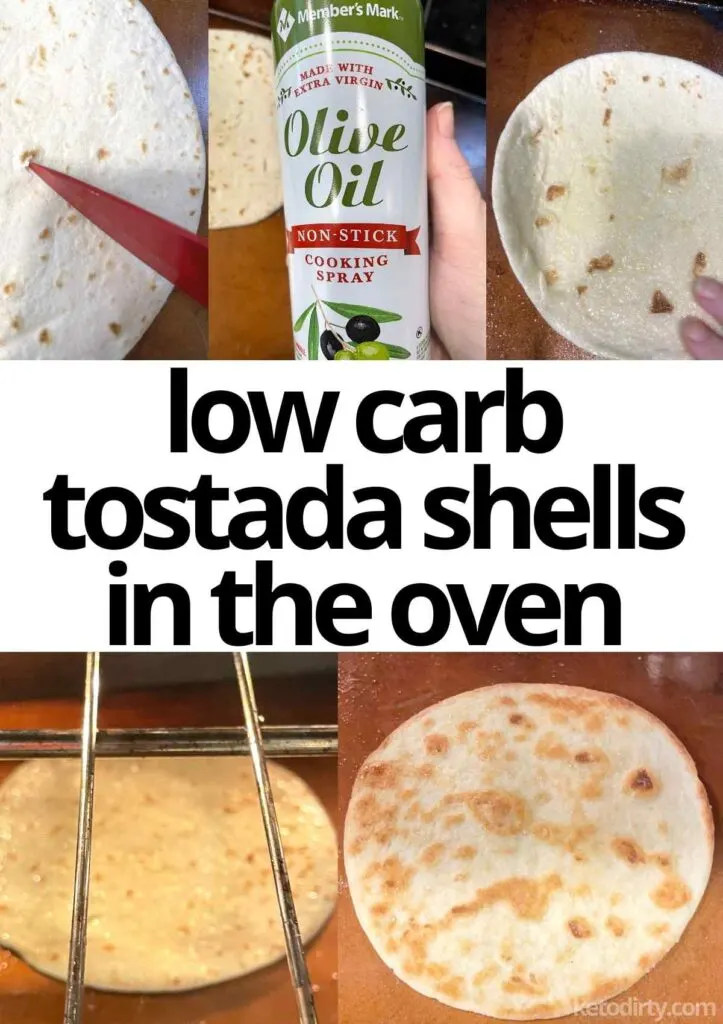 Using your knife, make a few cuts into the center area of the tortilla. Another way to do this is by stabbing. This is to help prevent steam from collecting.
You will then want to spray each with the olive oil cooking spray. Then rub a pinch of salt into each tortilla after sprayed.
Pop the prepped tortillas into the oven for 4-5 minutes. Keep an eye on them as they will quickly turn from brown to burnt.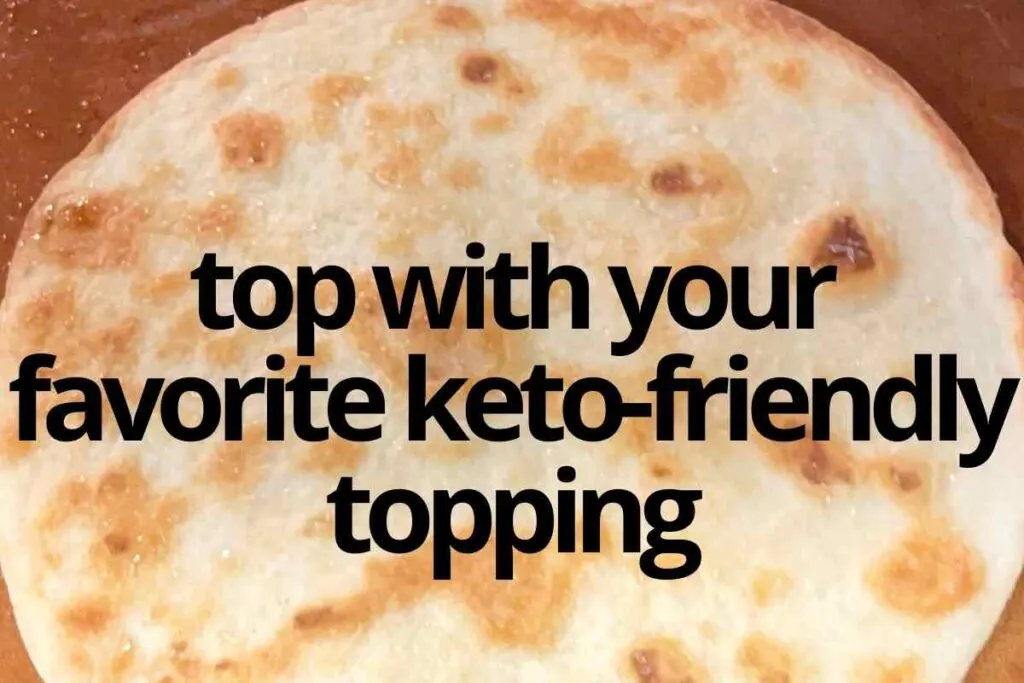 After they appear cooked, take them out of the oven and flip using a spatula or tongs. Flip each tortilla over and rotate the cooking tray. Make sure to push down any air bubbles with a fork or spatula before cooking the next side.
Once the tortillas are made into low carb tostadas – remove from the oven and let cool to finish crisping.
Frying Low Carb Tostadas
While you can fry low carb tostadas on the stove, please note that the carb count will increase due to the use of olive oil. We don't recommend frying tostadas for low carb eating.
Air Fry Low Carb Tostadas
While we don't recommend frying, we do suggest air frying low carb tostadas! Depending on what type of air fryer you use, will dictate how many tortillas you can make into tostadas per frying session.
First, place a tortilla into the air fryer. To prevent your flour tortilla from blowing around during the air frying process, place a metal trivet on top of your tortilla.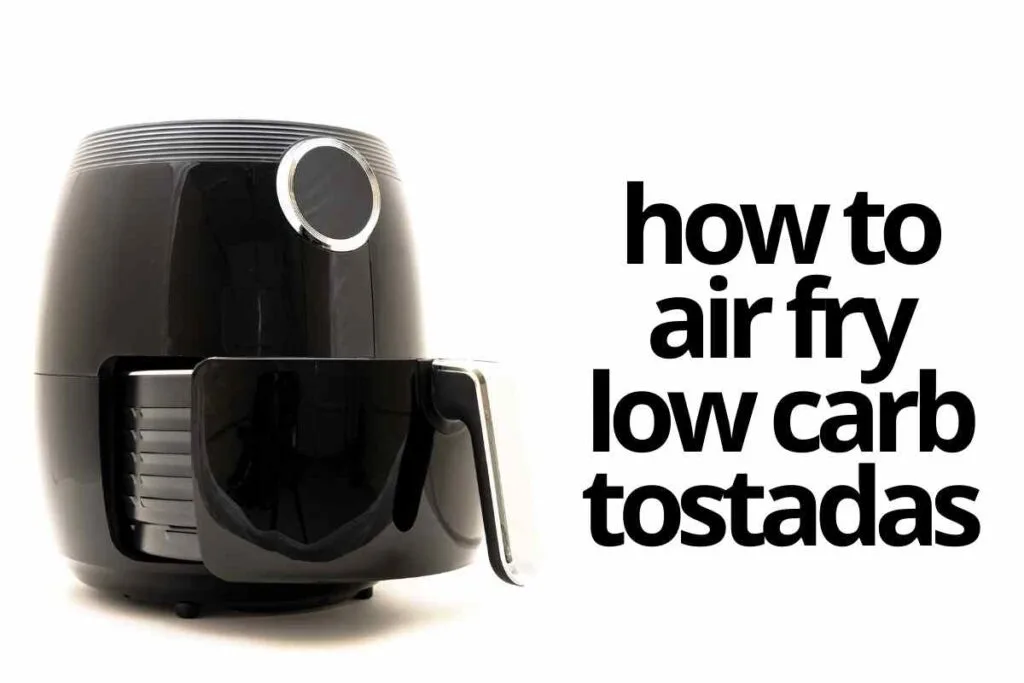 Air fry your flour tortilla at 390 degrees F or 198 degrees C for around 4 minutes total – but you will want to stop at the half way point and flip ensuring the entire tortilla is crisp.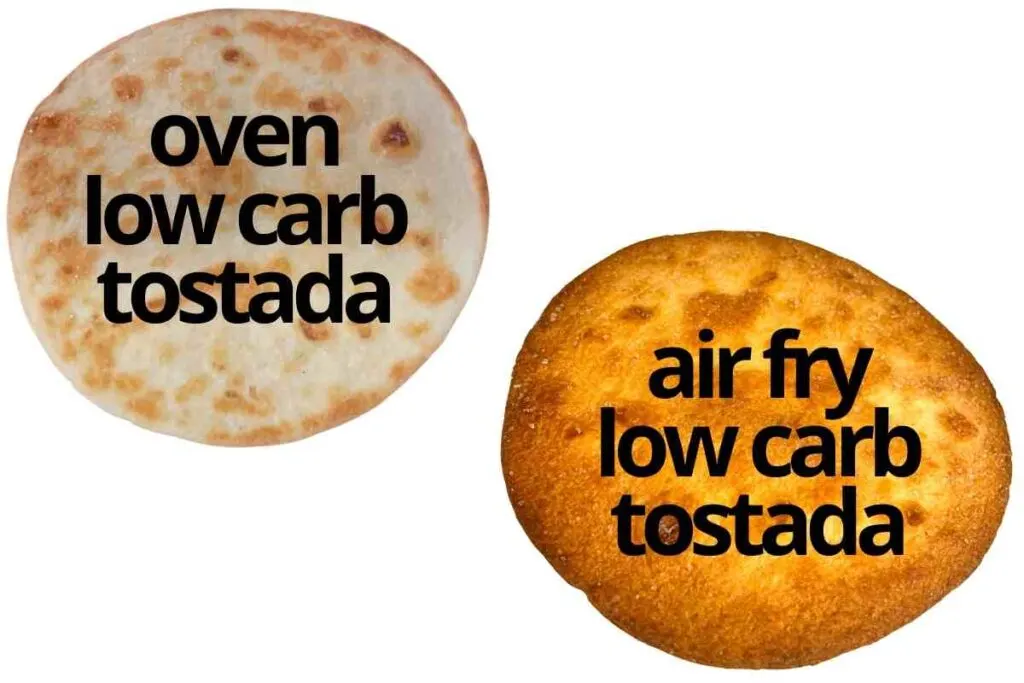 You are looking for a golden brown tostadas, once this color – you will know it's complete! The air fryer did create a most crispy tostada shell.
How to Serve
Here's the awesome part about these low carb tostadas, these can be eaten a variety of ways! Create a build-your-own tostada bar. It's like a taco bar, but with open faced tacos (tostadas) instead.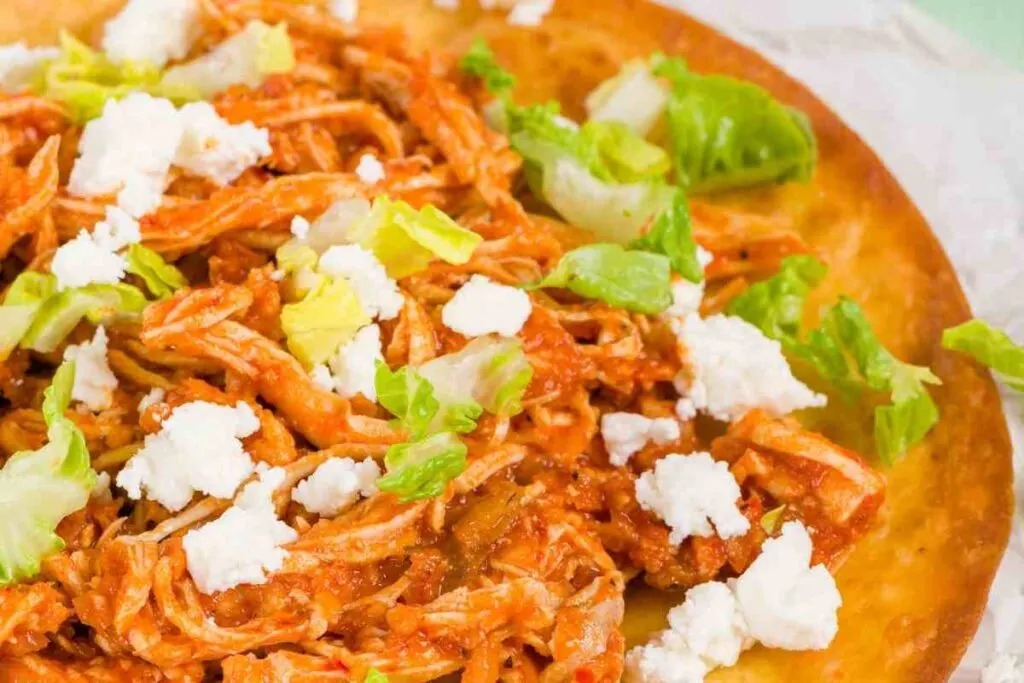 Stick with low carb, keto-friendly taco ingredients. As long as you are avoiding beans and rice, mostly meat, cheese and vegetables – you can't go too wrong.
Keto Tostada Toppings
Here are various keto-friendly tostada toppings that you can use for your low carb tostadas.
Meats
Vegetables
Lettuce
Shredded Cabbage
Tomato / Pico de Gallo
Onion (minimal)
Cilantro
Avocado / Guacamole
Grilled Zucchini
Cheese
Shredded Cheddar Cheese
Crumbled Cojita (this is the cheese used in the chicken tostada photo above)
Shredded Monterey Jack Cheese
Don't miss our cheese memes!
Just a note – make sure to add in your macros to the 4 net carbs of the flour tortilla when calculating your meal's macro total.
Follow Keto Dirty on Social – Facebook / Keto TikTok / Pinterest / Instagram
Keto Dirty is reader supported. When you buy through links on our website, we may earn an affiliate commission.
Low Carb Tostadas are part of the Keto Recipes series on Keto Dirty