A successful finish to Mounjaro Week 3. Here's what happened on my third week.
It's been quite the busy last 7 days since we last chatted. Here is my week 3 update of being on Mounjaro 2.5 mg. To summarize this week, amazing energy and zero cravings would do it best.
Update Mounjaro Week 3
If you are new to my updates, hi! Each week I update my Keto Dirty friends about what my experience has been like with Mounjaro. I started it after fighting obesity since what feels like birth.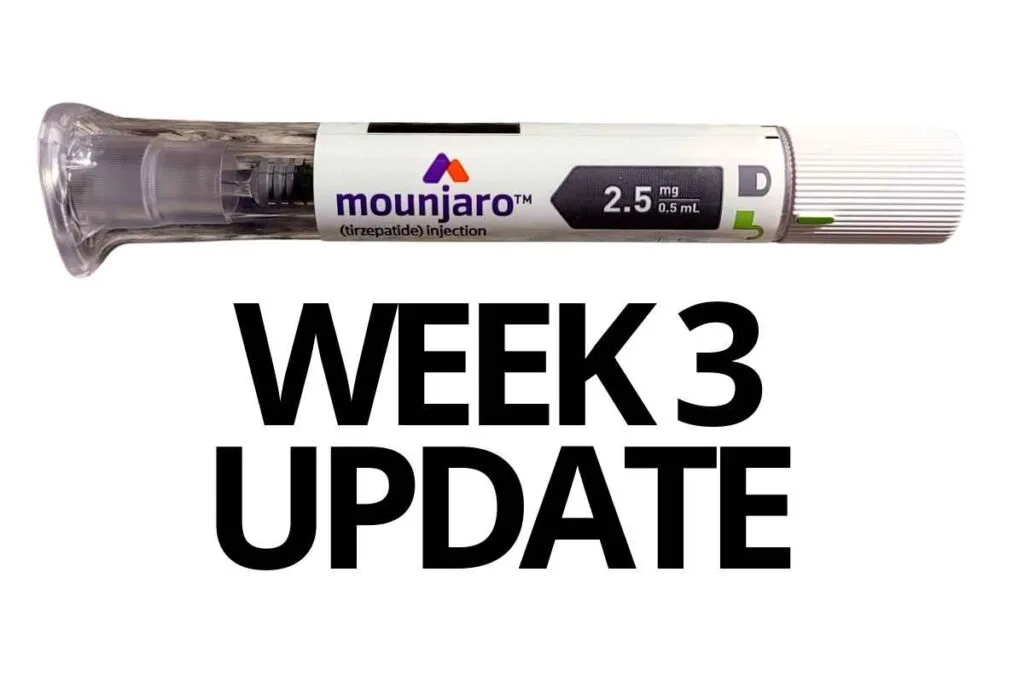 While I have had little wins with a dirty keto diet, the weight loss that initially happened just wasn't. I'm realizing that was probably water weight off, regardless I knew I needed to do something else. Each week I update here. You can read past my past Mounjaro updates:
A little refresher on where what this is. Mounjaro – also known as Tirzeptide works both on GLP-1 and GIP (Glucose Dependent Insulinotropic Peptide) which helps control blood sugar that results in weight loss. My doctor has prescribed me this off-label. Currently, Mounjaro is FDA approved for type 2 diabetes – but has shown significant results in weight loss, hence the off-label usage.
2.5 mg Loading Dose
So now that we are all up-to-date, here we are on Mounjaro week 3. Those who might now know, the Mounjaro 2.5mg is a loading dose. Doctors typically start you on this dosage and build up at varying speeds.
From what I have seen, it typically is around 4-8 weeks before a Mounjaro dosage increase. The loading dose is like an introduction. "Hi, I'm Mounjaro. Let's see how we get along." I have one last 2.5mg injection to do and the 5mg Mounjaro script is already at the pharmacy.
Walking and Energy
The weather has been wonderful, so I have hit the ground running or walking should I say. I am trying to do a daily walk to get moving. Long term, I would love to be able to start running again but we will have to work our way up to that.
That said, I have noticed an increase in energy. This has been wonderful and hope that I continue to feel as great as I have this past week.
No Sugar Cravings
Closing out week 3, I'm amazed at the lack of sugar cravings. I'm actually more of a salt girl than sweet girl, but that said – sugar like bread, etc can get me good. Since starting Mounjaro, I have had no sugar cravings. That is just a blessing.
Week 3 Tirezepatide Side Effects
The biggest Mounjaro side effect I had was actually what it was suppose to do. The appetite suppression is real. Never have I ever been someone who doesn't have an appetite or forgets to eat. That has become me in week 3 and I couldn't be more happy about that.
There are no other side effects to report, thought I will say I wanted to try a few things to see if they would make a difference. With my last injection, I told you I was using my thigh.
After doing some research, I did a few things differently and I'm not sure if it's what I did or if my body is just getting use to Tirzeptide. Here is what I did differently.
Hydration – I made sure before I did injection day that I was completely hydrated.
Injection Site – Rather than my thigh, I injected into the left side of my stomach.
Fiber – The constipation side effect has been minimal this week, but I am thanking my fiber intake for that.
Prebiotic Probiotic – A friend recommended me taking this pre-biotic pro-biotic.
Again, not sure if it was my body that has adjusted or ensuring that I am preparing myself ahead of time. Either way, I'll continue with this path until otherwise needed.
Learn more about Mounjaro side effects.
Third Week Mounjaro 2.5 Weight Loss
For Mounjaro week 3, I am happy to report an additional 4 pounds loss.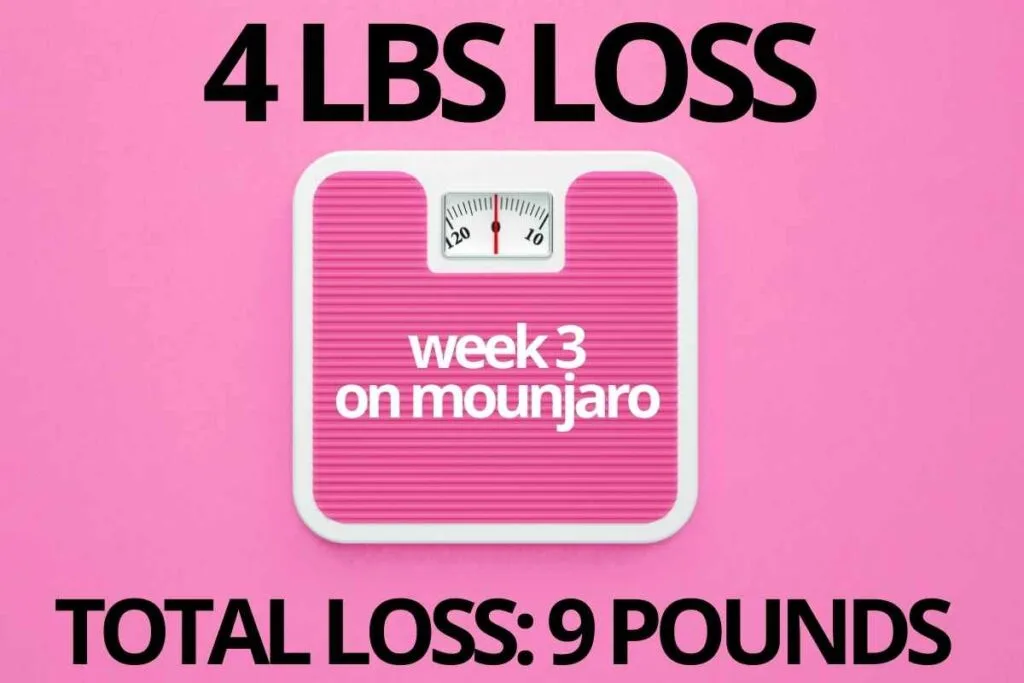 This weeks brings my total weight loss on Mounjaro to 9 pounds.
Week 1 Weight Loss – 2 lbs
Week 2 Weight Loss – 3 lbs
Week 3 Weight Loss – 4 lbs
While I don't think I'll hit 5 pounds next week, I would be happy to just lose 1 more to have lost 10 pounds in my first month. Even if I have a weight loss stall, 9 pounds is a significant loss for me personally.
9 Pounds of Weight Lost
If you have loss 9 pounds, here are things that weigh that much to get an idea of how much you have lost!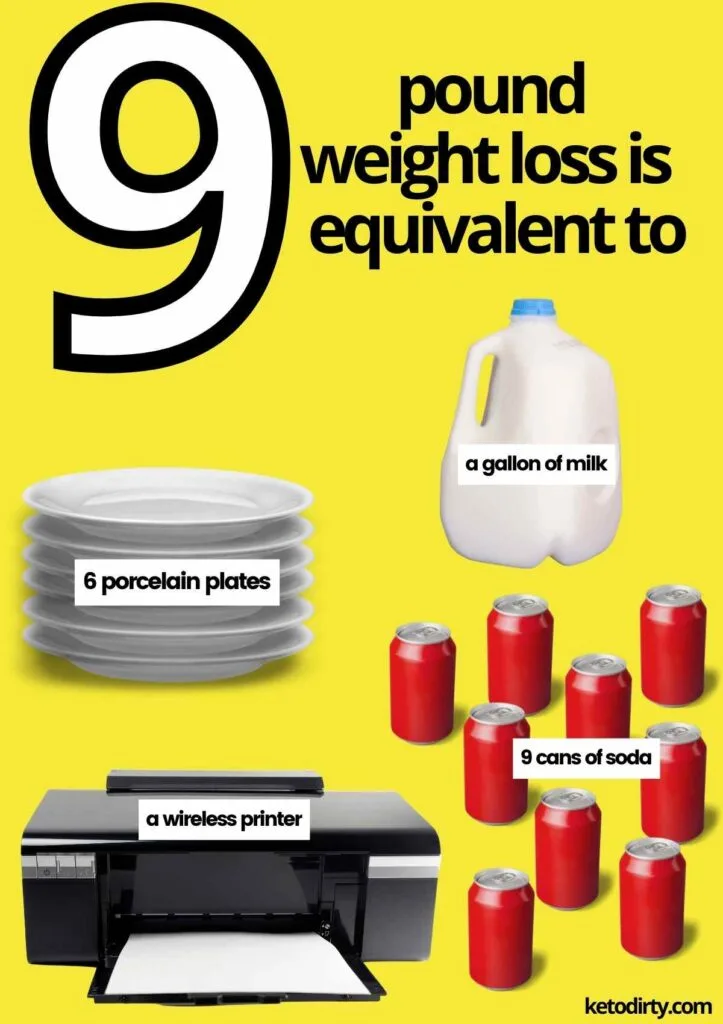 A large newborn baby (thankfully I didn't have a 9 pound baby, but know people who have!)
Wireless printer
9 cans of soda
6 porcelain plates
A gallon of milk (actually a gallon of milk weight 8.6 lbs)
Did you see the Keto Dirty free printable weight loss jar? This is a great way to track your pounds loss visually.
We have created a helpful page dedicated to information we've shared about Mounjaro. We hope that this helps answer any of your questions!
That wraps up Mounjaro week 3. Stay tuned as I'll continue updating you on this journey.
This information is for educational use only. Any medical advice should be discussed specifically between you and your medical professional. Information provided here is not

We are excited to expand our keto content to include other solutions our community is using to achieve optimal health. While we understand that this may not be for everyone, we do know that people are seeking information about obesity as a disease and solutions, such as Wegovy, Ozempic / Semaglutide and Mounjaro / Tirezepatide.

Please direct any questions in regards to personal use with your doctor and any questions in regards to coupons, etc should be discussed with your pharmacy or with the pharmaceutical customer service.