Tirzepatide (brand name Mounjaro) is all over the news. We are breaking down what you need to know and why this is getting so much buzz.
We've heard a lot about our contributor Avery about Mounjaro weight loss. With the news a buzz and the world learning more about Tirzepatide, here's what you need to know.
For anyone who has suffered from obesity, good news! The medical community is shifting as more information comes to light and as professionals are recognizing obesity as a disease and not just something due to overeating, laziness or lack of exercise.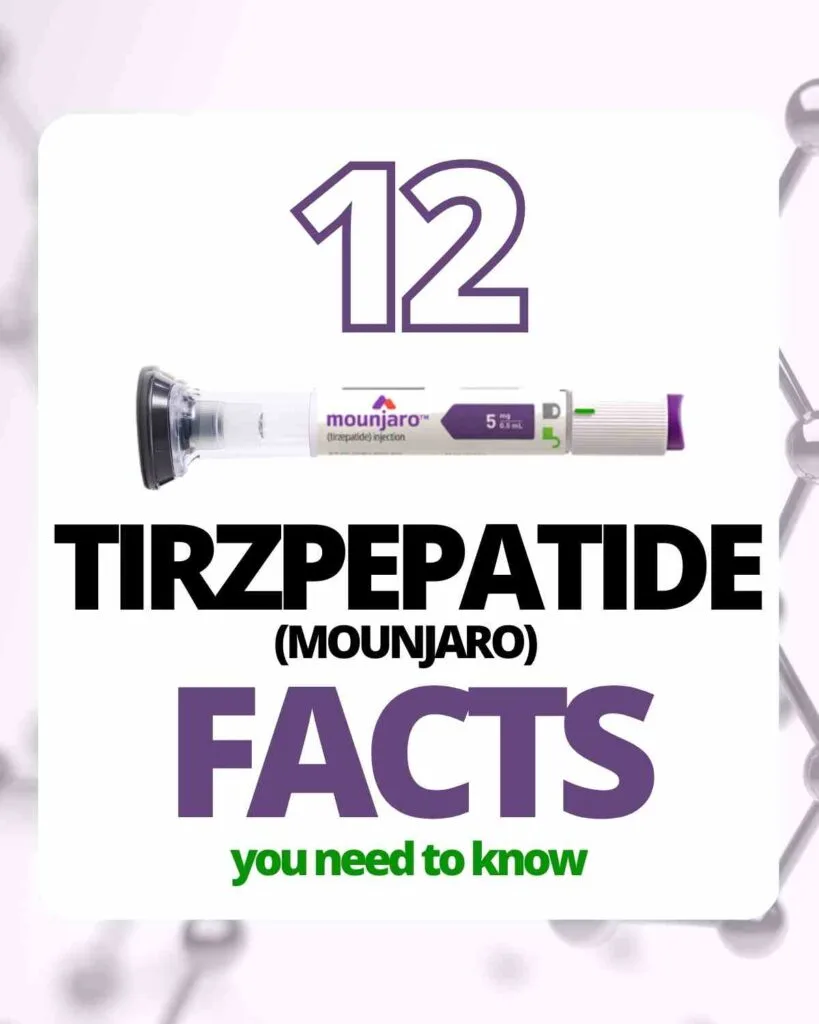 Over the last few years, a handful of GLP-1 meds have hit the weight loss pharmaceutical market. In the summer of 2022, Tirzepatide – brand name Mounjaro from Eli Lilly launched and has since caused an uproar of commotion (in a good way!)
12 Facts About Tirzepatide
We are breaking down all of the Tirzepatide facts that you will want to know in regards to this latest obesity break-thru.
Mounjaro is the Tirzepatide Brand Name
We are hoping these Tirzepatide facts answer all of your questions about this new Type 2 Diabetes and obesity break-thru. A common unknown fact is the Tirzepatide brand name is Mounjaro.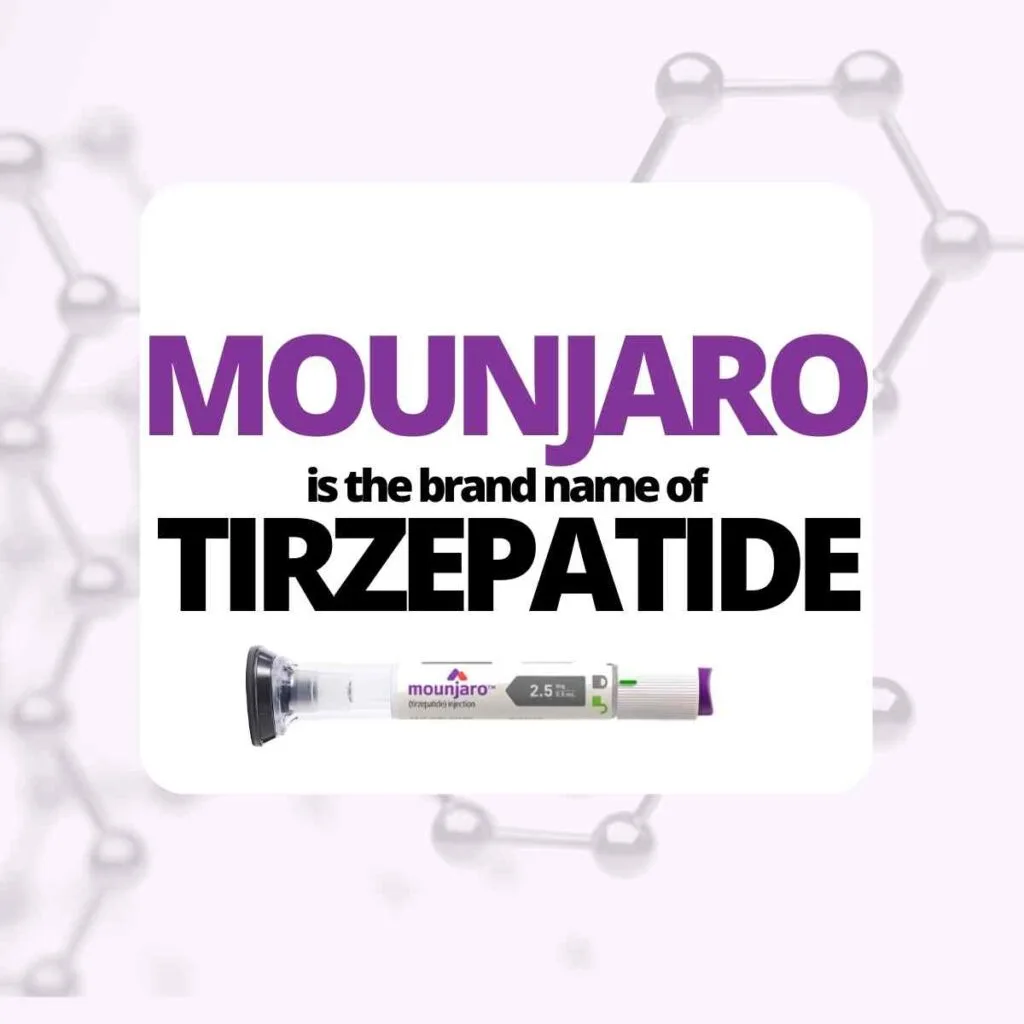 When someone is talking about Mounjaro, just know this is the same as Tirzepatide. The Mounjaro brand name is what the Eli Lilly team "named" the drug. Something that has been of notice is that the Mounjaro logo appears to be a mountain.
Without trying to read too much into it, but also with a background in marketing – one could see how conquering a mountain is what Mounjaro is doing for so many.
FDA Approval
In May 2022, Tirzepatide FDA approval was granted for Type 2 Diabetes. Mounjaro obesity FDA approval is expected sometime later this year in 2023.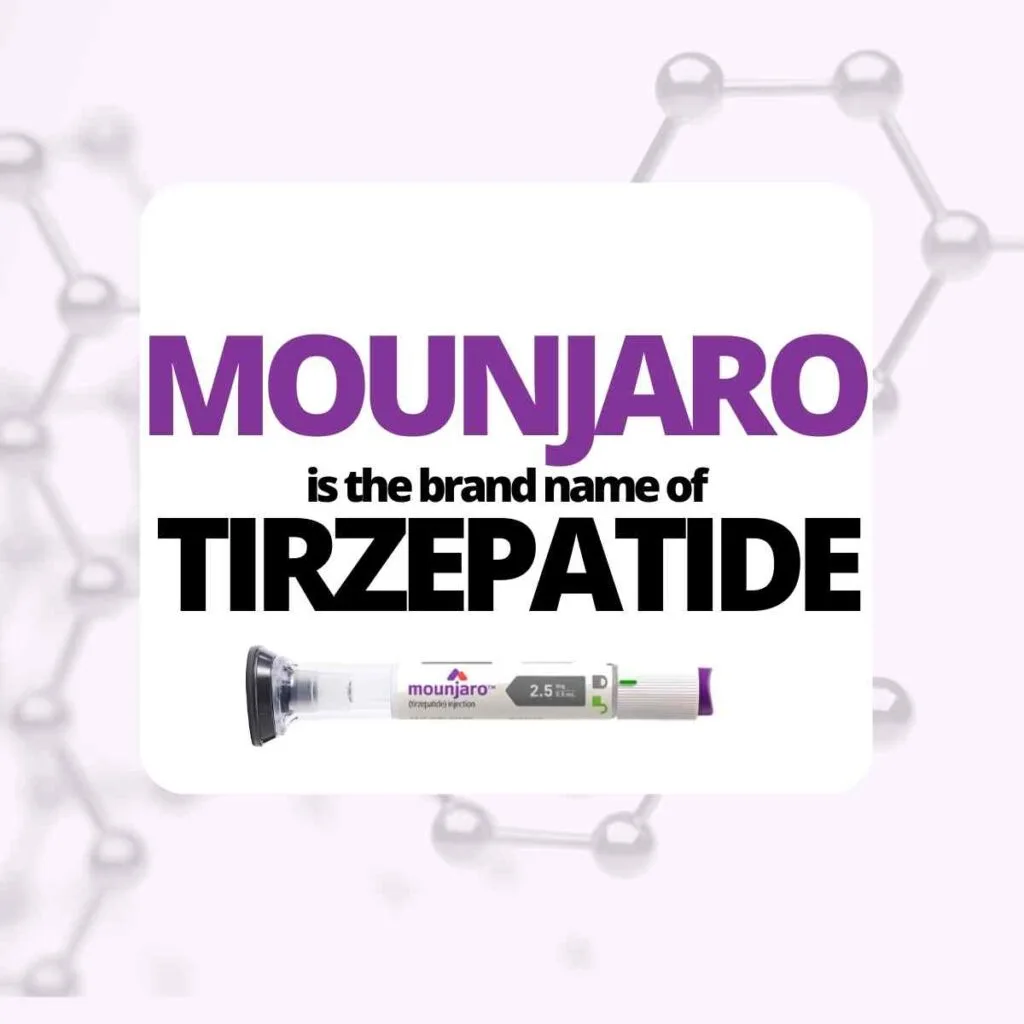 While there are other meds to help manage your A1C and Type 2 Diabetes, Mounjaro works differently. Tirzepatide is the first and only FDA approved medication for treating T2D.
How Mounjaro Works
Tirzepatide was originally created for treating Type 2 Diabetes by helping you manage your A1C. Mounjaro works to treat Type 2 Diabetes by decreasing the liver's production of sugar, while increasing the insulin production, but only when your blood sugar is rising.
Mounjaro uses 2 ways to help regulate blood sugar. It does this by activating GIP and GLP-1 pathways. Other treatments for diabetes only use the GLP-1 pathway for blood sugar regulation.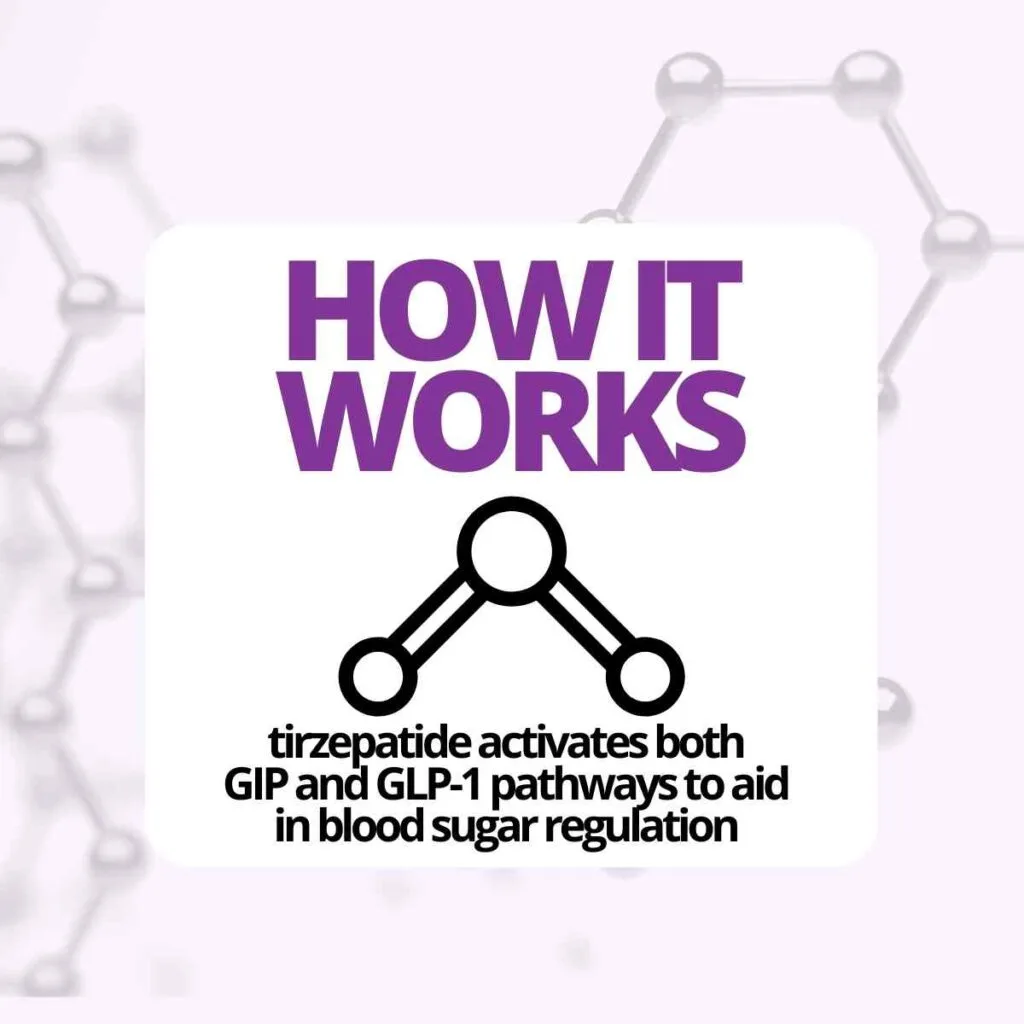 After eating, Tirzepatide slows down the speed at which stomach empties into your intestines. By doing this, it helps helps manage your blood sugar levels and by making you feel full longer, you have less of an appetite.
In the clinical trials, Mounjaro showed not only to help with increasing insulin production, it also showed increased weight loss. This is why so many are using it, as Mounjaro works to treat obesity caused by insulin resistance.
Tirzepatide Cost
As with all good things, there comes a price and the Tirzepatide cost is not cheap. The average retail Tirzepatide price is $1100 a month for 4 injectable pens. You use a pen a week.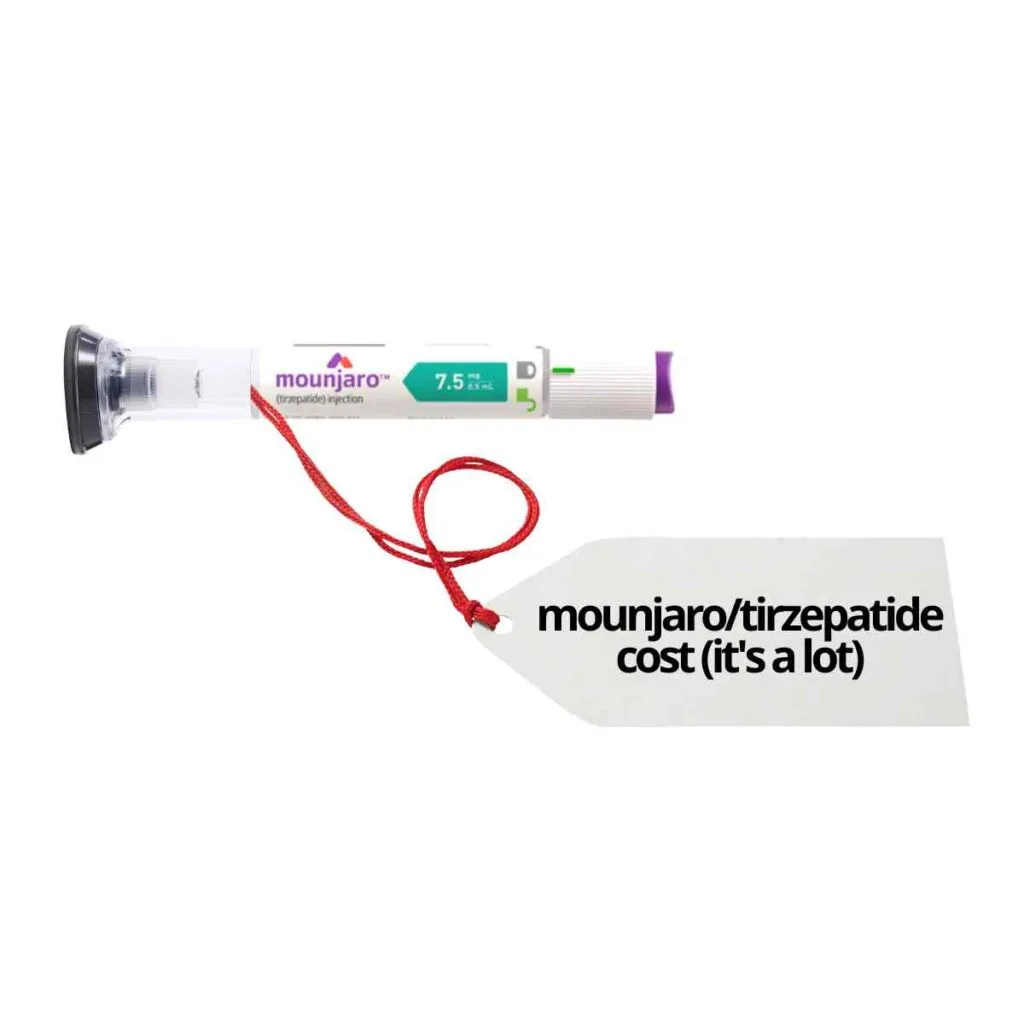 We talk later about Mounjaro insurance coverage. But in regards to the retail Tirzepatide cost, If you are paying retail or out of pocket, your best bet is to price shop using GoodRX.com.
Tirzepatide Weight Loss
As noted, Mounjaro works by slowing the speed that your stomach empties into your intestines. This results with appetite suppression.
Here are Tirzepatide facts about weight loss from an April 28, 2022 Eli Lilly study.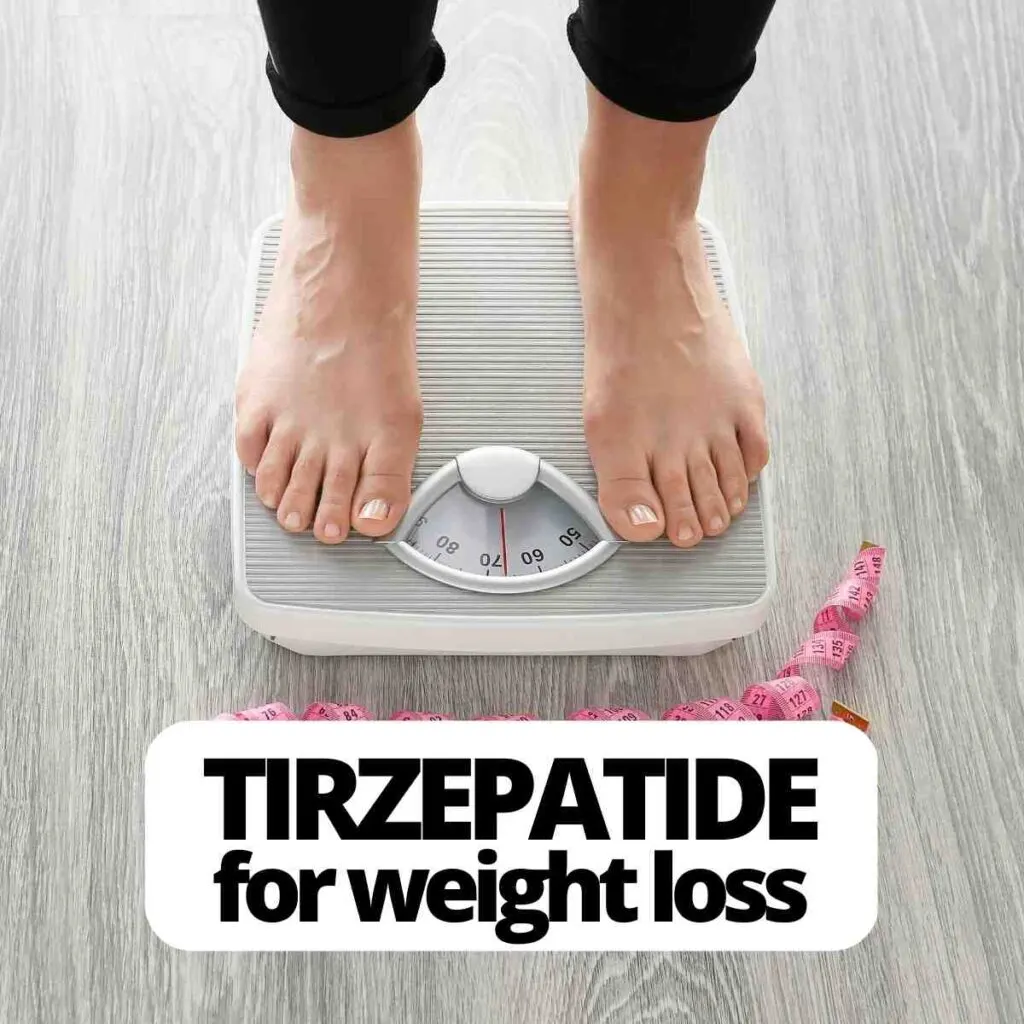 Tirzepatide weight loss in a phase 3 clinical trial for adults with obesity or who are overweight with at least one comorbidity and do not have diabetes. In the trial, participants taking tirzepatide lost up to 52 pounds (24 kg) after 72 weeks of treatment.
The drug achieved superior weight loss compared to placebo in both primary endpoints of mean percent change in body weight and percentage of participants achieving at least 5% body weight reduction. Additionally, 63% of participants taking a 15 mg dose of tirzepatide achieved at least a 20% body weight reduction.
Additional Benefits of Mounjaro
Currently Tirzepatide FDA approval is for T2D and we know that Mounjaro weight loss is a benefit. Since being on the market, many Tirzepatide users have noticed additional benefits then better A1C numbers and weight loss.
Quieting of the Brain
We are hearing from people who use Mounjaro that they are experiencing things such as a quieting of the mind. This is that the constant chatter about food or what to eat next is no longer running thru their brain like before using Tirzepatide.
Treating Addictions
Others have noticed a curb to addictions such as drinking and binge eating. In 2015, a study looked at GLP-1 as a potential treatment for alcohol use disorder finding evidence that this could be used to treat alcohol dependence in humans. Remember, Mounjaro / Tirzepatide is a GLP-1 and GIP dual agonist.
Side Effects
Let's learn about the Tirzepatide side effects. We covered Avery's experience with Mounjaro side effects but here are the most common things reported.
nausea
diarrhea
decreased appetite
vomiting
Tirzepatide Clinical Trials
Next on our list of Tirzepatide facts, we are talking about the research and clinical trials that go into to ensuring real-life results. Pharmaceutical companies use clinical trials to test their products with real patients. The Tirzepatide clinical trials are named and each trial targets research for various aspects.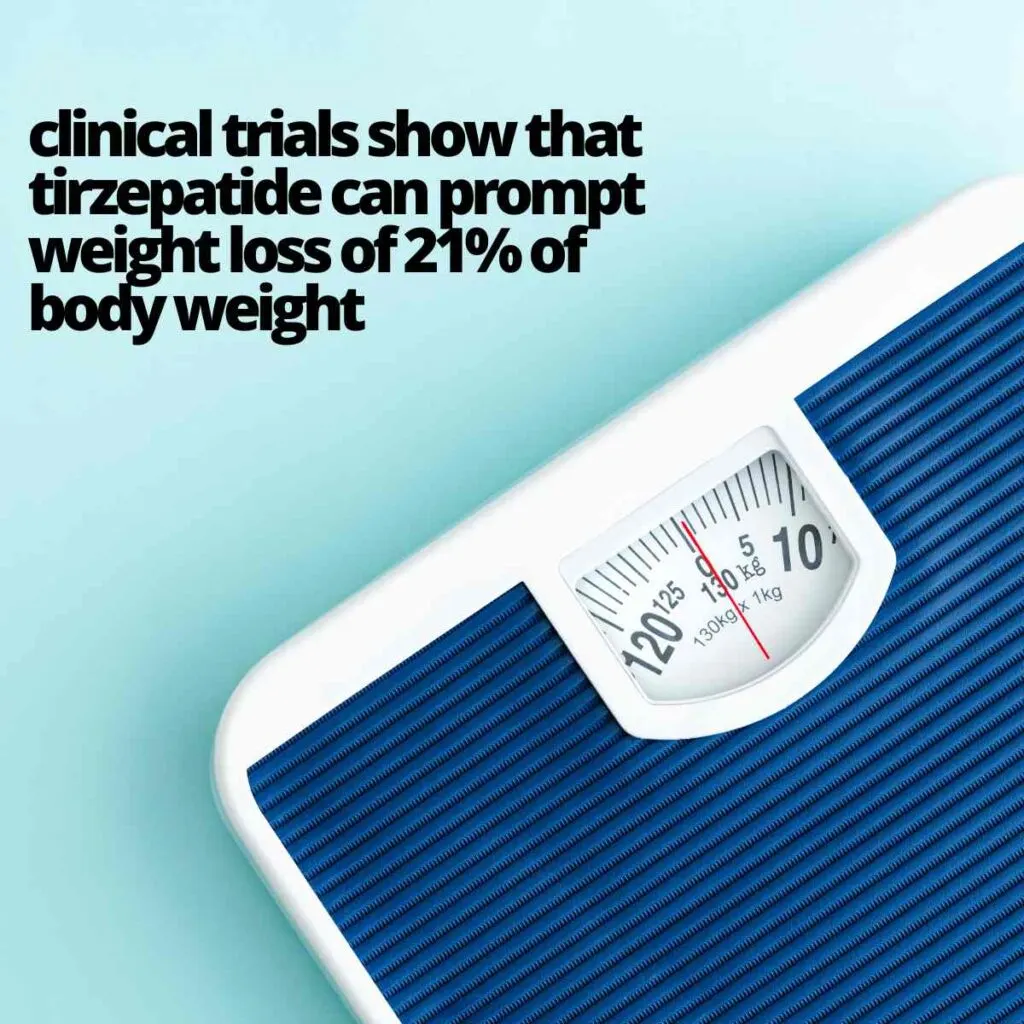 Here is an overview of the Tirzepatide clinical trials and what each is researching. Note, each trial has multiple phases to it for the various deeper aspects researchers are investigating.
SURPASS Clinical Trial
The SURPASS Tirzepatide clinical trials investigated various aspects in relation to treating Type 2 Diabetes. There have been 7 SURPASS trials in the US and others in the Japanese and Asian markets.
SURMOUNT Tirzepatide Obesity Trial
The SURMOUNT Tirzepatide clinical trials investigate the use for obesity. At the current time, only 1 phase of the trial has been completed, SURMOUNT-1.
The Tirzepatide obesity trial, SURMOUNT-1 had a goal of assessing the efficacy and safety of tirzepatide, a glucose-dependent insulinotropic polypeptide (GIP) receptor and glucagon-like peptide-1 (GLP-1) receptor agonist versus placebo in overweight or obese adults without diabetes.
The SURMOUNT-1 trial showed that among patients with obesity, once-weekly tirzepatide reduced body weight substantially as compared to placebo.
Currently, there are three additional Tirzepatide obesity trials running. SURMOUNT-2 has the same study design as SURMOUNT-1, but testing just the 10 and 15 mg tirzepatide doses in people who also have type 2 diabetes. This study completes in April 2023.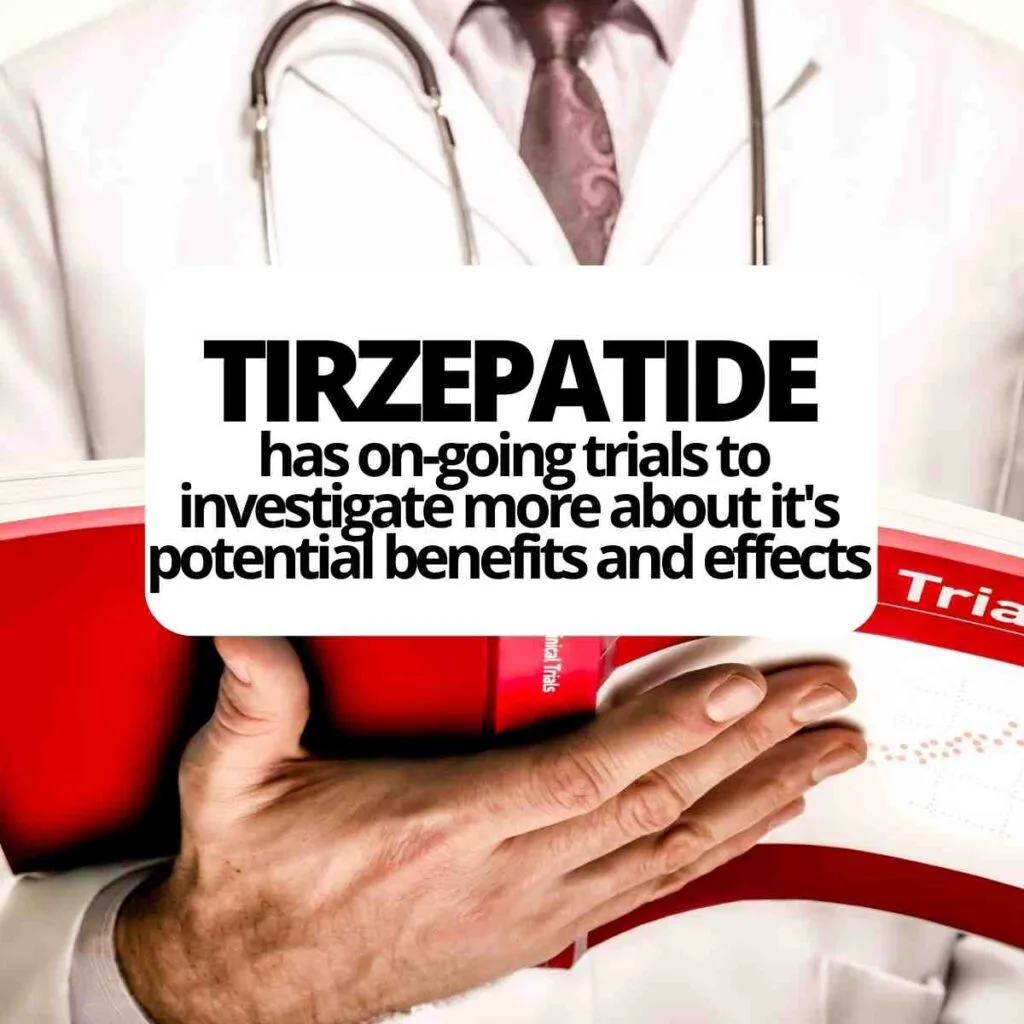 The trial SURMOUNT-3 is for people who do not have diabetes, testing whether tirzepatide can help people maintain, or even improve on, weight loss achieved during an intensive lifestyle intervention. The SURMOUNT-3 scheduled completion date is estimated at May 2023.
SURMOUNT-4 is an on-going study of SURMOUNT-3 participants. The goal is to assess whether the participants lost, maintained, or regained weight from the point of randomization.
SUMMIT Clinical Trial
The SUMMIT Tirzepatide trial is targeted for people with obesity plus heart failure with preserved ejection fraction (also known as HFpEF.) This is 52 week study with the primary outcome being a hierarchical composite endpoint comprising mortality, heart failure events, exercise capacity, and heart failure symptoms.
SURPASS Clinical Study
Eli Lilly's SURPASS Tirzepatide clinical study is to learn more about the safety and efficacy compared to placebo in children or teenagers with type 2 diabetes. This study is set to be completed in late 2027.
Dosages
Next on our list of Tirzepatide facts, let's talk dosages. Currently Mounjaro is available in the following dosages: 2.5 mg, 5 mg, 7.5 mg, 10 mg, 12 mg and 15 mg in a single dose pen. Tirzepatide is currently an injectable pen that is self-injected weekly.
Tirzepatide Savings Card
With the Tirzepatide cost being so high, many are trying to find ways to save money on Mounjaro. In summer 2022, a Mounjaro coupon was released allowing patients with commercial insurance to pay only $25 a month.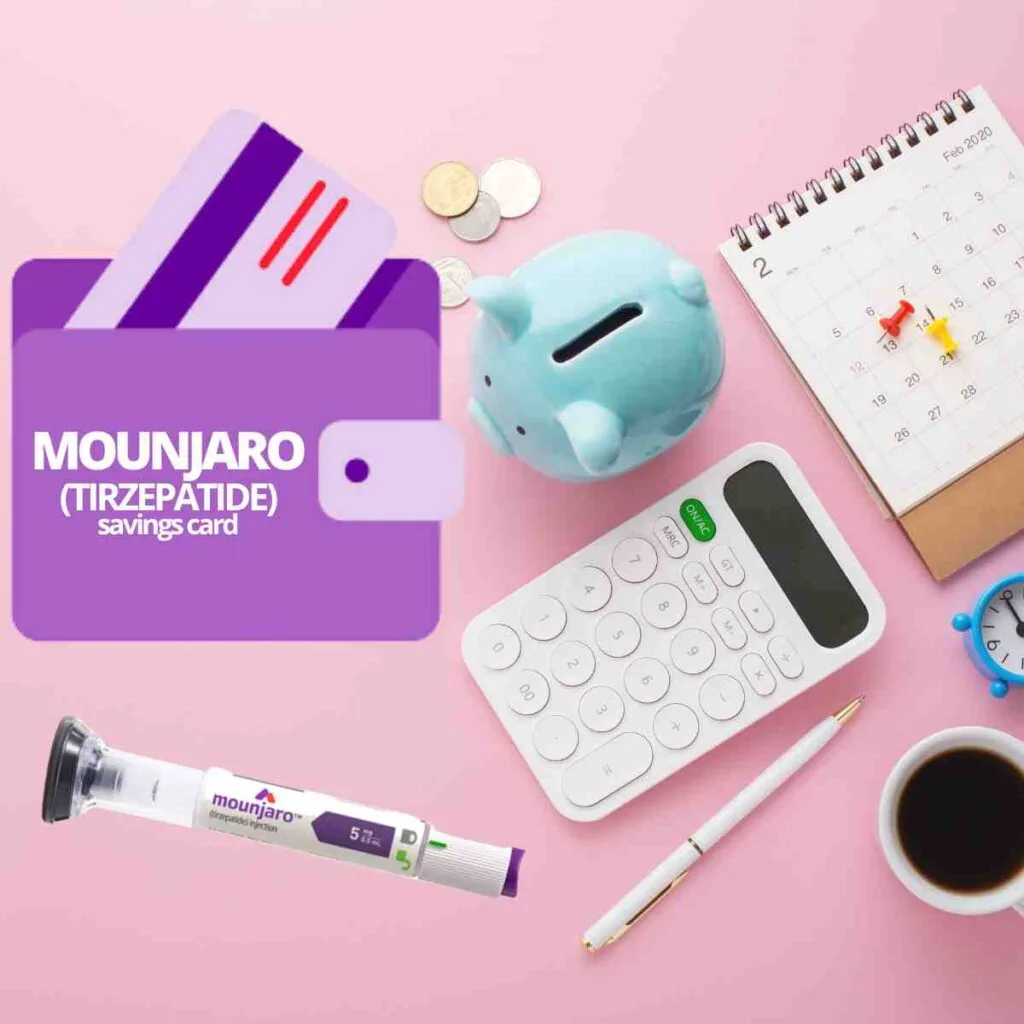 Since the initial launch of the Tirzepatide savings card, there have been multiple changes to the terms and conditions.
Yes, there is currently a Tirzepatide savings card that is available for use for anyone that has Type 2 Diabetes, is a resident of the United States or Puerto Rico and is 18 year or older and does not have a federal or state government-funded prescription program.
Mounjaro Insurance Approval
Another option for getting Mounjaro / Tirzepatide at an affordable cost is using commercial health insurance. Anyone with health insurance knows, there is a blanket coverage for well anything.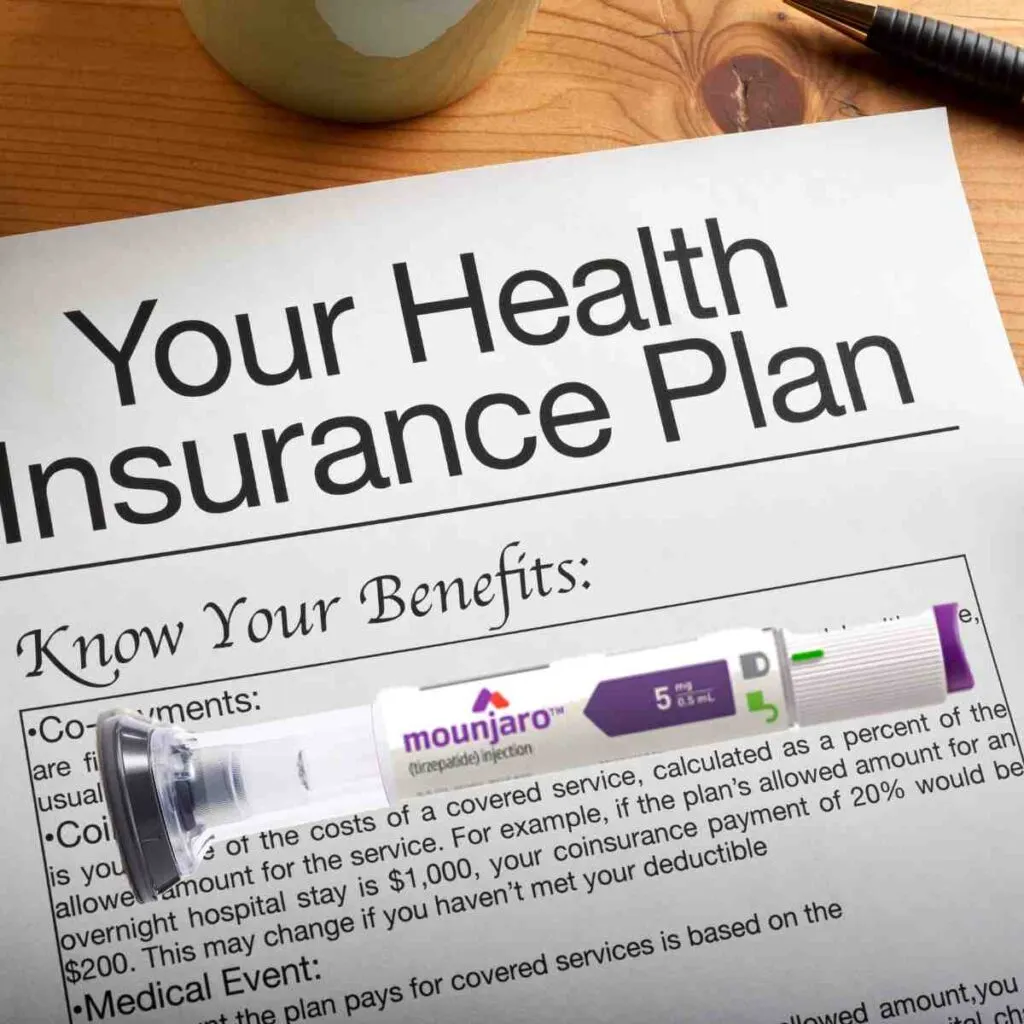 Mounjaro insurance approval will depend on your specific carrier. If you are interested in learning more, your best option is to talk to your health insurance carrier to learn the specifics of coverage.
If you tried using insurance to pay for Mounjaro in 2022, but were unsuccessful, here is something to note. With the start of 2023, many health insurance plans have new formulary plans which may include Tirzepatide. Often times coverage change at the start of the new calendar year.
What's Next
While we are stating Tirzepatide facts, here are a few things that are coming down the pipe for Mounjaro. In 2023, we can expect a FDA obesity approval.
With GLP-1 such as Ozempic and Wegovy, we saw not only treatment for Type 2 Diabete but also obesity. With a dual agonist of GLP-1 and GIP – Tirzepatide is showing even greater results for both diseases.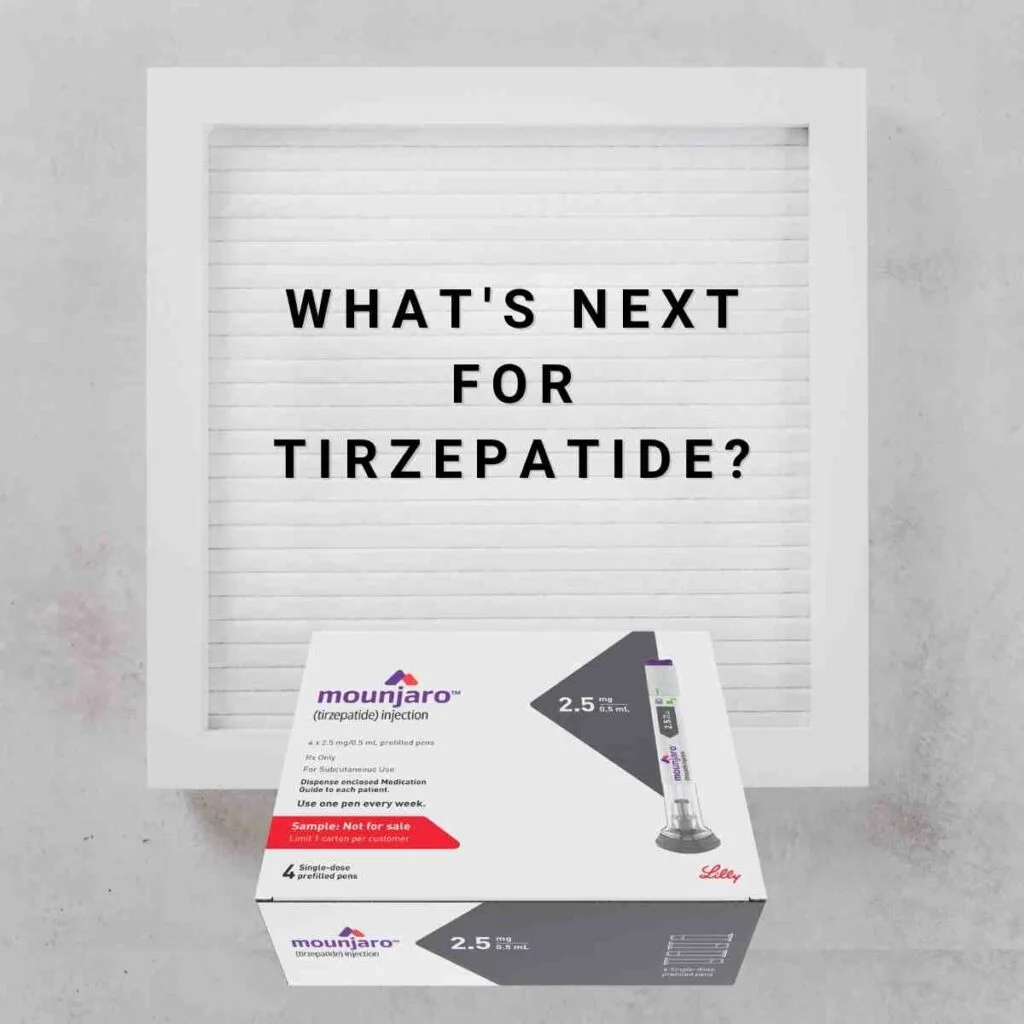 What we know is that this is just the beginning. Eli Lilly scientists are now looking at creating a trifunctional pepticide that will target GLP-1, GIP and also glucagon receptors. Targeting all 3 of these receptors will help the evolution of treatment for obesity and T2D.
Another item of interest for the future would be if Tirzepatide would be available in pill form. Note, this is currently a speculation, and not a fact. As shared in our Ozempic for Weight Loss post, Semaglutide does have a form that is available for oral use.
Tirzepatide Facts
As you can see, from these Tirzepatide facts, this is just the beginning. While there is a ton of news buzz in regards to things like the Mounjaro shortage and the use for weight loss, behind it there are people who are seeing a change in their life because of this drug.
We will continue to cover obesity treatments as the science evolves.
This information is for educational use only. Any medical advice should be discussed specifically between you and your medical professional. Information provided here is not

We are excited to expand our keto content to include other solutions our community is using to achieve optimal health. While we understand that this may not be for everyone, we do know that people are seeking information about obesity as a disease and solutions, such as Wegovy, Ozempic / Semaglutide and Mounjaro / Tirezepatide.

Please direct any questions in regards to personal use with your doctor and any questions in regards to coupons, etc should be discussed with your pharmacy or with the pharmaceutical customer service.
Tirzepatide Facts is part of the Keto Dirty Mounjaro series