Let's talk about the Chipotle keto menu. While you may think BURRITOS when you hear Chipotle, let's change that mindset and think KETO.
If you are on the Keto diet and need fast food Keto ideas, you have come to the right place! As someone who loves to cook but lives a crazy life, half of my low carb meals are fast food Keto style.
Chipotle Keto Menu
Today I am sharing my favorite Fast Food Chipotle keto meal and some ideas on what you can eat at Chipotle that is Keto friendly fast food!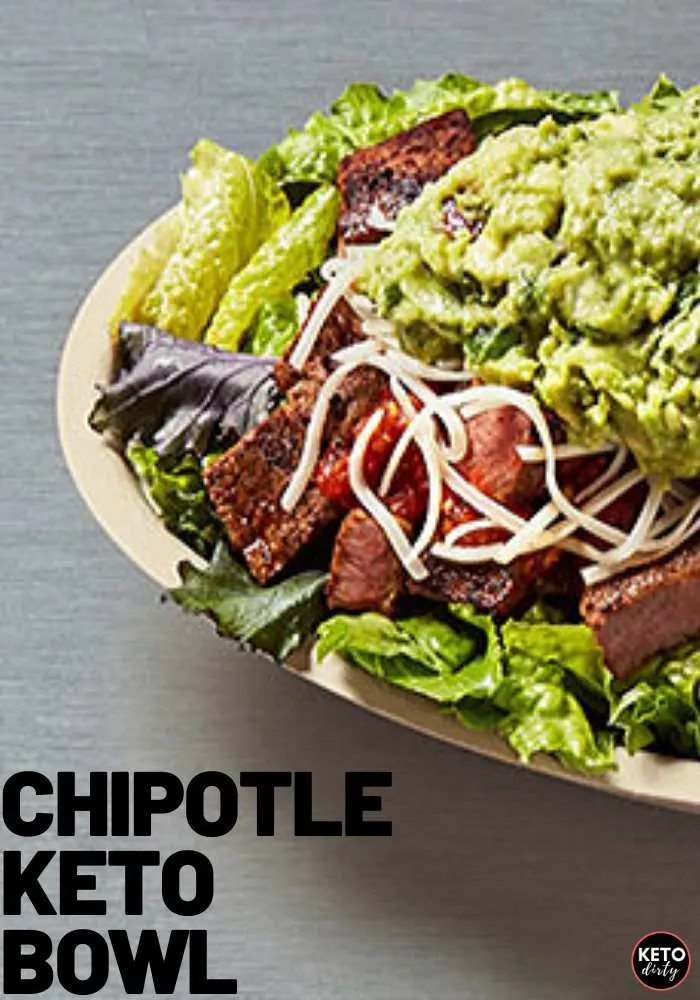 Let's eat keto at Chipotle!
What to Order – Keto Chipotle Menu Recommendations
Let's talk Keto Chipotle menu recommendations. Here are some suggestions for low carb food options at Chipotle Mexican Grill. I know, the menu and options can be daunting – but we've made it super easy for you to stay Keto Dirty.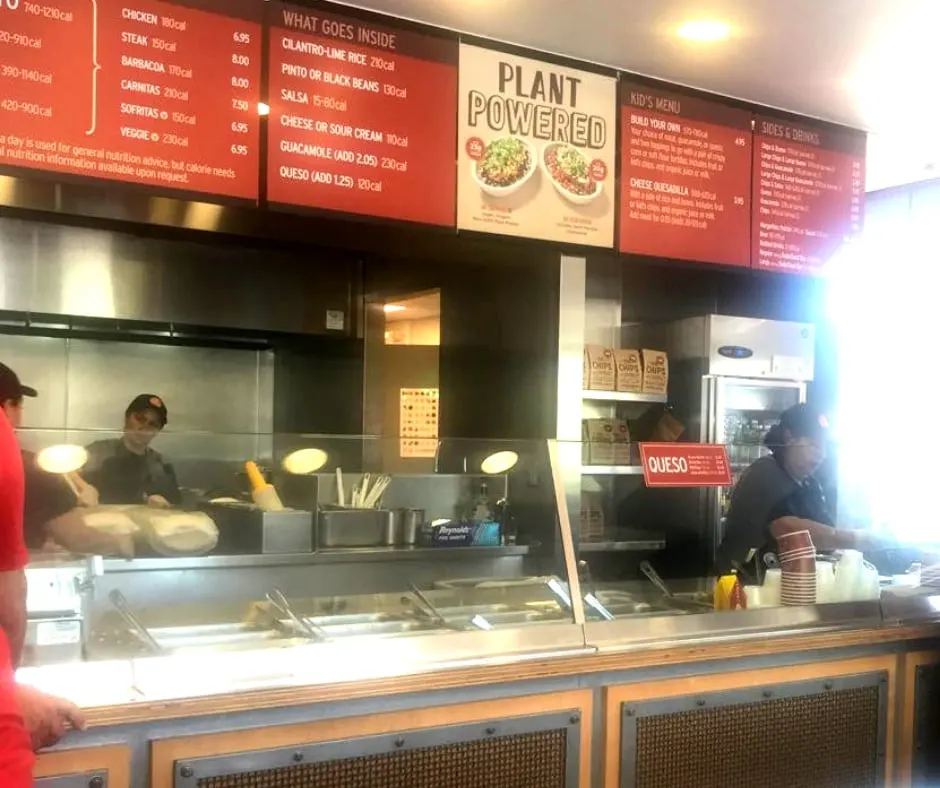 Remember, here at KETO dirty, we aren't strict. I know some people avoid things like tomatoes and what not, but we are more focused on enjoying a Keto lifestyle.
Just wanted to put that little nugget in here for all of those Keto police who will be screaming BUT THAT AIN'T KETO.
Chipotle Keto Bowl
First, I hate to break it to you – but the tortillas are not at all keto friendly, so just get that thought out of your head. Instead of thinking of Chipotle burritos – let's think about this yummy Chipotle Keto bowl!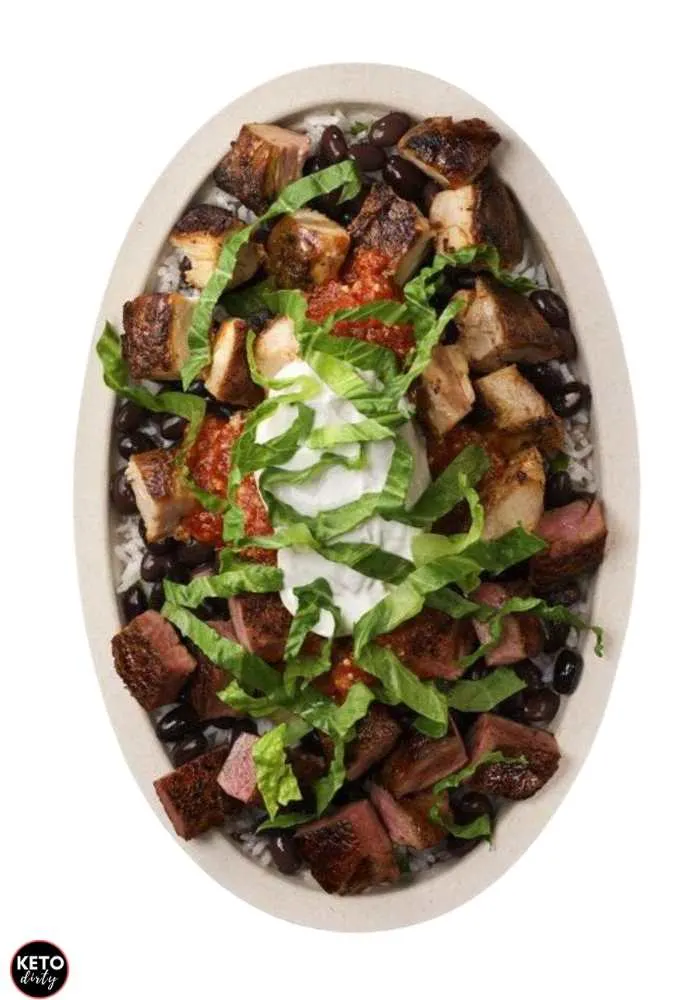 The Chipotle keto bowl is is one of our favorite low carb options at Chipotle.
Chipotle Lifestyle Keto Salad Bowl
When we first wrote about Keto Chipotle the official Chipotle Keto salad bowl was not an option. The chain announced in January 2020 a new line of lifestyle bowls for various diets – including keto!
Order a Chipotle Keto salad bowl and the Chipotle team will know what's up. Check out the Chipotle Nutrition Calculator to determine how many carbs your keto bowl will include. (Learn how to calculate net carbs.)
Here is my typical food order that is Keto from Chipotle – exactly how I tell the Chipotle employee to make it:
Keto Chipotle Style
CHIPOTLE KETO BOWL – no rice, no beans, extra vegetables, steak, pico, medium salsa, sour cream, cheese and guacamole.
Want to see what it looks like? Take it, this was after a ride in the car and sloshed around a bit! This meal if hearty and delicious!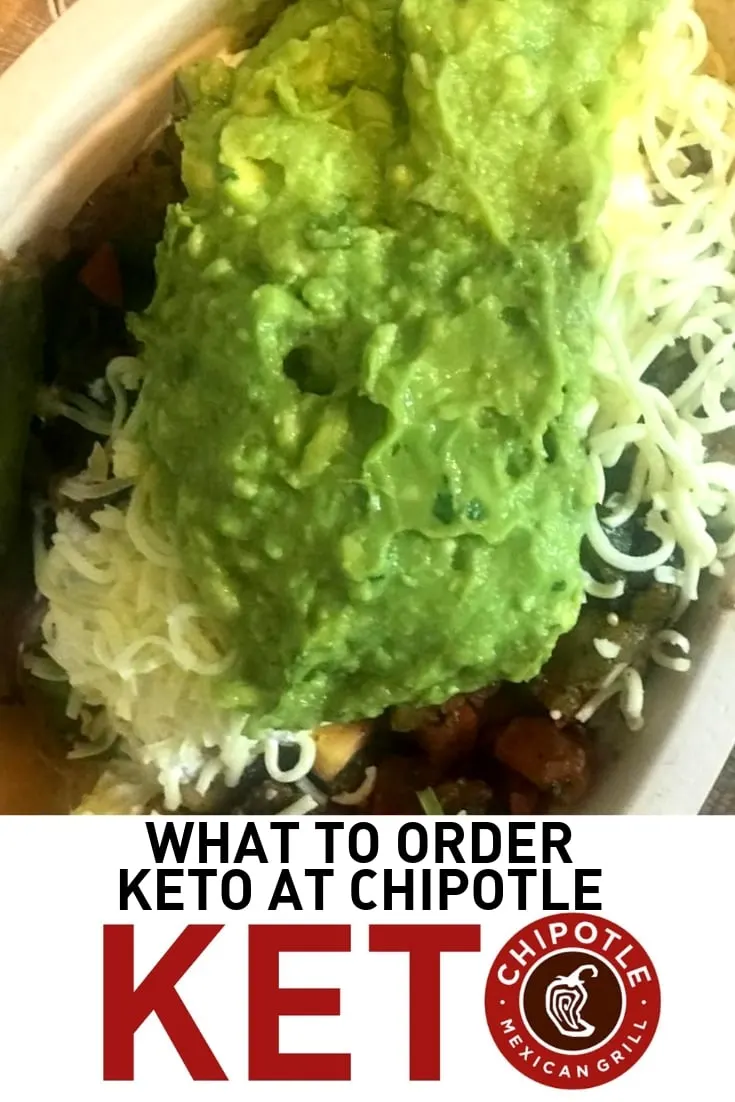 Now, there are a bazillion ways to make a KETO bowl at Chipotle. Chipotle also offers chicken, barbacoa and carnitas (pork). You can also add lettuce if you like, which brings me to my next point.
More Low Carb Chipotle Options
In addition to the bowl, you can always order a bowl as a keto-friendly salad. Instead of using the Chipotle salad dressing, I'd recommend using one of the salsas.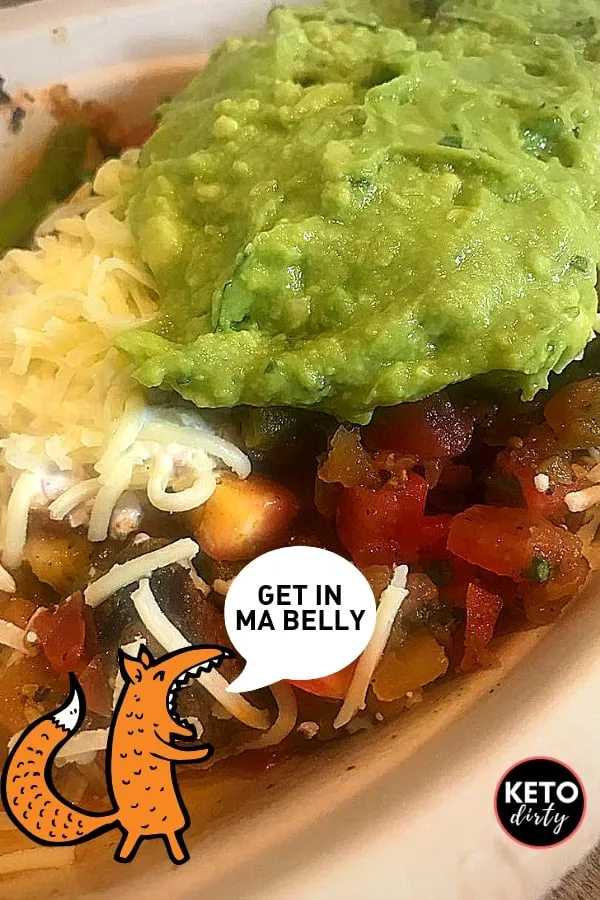 Personally, I am more of a meat and vegetable person – so typically I skip the lettuce and salads, but they are delicious!
2 Bowls for the price of 1
Here is a tip. The Keto bowls at Chipotle are big so if I am not extra hungry, here is what I will do. This isn't a Chipotle special or anything – it's just a fact. Their mexican bowls are massive.
Make 2 Meals Out of 1 Keto Bowl
I order extra meat on my bowl. I ask that the sour cream and guacamole be put on the side. Why? Well, since the bowl is so big – it can EASILY make 2 meals!
Let's face it, eating Keto is not always budget friendly – but if you can get 2 meals out of 1, all the better – right? By ordering the sour cream and guacamole on the side, it makes the Chipotle Keto bowl easier to save. The guac and sour cream tend to make it a little soggy when keeping leftovers.
On the first episode of our Keto Dirty podcast, we talk about our favorite fast food keto options. Winner winner, chicken dinner – Chipotle! Learn how we order using their apps, what we order and more.
Keto Meal Prep Containers
Another suggestion is to use a resealable container for your Keto bowl. These are the containers I use from Amazon.
At around 60 cents each, these are a great deal – bonus, they are totally reusable.
Well folks, there you have it – our Keto fast food suggestions for eating Keto at Chipotle!
Looking for more Keto Fast Food Ideas? We've Got You COVERED!
Follow Keto Dirty on Social – Facebook / Keto TikTok / Pinterest / Instagram
Keto Dirty is reader supported. When you buy through links on our website, we may earn an affiliate commission.