Sharing 7 healthy options that are the best fish for keto!
If you are in the mood for a new fish dish, but want to keep it keto and low carb, look no further. We are sharing the top 7 best keto fish to eat on a ketogenic diet.
Delicious Fish for Keto Diet
Whether you are looking for new types of fish to eat, or finding an alternative to red meats – we are dishing up the best fish for keto.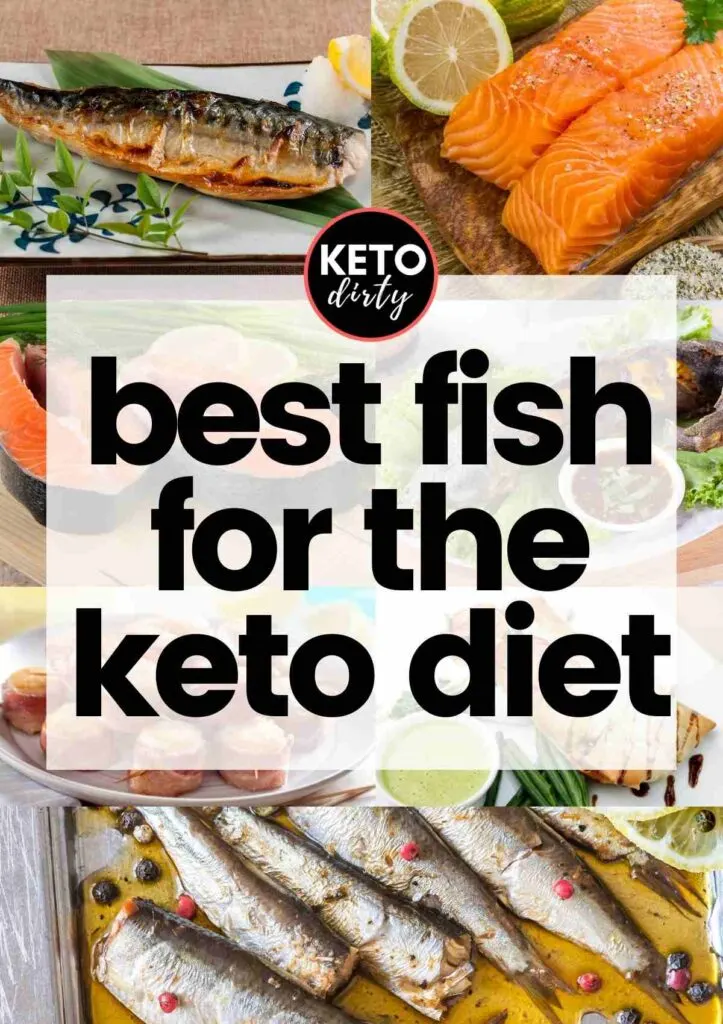 Let's look at various options that work well when eating keto and low carb. Here are a few reasons to consider adding a keto fish to your diet.
Get in Essential Vitamins & Nutrients
Eating fish is a great way to get in essential vitamins, such as b-complex vitamins and healthy fats and providing healthy oils.
Fish is filled with essential nutrients such as omega-3 fatty acids, vitamin D and B vitamins. Good News! In recent years, it's been discovered that there's strong evidence that omega-3 fatty acids can significantly reduce blood triglycerides levels. (source: mayoclinic.com)
Health Benefits
The fish and the fish oil provided from eating provide great health benefits. Some of these benefits include: reducing the risk of heart disease / heart health, lower blood pressure, mental health, weight loss, helping cholesterol levels.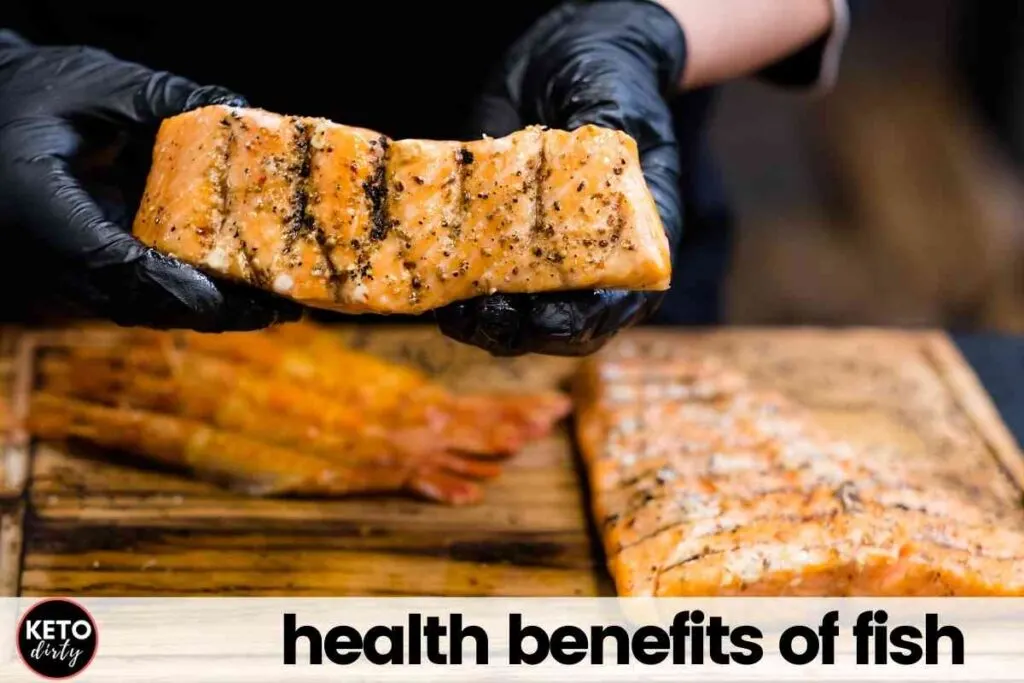 Remember how we mentioned fish is filled with essential vitamins. Did you know that Vitamin D plays an important role in reducing autoimmune diseases? Now you do!
Vitamin b helps the process your body uses to get or make energy from the food you eat. They also help form red blood cells. You can get B vitamins from proteins such as fish, poultry, meat, eggs, and dairy products.
Consuming Protein
If you struggle to consume your daily allotment of protein in, good news, fish is an excellent source of protein.
Eating just a 3-ounce cooked serving of most fish or shellfish provides about one-third of the average daily value recommended amount of protein.
Salmon
First on our list of best fish for keto is one of the most popular fish, salmon. With low carb content and numerous ways to cook, this makes a great fish for low carb diets and keto meal plans.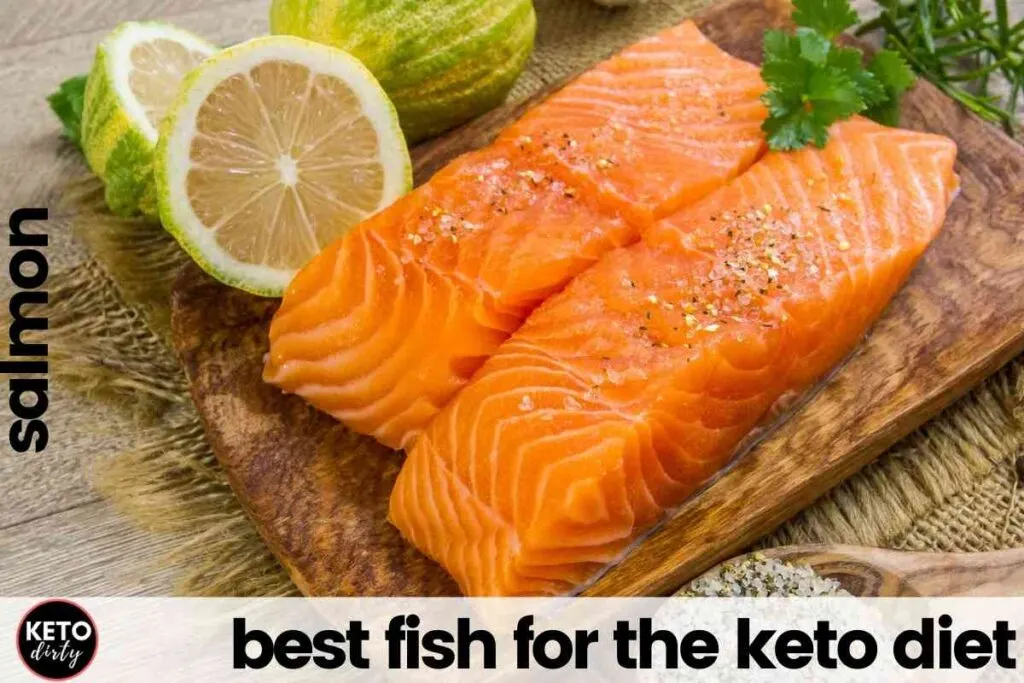 A good reason to include salmon in your keto meal plan is that this fish is a great way to get in important nutrients. Salmon is a fatty fish, providing a wealth of omega-3 fatty acids (hello, good fats!) Most omega-3s are "essential" fatty acids. Your body can't make them, but they play critical roles in your body.
According to my husband this comes close to being the perfect food. We pick up a pack of wild salmon (or wild-caught salmon) every time we are at Costco. Our kids love smoked salmon.
A simple keto salmon recipe is to buy the smoked salmon that is ready to eat out of the pack. Top the salmon on a piece of toast made with keto bread and cream cheese. Hope you enjoy this easy recipe!
Here are a few salmon recipes that you might enjoy. Choose the best choice based on what your taste preference is.
Wild King Salmon With Savory Whipped Cream – This easy to make keto recipe is from NY Times.
Garlic Butter Baked Salmon – This salmon recipe from Cafe Delites had me at the rich flavor of garlic and butter.
Untraditional Keto Fish Tacos – While you may think of flounder or halibut when thinking of making fish tacos, why not try something unconventional? Sear up some salmon and add to low carb tortillas for delicious keto fish tacos.
Herring / Sardines
Next on our list of best fish for the keto diet is the Herring or sardines. Confused? Let's clear the herring vs sardines question.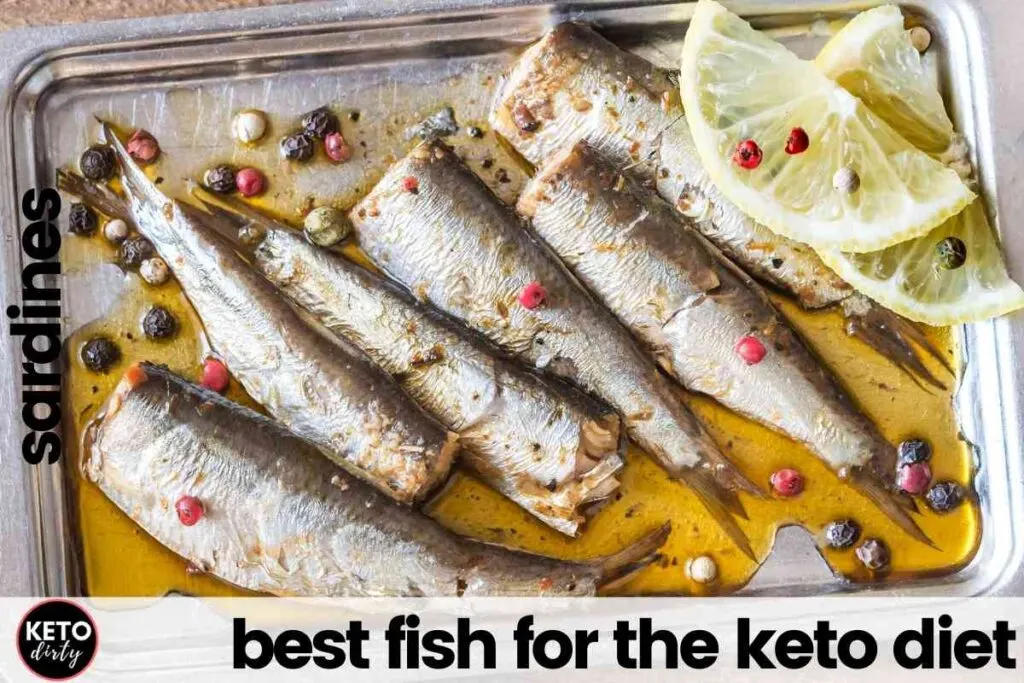 When herring fish are young and small, they are called sardines. When this white fish gets older and bigger, they're called herring. So yes, herring and sardines are the same.
This is a fatty fish and oily fish, but don't let that put you off! This white fish provides both good fat and good oils!
A medium-sized herring fillet contains 0g total carbs, 0g net carbs, 8g fat, 7g protein, and 104 calories. Making this an excellent source of lean protein and a zero carb fish option!
medium-sized herring fillet
Sardines make a great keto snack, lunch or dinner option. Pick up a can of sardines next time you are at the store. Canned sardines are great to keep in the kitchen pantry as an easy meal addition (or keto snack!)
Pair sardines with our cream cheese cucumber recipe.
Mackerel
If you are looking for a great source of protein in a keto friendly fish, Mackrel may be the perfect choice for your next meal.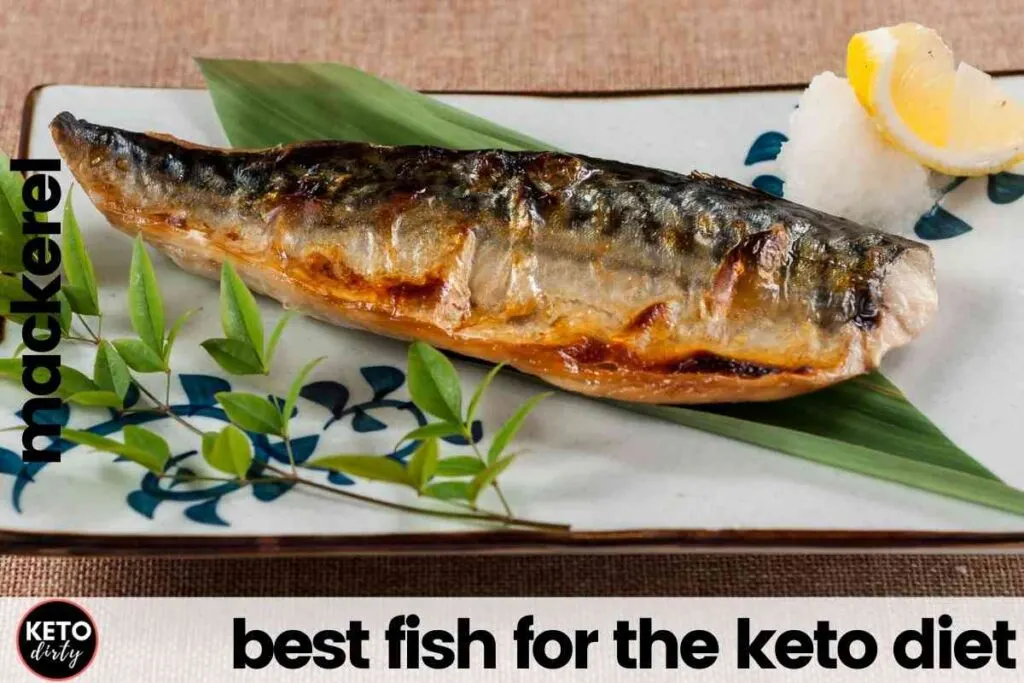 This fish is a great option for anyone looking for a keto fish with zero carbs. 1 cup of Mackerel has 25 grams of protein and zero carbs. That's right friends, there are ZERO grams of net carbs in Mackerel making this keto fish a great option for a low carb meal.
Keto Mackerel Recipes
Not sure how to cook mackerl, we got you! This is a versatile fish, with multiple ways to cook it. Here are a few mackerel keto-friendly recipes to try out.
Atlantic Mackerel and Spring Cabbage – Modify this recipe to make it keto friendly by using a keto sugar alternative rather than honey. This recipe was created by Faroese Seafood.
Mediterranean Oven Roasted Spanish Mackerel Recipe – This roasted mackerel keto recipe features a lot of garlic, coriander, cumin, parsley, dill and lemon. Recipe created by The Mediterranean Dish.
Something to note, while there are many heath benefits to this fatty fish (and oily fish) – King Mackerel does contain higher levels of mercury putting it on the eat in limited amounts list if you are pregnant.
Tuna
Another excellent choice on our list of best fish for keto is the Tuna. Low in calories but packed with minerals and nutrients, tuna is a powerhouse of essential nutrients and omega-3 fatty acids – full of good fat and protein.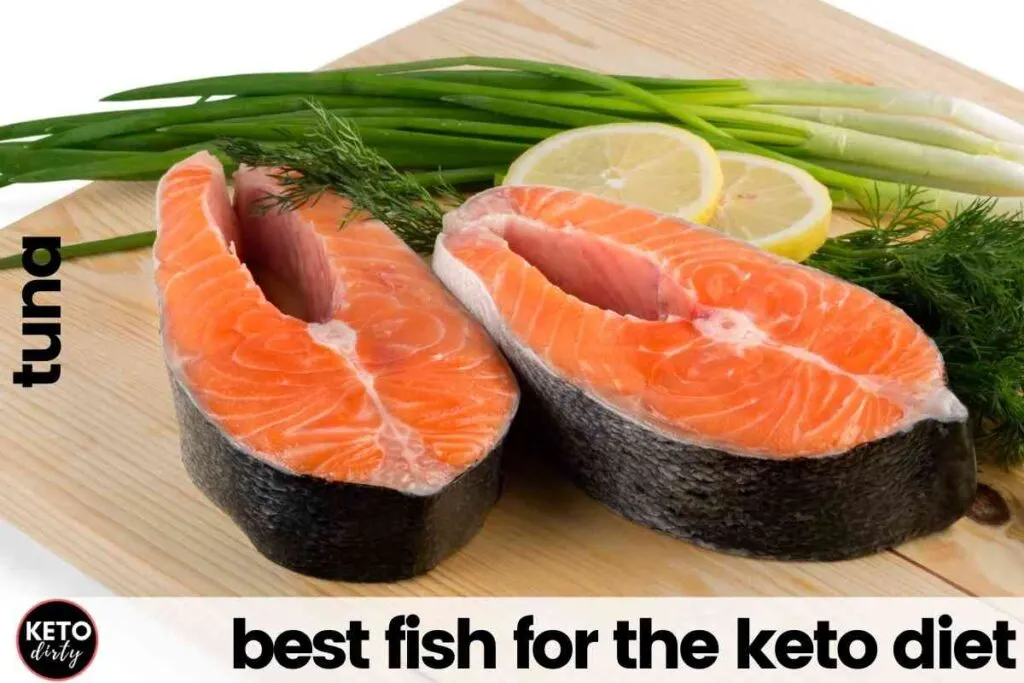 Keto Tuna Recipes
Tuna is another versatile keto fish option. You can keep it simple by buying canned tuna / albacore tuna. This is a great option for easy meal making, or get fancy by purchasing tuna at your local butcher.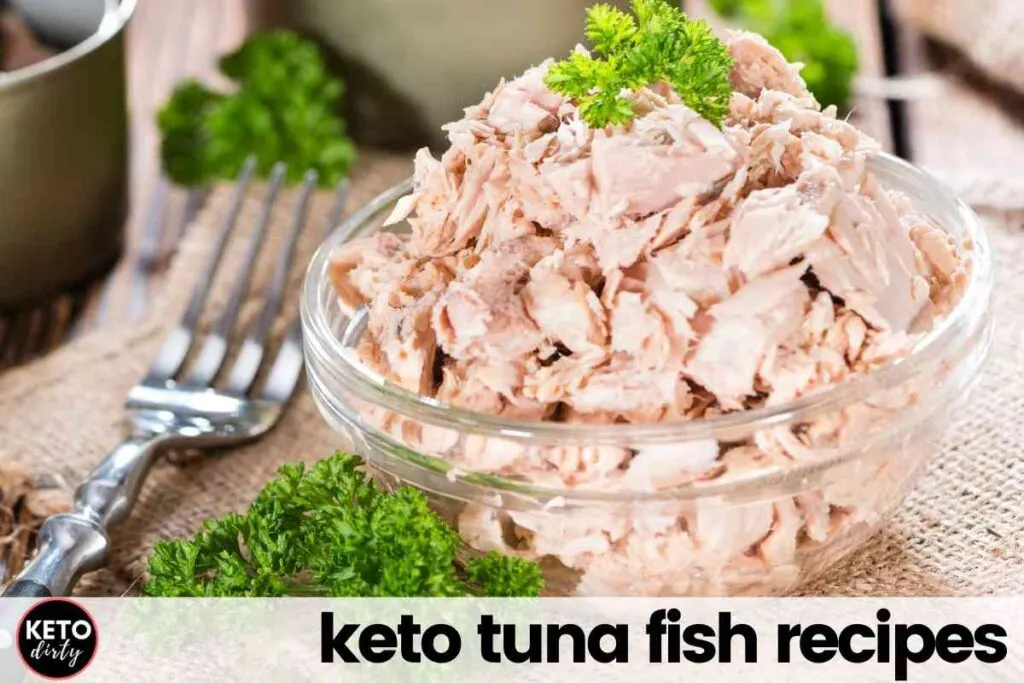 Here are Keto Tuna Recipes to try:
Fresh Tuna Tuna Steaks – Fun fact, ahi tuna is a yellowfin tuna. The yellowfin is what is used in making raw tuna steak.
It is lightly seared on the outside, but the inside is left raw, not rare – raw! You will want a sushi-grade ahi before making this and the freshness and quality of the fish will make a huge difference in how your dish tastes.
Blackened Skipjack Tuna – Skipjack tuna or striped tuna blackened cajun style is a delicious keto meal option. Recipe from SBS.
Atlantic bluefin tuna are one of the oceans apex predators. These fish travel in large schools and eat large quantities amounts of protein rich sea life including mackerel, squid, Atlantic menhaden (a type of sea herring) and crustaceans.
Check out this bluefin tuna with olive, cucumber and cilantro relish from Martha Stewart.
How Many Carbs in Tuna?
There are zero carbs in tuna. There is approximately 7.2 g of protein in a 1oz serving of canned tuna fish, making this fish a good source of protein.
Sea Bass
Sea Bass is one of the leanest protein sources available. It offers 20 grams of high-quality protein for every 3-ounce cooked portion. The best part is Sea Bass has approximately 6 grams of protein per ounce.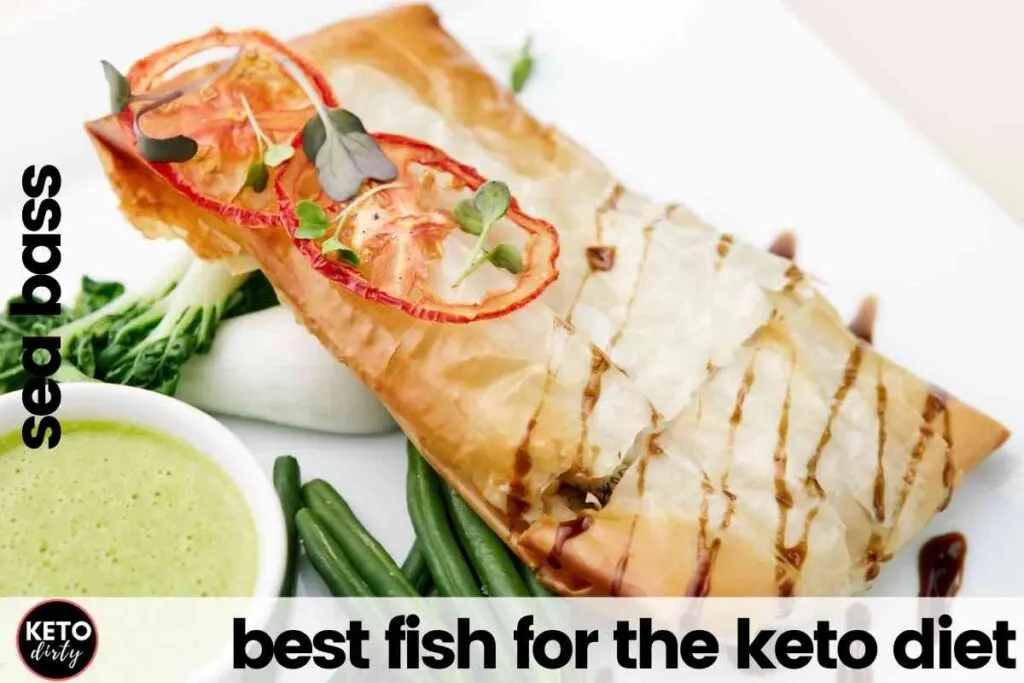 How Many Carbs in Sea Bass?
There are zero carbs in sea bass. A 3 ounce serving of sea bass has approximately 20.1 grams of protein, 2.2 grams of fat. Sea bass is another good source of protein that is low in fat content and low in carb content, too!
Keto Sea Bass Recipes
Let's look at ways to make keto sea bass.
Pan Seared Chilean Sea Bass Recipe – this pan seared Chilean sea bass is tender and flavorful. Bonus, it cooks in one pan in 20 minutes! Recipe by Organically Addison.
Catfish
Catfish is low in calories and packed with lean protein, healthy fats, vitamins, and minerals.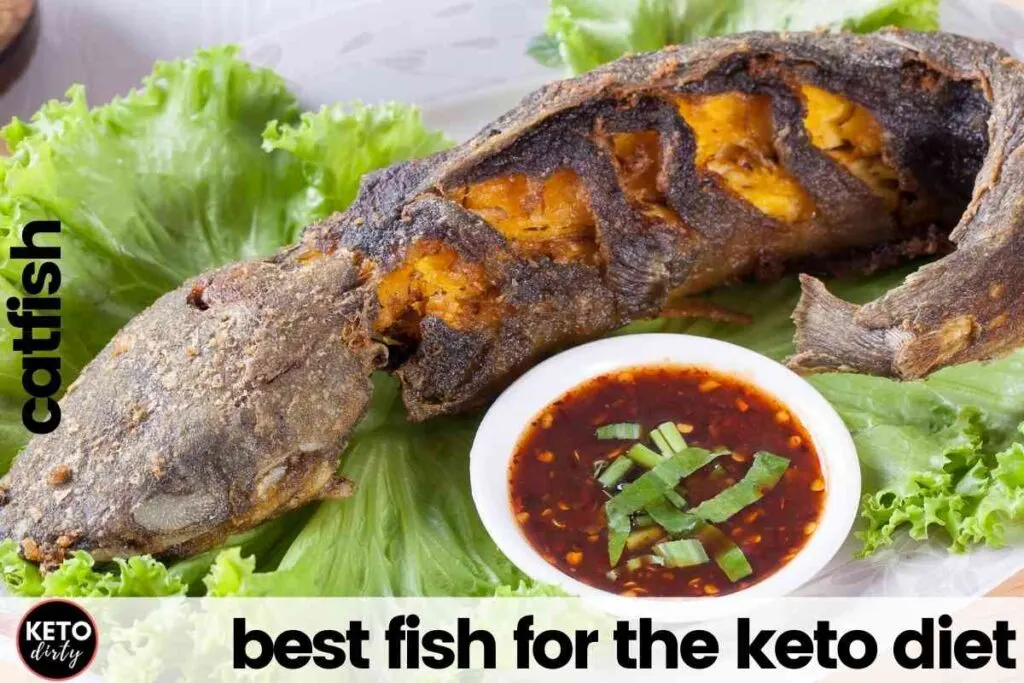 How Many Carbs in Catfish
Low in carbs and high in protein make this keto fish a great catch. Catfish contains 0.6g total carbs, 0.6g net carbs, 19.2g fat, 29.6g protein, and 302 calories. Under 1 carb count sounds like a win and great keto-friendly food to me.
Keto Catfish Recipes
Looking for ways to make keto catfish? Try out these keto-friendly low carb recipes.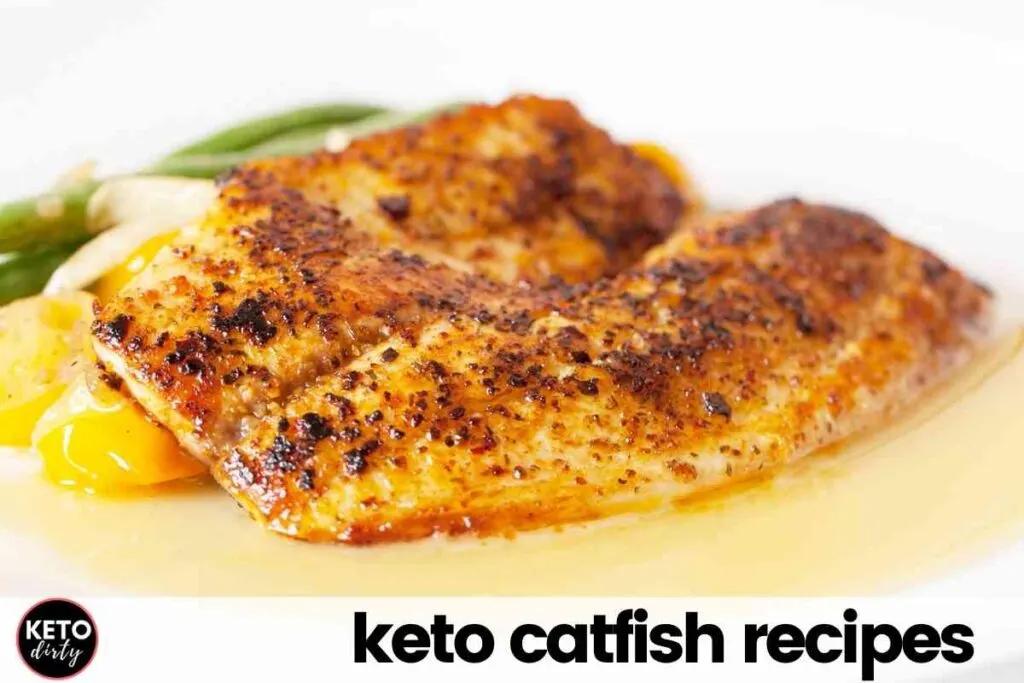 Greek-Style Grilled Flathead Catfish Steaks – Why go out to eat for catfish when you can make this delicious keto Greek recipe at home! Recipe from Realtree.
Fried Catfish – When thinking of comfort foods that contain fish, fried catfish comes to mind! With a few substitutions to the normal fried catfish recipe, you can make keto fried catfish! Deep fry the cat fish in olive oil. For the batter, substitute almond flour for white flour. A keto friendly bread crumb alternative is crushed pork rinds.
Scallops
While typically I think of scallops as types of seafood, these little delicacies are still on our list of best fish for keto diet.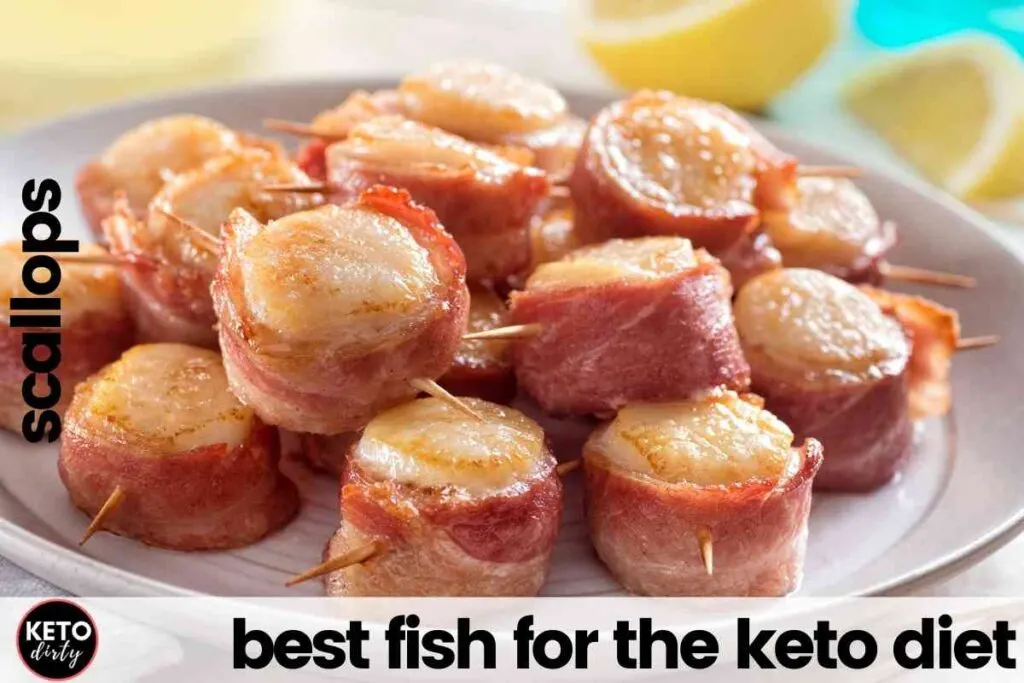 Scallops are considered a "good choice," or a lower mercury fish (learn more on wikipedia) if you are watching how much mercury intake your diet includes.
Food Chain
Scallops are important in food chains, consuming microscopic organisms, such as algae and zooplankton, and being consumed by many animals, such as crabs, sea stars, and rays. (source: New World Encyclopedia)
Scallops vs Oysters
The main difference between oysters and scallops is in their shell. Oysters have round or oval shells with a rough, grey surface, while scallops have two hinged shells that look like colorful seashells.
A serving of oysters are usually served with their shells, while scallop shells are often removed just after harvesting.
Keto Scallop Recipes
Here are a few keto scallop recipe ideas for helping you include this fish in your keto menu.
Bay Scallops with Garlic – This keto scallop recipe from The Spruce Eats only takes 15 minutes to cook and makes 4 servings of food.
Bacon Wrapped Scallops – Have you tried our Brisket Jalapeno Poppers? Similar to how those are made, make bacon wrapped scallops for a delicious keto dish.
Keto Fish Side Dish Ideas
Our best fish for keto list maybe complete, but thought I'd leave you with some ideas on what side dish options to consider. See the entire list over on keto side dishes.
Zucchini Noodles or Zoodles
Harvest your zucchini or squash and noodle it! (Check out our post on keto noodles for more healthy noodle alternatives.)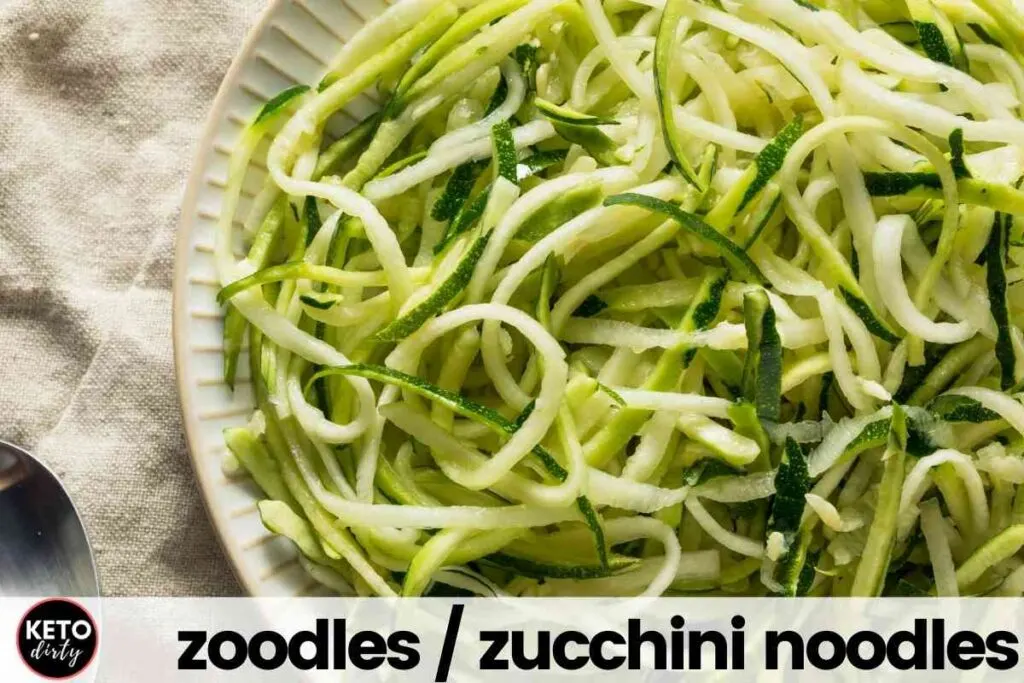 Zucchini noodles one of the best things I have found when making zoodles (or zucchini noodles) is to use a spiralizer or zoodle maker.
Cauliflower Rice
Next on the list for keto fish side dishes is cauliflower rice. I have found the easiest and best way to make cauliflower rice on the quick is to purchase it frozen.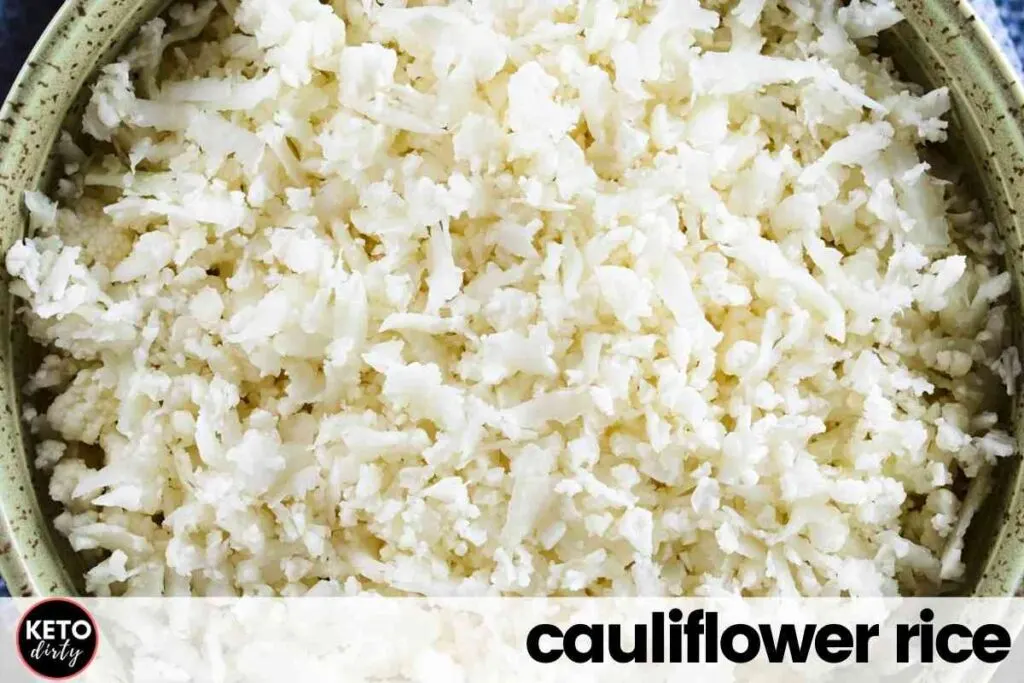 Found in the freezer section of the grocery store, frozen cauliflower rice microwaves in just minutes. Add sour cream, shredded cheese, garlic, salt and pepper to the riced cauliflower for a flavorful side dish that goes well with any of the above entrees..
Eating Fish on Keto
Whether you enjoy wild-caught fish, buying from a local butcher or grocery story or even off the shelf canned – we are sharing the best picks. Here is a variety of best fishes for keto diet list.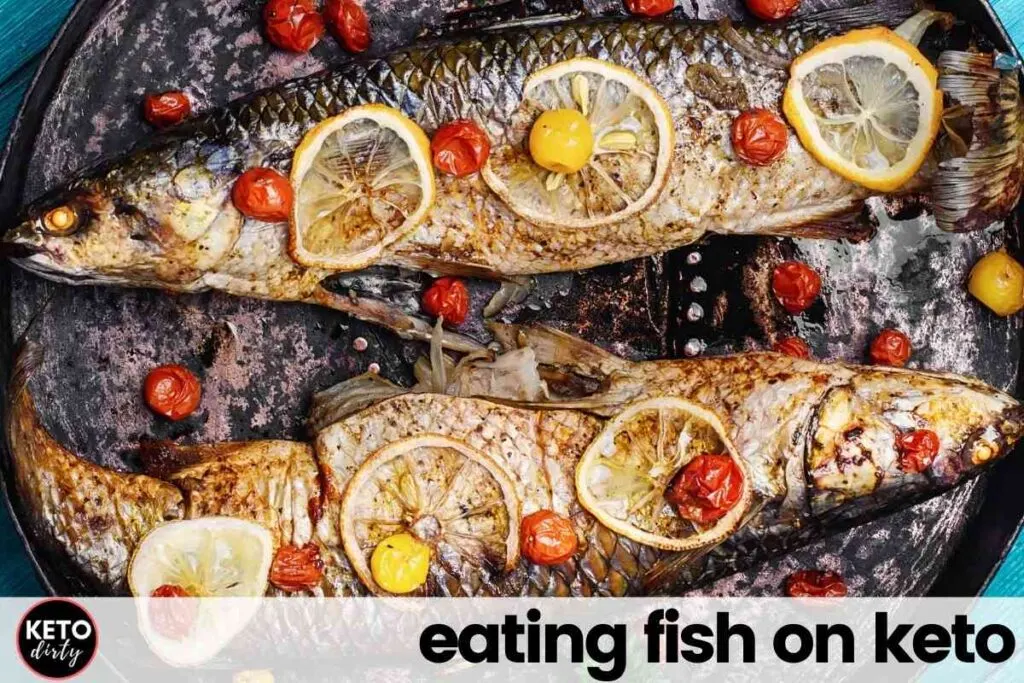 Bonus points if the fish makes a dinner for the whole family to enjoy. Read our tips for family keto cooking. Stay tuned for more keto fish recipes as we help you navigate a healthy keto diet.
Wanting to help track your weight loss? Check out our free weight loss jar printable and get a visual representation of the weight and pounds that you have loss!
Follow Keto Dirty on Social – Facebook / Keto TikTok / Pinterest / Instagram
Keto Dirty is reader supported. When you buy through links on our website, we may earn an affiliate commission.
Best Fish for Keto is part of our Keto Blog