Yes, you read that right… Flourless Chaffle Recipe! Skip the flour with this chaffle hack.
Saying no to flour but still want that chaffle? We got you! A request came in for a flourless chaffles reccipe so we did some research, tried a few things and boom! Here is an awesome alternative recipe to our original basic chaffle recipe!
No Flour Chaffle with Cream Cheese
This delicious low carb no flour waffles is perfect for anyone who can't or won't eat almond flour. For various reasons, maybe you aren't eating flour while on the keto diet or a low carb diet. We've heard to these keto waffles as dirty waffles.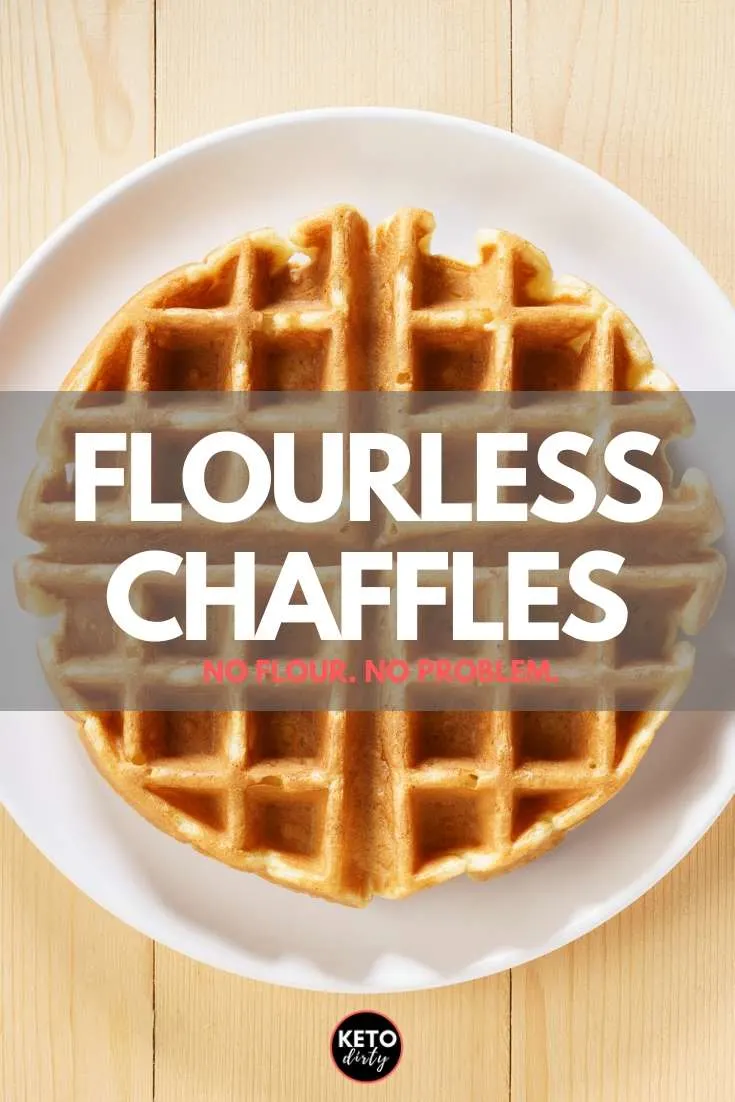 Let's look at how to make this no flour low carb waffle without any type of flour ingredient.
Yes, these low carb FLOURLESS waffles seriously have NO flour! But HOW, YOU ASK! Well, we will tell you – only because we like you. It's almond butter.
Almond Flour Substitute
We are substituting almond butter for almond flour in this flourless waffles recipe. In addition to the almond butter substitution, we are using cream cheese. So maybe you could say these are keto waffles with cream cheese.
There are many substitutions and ways to get around flour, but as you know – it's just not going to taste quite the same. None the less, we have found a delicious alternative to flour! If you are going flour-free, try Almond Butter!
Keto Almond Butter
Almond butter has the consistency of peanut butter. It provides a flavorful alternative to almond flour in many recipes – including this one! It can work as an almond meal or almond flour substitute in recipes by using approximately 100 grams of butter for each cup of almond flour or almond deal.
While there are numerous brands of almond butter, our favorite is Justin's. This particular brand has 3 net carbs per 2 tablespoons of almond butter.
Peanut Butter Chaffles
We heard from many of you that you are interested in making Peanut Butter chaffles. If you would rather use peanut butter than almond butter, go for it! Personally, we prefer to not use peanut butter but that is a choice you will make for your diet.
When making peanut butter chaffles, just make sure that if you are on keto that you look for a natural, no sugar peanut butter option to avoid the carbs and help you stay in your macros.
Keto Peanut Butter
Here is a great KETO peanut butter option available on Amazon. With only 2 net carbs per 2 tablespoons, you could successfully make your peanut butter chaffle and stay low carb and keto friendly!
Tips for Making No Flour Chaffles
Here are a few tips that we have found helpful when making flourless chaffles.
Don't Forget the Non-Stick Spray
The biggest way to mess this no flour chaffles recipe up is by not spraying your waffle maker with a non-stick spray.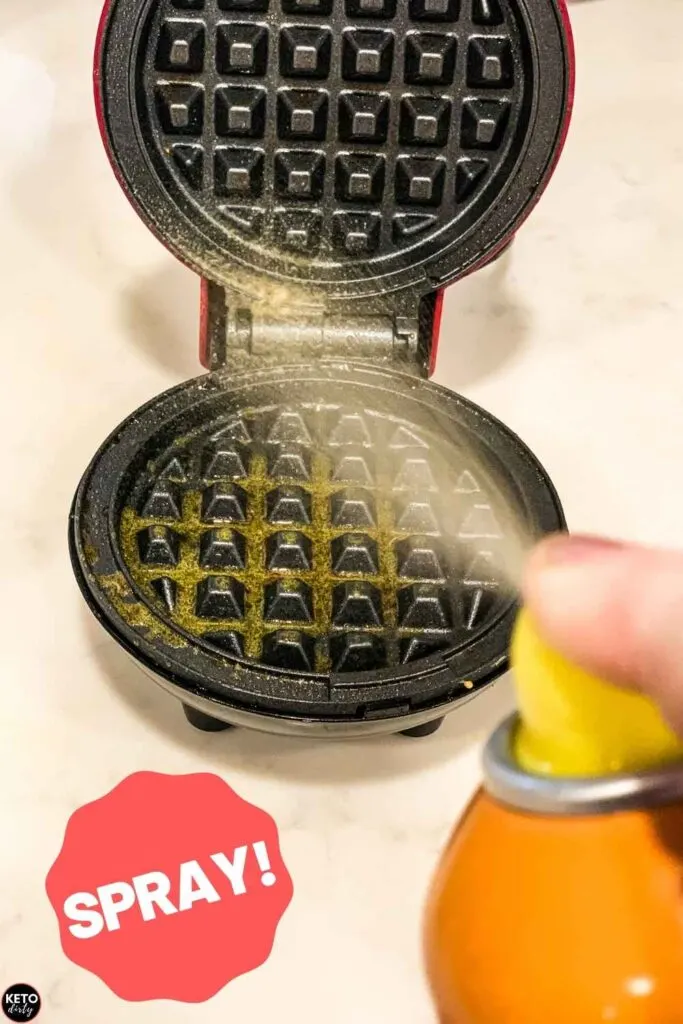 I know, it sounds silly but if you have ever forgotten the non-stick spray, you know what I am talking about!
No Flour Chaffles
We hope this flourless chaffle is everything you had hoped for! Don't miss our complete list of all things chaffle. Let us know what you think of these low carb no flour waffles!
Don't miss our huge list of keto breakfast ideas!
We Love Chaffles
There are so many ways to make chaffles that we have a whole collection of chaffles and everything you want to know about them!
Enjoy this no flour chaffle recipe, who knew flourless could taste so good?
Follow Keto Dirty on Social – Facebook / Keto TikTok / Pinterest / Instagram
Keto Dirty is reader supported. When you buy through links on our website, we may earn an affiliate commission.
Flourless Chaffles is a part of the Keto Dirty Chaffles and Keto Breakfast Ideas Series