Sharing all the details on the new Mounjaro Savings Card update, starting October 1, 2022.
Here is the info you need to know before your next fill or started Tirezepatide. While all the buzz on the internet has been chattering on Mounjaro weight loss – the web is now rattling on a specific thing. Rightfully such, as so many – including myself have found what we fill to be the answer to the obesity issue.
What's buzzing though is the potential changes to the Mounjaro coupon. Let's chat about what happened, the meaning and what you need to know based on real life transactions.
Key Facts About the Mounjaro Savings Card Updates
We mentioned this when we were writing about the manufacture coupon, but over the weekend – the Mounjaro community has been buzzing about one thing, the Mounjaro Savings Card.
Anyone else shaking their heads at the constant updates to the Mounjaro savings program? We have created a resource with the latest information to help ensure you are able to save money on Mounjaro – if eligible. Check out Mounjaro Copay Card 2023 for the latest updates from Eli Lily on discounts, savings and more.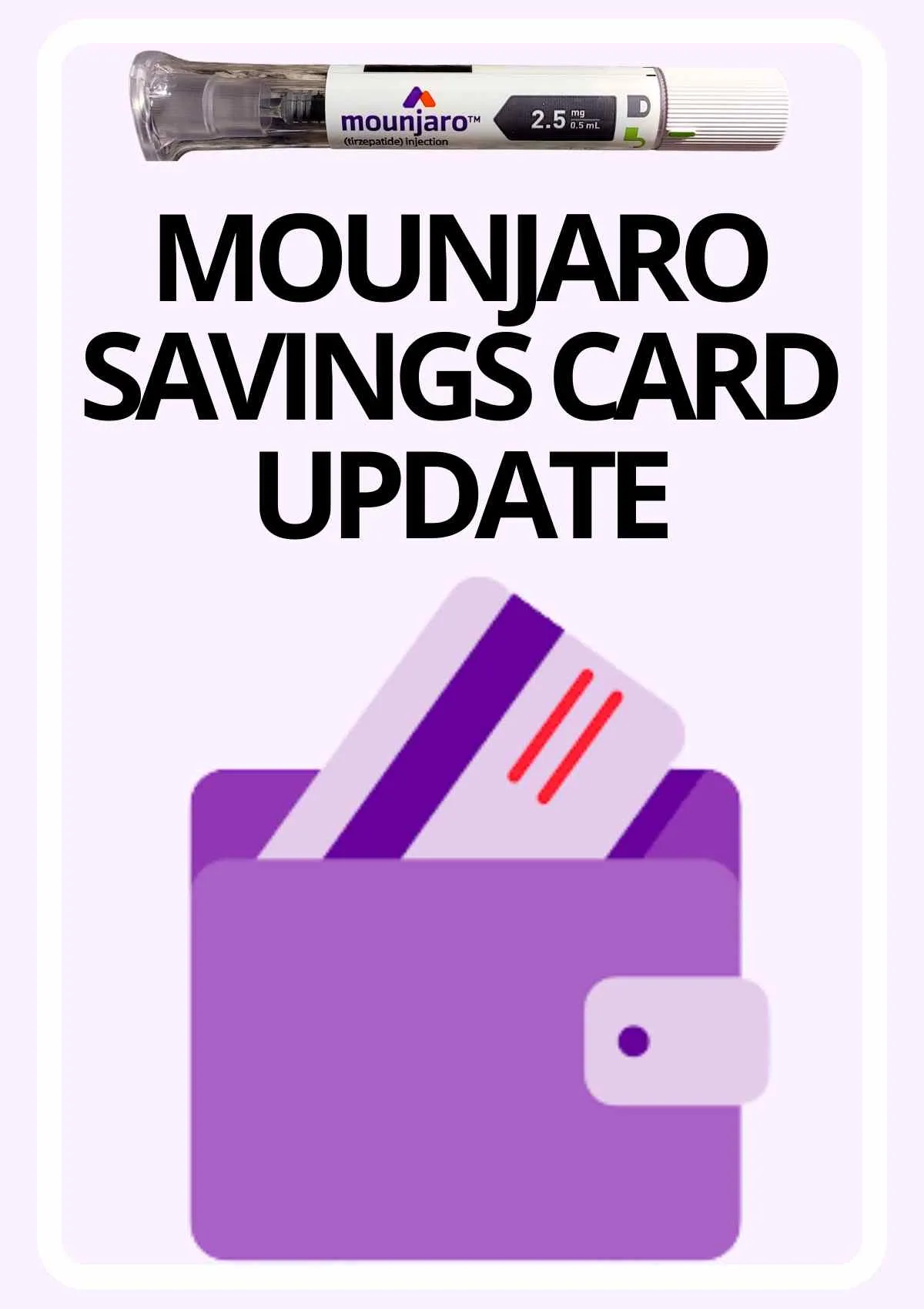 Before freaking out or worrying, let's lay out all of the details in regards to what happened and what you need to know before heading to the pharmacy or talking to your doctor.
The Mounjaro Savings Card update that you need to know about may or may not be something you have to worry about. Here is what happened, and what you need to know if you have never filled a script.
This information is also helpful for those who have been on Tirezepatide and how there changes effect you or is something you shouldn't currently worry about.
We are going to deep dive into all of the Mounjaro Savings Card updates, but wanted to give a high level overview of what we will be talking about.
There was an update to the form on the Lilly website that is used to download the savings card. Before a NEW coupon can be generated, you are now required to state that you have a script for Type 2 Diabetes.
UPDATE 10/20/22: Just wanted to check in and let you know that while yes, there are some people that are having problems using the Mounjaro coupon – this isn't an absolute!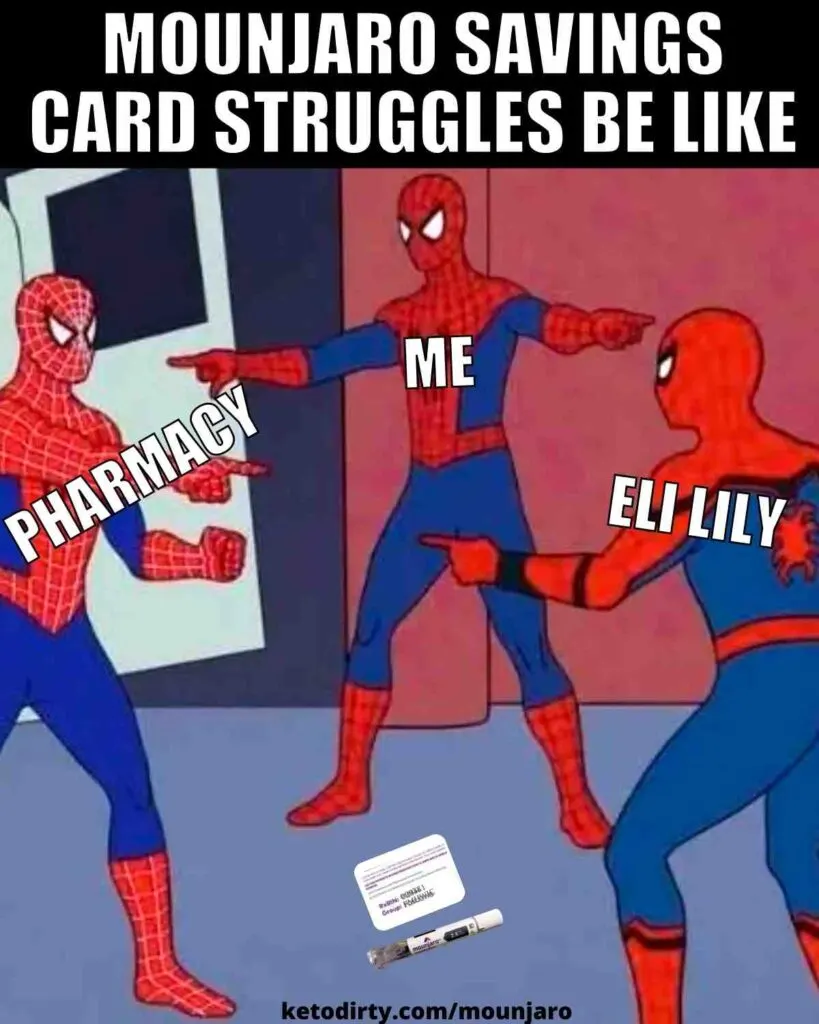 Many small pharmacies (such as local family pharmacy) are not filling Tirezepatide pens at the moment due to financial constraints. In addition to that, there are still hiccups with big chains. Your BEST bet – read thru the advice below and before giving your doctor your pharmacy information – call the pharmacy and make sure that they take the Mounjaro savings card.
Another thing we are learning, many large health insurance providers are updating the formulary lists and including Mounjaro on their approval list! A call to your insurance provider or HR department to check on status (with what requirements are needed to get it) – might be worth your time as well.
Most people who have a savings card on file or who have already downloaded a card, should NOT have issues getting refills.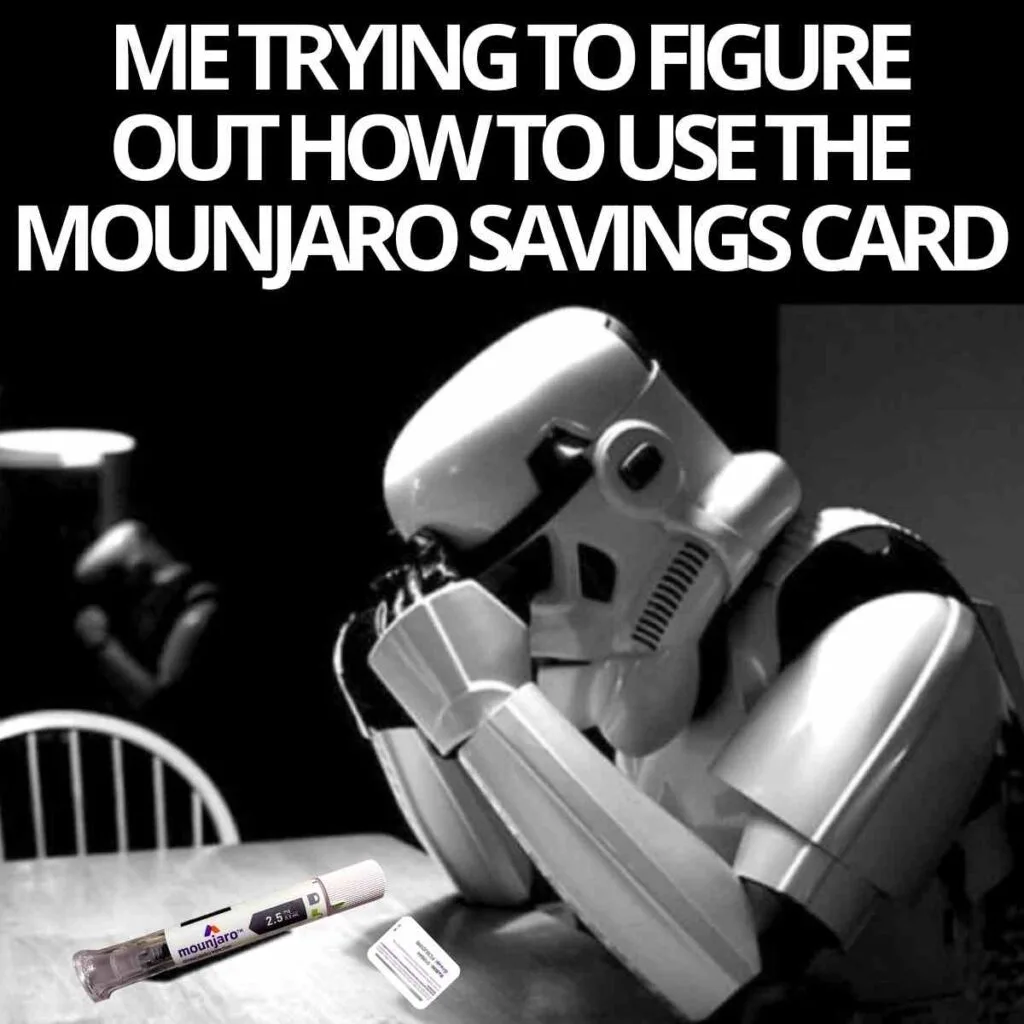 Some people who have had a pharmacy process a card automatically with pass refills – without needing a card (ex. the pharmacy downloaded one for you) – may require a new card.
Many Mounjaro users and pharmacies are confused on the rules in regards to getting their script.
Doctors are using Tirezepatide off label for obesity. Off-label is NOT uncommon and when done correctly, is an ethical practice.
Old Mounjaro Savings Card Grandfathered
Depending on which version of the old Mounjaro savings card that you have, it appears that Lilly has grandfathered in the original users of the coupon. Unfortunately, details are not 100% clear as to why this does not appear to be applicable across the board.
As of January 2023, it appears the old Mounjaro savings card will be honored to the original terms and conditions which states it is available until June 2023 or December 2023 – depending on insurance coverage.
Changes to Downloading Coupon
On October 1, 2022 – Lilly updated their website for anyone downloading the Mounjaro coupon for the first time. This is what has changed. Here is the link to savings. Previously, to download the savings card, you clicked a button and prompted with this prompt to fill out.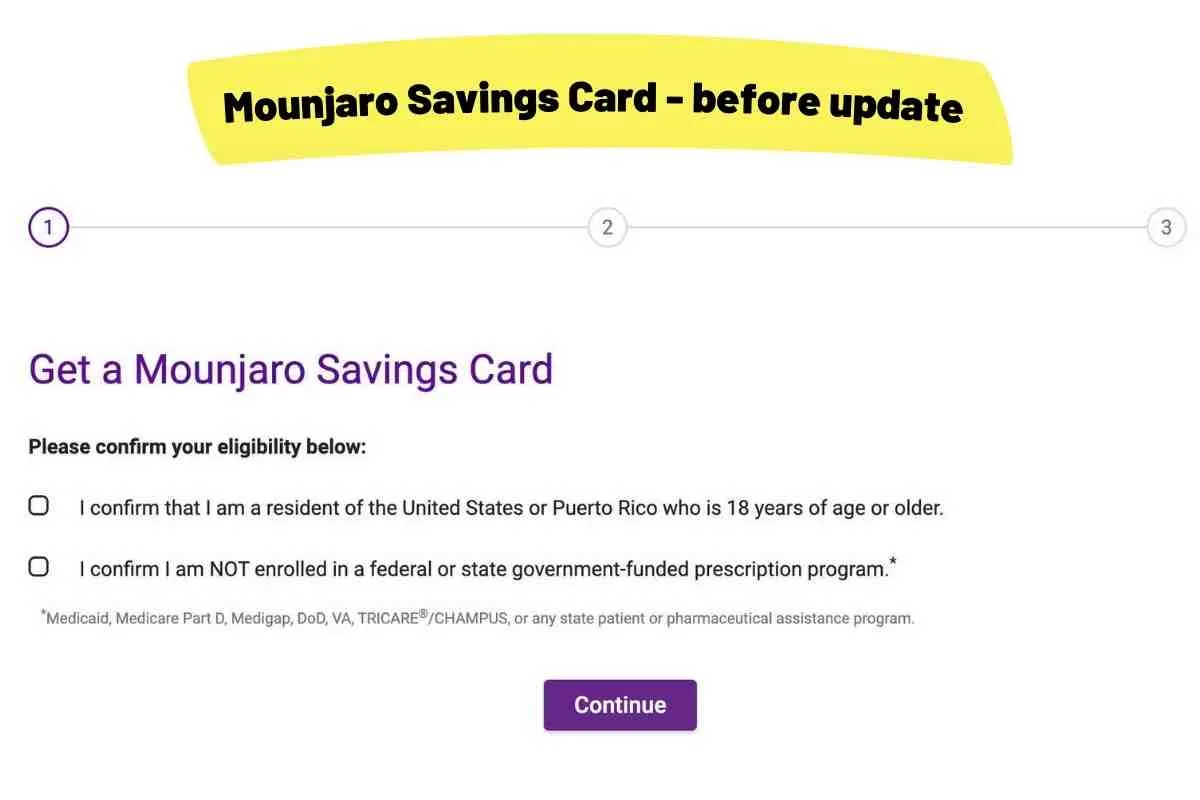 Form Update
So what has changed? Here is what has updated. The Mounjaro Savings Card changes effective October 1, 2022 now require you to confirm that your script is for Type 2 diabetes.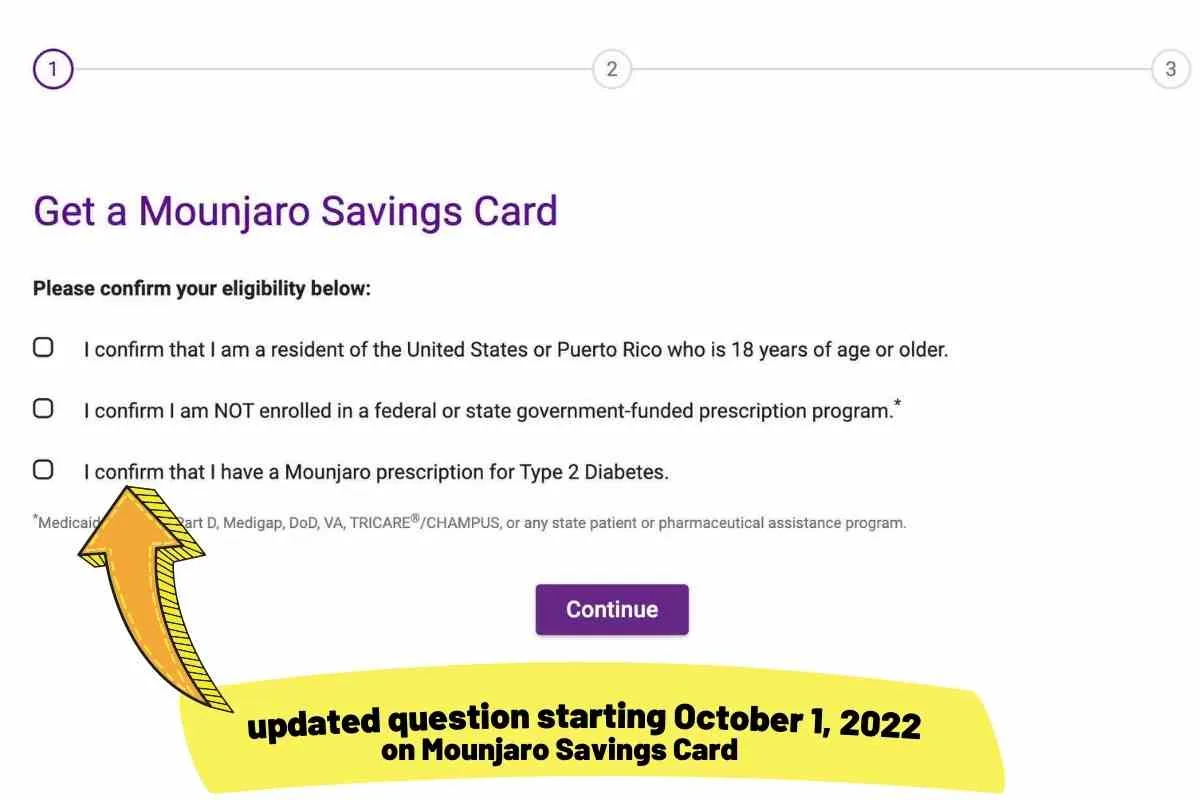 This is where the information we are trying to get exact information on can get fuzzy. Here is what multiple sources have stated with the Mounjaro Savings Card updates.
This is a new change due to liability reasons. Since this is currently just FDA approved for Type 2 diabetes, the manufacturer coupon should just be for those with that diagnosis.
From what is being heard, this is for new scripts only. If you already have a savings card on file at a pharmacy, you should not have issue. Do note, that if you transfer your script to a new pharmacy you most likely will need a new card.
Can I Download the New Mounjaro Card Without Type 2 Diabetes?
Another question that has popped up is can you download the new Mounjaro Savings Card without having type 2 diabetes. The answer is while technically yes, you can – you do have to fill out the form confirming that you have a script for Type 2 diabetes. If you do not have Type 2 diagnosis, do not state that you do.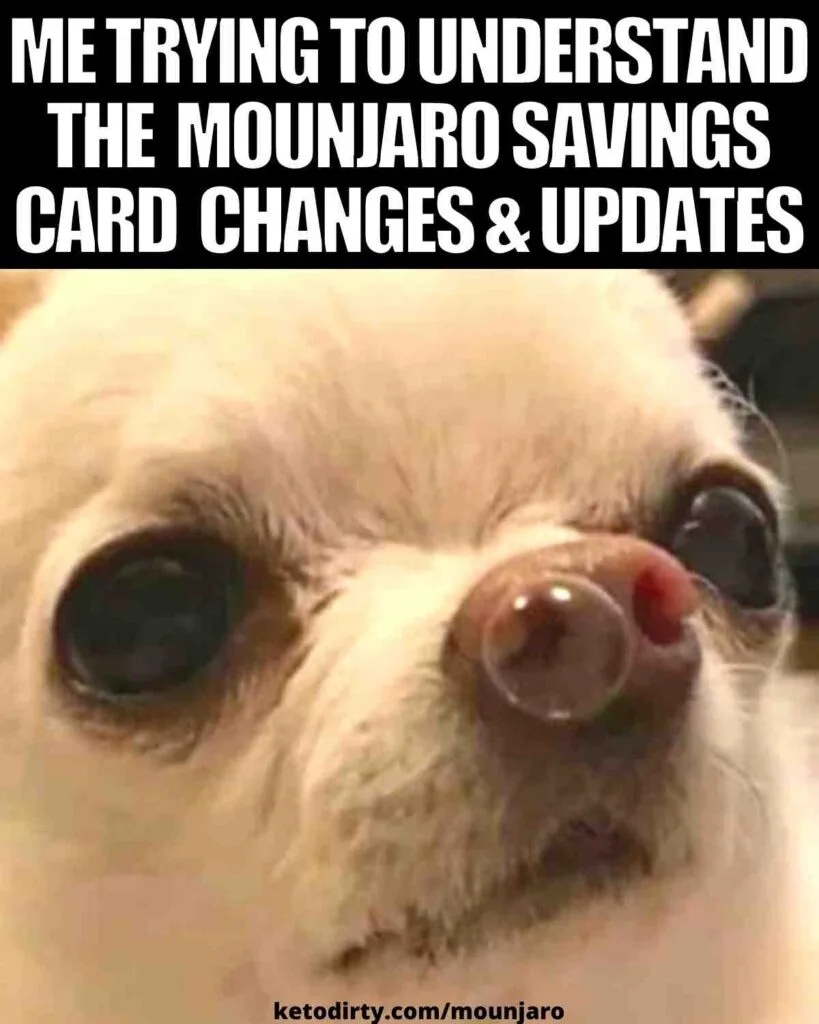 This is currently more of an ethical question. Do you lie and state that you have Type 2 diabetes to download a card is the real question. It should be a no. Unfortunately, the savings card launch was not detailed to include this information is this was the original intention. The new update requires a type 2 diagnosis.
Off Label
Doctors are allowed to prescribe off-label, which is what is being down when this type 2 diabetes is being used for weight loss.
What is a PA and Will You Need One?
That said, there is another variable that comes into play in regards to a diagnosis code. This typically is revealed if health insurance is requiring a PA (or prior authorization.)
If a PA is required, this triggers a form to the doctor's office requiring them to give your medical justification as to why you are needing the script.
Personally, have heard that several people are stating that they must have a PA before their pharmacy will fill Mounjaro. If this happens, your doctor will need to fill out the form. If your insurance does NOT cover it – the $25 co-pay remains. If your's does – a portion of your co-pay will be covered.
The key component to using the savings card (ironic as it sounds) is that you must have commercial health insurance with a prescription policy. Medicare or Tri-care insurance is not applicable for savings.
What if I Already Have a Mounjaro Coupon?
If you have a Mounjaro savings card on file at a pharmacy, or if you had already downloaded a coupon before the October 2022 update, you should be just fine.
Again, as mentioned above – if you transfer to a new pharmacy, you most likely will either have to download a new coupon or if you have the savings card information – relay that to the new pharmacy before having filled.
Pharmacy Needing a New Savings Card
As mentioned above, there maybe some instances where you have been using a savings card that a pharmacy automatically applied to your account without you actually giving them the coupon information.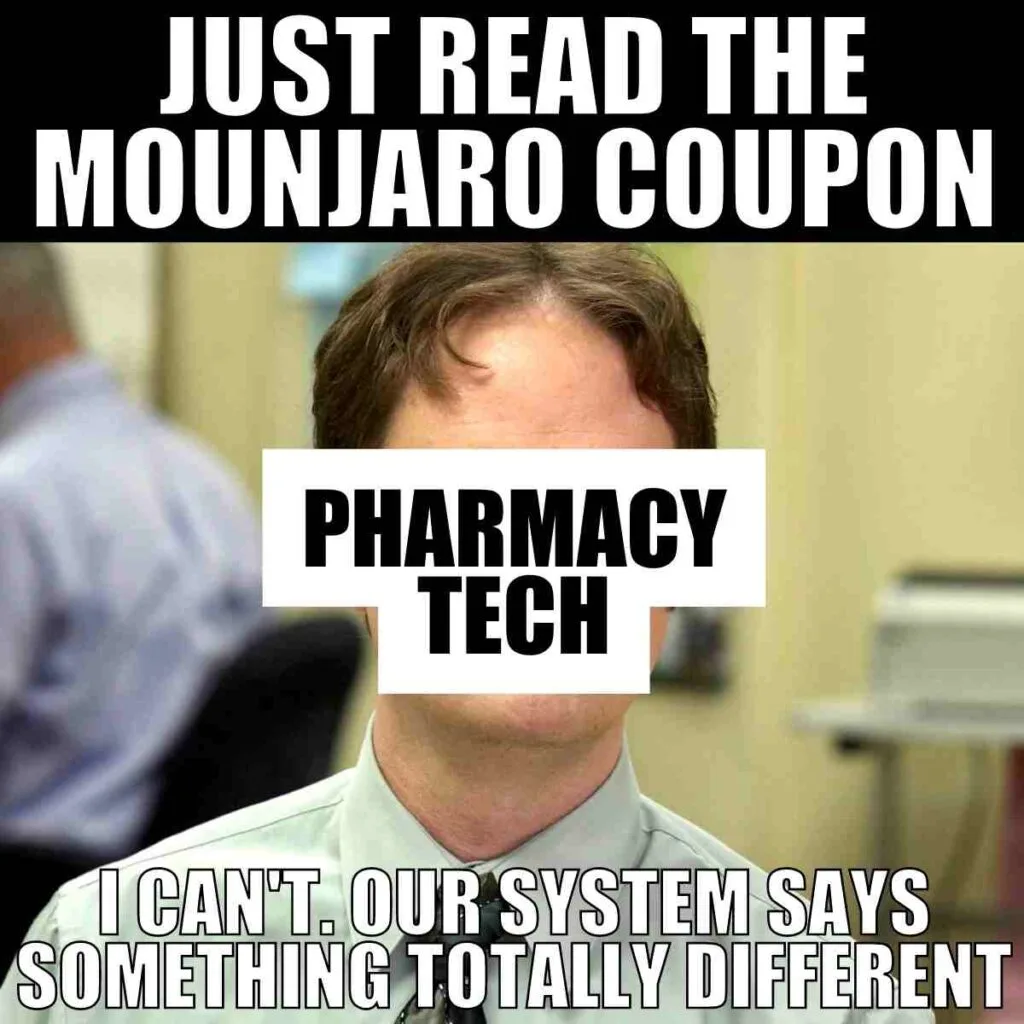 In these instances, a pharmacy may require you to provide them a physical card (that you have downloaded).
This would either need to be a savings card you had previously downloaded before October 1 – or a new card MAY need to be downloaded. This is not extremely common, but we are hearing this request is needed so if this is you, we wanted to include.
From a Pharmacist
I saw this posted from a CVS pharmacist in regards to this question:
My first month was a sample box from the doctor and I'm going to use the coupon for the first time and I'm all kinds of nervous
I'm a pharmacist
all these coupon freak outs are silly and need to stop. It's just a matter of your pharmacy processing correctly – over time as more people take the med and more techs/pharmacists process it, it will be better.
In Conclusion
Yes, many of us are relying on the Mounjaro Savings Card to save us significant amounts of money as we use this as a weight loss tool. Seeing that the average cost of Mounjaro is around $1000 a month for 4 pens, source: GoodRX – the $25 co-pay is a God-send and how so many are able to try this potential solution out.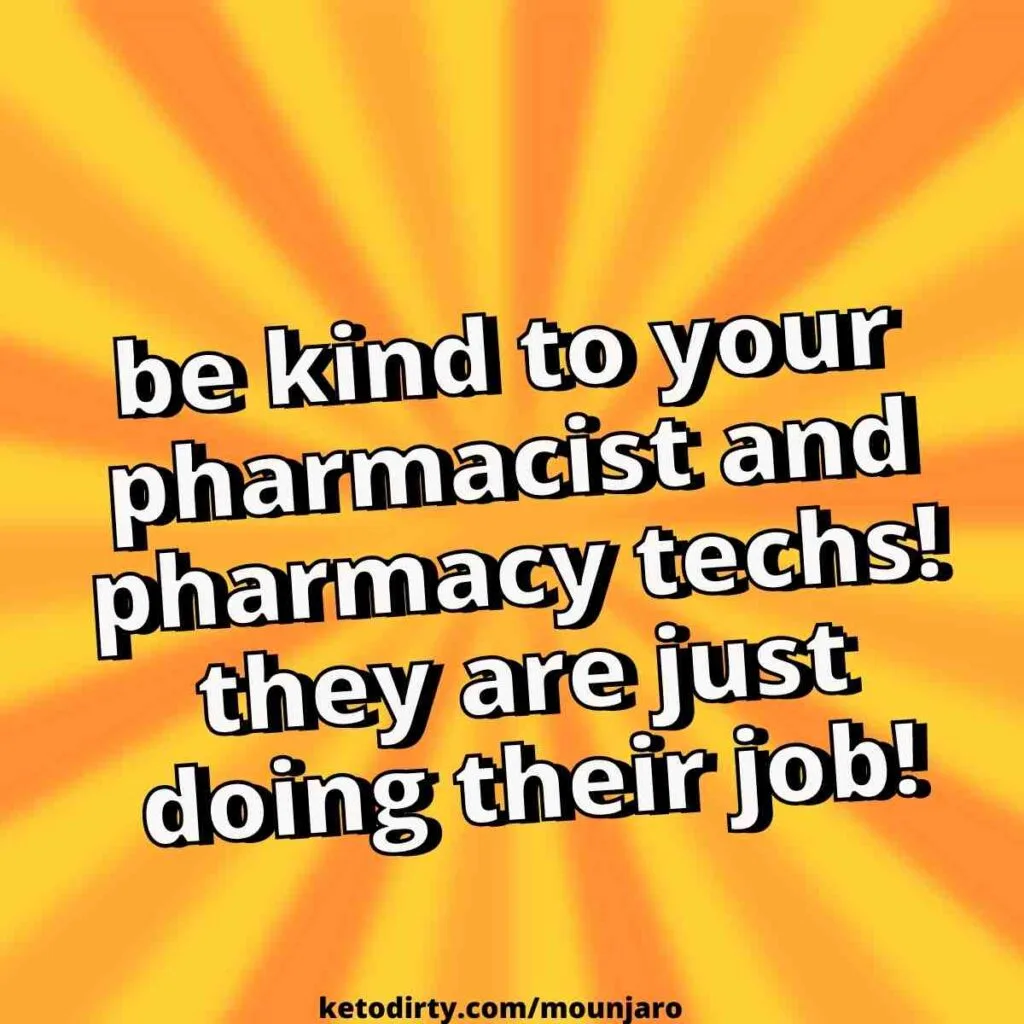 Just a gentle reminder, to give grace and be kind. At the end of the day – the world is understaffed, especially the pharmacy. Give Eli Lilly a call when in doubt. Also ask your doctor if he recommends a pharmacy to use to fill. Chances are she or he will have recommendations.
Should you worry? No. While Lilly has every right to update their policies – they are a huge corporation that will profit substantially from using this for the currently Type 2 Diabetes FDA approval. When it is FDA approved for obesity, stands to make upwards of $25 billion.
This is continually developing and we will continue to update as more information is learned.
If you are looking to move to another GLP-1 option, here is more information about Mounjaro vs Wegovy. Wegovy is FDA approved for weight loss and is on many insurance formulary lists.
Yes, there is a Wegovy coupon as well!
Mounjaro Savings FAQ
Here are commonly heard questions about the Mounjaro Savings Card update that we hope help to provide answers for.
I have a printed savings card from July. I have been using it successfully. Do I need to print the new card and start using it?
No, the pharmacy keeps the Mounjaro Savings Card on file. You should not need to download a new card. Think of it like your Kroger card, where it is saved on file and when you enter your phone number – a discount is given. Savings cards work in a similar method at pharmacies.
Does Walgreens accept the Mounjaro coupon?
At this time, there has been no blanket statement from Walgreens that they do not accept the Mounjaro savings card. That said, many people – including myself have had major issues trying to get this filled at Walgreens.
I'd suggest finding a new pharmacy to fill your script. This was back in July, but there was so much confusion and lack of help from my local Walgreens that I immediately switched to an online pharmacy.
While Walgreens has multiple locations thru-out the United States, there feels to be a trend that pharmacists or the system used does not allow for easy use of the coupon.
I have a dose increase, do I need a new card?
No, a new Mounjaro savings card is not required for a dose increase.
My pharmacy does not accept the Mounjaro coupon, what do I do?
Find a new pharmacy! If your pharmacy is giving your problems with the Mounjaro coupon, try an online pharmacy or call another local pharmacy to see if they accept it.
If all else fails, get your pharmacist on the phone with Lilly's customer service line to help walk thru the steps needed to process the savings.
My pharmacy said that need a diagnosis code, do they?
If your pharmacy won't process it without a diagnosis code, this is most likely their internal policy.
Does my pharmacy need a PA (pre-authorization) to process the savings card?
Technically, NO. There is no requirement for a PA for the savings card to be used. That said, some pharmacies insist – most likely due to their systems. The pharmacy should follow the manufacturer's instructions on how to process without a PA.
Are savings cards generic?
Yes and no. Savings cards are generic in regards to not being tied to an individual person. There is not a registered ID that links a coupon to a specific patient.
I hope this information has given you every thing you need to know about the Mounjaro Savings Card updates. It's a lot but from what it sounds, we all should be fine using the coupon with the terms and conditions on the card.
This entire experience has been an awakening. I just shared my top Mounjaro tips for weight loss. Like everything shared here – we hope that this information helps inform you of everything you need to know about Tirezepatide.
This information is for educational use only. Any medical advice should be discussed specifically between you and your medical professional. Information provided here is not

We are excited to expand our keto content to include other solutions our community is using to achieve optimal health. While we understand that this may not be for everyone, we do know that people are seeking information about obesity as a disease and solutions, such as Wegovy, Ozempic / Semaglutide and Mounjaro / Tirezepatide.

Please direct any questions in regards to personal use with your doctor and any questions in regards to coupons, etc should be discussed with your pharmacy or with the pharmaceutical customer service.
Make sure to check out my weekly updates, including Mounjaro Update week 5 – where I recap my first month weight loss journey as I fight obesity (and so far winning!)
Just added – learn about the Mounjaro side effects.