Wondering what the difference between Mounjaro vs Wegovy is? Let's look at what the similarities and differences between the 2 weight loss options are.
We are breaking down what you need to know about both Wegovy and Mounjaro for weight loss. Learn what the differences and similarities between the two are. We are breaking down costs, doses, side effects and more.
Comparing Mounjaro vs Wegovy for Weight Loss
We are diving in and sharing about what you should know in regards to whats the same and whats different in regards to Mounjaro (Tirezepatide) vs Wegovy (Semaglutide.)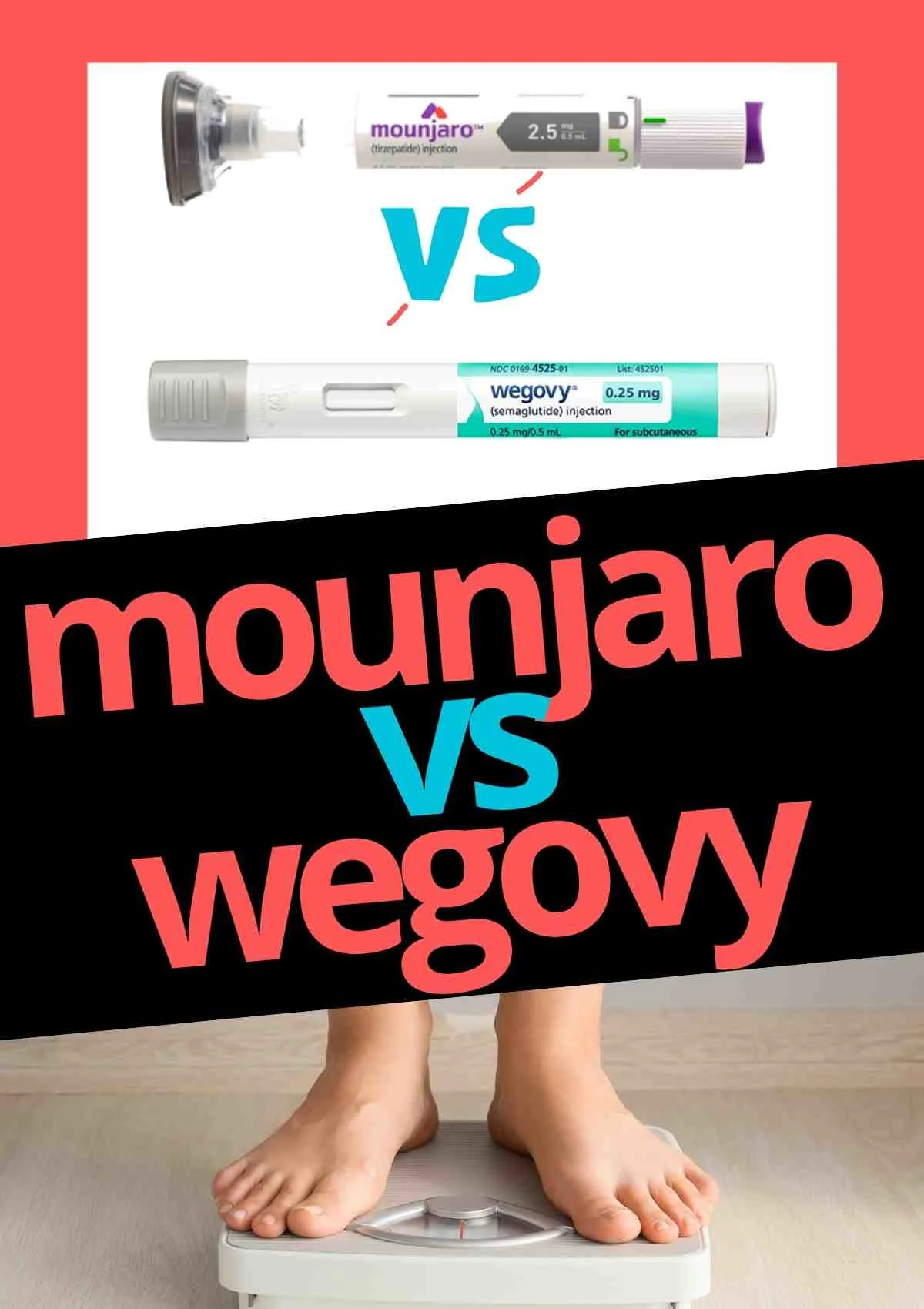 Wegovy is NOT the same as Mounjaro. These are 2 different meds, though both are often used for weight loss.
Mounjaro is the brand name that Tirezepatide is sold under that was released by Eli Lilly in 2022. Wegovy is the brand name that Semaglutide is sold under. It was released by Novo Nordisk in June 2021.
Similarities Between Semaglutide vs Tirezepatide
Let's start off with what is the same between both Wegovy and Mounjaro. There are similar characteristics to both, let's dive in and evaluate the similarities.
Injection
Both Mounjaro and Wegovy are subcutaneous injections that injected once weekly. Your doctor will start you off on a lower dosage with both and gradually increase as seen needed. Typically an increase dosage happens at 4 weeks.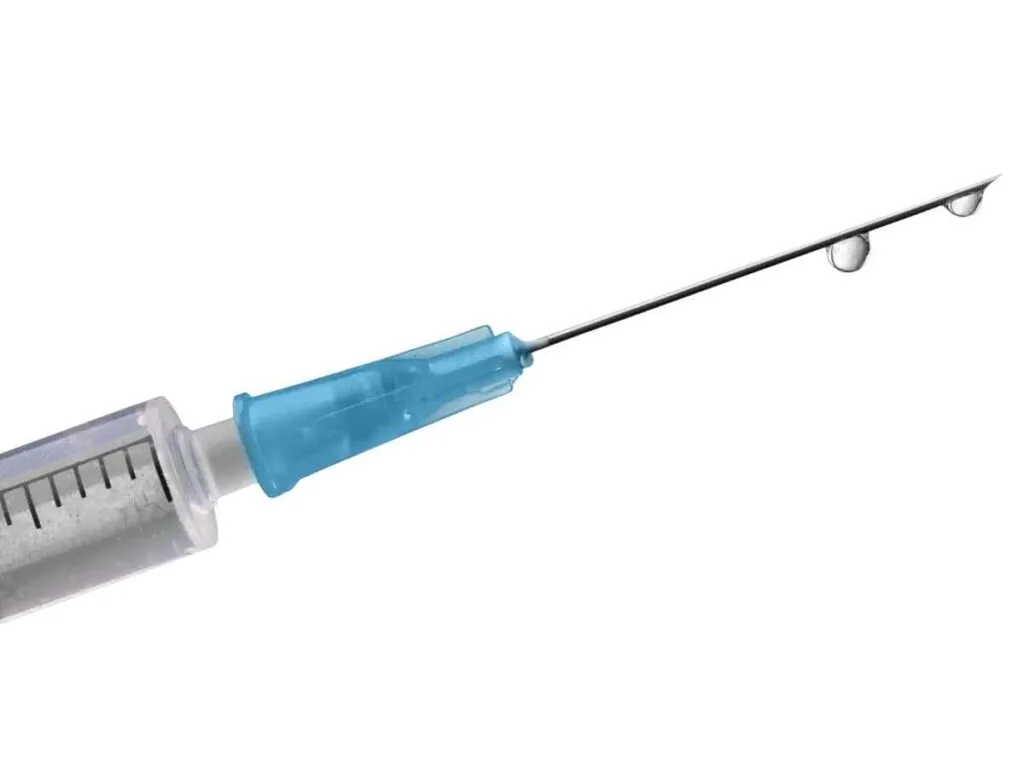 Another common factor when evaluation Tirezepatide vs Semaglutide is that the injections for both can both be given in the abdomen, thigh, or upper arm once weekly, with or without food.
Moderate to Severe Interactions
The most common interactions to be aware of and talk to you doctor about are the following:
Insulin secretagogue – sulfonylurea or Insulin
Oral medications
Orally administered hormonal contraceptives
Severe interactions for both Wegovy and Mounjaro are noted in the following:
Antibiotics for bacterial infections such as gatifloxacin
Bexarotene used to treat skin cancer
There are several more known serious and moderate interactions with steroids with both Mounjaro and Wegovy. This may not be applicable to you personally, but rather should be discussed with your medical professional.
Differences Between Wegovy vs Mounjaro
Wondering what the difference is between Mounjaro and Wegovy, here is a breakdown of what you need to know.
How They Work
While there is a difference between Mounjaro and Wegovy, there is an underlying similarity and why both are often compared to one another. Both Mounjaro and Wegovy are both classed as glucagon-like peptide-1 receptor agonists.
GLP-1
What is that? Glucagon-like pepcide-1 is often referred to as GLP-1. A glucagon-like peptide-1 is a hormone produced by the intestines in response to food intake. It works in three main ways: controlling appetite, controlling blood sugar, and controlling intestinal movement.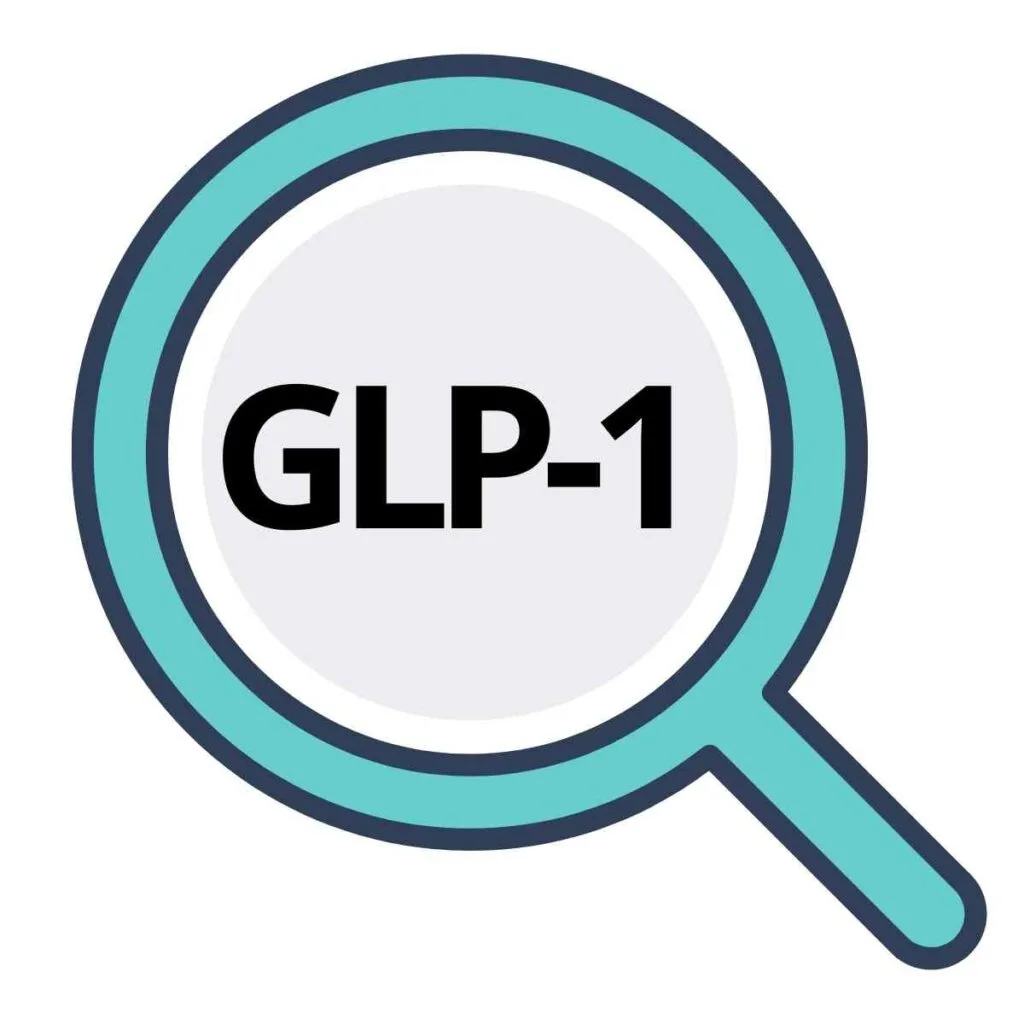 The biggest difference between Mounjaro vs Wegovy while they both classified as GLP-1, Mounjaro mimics 2 types of incretin hormones produced by the human body. In addition to GLP-1, Tirezepatide is also classed as GIP. GIP is glucose-dependent insulinotropic polypeptide.
So in summary – Mounjaro works with both GLP-1 and GIP – 2 types of incretin hormones that Tirezepatide mimics. While Wegovy is using only GLP-1.
Side Effects
When looking at the Mounjaro vs Wegovy side effects, the main that you will often hear from those on it are often the same. These side effects include: nausea, vomiting, diarrhea, decreased appetite and indigestion.
There are more serious side effects for both Wegovy and Mounjaro, including those that are serious. Read more about these for at Eli Lilly for Tirezepatide and Novo Nordisk for Semaglutide.
Here are more Mounjaro side effects.
Costs
We did a full breakdown of the Mounjaro cost, but wanted to share the difference when looking at both this and Wegovy.
Mounjaro 4 week treatment will run around $1000 retail. A 4-week Wegovy treatment costs around $1400.
Manufacture Coupons
The Wegovy coupon that will help save you on the cost if you have insurance, don't have coverage or are a cash paying customer. With insurance coverage, you can save up to $225 on your co-pay.
Lilly has a Mounjaro coupon that allows you to get Tirezepatide for $25 a month. See our Mounjaro savings card update – this is now only available for use with type 2 diabetes with few exceptions.
FDA Approval
If FDA approval for weight loss is an important factor when looking at Mounjaro vs Wegovy, here is what you need to know.
In June 2021, Wegovy gained FDA approval for weight loss. Novo Nordisk is the manufacturer of Wegovy. As of November 2022, Mounjaro is only FDA approved for Type 2 Diabetes. Learn more about Mounjaro FDA approval for weight loss.
Type 2 Diabetes
While Mounjaro is currently being given for Type 2 Diabetes, Wegovy is specifically for weight loss. That said, Wegovy is based off of a Type-2 Diabetes med called Ozempic.
We wrote about Ozempic for weight loss – as of recent, you may have heard this name mentioned in addition to Wegovy and Mounjaro.
Dosage
While both Wegovy and Mounjaro are typically re-evaluated each 4 weeks for dosage and given once a week via injection – both are differently dosed.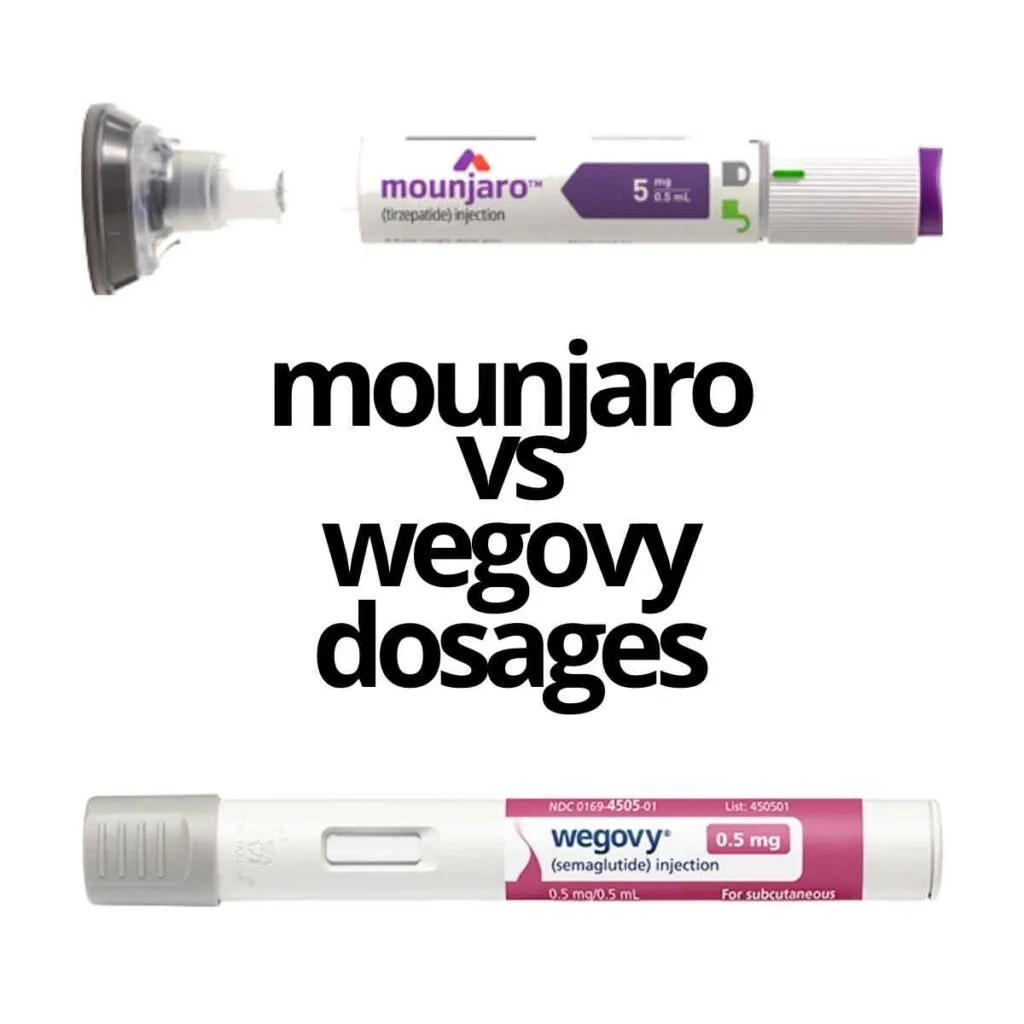 Wegovy starts at a 0.25 mg dosage. Wegovy dosages available are the following: 0.25 mg, 0.5 mg, 1 mg, 1.7 mg, or 2.4 mg.
Mounjaro dosages start at 2.5 mg. Mounjaro is available in the following doses: 2.5 mg/0.5 mL, 5 mg/0.5 mL, 7.5 mg/0.5 mL, 10 mg/0.5 mL, 12.5 mg/0.5 mL, or 15 mg/0.5 mL.
Availability
Something that can't be missed when breaking down the comparison between Mounjaro vs Wegovy is availability. Due to demand, Wegovy is currently experiencing a shortage. Novo Nordisk is expecting to be back on track, towards the end of 2022. Read more about the Wegovy shortage.
Weight Loss Mounjaro and Wegovy
If the amount of weight loss when looking at Wegovy vs Mounjaro is a key factor for you, here is what the studies are saying.
Tirezepatide studies showed in a 72 week clinical trial, participants on 15 mg average lost at least 20% body weight.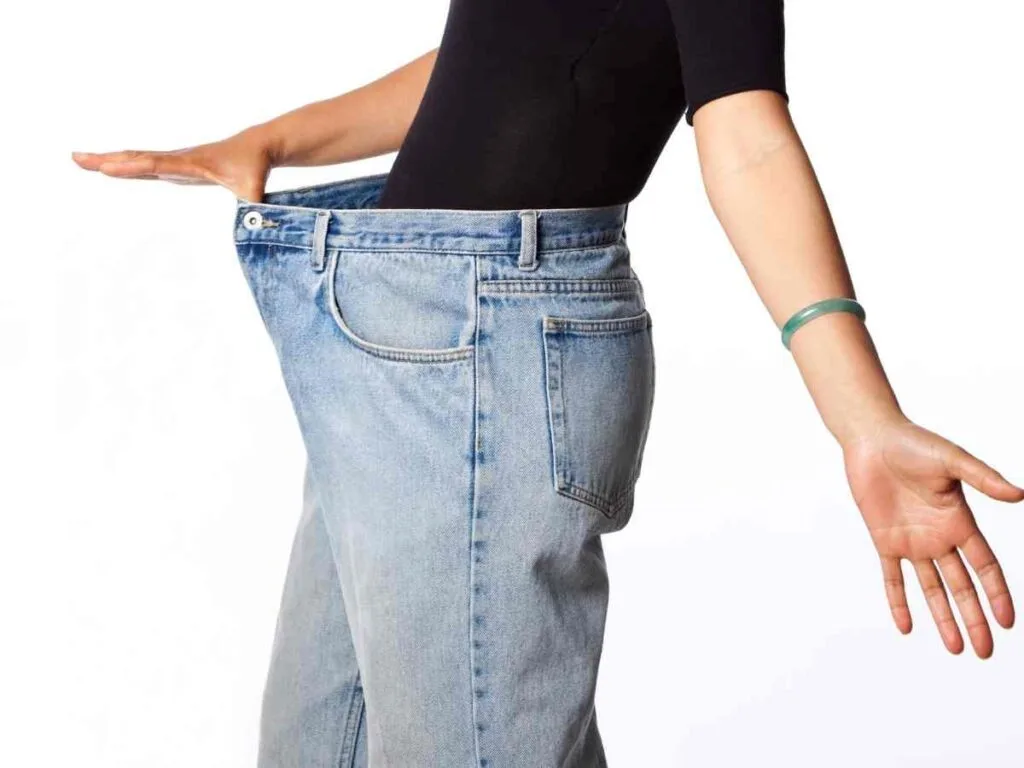 "Tirzepatide is the first investigational medicine to deliver more than 20 percent weight loss on average in a phase 3 study, reinforcing our confidence in its potential to help people living with obesity," said Jeff Emmick, MD, Ph.D., vice president, product development, Lilly.
In a similar clinical study for Wegovy for weight loss study, over two year study – participants experienced a 15.2% weight loss. 85% taking Wegovy achieved greater than 5% weight loss. Read more about the trial.
Something to remember, since Mounjaro is currently approved or weight loss, the data for Tirezepatide is based off studies used for Type 2 diabetes FDA approval.
Which is Best?
There you have it, a complete break down of Mounjaro vs Wegovy. Determining which is best for losing weight, will need to be a discussion with you and your doctor.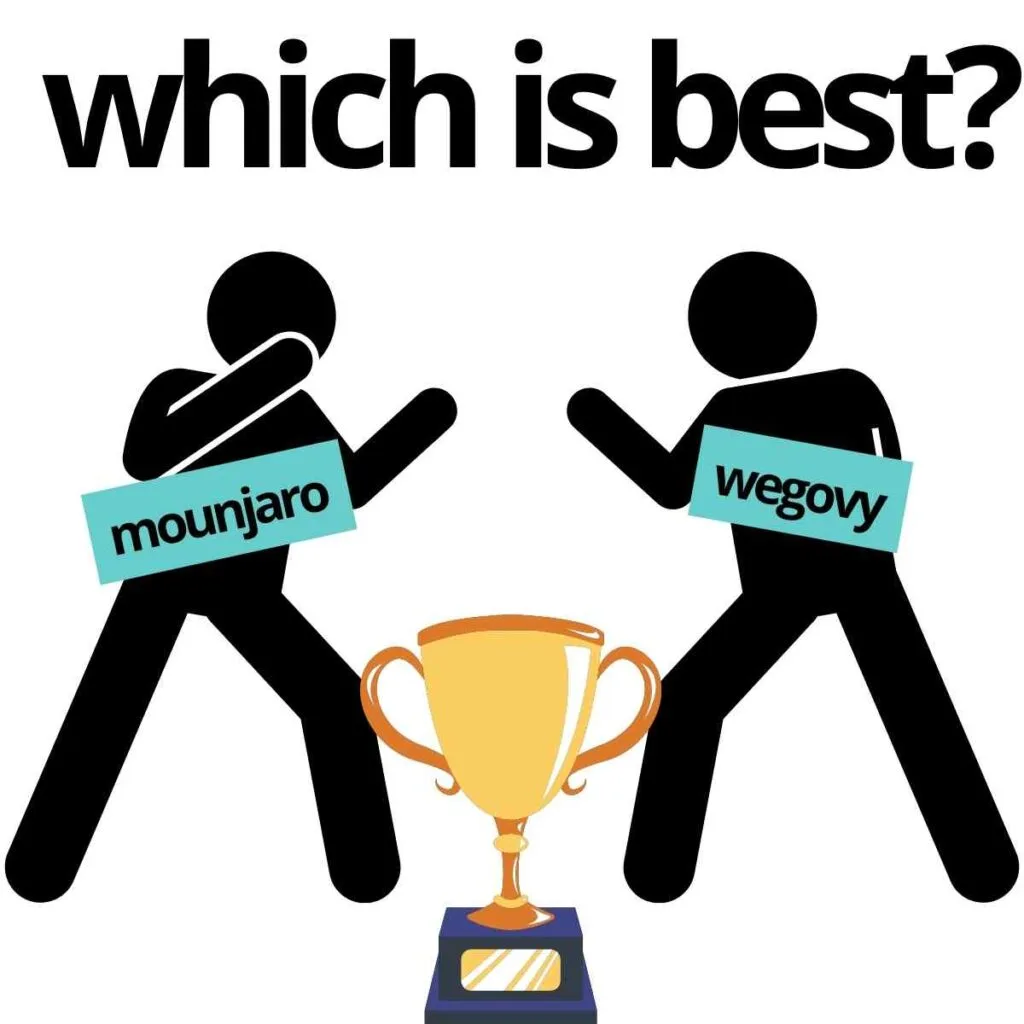 While in clinical studies, Tirezepatide shows a greater body loss, currently due to the Mounjaro savings card update people are having more difficulty acquiring it at a discount.
That said, there is a Wegovy shortage which may prevent you from finding it at your local pharmacy. Talk to your doctor as there is often a similar Semaglutide available at compound pharmacies at a fraction of the cost.
In Closing
While I personally am on Mounjaro, personally have friends who have successfully lost weight using Wegovy. Whatever option you go with, best wishes to a successful weight loss journey and path to a healthier you.
Read my latest Mounjaro review – 2 month check-in and update.
This information is for educational use only. Any medical advice should be discussed specifically between you and your medical professional. Information provided here is not

We are excited to expand our keto content to include other solutions our community is using to achieve optimal health. While we understand that this may not be for everyone, we do know that people are seeking information about obesity as a disease and solutions, such as Wegovy, Ozempic / Semaglutide and Mounjaro / Tirezepatide.

Please direct any questions in regards to personal use with your doctor and any questions in regards to coupons, etc should be discussed with your pharmacy or with the pharmaceutical customer service.