Month 2, Mounjaro Week 5 Update! Here's a recap of my experience.
Hi friends! Thanks for checking back as I continue to update you on my progress using Mounjaro for weight loss.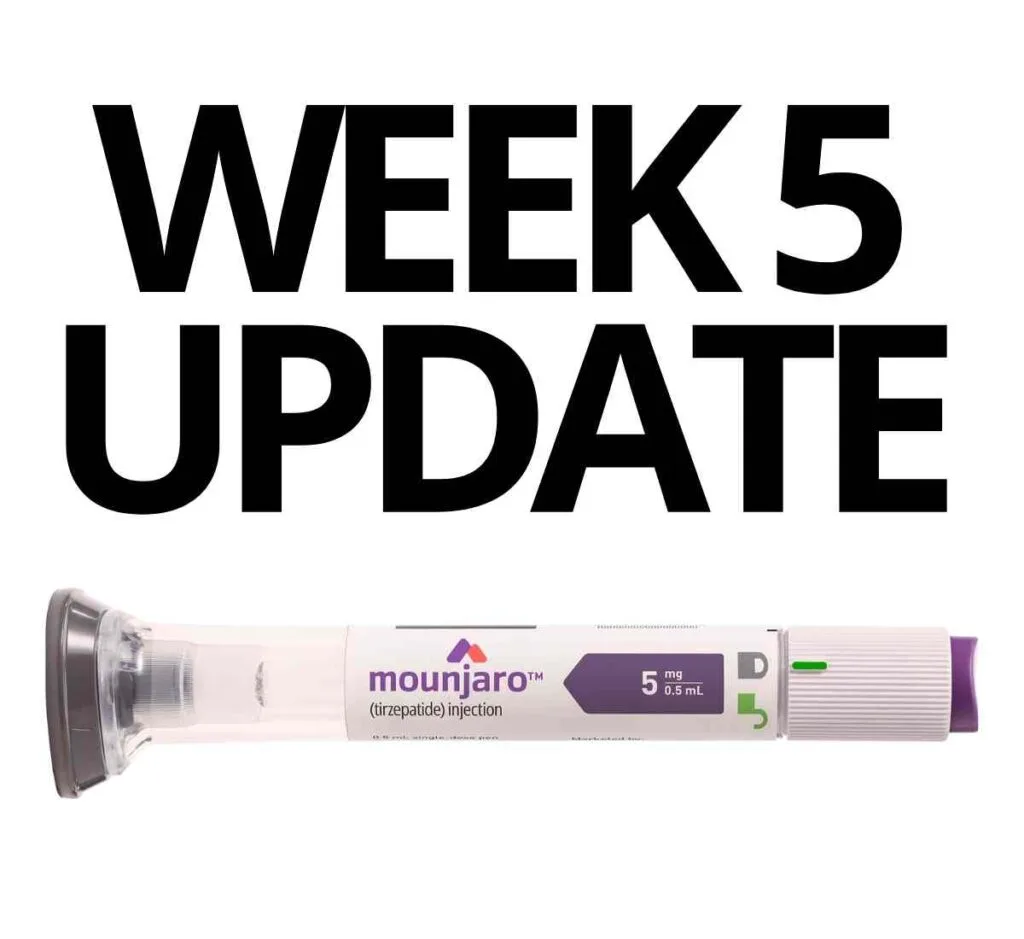 If you are new, make sure to check out my entire Mounjaro Weight loss update page for information about my plan, as well as more about using Tirezepatide.
Update Mounjaro Week 5
The last 5 weeks have felt like a blur. I started this journey not knowing what I was getting myself into and up until last week – it's been the easiest experience losing weight.
As mentioned in my original Mounjaro week 1 update, I have PCOS and insulin resistance is a major problem that I have struggled with for my entire adult life. Over the course of this short journey, it's been so weird having the little voice that tells me I'm hungry to be mute. I have had more energy and have just felt healthy.
Read my Mounjaro review 2 months.
Mounjaro 5mg
On week 5 another milestone was accomplished. I moved from 2.5mg to the Mounjaro 5mg injection. I wasn't expecting much, but maybe I should have.
Overall, my Mounjaro side effects on 2.5 mg were mild. I wish I could say the same about 5mg, though truth be told – these are NOT awful and the benefits outweigh the side effects!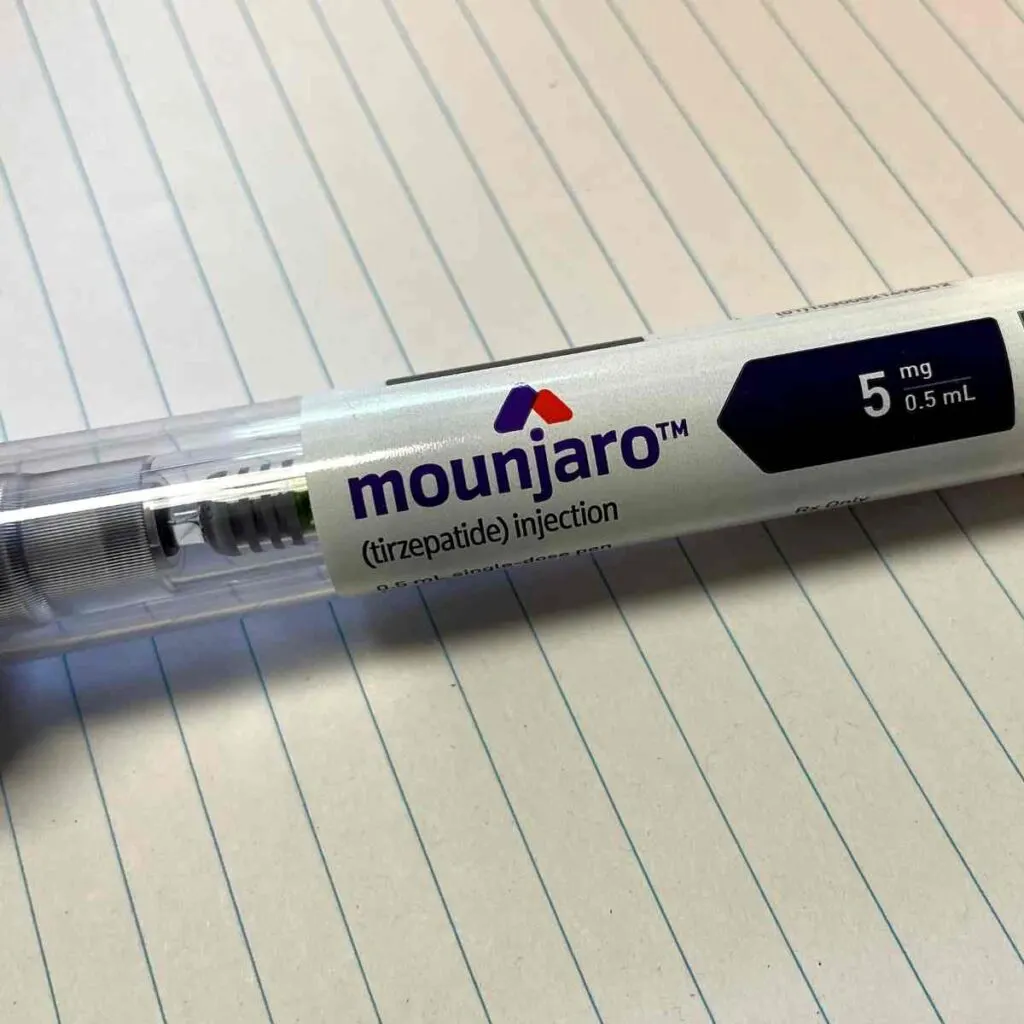 From various people I talk to who are also on this journey, I've learned that some quit because the side effects are just too much for them. I get it but also as someone who has struggled for so long and tried so many things – I am not going to let a few days down and out lead me to quitting this!
My Mounjaro 5mg side effects have been a headache and fatigue for the 2 days following the injection. At one point, I did think maybe I was coming down with something but then realizing the correlation to the injection day and feeling better on day 3 – it was the 5mg.
I am hoping that my body adjusts for the second injection later this week, but time will tell.
5 Weeks Weight Loss
So here we are on Mounjaro week 5 and yet again, pounds were lost! How much weight have I lost in 5 weeks? I am down another 3 pounds this week. This makes my grand total 14 pounds loss.
| | |
| --- | --- |
| Week 1 | 2 lbs |
| Week 2 | 3 lbs |
| Week 3 | 4 lbs |
| Week 4 | 2 lbs |
| Week 5 | 3 lbs |
| Total Weight Loss on Mounjaro | 14 pounds |
14 Pounds
Being the visual person that I am. What weighs 14 pounds? Well, here you go. 14 pounds of weight loss is equivalent to a 10 pound gallon of paint and a 4 pound brick.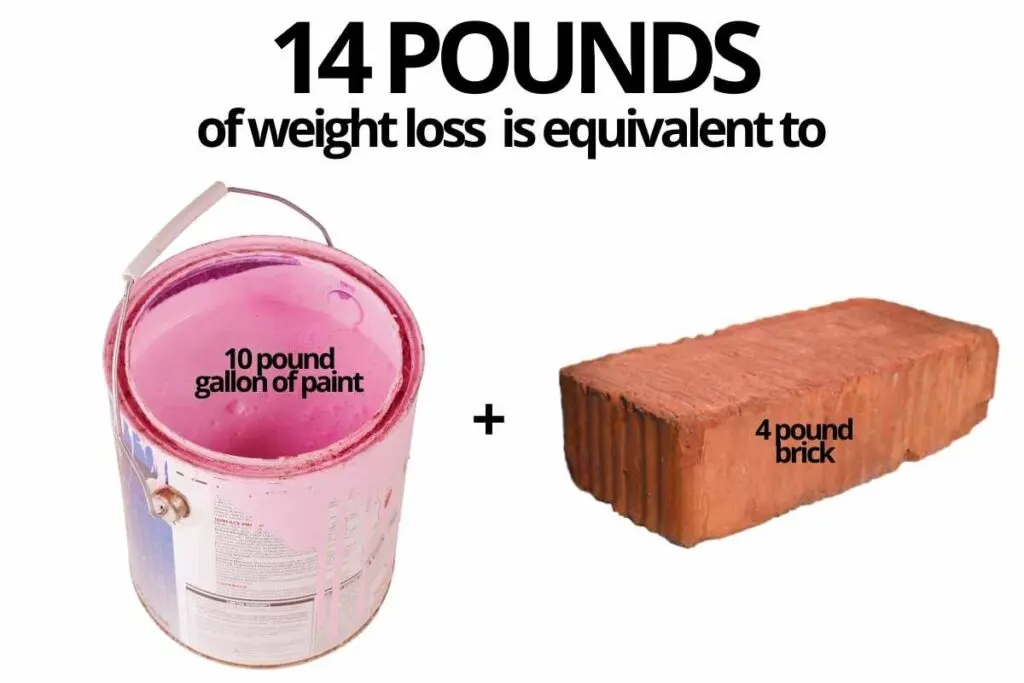 Learn More
Stay tuned! I'll continue to update you as I continue on this journey. Remember, that while Mounjaro is FDA approved for type 2 diabetes – I am using it for weight loss. If this is something you are interested in learning more about – make sure to check back and follow my journey.
Learn about the Mounjaro coupon / savings card as this can save you hundreds if this is something you are looking at trying. Thanks for following along!
This information is for educational use only. Any medical advice should be discussed specifically between you and your medical professional. Information provided here is not

We are excited to expand our keto content to include other solutions our community is using to achieve optimal health. While we understand that this may not be for everyone, we do know that people are seeking information about obesity as a disease and solutions, such as Wegovy, Ozempic / Semaglutide and Mounjaro / Tirezepatide.

Please direct any questions in regards to personal use with your doctor and any questions in regards to coupons, etc should be discussed with your pharmacy or with the pharmaceutical customer service.
Mounjaro Week 5 Update is part of the Keto Dirty Series on Tirezepatide