How to make a Keto Butter Board, the viral TikTok trend, but we are making it low carb!
If you are searching for butter boards, we've got you! Last week, we stumbled across the latest viral TikTok trend and became obsessed. Quickly realizing that the options and recipes shared are ALMOST low carb, we thought we'd share how to make a butter board keto friendly.
How to Make a Keto Butter Board
For anyone who is doing keto or a low carb diet, you know there are a few staple ingredients that are regularly used because not only are they low in carbohydrates but they are delicious too!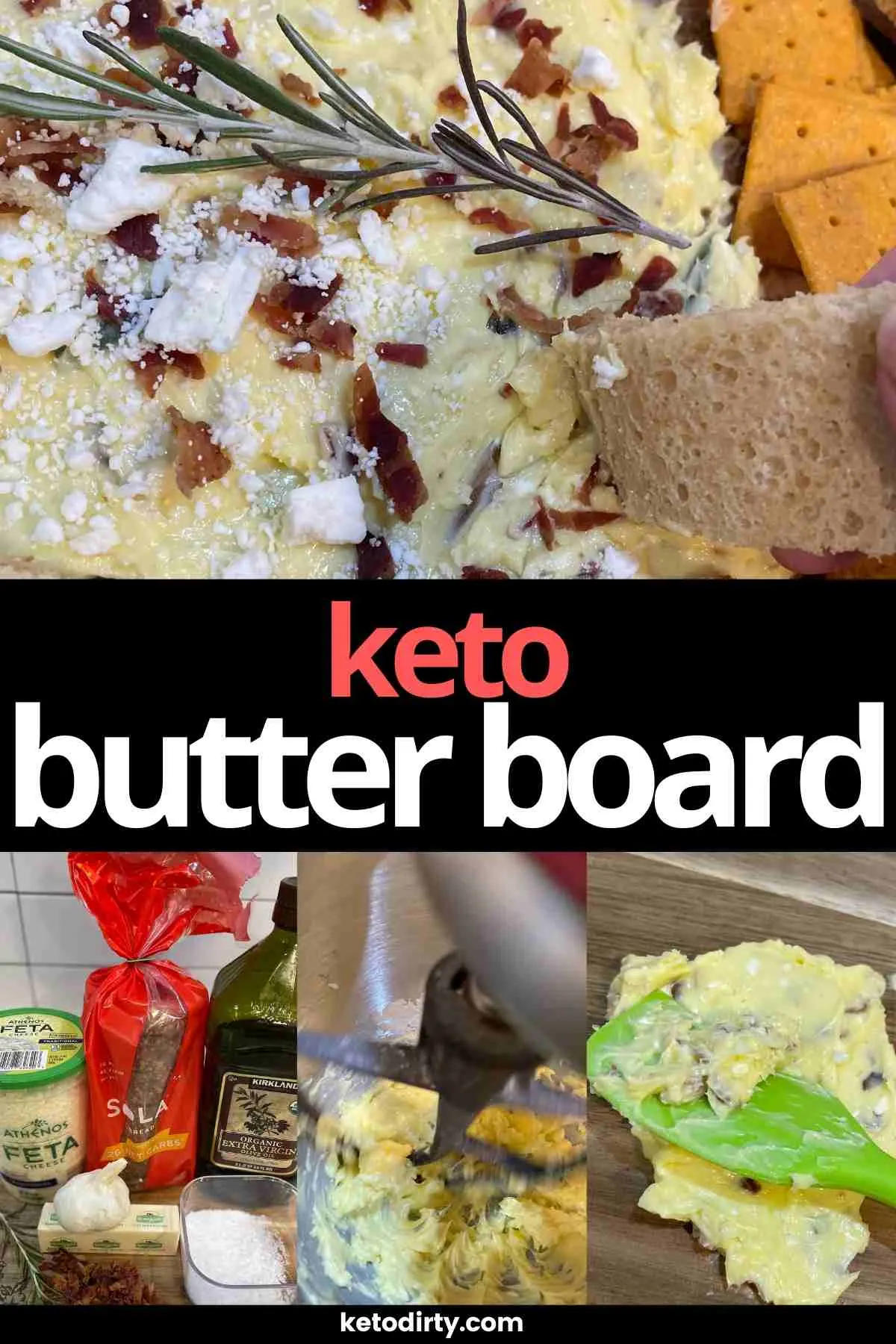 Butter is one of these staples and seeing that this is the base ingredient to these boards, we knew we could make an out of this world tasting version.
Here is how to make a keto butter board for your next party or meal. I made this and shared with my family. Yes, perhaps I forgot to tell them this was low carb.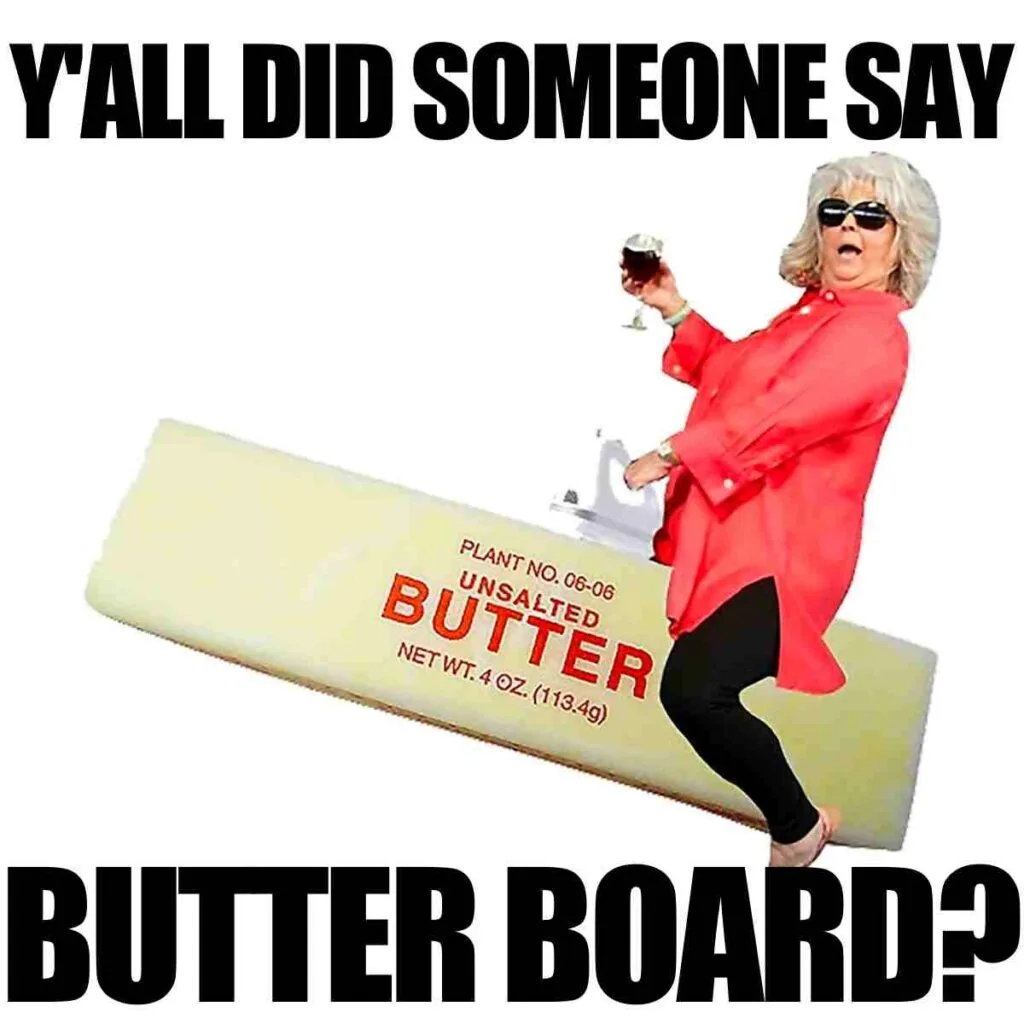 Don't miss all of our funny keto memes!
No one flenched and the keto butter board was eaten in no time!
As I mentioned in our butter boards post, these are the new charcuterie! Cheese boards and meat boards are so 2021. Let's make a low carb butter board to show you exactly how easy this is to make (and delicious, too!)
Ingredients
We set out with a few ingredients in-hand and are set on showing you how to make a keto butter board.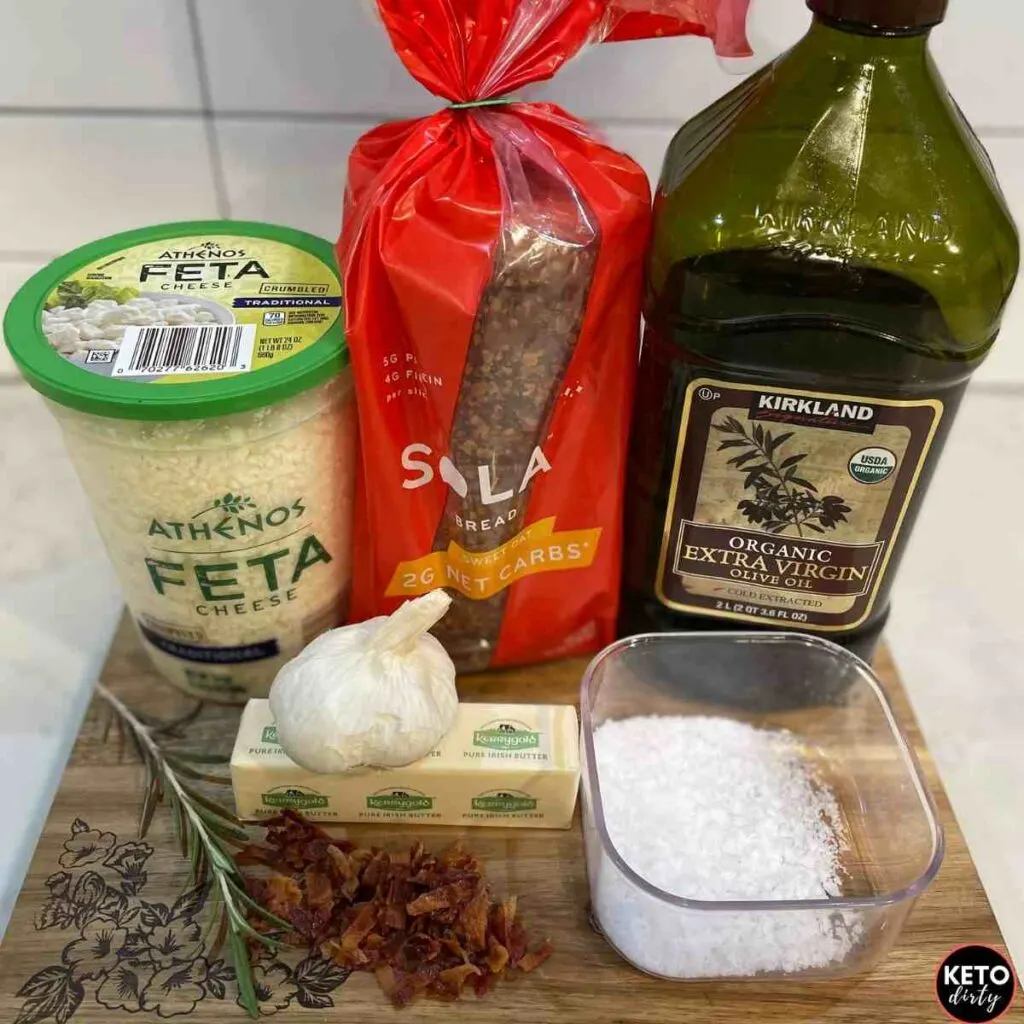 Here is what you will need to get started.
Butter
Garlic
Rosemary
Feta Cheese
Bacon Crumbles
Flakey Salt
Olive Oil
This sounds great, right? Perhaps you are wondering what we will be using to do the actual "dipping" with that is low carb. We got you! We toasted Sola bread, our favorite keto options to use to eat the buttery dish with.
Let's Make a Low Carb Butter Board
Now that you have your ingredients and dipping item, here is how you make a low carb butter board.
Make sure that you have room temperature butter. The consistency of butter is weird. If it's too hot, it's a liquid, too cold – it's a solid. If your butter is cold, leave it out on the counter for around an hour. You want it to be easily spreadable.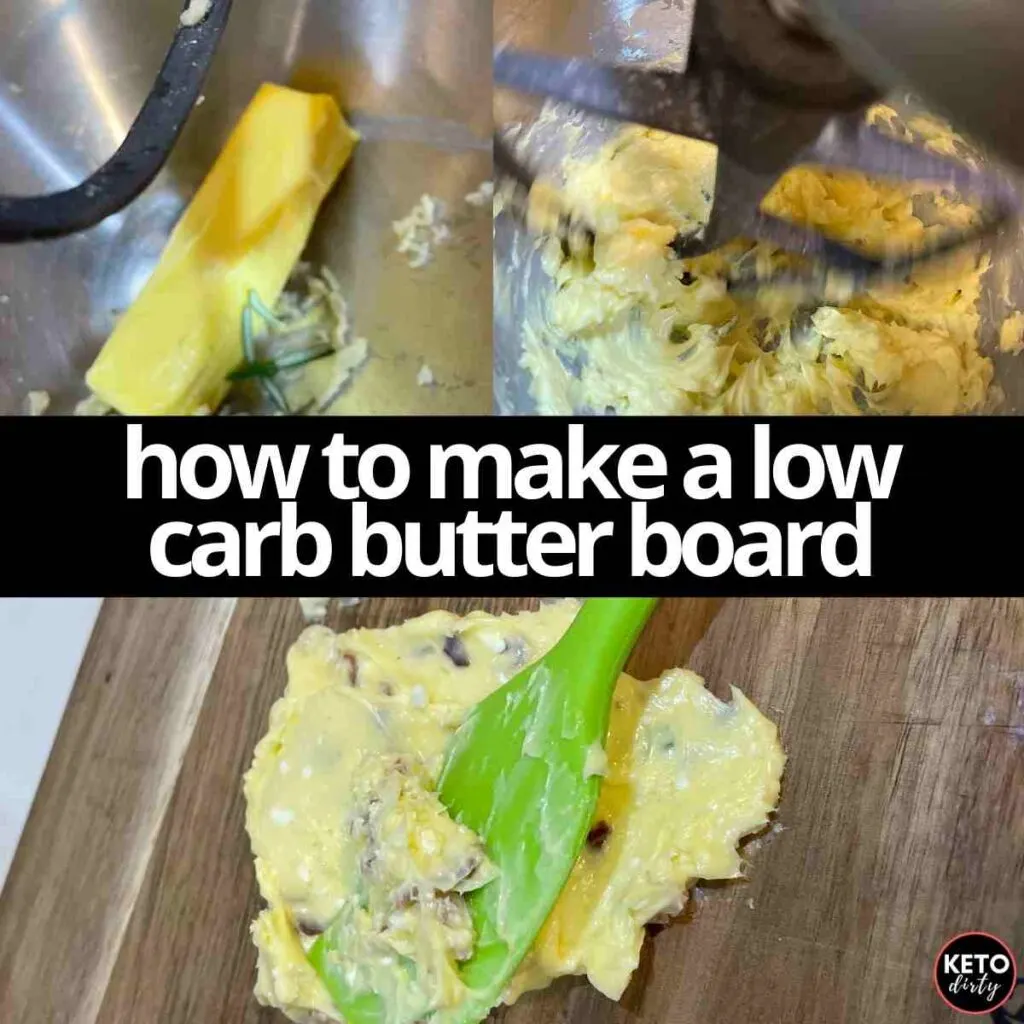 While I have seen most people lay out their butter boards in layers, here is another way our's is different. We are creating a spreadable dip with the ingredients perfectly combined so that every time you dip your keto toast into it, you are enjoying a combination of all of the flavors of the ingredients.
Once you have room temperature butter, we are going to mix it with all of the above butter board ingredients to achieve this delicious delicacy.
Personally, I am using a Kitchenaid mixer to make my keto butter board. I use this often for many things (see our chicken shredder post! This is a game changer when it comes to making shredded chicken.)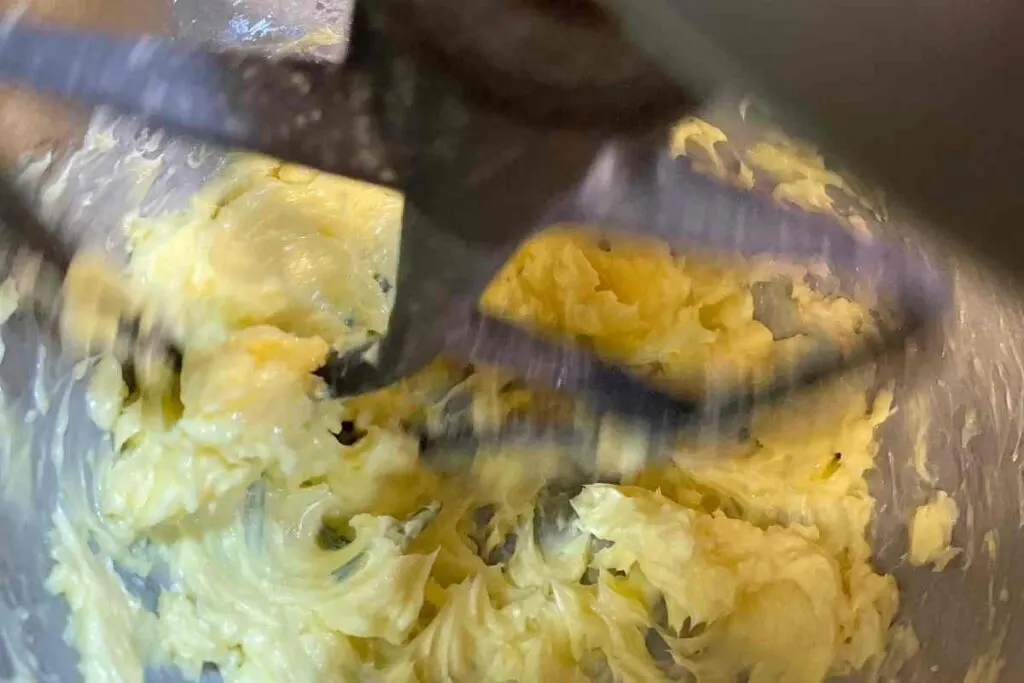 Simply dump the properly measured ingredients (details below for specific amounts that I used) into your mixer and get mixing! As noted below, I am only using a half portion of the feta and bacon into the mixer, as the rest of these ingredients will be used to top the butter board.
Choosing a Plating Option
After you mix your ingredients, now comes time to plate. Let's be honest, you could easily just eat this delicious keto recipe out of a bowl.
Since the butter board is a shareable dish, most people spread on a board used for charcuterie. For parties, I suggest a wooden lazy suzan. This allows movement and is a great shape when staging a table.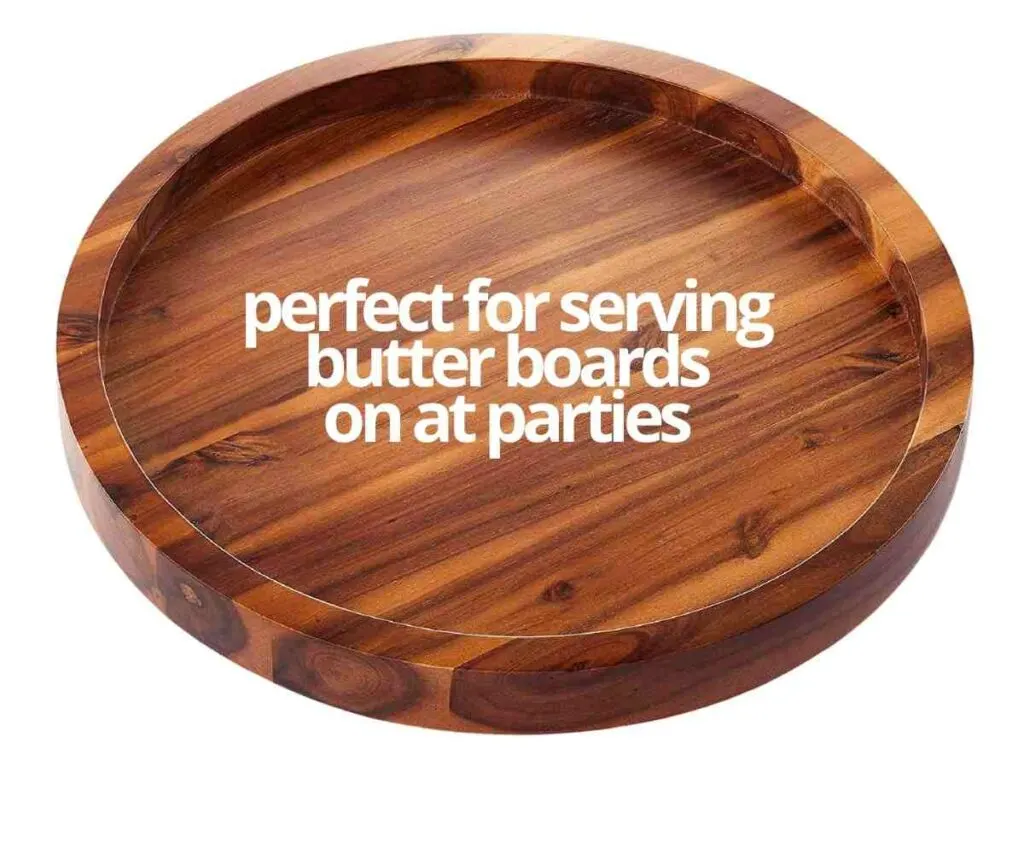 Another easy option for plating, is to simply use a pretty plate or platter. The decision is up to you, as this is totally an aesthetic thing and has nothing to do with taste!
Once plated, top your butter dip with the remaining feta cheese and bacon crumbles.
Let's Make Some Toast
Here are our directions for making keto toast. It's super easy. Other low carb dipping options include using a variety of keto vegetables.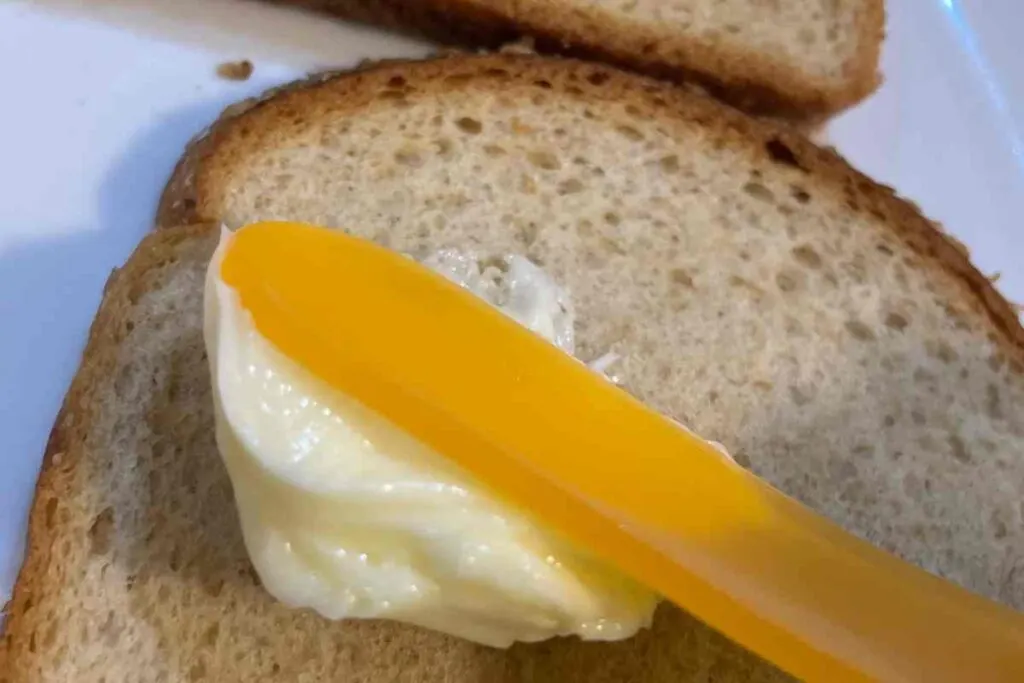 Serve and Enjoy
Garnish and serve your dish with the toast and butter. I also found these almond flour crackers on Amazon. While I wouldn't eat daily – they are 1 net carb each and compliment this low carb butter board well.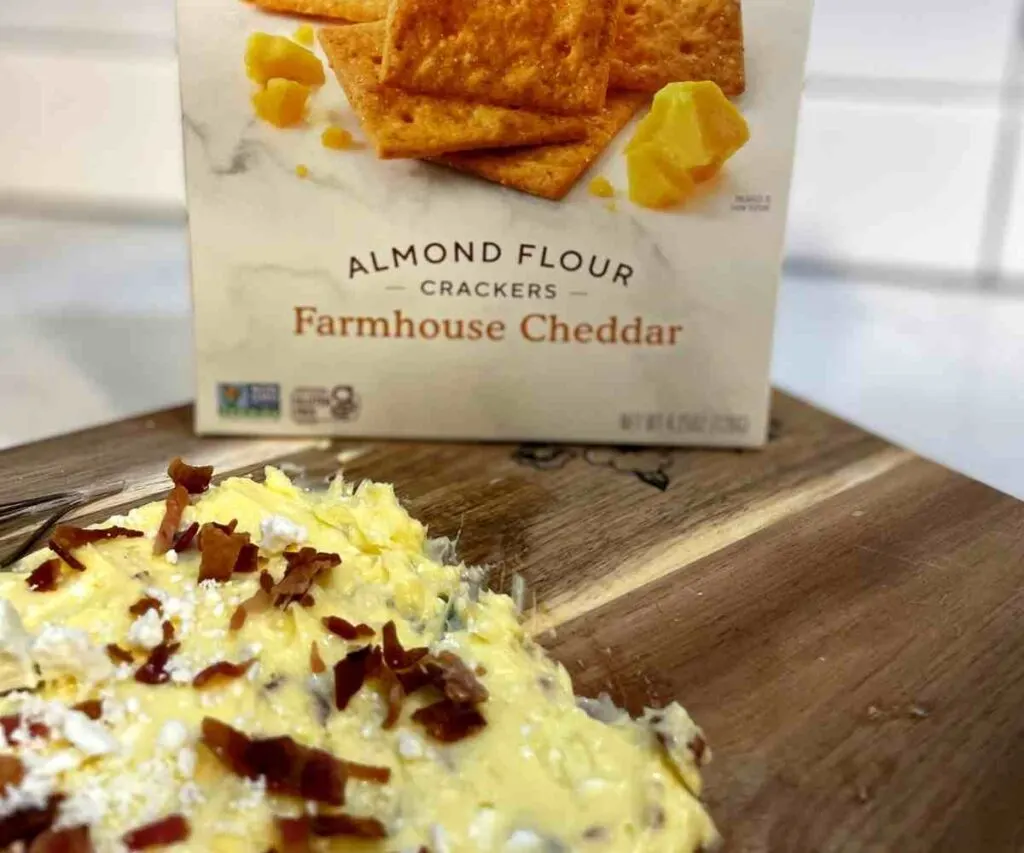 For specific measurements for the various ingredients, check below! Enjoy and we hope you and your guests (or family) love this as much as we do.
What is the Best Butter to Use on Butter Boards?
Our favorite butter to use on butter boards is Kerrygold Butter. It's a great, all-natural butter option that is the perfect golden yellow with a creamy delicious taste.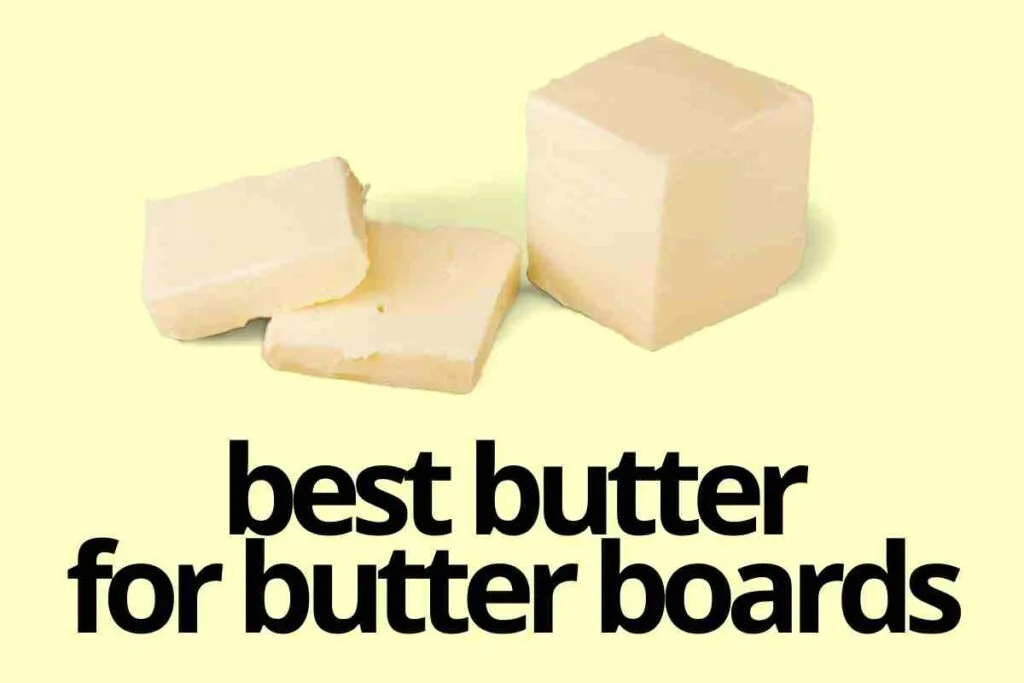 Made from cream, produced by Irish grass-fed cows – the high end ingredients used to make this butter does some kind of magic because Kerrygold has never done any of my recipes wrong!
Butter Board TikTok
Are you on Keto TikTok? Make sure to share to like our keto butter board tiktok and give us a follow.
There you have it, a keto butter board recipe! We hope you enjoy this delicious appetizer (or meal!) If you did, please share on Pinterest and Facebook. We appreciate the love and want everyone to be able to enjoy this tasty trend.
Don't miss our Pinterest Butter Board – filled with great ideas for making boards.
Follow Keto Dirty on Social – Facebook / Keto TikTok / Pinterest / Instagram
Keto Dirty is reader supported. When you buy through links on our website, we may earn an affiliate commission.