Let's answer the question is sugar free jello keto friendly, nutrition, ingredients, flavors and more.
Today we are talking keto and sugar free jello! Here at the Daily Keto where we are answering keto dieters questions about specific food and drink items to help you determine if they are a good fit for your dirty keto diet. Today's question is about keto sugar free jello and more details about this dessert, snack or ingredient – depending on how you use!
Question: Is Sugar Free Jello Keto Friendly
If you have a sweet tooth and wondering is sugar free jello keto friendly – let's chat! Here is what you need to know about this hybrid fruit. If you are in pursuit of keto-friendly fruits, today we are breaking down all things clementines.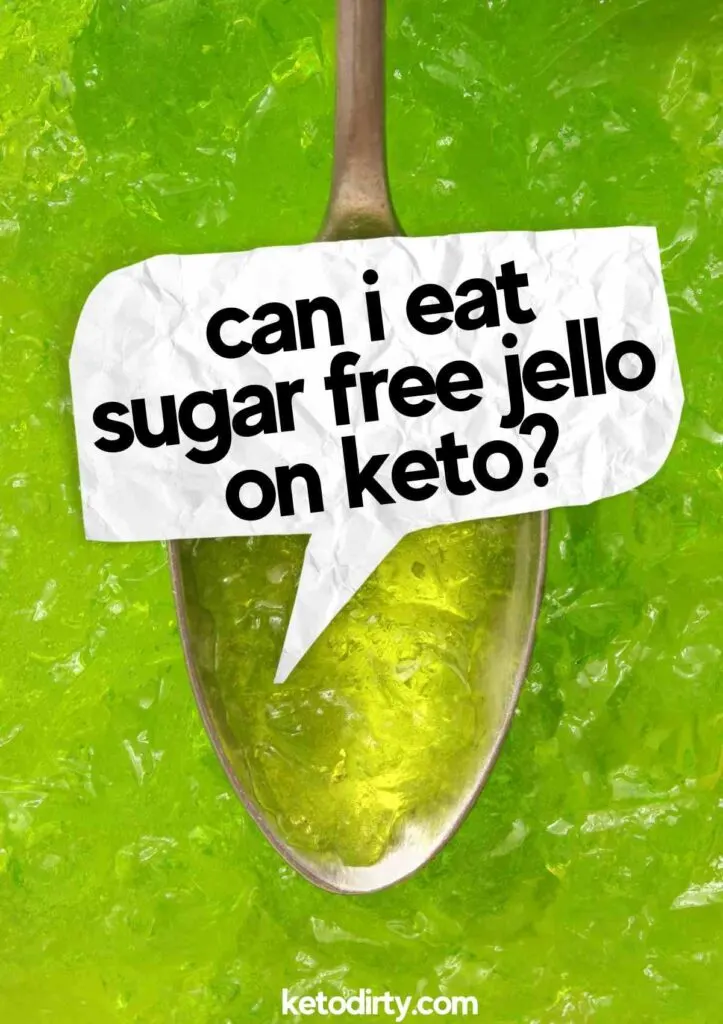 Growing up with regular jello, let's throw it back old school but make it sugar free. Let's look at macros including calories, net carbs, nutritional value to determine if sugar free jello and keto are a good pair.
Answer: YES to SF Jello!
Good News! Sugar free jello is keto friendly – but not if you are on a clean keto diet. We are saying yes if you are doing a dirty keto diet. If you say no to maltodextrin, artificial sweeteners, artificial flavoring, and artificial colors for your ketogenic diet, then this product isn't for you.
We will talk specifics to ingredients and nutrition, but if you are a keto dirty dieters this is a YES keto product. Here is why we are rating sugar free jello as a keto-friendly snack for your low-carb diet.
If you loved original jello and want a low-carb, keto friendly, low-carb snack – you will want to read this!
We know that when you are in low carb keto mode, often times you wonder if a certain food is keto or not. Make sure to check out our Is It Keto series where we are spilling all the tea to help you find healthy keto foods and to veto foods that aren't keto friendly.
#1 Sugar Free Jello Nutrition Facts
First, let's look at Sugar Free Jello nutrition facts, specifically the net carbs and other macros. This nutrition data is for 1 serving of Jello is 1/8 package – or 1/2 cup prepared.
| Sugar Free Jello Nutrition Facts | Macros |
| --- | --- |
| Calories | 10 calories |
| Total Fat | 0 gram of total fat |
| Sodium | 70 mg of sodium |
| Total Carbohydrates | 0 grams of carbohydrates |
| Sugars | 0 grams of sugar |
| Protein | 1 grams of protein |
| Net Carbs | 0g of net carbs |
sugar free jello nutrition facts – zero net carbs
Sugar Free Jello Carbs
How many carbs in sugar free Jello? There are 0 grams of total net carbs in sugar free jello and 0 grams of sugar. Here is how to calculate net carbs.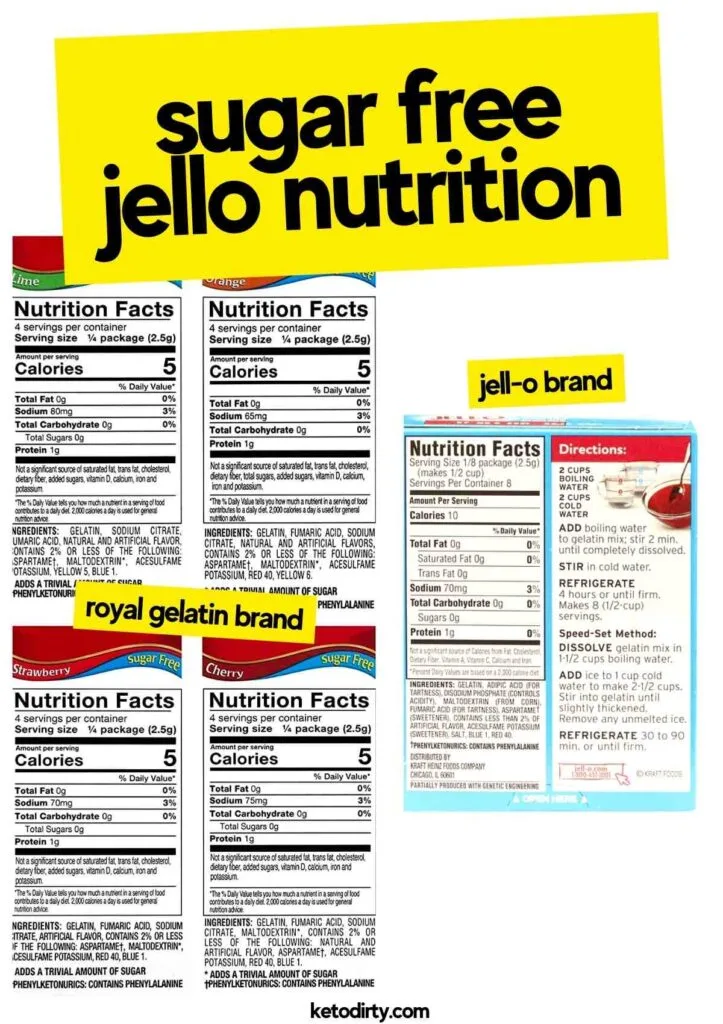 Let's Look at Sugar Free Jello Calories
Wondering about the calorie count? The sugar free Jello calories for a jello serving is just 10 calories for 1/2 cup or 80 calories for an entire box. This is if you go with the name brand of Jello.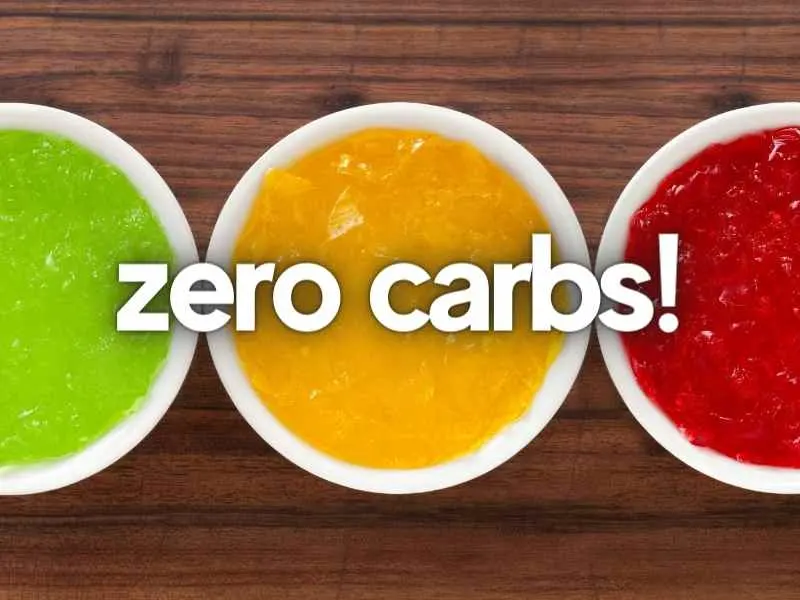 We found an excellent choice with buying the Royal Gelatin brand as it only has 20 calories per box! Available on Amazon. The nutrition facts for jello sugar free versions will vary by name brand, so check the back of those boxes!
#2 What are the Ingredients in Sugar Free Jello?
The Gelatin mixture included is what makes jello! Knowing your food ingredients is essential, especially when you want to know if sugar free jello is keto friendly for your specific diet. Here is the sugar free jello ingredient list is for the Jell-O brand of sugar-free gelatin:
Gelatin – gelatin powder amino acid
Adipic Acid – used for tartness
Disodium Phosphates – helps control acidity
Maltodextrin – from corn for texture
Fumaric Acid – for tart flavor
Sodium Citrate – not used in every brand
Aspartame – artificial sweetener
Acesulfame Potassium
Salt
Blue 1 – artificial dyes
Red 40 – red artificial dyes
Phenylketonurics – contains phenylalanine
Make sure to check the back of your box for specific jello sugar free ingredients for your specific brand. While the ingredient list will not be identical for each of the brands, you may have different artificial dyes or what have you.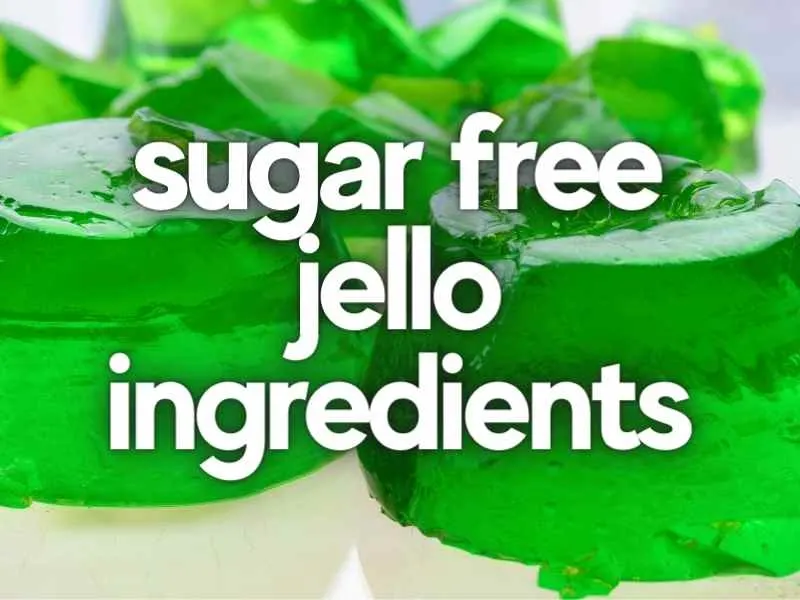 The following ingredients in sugar free jello might raised question. We set out to answer is sugar free jello keto friendly, so I want to give you all the facts. Here is what to know about some of the sugar free jello ingredients. It is best to know the healthy and unhealthy ingredients before deciding if sugar-free jello-o is a good choice for your diet.
Gelatin is filled with keto-friendly products and nutrients but just a heads up, knowing how it is made is not for the faint of heart. The process to make gelatin includes using connective tissues that are boiled dried treated with acid, then filtered out. I'm just going to stop right here and leave you with this informative gelatin video about how gelatin is made. Let me just say that there are somethings that I wish I didn't know but do know how keto friendly it is (as long as you aren't vegan keto!)
Maltodextrin is made from corn, highly processed white powder used to improve flavor and texture from corn, highly processed white powder used to improve flavor and texture. Maltodextrin in sf jello is made from corn, but can also be made from rice, wheat, or potato starch as if often found in processed foods. Watch your maltodextrin intake as it has a very high GI and raises blood glucose causing insulin spikes. This is not opposite of what the keto diet aims to achieve so watch your intake!
Artificial Sweeteners Make This Sugar Free
Let's talk quickly about artificial sweeteners. This is what makes products that are sweet sugar free, so no added sugar because of these. For sugar free jello, aspartame is what is used to create sweetness.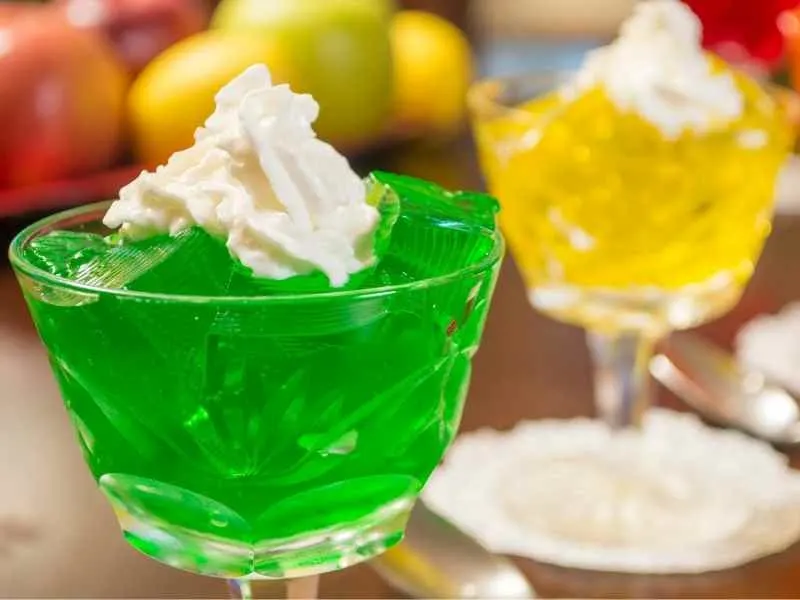 Aspartame is a calorie-free artificial sweetener that is often found in low carb recipes. It has a glycemic index of zero. Aspartame will not kick you out of ketosis, but it may lead to gut health problems when consumed on a regular basis.
We want health benefits not problems! Sure, different sweeteners would be better. Our wish would be if the artificial sweeteners used were stevia, monk fruit or erythritol as a keto sweetener.
Keto Dirty partners with brands and companies using affiliate links to receive a small commission if you buy something with a link from our website. This costs you nothing and is used to support our keto blog.
#3 Jello Directions
Let's learn how to make sugar free jello. We are sharing the directions on how to make sugar free jello from what the brand says. Hot water, cold water, stir. Making jello is super easy!
Make sure to keep reading below our jello hacks to find out short-cuts and ways to up your flavored gelatin game!
There are numerous ways to eat this delicious gelatin dessert. Our favorite is by either whipping heavy cream and adding a keto sweetener, adding fresh fruit such as strawberries. Keep reading, we are sharing a few of our jello favorites!
#4 Jello Hacks
Here are jello hacks we learned to help up your jello game!
How to Make Jello Faster
While the directions above teaching you how to make sugar free jello include using cold water, if you replace ice cubes instead of cold water the ice shortens the gelatin chilling time.
Homemade Jello – Keto Jello Recipe
You can make your own homemade jello. If you are asking why would I want to make homemade jello when I can just buy sugar free jello packs, here are a few reasons why.
The number one reason would be why you most likely came here! You wanted to know if sugar free jello is keto, well you can make it low carb by making your own version. Gelatin is a great low-carb additive and making a keto sugar-free jello recipe is an excellent choice. Homemade Keto jello is a great way to make jello without the aspartame in the jello brand sold in stores.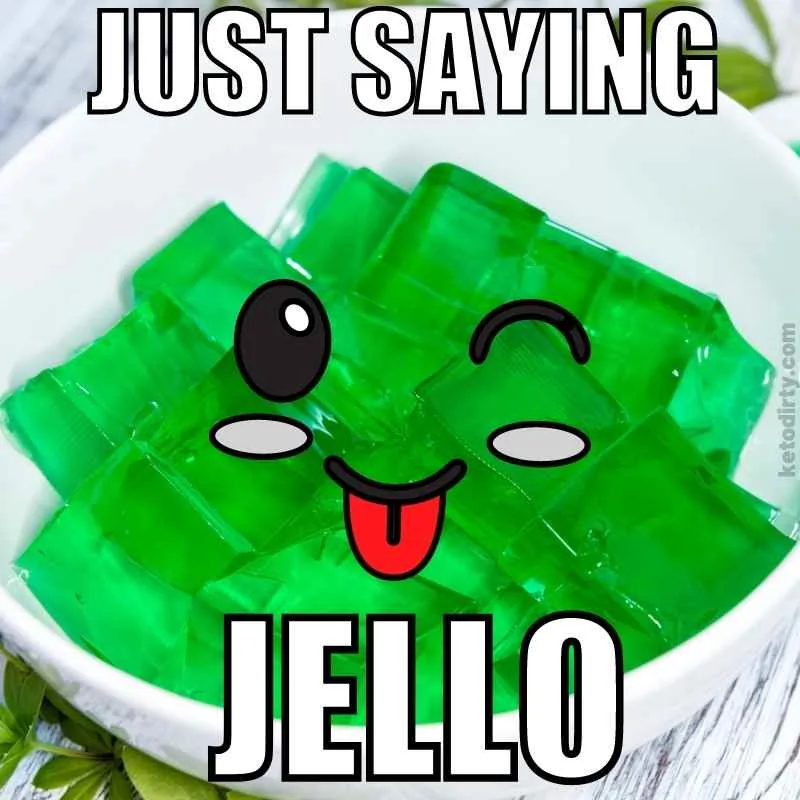 Love memes like we do? Don't miss our keto memes!
Another reason is flavors. You can create whatever sugar-free jello flavors you want, not limited to what the grocery store sells! Want a berry mixture jello flavor? Great! What about a sugar free orange jello or black cherry? Yes, you can make that too when you make your own!
Ways to Eat Jello
How you eat your jello is up to you, but here are a few ways to enjoy when using for sugar-free desserts!
Enjoy this keto dessert that is under 1g net carbs! Whip heavy cream and make our homemade keto whipped cream to top your gelatin!
Add fresh strawberries or any fresh fruit! (Watch the amount if you are counting macros!)
Make a jello cream cheese dessert with these simple ingredients: heavy whipping cream, keto sweetener, cream cheese and Jello!
Check out all of our low carb desserts for more ideas to beat that sweet tooth!.
#5 Answering Your Jello Questions
We first answered if sugar free jello is keto friendly and now we are answering other jello questions that you may have!
What sugar free jello flavors are available?
Here are some good options for Jello sugar free flavors available on amazon:
Royal Gelatin Sugar Free Variety Pack
This is your best option for keto jello! Not only is this product affordable (cost just over $1 per box of low carb jello) there are multiple sugar free jello flavors to try. Also, Royal Gelatin only has 20 calories per sugar free gelatin box compared to 80 calories in the Jello brand.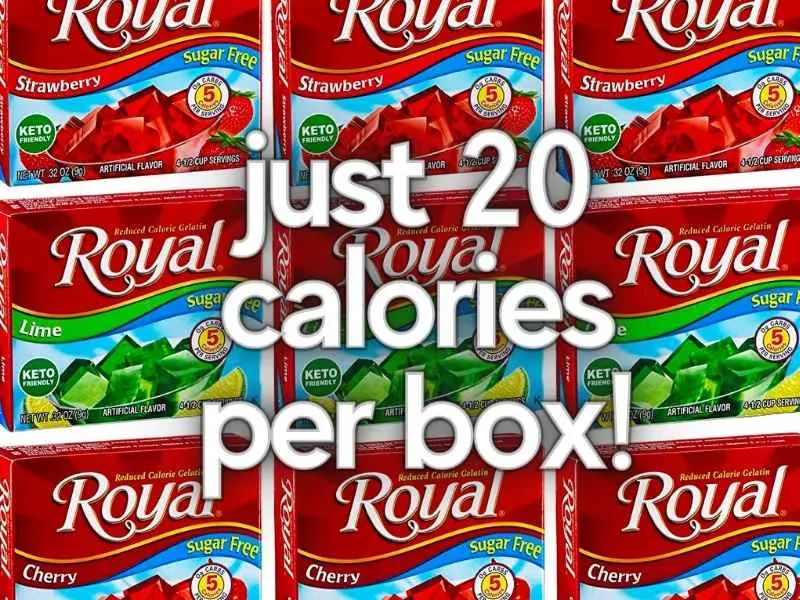 Here are the Royal Gelatin sugar free jello flavors included:
Strawberry
Lime
Cherry
Orange
The Royal Gelatin variety pack includes 3 boxes of each of the sugar-free jello flavors. Bonus, these are delivered straight to your door and are perfect for making your favorite sugar-free gelatin desserts!
Jell-O Sugar Free
Want to stick to the Sugar Free Jell-O brand? Here is a no sugar variety pack that lets you sample the following sugar free Jello flavors:
Black Cherry
Lemon
Raspberry
Lime
Strawberry
Cherry
This pack comes with 6 boxes, perfect for making a delicious jello mixture into sugar-free desserts!
If these sugar free jello flavors aren't your cup of tea, remember you can make your own DIY low carb jello any flavor that you want. Here is a link to unflavored gelatin, the main ingredient when making it homemade. Available on Amazon and again, delivered to your door – so winning!
Are sugar free Jello cups a good keto snack?
Yes! If you are not clean keto dieting, then the sugar free Jello cups make a great low carb snack. The snack pack sugar free jello packs are great for kids as well!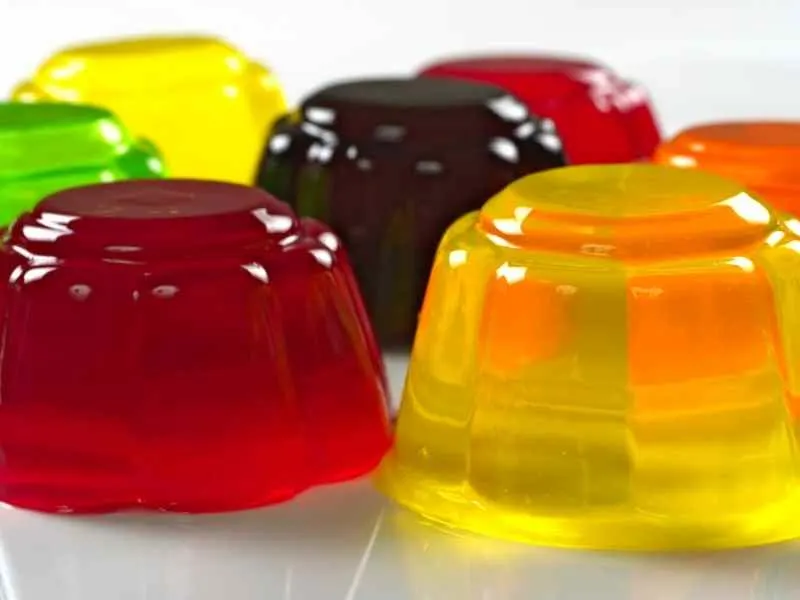 How much jello does a box of jello make?
1 box of sugar free jello will make 4 cups of jello.
What is a serving of Jello?
There are 8 serving of Jello in a typical box. 1 serving makes 1/2 cup of Jello. Please note this is for the Jello brand. You will want to check your sugar free Jello nutrition facts on the back of the box to confirm these details.
Does sugar-free jello have citric acid?
Citric Acid isn't in the sf jello version. You will find adipic acid in the sugar free jello ingredients. The adipic acid is what gives the gelatin it's tart flavor.
If you have additional questions about sugar free jello keto friendly or what have you, leave a comment below and we will do you best to get your jello questions answered.
Keto Daily Answers Sugar Free Jello Keto Questions
That's it for this Keto daily post. We are here for your low carb content, whether you are looking for weight loss or bettering your mental health – we share regularly topics like this, and striving to answer your questions like "is sugar free jello keto?".
Let's hope we answered your are sugar-free Jello keto questions and gave you all the details that you wanted to (and maybe a little TMI) on all things in regards to these jello.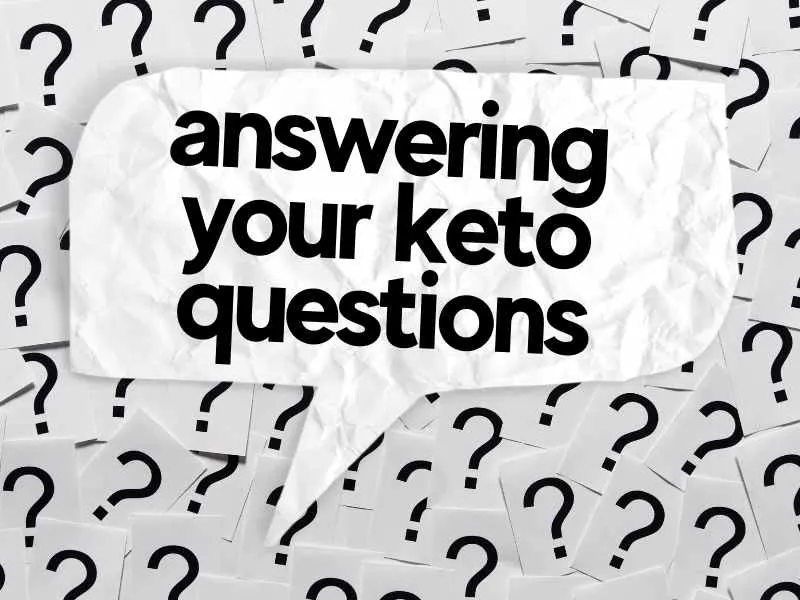 Remember, as you are choosing your low carb foods to know that they need to be low on the glycemic index as to not spiked your blood sugar levels as that will knock you out of ketosis!
Here are more keto posts that we think you will enjoy as you choose your meal plans for the week.
Keto Dirty is a member of the Amazon Services LLC Associates Program, as well as other programs that we may use affiliate links from to help support this keto blog.
Follow Keto Dirty on Social – Facebook / Keto TikTok / Pinterest / Instagram
Keto Dirty is reader supported. When you buy through links on our website, we may earn an affiliate commission.
Is Sugar Free Jello Keto Friendly? is question for the Daily Keto Blog on Keto Dirty