An easy keto breakfast recipe for ricotta scrambled eggs, ready in 5 minutes and delicious!
Let's talk eggs. I know it can feel like when calculating net carbs and eating keto that you are eating a WHOLE lot of low carb eggs. We get it and rather than say no to the egg, we thought let's give our keto friends new ways to make egg dishes.
Keto Ricotta Eggs
Let's spice things up by making scrabbled eggs with ricotta! We are here for your keto breakfast ideas and are excited to bring you this delicious way to make keto ricotta eggs.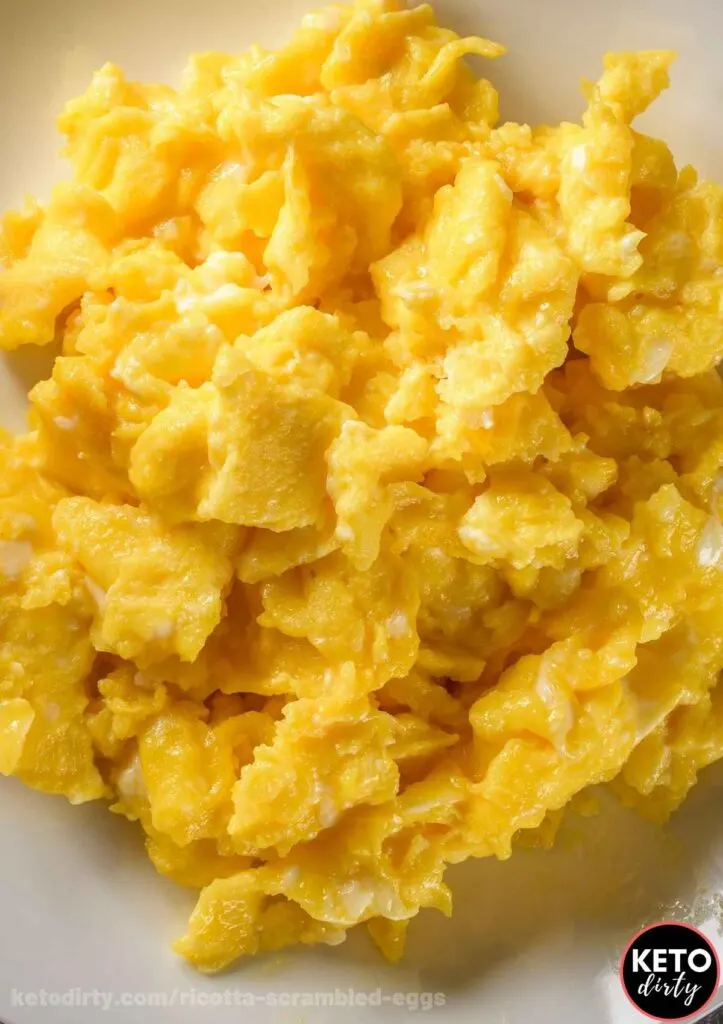 Why You Will Love Eggs and Ricotta
Why make these ricotta eggs? Here is why you will LOVE this keto egg recipe.
---
These aren't your average fried eggs
Ready in just 5 minutes prep time
Multiple cooking options – customize to your liking
Healthy, low carb and keto friendly breakfast recipe
Learn everything you would want to know about keto eggs in our Are Eggs Keto post.
Ingredients for Ricotta Cheese Eggs
Let's get our ingredients together to make this delicious ricotta scrambled eggs recipe.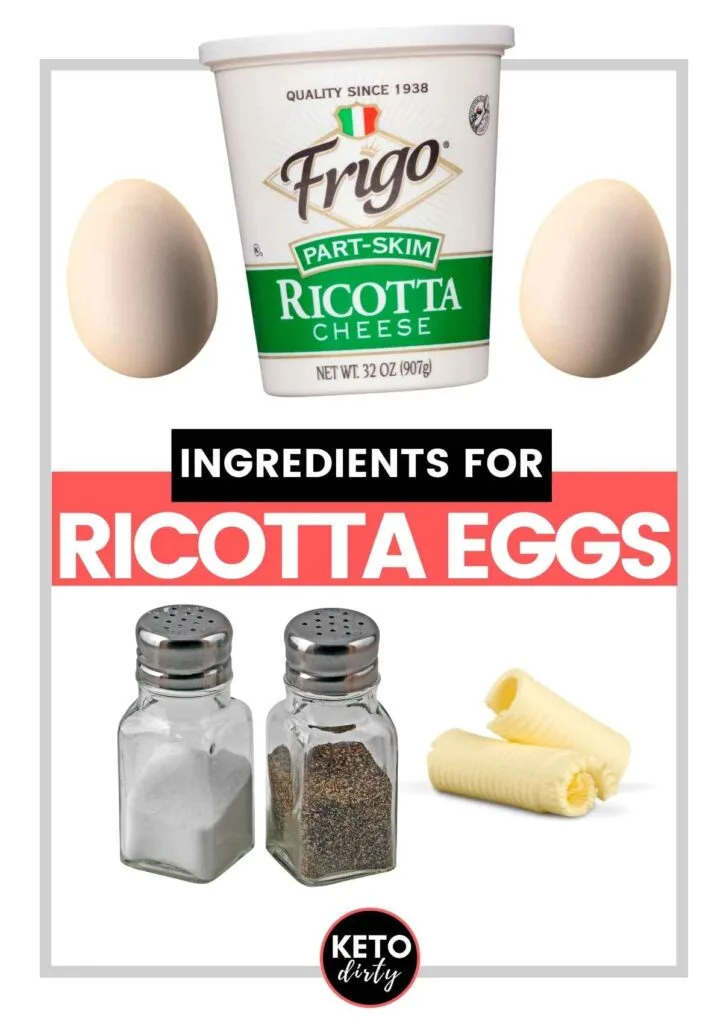 Eggs – for a single serving, we are using 2 eggs but this will vary per your appetite and macro plan
Ricotta – part skim milk typically contains more protein and has less carbohydrates
Salt and Pepper
Butter
Optional Ingredients
We are all about customizing your keto recipes for your taste and diet plan. Here are some additional ingredients to add more zest to your scrambled eggs ricotta cheese keto dish. Make sure if you do use any of these that you adjust your net carb count to account for the particular ingredient used .
Granulated Garlic
Sour Cream
Feta Cheese (or cheese of your choice)
Bacon
How to Make Ricotta Scrambled Eggs
Crack your 2 eggs into a bowl and scramble. Mix the egg yolk and egg whites up REAL good! You can use an egg whisk, but if you are like me and can never find your kitchen utensils, a standard fork will do the job.
Create a Egg Ricotta Mixture
Next, let's add in some salt, pepper and your ricotta. Yes, give it a little mix. I like the taste of salt and pepper baked into eggs.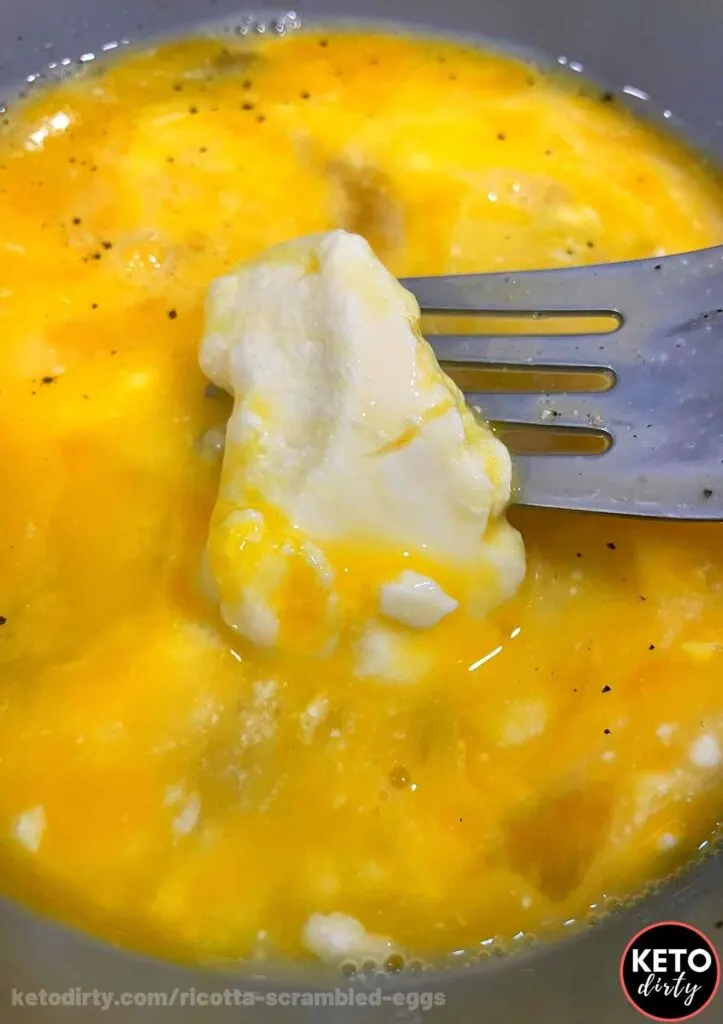 Let's plop in your ricotta cheese now. This is the magic ingredient that will make your eggs fluffy and give it a unique delicious flavor. Mix the ricotta – or wait. What would Moira say? Fold in the cheese, David! Fold your ricotta cheese into the egg mixture.
Add-In Suggestions
If you are wanting to add any of our recommended additional ingredients to your ricotta egg recipe, here is where you will do it. Sour cream helps give eggs a creamier taste.
Feta cheese adds an additional flavor element. Garlic, well – let's just face it garlic is life. I like to add a dash of granulated garlic into the eggs and then to the butter. Speaking of butter, let's cook our ricotta cheese eggs.
Cook Your Scrambled Eggs and Ricotta Cheese Mix
In a saute pan, melt your butter. Again, I love to add a dash of granulated garlic while the butter is melting to make a garlic butter for your ricotta eggs to cook in. If garlic isn't your thing, no worries – just melt butter in your pan.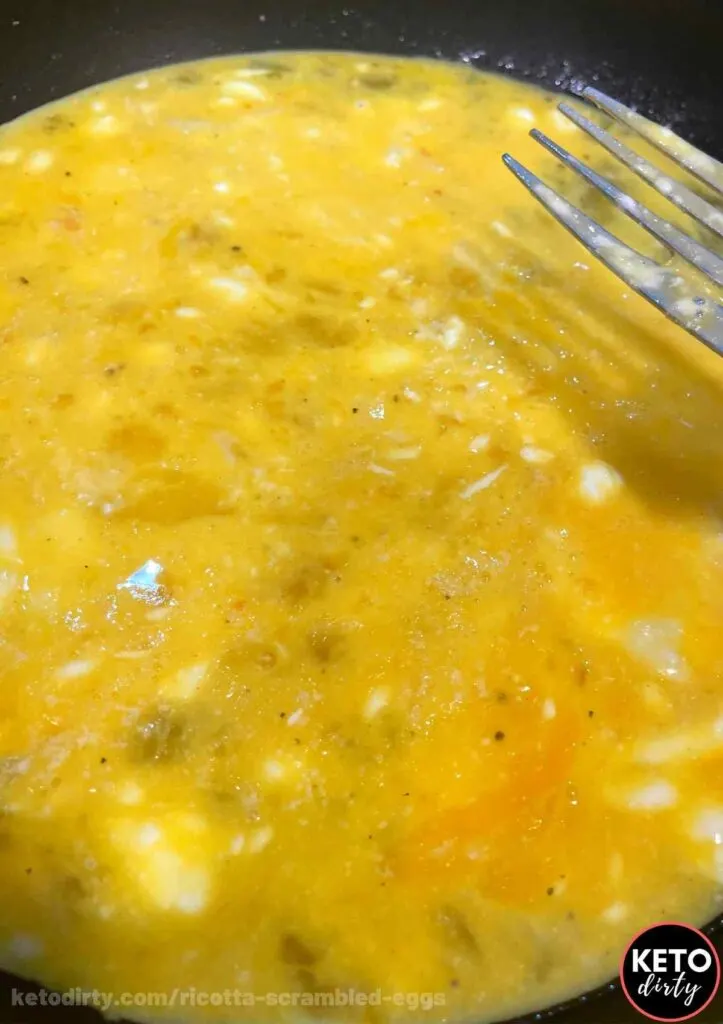 After the butter is melted, pour your ricotta cheese with eggs mixture into the frying pan. You will want to cook over medium heat.
You might notice there is a burping egg effect that happens when making ricotta and eggs, don't worry! This is normal.
Let your ricotta scrambled eggs cook for a minute or so until the egg dish starts to form together. Next, you will take your spatula and move the eggs around as it forms to help all the eggs equally cook.
Almost Time to Eat!
If you are adding in feta cheese or cooked bacon – after a minute or so, add these ingredients into your dish.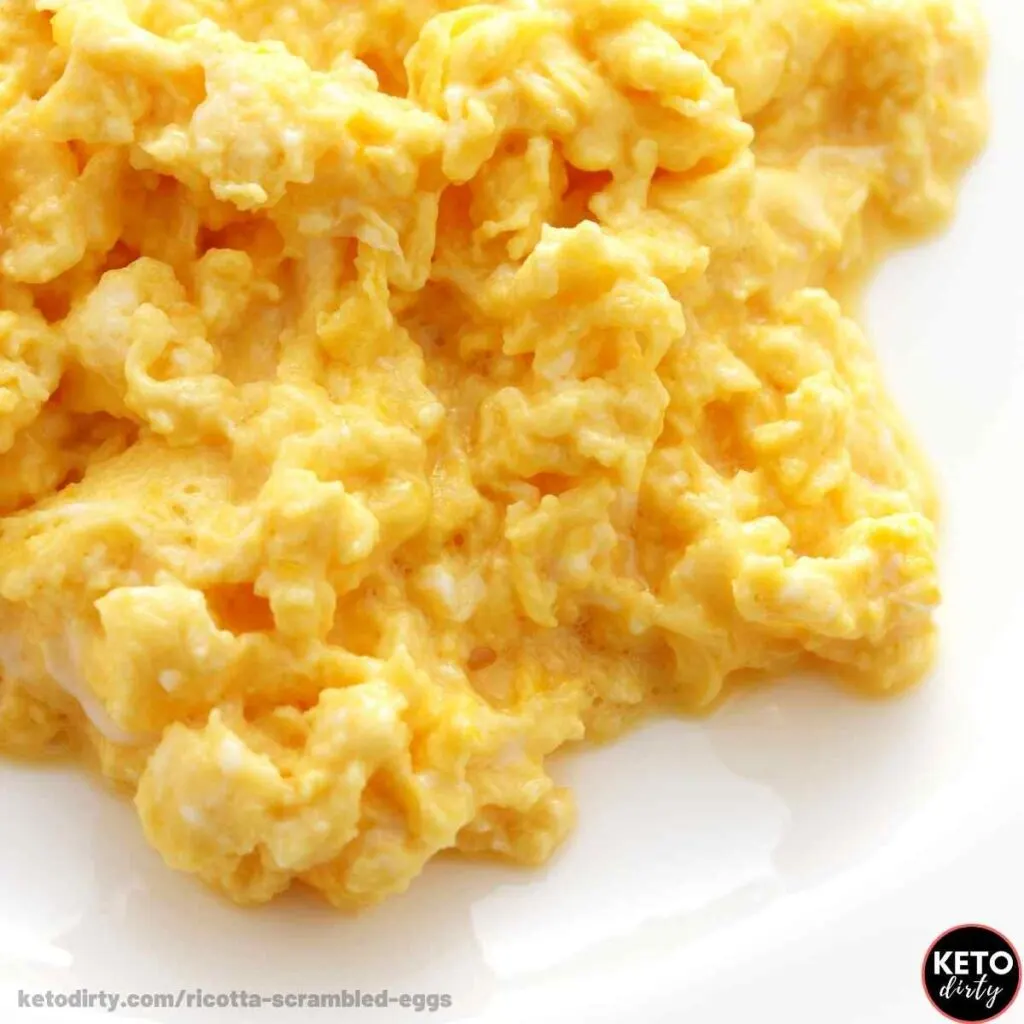 The scrambled eggs with ricotta dish will take around 3 minutes to cook complete over medium heat. Depending on how you like your eggs cooked, you can cook longer or shorter – just make sure your eggs are cooked. Check out our FAQ below to learn more about egg cooking temperature.
That's it! We told you this was an easy keto egg dish to make and now you can enjoy it!
How to Eat Scrambled Eggs with Ricotta
This ricotta scrambled egg recipe is good on it's own as a delicious low carb breakfast but there are various ways you can eat this!
Make toast with Sola keto bread and add these eggs and ricotta.
Wrap in a low carb tortilla, add salsa for a keto breakfast taco.
Pair with a low carb breakfast sausage.
Whip up some keto vegetables and eat for brinner (breakfast for dinner!)
Ricotta Cheese Egg FAQ
Answering your questions related to making ricotta cheese in eggs.
What Are Variations to Ricotta Cheese and Scrambled Eggs?
There are numerous ways to make this delicious keto ricotta scrambled eggs recipe. Here are some simple ideas for creating variations to this ricotta cheese and scrambled eggs meal.
Chives – if you enjoy an onion-type flavor, add a few chives to your ricotta cheese eggs either before cooking or after, depending on your tastes.
Add to an avocado chaffle.
Spinach – bake eggs with ricotta cheese and spinach for a new flavor profile.
Broccoli – mix in steamed broccoli to help get in those vegetables and add additional protein to this low carb egg dish.
Pesto – ricotta cheese eggs with pesto is a legit variation to our ricotta eggs recipe.
Does Ricotta Cheese Melt?
Funny enough, ricotta cheese does not melt. The proteins become heat resistant and the cheese does not melt. Ricotta cheese is similar to paneer, halloumi, queso blanco cheese that can be heated but do not melt.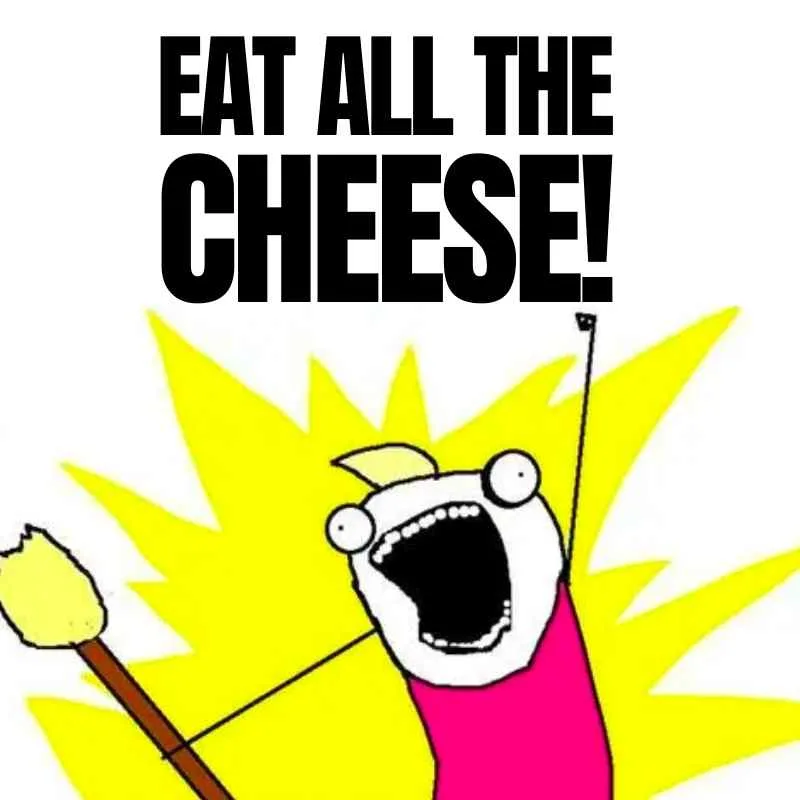 Ricotta cheese does nicely caramelize, but don't expect a typical cheese melt like with a mozzarella cheese or cheddar cheese. Love cheese like we do? Don't miss our cheese memes!
What Temperature Are Eggs Cooked?
Eggs are cooked at 160 degrees. This is the safe internal temperature for cooking eggs. Learn more about safely cooking eggs at eggsafety.org.
Enjoy This Keto Ricotta Egg Recipe
We hope you enjoyed this keto low carb ricotta egg recipe. It's easy to make, gives a delicious egg flavor leaving your eggs fluffy and tasty. Check out our chaffles post to learn how to make eggs in a waffle maker.
Follow Keto Dirty on Social – Facebook / Keto TikTok / Pinterest / Instagram
Keto Dirty is reader supported. When you buy through links on our website, we may earn an affiliate commission.
Ricotta Scrambled Cheese is part of the Keto Dirty Keto Recipes collection