Today, I'm sharing a favorite Keto breakfast recipe, Egg Sausage Cheese Delight!
You guys, let's talk about one of my favorite Keto breakfast recipes. This simple egg dish is something I make frequently during the school year because the WHOLE family loves it and it's both KETO friendly and family friendly, which means WIN!
Sausage on Keto
Let's talk sausage on Keto. Yes, you should make sure to read your labels people. Also, YES I do know that some Keto dieters are NO WAY JOSE to sausage. Guess what? That's GREAT. As I mention here often, we are very you do you around here. Keto Dirty doesn't always play by the rules. If you need to break a Keto rule here or there, you know what – do it. If there is a food that you need to eat or a drink that you need to drink *HELLO FELLOW COKE ZERO DRINKERS!* – you do you. We are all about helping you maintain Keto as a lifestyle. SO can you eat sausage on Keto? WE say YES!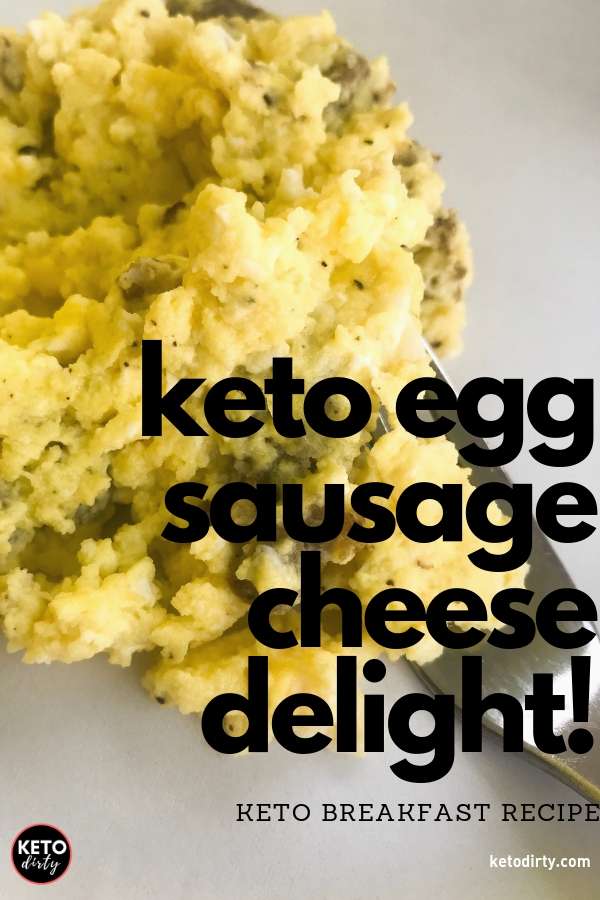 Now back to the yummy Keto breakfast recipe that we have for you!
Egg Sausage Cheese Delight Keto Breakfast Recipe
This super simple Keto breakfast recipe takes scrambled eggs and makes them go POW.
KETO MEAL PREP TIP
If you love our Egg Sausage Cheese Delight recipe as much as we do, here is a Keto meal prep tip. MAKE SAUSAGE AHEAD OF TIME! I like to cook up a roll of sausage and put it in a storage container in the fridge. Then whenever I need some meat, I have this option. This works especially well for last minute meals.
Family Eating Keto Foods
I mentioned earlier that this Keto breakfast recipe is something I make often that the whole family will eat. While I would love to say that the whole family is eating Keto foods, truth is they take my Keto food and make it bad! The fam LOVES my egg sausage cheese delight on a BAGEL. For the love, I know. But what can I say – at least I am not having to make them yet ANOTHER meal!