If you are a fan of Mounjaro or Ozempic, chances are you will be searching "what is retatrutide?" as soon as this hits the market. Let's talk why.
The last year has shown us the potential in using medication as a treatment in combatting obesity as a disease. The popularity of Ozempic, Wegovy, Trulicity and Mounjaro for weight loss is at an all time high. This is only the beginning.
Eli Lilly Retatrutide LY3437943
We are entering into a new outlook on obesity and while Ozempic and Mounjaro have been great – something new with HUGE potential is on the horizon. Meet the newest weight loss and type 2 diabetes treatment that is set to hit the market in late 2023 or early 2024, Eli Lilly Retatrutide.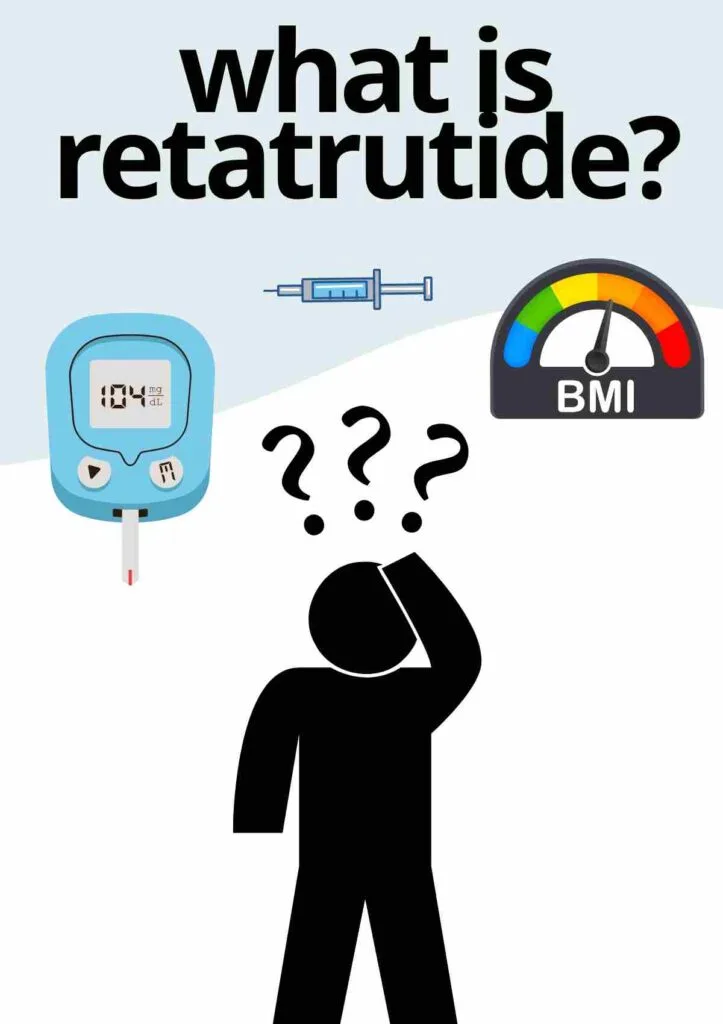 While the latest news that Mounjaro is back in stock is great, there's a lot of obesity news that we want to keep you in the know about.
Currently in phase 2 trial, Retatrutide is being setup as the new Mounjaro. Let's dive in and look at what we need to know about this latest type 2 diabetes and obesity treatment.
LY3437943 is Retatrutide. This is the identifier that is used in clinical trials.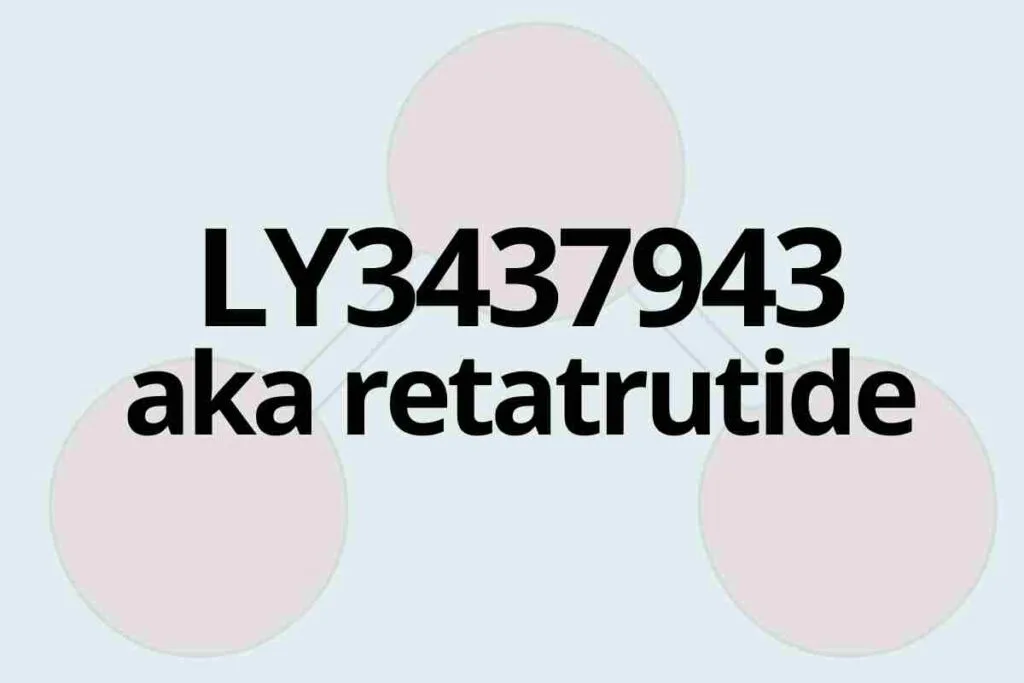 Here are 5 things you need to know about Retatrutide.
What is Retatrutide?
Weight Reduction
How is it different than Ozempic and Mounjaro?
How does Retatrutide work?
When will Retratutide be available?
What is Retatrutide?
Retatrutide is the med name for the latest GLP obesity and Type 2 diabetes treatment from Eli Lilly. This is not the brand name. Similar to how tirezepatide is the actual med name for Mounjaro – we can expect retatrutide to have a brand name (the official name from Eli Lilly has not been released.)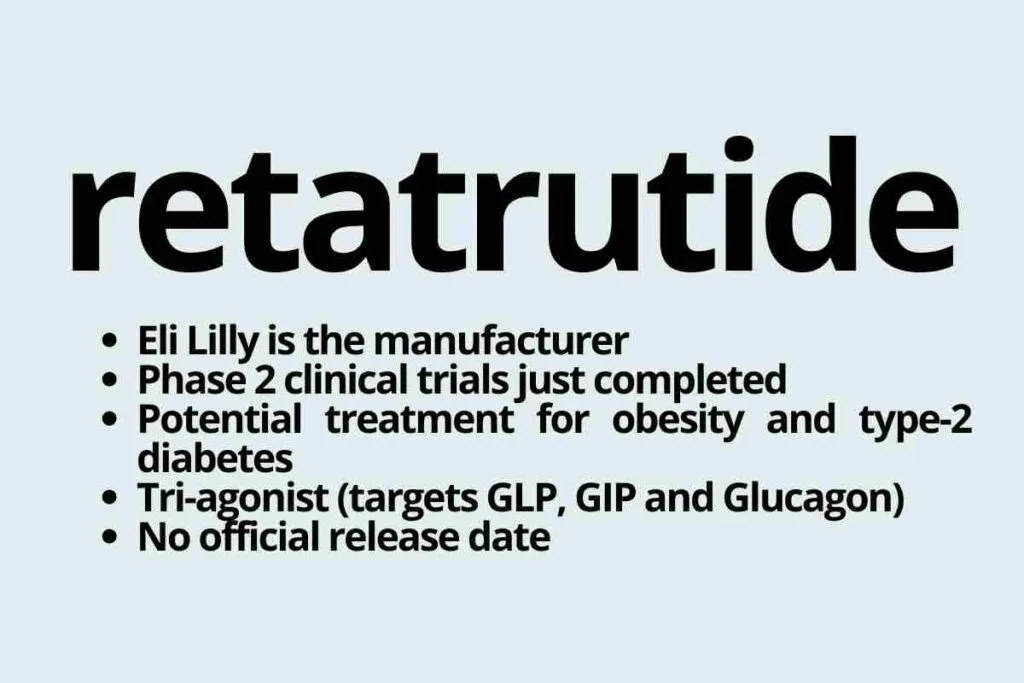 While this is still in development, there is a lot of buzz and hype around this new treatment. Let's talk why.
What is retatrutide? It is a once a week injection from Eli Lilly that could treat obesity and Type-2 diabetes, as well as potentially other ailments such as fatty liver disease.
How Much Weight Can Be Loss?
The preliminary analysis from phase 2 Eli Lilly retatrutide clinical trials are showing that with obesity, but not diabetes could result in a loss of up to 25% of body weight in 48 weeks. Obesity in this study is defined as having a body mass index of 30 or higher.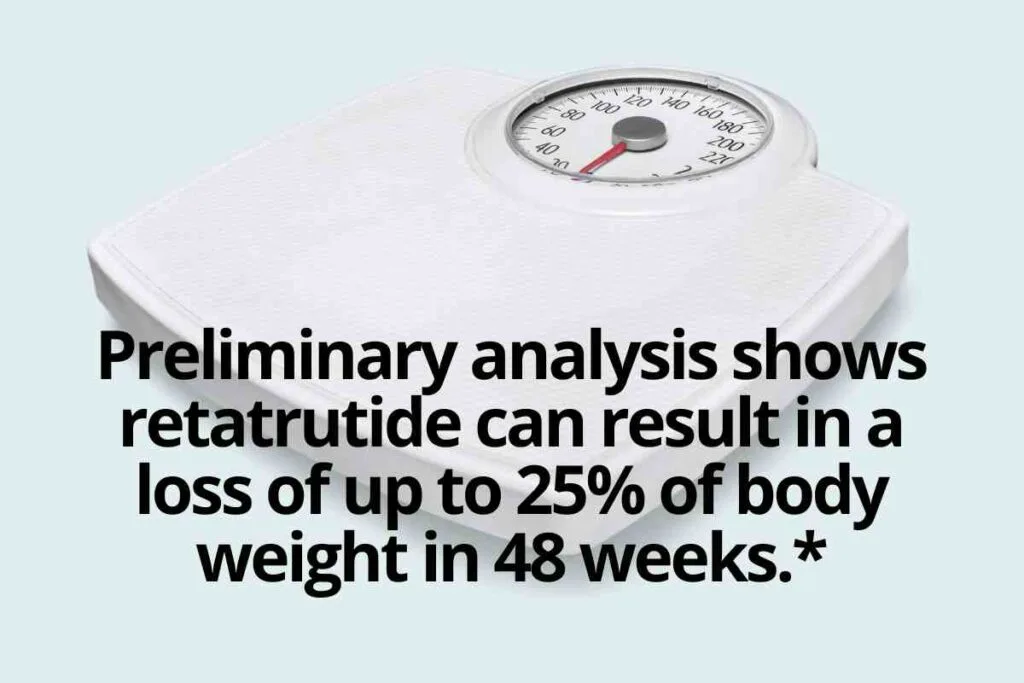 Preliminary analysis from phase 2 trials indicated people taking retatrutide with obesity (a body mass index of 30 or higher), but not diabetes, could lose up to 24% of their body weight in 48 weeks, Investors Business Daily reported.
That's more weight loss at a faster rate than trial results for tirzepatide, which led to 20% reduction in body weight in 72 weeks.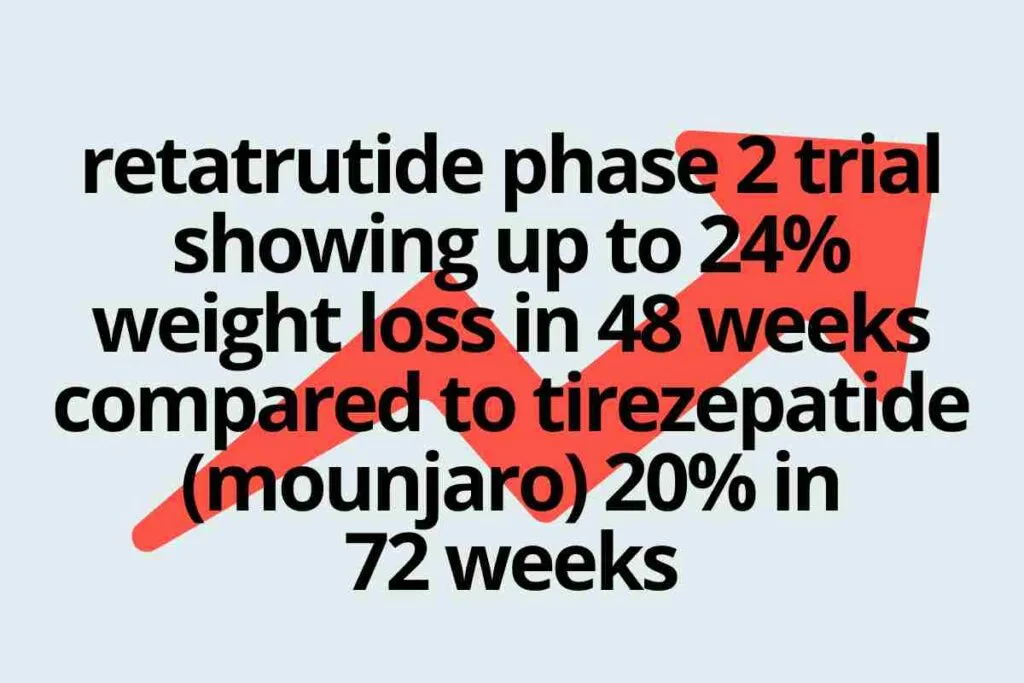 In a recent Lilly release, it was stated that the phase 2 clinical trials are now complete.
Retatrutide, also known as triple G, is a tri-agonist that the group reckons could push weight loss into the mid-to-high 20% range and prove highly effective at dissolving liver fat;
How is Retatrutide Different?
Retatrutide is different that Mounjaro and Ozempic as it targets more G receptors.
Ozempic (semaglutide) targets GLP-1. Mounjaro (tirezepatide) targets GLP-1 and GIP. Retatrutide will target GLP-1, GIP and glucagon.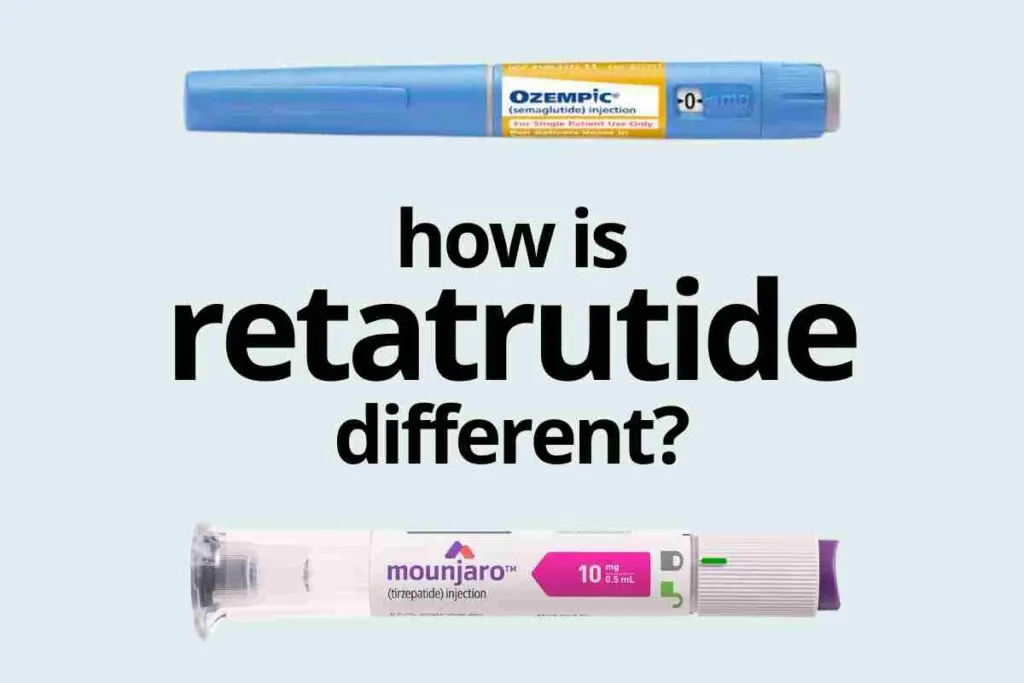 For comparison, Mounjaro or tirezepatide showed a 20% reduction in body weight in 72 weeks. With retatrutide showing 24% in 48 weeks. That is a huge advancement and why this is getting so much buzz.
How does Retatrutide Work?
While all of this sounds great, if you are someone like me who has spent a lifetime dealing with diets, insulin resistance and obesity – you want to know how this work.
Eli Lilly Triple G
Retatrutide is referred to as Eli Lilly's triple G or ggg – as it targets 3 receptors: GIP, GLP-1 and glucagon. Triple is is also known as a tri-agonist. This is great, but how does it work and what are these "g" things? We got you.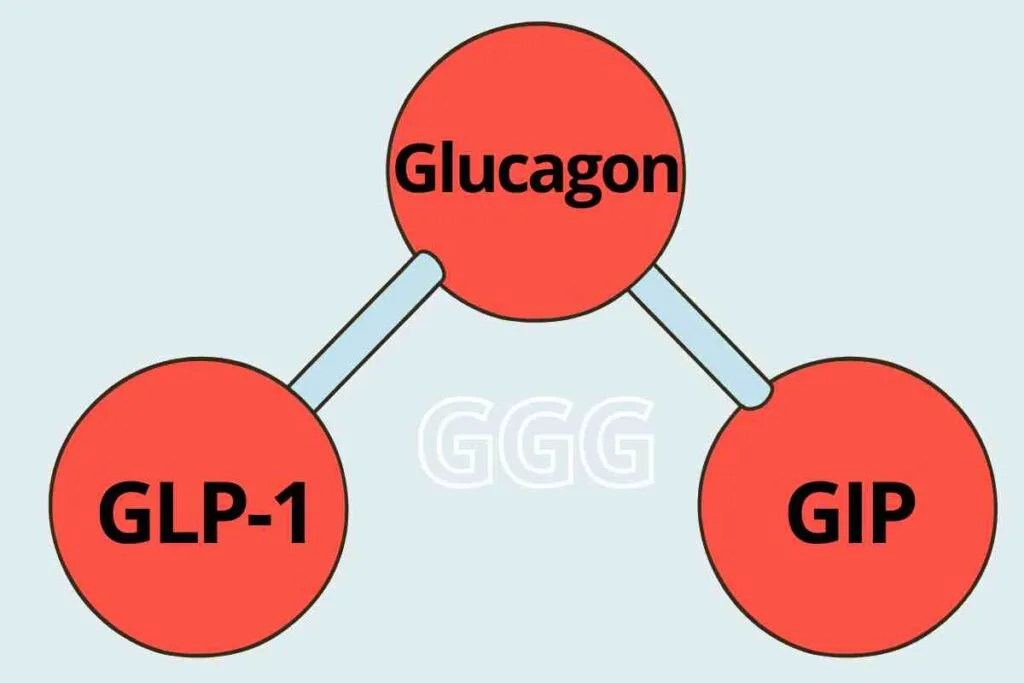 GLP-1
Semaglutide, tirezepatide and retatrutide work by mimicking a hormone called GLP-1.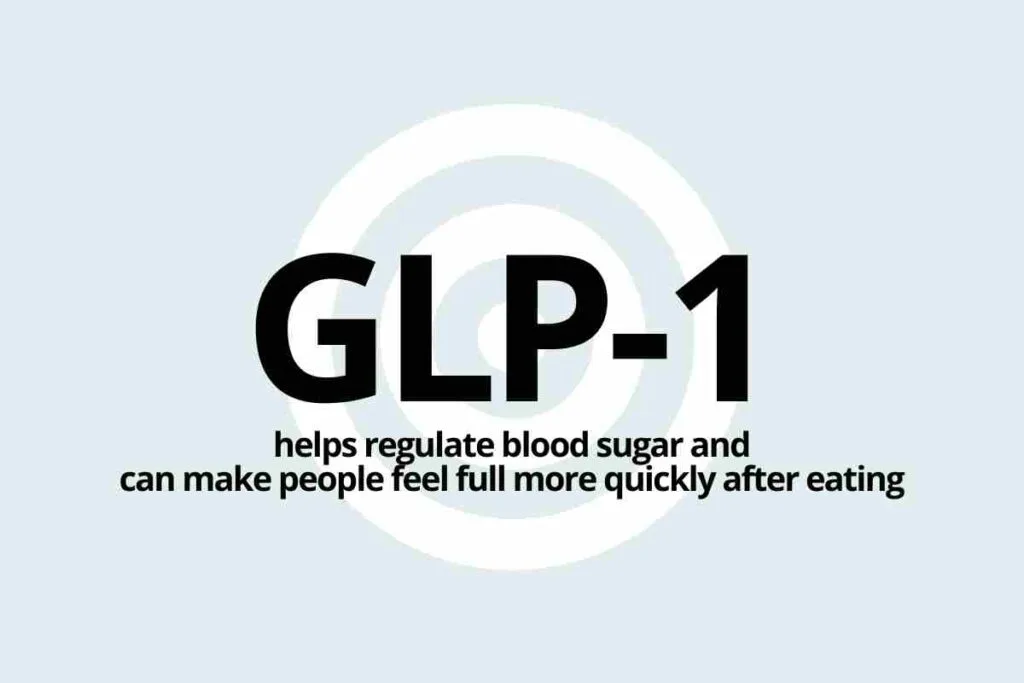 This helps regulate blood sugar and can make people feel full more quickly after eating.
GIP
Both tirezepatide and retatrutide also work with GIP (but semaglutide does not.)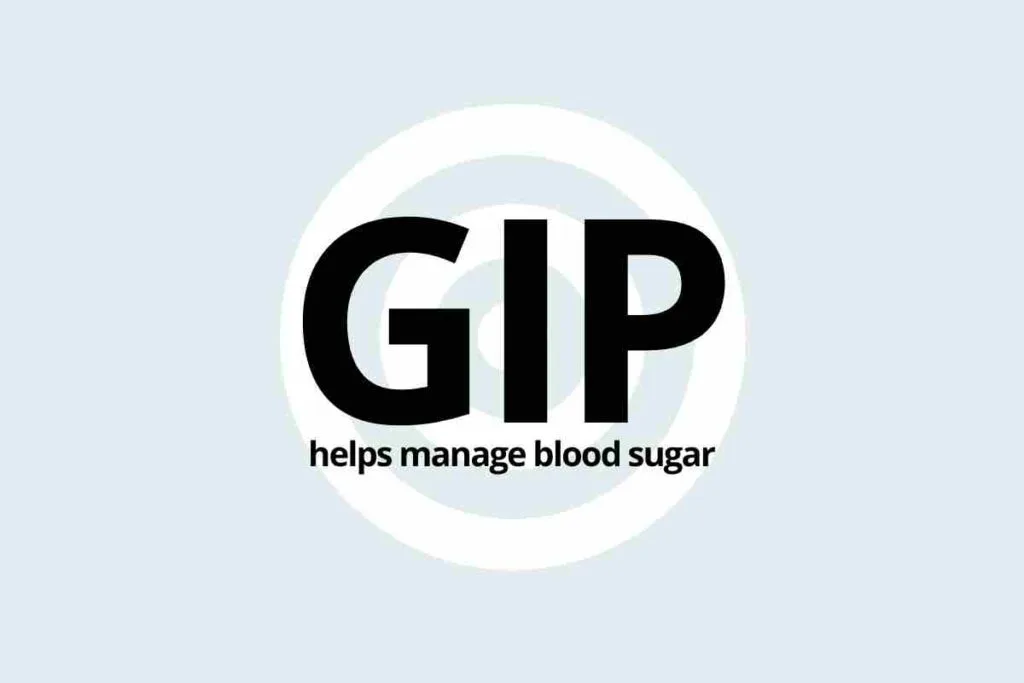 GIP or glucose-dependent insulinotropic polypeptide also helps manage blood sugar.
Glucagon
This is where retatrutide sets itself apart from semaglutide and tirezepatide. Retatrutide also targets glucagon which may help suppress appetite, as well as increase energy expenditure so you burn more and eat fewer calories.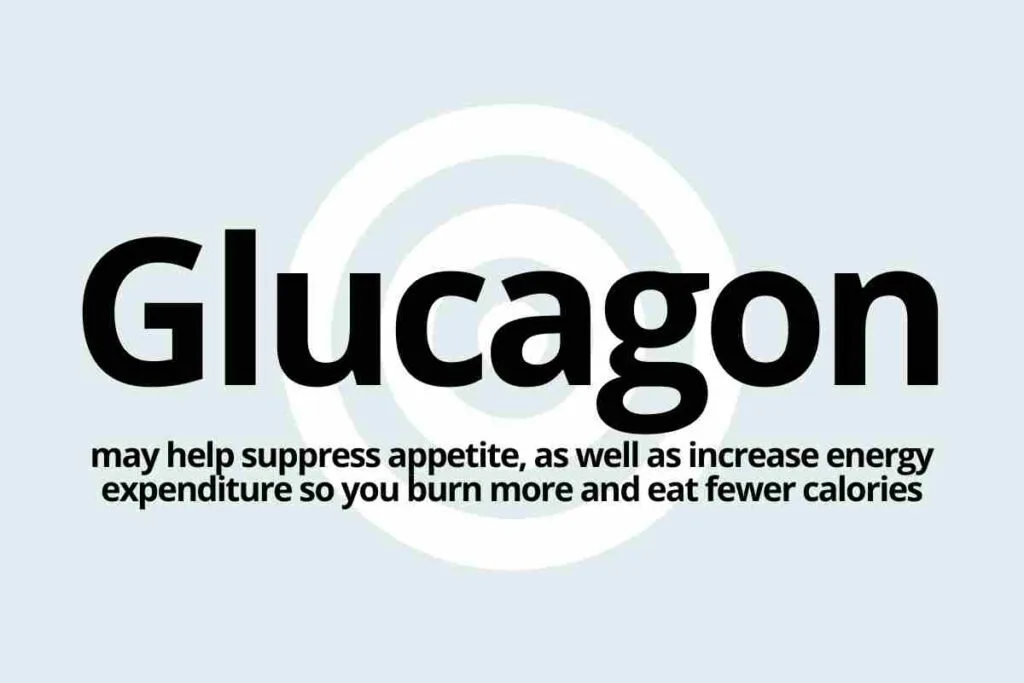 From the initial studies, these 3 agonists are producing more weight loss and blood sugar control over what is currently on the market.
When Will Retatrutide Be Available?
With all of this positive news coming from the preliminary studies, you maybe wondering when retatrutide will be available. Phase 2 trials have just concluded and Lilly is heading into phase 3 study in chronic weight management.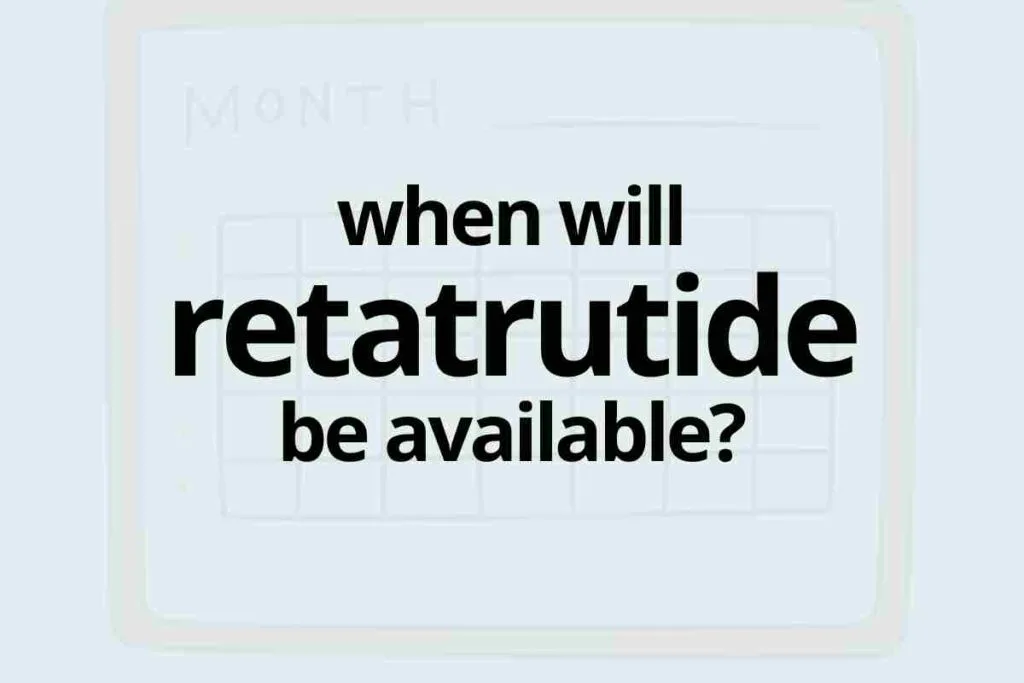 Interestingly, while the original function of retatrutide was for type 2 diabetes and obesity, Lilly may not move froward with phase 3 trial for diabetes as it doesn't seem to achieve better glucose control or A1C reduction over tirezepatide (Mounjaro.) Source: xKloc
We will most likely see an Mounjaro FDA approval for weight loss in 2023 and then the roll out of retatrutide in late 2023 at the earliest (most likely 2024.)
Where can I join an obesity LY3437943 clinical trial?
Eli Lilly retatrutide clinical study is currently in phase 3. You can find out if retatrutide clinical trials sign up here.
Will Retatrutide be better than Mounjaro?
Early clinical results show that retatrutide achieves more weight loss than Mounjaro or tirezepatide. That said, only a medical professional will be able to determine what is best for you when this is available.
Will there be a retatrutide savings card?
With all of the hoopla and poor roll out of the Mounjaro coupon, chances are that when the time comes Eli Lilly will handle marketing differently.
Is retatrutide an injectible?
Yes, like what the tirezepatide and most popular semaglutide products – retatrutide will be a once a week injectible.
What is LY3437943?
LY3437943 is retatrutide. What is different about LY3437943 is that it is a novel triple GIP/GLP-1/Glucagon receptor agonist. Currently in clinical trials and produced by Eli Lilly.
This information is for educational use only. Any medical advice should be discussed specifically between you and your medical professional. Information provided here is not

We are excited to expand our keto content to include other solutions our community is using to achieve optimal health. While we understand that this may not be for everyone, we do know that people are seeking information about obesity as a disease and solutions, such as Wegovy, Ozempic / Semaglutide and Mounjaro / Tirezepatide.

Please direct any questions in regards to personal use with your doctor and any questions in regards to coupons, etc should be discussed with your pharmacy or with the pharmaceutical customer service.
References:
What is Retatrutide LY3437943? 5 Interesting Things to Know – is part of the Keto Dirty series on obesity